Feb 7, 2017
I grew up near a very famous Ice-cream shop in Dublin. People would come from far and wide to treat themselves to a "Teddy's" ice-cream. It set the bar high for what I expect from ice-cream anywhere in the world. Japanese people love ice-cream and you can get ice-cream almost everywhere in Japan all year round, so I was hopeful when I first came to Japan that I wouldn't miss my favourite treat from home. Then I taste my first ice-cream and I was sorely disappointed. My second , third... tenth time weren't any better. In fact, I was here eight long years before I finally tasted a decent ice-cream that came close to the delectable delight that is an ice-cream cone from Teddy's in Dun Laoghaire, Dublin.

Despite getting off to a rocky start, a few ice-creams have made an impact on me over the years. So here's the scoop, if you'll pardon the pun, of the ice-cream I've tasted and enjoyed in the Kanto area to date.



The first place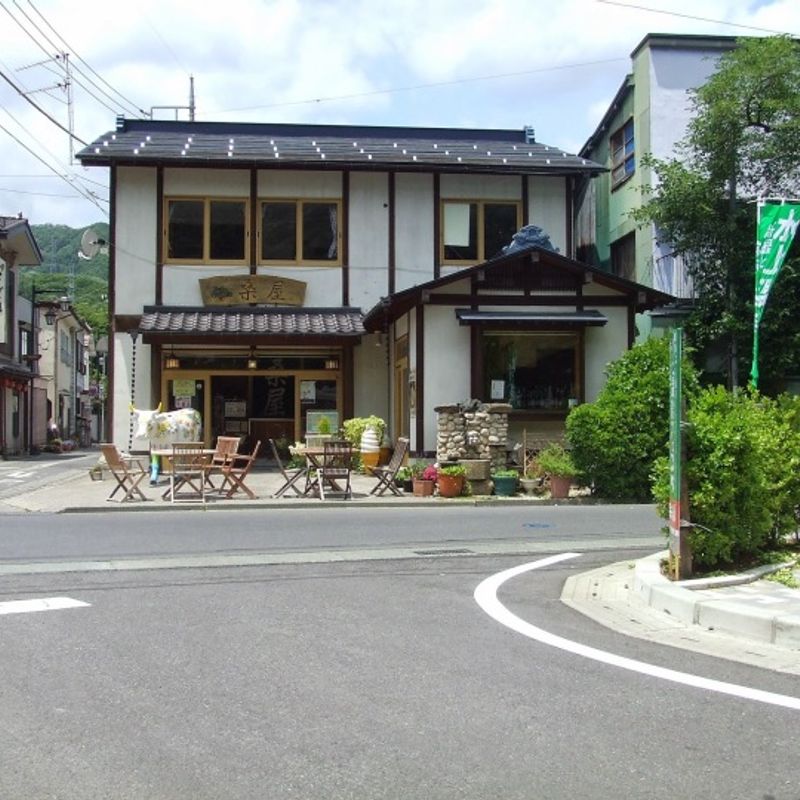 The honor of the first place that I tasted sufficiently good ice-cream in Japan goes to Kuwaya in Minakami, Gunma. The shop is fun too and is easily distinguishable with the colourful cow outside. Interestingly, my husband wasn't as awed by the ice-cream as I was, he found it too milky and sweet. So it maybe more palatable to the Western tongue!
Place: Kuwaya
Address: 702-2 Yubara, Minakami-machi, Tone-gun, Gunma-ken 379-1617
Website: http://ameblo.jp/kuwaya/
The best place
The best plain ice-cream cone I have tasted to date is in Enomoto farm in Ageo, Saitama, and it is also the freshest I ever had. The farm is very popular with families due to the free play area that has push along rides, bikes and tricycles for children to play with. You can also pay to try milking the cows and other farm experiences. The farm is a rest spot on a popular cycling course so the farmyard and the ice-cream shop are always buzzing with people. The ice-cream shop has been there for years, but just a couple of years ago they knocked down the old building and built a bigger store.
Place: Enomoto Farm
Address: 736-1 Azeyoshi, Ageo-shi, Saitama 362-0065
Website: http://www.enoboku.com/
More information in English: http://insaitama.com/new-ice-cream-shop-at-enomoto-farm-on-popular-cycle-course/
The best combination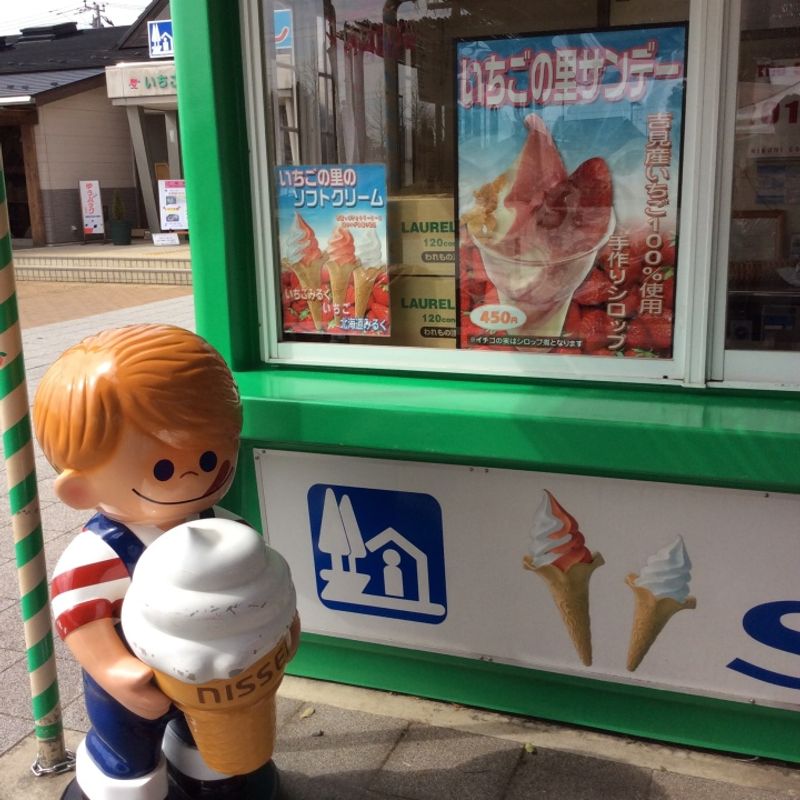 Ichigo no Sato in Yoshimi is a roadside station with a great playground. They offer plain ice-cream cones or cups, Strawberry flavour or their strawberry and milk flavour half and half ice-cream. I bought the kids the half and half one day and one of them couldn't finish theirs, so I thought I would finish it for them. I was utterly surprised by how good it tasted. I sometimes go there just to pick up one of their strawberry and milk flavoured cones. The area is known for its strawberry picking and the roadside station ice-cream van uses locally picked fresh strawberries, which I think is reflected in the price.

Place: Ichigo No Sato Roadside Station
Address: 1737 Kubota, Yoshimi, Saitama 355-0137
URL: http://www.ichigonosato.com/
More information in English: http://insaitama.com/playground-at-ichigo-no-sato-yoshimi/
The most unusual place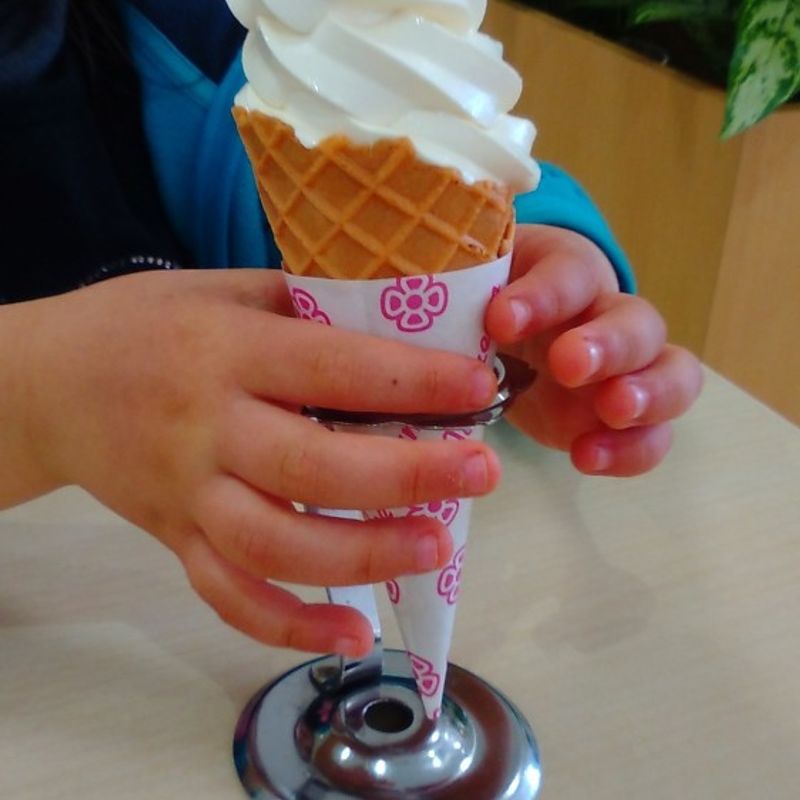 The most unusual place I had a really decent ice-cream was in hospital - not just one hospital, but two! The first was when in the maternity hospital where I had all four of my children. The ice-cream is absolutely divine. The other was when my daughter and I were visiting someone in Saitama Iriyo Center and I bought my daughter an ice-cream in the cafeteria to cheer her up. I was quite surprised by how good it was.
Place: Keiai Maternity Hospital. For full information: http://insaitama.com/keiai-hospital-saitama-general-information/
Place: Saitama Medical Center Cafeteria
Address: 1981 Kamoda, Kawagoe-shi, Saitama-ken 350-8550
URL: http://www.saitama-med.ac.jp/kawagoe/
Most unusual flavour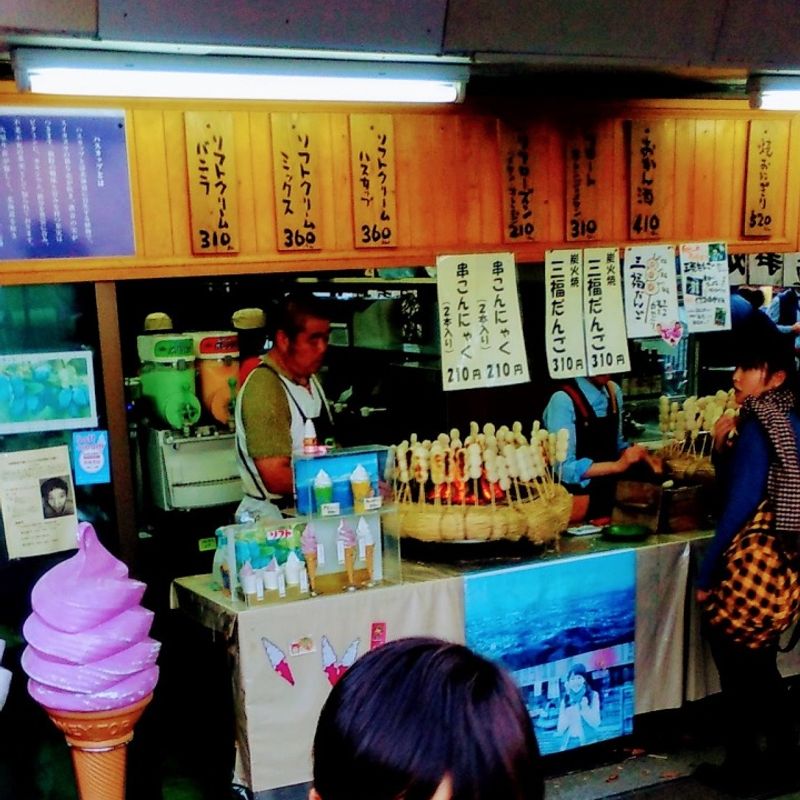 Kasumi Restaurant near the top of Mt Takao sells a Fly Honeysuckle flavoured ice-cream. I had to try it, the curiousity was killing me. I surprisingly liked it, even though it is not particularly sweet and tastes like (an indistinguishable) vegetable; I imagine that it is maybe what a cross of sweet potatoes and blueberries (without the sweetness) might taste like!

Place: Kasumi restaurant
Address: 2205 Takaomachi, Hachiōji-shi, Tōkyō-to 193-0844
URL: None. Information in English: http://insaitama.com/mt-takao-with-children-hachioji-tokyo/
Most unique ice-cream cone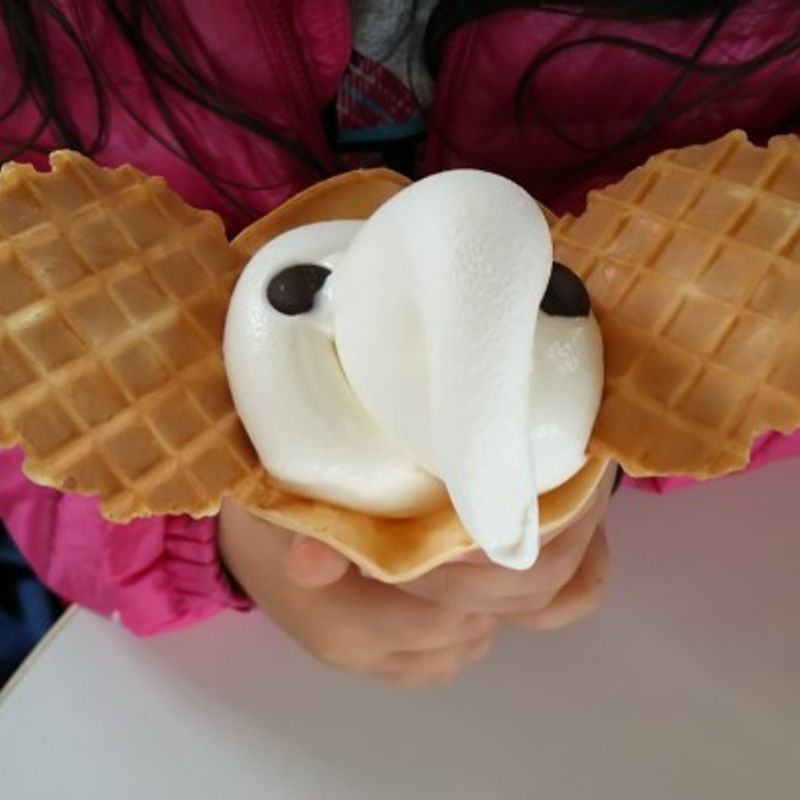 I've seen some really fun ice-cream cones over the years, but the one that comes to mind right now is the cute elephant ice-cream cones you can get in the Zou-no-Hana cafe in Yokohama. Zou no Hana Terrace and Cafe is featured in the reviews section of City-Cost.com: https://www.city-cost.com/reviews/GRqgz-Cultural_centre_with_art_elephant_ice_cream_pop_up_stalls_cafe_Food_Drink_Yokohama_shi

Place: Zou No Hana Terrace
Address: 1 Chome-1-1 Kaigandōri, Naka-ku, Yokohama-shi, Kanagawa-ken 231-0002
URL: http://www.zounohana.com/cafe/
Most fun (Ice-cream sundae)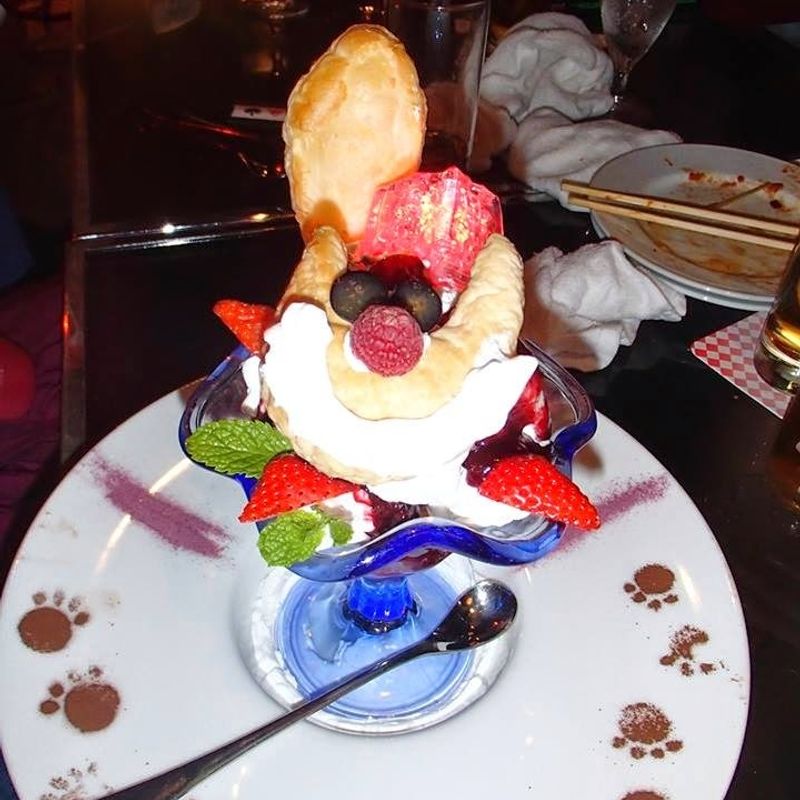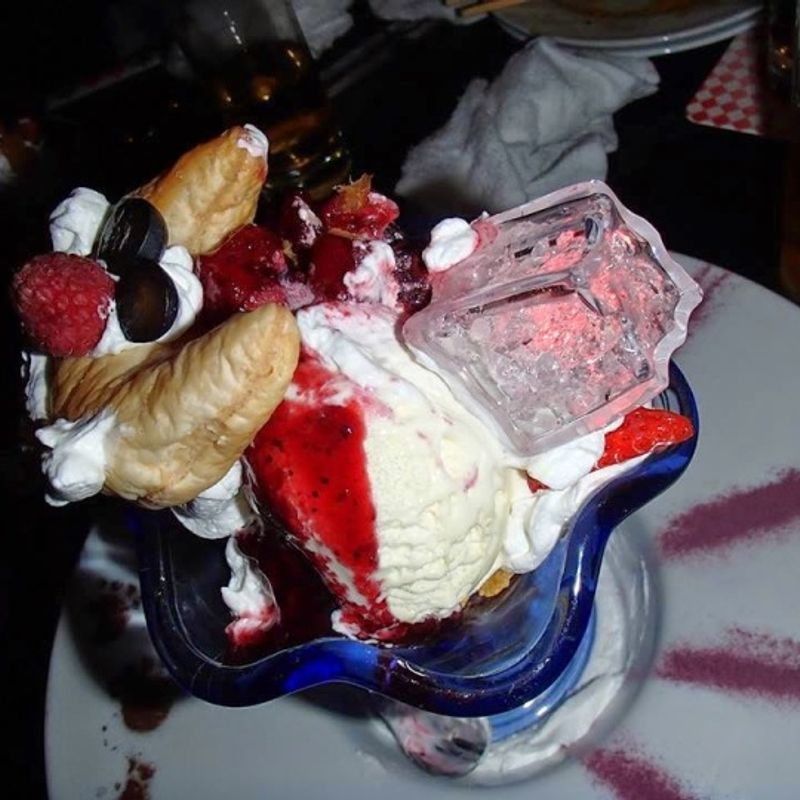 I am not a big fan of the food in the Alice in Wonderland restaurants. They present the food really well and it is fun to see your pasta look like the mad hatter or a salad in the shape of a caterpillar, but the taste is not even half as good as the presentation. That is apart from the desserts which thankfully taste as good as they look and the Chesire Cat ice-cream is both delicious and aesthetically pleasing.

Place: Alice In Wonderland Restaurant (Ginza branch)
Address: 8-8-5 Ginza, Chūō-ku, Tokyo-To, 104-0061
URL: http://alice-meikyunokuni.com/
That's the round up of the places that are most memorable in my mind for a decent ice-cream. I'll throw in an honourable mention to the least appetising ice-cream I've ever seen and/or tasted: Matcha (green tea) flavour, which unfortunately I had the misfortune to taste. Green tea and ice-cream just don't go. Period! While I may never find a "Teddy"'s ice-cream in Japan, I thankfully have found a suitable number of substitutes. And I am blessed that my favourite is near enough to where we live that I can visit whenever I am getting a craving for that indelible taste of home.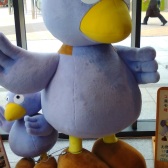 Level 8 LocalGuide with Google. Blogging about life in Japan as an Irish WAHM to 4 kids on insaitama.com.
---
4 Comments
I used to live in Ageo and totally missed out on that shop. You've just given me another great reason to go back and visit. Thanks for the awesome post!

@Jackson Thank you for your kind words :-) It is lovely in spring time as the farm courtyard has cherry blossoms and there are loads of cherry blossoms out the back of the farm along the river. There is also rapeseed at that time of year, if you time it right you can see the rapeseed with cherry blossoms and it is beautiful. :-)

I like the look of the ice cream at Zou No Hana Terrace! I used to serve 'Mr Whippy' ice creams as a part-time job when I was in high school. It was all I could do to get them kind of straight, let alone make them look like an elephant. I'm not sure how true this is but some Japanese people tell me that the Mini Stop convenience stores are ice cream specialists. That's 'their' thing so I have heard.

@SalarymanJim Thanks for the tip Jim, guess what I will be trying tomorrow. ;-) I have tried pulling an ice-cream (is that the right expression!?) before and it went everywhere, so definitely - respect to those that can do it with such accuracy. :-)