Oct 28, 2016
Why spend so much on halloween costumes when there are lots of ways to improvise?
I remember my first Trick or Treat experience was an impromptu dress-up with my sisters and my cousins. It was October 31st, some 15 to 20 years ago, when Halloween was not yet famous and celebrated in our country. My sister became an instant white lady after putting on a vintage white dress, lots of powder on her face and on her hair, which was effortlessly messy. While I, dressed up as a vampire in an all black shirt and pants and an improvised cape made of a red towel that I pinned on my back. My cousin completed my look by drawing vampire fangs and dabbing a lipstick on my mouth. We went house to house and asked for treats. Good thing our neighbors happen to be our relatives, too. It was a simple play dress-up for us but it marked the start of an annual Trick or Treat for kids in our neighborhood. To this day, they still celebrate Halloween and more people, especially kids participate in the Trick or Treat event.
Although, there are a number of Halloween events celebrated in some areas in Japan, particularly in Tokyo, I believe it is still not a popular occasion. Last year was my first time to celebrate halloween here in Japan. Seeing so many nice halloween stuff in 100 yen stores, I thought of holding a mini Trick or Treat at home. I bought these stuff from Daiso (see attached image): a vampire cape, a halloween stick, a pumpkin bucket and hat, and a mask (not in the photo). Then I requested my husband and mother-in-law to prepare some treats to give-away.
Come October 31st, our little family dressed-up in our improvised costumes, all from 100 yen store. My son did not like to wear his cape at first, but later on gave in to mommy's persistence. I think seeing his daddy and mommy wearing silly costumes helped convince him to give it a try. Plus he got a lot of bribes a.k.a. treats from his grandma and from his daddy, too. It was a very simple celebration and my son would not even remembering any of it, but I am glad I captured everything in photos. This is one of the family moments that is fun to look back and reminisce when we become older. I plan to make this an annual family tradition and who knows, this might just be another start for a bigger events in the future.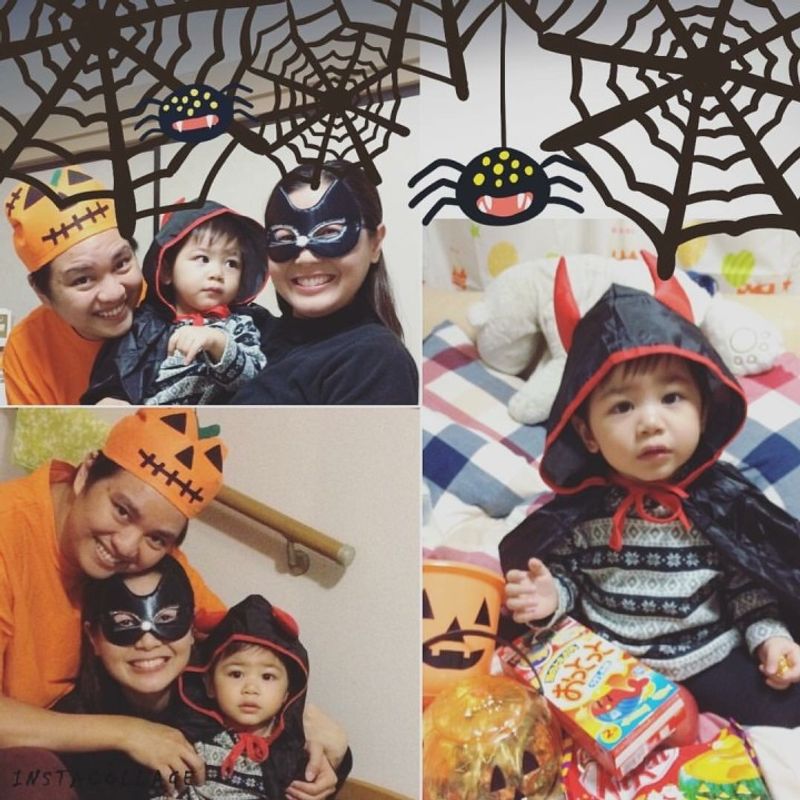 Since I got busy with work, I was not able to plan ahead for this year's celebration. However, an idea came to me a few weeks back, when I saw a halloween accessories corner in one of the department stores I frequent to on my way to work. I thought of having a simpler halloween celebration this year. I immediately shared the idea with my husband and instantly got his full support. You might ask what could be simpler than an improvised costume dress-up. Yes, there is and would require less effort. There is still dress-up involved, but in another form. What I thought of was dressing up our feet for halloween. I was eyeing these halloween socks in Seiyu near the train station I pass by everyday. However, I was not willing to pay 290 yen plus tax just for a pair of socks that could possibly be worn only once. So I tried looking up in 100 yen stores, in other department stores and I even searched in Amazon.com. But I was unlucky to find anything cheaper than the ones in Seiyu. What I did was I pass by the store everyday for a month, hoping they will put in on sale. Until one day, just before the season ends, I saw that the socks were on 30% discount. Wow, I said to myself, this could be a sign. I was supposed to buy it already but decided to just come back after work. I rushed to the store straight from work and boom! The price of the socks went even lower. From a 30% discount a couple of hours ago, the socks were now marked down to only 100 yen plus tax. Immediately, I bought a pair for me, for my husband, for my son and even for my mother-in-law. Now more than ever, I am a believer that patience is a virtue. I came home very happy and fulfilled that I got the halloween socks I've been wanting to buy for a month already.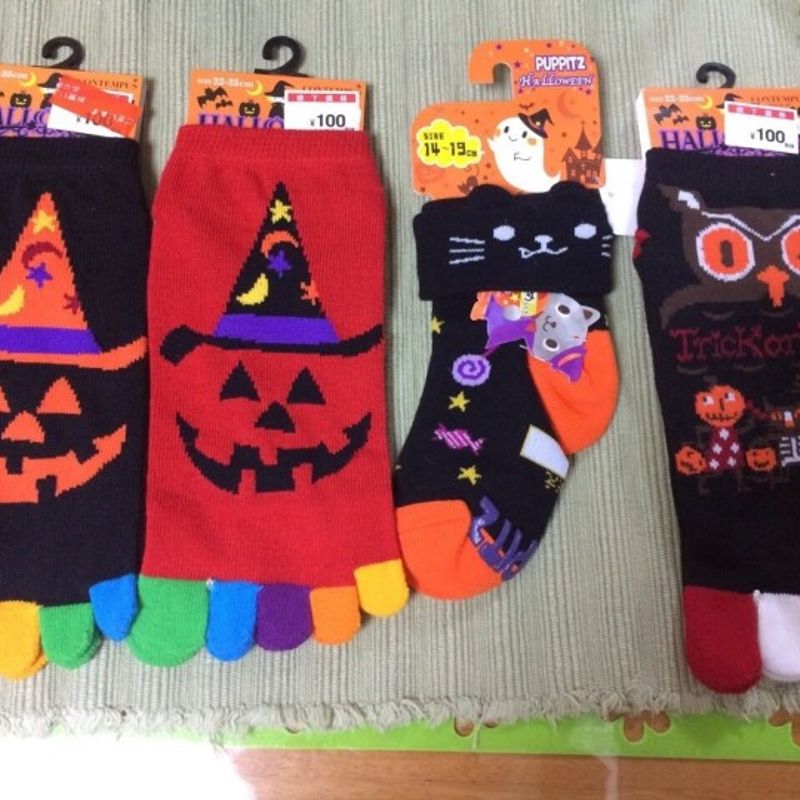 Sharing my experience gets me more excited to celebrate the halloween with my family and, of course, excited to dress up our feet with these cute and colorful socks, too. But what excites me most is the opportunity to create another fun and beautiful memories with my loved ones, not just on halloween, but on all the events and seasons to come.
A 30-something wife and mom, a teacher, a traveler, a foodie, a deal-finder and a thrifty shopper ;)
---