Dec 15, 2017
Chichibu has become my get-out-of-Tokyo destination. It allows me easy access to nature, walking and hiking, often with a bit of history and culture along the way. On my travels back and forth over the last couple of years I noticed what seemed like a permanent line of people at one spot along the road. After investigation I realized it was a restaurant; not very exciting to look at from the outside but obviously something exciting was happening inside. After several more trips I finally had a day when I could join the line and check this place out. One thing I have learned while living in Japan is: it is always better to get to the front of the line, and so we showed up one hour before opening time. To my surprise there were about 20 people already waiting but the plan was in place and we held our ground. Finally the doors opened but we didn't get in with the first batch and so we waited another 30 minutes. At last our turn came and we entered the tightly spaced seating area with five bar-seats and two small tables on a raised tatami (woven straw) floor; altogether, seating at a very maximum, 13 people. The interior décor, like the exterior décor, was obviously not the attraction either and without further delay we got down to the business of ordering.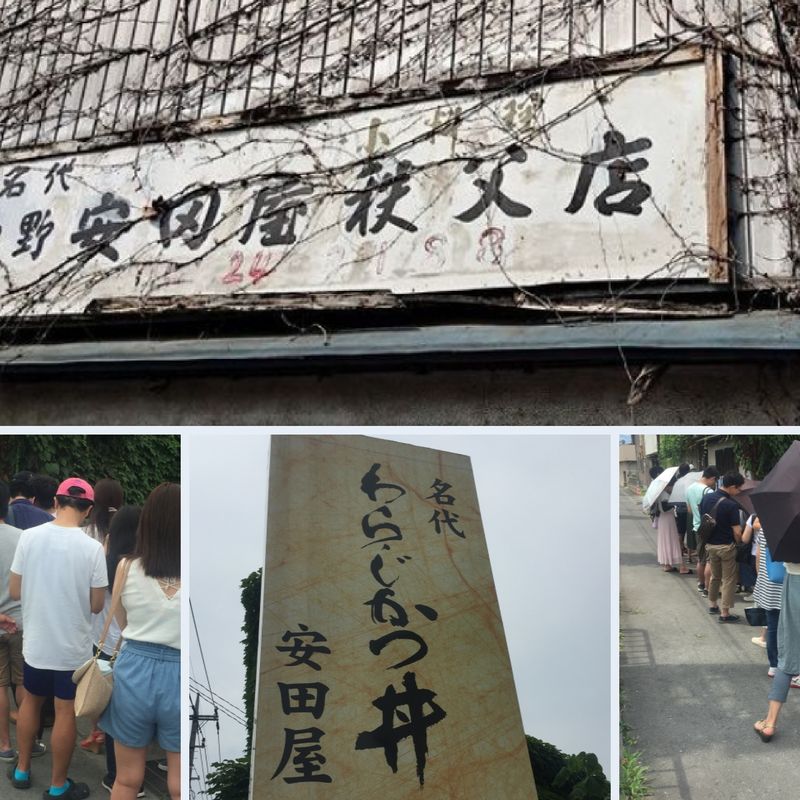 Where I have found myself is in a waraji katsudon house restaurant . Katsudon is a breaded and deep fried pork cutlet on a bowl of rice and waraji is the Japanese word for straw sandals. Waraji were the common footwear used in Japan for centuries and are still in use today by some monks, also as an offering to many shrines, and surprisingly, used over waterproof shoes to protect feet from any sharp stones while stream-climbing (sawanobori , 沢登り). Katsu have a similar shape and color to waraji and hence the name waraji katsu. In Chichibu, waraji katsudon is one of the most popular meibutsu (a food or item famous in a particular area) and what makes Chichibu's katsu unique is that the cutlet is deeply marinated before being breaded and deep fried.
We are presented with the menu which only has two entries: one slice (ichi-mai, 1枚) or two slices (ni-mai、2枚). One slice means: one katsu on one bowl of rice, and two slices means: two katsu on one bowl of rice. Both are served with miso soup and Japanese pickles. So after our long wait and because of my hunger we went for the ni-mai.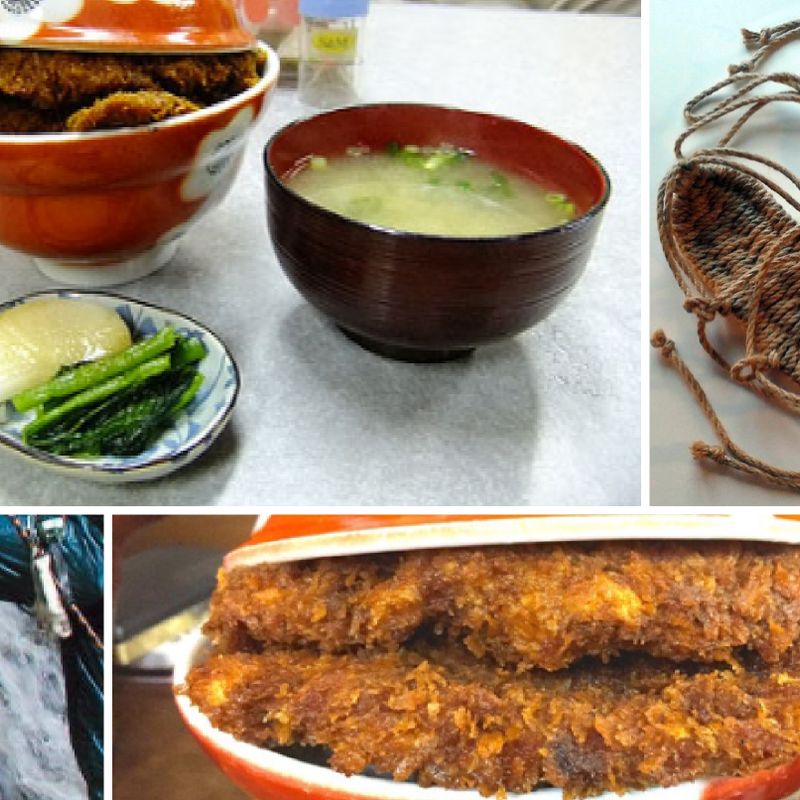 My mouth has already started to water as I reflect back. I sit at the bar watching my order being prepared I see my cutlet being removed from the oil and dipped into what I now know is a miso sauce. Submerged is probably the more accurate verb as the whole cutlet disappeared into a big pot of the sauce. Our order arrived very promptly. At first, I was taken aback by the volume (this is Japan after all) but I got over that quickly and bit into my katsu and that is when I got confused … do I spread the word about this place? or NOT spread the word? … because the line to get in is already so long, but it is sooo good, excellent even, and I want people to know!
Some people like a crispy katsu but this was just to my liking, the meat was tender and the sauce made me want more! But even in my hunger there was no way I could manage the second slice and because this is probably a common occurrence they have take home boxes on hand. So off we went satisfied in so many ways and then we had the leftovers for dinner! What a deal for the total amount of 1,080 yen (1 slice is 860 yen).
I have entertained trying waraji katsudon in other places in Chichibu but the absence of a long line of people waiting outside, and my desire to savor this mouth watering experience, changes my mind every time!
ごちそうさまでっした!
For more information please see the following:
Link on Google Map: Address: 1 Chome-6-9 Hinodamachi, Chichibu-shi, Saitama-ken 368-0034
Restaurant name: 安田屋日野田店 (Yasuda-ya, Hinoda-ten; the Hinoda branch of Yasuda's shop)
Opening hours: 11:30am to 4:00pm; closed on Mondays. Cash only.
Link for City-Cost restaurant review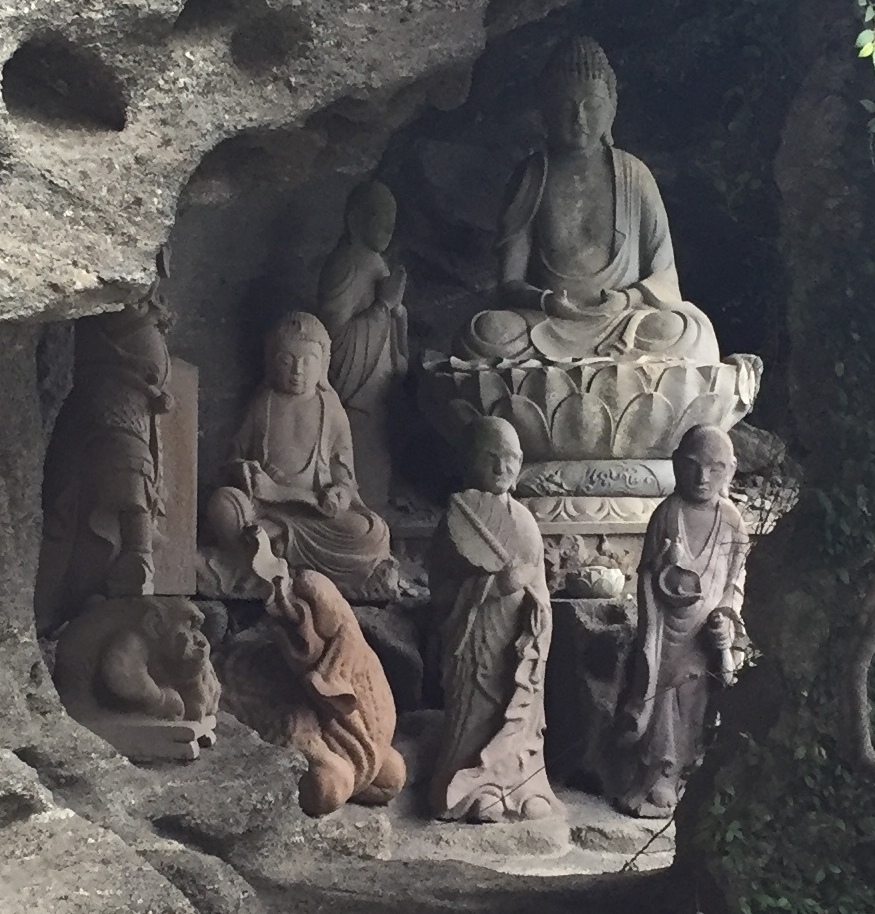 Helping other non-Japanese stay positive in this sometimes-tough-to-survive-in but amazing country.
---
4 Comments
Oooh, this does look delicious!

I love places like this, not that I have much experience with them. But you know it has to be good or unique (or the winning combo of both) when people repeatedly line up for the pleasure. Duly noted for the next time I am in the area... although me thinks they may not have high chairs or cater to kids, so I will savour it for a solo trip... or even better; with you. ;-)

@Saitama I'll keep trying you when I'm in the area!