May 18, 2016
For those who missed the memo, The Mister and I spent Golden Week in Cancun Mexico, to celebrate my little cousin tying the knot.
I've finally smoothed over the jet lag, thanks in part to KP2 who read my last post and came over three hours later with TWO entire boxes of Kraft Mac N Cheese which she had found.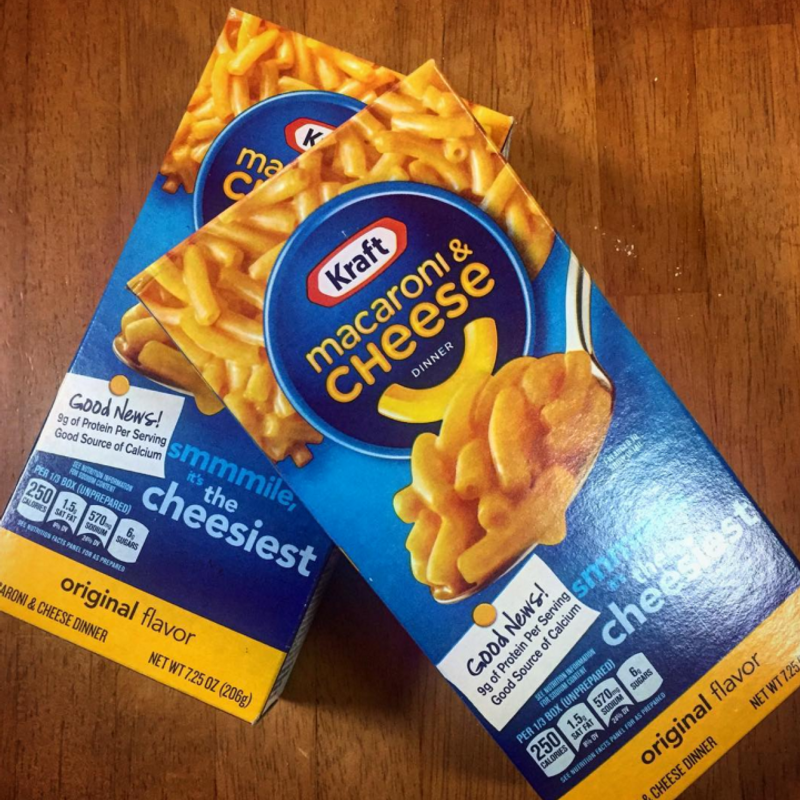 less than three.
Our time in Mexico was spent at an all inclusive resort. Which is a cost-effective way to feel like you're an opulent almighty ruler of everything you see. (that also makes it a WAY magnified version of the Waiter Rule. FOR THE LOVE OF ALL THAT IS HOLY: Tip your staff and be gracious and kind for the work they are doing to make your vacation lovely. They are human beings and you need to at least pretend you have a shred of decency.)
The other thing all-inclusives are real good for, however, is finding ways to make you feel like you need to break out of the "included" amenities and spend more money to do "excursions."
I have long felt the only detractor from all-inclusives is the constant sales pitch to do extra stuff. When you save to be able to take a trip that you understand has, you know, ALL things included, a sales person could literally say "this is two cents extra" and my natural inclination is to recoil in horror and say "WHAT ARE YOU DOING GO AWAY I HAVE ALREADY PAID FOR ALL THE THINGS I FEEL LIKE PAYING FOR."
Have you ever stayed at an all-inclusive?
What's your excursion stance?
Tell me in the comments!
I make a point on the occasions when I've been lucky enough to stay at an all-inclusive to be real upfront about rejecting extra charges. Upon check-in I immediately shut down the extra pitches: would you like to upgrade your room? Nope. Would you like to come to this breakfast where we try to get you to sign up for another vacation? Sashay Away*. Would you like to hear about all the fun things that cost extra in exchange for a bunch of coupons that are more or less meaningless? NO! And then I follow that up with pretending to be asleep anytime the sales people make their rounds at the pool.
Two exceptions to this rule in my head:
While I am 100% the person who will spend my time at a resort just belly up to the swim up bar, I recognize that I have married my opposite, and as such, he gets real bored of that in like, a day. The Mister is very good at finding stuff to do on the grounds - yoga, playing the games the activity director offers, checking out the night club. But we're on vacation, and he needs a few opportunities to let his freak flag fly.
Remember that one time last week I talked about how HORRIBLY sunburnt I got? Turns out the onsite spa offers a sunburn treatment… for an extra charge. Which I signed up for without batting an eye.
Now the thing about any of these extra charges is that they are all 100% negotiable on price, IF you're the type of person who is comfortable negotiating. The Mister is a champion of negotiating price. I… am not. He sent me to look at if the spa had any sun burn treatments and I without thinking about it just agreed to the first price I was given. The very next day The Mister was able to go to that same spa and negotiate for us to get a couple massage at literally 50% of their initial price. How did he do that? I don't know, because the only part I was privy to was:
"Hey babe. I'm gonna go see if I can get us signed up for a couples massage. No no, stay here, I'm going to talk prices with them and you're better just enjoying your mojito far away from that conversation."
That's not The Mister being mean, that's The Mister being honest. And I'm grateful for that skill set of his because… I mean, I got a massage, did you not read the above?
He also negotiated for the one off-site excursion we took: A sunset dinner cruise. Which is pirate themed. Aka - The Galleons of Captain Hook.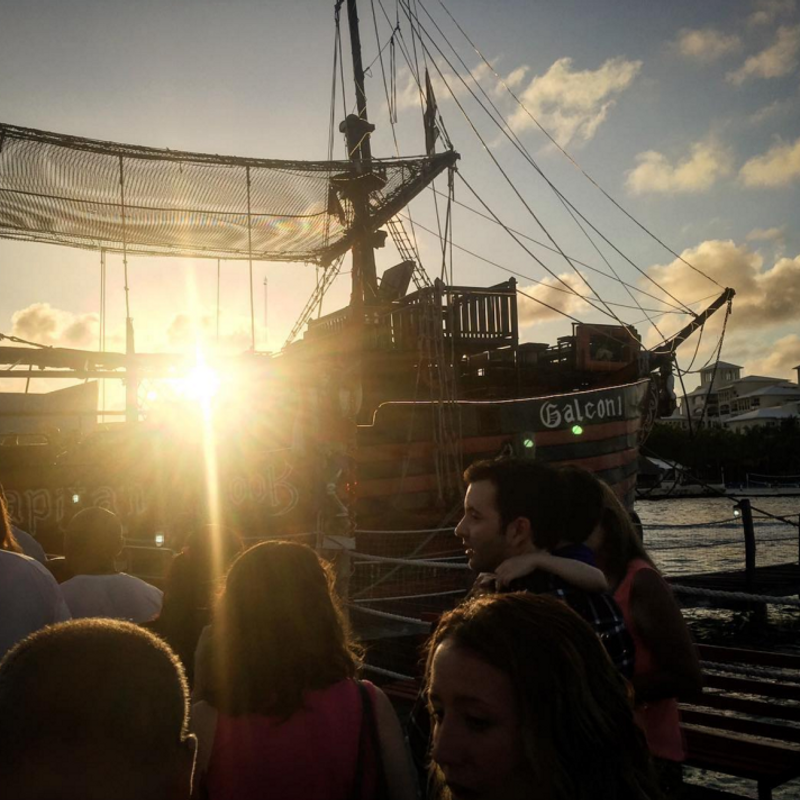 Real talk, we took a gamble thinking this might be a stupid kiddie thing. And there *were* kids aboard… but holy cow did we have great time! It was like Medieval Times at sea!
There were three ships that went out, and at the end of the night, they had a legitimate pirate fight between each ship over the "treasure." There were games, dances, between the two ship masts they had rigged a space for an aerial silks performance, cir de solei style right over our heads in the middle of the ocean. Did I mention there was a pirate fight between other ships at the end? Listen, it was silly. You should probably recognize that when you sign up for a pirate dinner show. But if you can be silly, I can't recommend that trip enough.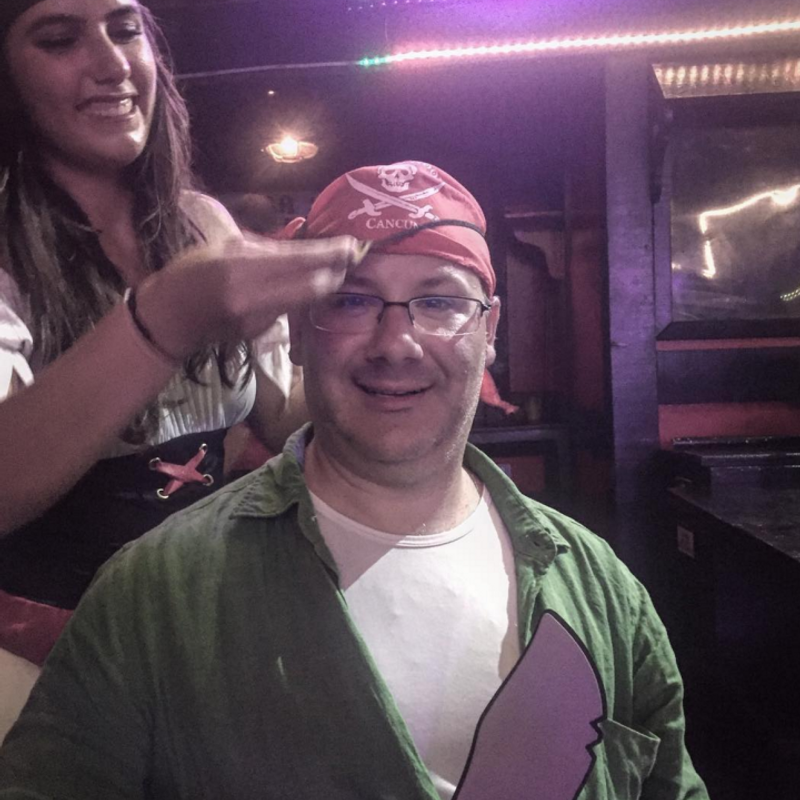 Donning the children's pirate kit he purchased. Silly is The Mister's middle name.
It was our last night in Cancun and I'm so glad we chose that to wrap up our trip. Now I'm back in Japan and ready to get back into the groove.
SPEAKING OF THAT AFOREMENTIONED GROOVE!
Are you in the Nagoya/ Chubu area? The Chubu Walkathon is this weekend, and I hope to see you there! The Walkathon is a charity event put together largely by the expat community of the area, and as this is the 25th year of the Walkathon, they're going bigger and better than ever.
This year also includes… are you ready? COOKIES.
MY COOKIES.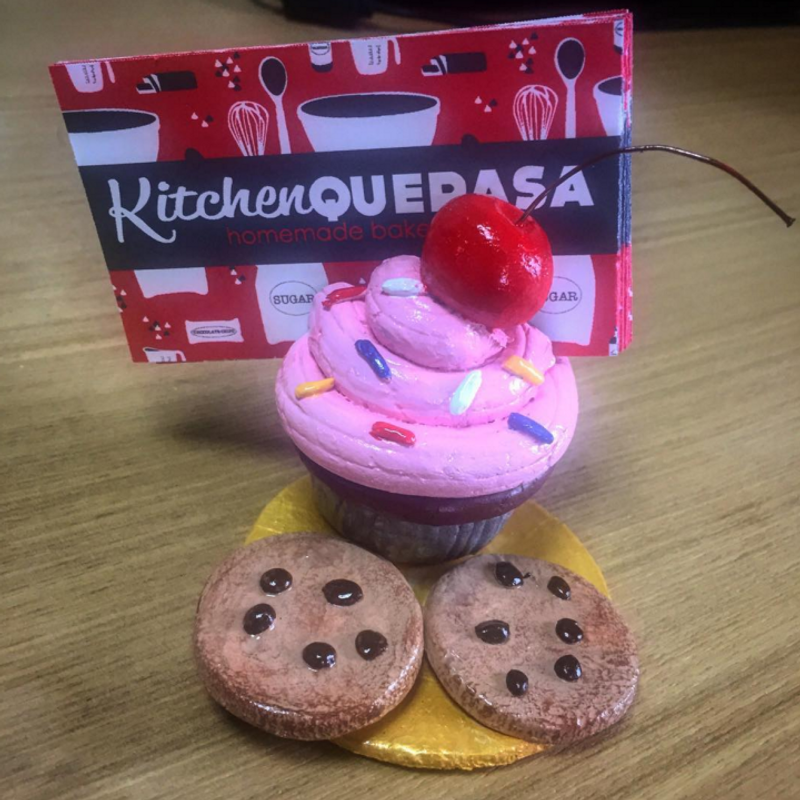 I'm in the middle of making a few hundred limited edition Walkie the Walrus character cookies that will be for sale (¥200, non-negotiable price. Proceeds to the Walkathon charity) at the event. I'm SO excited to have my little budding bakery featured in this way and I'm doubly excited for the effort of all this baking go to such a great cause. Come say hi at the Walkathon on Sunday. Buy a Walkie Cookie. Help a good cause and get a delicious treat. I'll see you there.
today's little language lesson
Cuando hubiste hablado español para dos semanas, su mente esta muy confundido a empezar a hablar Japonese una vez mas.
When you've spoken Spanish for two weeks, your mind is too confused to begin speaking Japanese again.
*There are few things I make such a point to keep up with from the Western Hemisphere as knowing what's going on in RuPaul's Drag Race. If you have a fave queen you should tell me about it because I would talk about this for eons. Me? #PurseFirst. (and where do I buy Bob's first dress form the evening. I want it.)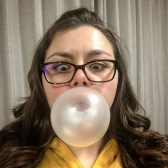 The name is Kp or KpMcD (Kristin, actually, but for the sake of continuity let's stick with the nickname, shall we?) Hailing from the Midwest US and living in Nagoya with my husband (The Mister), my dobermutt (Mac) and an elitist marmalade tabby who answers to no one (Bubba).
www.KpQuePasa.com
---