Jul 4, 2018
Convenience stores seem to be in a frap war lately. They have been introducing different versions and flavours of the icy drinks, perfect for the summer. The one with the most successful advertisement, from what I witnessed, was Family Mart's Galactica Grape Frap. It was essentially a grape flavour icy drink, but because of the green and purple colours the cup held and perhaps more importantly, the genius name that gave this drink a space-y mysterious name, I was immediately intrigued in trying it at least once.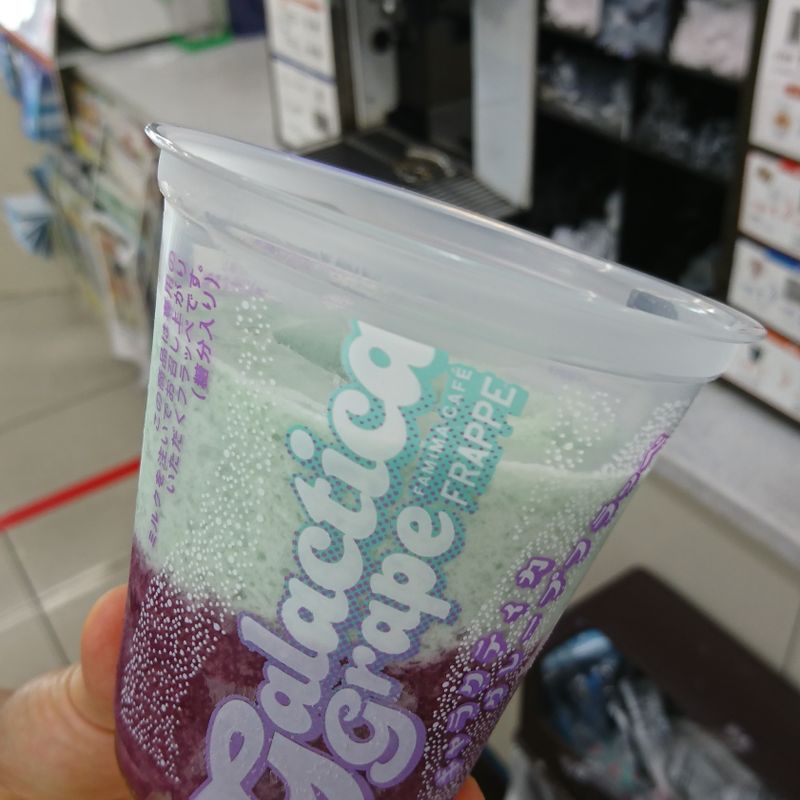 So on one of the recent hottest days, I passed by a Family Mart and thought it was the perfect timing for me to give it a shot. I walked up to the fridge in the back and picked up one of the colourful frozen cups. Not sure what to do, I walked up the cashier, who took my money and then pointed me towards the coffee maker. I was confused by the coffee maker for a moment: am I adding hot water or coffee into it? Then I saw the button for Frap. The machine started dripping steaming milk into the fruity block of ice, and when it finished, I realized that I forgot to crush the ice up by squeezing the cup as the package demanded. Oops.
I mixed the milk with the fruity ice, then I put the cap back on. My first impression of it was that it was delicious, and it reminded me of cotton candies, which I am a fan of. 5 minutes later, however, I was getting a bit bored by the drink. The biggest issue I had with it was the conflict between the fruity flavour and the creamy milk, so while I expected something juicy and refreshing, the milk countered it. With that in mind, I immediately knew that I won't buy it again, but again, props to their advertisement campaign that got my 290 yen!

---