Mar 26, 2019
I have been seeing this tossed around a lot lately:
"It is the last new year's eve of the Heisei era."

"The last graduates of Heisei."

"Have your last Heisei party here!"

And to those, I honestly ask, who CARES????????
I went around asking many Japanese people why they care, and they answered because it is the change of the emperor. I then asked them what the full name of the emperor is. Some people were unsure about his first name, and even more people do not know of his last name.

I then asked again, if you know so little about the emperor, why does this matter? And they often replied with "huh..... that's very true."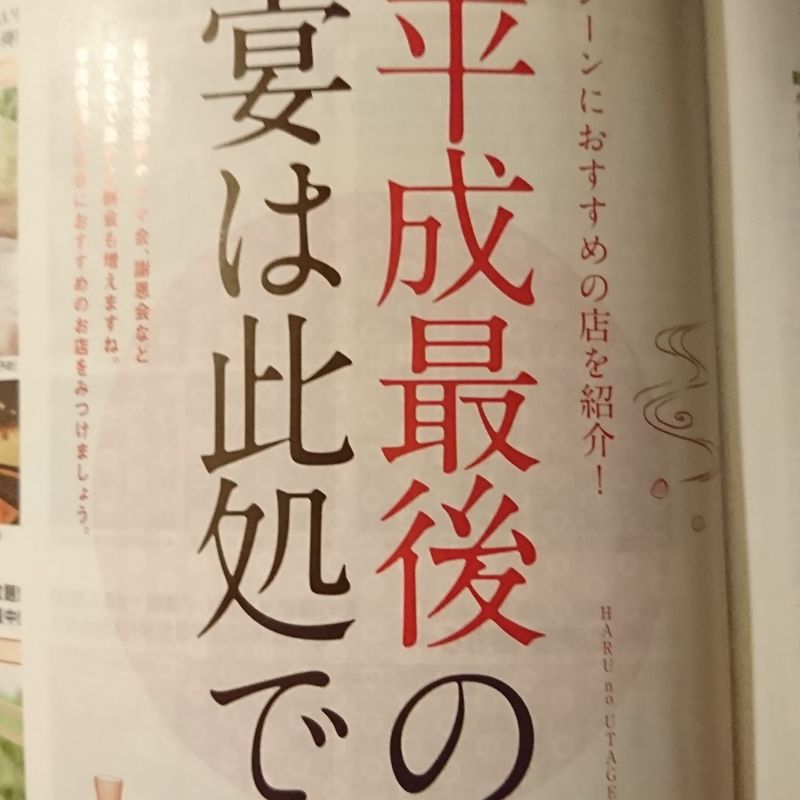 It is a great marketing term, yes. But serious, how would this affect any of us except for when we fill out forms!??? And if it does not really affect our lives, then who the heck cares if it is the last of Heisei!???
Anyway, there is my unnecessary rant. Have a good day!
---
5 Comments
Call me sentimental, but it really is the end of an age. These names are representative of the events that occur, both nationally and personally, and are a special frame of reference. Think about the Showa period: it was such a tumultuous period. You saw the rise of ultranationalist Japan, culminating in them occupying much of Asia, and their entrance into WW2. And it includes postwar Japan—slowly building itself up to what it is now, from the literal ashes. Now you have Heisei. Literally meaning "achieving peace," it was a hope for a new age of Japan after stormy Showa. And the country saw huge economic growth and moved past the traumas inflicted after WW2. Granted, there are a lot of difficulties as well, from the collapse of the bubble economy to multiple natural disasters to a rapidly aging population and declining birthrate. The end of Heisei marks a new era that will be greatly influenced by globalization. It's already started now, but especially for homogeneous (and xenophobic at times) Japan, it's a big deal. The two eras in people's minds (I think few now were alive during Taisho) were so different that it makes people wonder (and be a bit fearful of) what's to come in the new age, whether they're conscious of it or not. (Thanks for coming to my TED talk.)

@hellonihon Thanks for the comment and I respect your perspective as well. I understand that it is a name used to summarize all the changes that has happened. However, I find it odd that the changes and memories are all grouped under a name that is based on when the emperor changes hands, when the people themselves (at least the ones I have talked to) does not care about the emperor himself. If there was a better name to summary the era, I would appreciate that more. Moreover, from what I see, the term is just being used so broadly just as an eye-catching term with no merit or appreciation of the era, and that to me is the part that is the most unfortunately.

@Jackson Perhaps I'm just used to that way of thinking because it's quite common in the States to refer to eras under their presidential term as well. Regan-era politics, Roosevelt-era social programs, etc. Having 4-8 year "eras" is even worse. I think the mentality towards the emperor and royal family is summed up well here: "In political terms, this means less than nothing. The J emperor is even more ornamental than the British monarch. It's fairly common to hear Japanese kvetch under their breath about how much tax money it takes to support the J Royals. But no one has, no one can come up with a reasonable replacement as a human representative of the J State. If these quibblers somehow got exactly what they say they want (an end to royalty in Japan), there would still be a need to give the ceremonial title Head of State to someone. I'm hardly worried about a revolution, or even spotty riots here and there if the throne were abolished, even overnight. But you can bet the farm that Japanese would be complaining for generations about the choice made to replace any emperor- by anyone."

@hellonihon Haha that is a very good summary. I see your point :)

I'm feeling the end of the Heisei Era because because it coincides with some beginnings for me. It started my fascination with Japan, and got me motivated to learn more about the language and culture. It happened just before I became and adult, so all my adult life has been within the Heisei Era. Most of this era has been mired in endless recession, and the views from the inside and outside have changed dramatically. Japan has increased the number of non Japanese working here exponentially, and the outside world has come to see Japan as a world player. Just think back to the 80s, movies like Rising Sun and Gung Ho were popular. You couldn't make movies like that any more. Young people abroad are so enamored of Japanese pop culture and technology that they learn the Japanese language. I've met young North Americans that, on their first visit, can interact in daily conversation. That didn't happen before the Heisei Era. It also makes me think about the "Elizabethan Era", the reign of Queen Elizabeth II. She ascended the throne when my father was born in the UK, and I was born in a commonwealth country where her image has appeared on currency, postage stamps, and on the walls of public buildings and schools all my life. Long may she reign, but likely that will end in my lifetime. The abdication and ascension here in Japan will be an interesting case study in how a nation reacts to the change of head of state and how people see "then" and "now".