Feb 11, 2017
I fell right into this bottomless pit soon after I arrived to Japan. The snacks, and by snacks, I'm referring to the junk food, are delicious. Japanese potato chips, caramel corn, pocky, and oh so many more that I couldn't stop enjoying even when I used to buy them from import stores back in Canada.
But now that I'm in Japan, I see all those seasonal time-limited flavours, and there's that voice in my head that goes "if I don't try it, I'd never know what it tastes like!" For only 90yen-ish a bag, I find myself purchase one after another whenever a new flavour is introduced, before I even finish the stock that's already at home.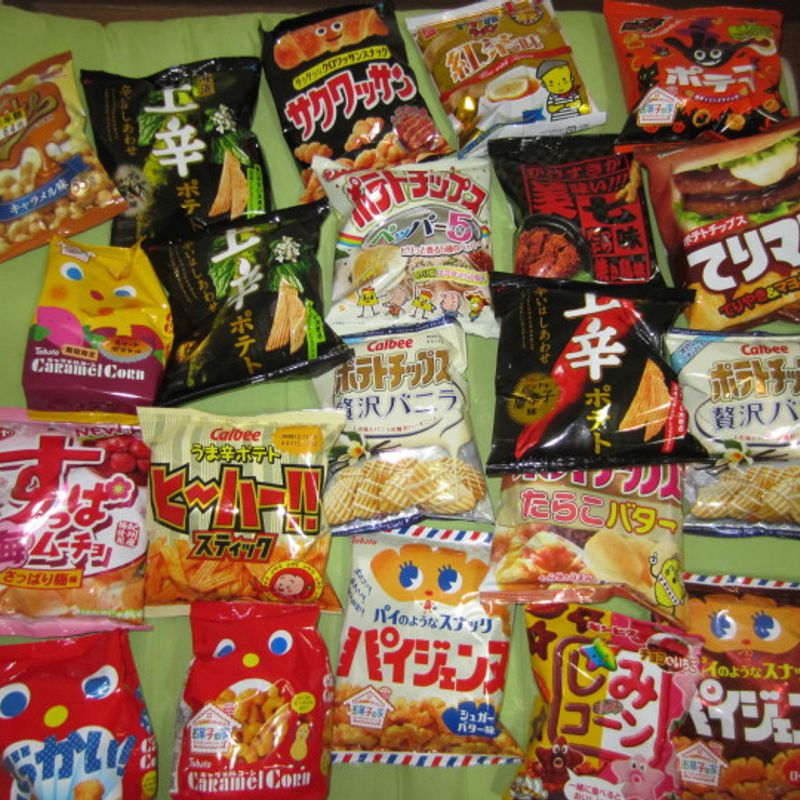 And my stock often ends up like this.

It's a guilty pleasure that I can always open a new bag of snack, not knowing what it'll taste like. The excitement to finding out how the taste matches the expectations I got from its package is the biggest reason I can't stop. To fulfill the curiosity is even more important than fulfill my stomach with tasty (unhealthy) snacks. I do finish them all eventually and none goes to waste (except for that one flavour that was an utter disaster and I had to surrender. I'll save that story for another post).
At least this addiction is much more affordable than other ones I could have picked up, like pachiko, haha.
-----------------------------------------
Follow for more everyday magic I encounter in Japan!

---
6 Comments
The first time I visited Japan, we found strawberry Cheetos. That's where it started for me, although I don't feel the need to try every flavor / product out there. It's just so fun to get the limited seasonal snacks, some of which come back every year.

That's an impressive selection! To date, I've never tried the Caramel Corn things. I see them around plenty, but somehow they don't appeal. I think you should get some Don Tacos in there, and also some of those corn chips in a kind of funnel shape. I can't recall the name but they come in a sort of box rather than a packet.

@helloalissa Strawberry cheetos oh Goodness lol. How was it?

@DaveJpn Caramal Corn is one of my favourite. I'm not a fan of popcorn but it is very different in a wonderful way, worth a try! I like Don Tacos too and I know the corn funnels that you're talking about! It's been years since I've had them, and now you just inspired me to pick a pack up haha :)

@Jackson They were a bit strange, but a good souvenir. I liked the strawberry Tohato much better because it doesn't also have a cheese flavor.

@Jackson I like to inspire! Just don't wolf then all down in one go. They can get a get a bit much if you don't pace yourself!