Jan 12, 2017
We're more than a week into 2017 and it is finally time for me to take a look at all that went on last year.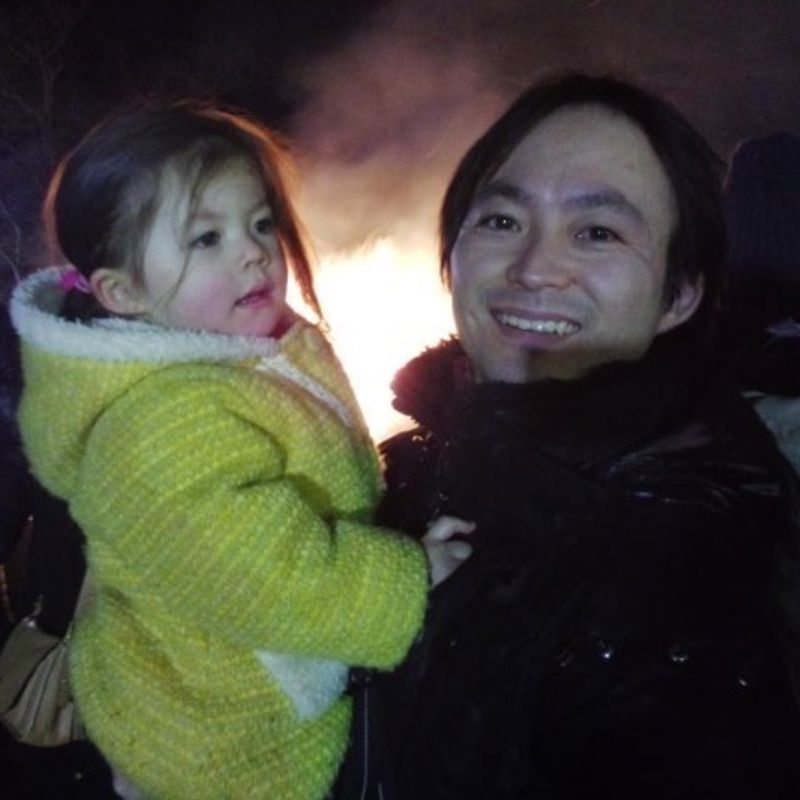 My little family at Dontosai, the ritual shinto bonfire, in 2016.
Last winter, I lost a student, which isn't a big deal when you're teaching at a big school or have dozens of private lessons. I had 1, and her lessons were keeping us in diapers and with the option of actually starting to save up money again. She'd been happy/insistent to share time in our lesson with my daughter as her only grandchild is a boy who is a few years older now.
Then we had a bad lesson. A really bad lesson. I couldn't get Julia to calm down. There was no one around to help watch her. We went from park to play ground, searching for a way to get Julia to calm down, and it was just no good. She was wild, and we had to end the class a few minutes early from all the chaos that 2.5 year old could throw at us.
A week later my student sent an email explaining essentially that she was quitting. Because she has known me since I came to Miyagi 6 years ago and was one of the first students in the area to take to me well, a lot of my teaching confidence came from that bond. Having it severed through me for a loop. I wrote about it in my personal blog, here.
Even now, a year later, I'm not sure exactly how to take her parting words, in which she insisted that she was distracting me from taking care of Julia; that she was the reason we weren't on a good schedule of meals and naps. From anyone else, I would have seen this easily as a criticism of my parenting. But she knew me so well...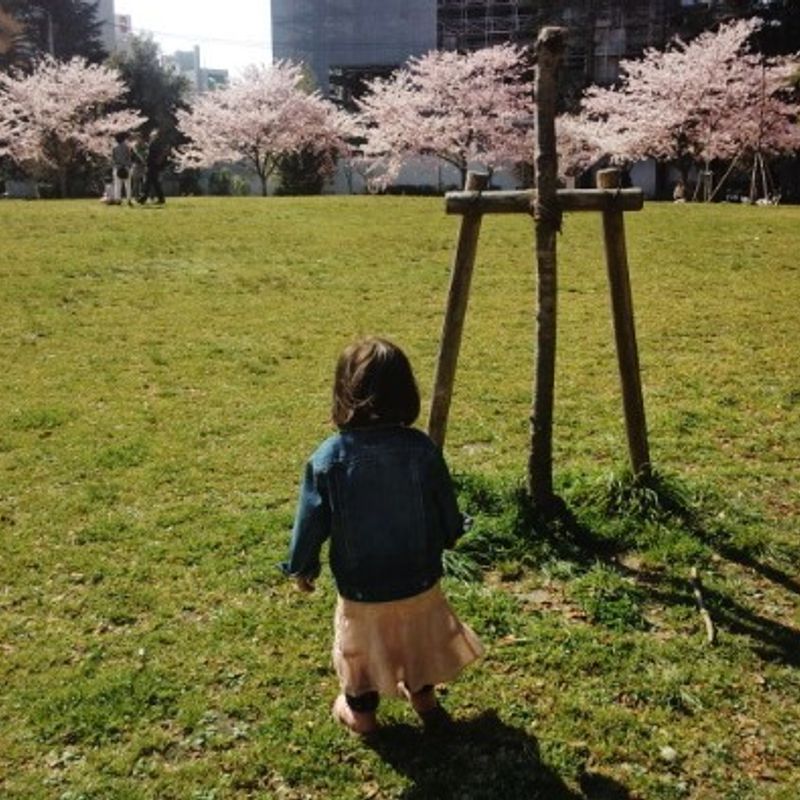 Julia with the blossoms at a park in Sendai
Spring came and I spent a significant amount of time under the cherry blossoms at Shiogama Shrine and in Sendai. This usually comes right around the same time as Golden week, which in years previous meant parties with tons of my friends, but not this year. Most of my friends had left or were planning to leave soon. I spent Golden week this year relaxing at home with my kid mostly.
About a month later, my husband's grandmother died. She spent most of the last year of family gathering complaining about her impending death. We tried to stay positive with her, but she was ready to go. The funeral service marked my first ever Japanese funeral, and I spent the majority of the time chasing my child around in the quietest way possible, usually outside of the room where all the other relatives sat. So I missed most of it, but I wouldn't have understood much anyway. I am not that fluent. Not by a long shot. On the upside, I spent less than $20 on Julia's funeral ensemble (thank you, thrift shopping) and my in-laws were impressed with my ability to keep Julia from destroying the ceremony. That said, during the bone-handling portion of the event (after cremation and lunch, when the family picks through the deceased bones and ashes, choosing the biggest chunks to inter at the family grave), Julia screamed for "MamaPapa", the one word used for her two grandparents, and we had to go walk around outside the building.
This marks one of the very few social occasions in Japan in which I did not fail my in-laws completely. That's my life here. My husband's family is great and they love me and generally are very accepting of my differences, but I also think that they frequently look disappointed. That was not the case this time. They actually thanked me after the services were over for taking care of Julia as well as I had. Another relative commented that I reminded them of the deceased as I chased my kid around the same way she had chased my father-in-law around when he was Julia's age.

In the following months, I started a Patreon (monthly crowdsourcing for artists) in which I create sock monkeys and other sock creatures and raffle them off at the end of the month. Mostly this pays for the other artists I want to support, but I still get a few more dollars a month into my Paypal account, and that's not a bad way to go over all.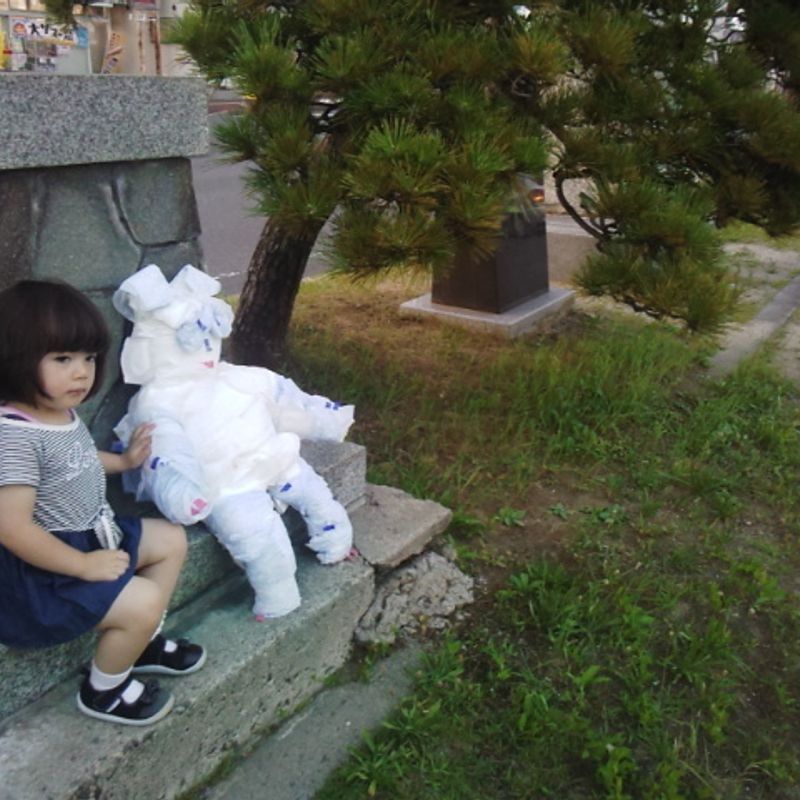 Julia with a pad-na, Panda made of sanitary pads during GISHWHES.
Summer happened. 3 highlights:
I started writing here on city-cost and won the Summer Blogging Contest (in a 3-way tie). I also won some delicious grapes in another campaign. This site gives me reason to go out and experience new stuff in a place I've been living for too long while also supplying me with an ability to buy a few more odds and ends off of Amazon.
GISHWHES (The Greatest International Scavenger Hunt The World Has Ever Seen) runs around the first week of August and I participated for the third consecutive year. We didn't win anything, but we had a lot of fun. My brother gished for the first time ever and loved it. He even made some new friends, but he's better at that sort of thing than I am.
My daughter turned 3 on the 30th of August. Some friends came out from Sendai and we blew bubbles in a park for a few hours. It was wonderful.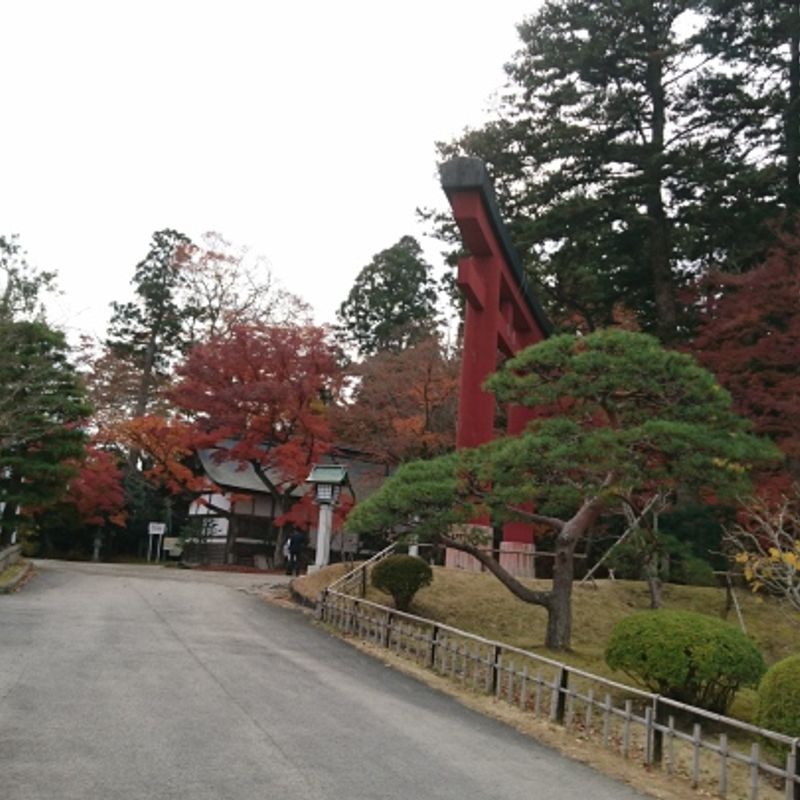 Then there was fall. Having a 3 year old means seeking out a kindergarten and getting all of your paperwork organized ASAP so as not to lose out on these first crucial years of education and social indoctrination. Luckily, the city I live in has six kindergartens and not nearly enough kids. I researched as much as I could using google translate as necessary and limited it to three choices. Touring the closest on our list with a friend led mostly to me chasing my daughter while the Japanese ladies talked amongst themselves. Our tour guide would not even give me paperwork of my own to take home and look over, instead having me copy what I could onto scratch paper while she reminded me that I should really tour other schools as this location already had more than enough (fully Japanese) kids on their waiting lists.
I don't think they were being racist or anything. I just also didn't feel like we were wanted or even really welcome.
When my husband had time to look over the remaining options with me, his choice was rather clear. He wanted our daughter to go to the same school he had, and when we went to check it out, I had to agree. It is a nice little school, and the office workers were more than happy to walk us around the school, and even tried to engage me in conversation. When we returned for their open campus session, the kids were as excited to play with Julia as she was with them.
Then came "orientation" which I did not realize was code for "test the kid/mom" in private schools. The only private school I went to was my college, for which I filled out an "uncommon application" worksheet that was sent to me in the mail. My acceptance letter came in the mail before any interview/orientation could be scheduled.
My husband had not helped my nerves on this, insisting on working through the questionaire together the night before. Could she use chopsticks and dress herself? No. I had not been teaching her that. I had been focussed on surviving and getting her to eat regularly while also peeing on the potty. She's learned a lot of English phonics and can almost read by herself. She knows a bunch of songs and dances. She knows a lot of nursery rhymes. She knows so much...but nothing that was on any of those sheets. She's not on a regular schedule.
So I started having serious doubts about my parenting skills, feeling completely worthless and like I might have just ruined my daughter's life simply by being a lazy, exhausted jerk. It felt like I was failing at tests I didn't realize I'd signed up for.
Then we went to the interview and they took our questionnaire. Then they asked Julia some questions in Japanese, the same questions her grandma uses with her all the time, and she got nervous and looked at me instead. I translated the questions to English and she answered in complete sentences. Shocked and amazed, I turned to the lady asking the questions who knew enough English to accept the answers. A few weeks later, our acceptance letter came. The last time I was this relieved was probably when she came out screaming, without the lung complications so common in preemies like her.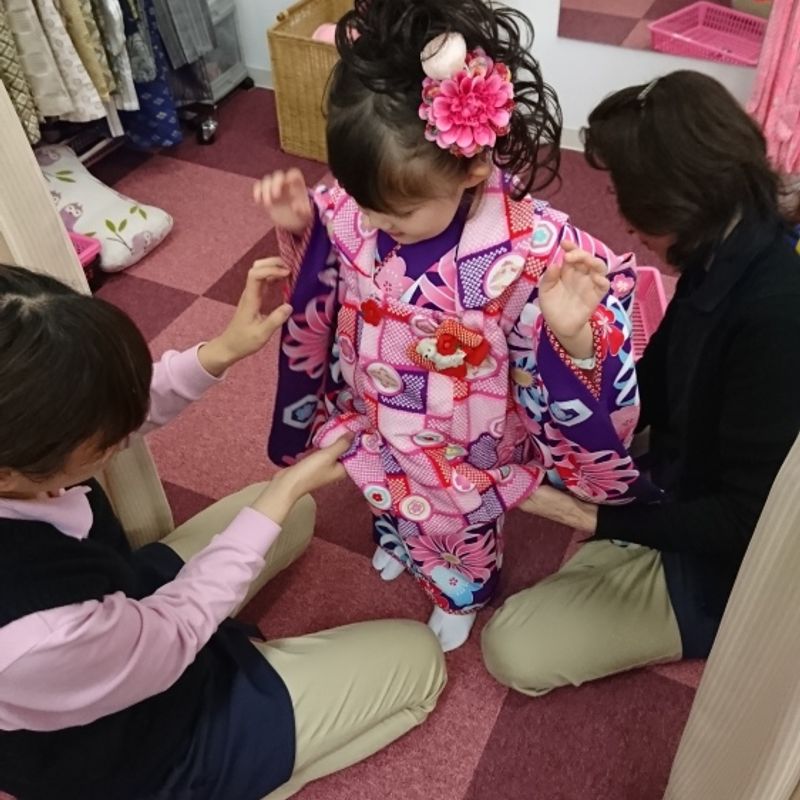 Immediately following this, we had to start working on 7-5-3 stuff, starting with arranging a day to go to a professional photographer, which is difficult given my husband's work schedule. Once that was straightened, we had to get her into a kimono and find ways to convince her to be photogenic and behave as well.
Then came the actual shrine day, which we allocated for a Monday that my husband had off, and it wound up being really nice actually. The leaves were changing around Shiogama Shrine and a few tour groups were going through for that but wound up taking pictures of Julia as well on account of her adorable-ness. Or because they never see half-foreign kids in kimonos. or at all. not really the point though.

It was gorgeous, and she was mostly really well behaved.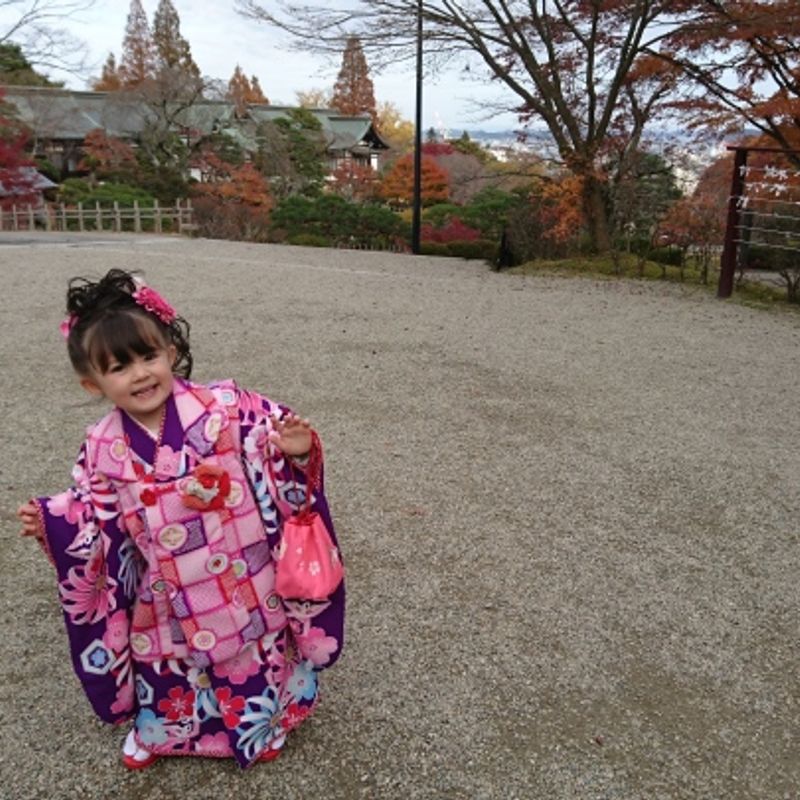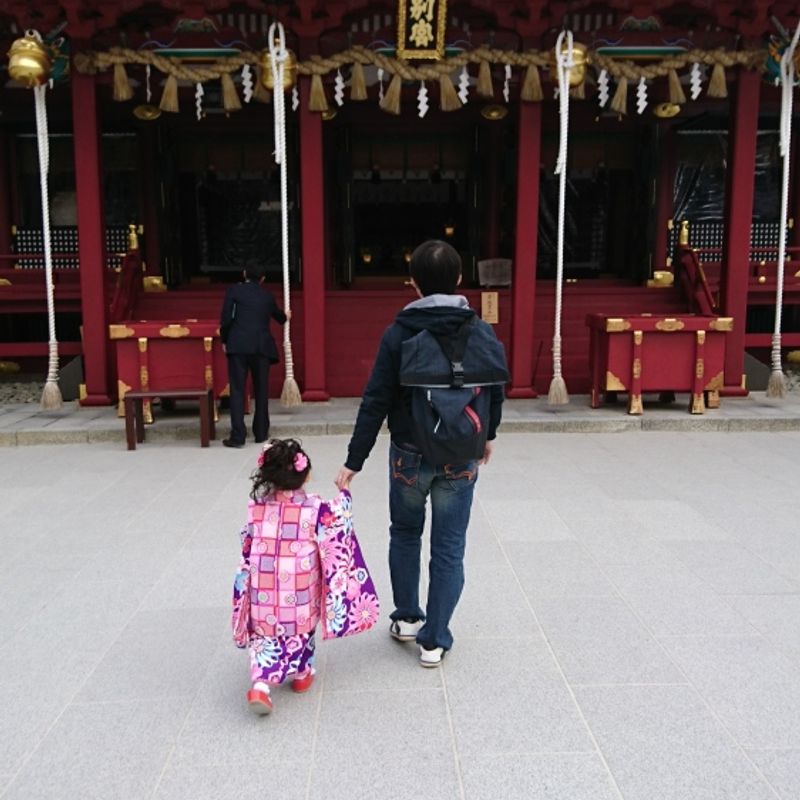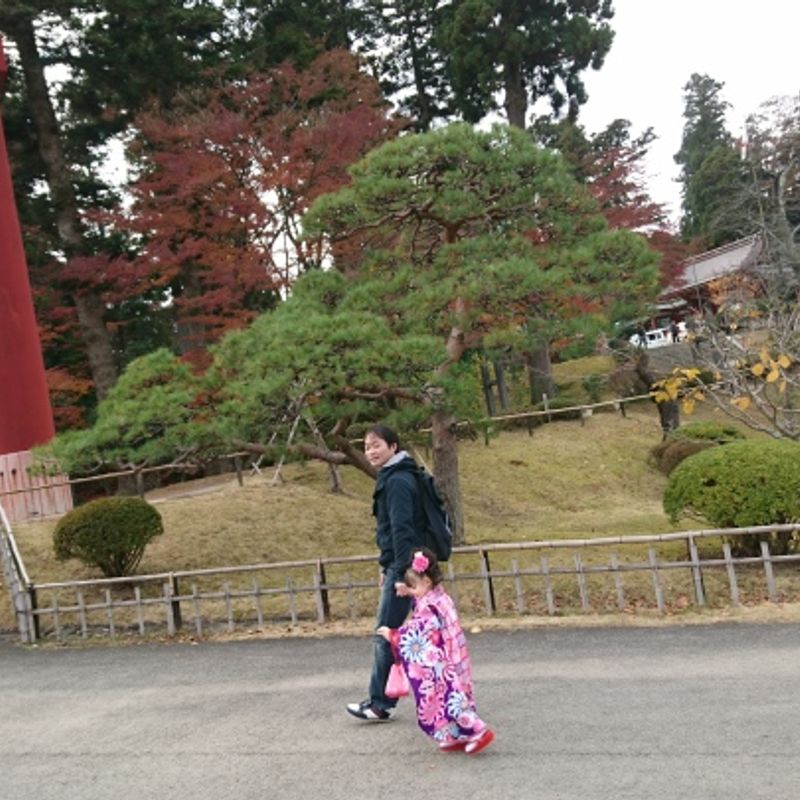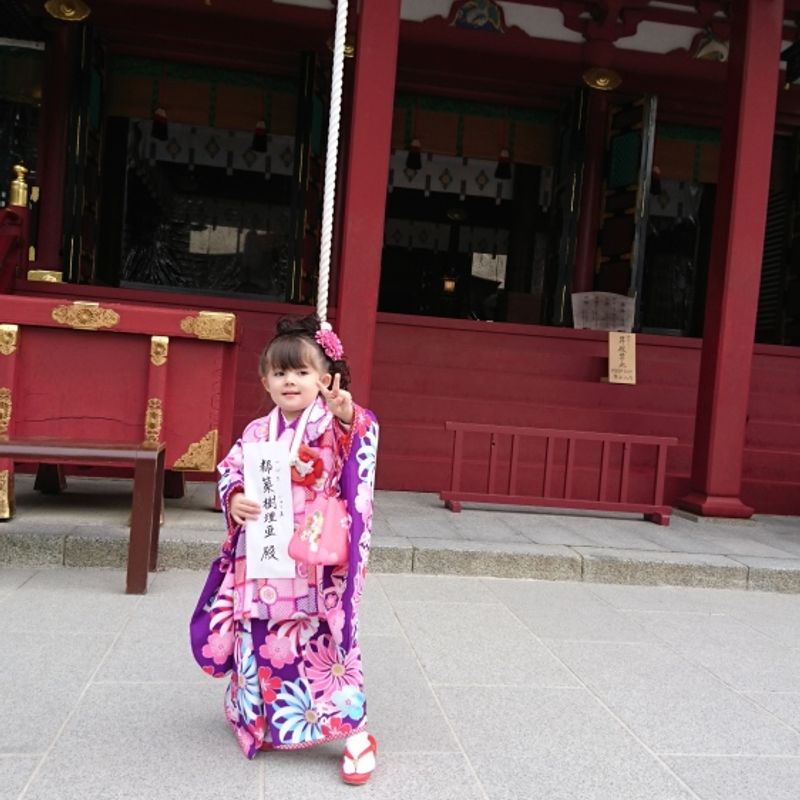 Then we had done the things and I felt that I could breathe a sigh of relief for just a second, but then it was winter.
Cold, obnoxious, lonely winter. This has been the hardest winter for me in all my time in Japan. In 2008, I had young love and a trip to the states. I was back in the US for at least a week in 2009. 2010 saw me living with my in-laws with a new job and new friends and was my first holiday season staying in country. After the quake in March, bringing my guy to meet my folks in May, and getting married in November, I was happy to stay home in winter of 2011. In 2012 we'd just had our belated honeymoon and were trying to start a family. 2013 was our first Christmas with Julia. In 2014 I had a dozen friends to celebrate with, most of whom have now moved on to bigger cities or back to their homelands. A few were still about for 2015, and I'd gone back for a week for my brother's wedding.
Now I still have a few friends in the area, but they all have their own things going on. My kid is big enough to cause problems but not big enough to solve them. I'm tired, and I'm sad.
But you know what? I'm working on it. I've already made plans to have lunch with a friend for next week, and I am making a point to spend time with people I love as often as I can. Winter will end again, and the cherry blossoms will come. Then summer and fall and all the things that go with this.
It's going to be okay.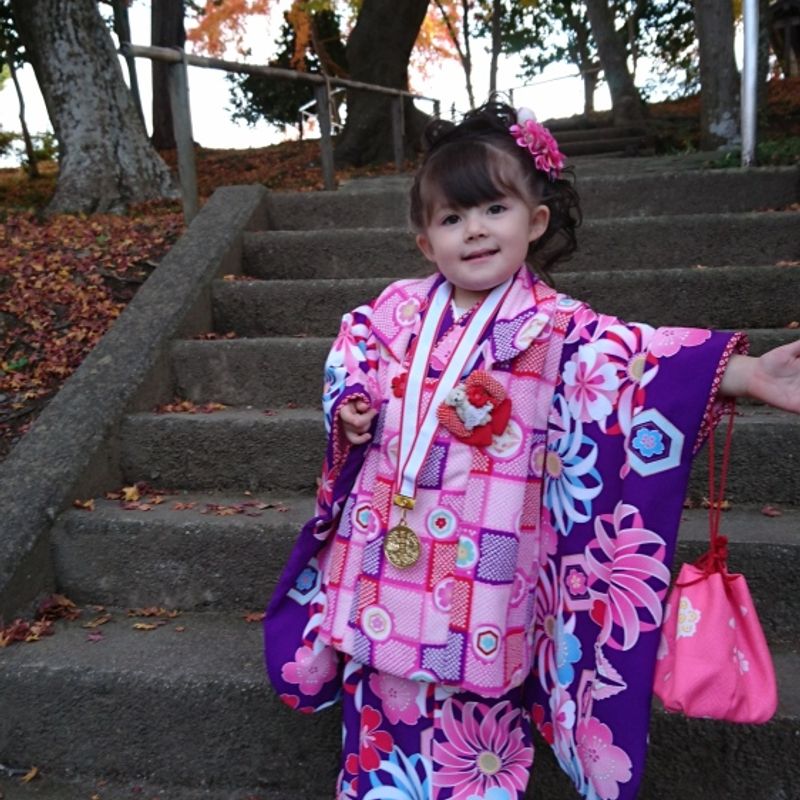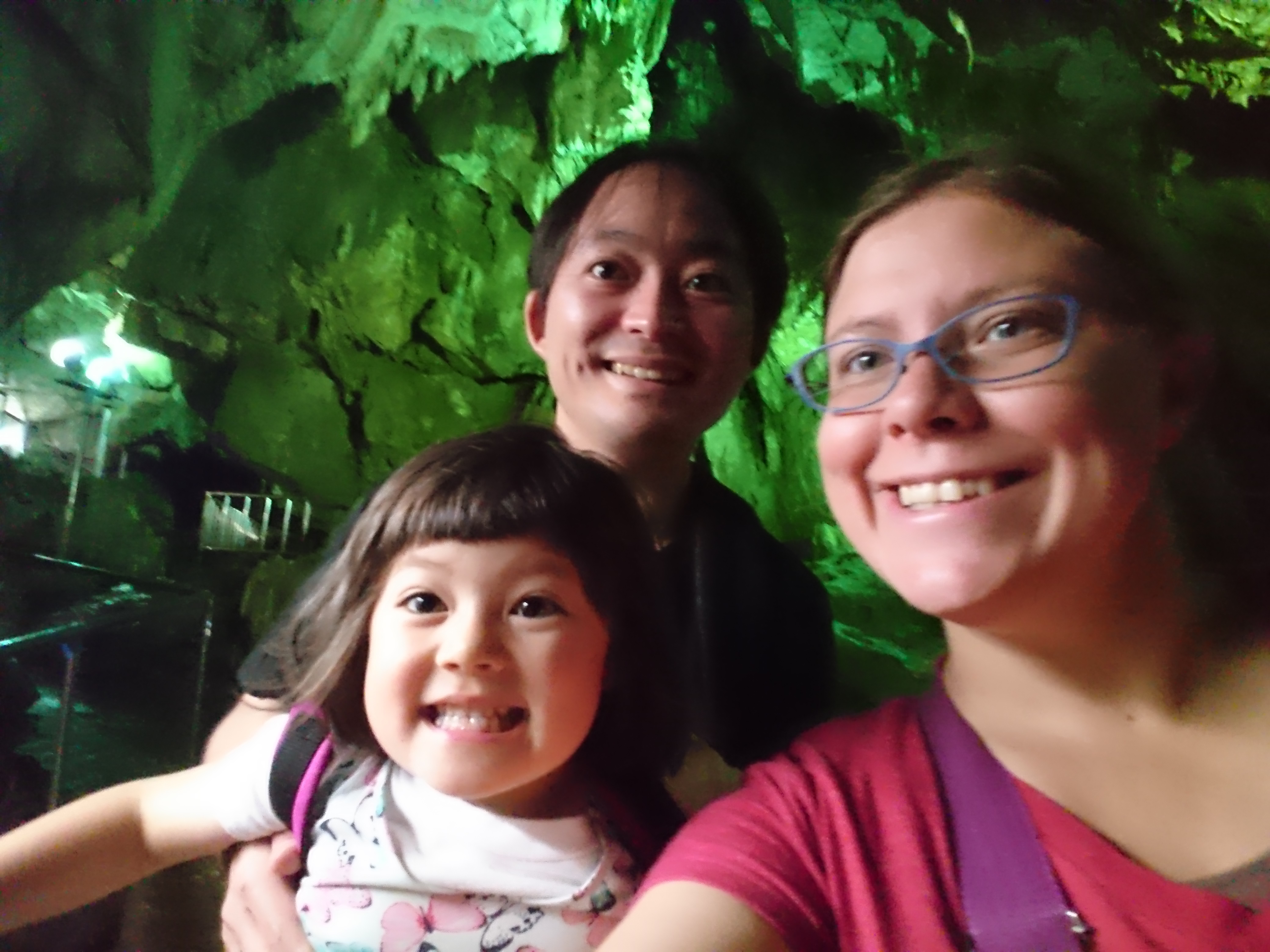 A working mom/writer/teacher, Jessica explores her surroundings in Miyagi-ken and Tohoku, enjoying the fun, quirky, and family friendly options the area has to offer.
---