Oct 31, 2016
Cozy Corner, the cake-laden bakery chain seemingly inside every major Aeon shopping mall, has devised an adorable set of miniature cakes inspired by Disney Villains in honor of Halloween. Each cake is crafted with that strangely perfect beauty so common in Japanese bakeries, even those of the middle-grade franchised variety.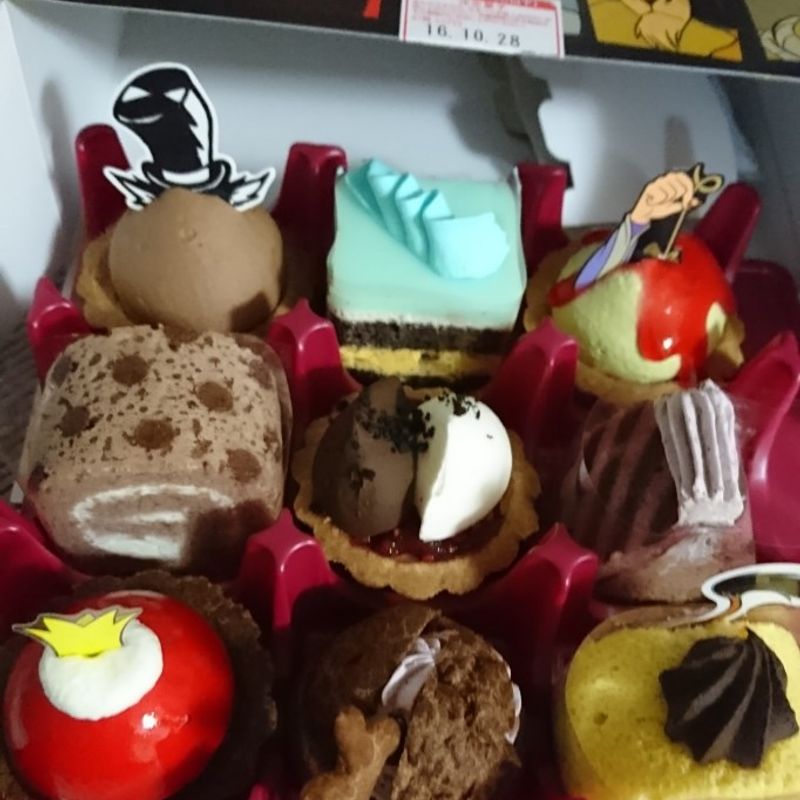 Each of the nine cakes features its own unique blend of flavors and style, inspired by one of the classic Disney villains on the front of the box. Some are easily recognizable and terribly appetizing, like the Queen of Hearts from Alice in Wonderland in the front left or the obvious blue square of Hades from Hercules in the middle of back row. Others aren't hard to identify if you think about it, though I mistook Scar from Lion King (front row, right side) with Pumba the warthog from the same series as I had completely forgotten the villain motif. In my defense, little round slices of roll cake more closely resemble little round pigs than non-chubby lion cubs. Either way, the little cake was delicious.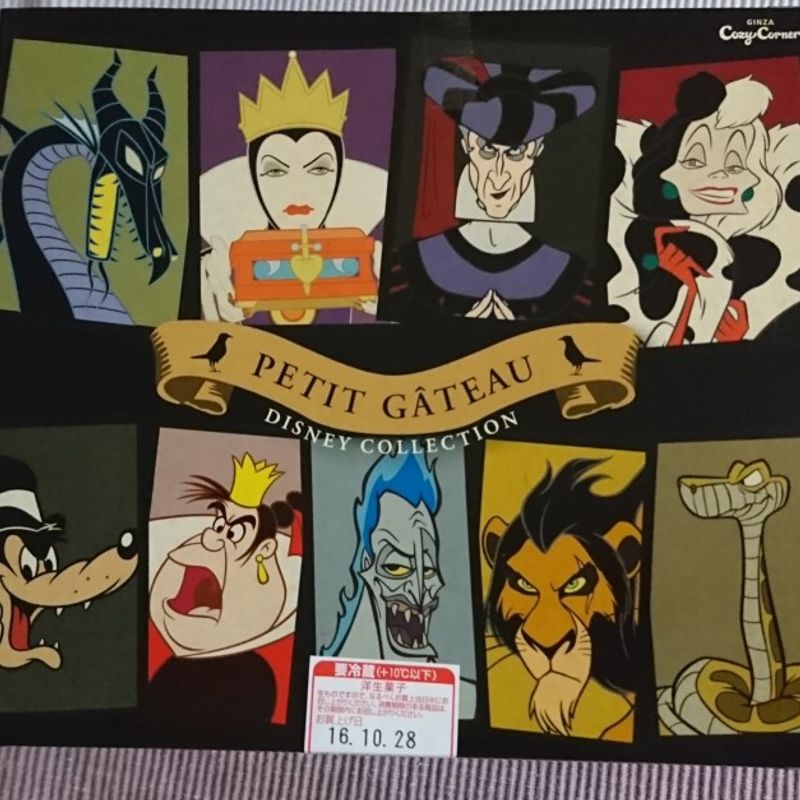 So many delicious villain cakes! In true Japanese form, the nine characters in the box represent the nine cakes inside. In case you're a little rusty on your Disney Villains, from left to right, top to bottom, according to the box we have: Dragon as Maleficent (Sleeping Beauty), Queen (Snow White), Judge Claude Frollo (Hunchback of Notre Dame), Cruella de Vil (101 Dalmatians), The Big Bad Wolf (Silly Symphonies/Three Little Pigs), Queen of Hearts (Alice in Wonderland), Hades (Hercules), Scar (The Lion King), and Kaa (The Jungle Book).
But which cake is whose? And what do they taste like? Let's take it from the top.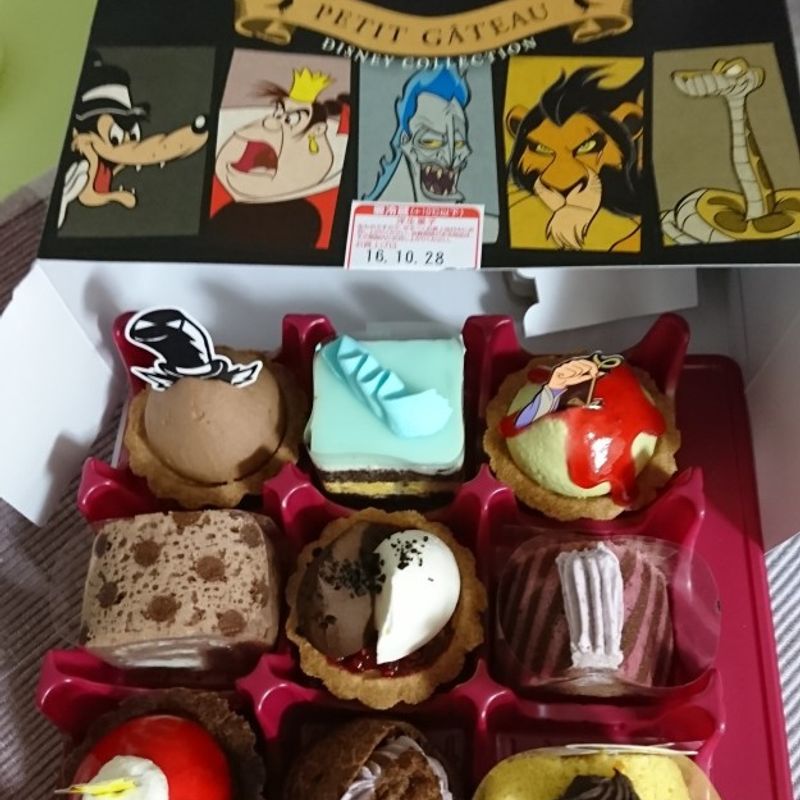 The first item on the front for is dedicated to the Queen of Hearts and is listed as a cocoa tart with fresh white chocolate cream and raspberry. The second item is Dragon as Maleficent, a cocoa shu-cream puff filled with fresh chocolate and blueberry cream. Item number three would be Scar, not Pumba, and consists of a milk-cream and pumpkin sponge roll cake. Number four, behind the Queen of Hearts, is Kaa the snake, a fresh cream and cocoa sponge roll cake.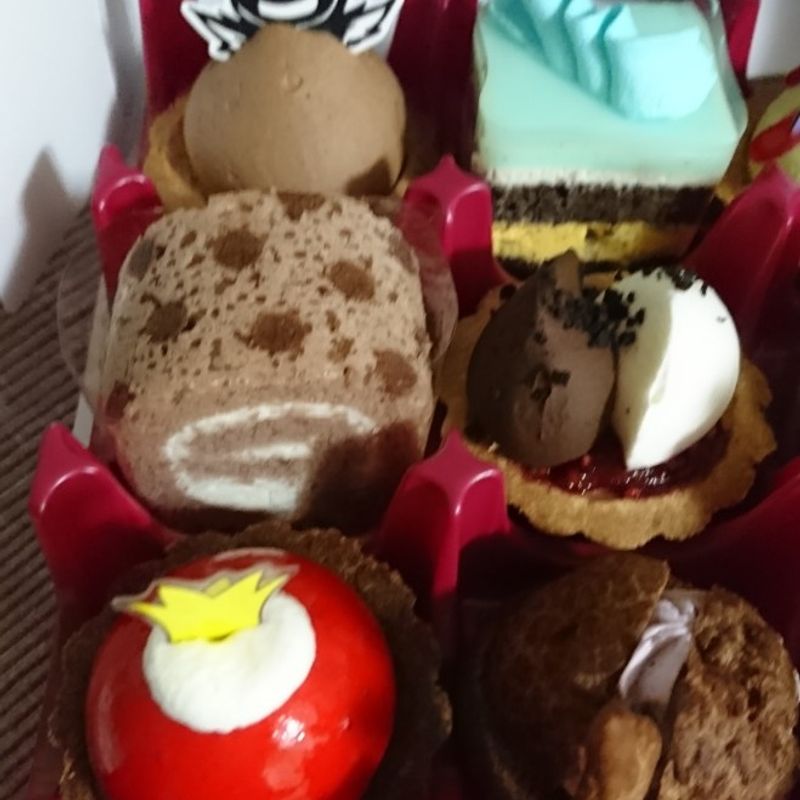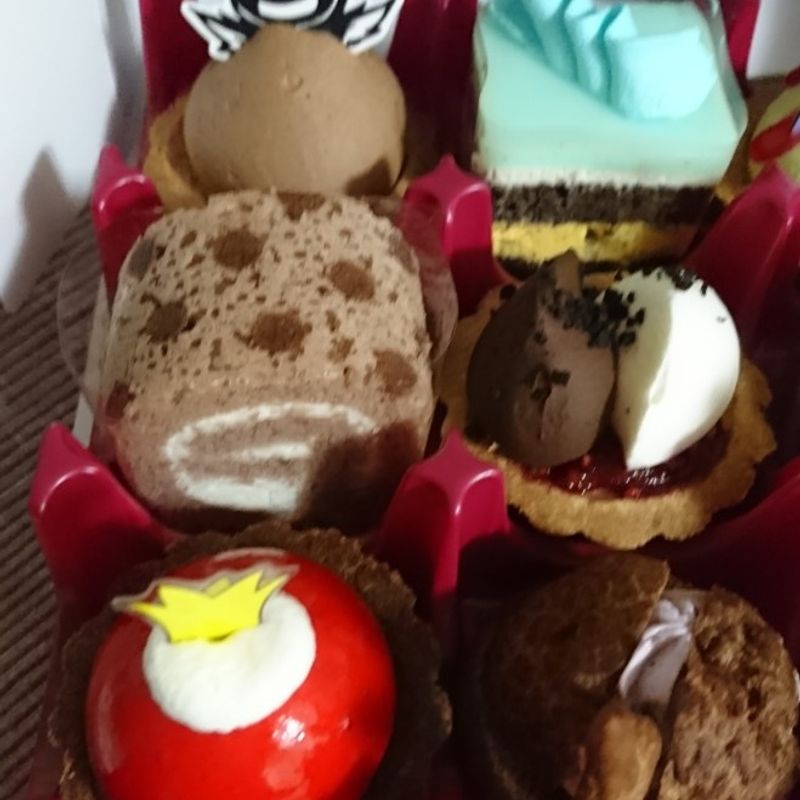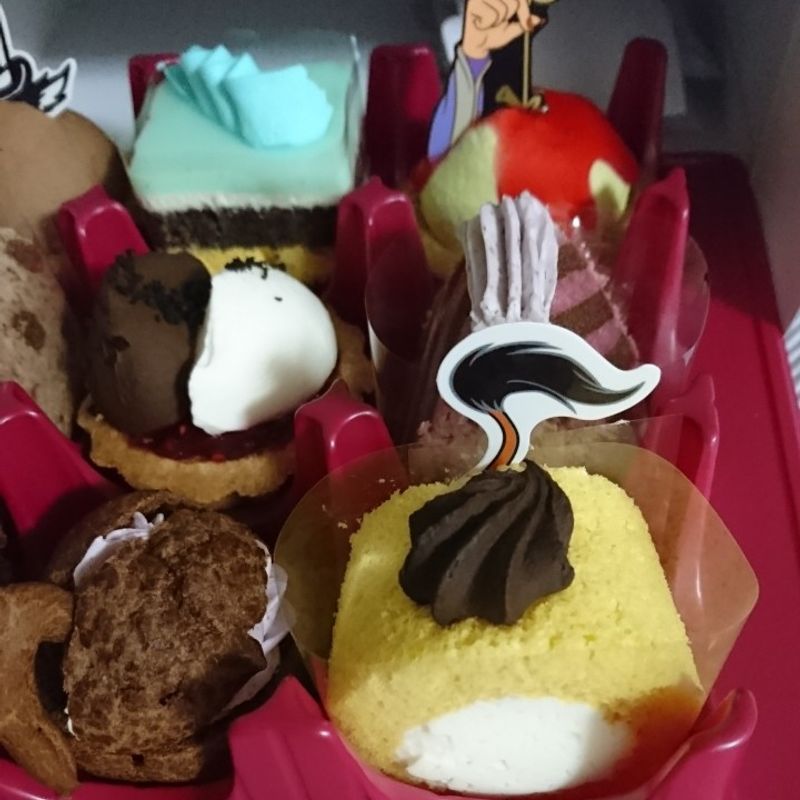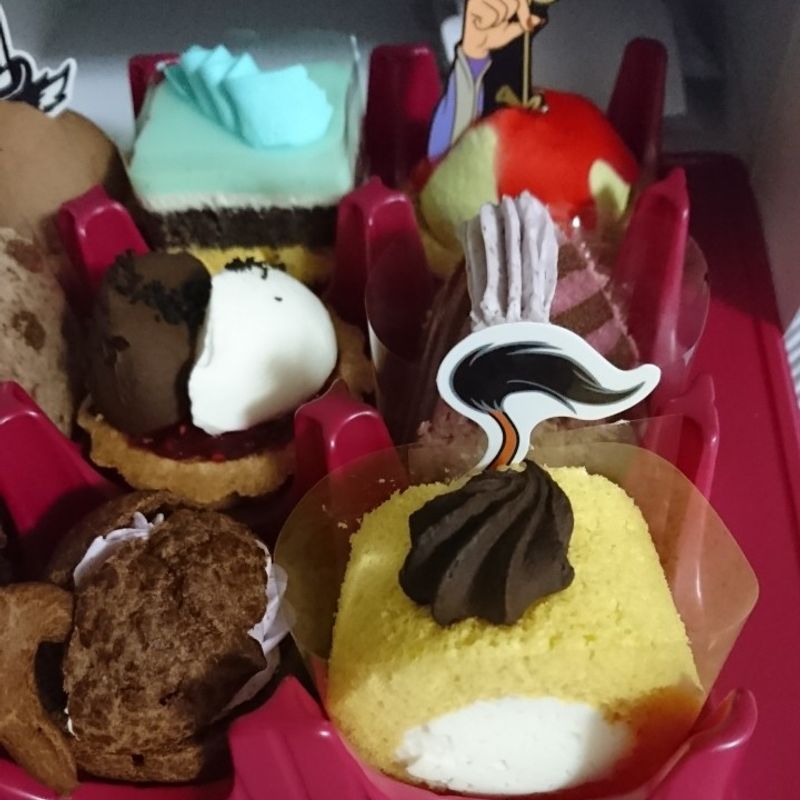 In the very middle we find number five, Cruella de Vil herself, here imagined as a tart featuring raspberry jam, fresh chocolate cream, and fresh milk cream. Number six, to the right of Cruella, is Judge Claude Frollo, a fresh chocolate cream and blueberry sponge cake. The seventh treat is the legendary Big Bad Wolf, seen here as an orange jam and chocolate cream tart. The middle back, spot number eight, belongs to Greek and Roman ruler of the underworld Hades, represented by a pumpkin cream and chocolate sponge cake. Our last cake, coming in at number nine at the right in the back is Queen from Sleeping Beauty, an apple-jam and green apple cream tart.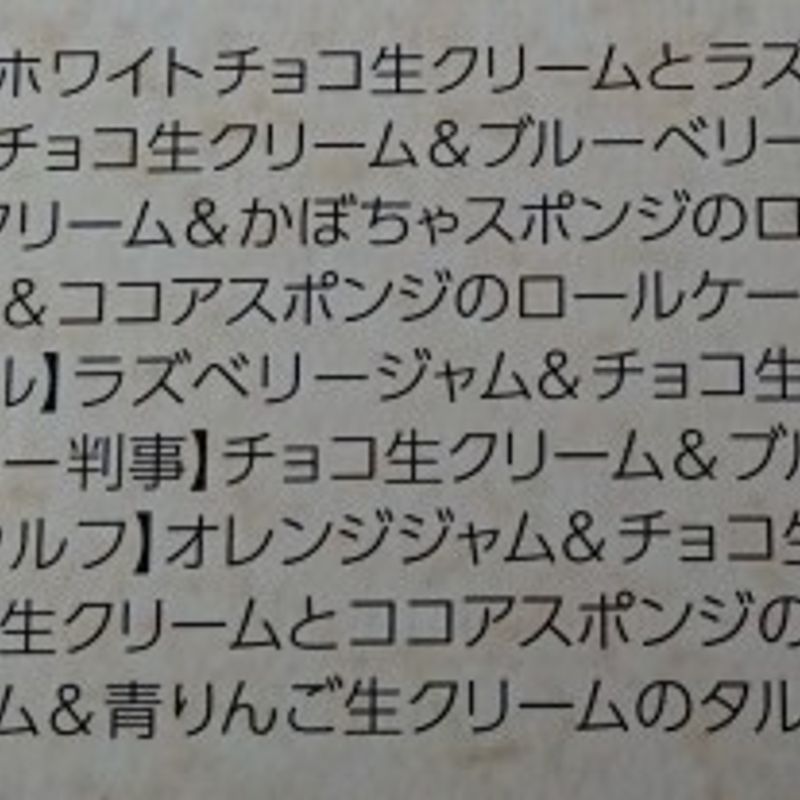 In case my Japanese translation ability fails, here is the list printed on the back of the box along with all allergy information necessary to have a safe, fun, and delicious time.
Some of these cakes I think are spot on and inspired, like the Queen who doled out a poisonous apple in her story being re-imagined as a tart that uses 2 kinds of apples in slightly different ways, or Cruella's monochromatic hairstyle being duplicated in the cream filling atop her raspberry tart. The Queen of Hearts especially comes through, with the tiny round, red cake and its dollop of white icing looking like it might have come out of an illustration for tea time in her rose garden. Others I find fascinating in the details even if I don't recognize the match to the characters as clearly, like the stripes on the sponge cake that represents Judge Claude Frollo or the icing atop Hades in the perfect blue that so clearly indicates the origin of the idea. Still, though, I feel like Hades would have been better represented in filling by something with pomegranates (I'm a mythology nerd, I know), but we're dealing with Disney versions of the characters here.
Perhaps the bigger question is why we're having cakes for Halloween at all. This is traditionally in my home country a time to get the kids dressed up and go house to house through the neighborhood, collecting candy as quickly as possible. It is not necessarily a time to sit and eat delicately crafted cakes bought from fairly expensive bakeries. The process of borrowing and adapting from other cultures isn't new to Japan at all, but why this? Why now? For the answer, look no further than what I saw when I took the cakes out of their bag in the first place: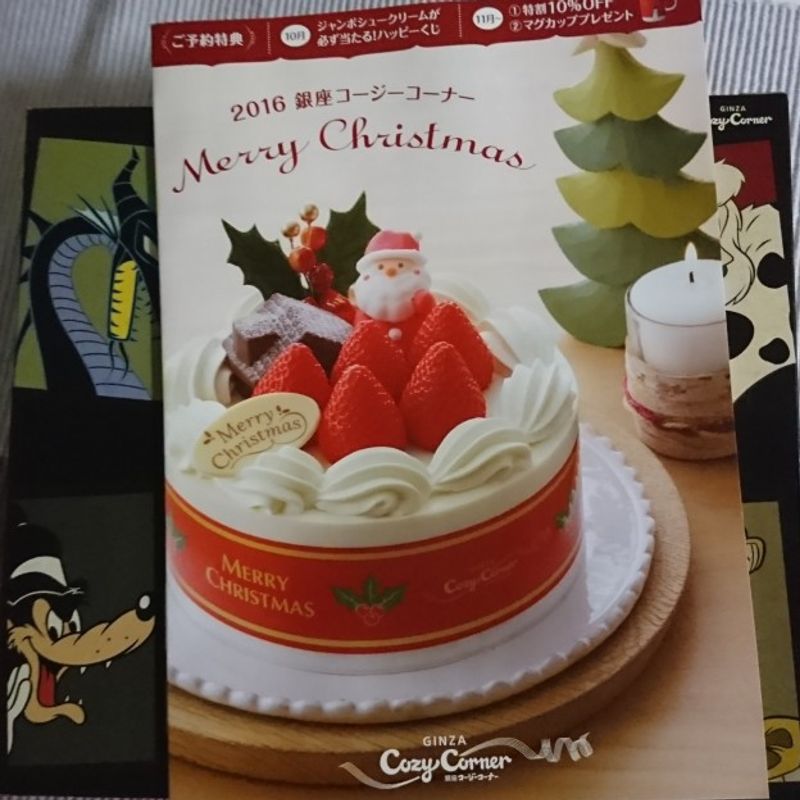 A Christmas cake brochure! Of course they will sell cakes for Halloween, or any other holiday during which some doting parent or grandparent might buy a set for some lucky little person to share after dinner. After all, when better to hop on the Christmas Cake ordering bandwagon than the end of October. Inside the brochure, there are incentives to buy early either this month or next, including a holiday mug and a ten percent discount.
If you're in an Aeon today, happen upon a Cozy Corner, and want to enjoy some delicious little treats, one could do far worse on a Halloween night than taking these little beauties home.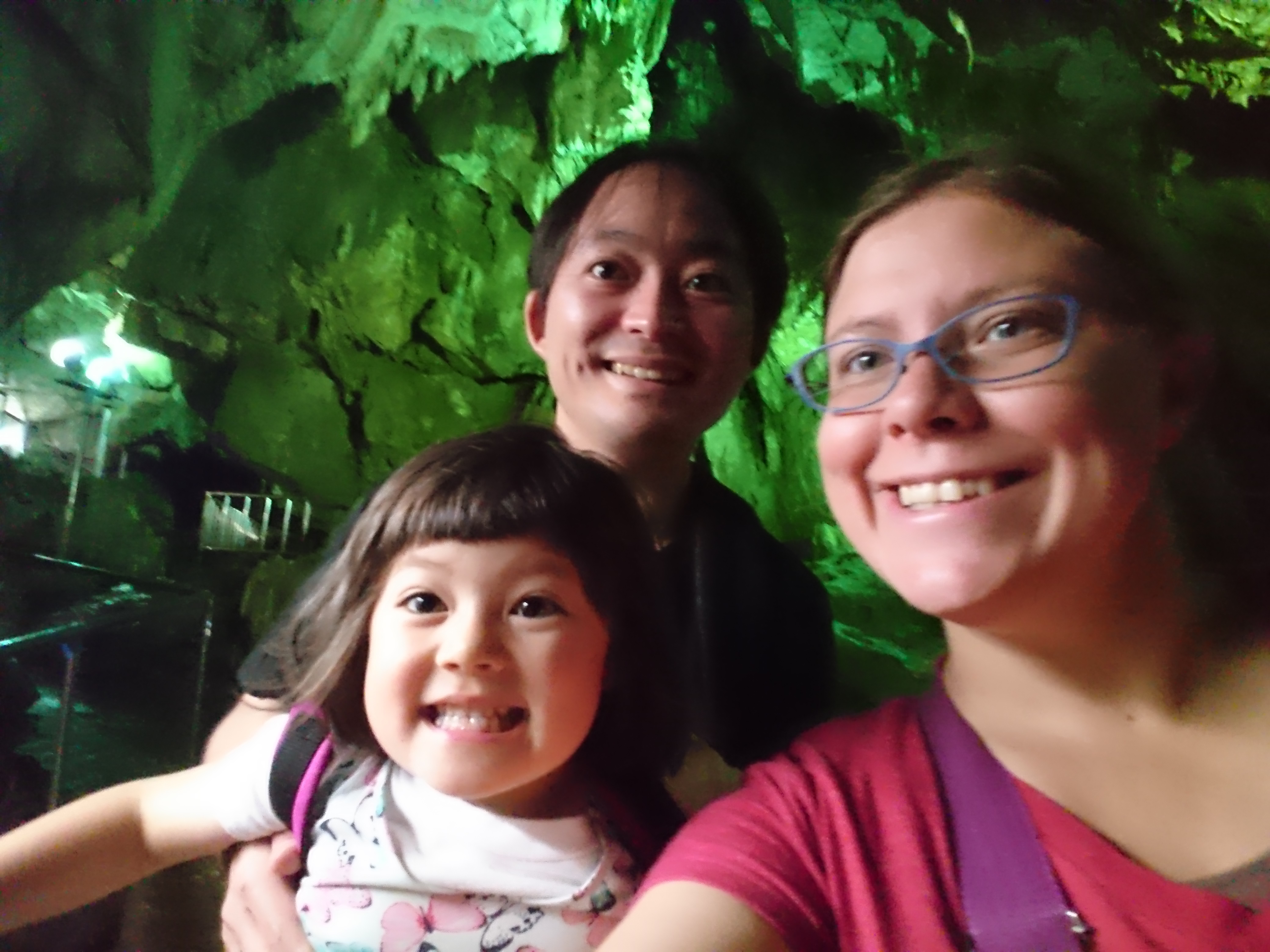 A working mom/writer/teacher, Jessica explores her surroundings in Miyagi-ken and Tohoku, enjoying the fun, quirky, and family friendly options the area has to offer.
---
2 Comments
I'll take bottom left (the red one)!

@SalarymanJim lol. It was delicious! My daughter only ate half of it, so I got to give it a taste. Scrumptious!