Sep 2, 2016
EDIT: The Book Off Super Bazaar in Sendai has relocated to the seventh and eighth floors of the Aeon building (formerly Daiei) and the sale has been restructured to accommodate the smaller space. Now the deal is 5 items from the 200 yen section for 200 yen total. That is 1000 yen worth of clothing for 200 yen with no bags to stuff. Still a good deal, and a better price-per-unit than I got most of the time in the previous sale.


Book Off is known mainly as perhaps the largest seller of second-hand books and manga in Japan, and in many parts of Japan you can find the partner "off" stores including the unintentionally comically named "Hard-Off" specializing in hardware and furniture. The Book Off Super Bazaar located in the same building as Sakurano Department Store in Sendai (just across the street from Sendai Station, near the shopping arcade) is the go-to place for used books, CDs and DVDs, not to mention the (albeit small) selection of musical instruments available. The most impressive thing, which takes up most of its own floor, is clothing. Designer clothes can be found for a fraction of the retail price, most barely worn. Shoes, coats, handbags--it's all there at competitive prices and usually great quality.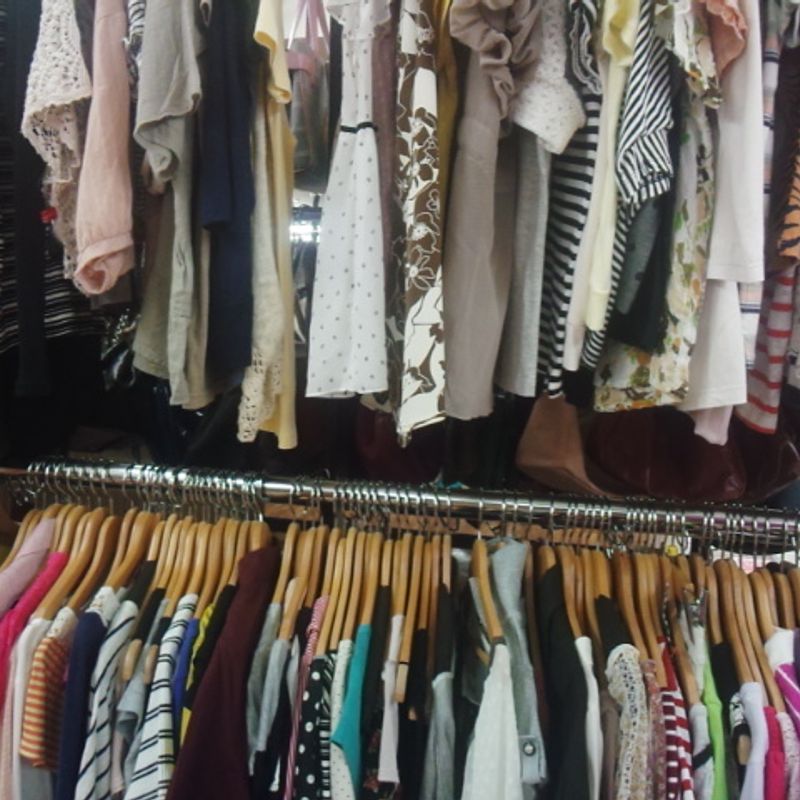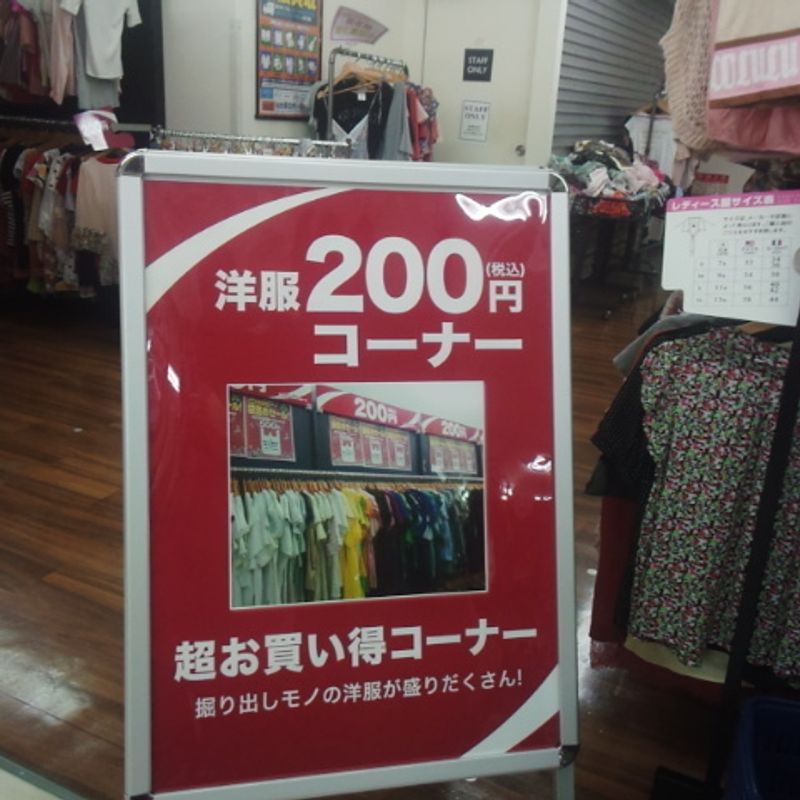 Want to get the most bang for your buck? Come by on the 29th, preferably in the morning. The lowest price for adult clothing is 200 yen per item, and these items generally get put in their own 200 yen corner (which recently moved). On the 29th, the 200 yen section is roped off from the rest of the store.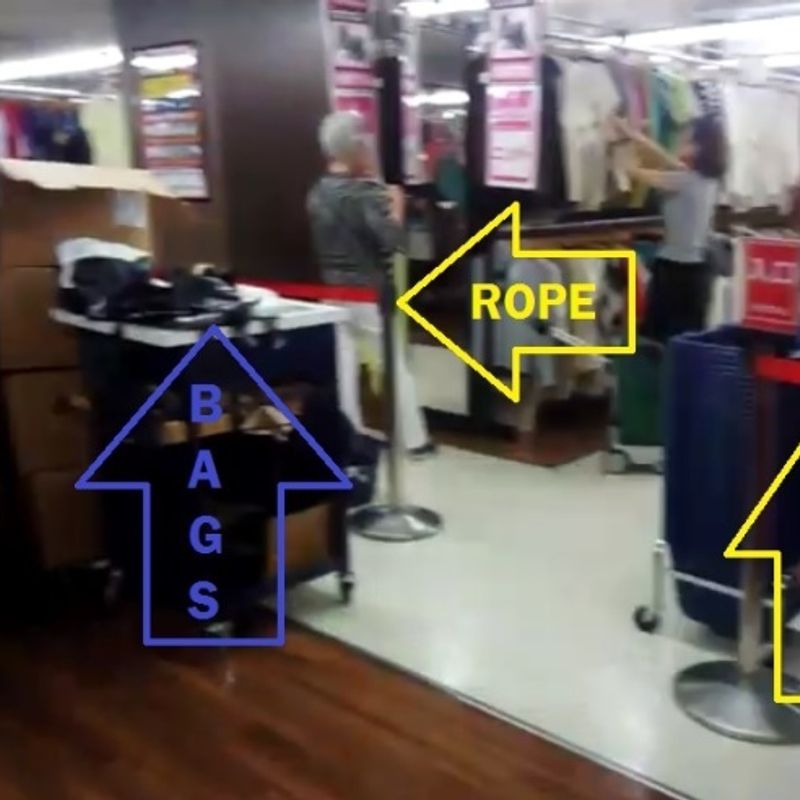 This is to prevent people bringing more expensive merchandise into the area, which is important because you can fill up a bag (given) with anything from the 200 yen area and pay 500 yen for the whole bag if you can close it. The bags are thin and plastic, but if you're good at packing, you can fit a bit into there.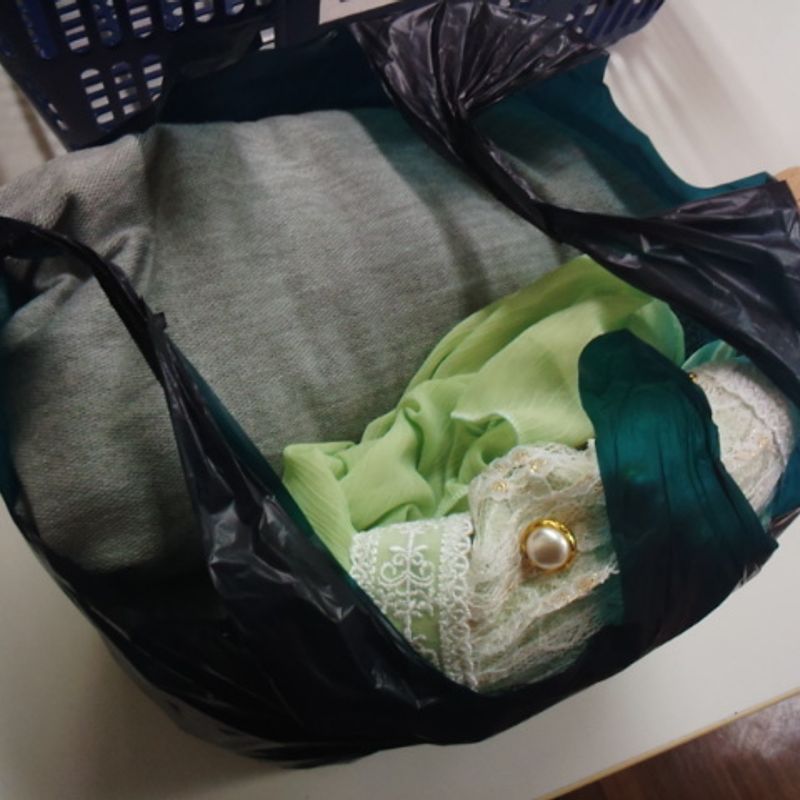 I suggest rolling your purchases to squeeze out as much air as possible before packing them in.
Once you get into the area, grab a basket and start your pursuit. As it is the 200 yen section, don't expect to find tons of high-end names, especially if you come after noon. Some diligent obachan-tachi come early (the store opens at 10AM) and usually decimate the section before lunchtime. That said, you can still find some cool stuff. We wound up here in the afternoon the day before a typhoon, so the crowd was a little light.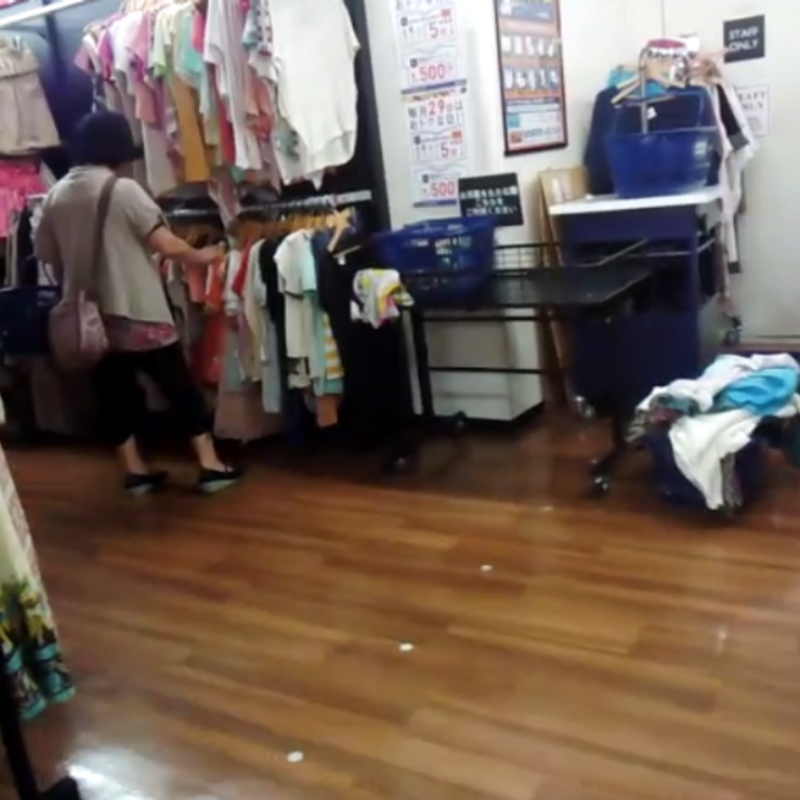 If you come early in the sale day, and the weather is not awful, the floor will be lined with baskets filled past the brim, like the one in the picture above. These are of course off limits and waiting for a customer to sort out what will fit into their bag and what may return to the racks. In the newly appointed corner, they have even included changing booths in the very back to ensure better satisfaction with the deals of the day. There are no returns on anything purchased in this sale.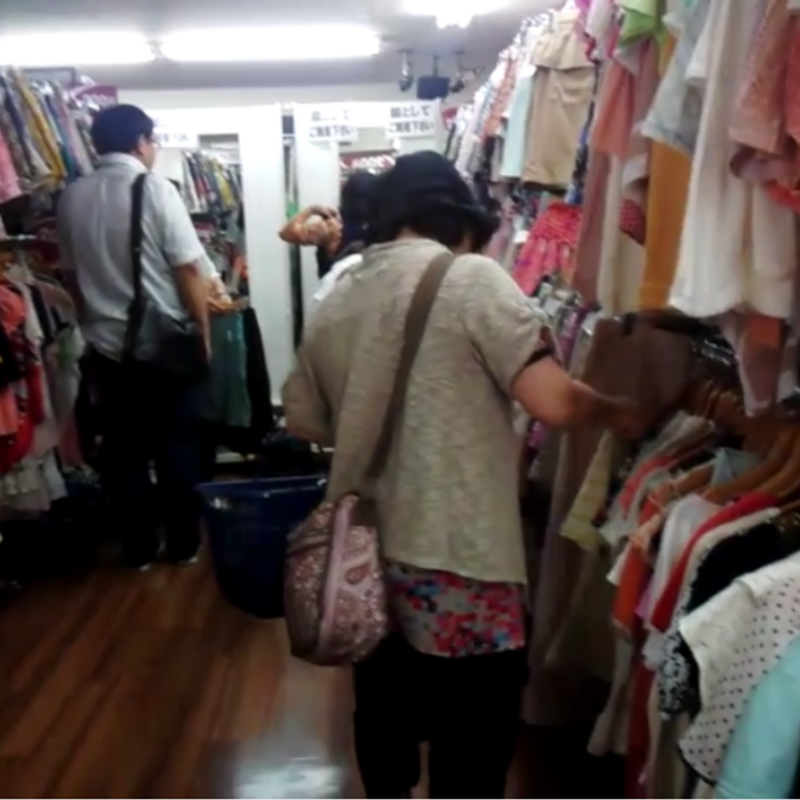 While this sale happens every month, going in summer is a great idea. The lightweight clothing and shorter styles means more clothing in the bag. That said, loading up on clothes you don't need is not necessarily helpful to the small-apartment-in-Japan problem. If you're into sewing, quilting, or costume making, these sales can be a good opportunity to get some new material super cheap.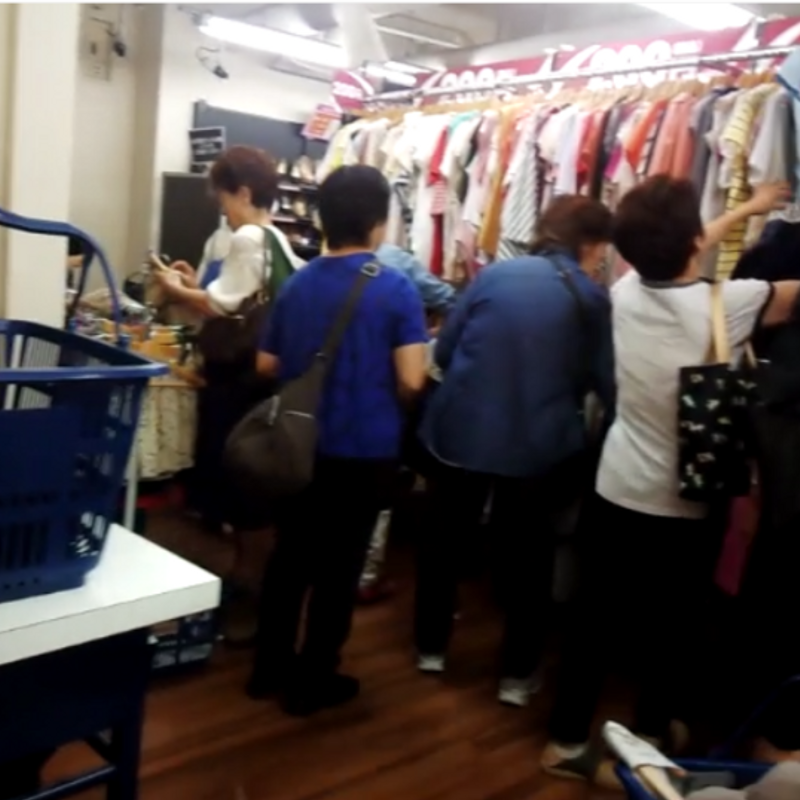 The crowd can be a little rough by Japanese standards, as I've been pushed aside by people half my size at this sale. Still, it can be worth it if you can get what you are after.
When you've selected your items and filled your bag, tie the top and let the Book Off employee at the entrance of the 200yen corner check your bag for rips. They may tape a bag over the top of your bag (presumably to prevent theft) but don't be offended, even if they don't do it to the grandmas too.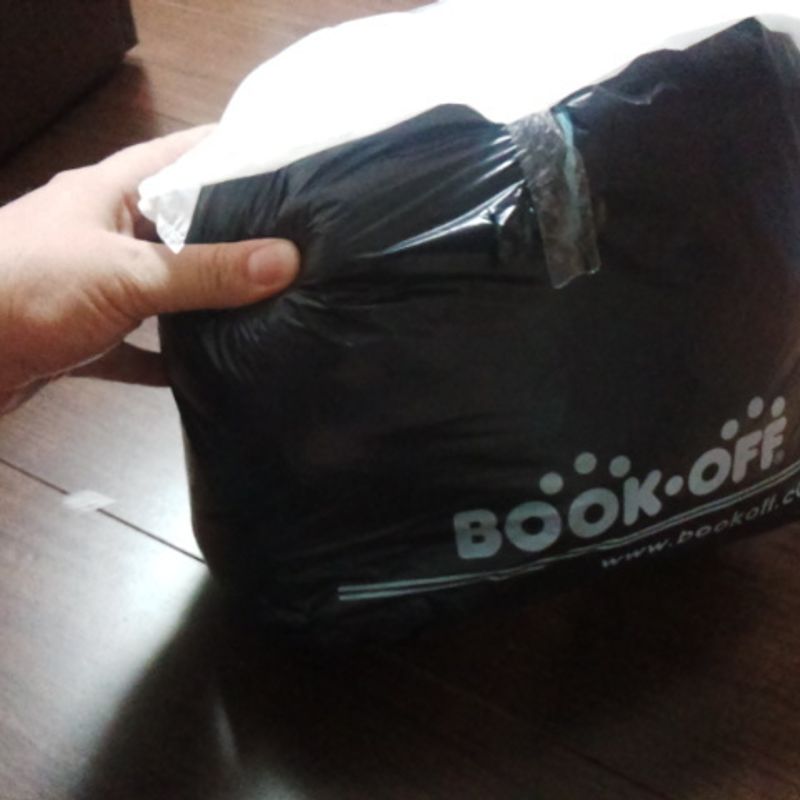 It's not worth worrying about. You're getting tons of clothes for 500 yen. It's alright. Speaking of which, let's check out my haul from this sale, dated August 29th, 2016. I bought one well-filled bag for 500 yen. In it I placed: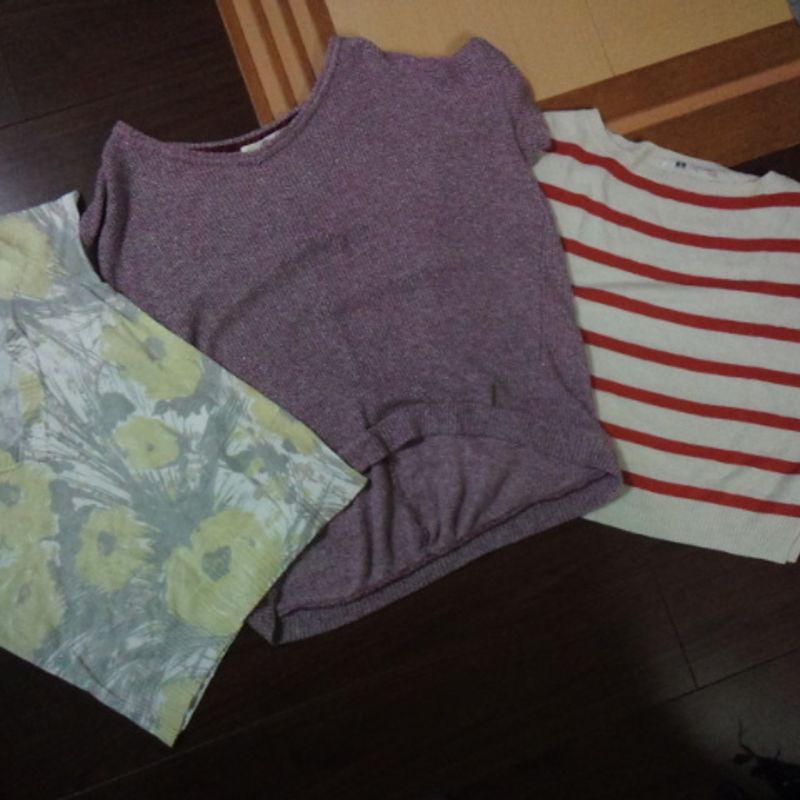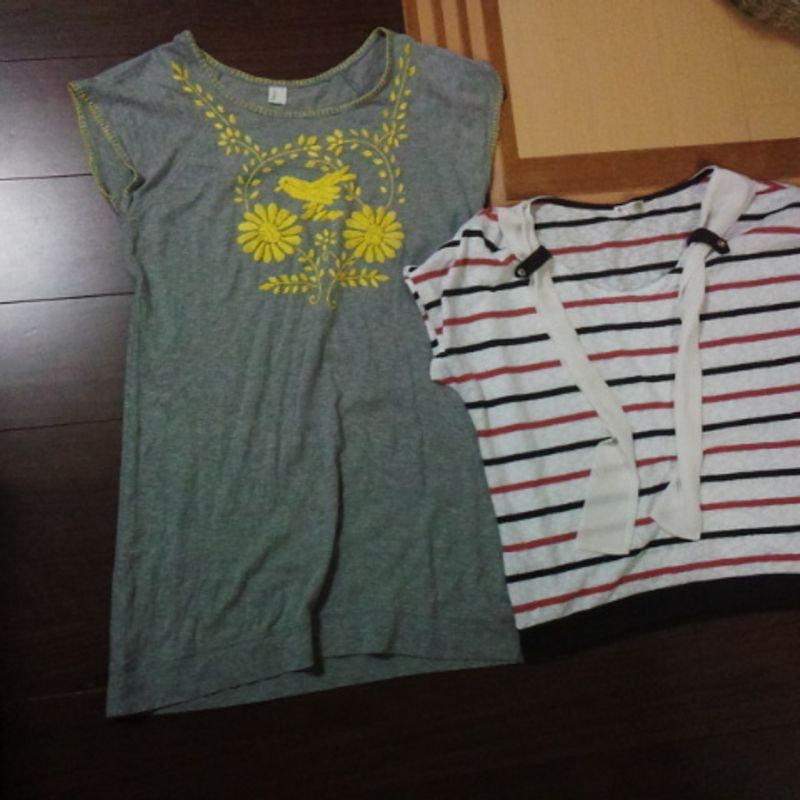 Three tops to turn into toddler tights for fall, Two tops for me,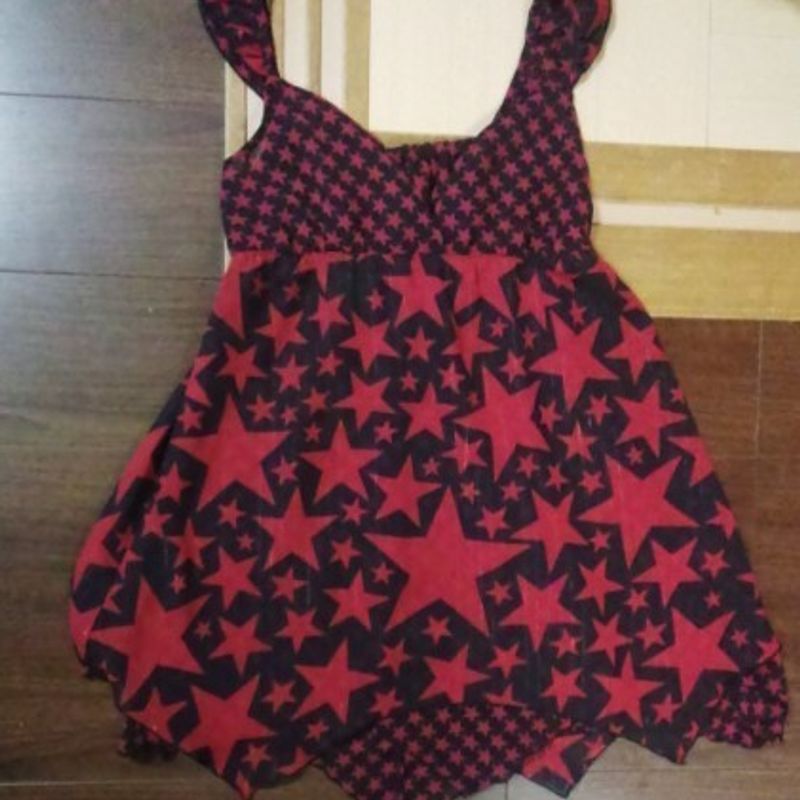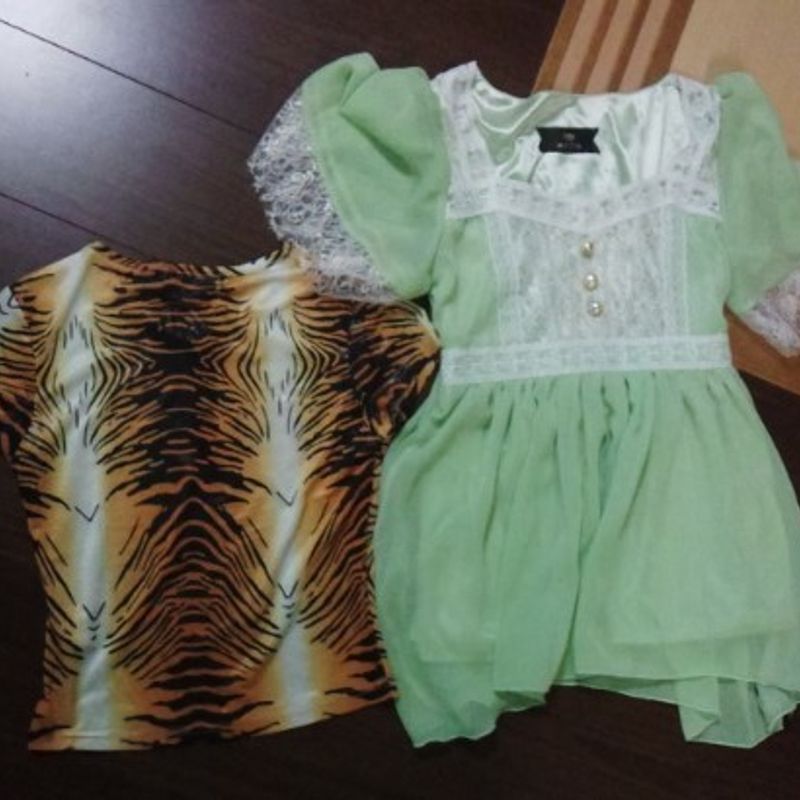 Materials for: a toddler RockNRoll Dress, Tiger toddler and/or princess toddler costumes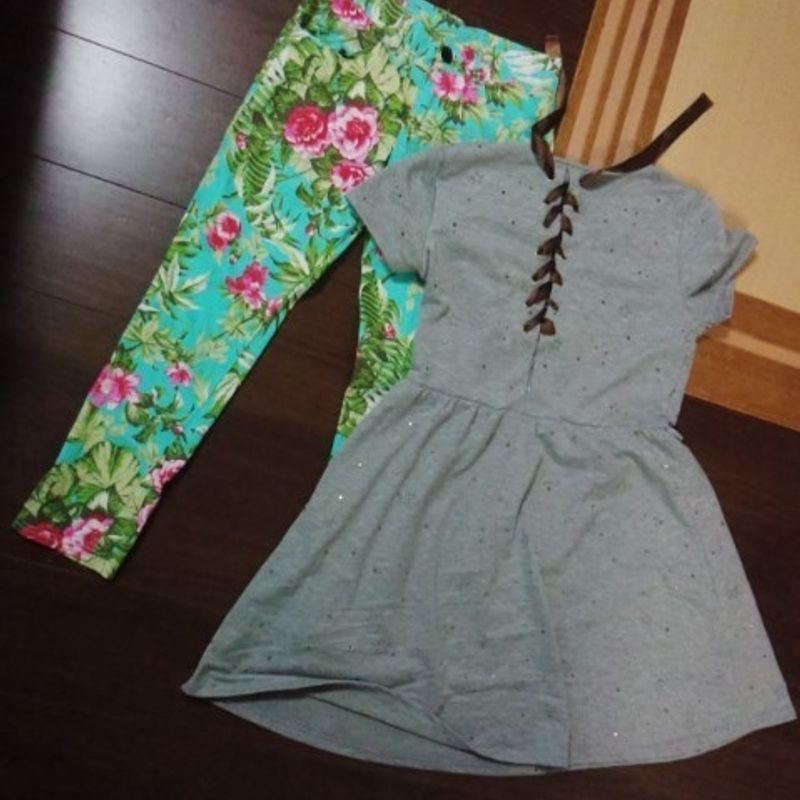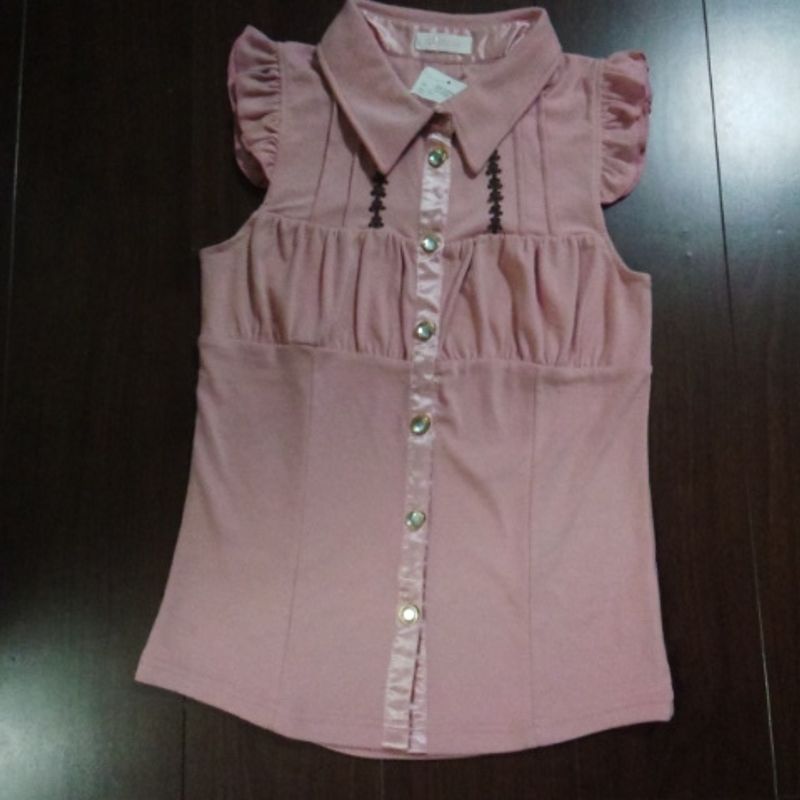 Colorful pants and celestial-dress (both for crafting), A Liz Lisa top, new with tags (for a friend back home)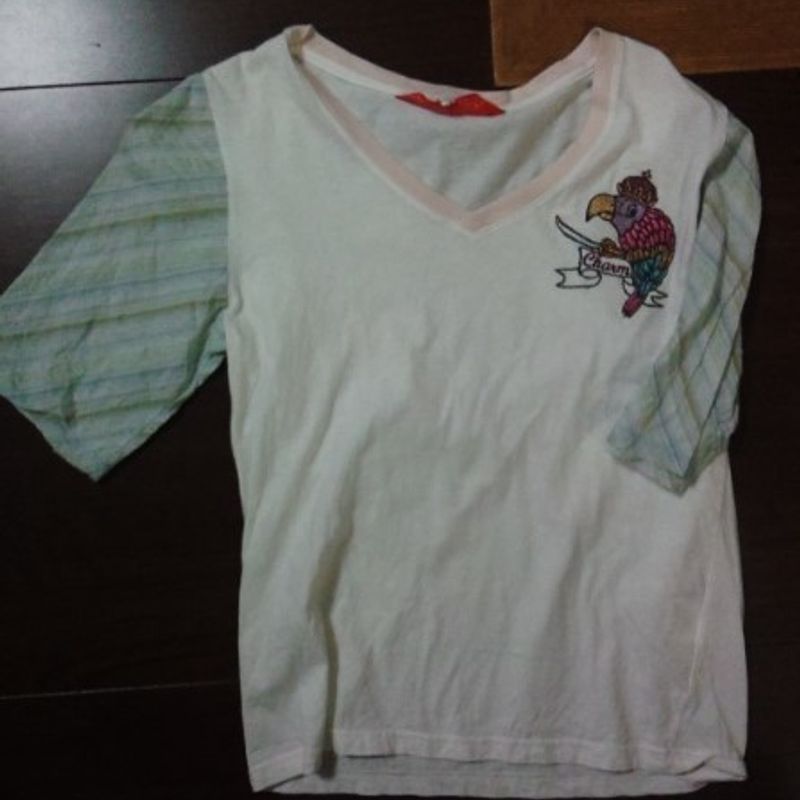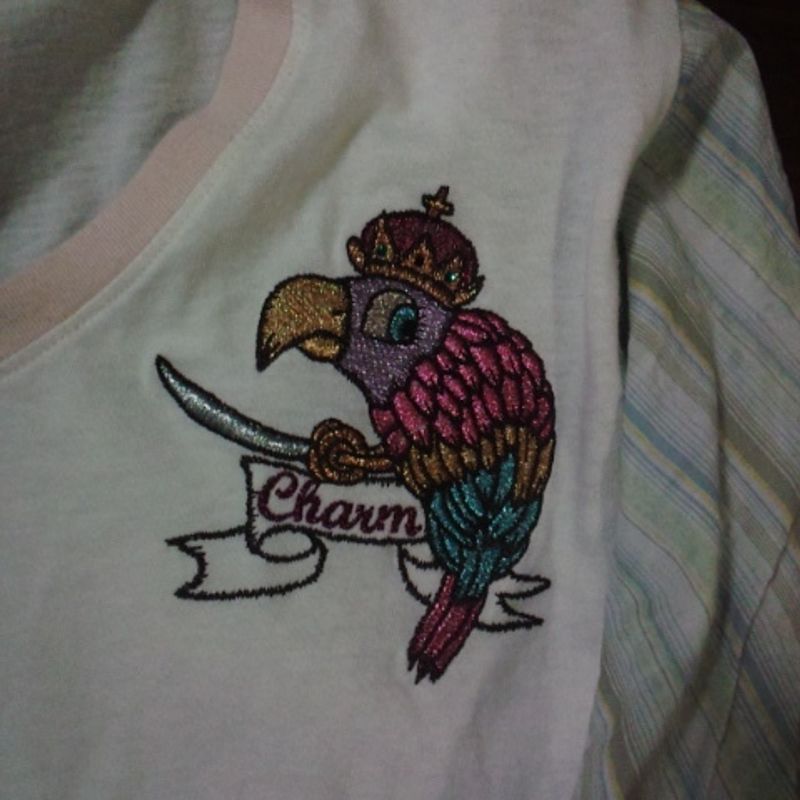 And even this weird little t-shirt, so I can make a patch out of the shiny embroidered parrot. As of this blog post, I have already re-purposed the rest of this garment as a hear for a stick-zebra and a dress for a sock monkey.
That's 12 items total in a 500 yen bag, for an average of 42 yen per garment.
So if you're looking for some new clothes, it's hard to get a cheaper deal than the 500 yen bag-sale at Book Off clothing sections every 29th!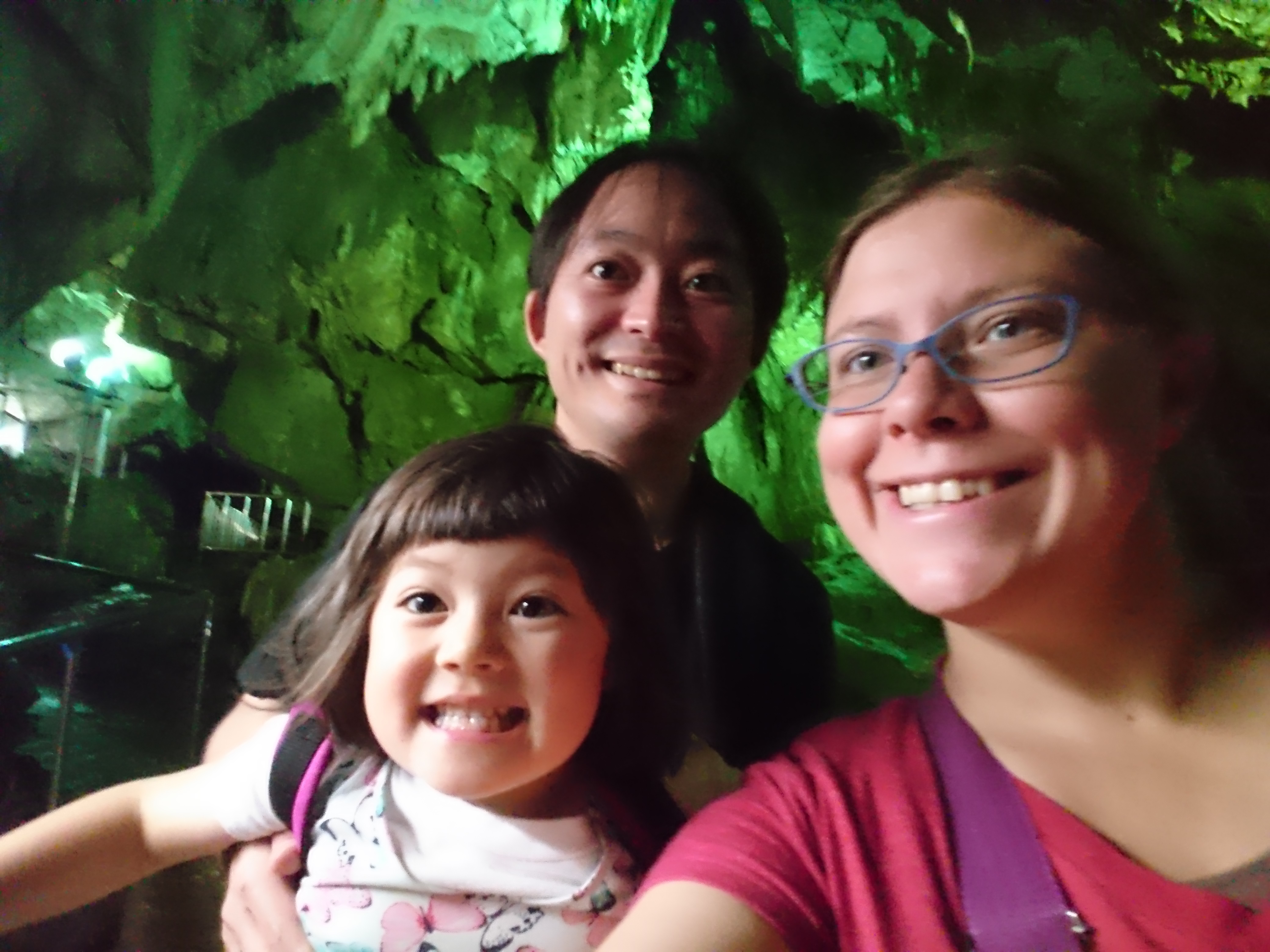 A working mom/writer/teacher, Jessica explores her surroundings in Miyagi-ken and Tohoku, enjoying the fun, quirky, and family friendly options the area has to offer.
---