Jan 1, 2017
Fukubukuro or "lucky bags" are Japan's answer to getting rid of last year's stock and giving the consumers a steep discount to help expedite the process. You'll see them out as soon as shops open after New Year's Eve ends. In some places, that's just a few hours into the new year. In others, it's January 2nd or 3rd. In any case, the grab bag of old inventory usually comes in a few distinct flavors and price categories.
In the stores, you'll usually see a display version of the goods in the bag, so there really aren't any surprises. Bags usually start around 1,000 yen for what is usually at least 2,000 yen worth of goods, but the fancier the retailer, the more expensive the bag options. Many clothing stores only offer options around 5,000 yen and/or 10,000 yen. If you're more into brand name designer goods, these sales might not be your thing as the items you can get for super cheap will also be last year's model or excess stock. If you don't mind being just a little behind the cutting edge, these sales are well worth the time and energy.
Fukubukuro can run out quickly, so if you know you want to grab one from a specific store, it is a good idea to go early and get what you want while it is available. While these are major sales days, they are nowhere near as chaotic as Black Friday stateside. We are in Japan after all.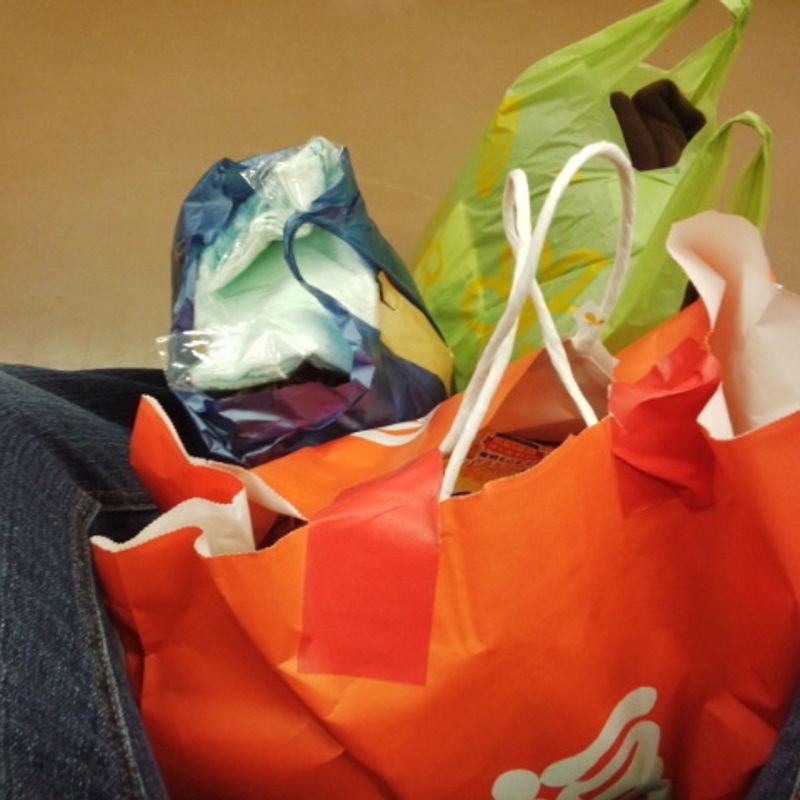 This was my haul from Sendai sales-day of 2016. I headed straight to a cloth and craft store where I filled the blue bag with scraps for 500 yen. The green bag is some discounted fleece I bought to make a couch cover. Then there is this lovely red fukubukuro. Unlike most lucky bag buying opportunities, this was unplanned on my part. As I waited in line to buy some lunch-pack sandwiches in front of one of Sendai's department stores, one of the workers brought out a stack of these bags. There might have been around 50 of them in the cart the guy was pulling, but within minutes of him placing the load next to the line of consumers waiting to check-out, every single one was gone. There was no display in this case, so I wasn't sure what I was getting into, but I was willing to take the bet that whatever was inside was well worth my 1,000 yen. I was not disappointed.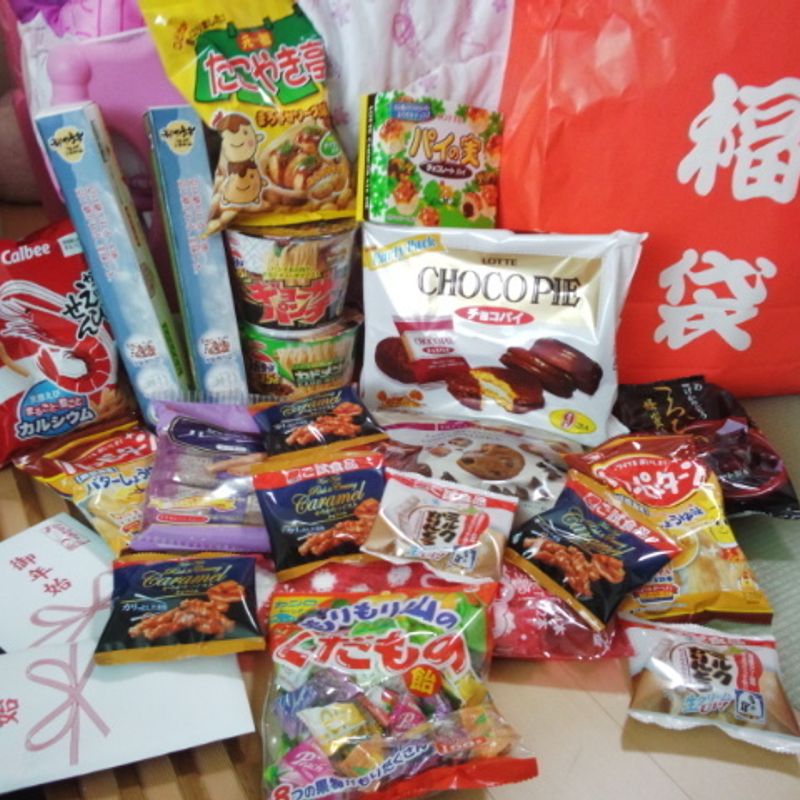 All of that for 1000 yen. Mostly snacks, candy, and cup noodles, sure. Also, under the candy you'll see a warm pair of fuzzy red socks with white polka dots which were left over from some coca-cola campaign, according to the package. I think the white envelopes contained towels of some sort, but as it has been a year, I'm not entirely sure.
Nowadays you can find a lot of information about these sales online before you go to the stores. Just search for the local shopping mall online and you can find a list of participating stores and deals on the website. For instance, this is the deal I hope to take advantage of tomorrow: 5 pairs of kids Sanrio socks for 1000yen. A good deal if you have a small child who is occasionally obsessed with Hello Kitty, I'd say.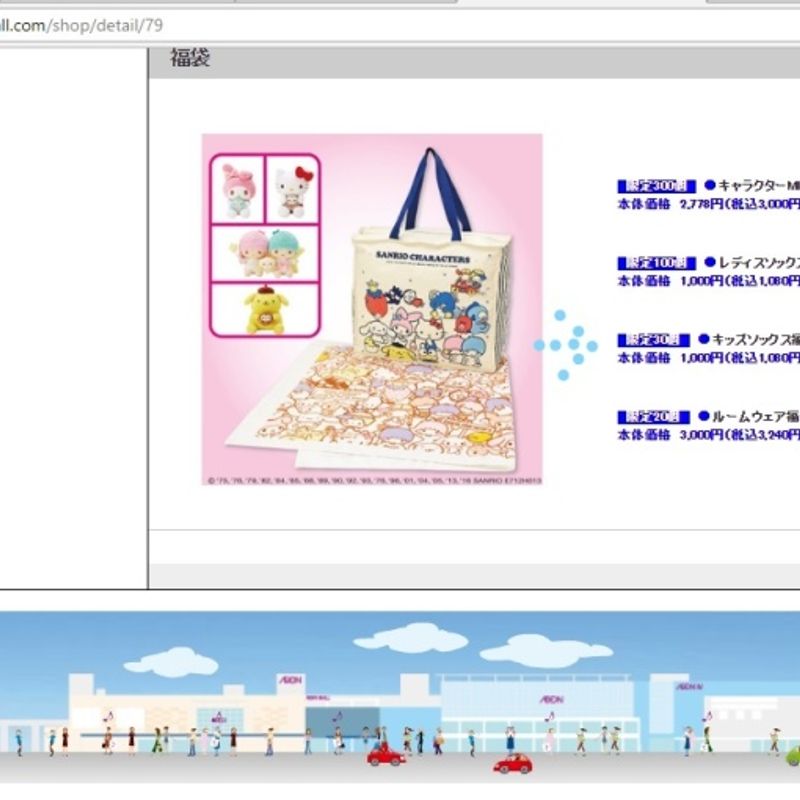 In addition to the fukubukuro, other sales are also a big deal on the first few days of the year. Check out your local retailers for their sales information.
One national chain that I usually spend at least 2,000 yen at around the first of the year is Mister Donut. If you're a fan of donuts, it's usually a good call. In previous years, the 2,000 yen fukubukuro from Mister Donut has included 20 donut coupons (good for one donut each at any point before March of the new year) in addition to an article of service-ware (glass, plate, or mug in different years), a calendar, and a towel or blanket. I may be forgetting some additional elements, but that doesn't stop it from being a good deal if you like donuts and eat more than 20 donuts in 3 months. My family does.
Keep in mind that while Japan's sales days are not nearly as rambunctious as those in some other countries, the shopping experience can still be difficult, exhausting, and even frustrating. If you too are planning to brave the crowds for the chance to get a bargain, remember to take care of yourself. Avoid getting hangry (hungry-angry) by eating at least a little something before you head out and don't be afraid to take a break when you need to. If you have small children, leave them with a trusted sitter or keep a close eye on them. Make sure they have what they need, too (a juice box, a snack, a potty break, whatever) as you make your way through the crowds.

So what lucky bags are you buying? Which stores offer the best bargains for you?
Oh, and Happy New Year!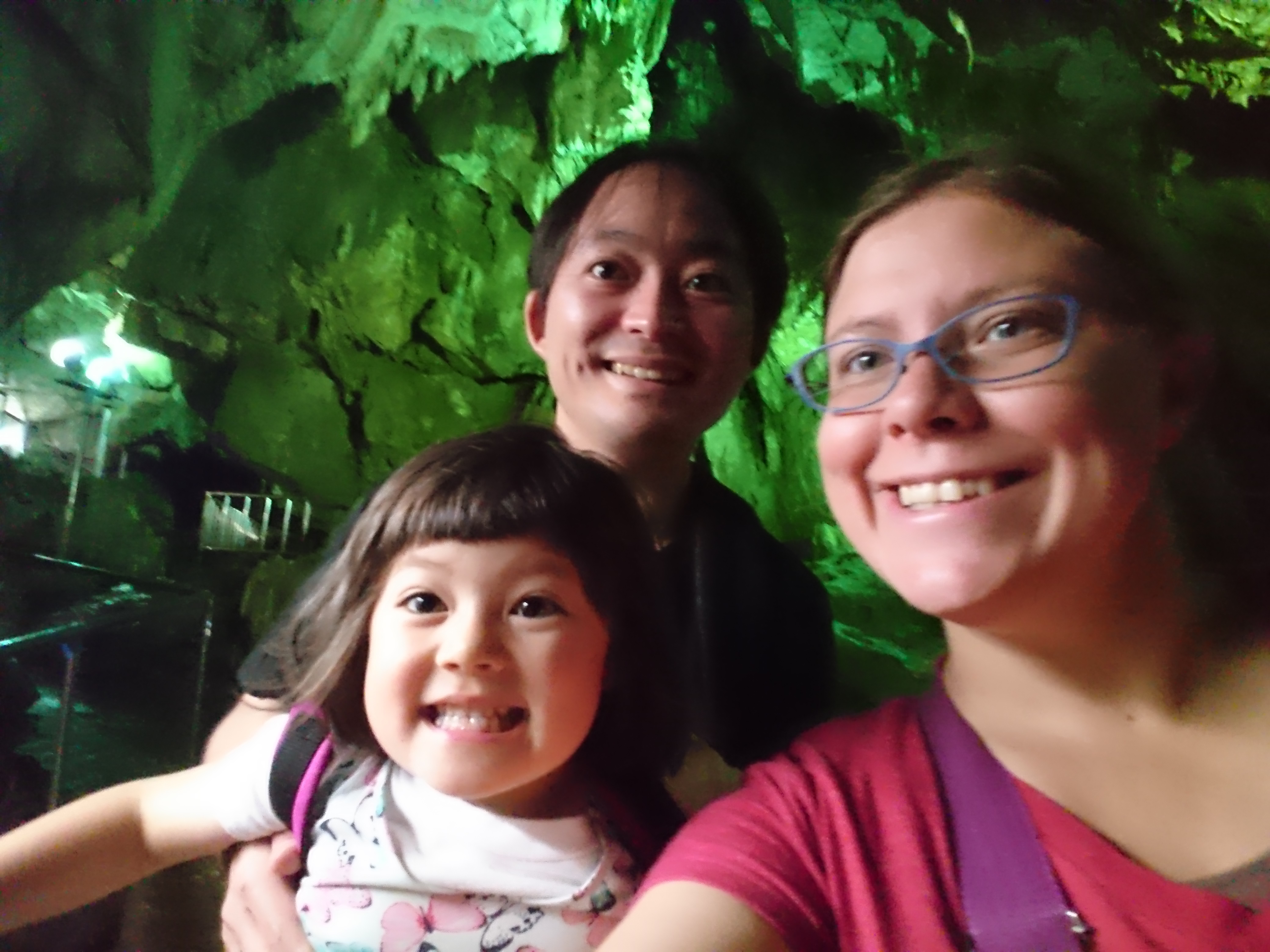 A working mom/writer/teacher, Jessica explores her surroundings in Miyagi-ken and Tohoku, enjoying the fun, quirky, and family friendly options the area has to offer.
---
10 Comments
I haven't been out yet this year to see any new lucky bags, although I saw a ton Before the new year. You made me want to check the Sanrio store & Misudo!

Wow!!! Looks like you were able to get plenty of bang for your buck with this one.

You're smart shopper to buy foods/candies bags, because many bags from apparel brands are "UNlucky bags" which contain many useless items. As you wrote, every store is supercrowded, so I avoid visiting there and buy some bags of cosmetics via online instead. Also, some shops accept online-order in December and they deliver the bags during new year holidays. What a convenient world.

@helloalissa Did you wind up getting any? The Misudo 2000 yen bag this year had a snoopy new year's phone charm, a calendar, additional donut coupons, tiny tupperware boxes, and an ego bag set (1 large, 1 small). It wasn't bad.

@DaveJpn Thanks! It worked out pretty well. This round, I only bought socks and donuts, but it still wasn't a bad go.

@yoona Nice call, buying the stuff online instead! My first year in Japan, I wasted a bit of money on bags from stationary shops and little boutiques but never wound up using most of the stuff. It was such a waste! I'll have to try to find more online next year. Thanks for the tip!