When I first moved to Japan, I thought I would be here for 2 to 5 years, however long it took me to get comfortable with the language. Instead I met a guy and had a whole different adventure, and most of the time things still feel light and adventurous, even when they've become mundane. I'm still finding things I can't identify at the grocery store 8 years later and I am still not really comfortable with the language.
That said, there are moments in every long-term expat's life that make one say, "Maybe I have been here too long..."


The pop stars who enticed you here are now selling old-people-products.

Really Gackt? 7-11 Wine?

That's right. Norton Antivirus: Making you Hot like an Ecologist since 2012


You do not recognize the new pop stars, nor find them sexually attractive.

Not only do I not know who anyone in Jonny's is anymore, I am more interesting in their grasp of grammar than their attractiveness. I see them, with their fresh, young faces and think, "Shouldn't someone be tutoring them in algebra?"


You (sometimes) find the enthusiasm of new expats exhausting or naive.

I feel like this robot every time I hear the word Karaoke.


After so many goodbyes, you have trouble making new friends and throw yourself into other hobbies instead.

Yes, I made all those sock monkeys, and the thing in the sock monkeys. If you make all of things, they can't move back to their homelands.


"The strangest things seem...suddenly routine."**

Now every time I don't see this fish-on-a-box, I feel like out of place.

Those are five of my (half-joking) reasons for feeling like I may have overstayed my welcome here in the land of the rising sun. What are yours?
** Lyric from Wig in a Box from Hedwig and the Angry Inch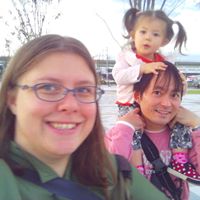 A working mom/writer/teacher, Jessica explores her surroundings in Miyagi-ken, enjoying the fun, quirky, and family friendly options the area has to offer.