Feb 17, 2018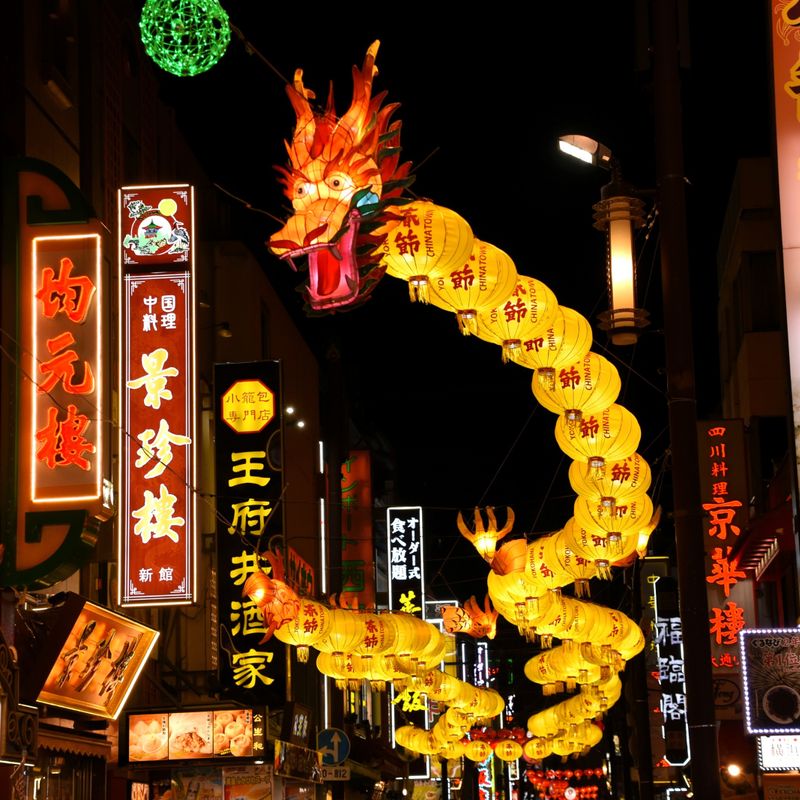 Chinatown in Yokohama began celebrations for the Chinese New Year Friday starting with a countdown at Kanteibyo Shrine and Yokohama Ma Zhu Miao (Yokohama Mazu Temple) from midnight Thursday into Friday before enchanting visitors to Asia's largest Chinatown with the customary Lion Dance.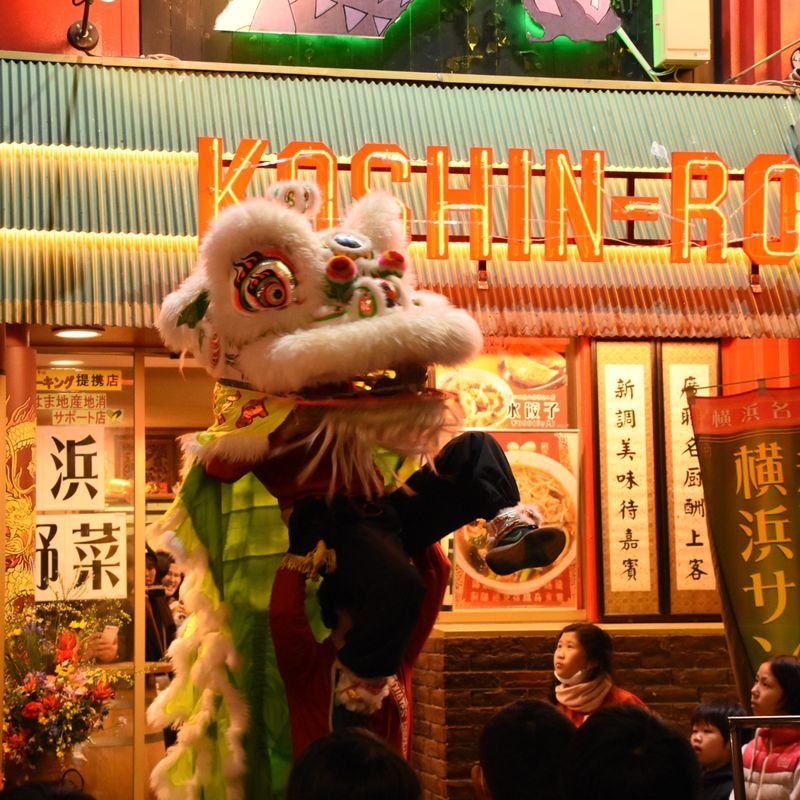 The Lion Dance was the first in series of events to be held at Yokohama's "chukagai" marking what in China is known as Spring Festival. Celebrations are set to continue through to March 2, 2018.
Known as "shishi-mai" (獅子舞) in Japan, Friday evening's Lion Dance saw five lions patrol the streets of Chinatown taking differing courses around the lantern-lit district. Controled by just one or two "dancers" individual lions visited restaurants and stores in the area, accompanied by a small troupe of musicians beating on drums, cymbals and gongs, to bring them good fortune.
At each business lions performed the custom of "cai qing" in which vegetable offerings from business owners were gobbled down by the lions (including a red envelope filled with money -- the hóngbāo (Mandarin) / honpao (Japanese)) to be spat back out again (although the envelope stays with the lion); a climactic event signified by feverish dancing (sometimes on hind legs), a crescendo of cymbals, and a flurry of firecrackers (let off in the safety of a cage).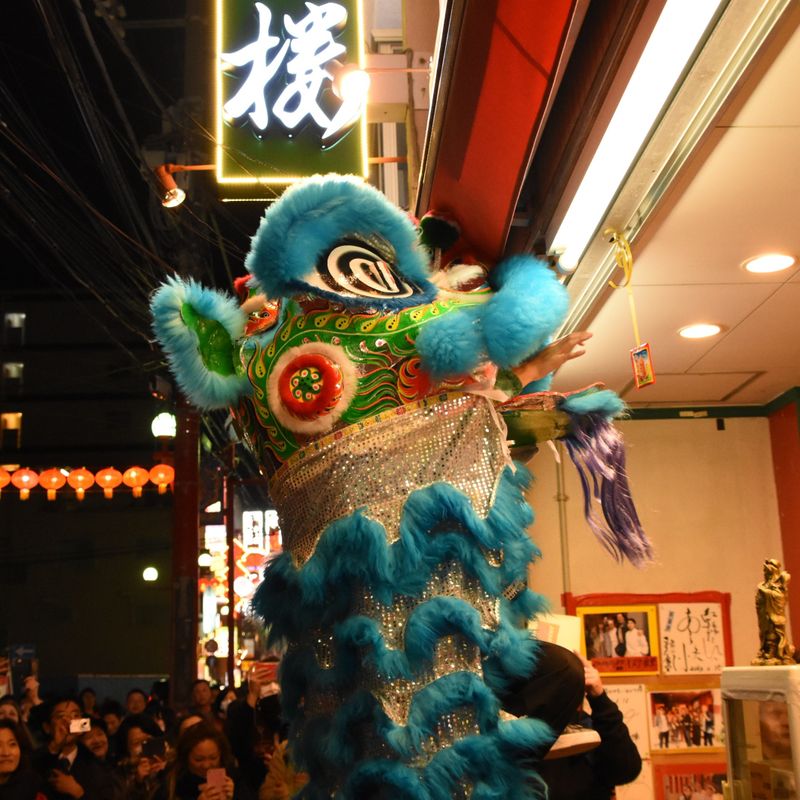 Time must have been short as dancers wasted little time in wrapping up their performance at each store; the lion costume quickly discarded to reveal a young lad pouring with sweat who passed it onto a fellow dancer (both likely members of a local kung fu club).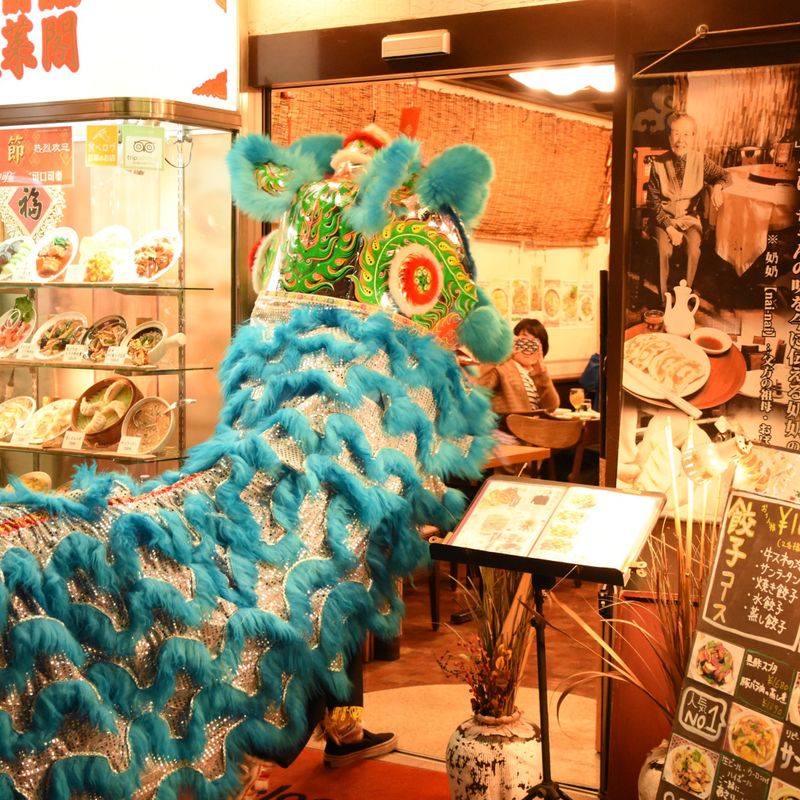 Lions did find the time, however, to enter restaurants and cause a bit of a stir among the diners much to the delight of the crowds following each lion.
Following the Chinatown Lion Dance a number of events are set to take place during the Spring Festival or Chinese New Year 2018 celebrations in Chinatown Yokohama.
Spring Festival Amusement Performance
The Spring Festival Amusement Performance (Shunsetsu Goraku Hyoen / 娯楽表演) will see traditional Chinese performances take place on a stage in Yamashita-cho Park, behind the pavillion in the center of Chinatown. Expect more lion dances as well as dragon dances (watch they don't take a bit at your head if sitting near the front), traditional Chinese dancing and acrobatics (think unicycles and flipping dishes), and martial arts.

When: Performances will be held on Feb 17, 18, and 25 with each day separated into three programs starting from 14:30 and ending at 18:30
Where: Yamashita-cho Park (山下町公園)
Note: Don't confuse Yamashita-cho Park with Yamashita Koen, the long stretch of green fronting the port.
Festival Parade
One of the biggest of the Spring Festival events in Chinatown for 2018, Yokohama, the "Festival Parade," (Shukumai Yuukou / 祝舞遊行) held on the ninth day of Chinese New Year will see dragons, lions and paraders decked out in ornate "Emperor" costumes for a procession through the streets of the chukagai. The 9th day coincides with the birthday of the Jade Emperor, King of Heaven.

Presumably this adds a bit of weight to the occasion but visitors to Yokohama Chinatown on this day of the Chinese New Year / Spring Festival celebrations won't need to understand the complexities of the Chinese cultural and historical references to enjoy this spectacle; firecrackers, jugglers, cultural finery and extravagance will be festival enough for the eyes. As will the dragons -- longer and more spectacular than their feline counterparts, it's more than a two-person job to get these things from A to B.
When: Feb 24, starts 16:00
Where: Festival Parade starts at Yamashita-cho Park moving through Kanteibyo-dori, Fukken Road, Nishimon-dori, Chukagai-odori, Minamimon Silk Road, before finishing back at the park.
Lantern Festival
2018 Spring Festival celebrations in Yokohama's Chukagai wrap up in poignant fashion with the beautiful Lantern Festival (Genshosetsu Toro Sai / 元宵節燈籠祭) held at the Ma Zhu Miao temple. Ma Zhu, a real figure from Chinese history, some say, means "Holy Mother of Heaven," and Ma Zhu Miao temples can found in Chinese communities all over the world.

The choice of Ma Zhu Miao for the Lantern Festival isn't an arbitrary one, lanterns lit here carry the wishes of the people (written as messages on the lanterns) and a special dance will be carried out to ensure these wishes safe passage to the heavens.
It would be a somewhat haunting experience, to take pause around warmly lit lanterns with an eye on the heavens, and it can be, if you can ignore all the people straining to get a picture.
When: March 2, 17:30 - 19:00
Where: Ma Zhu Miao temple (横濱媽祖廟)
Link (to temple site): http://www.yokohama-masobyo.jp/eng/index.html
Criticism is sometimes levelled at Yokohama's Chinatown for being merely an exercise in attracting the tourist, or little more than a collection of Chinese restaurants (albeit a very large collection).
Spring Festival then is a special chance to see this chukagai doing its thing, for the tourist and the local. In fact, most tourists will likely be looking on out of curiosity rather than to complement any significant understanding of the tradition on display. Perfectly fine and understandable, but there is pleasure to be had too, in watching an expat community break out the finery and costume of the homeland and collectively go through the ceremony of affirming where it is they actually come from, for better or worse.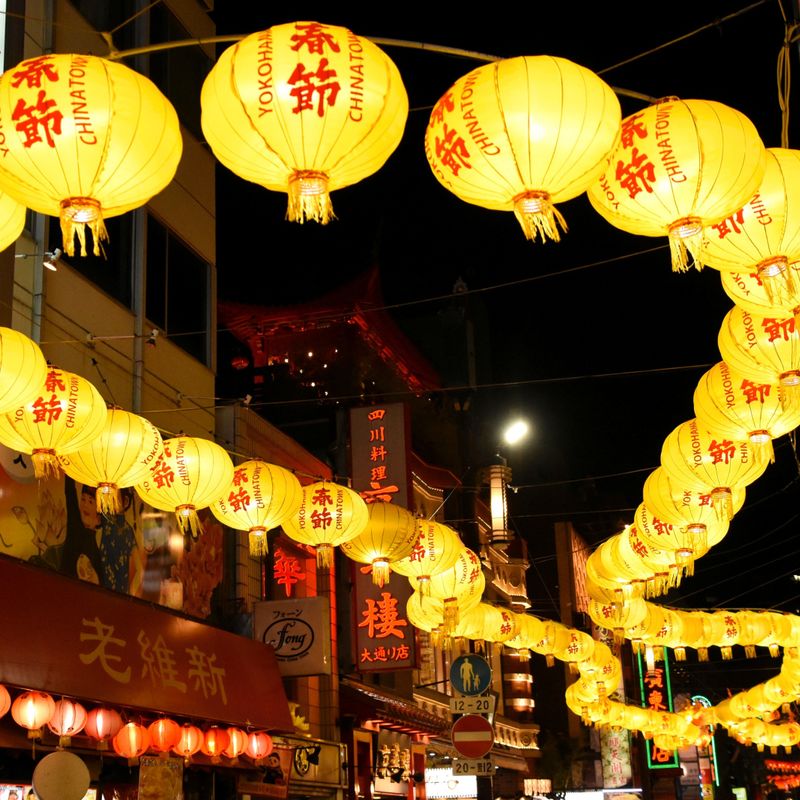 (Yokohama Chinatown 2018)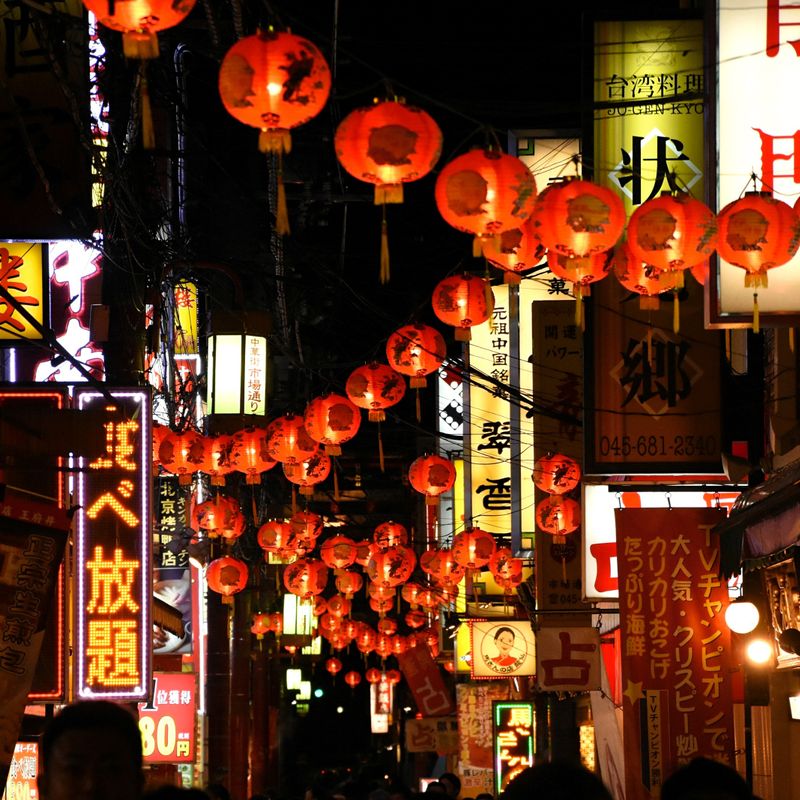 (Yokohama Chinatown 2018)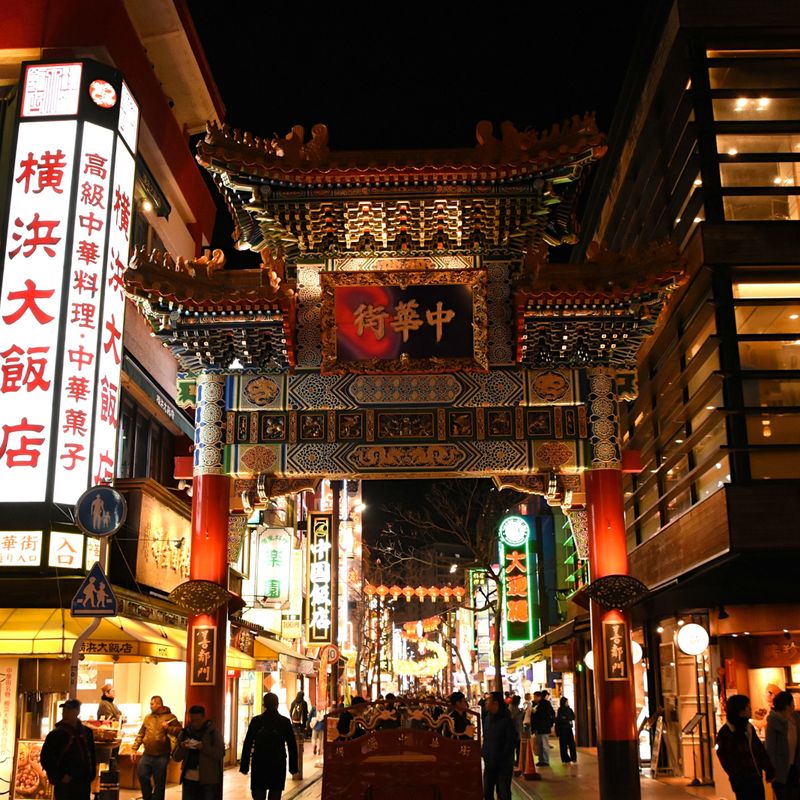 (Yokohama Chinatown 2018)
Will you being going to any of the events for Spring Festival 2018 at Yokohama Chinatown, or any other Chinatowns in Japan? Let us know in the comments
See us on ..
Twitter and Facebook: @citycostjapan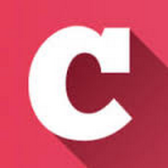 A Q&A and blogging community about life in Japan (plus a load of life-in-Japan stats!). Get your questions answered, share your experience! | Inquiry -> KyodoNewsDigital International Media | Tokyo, Japan | +81 3 6252 6402
---