Dec 18, 2017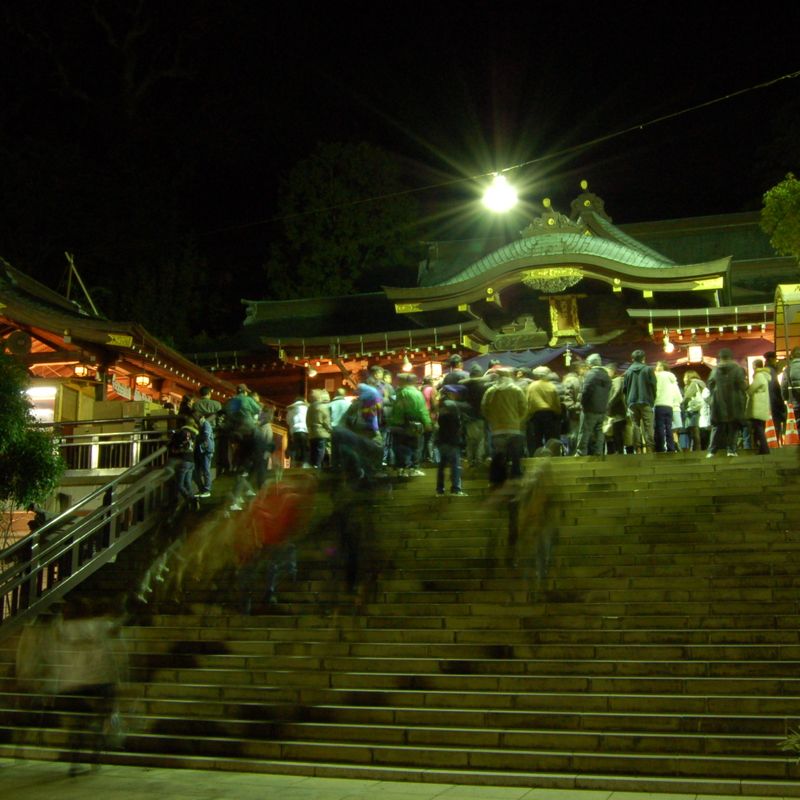 The most popular shrines in Japan at New Year have to brace themselves to receive millions of worshippers and casual visitors who come to these shrines (and some temples) to perform "hatsumode" and get the year in Japan off to an auspicious start.
The custom of "hatsumode" (初詣) anchors New Year's celebrations in Japan. Hatsumode (初詣 / hatsumōde) refers to one's first visit of the year to a Shinto shrine essentially to curry the favor of whatever deity is in residence in order that the year might proceed smoothly, or at least so that one is still around to do the same thing "this time next year."

Given that most workers in Japan have holiday somewhere around Dec. 29 to Jan. 3 it tends to be the first three days of the year that Japan's shrines entertain the most visitors performing hatsumode. Consequently, things can get very crowded. Crowded like the last ever The Rolling Stones concert, especially at the most popular shrines. And the religious solemnity is fleeting. Many people will be turning up to the shrines drunk, or at least well on the way to being so. Those that aren't will probably be getting drunk later in the day. In the meantime, the grounds of the shrines, along with the surrounding streets, will be well furnished with the kind of stalls you'd expect to see at a fun fair, selling "festival" staples such as yakisoba, yakitori, ramen, hot dogs, candy floss, toffee apples, booze, and random plastic toys for the little ones. We may be at a place of worship, but this is essentially a party.
The marquee shrines during hatsumode are so busy that people have started postponing their visits until things calm down. This expat has often asked the question as to whether or not hatsumode has a deadline -- When is it too late to do it? I've yet to receive a definitive answer, because it turns out there isn't one. Hatsumode is "what it says on the label" -- the first visit of the year. Still, those food vendors will want you there within about the first week. In Kansai things are stretched out until around Jan. 15, but really, the late stragglers are drifting in right up to the end of the month.
Any Shinto shrine will do the job for hatsumode. In fact some Japanese proffer themselves at Buddhist temples, such is this nation's à la carte approach to religion (or maybe they are just less crowded).
So what follows then are the 10 most popular shrines in Japan during New Year (for hatsumode), and quite frankly, the numbers are alarming. In this way our list of shrines for New Year in Japan might serve as either a warning to stay away, or as notice of where the best place to be is. Of course, "popularity" refers to numbers, which in turn probably reflects access and proximity to large numbers. So whether the following 10 shrines are of the most religious significance in Japan, we can't be sure.
9 - Dazaifu Tenmangu Shrine, Fukuoka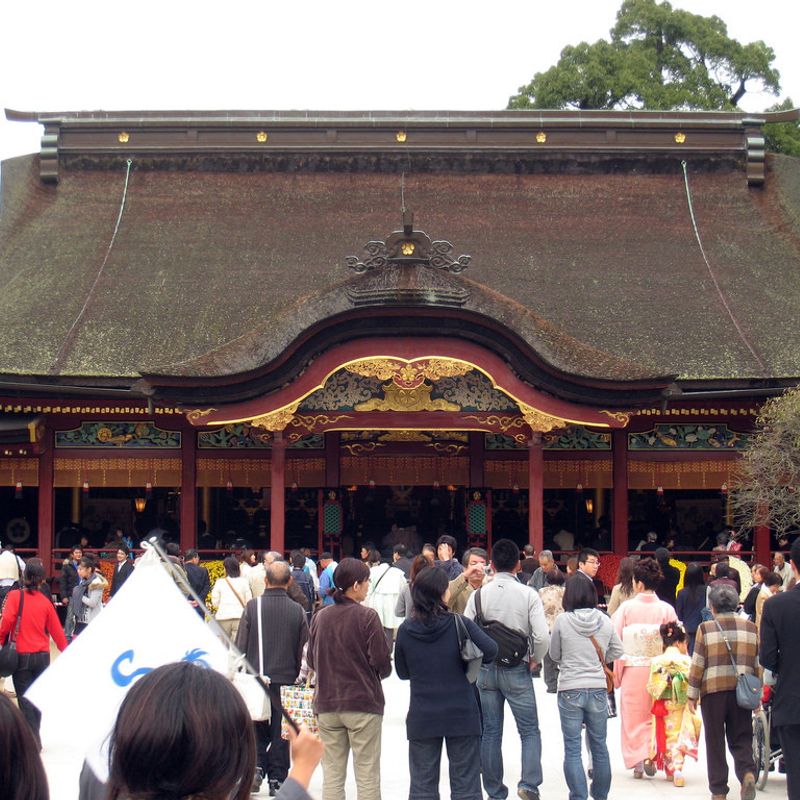 In at No. 9 then, bringing in around 2 million visitors over New Year, is one of the most important "tenmangu" shrines in all of Japan, Dazaifu Tenmangu Shrine (大宰府天満宮), located about 15km southeast of Hakata Station in Fukuoka-ken, Kyushu.
Japan's "tenmangu" shrines are a dedication to scolar, poet, politician Sugawara Michizane who was around during the Heian Period (794 - 1185 AD). Dazaifu Tenmangu was actually constructed on the site of Michizane's grave.
Given the learned vibes then, "tenmangu" shrines tend to be popular with students looking for all the help they can get when it comes to passing exams. Given that entrance exams to Japan's public schools are generally held in January or February, we can be sure that plenty of students will be making sure that they don't miss out on turning up to Dazaifu Tenmangu for hatsumode.
The shrine is around 300m from Dazaifu Station and streets between the two are lined with souvenir shops and restaurants, all themed around the shrine. Expect them to be crowded during the first few days of the year. Pleasant gardens, a museum and a small amusement park will only add to the shrine's appeal.
Nearest station: Dazaifu (Nishitetsu Dazaifu Line), the shrine is around 300m from here
Web: http://www.dazaifutenmangu.or.jp/en
8 - Hikawa Shrine, Omiya, Saitama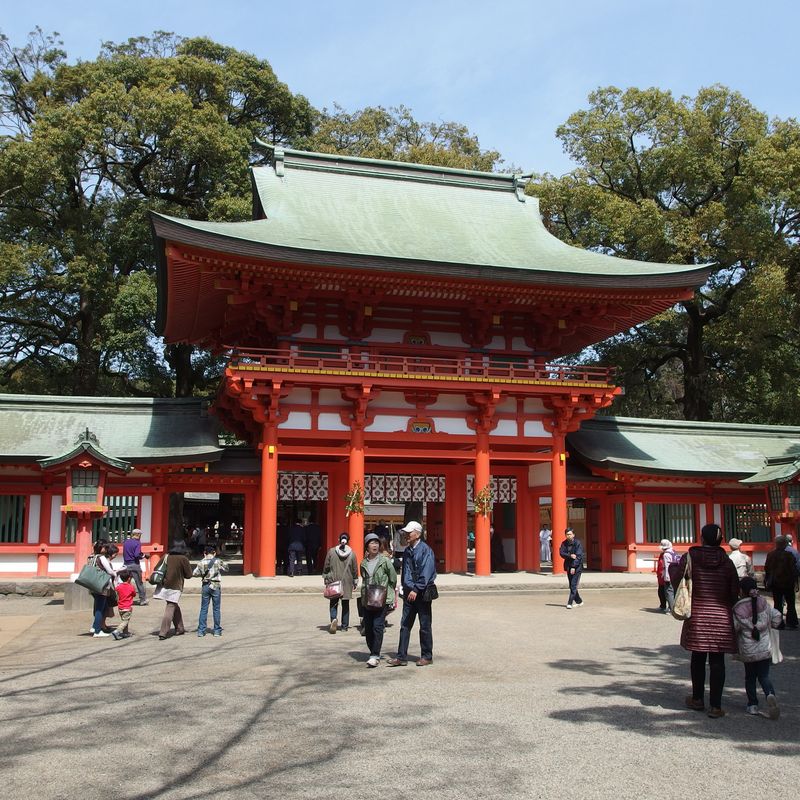 Hikawa Shrine (Hikawa-jinja / 氷川神社) in Omiya sits on the southern tip of the huge Omiya Park, a cherry blossom favorite. The shrine itself is surrounded by a thicket of Japanese elm trees and accessed by one of those oh-so-Japanese arched bridges with the ornate red railings.
Visitor numbers over New Year are around 2.15 million. Perhaps this popularity is a reflection of Hikawa Shrine's impressive pedigree -- rumoured to date back over 2,400 years and with over 50 branches in Tokyo and a whole lot more in Saitama Prefecture itself. Add this then to the shrine's proximity to massive Omiya Station (itself close to Tokyo) and it can come as little surprise to see folks flocking here for hatsumode. Oh, and Omiya Park houses a zoo, which will add to the madness during New Year's holidays.
Nearest station: Kita-Omiya (Tobu Urban Park Line), around 300m from the shrine
Web (Japanese): http://musashiichinomiya-hikawa.or.jp/
7 - Atsuta Shrine, Nagoya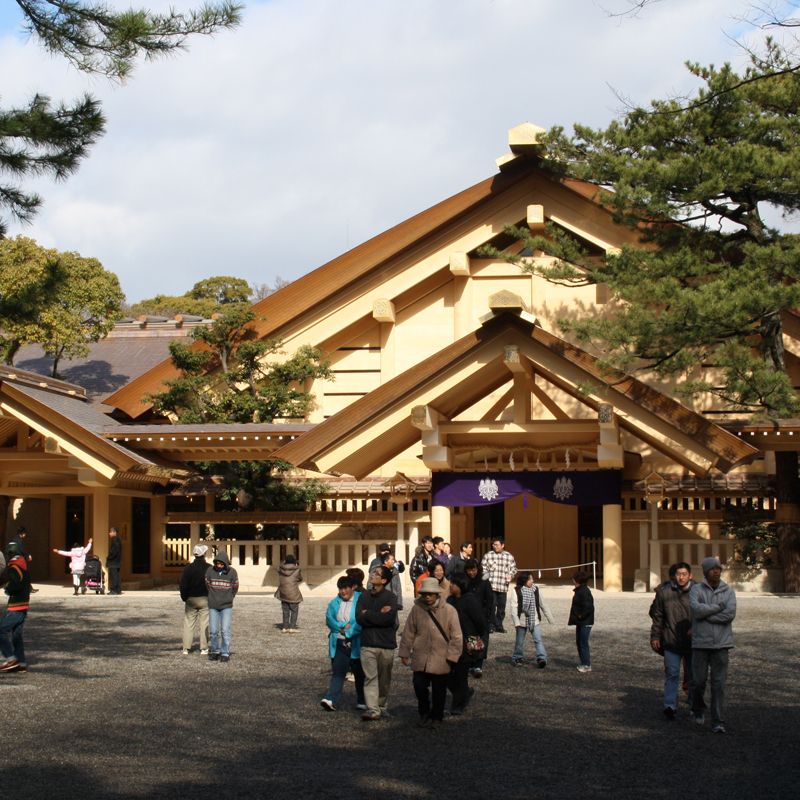 Probably little heard of among shrine-hopping tourists in Japan, Atsuta Shrine (Atsuta-jingū / 熱田神宮) is actually a big deal. Especially over the New Year period when some 2.3 million visitors come to pay their respects to "the sword" -- one of the three Imperial Regalia of Japan (the other two being a mirror and a jewel). Said sword is delightfully named, "Kusanagi no Tsuru," or something along the lines of "the grass cutter." If this all sounds about fairytale to you, then you'd probably be right. The history of "Kusanagi no Tsuru" blurs the lines between legend, cautionary tale, and history. In fact, no one seems able to confirm that the sword is actually kept in Atsuta Shrine, if it exists at all. The shrine does contain over 4,000 of relics in its Treasure Hall, which include "Important Cultural Properties" and a "National Treasure of Japan".
Still, this a shrine and such places have rarely been too concerned about "fact". What is true, is that Atsuta Shrine is popular throughout the year, and with straightforward access to / from Nagoya Station this popularity soars during hatsumode.
Nearest station: Jingu-Mae (Meitetsu Nagoya / Inuyama lines), right in front of the shrine
Web: https://www.atsutajingu.or.jp/en/intro/
6 - Tsurugaoka Hachimangu, Kamakura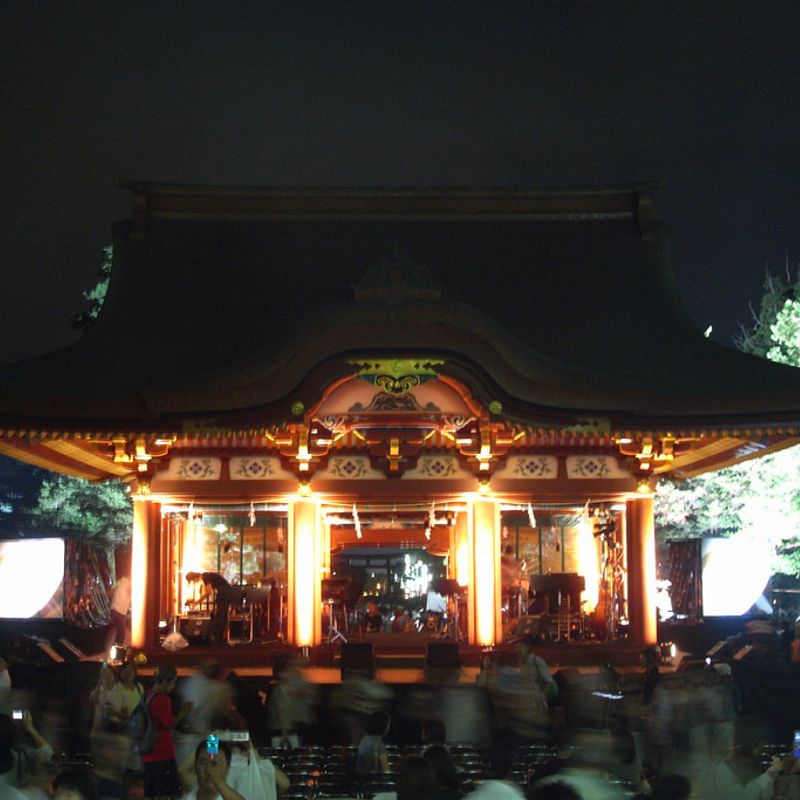 "You've got to go to Kamakura.", was a popular refrain issued from fellow expats when this blogger first arrived in Japan. A fair point. Anyone based in the Kanto area would do well to visit this historical, bohemian, surfy, well-to-do coastal town. Anyone who has visited will know that it can get busy, especially around Kamakura Station and the Komachi-dori souvenir street that leads to the shrine Tsurugaoka Hachimangu (鶴岡八幡宮) and, of course, the shrine itself.
Anyone who has gotten at all frustrated by said crowds might find it disturbing to learn that Tsurugaoka Hachimangu attracts around 2.5 million visitors over New Year, making it one of the most popular shrines in Japan for hatsumode. Understandable really, Tsurugaoka Hachimangu is an attractive place, the way the main structure sits aplomb in its lofty position overlooking some pleasant gardens and ponds. It's all very Japanese. Add to this the impressive approach through some massive torii, the overall niceness of Kamakura, and the easy access from Tokyo, and you're onto a sure-fire route to attract visitor numbers.
Nearest station: Kamakura (JR Yokosuka Line / Enoden Line), about 10 mins walk to the shrine
Web: http://www.tsurugaoka-hachimangu.jp/
6 - Sumiyoshi Taisha, Osaka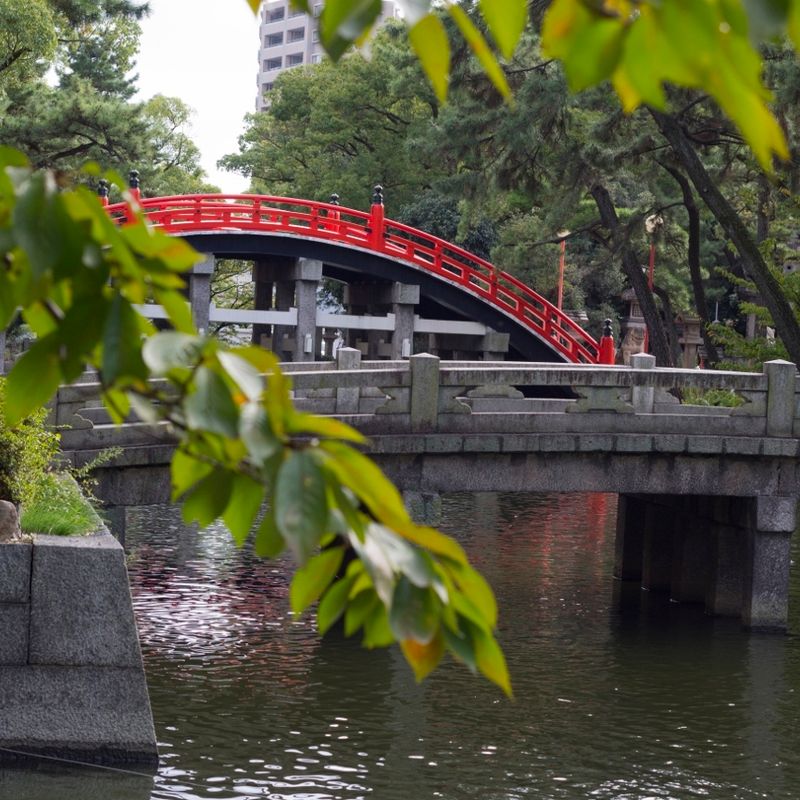 It would have been rude, nay strange, were Osaka not to be home to one of the most popular of Japan's shrines during New Year / hatsumode. Here it is then, at No. 6, Sumiyoshi Taisha (住吉大社) - the Sumiyoshi Grand Shrine. And the visitor numbers over New Year are grand -- around 2.5 million.
Perhaps they've been coming here for a long time, too. Sumiyoshi Taisha is one of the oldest shrines in Japan, dating back to the 3rd century. And for those who may have found themselves a little jaded by Japan's temple and shrine experience, Sumiyoshi Taisha is one of the most unique shrines in Japan for its straight-roofed Sumiyoshi-zukuri architecture. Praise then to this shrine for managing to be both "one of the gang" and yet quite distinct from the other members.
Sumiyoshi Taisha, like all "Sumiyoshi" shrines in Japan, is home to a deity said to look out for seafaring types and travelers, hence its location in Osaka near to Osaka Bay. (At one point, the shrine might have been a little closer, but then humans figured out how to do "land reclamation".)
Sumiyoshi Grand Shrine is also known for its very eye-pleasing "Sorihashi Bridge", although 2.5 million people stomping over it may reduce the bridge's appeal somewhat.
Nearest station: Sumiyoshi Taisha (Nankai Main Line) / Sumiyoshi (Hankai Tramway Hankai Line), the shrine is just a stone's throw from both
Web (Japanese): http://www.sumiyoshitaisha.net/
5 - Ise Grand Shrine, Ise, Mie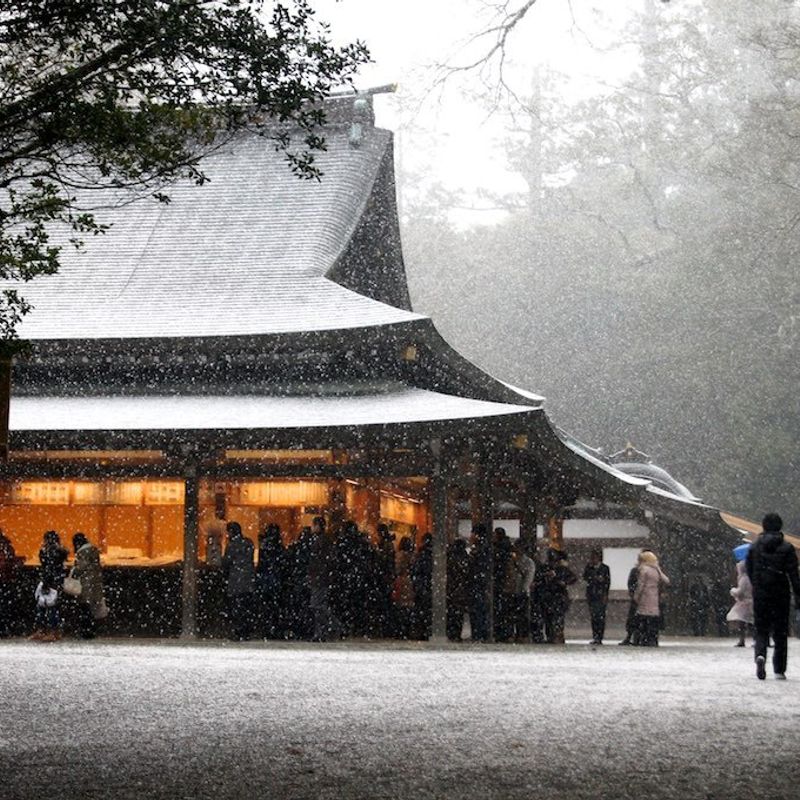 Perhaps we can know that a shrine is important when it's hosting visits from G7 leaders, as was the case during the 42nd G7 summit in May 2016 when Abe, Obama, Cameron, Merkel et al rocked up to Ise Grand Shrine (Ise-jingū / 伊勢神宮) for a bit of a breather between plotting the course of the world. Still, that was only seven people compared to around 2.7 million New Year's worshippers and revellers that come to Ise-jingū for hatsumode. And well they might, as Ise Grand Shrine is widely regarded as the most important Shinto shrine in all of Japan. In fact, this shrine is so important its official name is simply "Jingu" -- ditching any descriptor.
When we consider that Ise Grand Shrine is home to the ancestral deity of the Imperial Family, and has been for around 2,000 years, we can perhaps begin to understand this shrine's importance to the nation.
It's Kotai-jingu that forms the center of operations of Ise Grand Shrine but there are actually some 125 shrines clustered in two separate areas (Naiku and Geku, about 2 km apart) for the worshipper or casual visitor to take in. Worship and ritual tend to be based around praying for the prosperity of Japan's Imperial Family, world peace, and a plentiful harvest. All fairly grand themes one would have to agree.
Come New Year's and Ise Grand Shrine is also a home, albeit a fleeting one, to some 2.7 million visitors over the hatsumode period. This stat is almost as "grand" as the shrine itself when we consider its faily out-of-the-way location -- Ise Grand Shrine is over one hour by train from Nagoya, over two hours from Osaka, and over three hours from Tokyo.
Nearest station (Naiku): Isuzugawa (Kintetsu Line), the shrines of Naiku are about a 30-min walk from here
Nearest station (Geku): Iseshi (Kintetsu Line), the shrines of Geku are about a 10-min walk from here
Web: https://www.isejingu.or.jp/en/about/index.html
5 - Fushimi Inari-taisha, Kyoto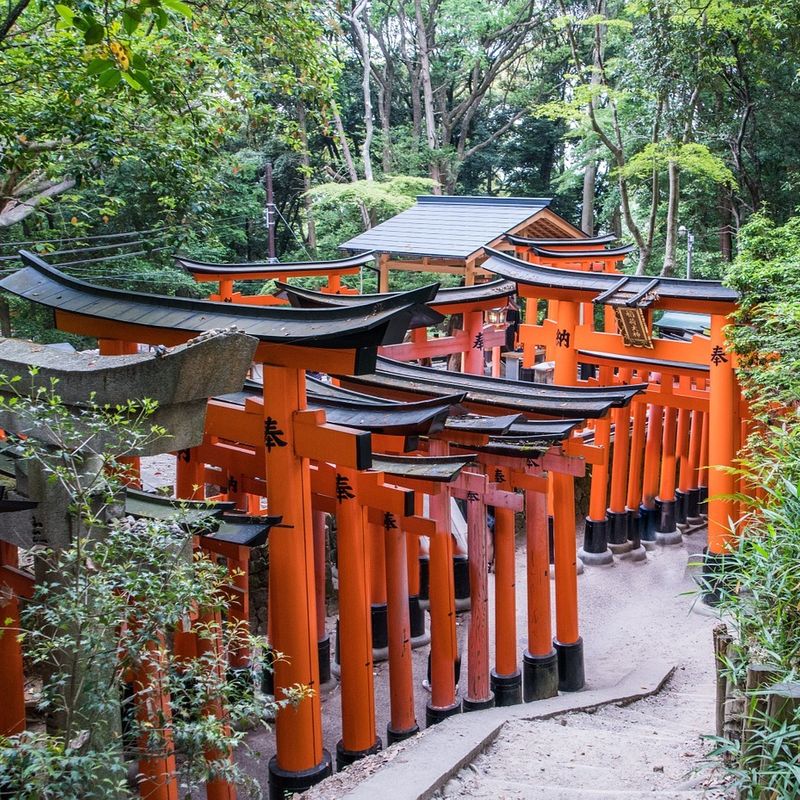 The first entry on our list that is located in Kyoto. The much photographed Fushimi Inari-taisha (Fushimi Inari Shrine / 伏見稲荷大社) in southern Kyoto, as well as being one of the most popular shrines in Japan over New Year, must also be able to make a fair argument at being the shine with the most vermilion torii (gates) -- there are thousands of the things crawling all over the shrine's mountain grounds.
Fushimi Inari-taisha is a shrine dedicated to the Shinto god of rice, so one can be fairly sure that such a shrine is going to be popular at any time of year. Over the New Year period, visitor number soar to around 2.7 million, and it's likely that the shrine has been in the hatsumode game for some time given that it traces its roots back to a time before Kyoto became the capital of Japan (in 794). Moving to the current day, Fushimi Inari Shrine is only one stop from the massive JR Kyoto Station, and a mere 100 m from the stop. Such easy access in the heart of a city that is constantly swamped with visitors is only going to exacerbate the shrine's numbers.
But back to those tunnels of torii that are the reason for most casual visits to Fushimi Inari-taisha -- funnelling millions of people through them over the course of few days must surely make for a crowded scenario that is enough to put off the most hardy of hatsumode goers. If all you want is an image to share on Instagram, maybe leave Fushimi Inari-taisha until February as you wait for the foot traffic to thin out.
Nearest station: Inari (JR Nara Line), the shrine is about 100 m east of here
Web: http://inari.jp/en/
4 - Sensoji, Tokyo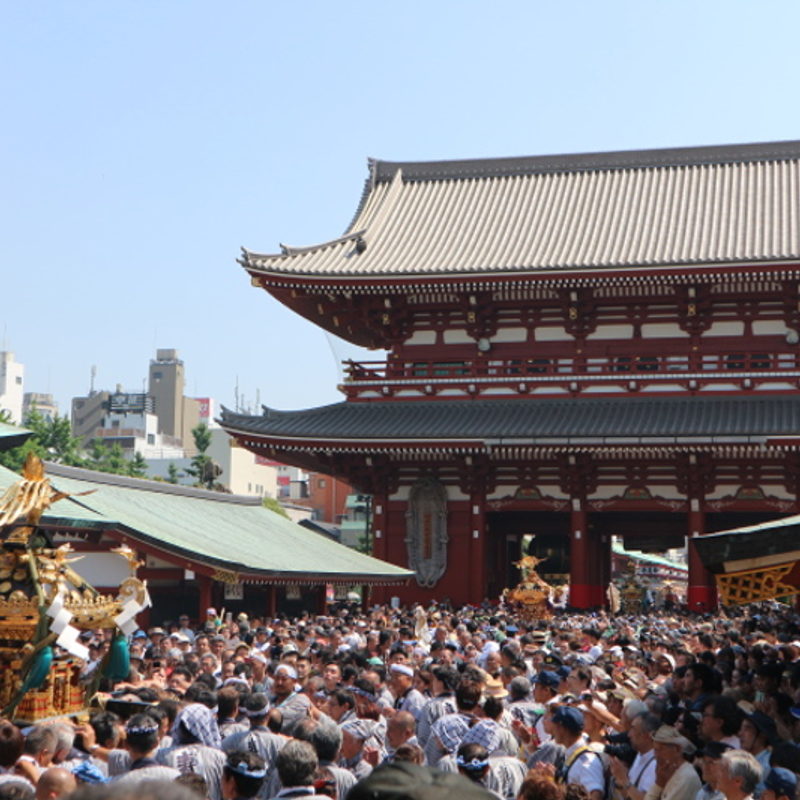 The superlatives just keep rolling in when it comes to Tokyo's Sensoji (浅草寺 or Asakusa Kannon Temple) -- the oldest temple in Tokyo, recently topping a poll as the most amazing building / structure in Japan, and, now, featuring high up on a list of the most popular shrines in Japan over New Year with visitor numbers up around the 2.83 million mark.
It's perhaps a testament to the power of hatsumode and the clout of other shrines and temples around Japan that it's taken until No. 4 to get a Tokyo representative onto this list.
It was always going to be thus though, wasn't it? Sensoji is an essential sightseeing stop on almost any Tokyo itinerary at any time of year. It's big, colorful, famous, and forms the centerpiece of one of the most popular tourist districts in the world's most populous city, something which means there are an abundance of restaurants and bars at which to continue, or start, the boozed-up hatsumode revelry. In fact, maybe we should be asking just how Sensoji isn't the most popular spot for hatsumode in all of Japan.
Well, Sensoji is a Buddhist temple for a start, and hatsumode is typically the reserve of the Shinto shrine. It could also be the case that people are acutely enough aware that squeezing up souvenir Mecca Nakamise-dori is a frustrating undertaking at the quietest of times. At New Year's then, doing so must require the patience of a saint.
Nearest station: Asakusa Station (Ginza Subway, Asakusa Subway, Tobu Lines)
Web (Japanese): http://www.senso-ji.jp/
3 - Naritasan Temple, Chiba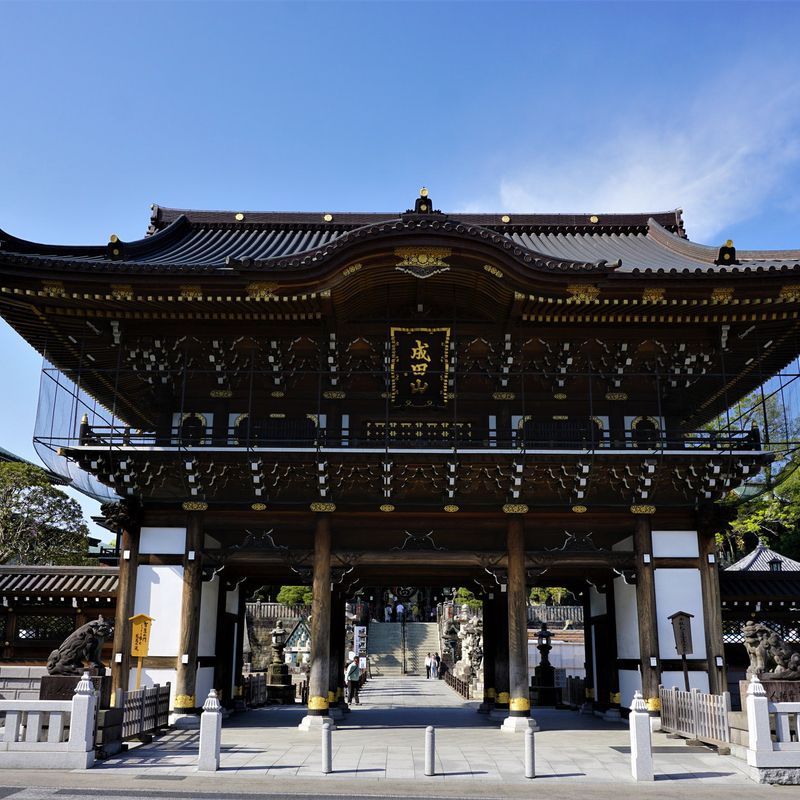 Another temple making it towards the upper echelons of this list celebrating the most popular shrines in Japan over New Year. Given that Naritasan (成田山 / aka Naritasan Shinshoji Temple) sits only around 2 km from the runways of Japan's largest international airport (Narita International Airport) one would think that the temple has access on its side. But then we consider that Narita Airport is anything but easy to get to from Tokyo and that the prospect of fighting through around 3 million New Year's revellers is surely no one's idea of post-flight fun. But some 3 million visitors do come to Naritasan for their hatsumode. We can perhaps assume then that this is a temple with some clout, and not just a bonus for air travelers stuck in transit or with awkward hours of departure / arrival.
This clout is perhaps provided by a sculpture housed in Naritasan carved by the Buddhist monk Kukai -- one of the most famous figures of Buddhism in Japan. While the sculpture dates back to 810, the oldest of Naritasan's buildings was constructed in 1701 and is one of a number of important cultural properties in the temple grounds. And what grounds?! Naritasan may be geographical neighbors with the brutal practicality and hard lines of an international air hub, but it is a world away. A stroll around the grounds / gardens of Naritasan is nothing short of delightful and almost worth the long trip out from Tokyo for those who have no plans to leave the country.
The town of Narita itself is also something of a charmer, particularly the Omotesando street, lined with souvenir shops, boutiques, traditional eateries and international boozers catering to the air crews.
Nearest station: JR Narita / Keisei Narita (JR Narita / Keisei Lines), the temple is about a 20-min walk from both stations
Web: http://www.naritasan.or.jp/english/index.html
2 - Kawasaki Daishi Temple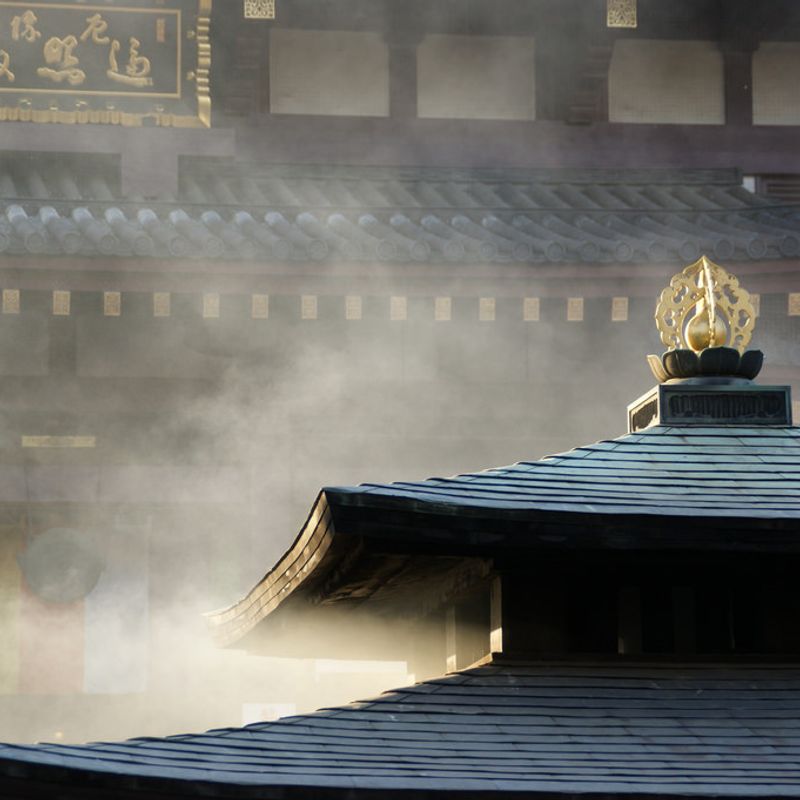 Big, boozy and bustling, Kawasaki City just south of Tokyo is a place that knows how to throw a party. The city is host to one of Japan's most notorious traditional festivals, the Kanamara Matsuri, during which thousands flock to the city's Kanayama Shrine in April to celebrate a frighteningly large steel phallus.
Over the New Year period, celebrations move a few hundred meters to the east to Kawasaki Daishi Heikenji Temple (川崎大師), HQ of the Chizan School of Shingon Buddhism and a temple well-known for keeping evil spirits at bay. And what celebrations?! Kawasaki Daishi Temple attracts around 3.02 million visitors over New Year, making it the second most popular place to perform hatsumode in Japan. Well, Kawasaki Daishi has built up a reputation for keeping evil spirits at bay.
Easy access from the cities of Tokyo and Yokohama, and a reputation for housing plenty of izakaya (as well as more shady forms of entertainment) make Kawasaki an understandably popular choice for some hatsumode revelry. Of course, you need the place of religious worship, too, and the city has this in the form of Kawasaki Daishi.
All this being said, if the idea of hatsumode is to get the year off to a good start, a hangover resulting from a boozy afternoon / night in no-nonsense Kawasaki doesn't seem like most auspicious of beginnings.
Nearest station: Kawasaki-Daishi (Keikyu Daishi Line), the temple is around 200m east of the station
Web: http://www.kawasakidaishi.com/english/
1 - Meiji Jingu, Tokyo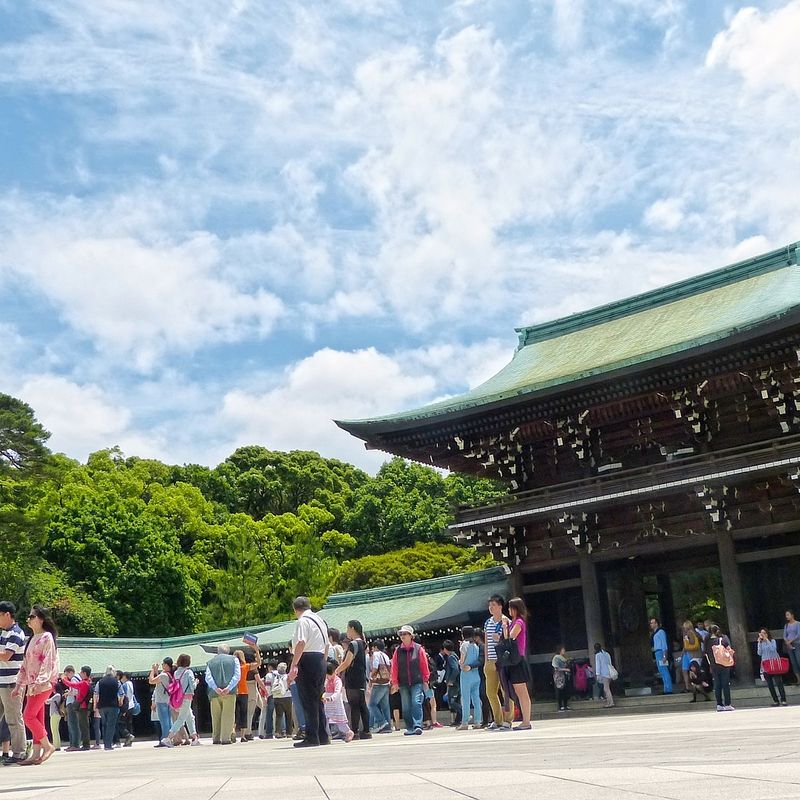 The most popular of Japan's shrines and temples for New Year's hatsumode with some 3.16 million worshippers visiting over the period.
Despite a couple of temples appearing at the business end of this list of Japan's most popular shrines during New Year, we're back on familiar territory with a shrine that is probably familiar to anyone who has visited Tokyo -- Meiji Jingu / Meiji Shrine (明治神宮).
At any time of year you care to mention, you'll see tourists and visitors aplenty loitering around the massive torii that marks the beginning of the impressive, forested walkway leading to this A-lister shrine. And Meiji Jingu really is an A-lister -- it has the name-value spirits in those of the Emperor Meiji, the exclusive real estate between Shibuya and Harajuku, and it wows with its ability to get visitors to suspend their belief that they are in fact in the middle of the largest city in the world by shutting the city out in its entirety with fantastical trees and greenery. It's an experience that could almost be considered ethereal.
There's nothing ethereal about New Year's and hatsumode at Meiji Jingu, though, especially when you consider that half the visitors at this time will have one eye on parties in Harajuku and Shibuya. Still, if you're up for it, being a part of the New Year's experience at the most popular shrine in Japan is surely something to tell the people back home about.
Nearest station: Harajuku (JR Yamanote Line) / Meiji-jingu-mae (Chiyoda, Fukutoshin Subway Lines), the torii marking the entrance to the shrine's approach path is just a few meters from both stations
Web: http://www.meijijingu.or.jp/english/
Have you ever experienced hatsumode at one of Japan's shrines or temples? Know of any popular ones or, indeed, those at which the visitor can escape the crowds? Let us know in the comments.
See us on …
Twitter and Facebook: @citycostjapan
Sources:
Takigen
Rakuten Travel
Images:
Dazaifu Tenmangu: JoshBerglund19 Flickr License
Hikawa Shrine: Guilhem Vellut Flicker License
Atsuta Shrine: john_v_mccollum Flickr License
Tsurugaoka Hachimangu: hirotomo t Flickr License
Sumiyoshi Taisha: chiron3636 Flickr License
Ise Grand Shrine: tetsuya yamamoto Flickr License
Naritasan Temple: Nelo Hotsuma Flickr License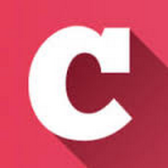 A Q&A and blogging community about life in Japan (plus a load of life-in-Japan stats!). Get your questions answered, share your experience! | Inquiry -> KyodoNewsDigital International Media | Tokyo, Japan | +81 3 6252 6402
---