Mar 6, 2017
A stay in one of Japan's storied ryokan (旅館) is often a box to tick for many a visitor to the country. We'd hazard a guess that most people are not quite sure why they need to be doing this, or what to expect from the ryokan experience, except to say that it's traditional, there are exotic robes involved, and you don't sleep in a bed.
In fact, these days, to say that one wants to stay in a ryokan is likely to be pressed for more specifics; What kind of ryokan? What's your budget? Do you want to go full Japanese, or Japanese light? The answers to which, most travellers to Japan probably aren't sure.
Some ryokan in Japan have come a long way since the days of knackered travellers being carried up and down the Tōkaidō Road between Kyoto and Tokyo. These traditional Japanese inns now have to compete with hotels, resorts, capsules, 24-hr family restaurants, all-night karaoke boxes, Internet cafes, love hotels, and the myriad other ways there are to find a night's kip in Japan. A lot of them have gone hybrid; ditching thoroughbred status to go mongrel; the ryokan-business hotel for the salaryman who likes tatami but who needs a fax machine, the fancy 5-star jobs with options of beds, the humble ryokan-B&B without the staff to lay out futon, and the one in the Buddhist temple offering all-inclusive zen. There are many to choose from.
Despite this though, for many, the appeal of the ryokan is just that; it's a ryokan. The ryokan foregoes modern comfort and convenience in favor of traditional experience. Don't panic though, most of them have TVs.
And so we come full circle. A lot of foreign travellers want this ryokan experience, even though they're not sure what it is, and for many this is excuse enough to leave that box unticked.
So what can you expect from a ryokan experience? What are the rules and the how tos? Here's just enough of a guide so as not to spoil the mystery but allow you to get a foot in the door.
Shoes off!
Many thoroughbred ryokan won't allow shoes to be worn on the premises. You can be clear about this when you see a line up of bland, likely beige, slippers by the front door. Some places will stow away shoes for you, others may have special shelves.
The quarters
Your room will look something like this …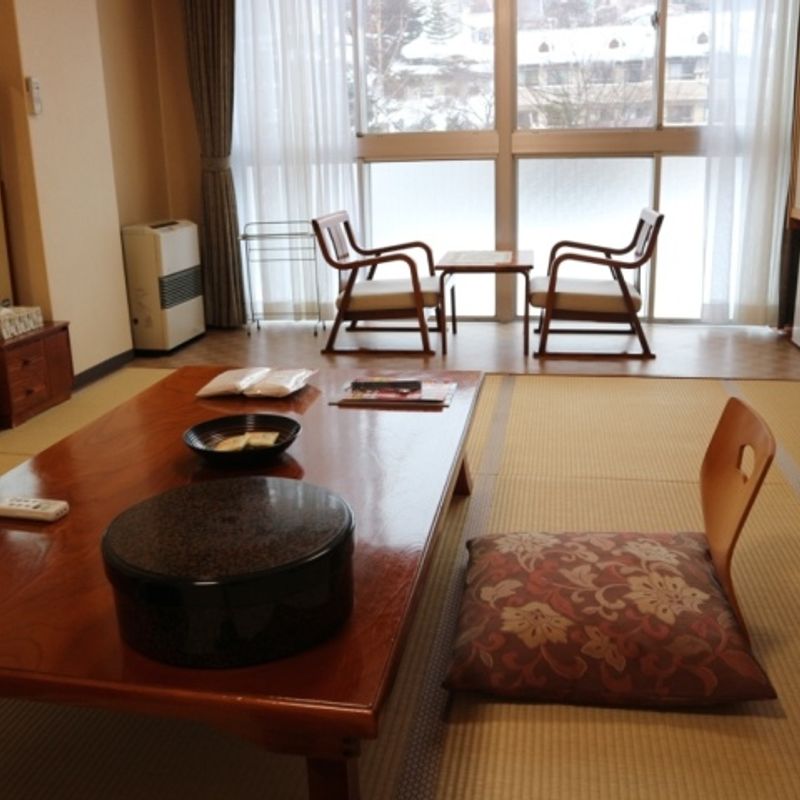 Usually you have a space by the door where you ditch your slippers (the agari-kamachi), and then a sliding door to the main room, tatami flooring (of course). The low sitting table is furnished with 'zabuton' (cushions) which are often supported by chairs without legs. There's typically another sitting area by the window (the engawa) which might be furnished with, err, chairs with legs and a little coffee table (without the coffee - more on that later). Any mod-cons will likely be in the form of aircon/heater (with remote), TV, and a fridge.
The futon
A bit like the tooth fairy putting a coin under the pillow, ryokan futon are mysteriously made up when you're not aware. Yes, when you first enter your ryokan quarters the futon will not have been set. Usually, when you're at dinner or taking a bath, staff will come in a set it up for you (you'll often be asked about the timing of this when you check in). You can see it though, tucked away in one of the 'closets'. There are spare futon bits and bobs in there, too, should one be in need of an extra layer. One warning that should be heeded about the futon; the pillows often leave a lot to be desired, packed as they are with hard balls. It makes no sense to this expat and they are emphatically not comfortable. I usually have to get makeshift with a spare zabuton.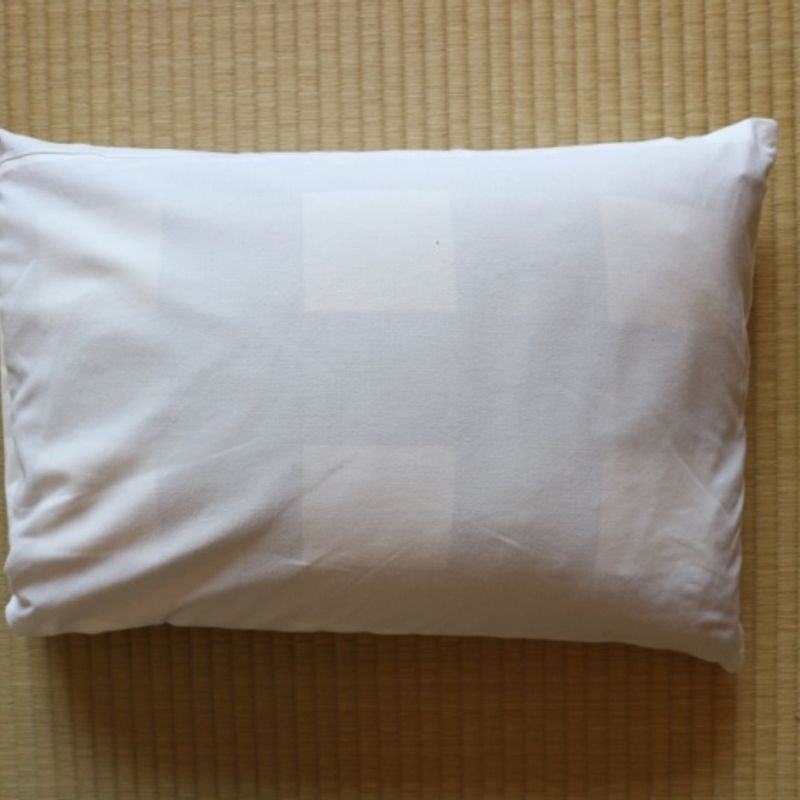 Tea and snacks
You might expect a flask of hot water in your ryokan room. There will be a tea set and some snacks to go with it (free). Don't come here expecting coffee. At one ryokan somewhere deep in the mountains, a jittery foreign guest had to inquire if staff could rustle some of it up, as it wasn't even on the ryokan menu.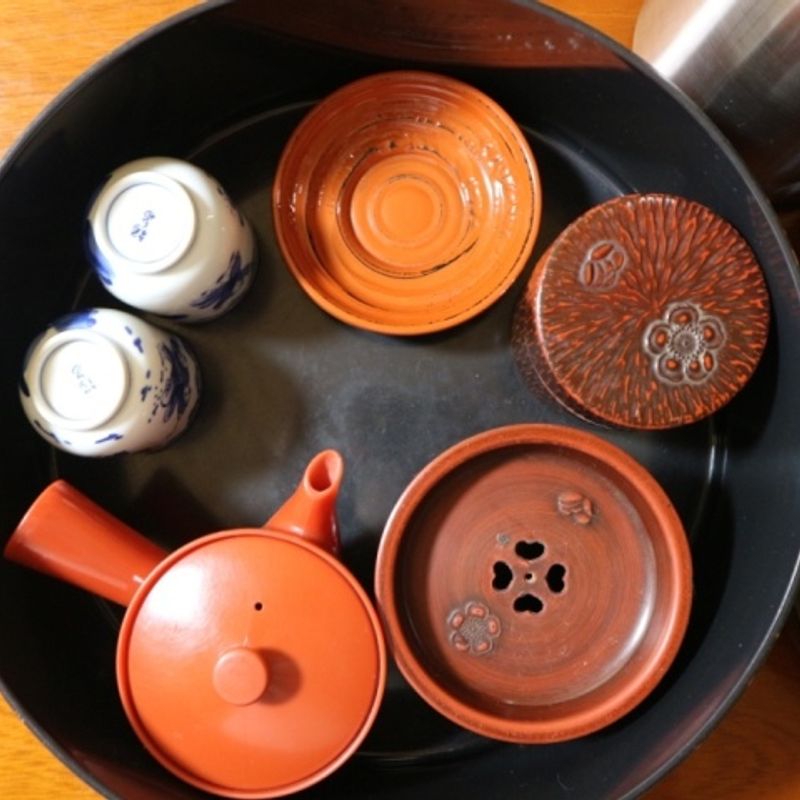 Robes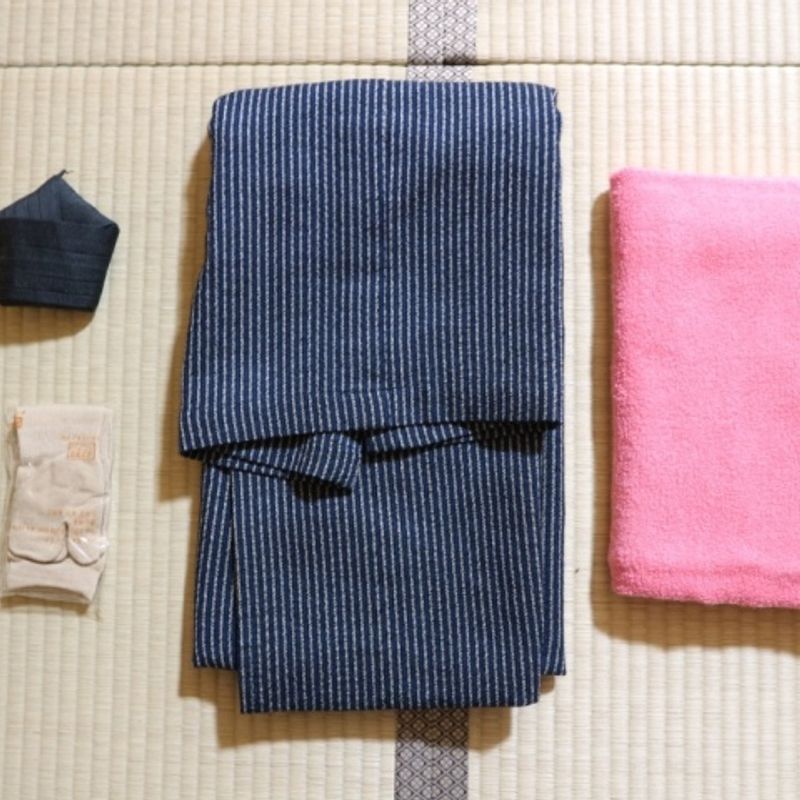 Those exotic robes we talked about, yukata. To be worn whenever and wherever you please really. To and from the bath. At breakfast and dinner. Out and about in town. Underwear optional! The pink thing is the bath towel.
Bath time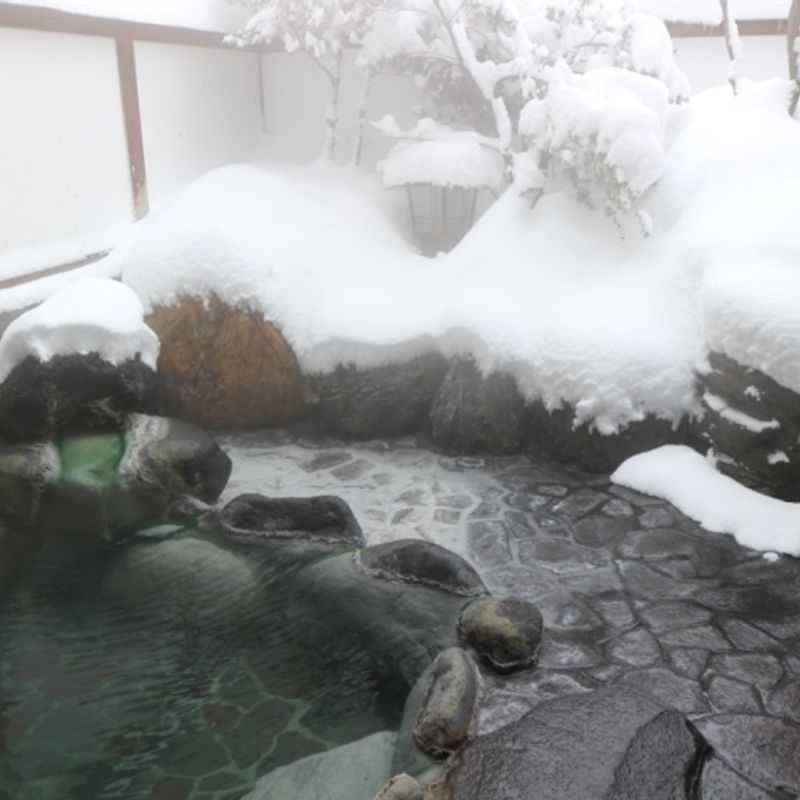 It would be prescient to warn that not all ryokan rooms are en suite (although you should expect at least a toilet, sink, and mirror). In fact, locals largely couldn't give two hoots about this. Of course, the more expensive your ryokan gets to more likely guests will have an in-room shower option (this should be par for the course for the ryokan/hotel hybrid). No, the en suite isn't always a given (so be sure to check when you make bookings). This also does not mean there will be youth-hostel style shared showers. What it does mean is either a public bath/hot spring (onsen) option where guests will have to get their kit off in front of everyone (although typically of the same sex), or they'll have to 'book' a time to make use of the private bath. Either way, the next question tends to be, How does that work?

The first time I had to use a shared bath / onsen in Japan I hand on heart had to phone the partner to ask how it was done (visiting parents had once made the mistake of going in in swimwear). So here's a rudimentary guide:
In your room, look out for carry baskets like those pictured below …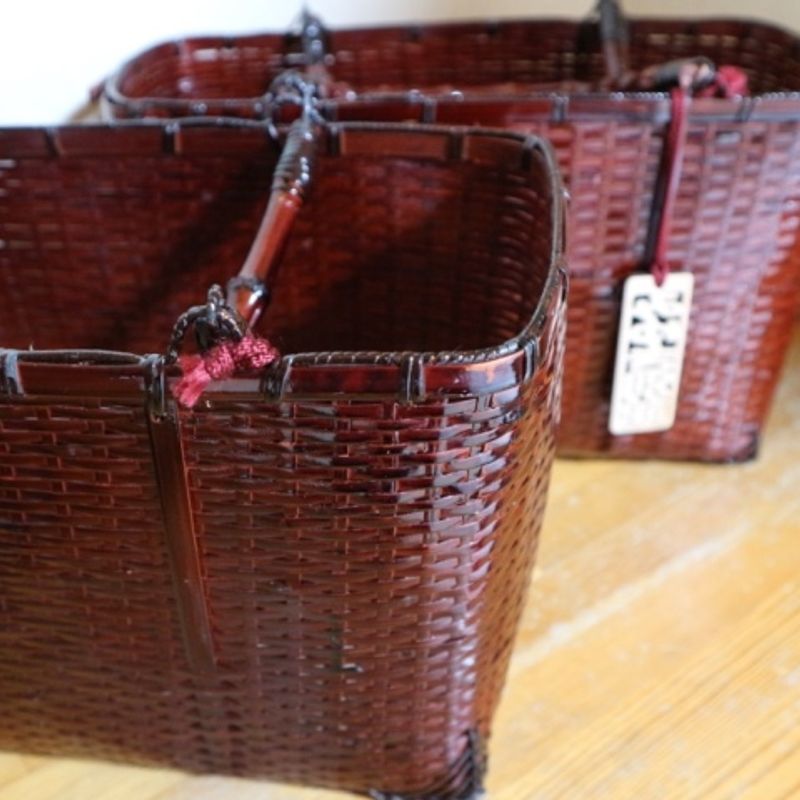 Not compulsory, but you can put all of your bathing kit into these.
What to bring …
You can rock up in your civvies if you wish, or you can change into the yukata.
Somewhere your room you might see the kit below …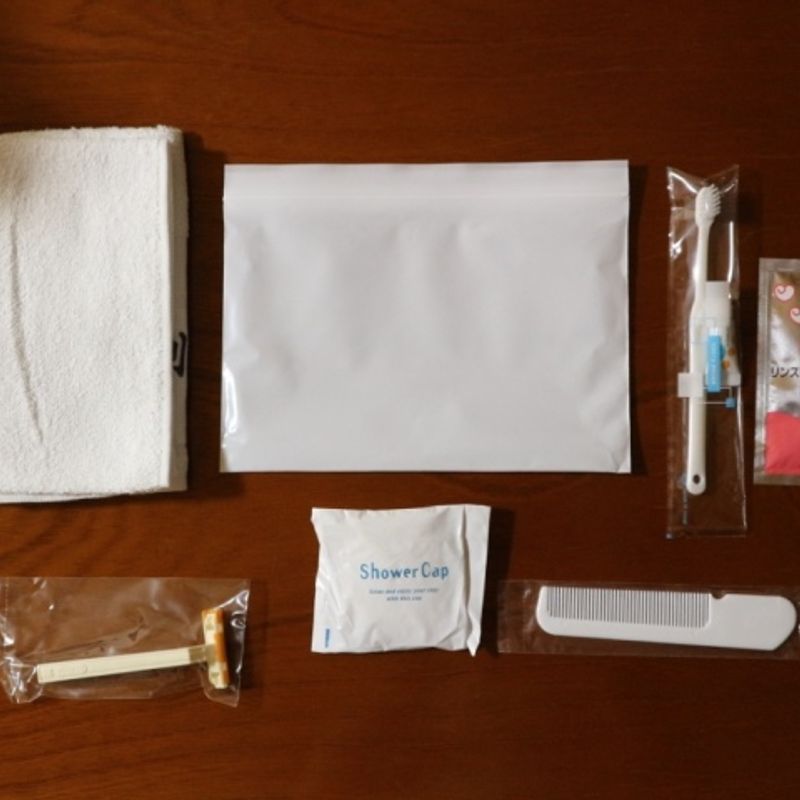 That white towel you bring with you to the bathroom. You can use it wash and to protect your dignity as you shuffle up to water's edge. Cast it aside just before you get in.
Underwear (optional)

Big towel
Onsen socks (see below) - Definitely not glamorous. Definitely warmer than they look (and, yes, they look horrific).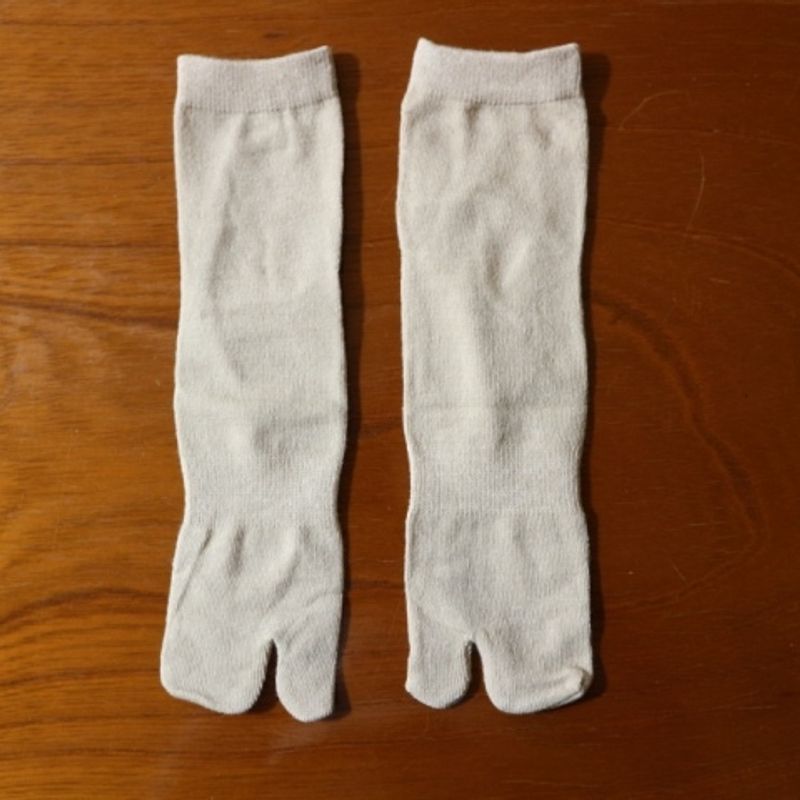 The first stage of the bath / hot spring typically looks like this …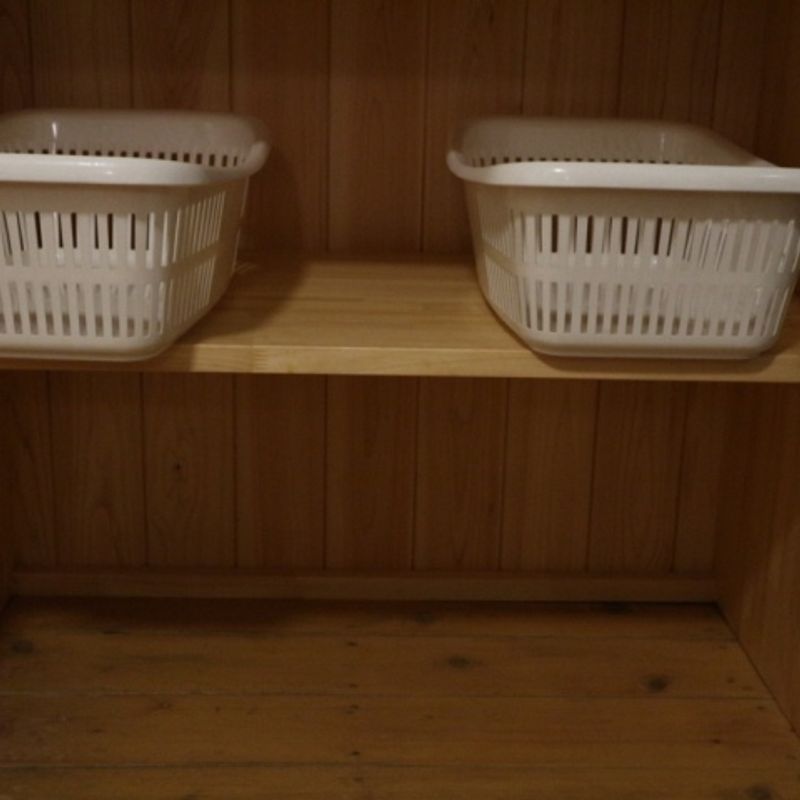 Baskets to put your clobber in. Change here, or, disrobe basically, and take yourself and your little white towel into the showers. Like these …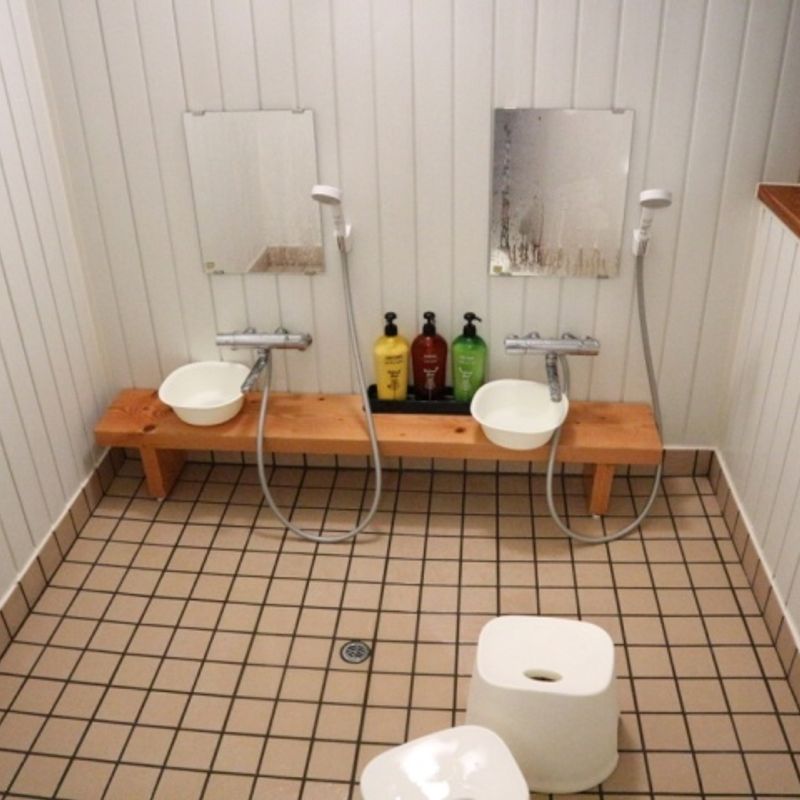 Where a ryokan might lack mod cons in other areas, they usually do a decent job of providing all the necessary shower accoutrements; shampoo, body soap, conditioner, 'power' showers … . Wash thoroughly (use the white towel if you wish), rinse even more thoroughly (soap suds in a public bath / onsen will be welcomed with all the enthusiasm of a 'floater'), and then make your way into the bath. *NB: Sometimes showers and bath / hot spring will be in the same room.
When you leave, the process is essentially the same, in reverse; back to the showers to rinse off, clothes on (onsen socks / underwear optional), and don't forget to bring all of your kit with you, including the sodden white towel.
The 'ryokan' experience is essentially as basic as it is holistic. Where it might be lacking in sedentary device and consumption (although meals here can be extravagant to foreign eyes), viewed as a whole there is something almost pure and cathartic about it. You go in feeling sullied, worn, and sweaty from a week at work. You come out feeling cleansed. Although watch the state of your neck on those punishing pillows.
What ryokan experiences and tips can you share with us? Drop us a line in comments below.
For more content like this …
How much to stay in a ryokan in Japan? Exploring Japan's 'Best in Class'
See us on …
Twitter: @City_Cost_Japan
Facebook: @citycostjapan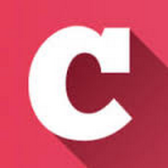 A Q&A and blogging community about life in Japan (plus a load of life-in-Japan stats!). Get your questions answered, share your experience! | Inquiry -> KyodoNewsDigital International Media | Tokyo, Japan | +81 3 6252 6402
---