Apr 9, 2019
Gallery - Utsunomiya: Oya History Museum, Oya-ji Temple, downtown
---
With half a day spare to spend in the city of Utsunomiya in Tochigi Prefecture, north of Tokyo, we got our hands on the Utsunomiya One-day Oya Sightseeing ticket and spent a few hours bus-hopping our way around the rocky sights of the Oya area and downtown.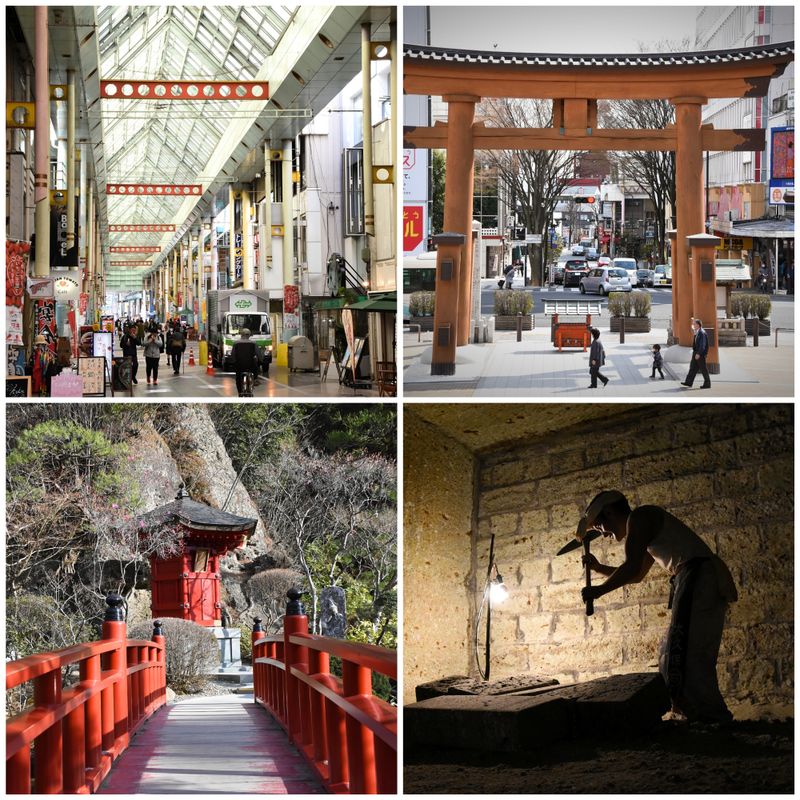 We don't know what you know about Utsunomiya but the most cursory of research will probably turn up something about gyoza -- this city of approximately half a million souls, north of Tokyo, is famous for the no-nonsense dumplings, even sporting a devotional statue to them that spearheads the promontory outside the west exit of Utsunomiya train station.
Even the most cavernous of stomachs, though, would struggle to spend a day in the city doing little else but filling up on gyoza -- although the city certainly boasts enough such eateries should that be the visitor's primary agenda -- so thankfully Utsunomiya has other sites to pique the mind's interest, if not the stomach.
The situation of our recent visit was this -- in town on the free having arrived at Utsunomiya Station around midday via a Shinkansen from Tokyo and with only time to kill until before needing to be back at the office in the Japan capital by around 20:00. So what's to do for a half day in Utsunomiya?
Well, probably the same things that most other travelers to the city do, but at least what follows will be among the most up-to-date of Utsunomiya itineraries.
Stop No.1, the little tourist information center in Utsunomiya Station where we asked for recommendations about the best gyoza restaurants in town and information about how to get to and from the city's major attractions.
We came away laden with maps, leaflets and as holders of the "One-day Oya Sightseeing ticket."
"Use the One-day Oya Sightseeing ticket to make your trip to Oya more enjoyable, at a bargain price," reads the blurb about this hop-on-hop-off style ticket that allows visitors to ride the local Kanto Bus for a fixed fare. This means you can jump off and on at stops as whim dictates, and the ticket also covers admission to the following Utsunomiya sights -- the Oya History Museum and Oya Kannon (Oya-ji Temple) northwest of the downtown area. The ticket costs 1,750 yen for adults.

With a good 45 minutes until the next bus departure bound for the museum and temple we attempted to squeeze in a visit to Futaarayama Shrine, on foot.
Utsunomiya's main thoroughfare is the aptly named Oodori -- a broad avenue that lumbers west out of the station, almost immediately crossing the Ta River, before heading further west to the city's other area of commerce and entertainment centering on the blocks between the Parco department store and Tobu-Utsunomiya Station. Futaarayama Shrine is here. It's more than 500 m from Utsunomiya Station, but it feels longer with all the breaks for the lights and a clock ticking toward bus departure.
Futaarayama Shrine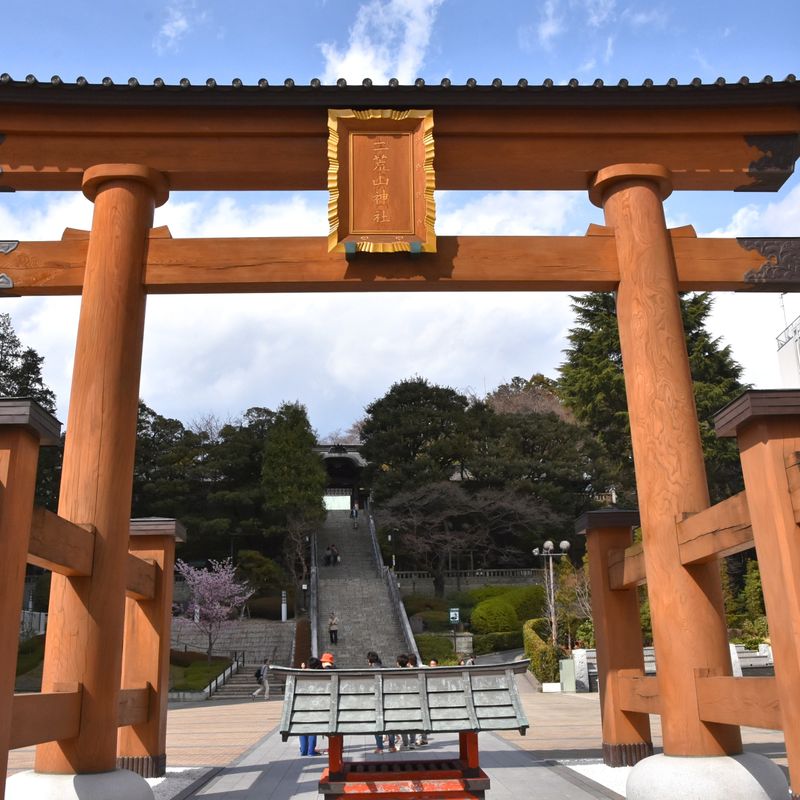 You can't miss the shrine, marked as it is by a huge torii that makes its heavy presence felt right by the road. Futaarayama Shrine proper is hidden by trees in a lofty position lording over the area that requires a stiff climb up plenty of steps to reach. (At the time of visiting some university students with more time than sense were racing up and down them.)
For a symbol of the city the structures of Futaarayama Shrine may underwhelm, appearing as many other shrines that visitors to Japan will have likely seen already, and the trees largely block what might otherwise have been an impressive view over the city. Still, it's a site of some importance the foundation of which dates back around 1,600 years, and the torii will make for some good photo ops. (We like the sound of the "Night Fever" event during which the gate gets the illumination treatment. Held on Thursdays.)
We spent about 10 minutes at Futaarayama Shrine before turning back towards the station, this time heading down Banba-dori to take in some sections of the charming Kamagawa Promenade and the area's funky cafes and boutique stores.
It's a brisk 15-minute walk from Utsunomiya Station to the shrine.
On a nondescript weekday afternoon there were plenty of seats available on our bus to Oya-ji Temple which saw us heading west once again along Oodori, out of the center of town and through a region of suburban houses, family restaurants, parks, and car dealerships.
Past the Tohoku Expressway, Oodori becomes the Oya-Kaido from which the scenery quickly transitions into something more rural … and dominated by stone. Durable, fire-resistant, warm Oya stone that presents itself in low cliffs, scruffy protrusions, and in the construction of many of the area's buildings.
Shiryokan Iriguchi is the bus stop for the Oya History Museum.
Oya History Museum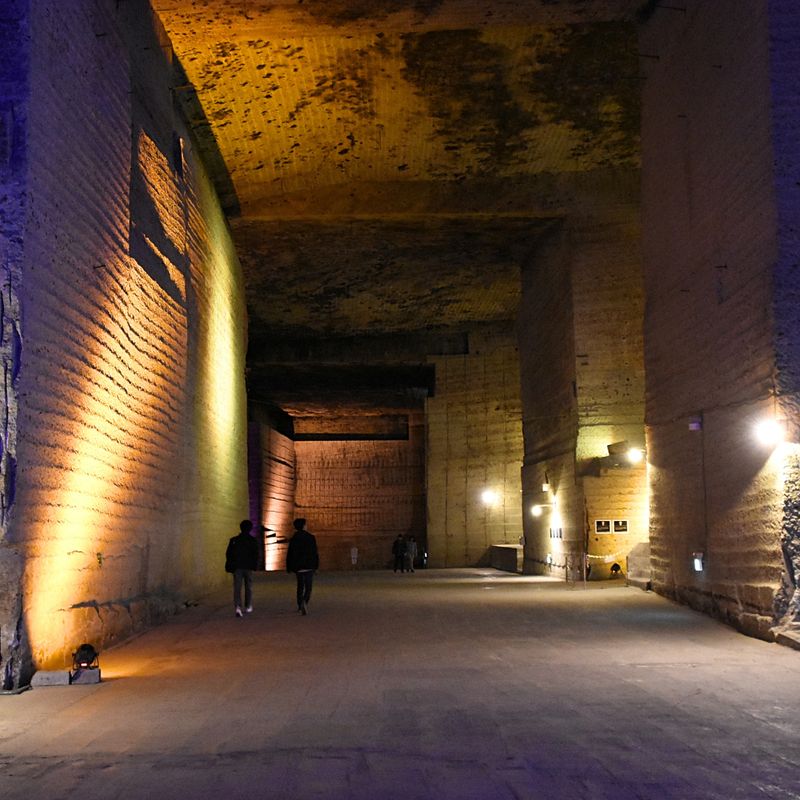 It's a 5-minute walk from the stop, through the large parking lot, to the entrance of the museum -- a former mine dug 30 m into the earth.
The Oya History Museum is a cavernous affair that appears almost Biblical thanks to some well-placed lighting and illuminations. If the thought of entering a mine breaks you out in a claustrophobic sweat (as it did me), be at ease. There are no tight passages here nor moments panic-inducing pitch black. In fact, sweat should be the least of the visitor's concerns. It's really cold in there.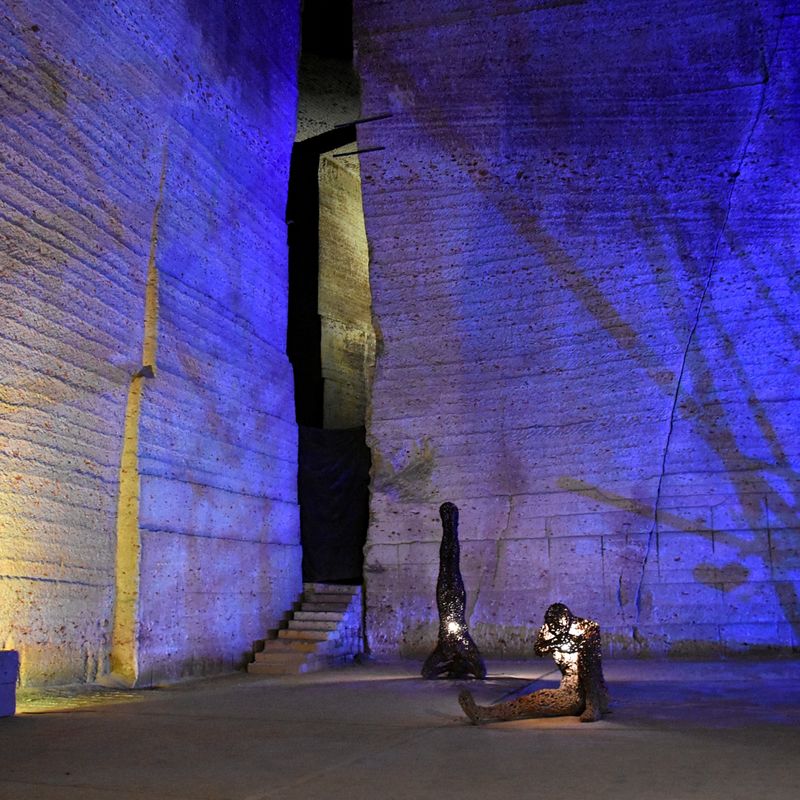 A well-marked (well-lit) walking course circumnavigates the former mine and explanations of key features are well-delivered in English. Some of these highlight the Sisyphean tasks that miners faced -- 4,000 strikes of the pick-axe to create one stone at a rate of 10 per miner each day. There's even a section of stone wall where visitors can see marks created by "hand digging," which, rather alarmingly, was done until 1959.
In stark contrast to the Draconian nature of work down here, the mine is dotted with pictures of TV and commercial shoots, rock concerts, and grandiose (although must-have-been-bloody-freezing) weddings, all of which the former mine has hosted in more recent years.
Rather than the finer details though, the great joy of the Oya History Museum lies in the sense of scale and of the other-worldly. It's impressive stuff, particularly at the entrance where you can get a lofty view over a large zone of the mine.
Give yourself 30 minutes to wander around, and come with a warm jumper.
The entrance to the mine has a very small museum room and information center. There's little here in languages other than Japanese. Post-mine visitors were huddled around heaters at the time of our visit.
Outside, eatery and store Rockside Market looks new and serves up some delicious-looking crepes. Those looking for cheaper refreshment will find a selection of vending machines, tables, chairs and smoking benches in an open cave dug out of the rock face nearby.
We used our One-day Oya Sightseeing ticket to hop back on a bus to journey a few hundred meters back down the Oya-Kaido to stop Oya Kannon-mae for a visit to Oya-ji Temple.
Oya-ji Temple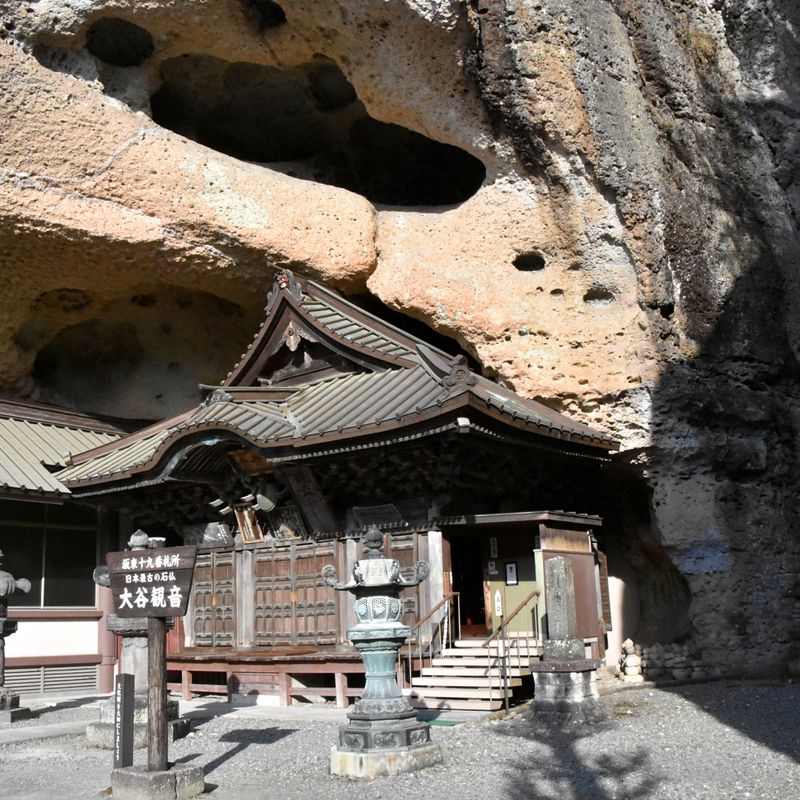 The diminutive temple is dug into a rock face just off the main road. Inside is the Oya Kannon (also known as Senju Kannon), what the pamphlet tells us is "Japan's oldest stone Buddha statue." It certainly looks old -- fading and crumbling but no less glorious for it -- and it probably should as it's said to have been made by celebrated monk Kobo Daishi some time around 810.
A visit to Oya-ji Temple will be brief. Temple structures and grounds are small. Enter first the main temple building to take in Oya Kannon and other finely-carved stone Buddhas (designated Important Cultural Properties) lined up in short row along the (sheltered) rock face. Head over to the other side of the grounds for a small museum (no English) and Japanese garden. We arrived at the temple with 10 minutes to spare before closing (16:00) and were able to take in the basics. At the time of visiting the temples entrance gate was under repair. Photography is prohibited inside the temple structure which means being unable to snap the main event.
Heiwa Kannon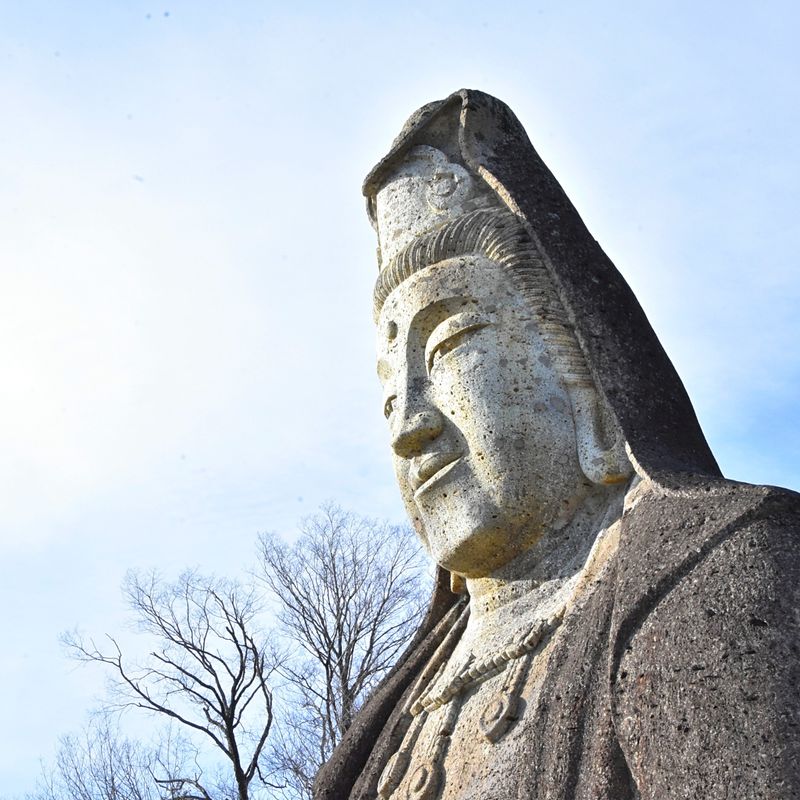 Near to Oya-ji Temple is the 27-m tall Heiwa Kannon … and it looks each of its 27 meters tall. It's a great hulking thing sculpted out of the side of a kind of sheltered rock amphitheater which explains why it's frustratingly hard to find from the main Oya-Kaido. It's here though, and has been since 1956. A set of steps leads up to a viewing platform behind the head. Give yourself 5 minutes to gawp before heading to the main road to check bus departure times from Oya Kannon-mae.
Hopefully you've time to spare for a coffee and pastry at The Standard Bakers just down the quiet lane that leads to Heiwa Kannon. This friendly, modern two-floor space serves breakfast, lunch and dinner in a trendy wood and stone setting. They have a selection of delicious breads and pastries (~300 yen) that we washed down with nice coffee (400 - 500 yen) while waiting for the next bus back into town.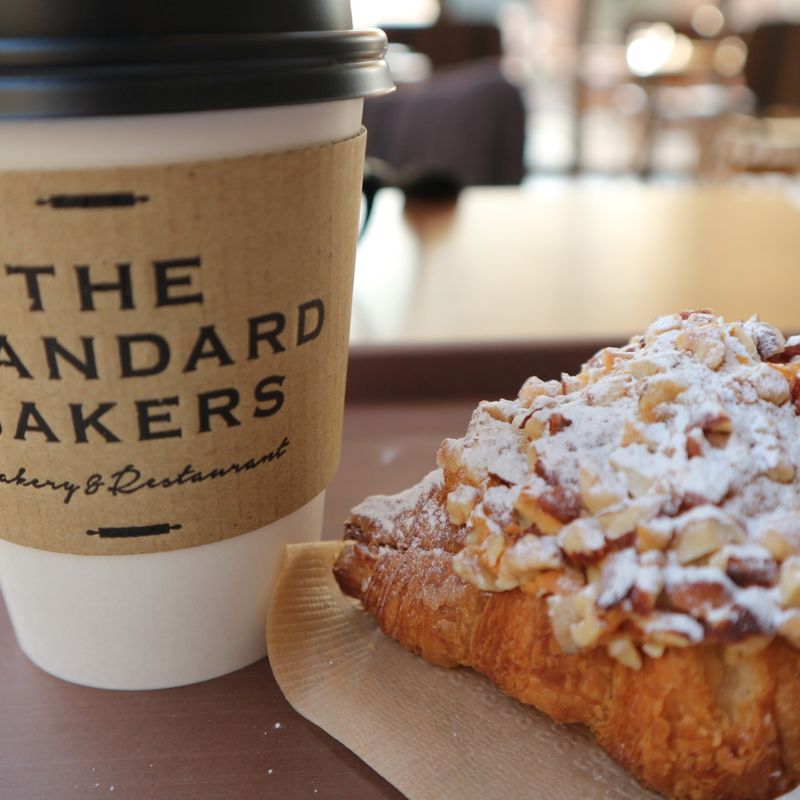 (Coffee and pastry at The Standard Bakers near Heiwa Kannon, Utsunomiya)
All-in, we took the 14:15 bus from Utsunomiya Station for the 30-minute journey to the Oya area and boarded the 16:48 from Oya Kannon-mae to head back into town. We felt like this was enough time without stopping for a full meal.
Back in town we hopped off the bus at stop Kencho-mae hoping to fit in a visit to Utsunomiya's Matsugamine Catholic Church and scoff down a serving of gyoza before heading back to Tokyo on the next available Shinkansen.
Matsugamine Catholic Church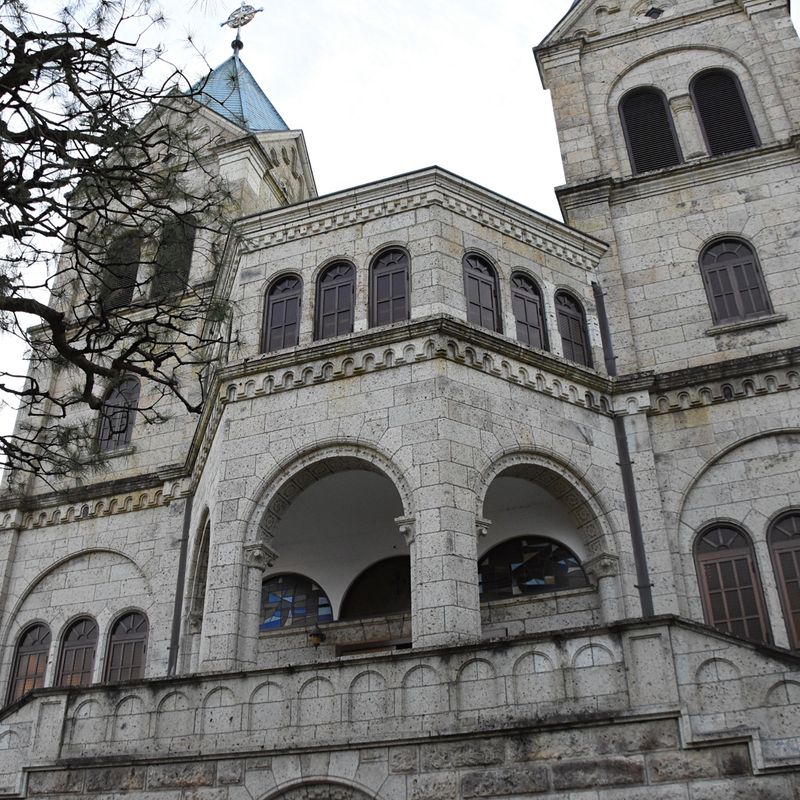 Built in 1932 from the designs of Swiss architect Max Hinder Matsugamine Catholic Church is a registered Tangible Cultural Property. Churches on this scale (the main tower is 26.95 m tall) are always going to stand out in Japan, and even more so in this case where the location is one of back-street love hotels, overhead wires and train tracks. You'll find Matsugamine just south of Tobu-Utsunomiya Station. Worth a look if churches in Japan pique the interest.
Time for some gyoza
From Matsugamine we found our way into the covered arcade along Orion-dori before taking a left onto Banba-dori and onto the Mega Don Quijote in the basement of which is the main store of Kirasse.
"A virtual theme park for Utsunomiya gyoza," reads the list of cooperating facilities that came with our One-day Oya Sightseeing ticket.
"Theme park" is a little misleading though. "Food court" might be more appropriate. Here in a greasy, robust setting five gyoza joints vie for the diner's attention serving up plates (of six) of Utsunomiya's best dumplings in the 200 - 500 yen range.
The set up is simple -- wait to be seated, peruse the simple menu (largely gyoza and drinks), head over to the counter of your choice, order and pay for your food and tell them your table number.
We unwittingly went for a plate of six classic yaki gyoza and a draught beer from Minmin (みんみん), a store which it turns out is somewhat celebrated in these parts and beyond. And as well it might, the gyoza were delicious and the beer, after an afternoon of racing around, even more so.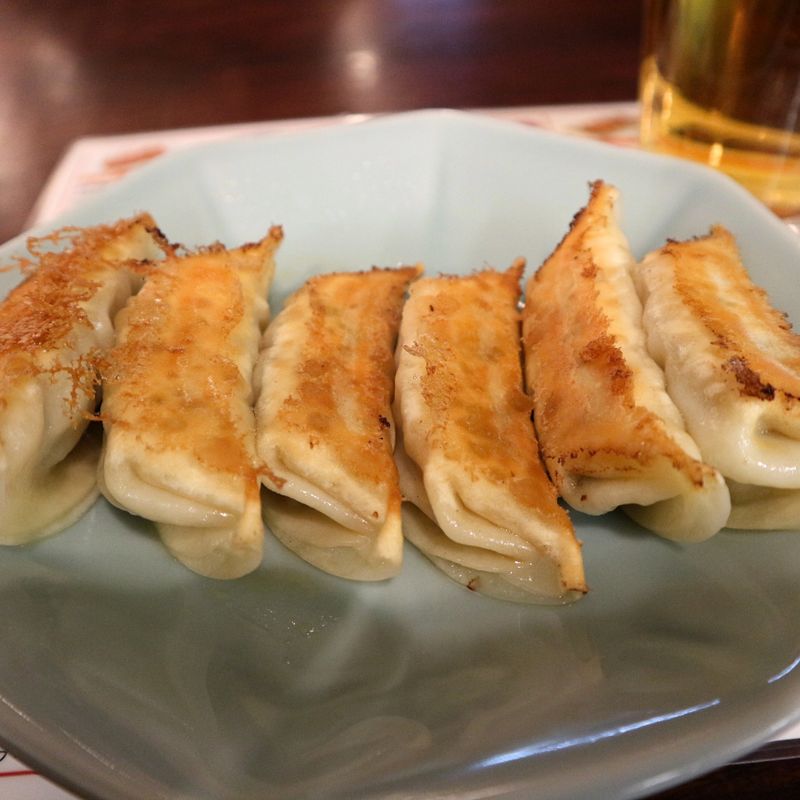 (Yaki gyoza from store みんみん in gyoza theme park Kirasse, Utsunomiya)
The smartphone told us of a Shinkansen Tokyo bound departing just after 18:30. We walked back to the station from Kirasse in order that we might walk off the gyoza and beer.
It must have been around 18:00 when we arrived. Enough time then to take some snaps of the "gyoza statue" and head inside to pick up this pack of 12 yaki gyoza (~1,000 yen) to take home as a souvenir.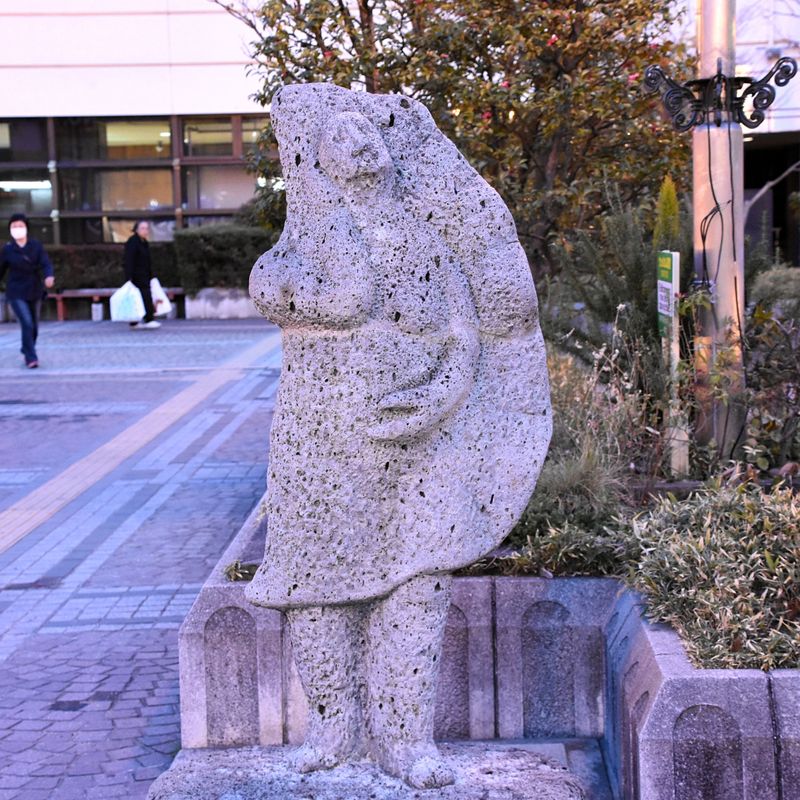 Utsunomiya One-day Oya Sightseeing ticket: Cost performance
Let's do the math:
Round-trip fare for the Utsunomiya Station -

Shiryokan Iriguchi bus

900 yen
Oya History Museum entrance
800 yen
Oya-ji Temple entrance
400 yen
Total
2,100 yen
One-day Oya Sightseeing ticket
1,750 yen
So it adds up, and that's not to mention the hop-on-hop-off possibilities.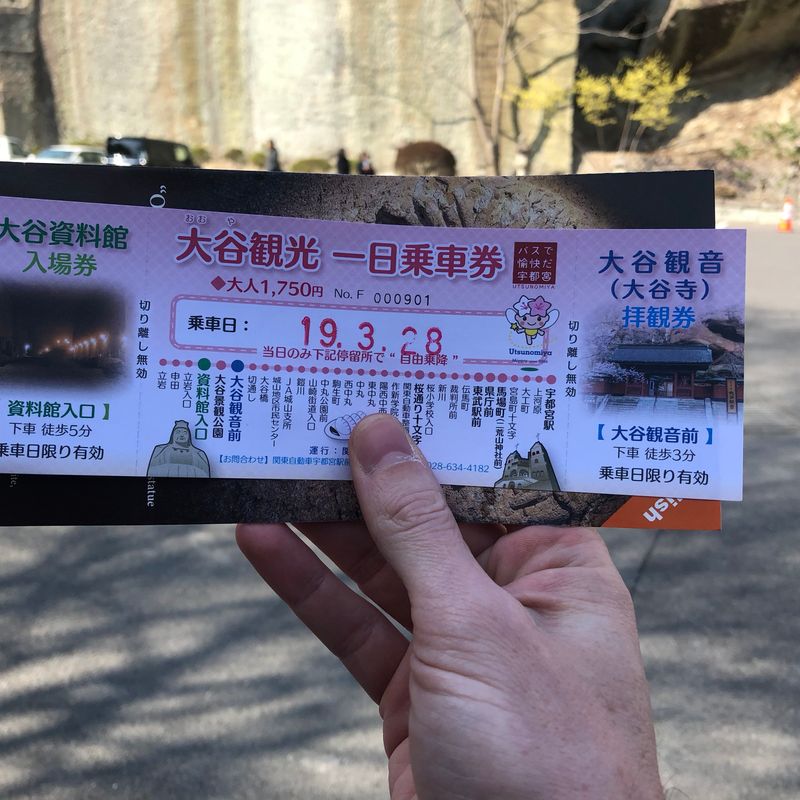 (Utsunomiya One-day Oya Sightseeing ticket in action)
In getting from Tokyo to Utsunomiya we took the Tohoku Shinkansen bullet train (Yamabiko) on an unreserved-seat ticket which costs 4,410 yen one-way for the 50-minute journey. Return is double: 8,820 yen.
Our spending for a half-day trip to Utsunomiya from Tokyo: 13,393 yen
| | |
| --- | --- |
| Return Shinkansen (unreserved seat) | 8,820 yen |
| One-day Oya Sightseeing ticket | 1,750 yen |
| Plate of 6 gyoza + draft beer at Kirasse | 790 yen |
| Pastry and coffee at The Standard Bakers | 713 yen |
| Gyoza omiyage from Utsunomiya Station | 1,020 yen |
| Random vending machine drinks | 300 yen |
**NB: A quick glance at train fares from Tokyo to Utsunomiya reveals a combination of local and express trains as ~ 2,000 yen one-way. Journey time ~ 2 hrs.
To catch the bus from Utsunomiya Station take the west exit and head downstairs to your left to the bus departure area. Buses depart from stop No. 6. Look for 45 大谷立岩 on the front of the bus.

Departure times of buses from Utsunomiya Station to the Oya area:
Weekdays:
From Utsunomiya Station

to Shiryokan Iriguchi (Oya)

From Shiryokan Iriguchi

to Utsunomiya Station

7:55
11:12
8:10
11:42
9:20
12:27
10:05
13:17
10:45
14:22
11:25
15:17
12:35
15:42
13:25
16:47

14:15




14:50

17:22
Weekends / holidays
From Utsunomiya Station
to Shiryokan Iriguchi (Oya)
From Shiryokan Iriguchi
to Utsunomiya Station
7:55
11:12
8:10
11:42
9:20
12:27
10:05
13:17
10:35
14:12
11:00
14:42
Weekends / holidays cont.
From Utsunomiya Station
to Shiryokan Iriguchi (Oya)
From Shiryokan Iriguchi
to Utsunomiya Station
11:25
15:12
11:50
15:42
12:15
16:12
12:35
16:47
13:15
17:22
14:15
-
14:50
-
Have you ever made the trip from Tokyo to Utsunomiya? Got any insights on the best things to do in Utsunomiya and around? Let us know in the comments.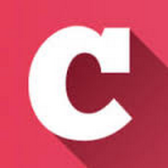 A Q&A and blogging community about life in Japan (plus a load of life-in-Japan stats!). Get your questions answered, share your experience! | Inquiry -> KyodoNewsDigital International Media | Tokyo, Japan | +81 3 6252 6402
---