Sep 30, 2015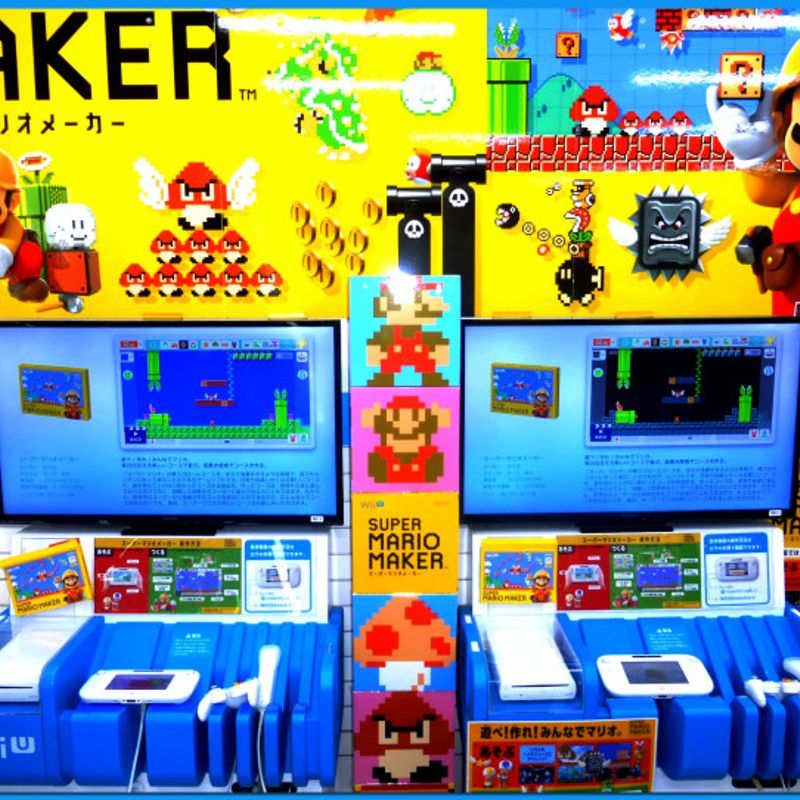 There are a number of stereotypes floating around about Japan. Some of them are spot on, others, way off the mark (or frighteningly dated). The one about the nation loving video games … is emphatically true. Japan oozes game culture out of every crevasse.
There are no shortage of outlets to make game purchases in Japan, but one of the nation's biggest, must be Tokyo's Akihabara district. Stores here are also a good place to get a price marker as Akihabara is probably at the upper end of any price scale for games in Japan. We paid a visit to check out what the current rates are and how much you'll need if you want to pick up some games (or sofuto, as they are referred to over here). We hit up electronics giant Yodobashi Camera for the new releases (and the 'worst case scenario' in terms of price), as well as 'used' goods pedlars Trader and Book Off, among others.
New Titles (5,000 - 8,000 yen)
PS4
At the upper end of the scale for the PS4, Call of Duty Blacks Ops III will retail at 7,900 yen upon its November release. Others included Bloodborne (The Old Hunters Edition); 5,900 yen (Dec. release) and Uncharted Collection; 6,900 yen (Oct. release).
Current favorites (over here), NBA2K15; 4,700 - 5,700 yen, Amazing Spider Man 2; 7,050 yen, Final Fantasy XIX-2; 6,260 yen. A bunch of LEGO (Marvel series) titles were retailing at around 5,000 yen.
PS3
Call of Duty (Advanced Warfare); 6,990 yen, Assassin's Creed Rogue; 6,130 yen, Far Cry 4; 6,970 yen, Grand Theft Auto; 4,450 yen.
XBOX ONE
Halo 5 (Guardians) is set to retail at 6,700 yen on its October release. Mad Max, MotoGP and NBA2K16 will retail at 7,386 yen, 7,580 yen and 6,290 yen respectively (Oct. release). Current favorites include Alien Isolation; 7,440 yen, Call of Duty (Advanced Warfare); 6,350 yen, Far Cry 4; 7,850 yen, Forza 6; 6,400 yen and Grand Theft Auto; 6,680 yen.
XBOX 360
Call of Duty (Advanced Warfare); 6,560 yen, Grand Theft Auto; 4,710 yen
Wii U
The most expensive title we could find was Watch Dogs at 6,990 yen. Popular titles like Zelda, Super Mario Bros., and Donkey Kong; 5,000 - 5,500 yen. Recent releases Splatoon; 5,810 yen, and Super Mario Maker; 5,810 yen.
3DS and PS Vita
Monster Hunter Cross for the 3DS; 5,630 yen. Similar prices for new releases on the PS Vita.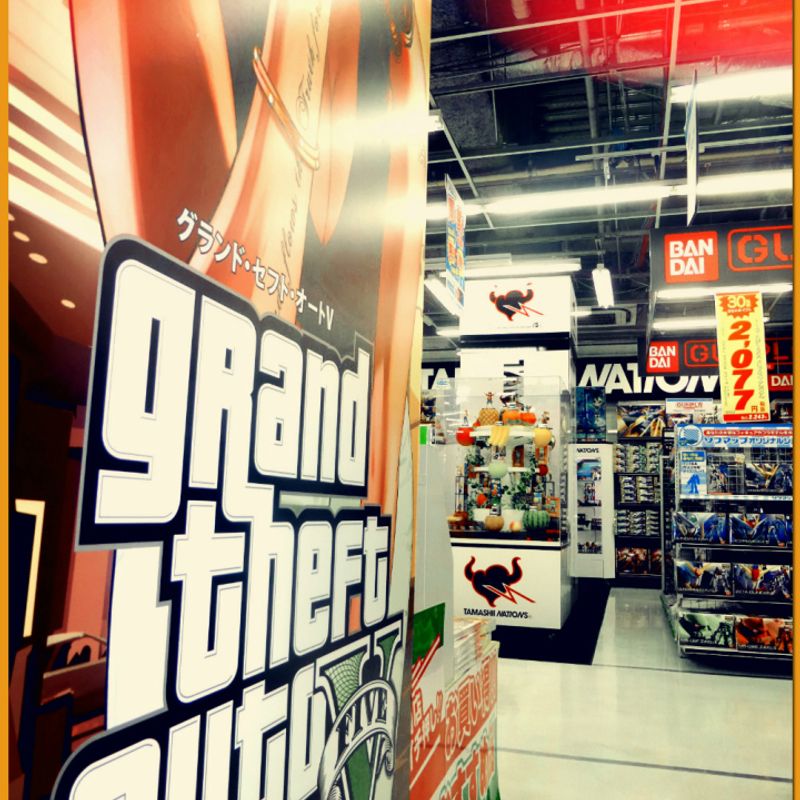 Oldies (2,000 - 7,000 yen)
A lot of scope here. The first question is 'How old?'. Titles within the last 2 - 3 years or those that are still the latest in the series often have prices barely distinguishable from a new release (if they're in good condition). Go back a bit further and you may get down to the 2,000 yen mark. The same can be said for less popular titles.
Snooping around, we found Battlefield 4 on the PS4; 6,570 yen. However, the more recent Call of Duty Ghosts was cheaper at 3,800 yen. On the PS3, C.O.D Ghosts; 3,530 yen, The Last of Us; 3,170 yen, and Red Dead Redemption down to 2,400 yen. C.O.D Ghosts was 3,270 yen on the XBOX ONE. On the same console, Forza 5; 5,700 yen, Dead Rising 3; 6,190 yen. Tekken 6 was down to 2,880 yen.
Over on the handhelds, older titles for the 3DS were at lows of 2,100 yen. On the PS Vita most titles were around 2,500 to 3,500 yen, although you could pick up Minecraft for 1,980 yen. On the other hand, the popular Walking Dead (first season) is still going strong at 4,620 yen.
Used (100 - 6,000 yen)
There's a huge market for used games in Japan. Akihabara alone could devour vast quantities of your time. But how will your wallet fare?
I guess some people fork out a fortune on a game only to realise they don't like it. Rather than let it collect dust, they take a huge loss selling to second hand stores who then put it on the shelves at a price only marginally cheaper than a brand new copy.
PS4
Titles such as Grand Theft Auto, C.O.D Advanced Warfare, and F1 2015 were commanding 5,000 to 6,000 yen. Far Cry 4; 3,980 yen/, C.O.D Ghosts; 3,580 yen, FIFA 15; 2,480 yen.
PS3
Far Cry 4; 4,580 yen, Grand Theft Auto; 3,180 yen, C.O.D Ghosts; 2,480 yen. The cheapest game we could find was Winning Eleven 2010; 108 yen!
XBOX
We're using the one heading here to cover both consoles, such is their threadbare popularity in amongst the Japanese. Highs of around 4,000 yen, and as low as 500 yen (GTA 4).
3DS and PS Vita
Highs of 3,500 yen for the 3DS (Metal Gear Solid: Snake Eater 3D), lows around 1,500 yen. For the Vita, we saw Biohazard 2: Revelations at 4,280 yen. Lows around 1,300 yen.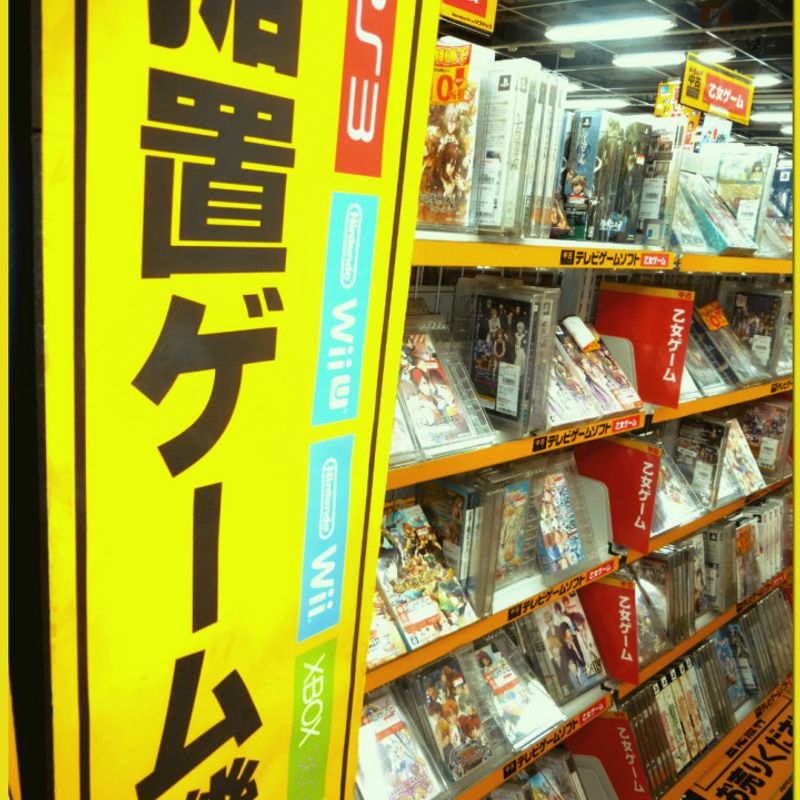 English Titles
There used to be a time when gamers talked in hushed tones about their favorite import game source in Akihabara. These days, those in search of English language titles are reduced to sniffing out the scraps left behind from an earlier (more liberal) time. We found the largest collection in Trader on Chuo Dori (across from Don Quijote).
PS4 (3,000 - 4,000 yen)
Highest price, 5,000 yen for MotoGP 15.
PS3 (1,200 - 3,000 yen)
XBOX ONE/360 (1,300 - 6,000 yen)
XBOX has the widest range of choice (probably reflecting the consoles' redundancy in these parts). At the time of visiting, F1 15 was fetching the highest price; 5,630 yen.
Of course, there are a lot of variables in play when it comes to shopping for video games. What we wanted to provide here is an idea of the costs. Bare in mind also, that release dates for Japan may be some way behind those in North America and Europe (should you read this and balk). Games that are popular over here may be sneered at back home (and vice versa). If you're thinking of a move over here and want to get kitted out with a new console, so far, the PS4 rules king in Japan. Whatever your feelings about it, it will give you the best choice and easiest accessibility for games by a country mile.
We'd love to hear your comments, so please post them below.
See us on Twitter: @City_Cost_Japan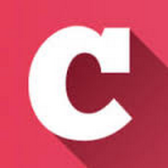 A Q&A and blogging community about life in Japan (plus a load of life-in-Japan stats!). Get your questions answered, share your experience! | Inquiry -> KyodoNewsDigital International Media | Tokyo, Japan | +81 3 6252 6402
---
1 Comment
How much is the cost for retro consoles and titles?