Feb 20, 2017
One of Japan's premier onsen towns seems an unlikely vacation spot for the foreigner who gets bored after about five minutes in a bath. But this is where we found ourselves this winter in Japan, in the higher climes of Gunma Prefecture in Kusatsu Onsen; the Japanese travel partner in search of stress relieving waters, the Tokyo-based expat wanting some snow. Proper snow.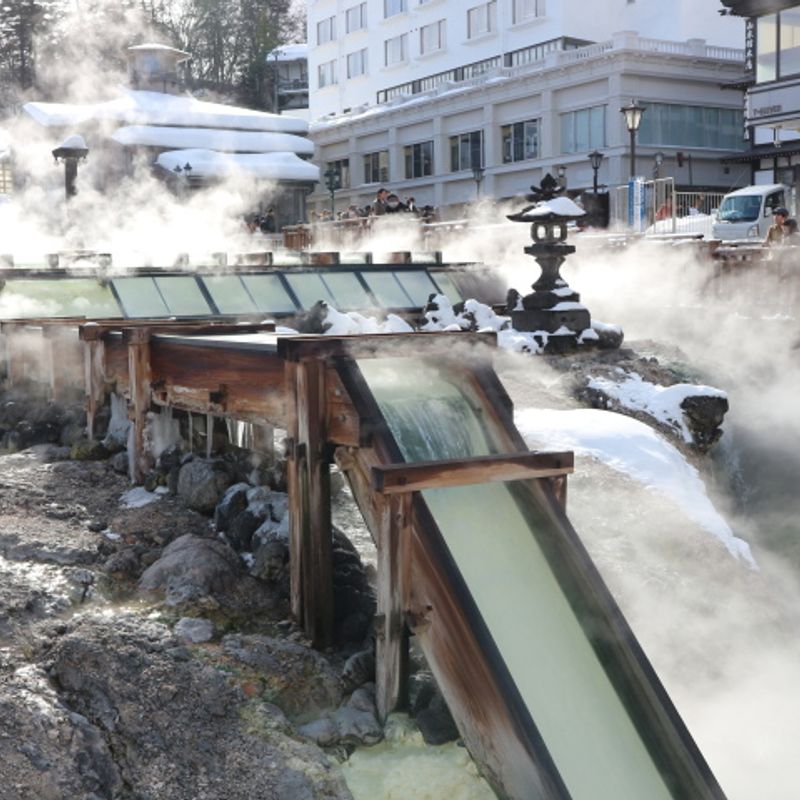 (Kusatsu Onsen's famed yubatake)
Kusatsu Onsen is a chart topper. Before you even get here you've been told by someone in one of Japan's cities that this is one of the top three onsen towns in Japan. (Japan likes things to come in threes; Gero, Yufuin, Arima among other onsen towns that will likely feature in one 'top three' list or other). Reminders that you're in the upper echelons of Japan's numerous onsen town rankings are constant, and there's even a prize-winning public toilet in the center of town to complete Kustatsu's boast (don't let this be key part of your Kusatsu Onsen itinerary, you'll be disappointed).
There's something in the water
Kustatsu's bus terminal sits a short walk up the mountainside from the center of town. Before you even step onto the access road in front of the terminal building, a little foot bath (itself looking a bit like a bus shelter) is on hand to give visitors a teaser of things to come (or a complementary soak before heading home).

Brushing aside the perennial argument of quality versus quantity, the waters of Kusatsu Onsen are able to deliver both, and it's this that puts the town in the rareified positions on onsen lists. Kusatsu sees the largest volume of natural flowing onsen water in all of Japan's onsen towns, much of it pouring through the center of town and Kustatsu's much celebrated and endlessly photographed yubatake. Quite literally 'a field of hot spring water', Kusatsu's yubatake is the first port of call for the bathers, weekend breakers, and daters that flock to this part of Japan. And it puts on a show for all of them. This is Japan, so of course, the yubatake is pimped up with an evening light show, but it's at its best when subject to the cold mountain winds that cause the sulphuric steam to dance and drift in mystical repose.
It's smelly, too. As I walk around, trying to dodge steam and get my shots I'm having trouble shaking the thought that Kusatsu has something to do with kusai (くさい / smelly). The word keeps slipping out and every time it does, the Japanese partner scolds me. That would be bad form in these parts. We head up the steps to Kosenji Temple and pad around in the shin-deep snow trying to grab elevated views of the Lilliputian scene below, and fresher air.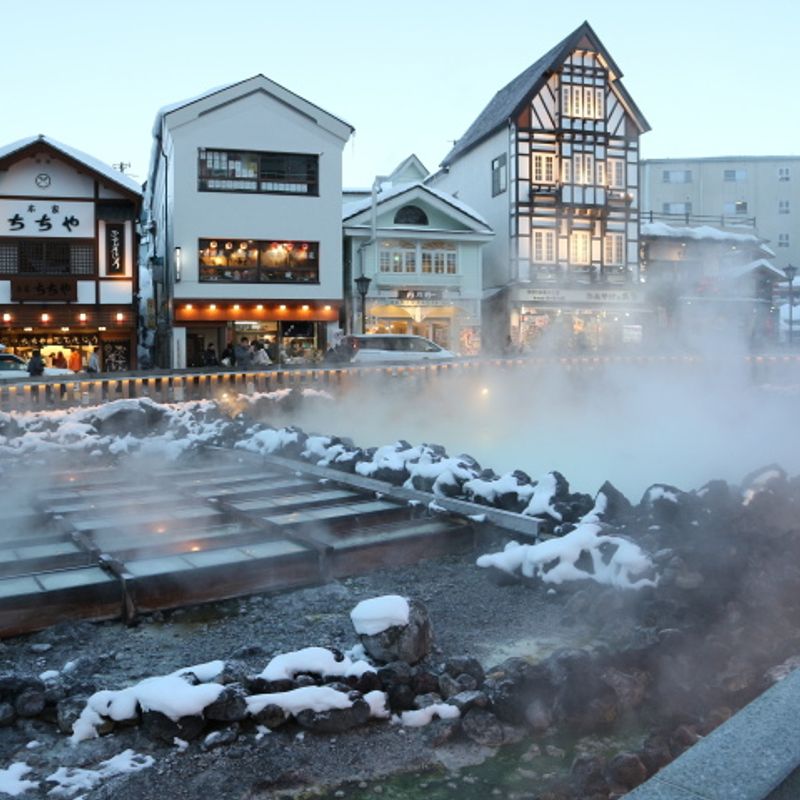 As much as there can be street action in a Japanese onsen town, Kustatsu's is largely to be found circling the yubatake and on the streets that head northwest from here. While the former is doing its best impression of a German village, the latter are narrow and largely lined with ryokan, the upper floors of which seem to overhang the streets creating a Dickensian gloom. In between, craft stores offer trinkets of gem and glass, while manju makers take to the streets with free tastes of the onsen town omiyage staple. At some point we spot an arcade of pint-sized snacks / pubs. Their signs of purples, pinks, and oranges look more than out of place against the snow and old world twee.
Even on a sunny day, February in Kusatsu is making light work of my even lighter Tokyo winter coat (don't underestimate the cold here) so we make to defrost.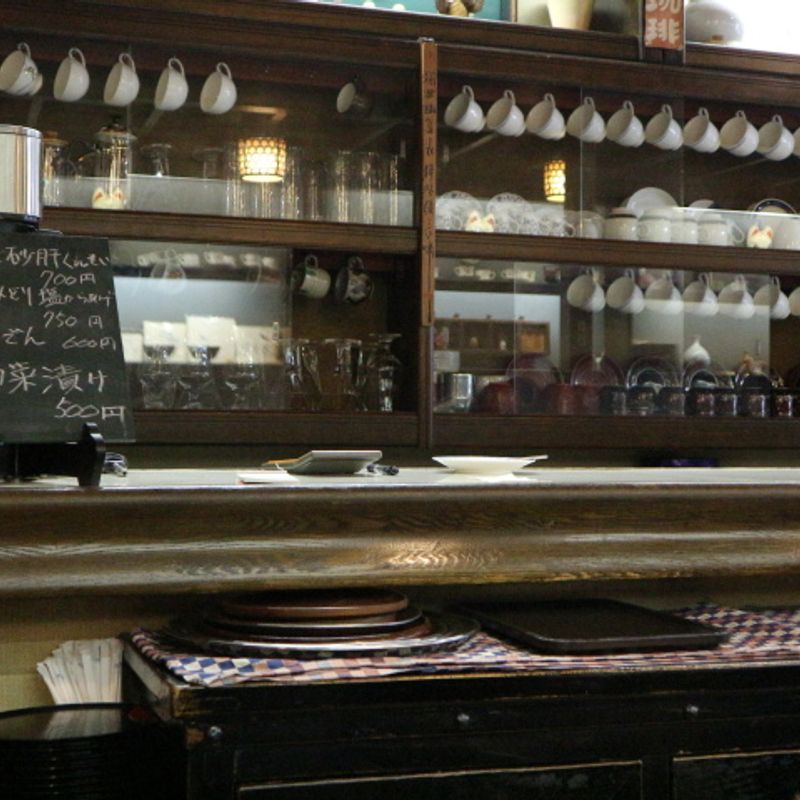 だんべえ茶寮 (Tanbei Saryō) is a coffee joint / eatery as charming as the street outside; all rich woods, warm stoves, and a bar counter that looks old enough to be World Heritage listed. This is the kind of place where the resident cat has seat priority over the customers. The partner inches into the next seat so as not to disturb. The other diners are asked where they've come from today; Saitama, Ibaraki, Chiba. No one beyond the counters, kitchens, and ryokan receptions actually lives in Kusatsu. We've all come for the snow and a sulphuric soak, and in the case of this cafe, to get out of the cold.
If you like things in subcategories perhaps we can make one about foreigners in Japan; those that are comfortable with getting their kit off in front of the locals, and those that aren't. I'm emphatically one of the latter. This then makes it difficult for me to go on, for want of a better term, an onsen crawl. Kusatsu has a number of public (government run) baths to facilitate this. In the place of yobbish bar brawlers destroying the finery though, Japanese onsen crawlers skip between soaks in robes and rubber slippers, astonishingly oblivious to the cold.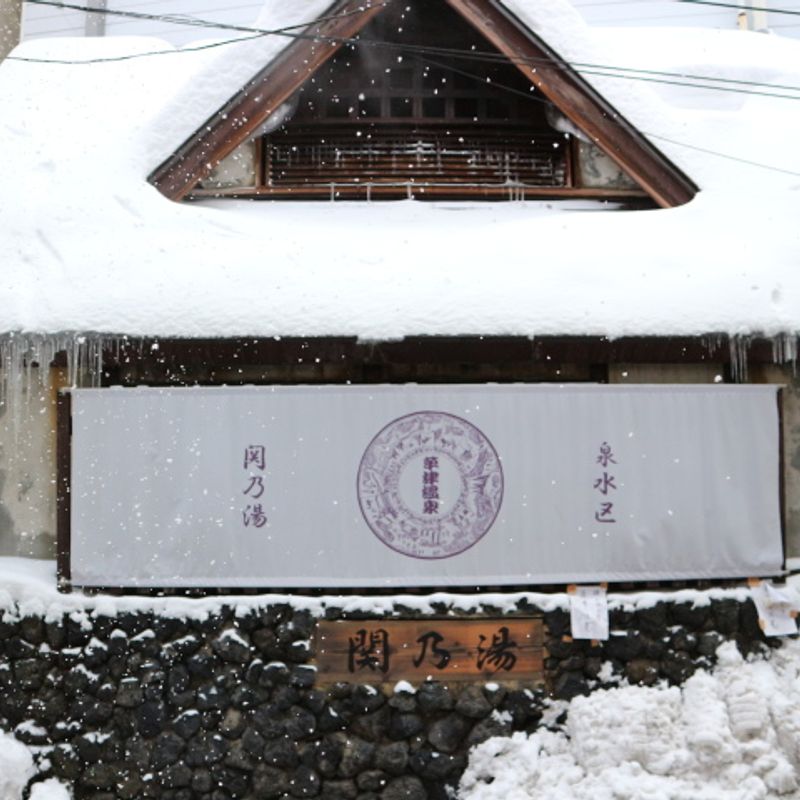 (One of the many public onsen dotted around town)
Plenty of water to go around
There's plenty of water to go around in these parts though, and most of the ryokan here will have private baths that can be booked for a certain time slot. Perfect for the onsen introvert.

There's a sign out the front of our bath saying something to the effect of the waters here being strong so be sure to rinse off afterwards. I'd missed this, and after dunking my head in the water (we were outdoors and the wind was blowing snow into my face) I surfaced with a tingling sensation in my nostrils.
Kusastu's onsen waters begin their journey to the public's nether regions from the slopes of Mt. Shirane. Rain water is absorbed deep into the mountainside where it's heated by the mountain's magma core as it gradually inches towards lower elevations, absorbing all manner of natural goodness on route. According to our free 'Kusatsu Onsen Town Guide Map', this journey takes some 30 years to complete. In a somewhat alarming footnote the same guide tells us that if you leave a 1 yen coin in the onsen waters, it will completely dissolve in about a week. Be sure to rinse off as instructed then!
Heated to the core it's back outdoors for dinner.
If there's a bug to pick with the Japanese vacation spot it might be that it lacks atmosphere of an evening. Up and down the country, vacationing locals tend to cloister in their hotels/ryokan taking post bath meals as part of 'all inclusive deals', leaving the streets all but empty. Refreshingly, Kusatsu's pride in its yubatake means that visitors here can still find signs of life (and places to eat) in the evening. Far from being Alpine apres ski, (and to be bluntly honest, the 7-11 attracts most of the foot traffic), it's still nice to be out and see others out, too. Just off of the yubatake we pop into Shouwa-Dagashi to Asobinohiroba Tomoeya, an old skool 'amusement' store (the kind of thing you might expect to find at a fair ground). Here we shoot pellets at some empty cans to win toys. Default onsen town entertainment, so I'm told. Dinner is okonomiyaki, yakisoba, and potatoes with butter cooked DIY style on a hot plate at restaurant that seems to be doing a good job of dragging people out of their ryokan.
The Kusatsu Onsen goal for this expat is snow, and plenty of it! I'm not disappointed. The next morning we wake up to views of the ryokan car park and members of staff scraping off inches of snow from windscreens, and clearing the entrance with the oversized shovels that you seen propping up almost every building in town.
Out of town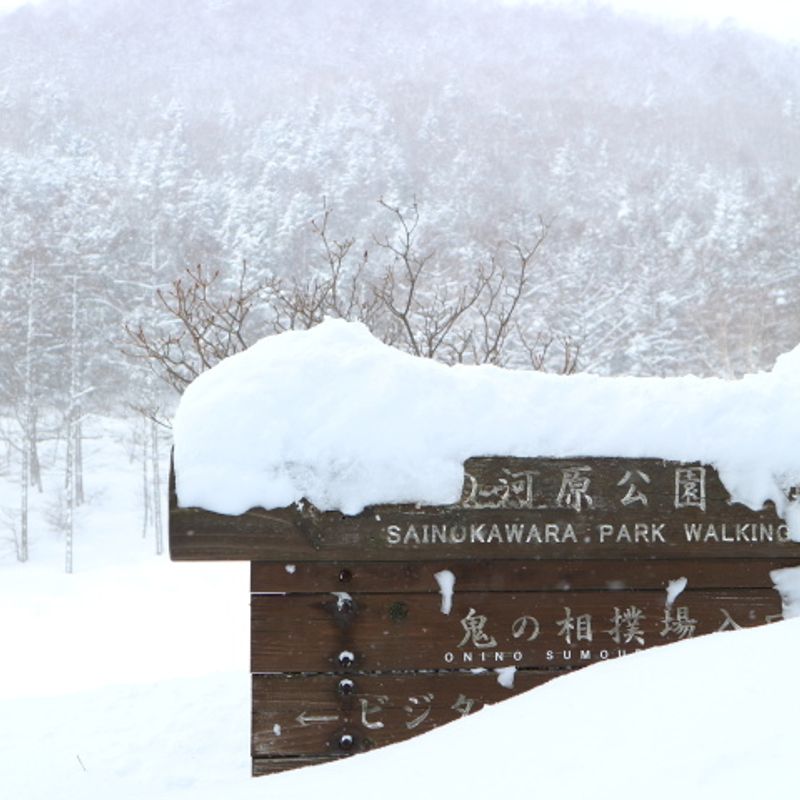 The light adventurer doesn't need to wander far to get off the roads here. The entrance to Sainokawara Park is just a 10-minute walk east of town where a narrow trail runs alongside bubbling and steaming hot water. The air in the park is thick with legends of demons and deceased children, exacerbated by the steam and valley gloom when the clouds come in. When the sun breaks through though, the snow is brilliant, and the waters look life affirming. A short distance up the Sainokawara trails you'll find a visitors center with maps and lists of all the famous types that made the journey up to these parts. Next door, Sainokawara Rotenburo is the largest open air bath in Kusatsu (and it is open; innocently turning around further up the trail will mean, together with valley views, a few blokes baring their bums).
It's not long before the trail comes out of the trees and is stacked high on either side with banks of snow. If the wind's up, you'll spend most of your time burying your face into scarves and jacket collars.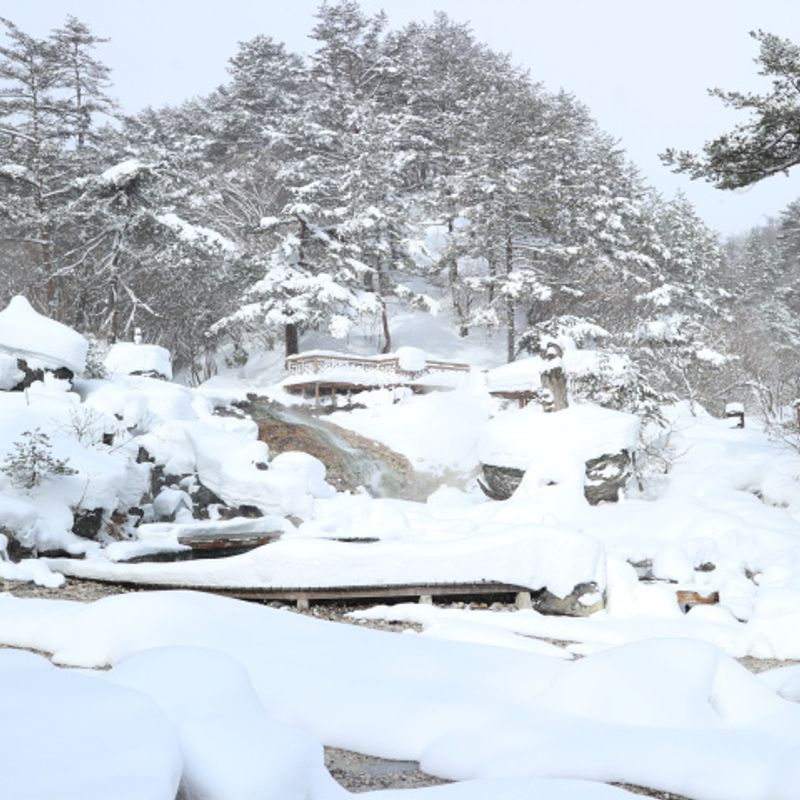 (The trail heading further into Sainokawara Park, on the edge of town)
Sainokawara Rotenburo is open from 9:00 - 20:00 (Dec - March) / 7:00 - 20:00 (April - Nov). Entrance: 600 yen adults / 300 yen children.
Using public transport to get to Kusatsu Onsen will mean arriving / departing from the town's bus terminal. On weekends and holidays queues for buses will be long. If you're the person that likes to be way too early for this kind of thing, the upper floors of the terminal building houses a public library which features displays about Kusatsu history (and yes, some old 'onsen rankings'), seats, and free warmth!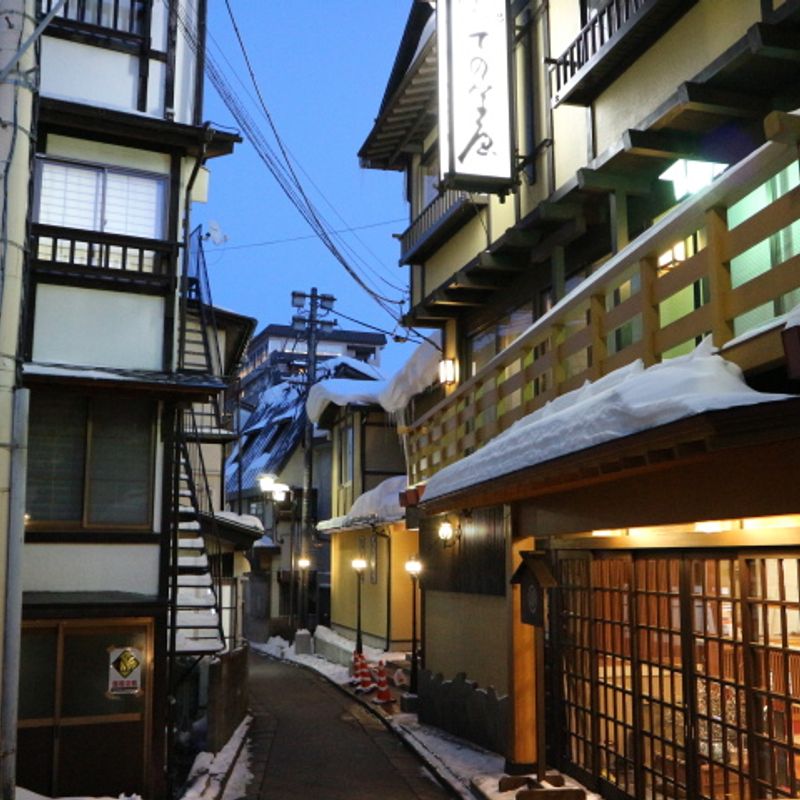 (The quite back streets of Kusatsu Onsen are in equal parts haunting and dazzling)
We came for hot springs and snow, and got both of those in abundance. Kusatsu, however, is more than the sum of these parts. Walking the streets here is to be haunted and dazzled in equal parts by an otherworldly atmosphere so far removed from the gaudy neons and shiny temples to commerce of urban Japan, as to be from a different planet. At night, on a quiet side street with glowing lamps casting old ryokan shadows, you'll see yourself in a scene from Miyazaki. Hold on to this image because a blast of the mountain winds up here will soon have you scurrying to get indoors and into one of those baths, regardless your inhibitions.
Does Kusatsu Onsen make the top of your Japan hot spring list?
Notes:
Be sure to grab a copy of the free Kusatsu Onsen Town Guide Map.
Sainokawara homepage (Japanese): http://www.sainokawara.com/
See us on ...
Twitter and Facebook: @citycostjapan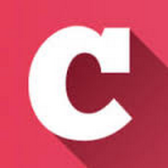 A Q&A and blogging community about life in Japan (plus a load of life-in-Japan stats!). Get your questions answered, share your experience! | Inquiry -> KyodoNewsDigital International Media | Tokyo, Japan | +81 3 6252 6402
---
2 Comments
Looks beautiful! I've been to Gunma many times but never here - and I've heard so many great things about it. Putting it on the list!

@genkidesu Yea, we loved it here. Definitely go during the winter though as it looks really beautiful in the snow. You'll need to warp up warm though!