Aug 25, 2017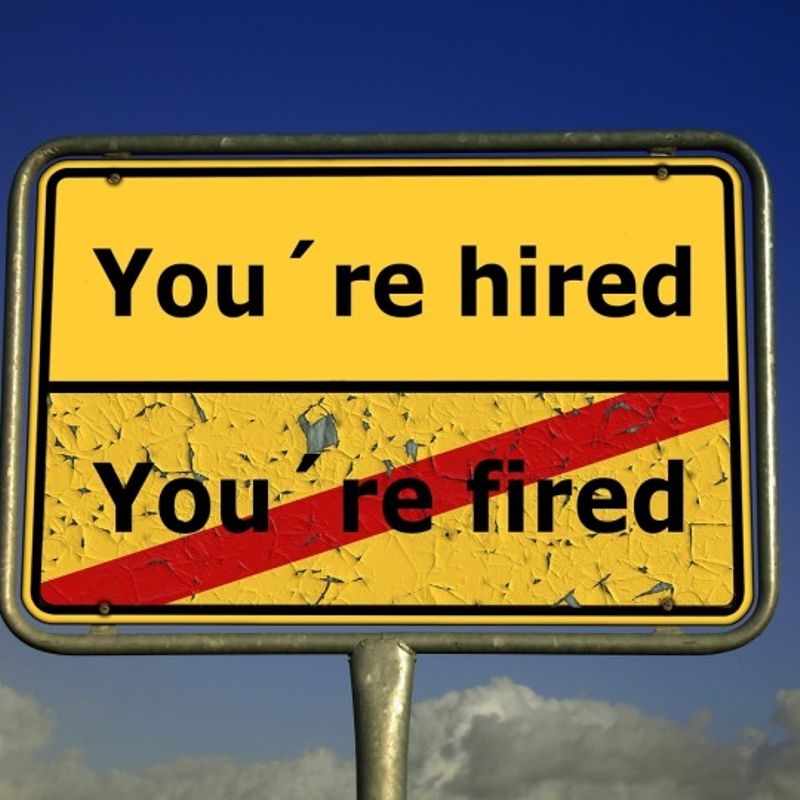 Yes, yes, and maybe (in the case of "dependents"). We wrote a post on City-Cost attempting to dispel common myths surrounding visas for Japan. You can read it here. One such myth involved employers professing some kind of divine right over ownership of a foreign employee's visa. Emphatically not true. In that section we touched on the procedures regarding immigration upon changing one's job but perhaps didn't go into enough detail, something we hope to do here because foreigners in Japan are often concerned about whether or not they should tell immigration that they are leaving / changing their job in Japan.
"Should" is actually the wrong choice of word. "Should" implies a questions of ethics - Is it the right thing to do to inform immigration? Right or wrong, foreign workers in Japan have to inform immigration of job changes - both when they quit one job and when they start another.
We can read about these requirements on the homepage of the Immigration Bureau of Japan, never the most friendly of sites to navigate (on purpose?) but if you can be bothered to dig deep enough the information (in this case) is there, under "General Questions" (of which there are 207) …
"Q107:As for notification of the organization to which I belong, should I give notification to the Immigration Bureau when I quitted the job or got fired and became unemployed? If so, how should I make a report?
A. If those who are the mid- to long-term residents with the resident status prescribed in article 19-16 (1) or (2) of the revised Immigration Control and Refugee Recognition Act retire from the work place or get discharged, please give notification to their name, date of birth, sex, nationality/region, address, residence card number, the date of retirement/discharge, and the name and address of the company by appearing at the Regional Immigration Bureau or sending the notification by mail to the following address."
So that's a "Yes." then! And it needs to be done within 14 days AFTER having left or changed jobs (you can't do it before - you'll just be turned away).
The same passage qualifies those who have to inform immigration of the change as -
"... mid- to long-term residents who obtained permission of landing, permission to change the resident status, or permission to renew the period of stay etc. after July 9, 2012."
And in case you are wondering what Article 19-16 of the Immigration Control and Refugee Recognition Act looks like, you can read it here - and we've copied the text in below …
"Article 19-16 Depending on the categories of status of residence listed in the following items, a medium to long-term resident shall notify the Minister of Justice of the events prescribed in each category and matters as provided for by an Ordinance of the Ministry of Justice within 14 days from the date of such events taking place."
Now, there appears to be some conflict here. The text in the "General Questions" it talks about those with the status of residence as laid out in (1) or (2) of Article 19 of the Immigration Act. (1) and (2) list up the professional status such as professor, instructor, researcher et al. Then there's (3) - "Dependent". So, if we take Japanese immigration at face value we're completely confused - on the one hand "dependents" (those on a spouse visa, for example) are being told that they don't have to inform immigration of job changes and then on the other they are told they have to. Two things to consider - we have no idea if the immigration act we have linked to is the amended version, and it's also entitled as a "provisional translation". Oh, and a third thing - translated documents in Japan are never actually the legal version, they're just a rough guide. So, dependents, we're afraid we can't be definitive here, you'll have to call immigration and check (as should we all, really).
Added to all of this, it's also the duty of your former and new employer to inform immigration of your status. From the Immigration Control and Refugee Recognition Act …
"Article 19-17 Public or private organization in Japan where a medium to long-term resident under status of residence as specified in Appended Table I is accepted and other institutes specified by an Ordinance of the Ministry of Justice (except for business proprietors who shall notify pursuant to the provisions of Article 28, paragraph (1) of the Employment Countermeasures Act (Act No.132 of 1966)) shall endeavor to notify the Minister of Justice of the commencement and termination of acceptance of such medium to long-term resident a … "
How do I inform immigration that I've quit my job?
You can do it in person at an immigration bureau - depending on the bureau this could be as much a pain in the rear as it sounds (thinking of Tokyo Immigration specifically), a good half day of waiting around just to tell some miserable sod that you've no longer got a job - thanks! (Still, at least you won't have to take the time of work!) On the other hand, we've heard that smaller immigration bureaus in Japan can actually be a quick in and out job.
Apparently we can do this by post. In the "General Questions" the people at immigration have been kind enough to provide the URL to the forms that we need. However, said URLs take us to a screen that looks like this …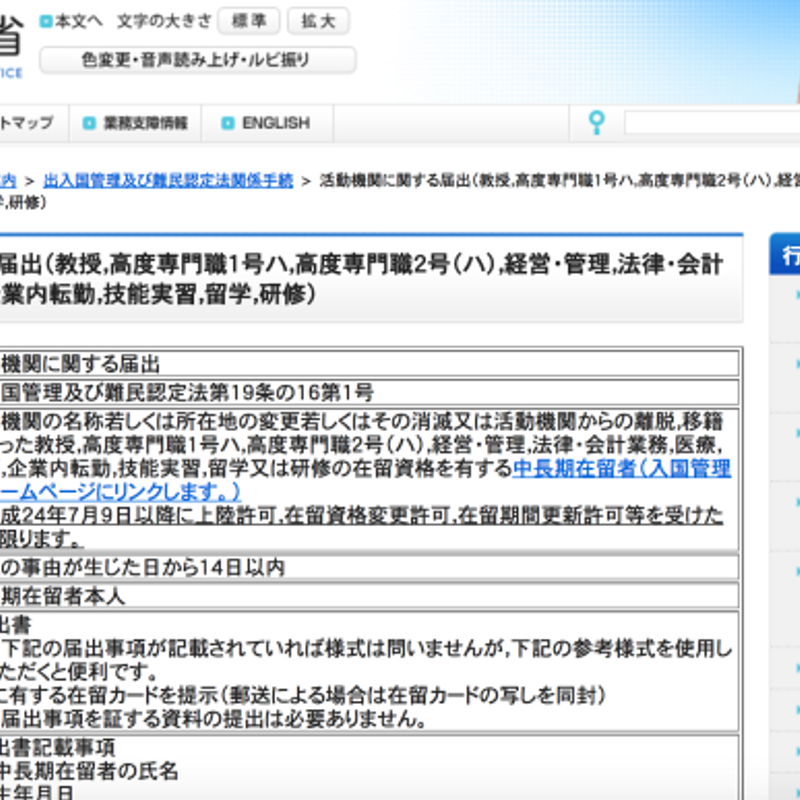 (Ministry of Justice)
Hmmm … thanks?
If you play around and click on enough links though you can find the forms, which we link to below …
For when your contract is terminated: http://www.moj.go.jp/content/000099566.pdf
For when you leave: http://www.moj.go.jp/content/000099560.pdf
Do I have to inform immigration when I get a new job?
Yes, again within 14 days from starting. If you want to inform of leaving one job and starting another in one go, this looks to be the form that you need: http://www.moj.go.jp/content/000109987.pdf
Astonishingly enough, foreign workers in Japan also have to inform immigration if / when the company they work for changes its name or address.
Forms: http://www.moj.go.jp/content/000109987.pdf
As well as in person or by post you can also submit the above notifications through Japan Immigration's "e-notification system", available in English (although in the interests of honesty, we haven't used it):
https://www.ens-immi.moj.go.jp/NA01/NAA01SAction.do
Why do I have to do this?
Well, the cynic in us might just say that Japan has a thing for bureaucracy. Certainly, you don't have to have stayed in Japan for too long before you realise the staggering amount of form-filling that is required of the nation's residents (foreign and local). On a more serious point though, these procedure might actually be in place to protect you from trouble. It wasn't always the case that you would have to inform immigration about job changes (at least, if it was, it wasn't commonly practiced). As such, unscrupulous, naive, ill-informed employers would often hire new foreign workers telling them that they needn't bother changing the status of their visas. When it came time to renew these visas, many foreigners were often told that their new job wasn't in keeping with the activities permitted by the old visa. The consequence in many cases was that both jobs, visas, as well as status of residence in Japan were lost. These relatively new procedures are said by some to protect from this.
I feel uncomfortable about informing immigration that I have no job
An understandable concern. For many, it's having gainful employment that allows us to be in Japan. The idea then of telling immigration that we no longer have a job might seem like making us a "marked person". However, Article 22-4 (1) (vi) of the Immigration Control and Refugee Recognition Act gives us three months before our visas MAY be revoked by the Minister of Justice …
"(vi) The foreign national residing under a status of residence listed in the left-hand column of Appended Table I has failed to continue to engage in the activities listed in the right-hand column corresponding to that status for three months or more while residing in Japan (except for cases in which the foreign national has justifiable grounds for not engaging in the activities while residing in Japan)."
Can I get away with not telling immigration that I've quit / changed jobs in Japan?
Online research and the experience of other foreign workers in Japan will tell you that you can. The question really should be though, "Am I willing to take the risk?" or more pertinently, "Why would I be willing to take the risk?". On a personal note, visas and immigration are not things to be messing about with. Yes, they can be a pain and a visit to the immigration center is far from anyone's idea of fun but it's surely much better to keep these things in order in the long run, isn't it?
As we always state in anything concerning visas for Japan, the only way to get the definitive and accurate answers is to speak to an immigration official. What has been listed above is up-to-date and correct to the best of our knowledge but really should only be used as a guide or a starting point from which to begin further research.
What are your experiences of telling immigration in Japan about your job changes? Let us know in the comments.
See us on …
Twitter: @City_Cost_Japan
Facebook: @citycostjapan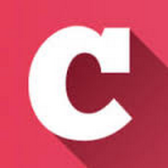 A Q&A and blogging community about life in Japan (plus a load of life-in-Japan stats!). Get your questions answered, share your experience! | Inquiry -> KyodoNewsDigital International Media | Tokyo, Japan | +81 3 6252 6402
---
1 Comment
When I left Japan, I informed immigration at the airport that I was heading home & not returning to work for the same company. My (newly renewed) work visa had a hole punched in it. I realized if I hadn't told them, I would have had almost a year with a valid work visa to come back after spring break & work somewhere else. A couple years ago I didn't renew my work contract & never informed immigration. I did apply to change my visa status within three months, and they didn't complain about not informing of the job change. (Now I have a spouse visa and am on record as 'self-employed,' so they don't really care if I have an official job or not.) PS: I Would inform city hall when you move/leave Japan. Otherwise you will continue getting city tax and health insurance bills, most likely. (You might end up with a refund.)