Sep 25, 2017
Japan's storied love hotels have been pushed into the limelight more than ever since Tokyo was awarded the 2020 Olympic Games. Amidst mild panic about accommodation shortages many of the capital's venues for a romantic tryst are being pressed into service as regular places to bunk down … only without windows. The move might be welcomed by those of a more prudish bent, but for this expat, it's a shame. Not that I'm fortunate enough to be frequenting these places, but if you can get the right one, they can be a right old laugh.
For the foreign visitor to Japan, love hotels appear as garish and saucily bonkers novelty. For the locals, they remain a legitimate resource serving more than just to bring a bit of creativity into the bedroom, by actually providing couples with a bedroom in the first place, regardless the mirrored ceiling. With generations of family crammed under one roof separated by paper-thin walls the business of getting down to business isn't always easy. (Although, is it ever?!)
The point being then, that it should be without shame that one might want to try the love hotel experience in Japan. Of course, this is always best if you've someone to share it with, but alas, there might be no "how to" guide for that.
Finding a love hotel
Arguably one of the joys, the foreplay if you will, of the love hotel experience is finding them and picking one out. In the larger urban areas there should be few problems here. Big train stations usually have a collection of love hotels tucked away not far from one of the exits. Popular nightlife spots typically have a few here and there. They're not always labelled as "love hotel" though, but if the name has even a whiff of innuendo, chances are you've found one. Of course, the love hotel of our dreams is usually decked out in some kind of mad frontage that makes them a dead give away. On closer inspection, look out for signs that read "rest" and "stay", and doors that loiter behind some kind of wall.
Away from train stations and the city, couples will likely need a car to access Japan's love hotels. Behind the wheel, maybe the best bet is to head for entry points onto highways just outside of town.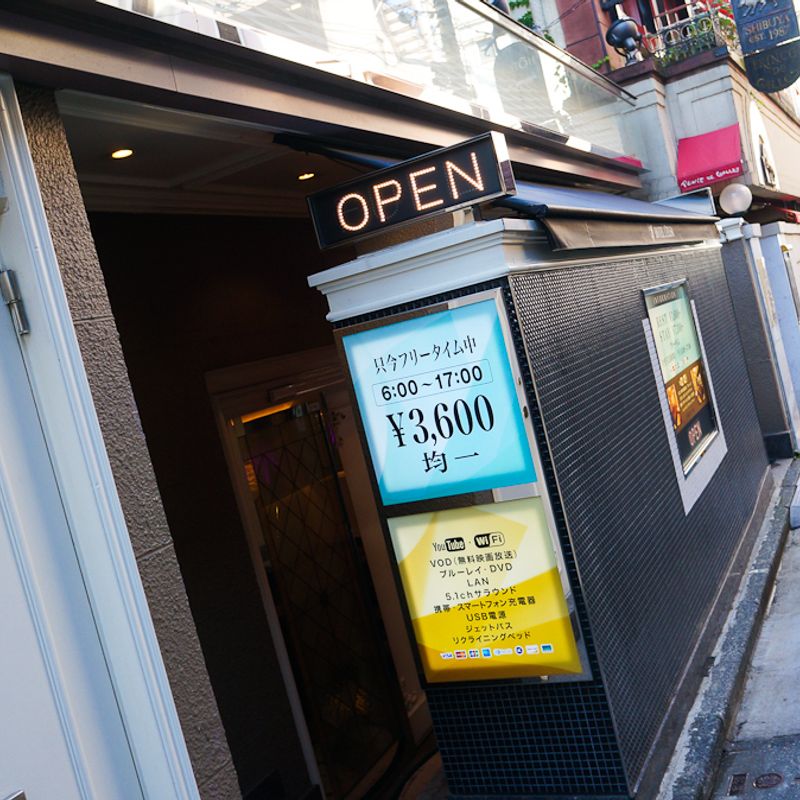 Choosing a room
In almost all cases Japan's love hotels will have in the lobby a panel displaying available rooms complete with an image of what to expect. Those that are lit up are available. In modern establishments it's a case of hitting the button on said panel and heading straight up to the room. Other hotels may require a bit of interaction at the discrete reception desk where solitary staff are partially visible behind frosted glass or a curtain. Here they'll issue you with a room key.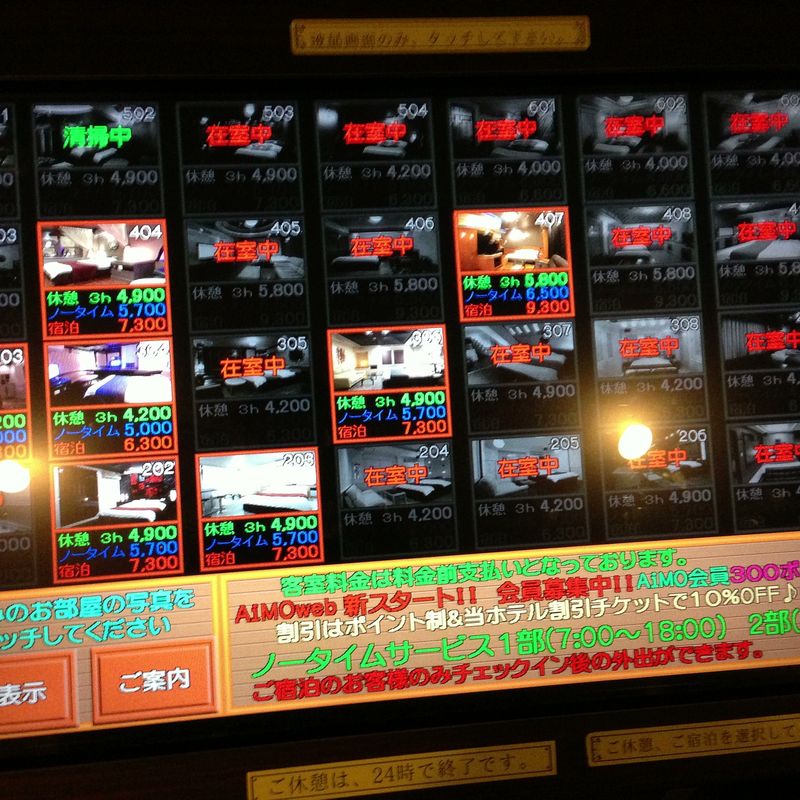 (Choose your room)
"Rest" or "Stay"?
"Rest" (休憩 / kyuukei), in love hotel parlance, typically refers to a period of two - three hours during which time one assumes that there won't be much in the way of "resting". "Stay" 宿泊 / shukuhaku), is a longer period of time. Unless you're overnighting (a legitimate accommodation option and typically available after 22:00 or 23:00) the most likely choice will be "rest". Push buttons on panels accordingly or say to reception staff, "Kyuukei (shukuhaku) desu."
There is also the "Free time" plan, typically available outside of peak hours. "Free time" might afford the couple four or five hours at a reduced rate.
Payment could be required before or after the stay. If there is no staffed reception, payment will be made via a machine in the room.
*Notes on love hotel lobbies
As discrete as these places try to be, the love hotel user should be willing to face the prospect of other couples coming and going. It is what it is, and at least one can take solace in being in the same boat. On rare occasions one may even have to wait. This expat and partner have experienced such a situation, ushered to a walled-off counter by a lady who could have been the partner's mother where we were served with a complimentary sharpener while we waited (and eavesdropped on the couple nearby who had clearly exchanged money to service their tryst).
Those who are driving to their love hotel will find discreet parking spaces which, in some cases, have access to the rooms right next to them without need of a reception. In another note though, this expat has experienced parking for a love hotel as being one of those things where the car is maneuvered onto rotating platform to be whisked away by staff in attendance. Yes, a bit embarrassing.
*Notes on room choice
Don't be deceived by the flamboyant exterior of a love hotel. They might look like a sexy version of Willy Wonka's Chocolate Factory on the outside, the rooms however, may just be like a business hotel only with complementary pornographic movies on the TV and a few extra bits of "kit". Be prepared to shop around if you've something more fantastical in mind. Or do some research before hand. In an earlier post on City-Cost we looked at what locals had selected as the some of the most extravagant love hotels around Japan and how much they cost:
How Much Does it Cost to Stay in a Love Hotel in Japan?
Entering the room
Once the hesitant love hotel goer has plucked up the courage to select a room and perhaps talk to the staff at reception, the most technically complex part possibly awaits - a phone call or a touch screen panel that talks to you … in Japanese. This will be the case if payment is being made after the stay. The phone call will be to confirm which plan - "Rest", "Stay", "Free time" - is desired. Payment machines in rooms look something like the one in the image below.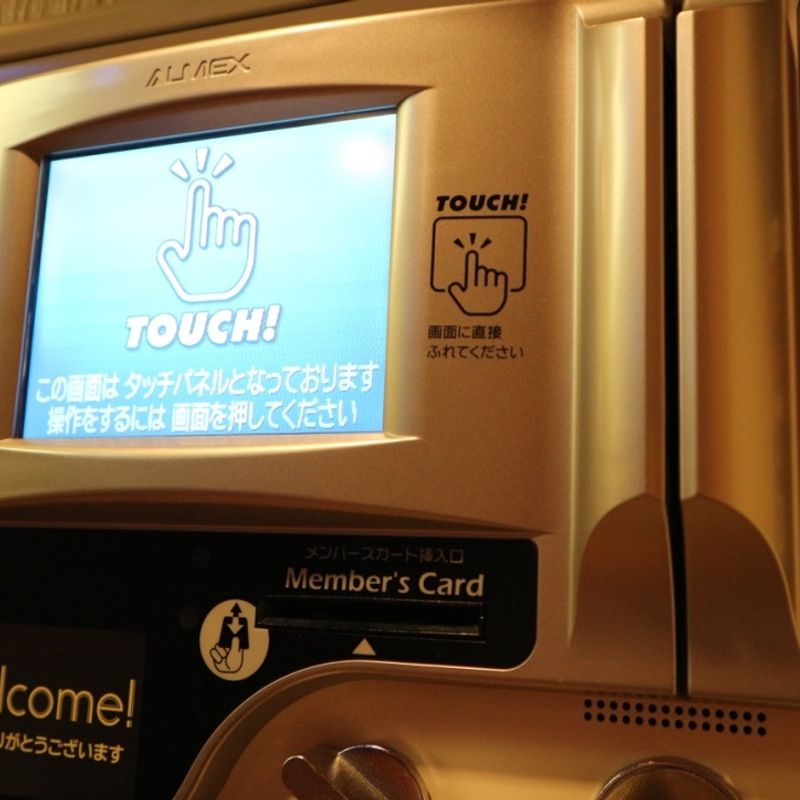 *Notes after entering the room
Once you've entered the room of a love hotel, fundamentally speaking, you can't leave without forfeiting the room. Increasingly, love hotels can be booked online through major booking platforms as regular accommodation options. Quite how this affects any policy of coming and going (no pun intended), this expat remains unsure.
Using the love hotel room
It was mentioned earlier that in many cases a love hotel room might be nothing more than a regular hotel room, but with extra "kit". The regular amenities are all in place - shampoo, towels, hair dryer, toothbrush e.t.c. No, by "kit", we mean the following (which should really be considered the basics for most establishments):
Free stuff …
- Condoms (usually found in a little tray at the head of the bed)
- Gel (not for the hair)

- Yoga style mat in the bathroom (not for Yoga - apply the gel here)
- Bubble bath / bath salts
- Jet bath with funky light setup and TV in bathroom
- Karaoke machine
- Video game console
- Adult channel on the TV (along with regular channels and regular movies)
- Ashtrays and signature matches / lighter (expect almost all love hotel rooms to be smoking)
- Mood lighting and music system at the head of the bed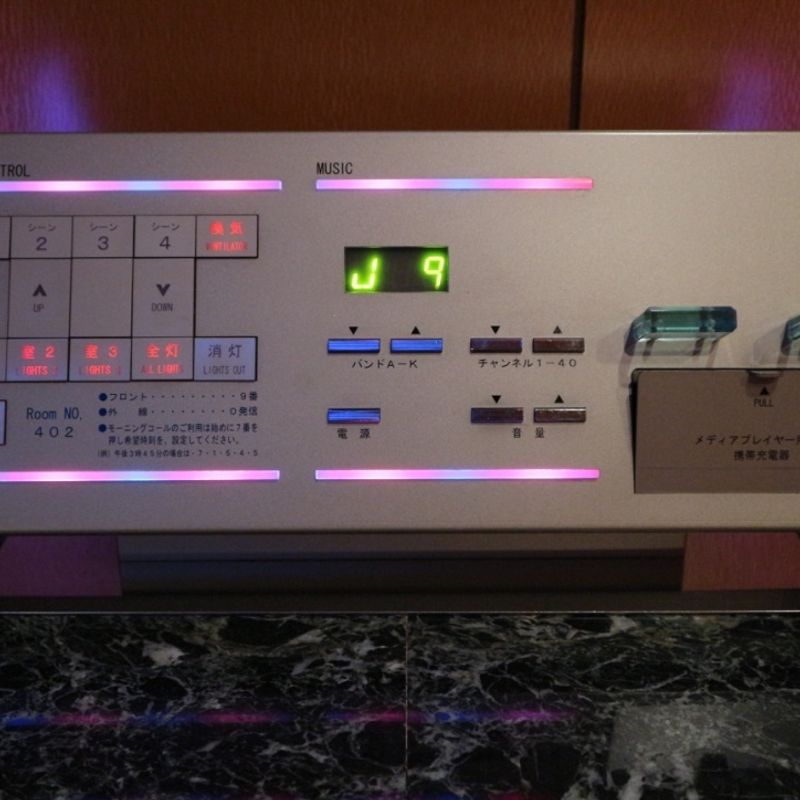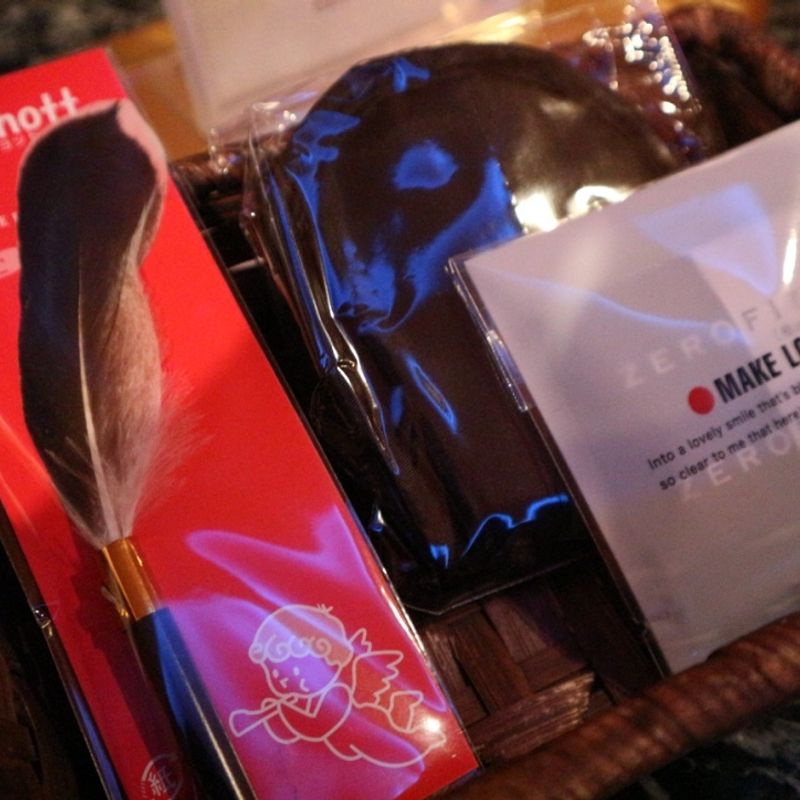 (Complimentary kit)
Stuff you have to pay for …
- That thing that looks like a refrigerator, next to the actual refrigerator, usually contains some sexy toys - vibrators and other things that poke, prod and tickle - booze and "special" energy drinks.
- Room service - includes the regular food and drink along with sexy costumes (don't worry, staff won't enter the room proper, they just drop items off where you put your shoes, although in some cases you may have to answer the door)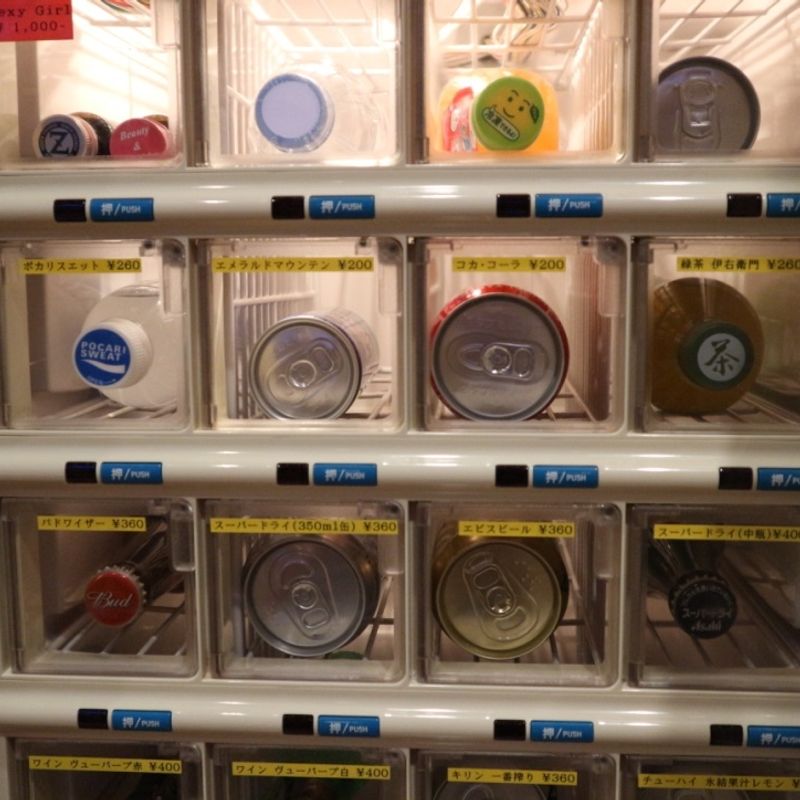 (Top left)
Making your exit
Most urban love hotels are located on quiet side streets but one should still be ready to slip into passing foot traffic upon exiting the building.
*Notes on using love hotels
Despite our attempts to write about Japan's love hotels as legitimate places for couples to get together (which they are) they are also a place where people work and are used as locations to which Japan's "fuzoku" industry (sex industry) sends staff to service the punters. We don't want to get into the ethics and laws of this here (about the latter we know next to nothing anyway) simply to say that this is a reality. A visiting couple may even bump into the early or latter stages of such a transaction (although you may never know it), and rooms themselves may be furnished with a catalogue of "out call" services. If this is an uncomfortable thought, then maybe head to love hotels further away from nightlife districts (although even in rural areas, don't be surprised to see surrounding walls plastered with phone numbers).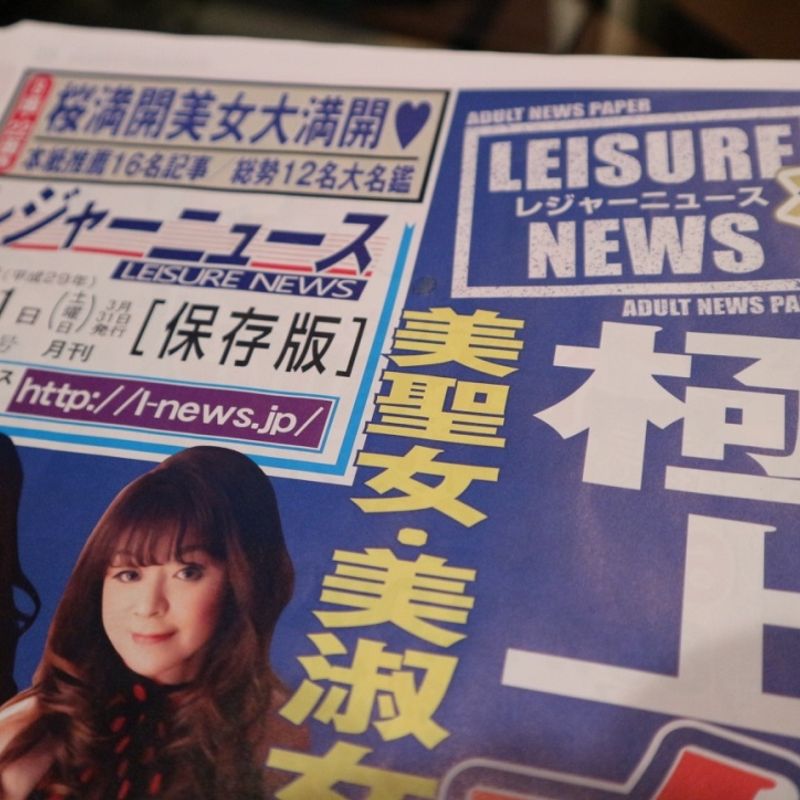 We touched upon this earlier, but those who really are looking for extravagant interiors might do well do look around online first to avoid any disappointment.
Now some couples might secretly want to try these place out, but are prevented from doing so by nerves or embarrassment, or the horrors of being spotted. There's probably not much that can be said to assuage such concerns other than that, to the locals, love hotels, in whatever guise, are approached with such a matter-of-fact attitude as to be startling for the newbie to these shores. In short, nobody here cares what you're doing loitering around a love hotel zone.
What are your experiences of staying in Japan's love hotels? OK, let's rephrase that - Do you have any tips on how to get a room at a love hotel in Japan? Leave your comments below.
See us on ...
Twitter: @City_Cost_Japan
Facebook: @citycostjapan
Images
Finding a love hotel: Antonio Tajuelo Flickr License
Choosing a room: Karl Baron Flickr License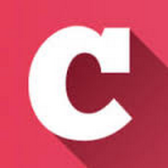 A Q&A and blogging community about life in Japan (plus a load of life-in-Japan stats!). Get your questions answered, share your experience! | Inquiry -> KyodoNewsDigital International Media | Tokyo, Japan | +81 3 6252 6402
---