Jun 27, 2017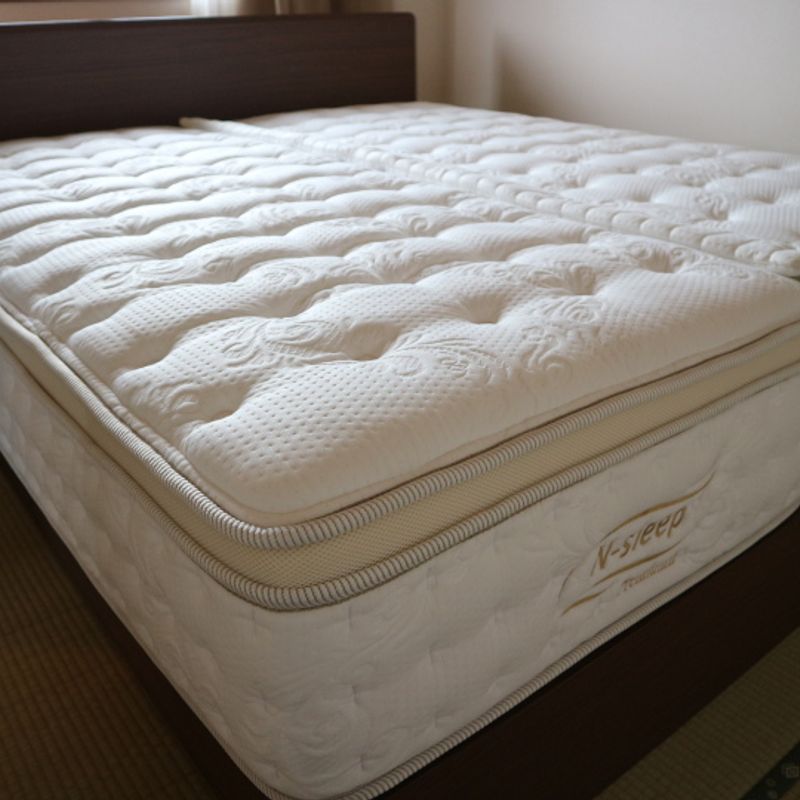 In an earlier post on City-Cost it was remarked by the blogger that buying a sofa in Japan was perhaps "the preserve of those anticipating a long stay 'in country'." Well, if this is true of a sofa, then buying a bed in Japan must equate to those seriously contemplating never leaving. Especially when the bed being purchased is queen size, as was the case here. In the interests of serving the expat community, and perhaps wanting to facilitate the buying of a bed among others so as to not feel like the only expat staying in Japan forever, I'll take you through the steps of where, how, and how much we spent. Yes, "we". There's a partner involved here, hence the queen size bit.
Why?
Buying a bed is potentially an expensive business anywhere in the world so due consideration needs to be given to the event. For the partner (Japanese) reasons cited were something to do with sleeping on a crappy (not a generalisation) futon being a little uncomfortable. Imagine that! For this expat, I was willing to fork out substantial sums of money on a bed if it meant that I didn't have to fold up two futon every morning, a laboured burst of energy that had become the worst part of my day by far. The other reason is that since moving apartments we now have just about enough space to accommodate a bed.
The research
In the interests of brevity we limited our bed buying research to three sources - Nitori, Ikea and IDC Otsuka (a.k.a Otsuka Kagu).
Nitori
What Japanese furniture store Nitori lacks in style, it makes up for by being a little bit cheaper than rival and relative new-kid-on-the-block (in Japan) Ikea. That being said, Nitori must be getting ideas of grandeur as they have recently opened a branch in swanky Ginza, Tokyo. We visited this branch and another out in the suburbs. There was little difference between the two in terms of quantity if kit on display.
Mattresses from Nitori run from around 11,000 yen (single) / 18,000 yen (double) for a 12 cm thick uber cheapie through to around 75,000 yen (single) / 140,000 yen (queen).
Bed frames at Nitori start from around 8,000 - 15,000 yen (depending on size) and go up to around 95,000 yen (queen) for something that resembles a hollowed out Lamborghini.
In a strange way, what this expat liked about Nitori compared to Ikea was the lack of "pic n mix" style options. Let's get this straight, researching beds isn't the way I want to be spending a Sunday afternoon, so I like to keep these things .. streamline.
Ikea
Although Nitori is generally cheaper than Ikea, when it comes to getting a bed of half-decent quality maybe Ikea presents the most economical options. And what options. Ikea should come with a warning for people like me who see a "bed" as being frame, mattress, pillows, covers … the whole bit, i.e. something that you sleep in. A bed! Unfortunately, you can't actually buy a "bed", you have to buy all the constituent parts separately and then make them into a bed yourself, or pay someone to do that for you. In Ikea the choices are myriad, and quite honestly, tiresome. Still, if you like that sort of thing, then there's happy times to be had shopping for bed in Ikea.
One thing to be aware of when bouncing on display mattresses in Ikea is that more often than not they are loaded up with "bed pads" so that a bit of peeling off is required in order to get a true sense of how soft the actual mattress is or isn't.
In terms of bed frames, the options in Ikea are certainly more design savvy than those in Nitori. Unless you like the "musty home of an old grandma" look, in which case Nitori will do you just fine.
Mattresses - For a foam cheapie from Ikea you're looking at around 10,000 yen (semi-single) to 20,000 yen (queen). Top-end foam goes for around 30,000 (semi-single) to 53,000 yen (queen). Foam-spring combi; 16,000 yen (single) to 45,000 yen (double). A spring cheapie is around 11,000 yen (semi-single) to 20,000 yen (queen). Top-end spring mattresses are around 50,000 yen (semi-single) to 90,000 yen (queen).
Bed frame prices in Ikea are wide in range. Singles as low as 5,000 yen and up to around 65,000 yen. Larger frames start from around 9,000 yen and go to around 90,000 yen.
IDC Otsuka (a.k.a Otsuka Kagu)
I suppose if you really want to buy a quality bed in Japan then Otsuka Kagu is probably the place to at least start looking. Not that there aren't some cheap option here. In terms of mattresses, singles can go down to as low as around 13,000 yen and queens for around 40,000 yen. At the other end of the price range though, well, the sky's the limit. Those with deep pockets (and very sensitive spines) can easily clear 1,000,000 yen on a mattress above single size.
Frames at Otsuka Kagu range from 25,000 yen to over 1,000,000 yen depending on size.
In all seriousness, if what you're after in a bed is something chiropractic or made of a mattress material that "remembers" your sleeping position, it's at IDC Otsuka, rather than Nitori or Ikea, that you'll have the best chance of finding it.
Where did we end up buying our bed?
Nitori - there was just too much choice at Ikea but beyond this it's the bed which is most comfortable and within one's budget that surely wins. For whatever reason, we found the most comfortable mattress in Nitori. IDC Otsuka was just too expensive for us. We went with the frame from Nitori also. To be honest, it isn't particularly attractive (or remotely attractive, even) but it seemed to make sense to keep things localized in this way. At least if you buy your mattress from Nitori, you can be sure it will fit on a bed frame from Nitori.
How
By waiting two months as it turns out! Yes, after having huffed and puffed through the bed search process I was under the very misguided illusion that maybe we'd get the thing delivered within two weeks. Far from it. Two months is what it took. That said, delivery is free with Nitori, and the two delivery people even constructed it for us … in about 5 minutes!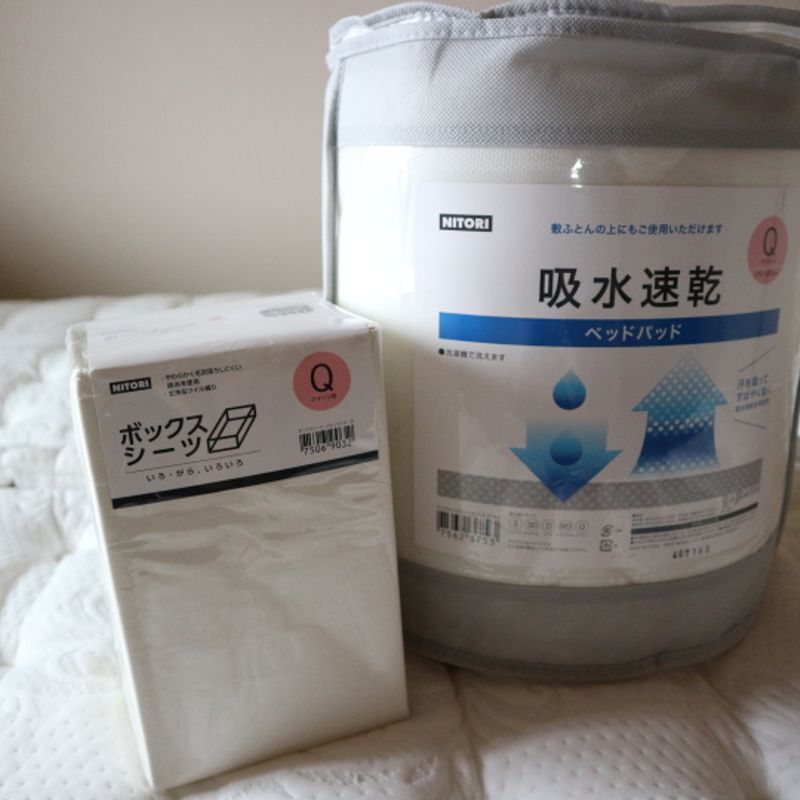 Bed sheets
Again, buying a bed (in Japan) can be an expensive business. So it is then, that we are approaching this in stages. With summer just around the corner there's no need yet to be buying heavy duvets and warm covers so we're saving that joy for later. Matching pillows will have to wait, too (if we ever get round to that, which I fear we will). Initially we purchased mattress top sheet and cover (the latter to protect our new mattress from summer sweat). The sheet was around 2,000 yen and the cover, around 3,000 yen.
How much in total?
Mattress - 75,000 yen
Bed frame - 45,000 yen
Sheets / cover - 5,000 yen
Total spending - 125,000 yen
Notes on buying a bed in Japan
Does the above cost look expensive? It does to me. Still, it could have been a lot worse, and the partner assures me that the mattress is good for plenty of years. However, with the queen duvet and queen duvet cover still to come, the spending isn't over yet.
It's worth noting that mattress covers come in a variety of thickness. The thicker the better might sound like a sensible concept but can you fit it into your washing machine or will you have to cart if off to the laundrette?
When shopping for a queen size bed in Japan, you'll notice that your options for frames and sheets narrow. This is Japan after all, a country where a significant portion of bed sleepers haven't the room for queen size.
On the theme of size, I should also rather sheepishly tell you that our "queen size" mattress is in fact two singles pushed together and held in place by a Velcro tab. This is quite common in Japan. Where there are people in the country who have space for such sizes, actually getting these items into said space is an entirely different matter. And what if a later move requires a bit of space downsizing? No, far more practical to have the two singles.
As more items get added to this bed so we'll update this post. In the meantime, if you have any tips or recommendations when it comes to buying a bed in Japan, let us know in the comments. Whether its how much these things cost, recommended stores and brand, or tips on how to keep costs down, we'd love to hear from you.
See us on …
Twitter: @City_Cost_Japan
Facebook: @citycostjapan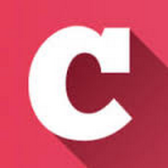 A Q&A and blogging community about life in Japan (plus a load of life-in-Japan stats!). Get your questions answered, share your experience! | Inquiry -> KyodoNewsDigital International Media | Tokyo, Japan | +81 3 6252 6402
---
2 Comments
We also got out bed / frame / sheets / futon from Nitori. I really like our mattress! I can sleep on it so well ♥

The bed room should have an ambiance of tranquility and balance throughout the year since it is the most important room in your house purchase-quality-bed-afffordable-price