May 10, 2018
The Sanja Matsuri (三社祭, Sanja Festival) brings one of the largest, most important, as well as rough-and-ready festivals to Tokyo's Asakusa district and the temple complex of Senso-ji once again in 2018. With visitor numbers in the millions and a schedule spread over three days, there's plenty of get to grips with. Here's what you need to know about Tokyo's Sanja Matsuri.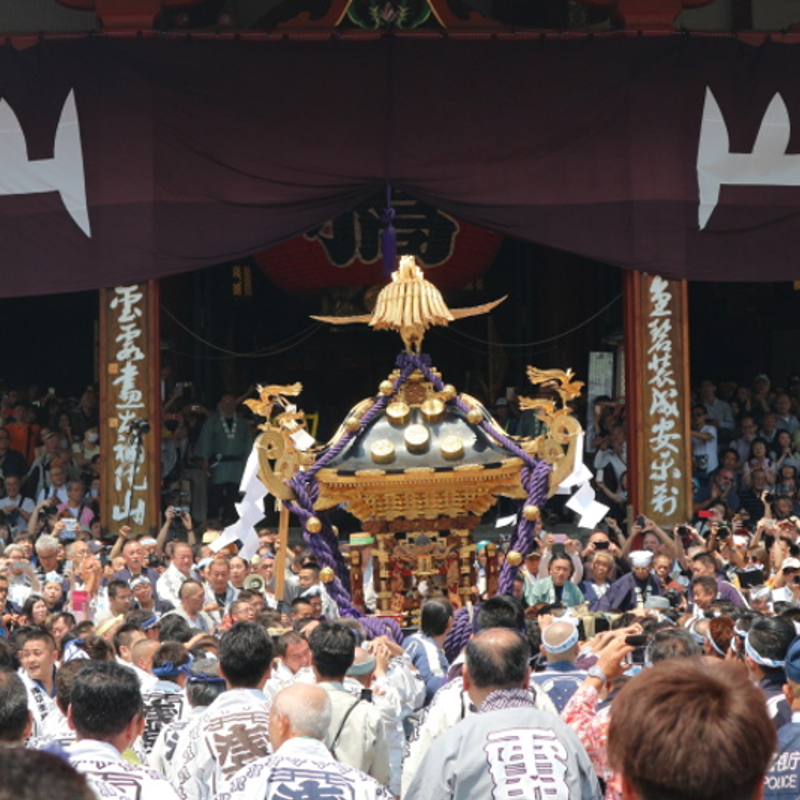 In the late 14th century two brothers, Hinokuma Takenari and Hinokuma Hamanari, fish out a statue of the Bodhisattva Kannon from the Sumida River. A suitably impressed local landowner, Hajino Nakatono, enshrines it on his property (in what is now Asakusa Shrine). These are the humble beginnings that belay the grandeur and popularity of the oldest temple in Tokyo -- Senso-ji -- and the mayhem and scale in which these events are celebrated today -- the Sanja Matsuri.
Actually, the celebrations we see today date back to the Edo period (1603 - 1868) despite the festival apparently having celebrated its 700th birthday in 2012.
The focus of the Sanja Matsuri, generally considered one of the biggest matsuri in Tokyo, is spread across the Friday, Saturday, and Sunday of the third weekend in May, with events culminating on the Sunday when three large mikoshi (portable shrines), carrying the spirits of the three founders of Asakusa Shrine (next to Senso-ji), are paraded around the Asakusa district by local residents (referred to as "ujiko").
With nearly two million turning out to take part in, and view, the frenzy of this major traditional Tokyo festival over the course of the weekend, you've got to know at least this -- Sanja Matsuri is a big deal. But what else is there that the layman should know?
Know this …
The Sanja Matsuri has a reputation for being a bit … robust?
Perhaps it's a little unfair to label Sanja Matsuri thus. After all, any traditional festival in Japan that involves carrying the dead weight of a mikoshi, tends to be fuelled by copious amounts of alcohol. It's by necessity really. Getting drunk is the only way to cope with the pain that these mikoshi inflict on bearers shoulders.
So, in this sense, Sanja Matsuri is just people getting drunk on a larger scale. And if you add to this the fact that they are doing it over the course of three days instead of just one, and possibly in the bright May sunshine, well, it's understandable that any sense of sophistication goes out of the window.
As robust as it maybe though, there's no reason for visitors (domestic or foreign) to feel threatened. Sanja Matsuri is a family affair at heart and seems to be well policed.
Know this …
Sanja Matsuri really starts to get squashed and sweaty on the Saturday when, from noon, some 100 mikoshi are paraded in front of Senso-ji.
At this time the crowds immediately in front of the Senso-ji can reach claustrophobic proportions, something exacerbated if the weather is hot and sticky (as it can be at this time of year in Tokyo).
However, it's here that you'll get some of your most iconic shots of the festival -- mikoshi seemingly surfing a wave of traditionally clad bodies with dramatic Senso-ji as a backdrop. It's also worth the effort to pursue the mikoshi as they are carried along the infamous Nakamise towards Kaminarimon.
If it all gets too much, it's an easy enough escape to the sides of Senso-ji where you can find respite and breathing space.
Know this …
Sanja Matsuri is a good chance to have a gawp at some yakuza.
For the casual observer, Japan has an odd relationship with yakuza -- who are by turns feared, respected, the butt of jokes, driven out of local communities, and dug in deep with the authorities and the elite -- but during the Sanja Matsuri they seem to be an object of, well, some curiosity, and the subject for plenty of amateur photographers.
Anyway, here they are, all in their resplendent tattoos, jumping on top of mikoshi (they shouldn't be doing that) and wearing nothing but their brilliant white fundoshi.
Of course, the Sanja Matsuri is a rare chance for yakuza to get their tatts out in public and while they probably seek the attention, they're still yakuza so it's best to keep on their good side and ask for permission for the close-ups!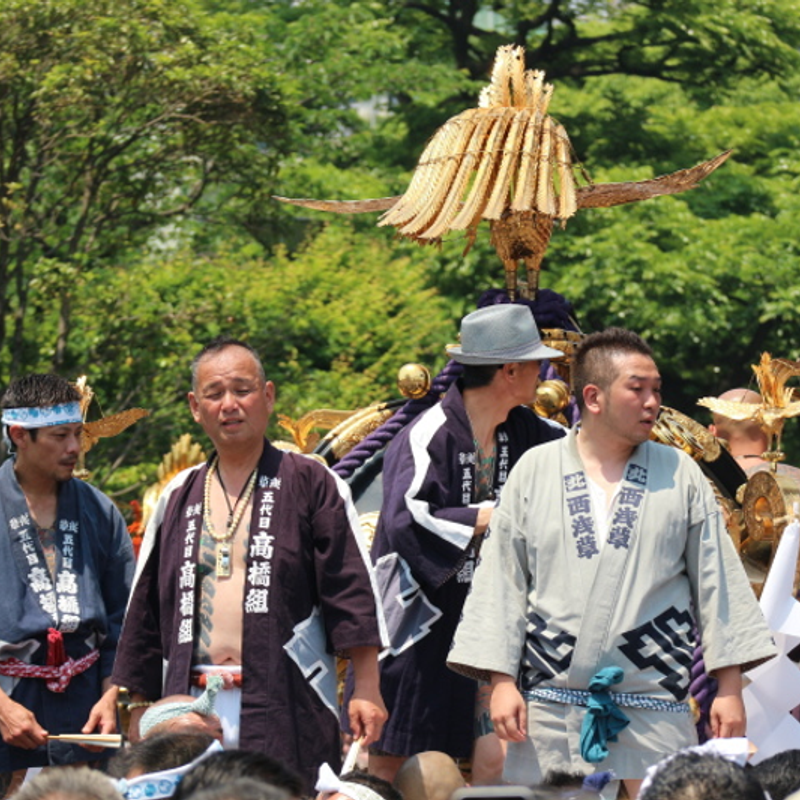 Know this …
Don't climb on the mikoshi ... or do, if you're yakuza (we're not going to stop you)!
Coming back to the point of Sanja Matsuri being a bit rowdy, it used to be the case (and still is to a certain extent) that participants would get over excited and try to hitch a ride on one of the three main mikoshi that are the focus of celebrations on the Sunday.
Authorities warned people against doing this but they didn't listen did they. As a result, the 2008 edition of the Sanja Matsuri went ahead without the parading of the three sacred mikoshi on the Sunday. Boo!
Know this …
Stay out of the path of the mikoshi.
These things weigh a ton, literally in some cases, and have the potential to inflict great damage.
Particularly on the Saturday when mikoshi are paraded in front of Senso-ji itself, mikoshi and their army of bearers surge in every direction. While staff and spare bearers will try to clear people out of the way, it can be quite alarming if you're bearing witness to these events for the first time. And make no mistake, if you are in the way (to the extent that you are liability to yourself and others), you'll be told so in no uncertain terms.
On the Sunday, when they bring out the big guns, casual visitors are kept a bit more at bay around the Senso-ji, for their own safety.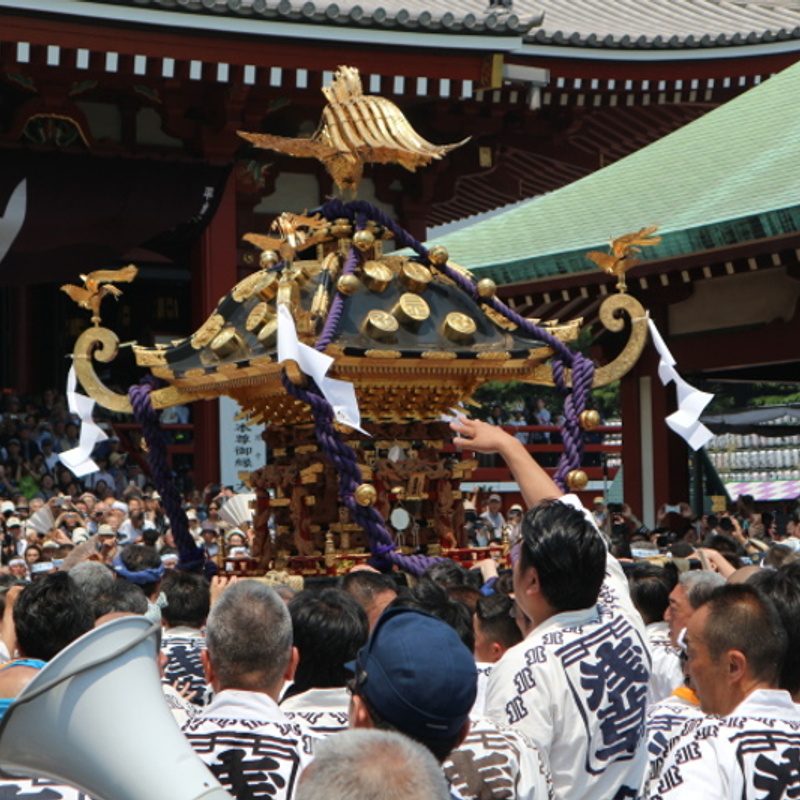 Know this …
Sanja Matsuri does have the potential to irritate.
In places, it can be really crowded and despite this festival having the kind of vibe where those who are acting up might be told to piss off with little ceremony, this doesn't seem to prevent the socially myopic from turning out to try and spoil your fun. So it is then that you can expect potentially great shots ruined by sun-umbrella wielding women whose porcelain complex is more important than the mood of the collective, or the grandad who things he works for Getty as he breaks out a step ladder right in the thick of the crowds. Then there are the selfie sticks, which some people still haven't realised are about as cool as a floater in shared onsen.
It's also part and parcel of the shared experience really, and when there's nearly two million souls to share it with, the potential for irritation is significant. Keep a cool head and move on to a different space to get your photos.
Know this …
Sanja Matsuri is almost heartbreakingly romantic and oh so Japanese.
Despite the sometimes rowdy vibes, the smell of stale beer, the smouldering cigarettes, the spotty bums, the body parts pouring with sweat, the presence of organized crime and the presence of the psychotically annoying, Sanja Matsuri is almost heartbreakingly romantic and oh so Japanese.
Take a stroll away from the crowds and the marquee mikoshi and head instead for the backstreets where you'll see the families gather, the children carrying their custom-made "kids mikoshi," food stalls offering no-nonsense grub, and couples in kimono and yukata. Kick back on streetside perch with a cool beer and listen to the distant cry of the shrine bearers, and you'll realize that Sanja Matsuri, in its entirety, is the stuff that inspires poetry.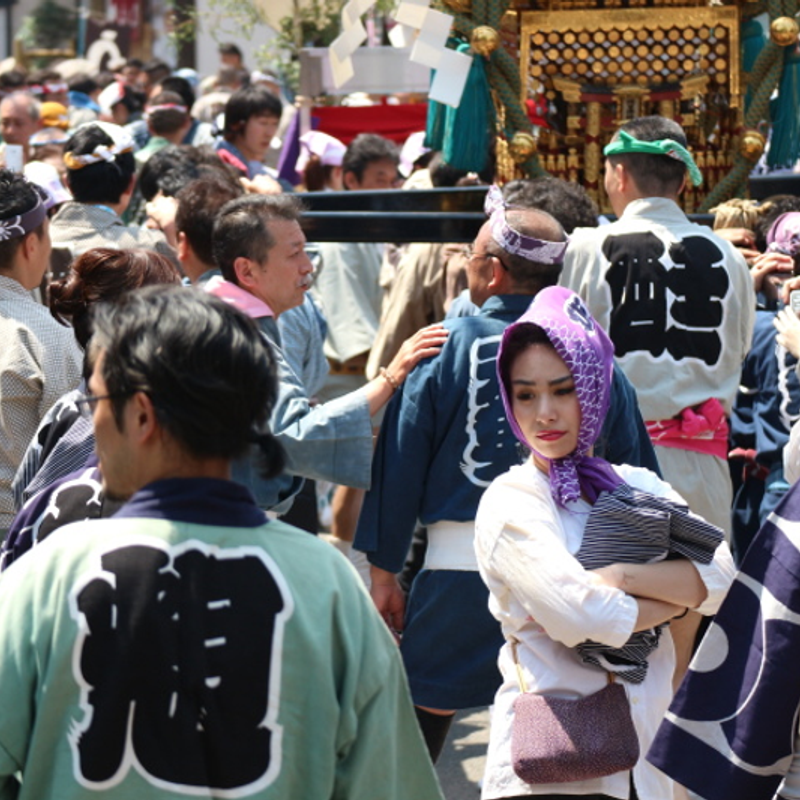 Know this …
Sanja Matsuri 2018 (三社祭)
The 2018 Sanja Matsuri kicks off on Thursday May 17 at 7:00 am with a ceremony that most people won't see because they'll be at work. Still, not to worry, things don't get going until …
Sanja Matsuri schedule for 2018: What, Where, When
Friday May 18
13:00 - Daigyoretsu (大行列) -- This parade really signals the start of Sanja Matsuri festivities for most. The parade features local dignitaries, priests, geisha, dancers and musicians, setting off a couple of blocks north of the Senso-ji grounds, heading south along the street parallel to Kokusai Dori, onto Kaminarimon Dori before turning into Nakamise and heading to the temple. You can see a map (Japanese) of the Daigyoretsu parade route here:
14:20 - Bizensara-mai (dance using tradition bizensara instrument), Shaden Hall (社殿)
15:00 - Bizensara-mai (dance), Kaguraden Stage (神楽殿)
15:30 - Ceremony to transfer spirit to shrines of each district in Asakusa
Saturday May 19
12:00 - Parade of 100 mikoshi through Asakusa
16:00 - Dedication "Buyo" dance (Kaguraden Stage)
17:00 - "Miko" dace / Shrine Maidens (Kaguraden Stage)
Sunday May 20
6:00 - Parade of three main mikoshi through Asakusa
14:00 - "Miko" dace / Shrine Maidens (Kaguraden Stage)
15:00 - Dedication "Buyo" dance (Kaguraden Stage)
16:00 - "Taiko" drumming (shrine grounds)
Sanja Matsuri web (Japanese): https://www.asakusajinja.jp/sanjamatsuri/schedule/
Further reading:
GALLERY: Sanja Matsuri 2017, Asakusa, Tokyo
Have you ever been to the Sanja Matsuri? Heading to it in 2018? Let us know in the comments.
See us on ...
Twitter and Facebook: @citycostjapan
Instagram: @city_cost_japan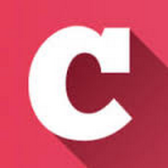 A Q&A and blogging community about life in Japan (plus a load of life-in-Japan stats!). Get your questions answered, share your experience! | Inquiry -> KyodoNewsDigital International Media | Tokyo, Japan | +81 3 6252 6402
---