Jul 28, 2017


Everytime I see Mount Fuji, I unconsciously gasp and marvel at the beauty and grandeur (and that almost perfect symmetry). "Magical (if frustratingly elusive)" is the only way I can describe this symbol of Japan. Granted, Mount Fuji stands at 3776 meters, spans the border between Shizuoka Prefecture and Yamanashi Prefecture and can be seen from hundreds of kilometers away, but there is something really special about seeing this mountain up close. So where can we go around the area to bask in the glory of this iconic peak (other than top the top)? We take a look at a number of best Mt. Fuji view points and how much it costs to get from Tokyo to the Mt. Fuji area.

Where To Go?
The places to get a complete (should the clouds be on side) view of Mount Fuji are numerous but there are a few choice destinations where you can get a unobstructed view of her, at almost any time of the year.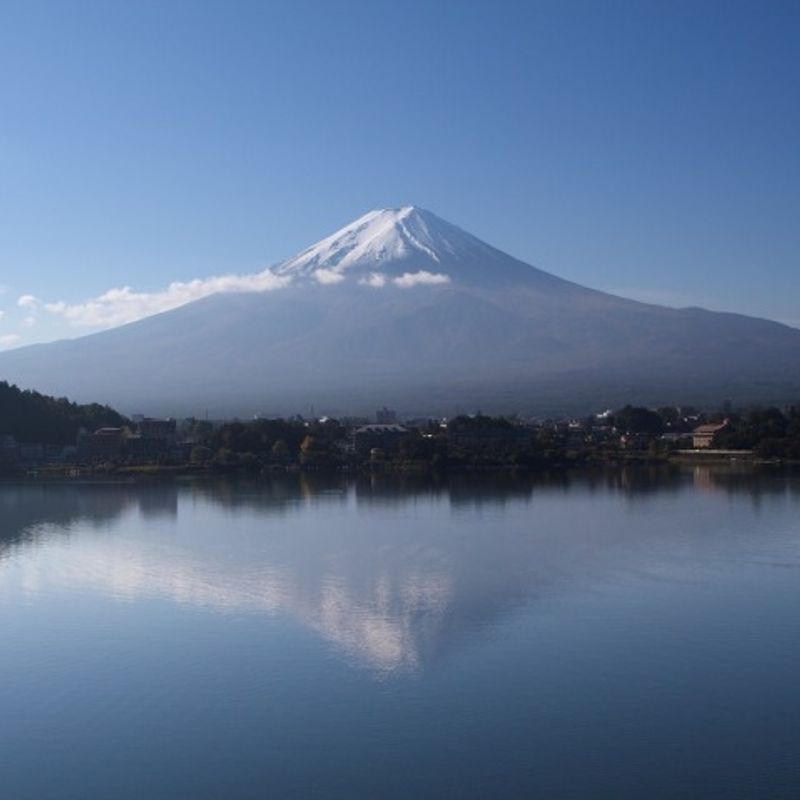 Northern shore of Kawaguchiko
There are five lakes surrounding Mt. Fuji. The second largest lake, and the one with the most development, being Kawaguchiko (河口湖). Kawaguchiko is also an onsen town, filled with hotels and ryokan boasting splendid views of the mountain as you soak your fatigue away.
Mt. Fuji's near perfect symmetrical cone is probably best viewed from this Kawaguchiko location. Many artists and photographers have captured the mountain's beauty from here, including Japanese ukiyo-e artist Hokusai who included perspectives from here in his "36 views of Mount Fuji". On a perfect day, you can even see the reflection of the mountain on the clear, still lake.
During the sakura season (cherry blossom) from late April to late May, the Fuji Shibazakura Festival is held at the lakeside Motosuko Resort. This festival, affectionately known as the Great Pink Moss, features about 80,000 blooming shibazakura, filling about six acres of the lake site with beautiful flowers in different shades of pink.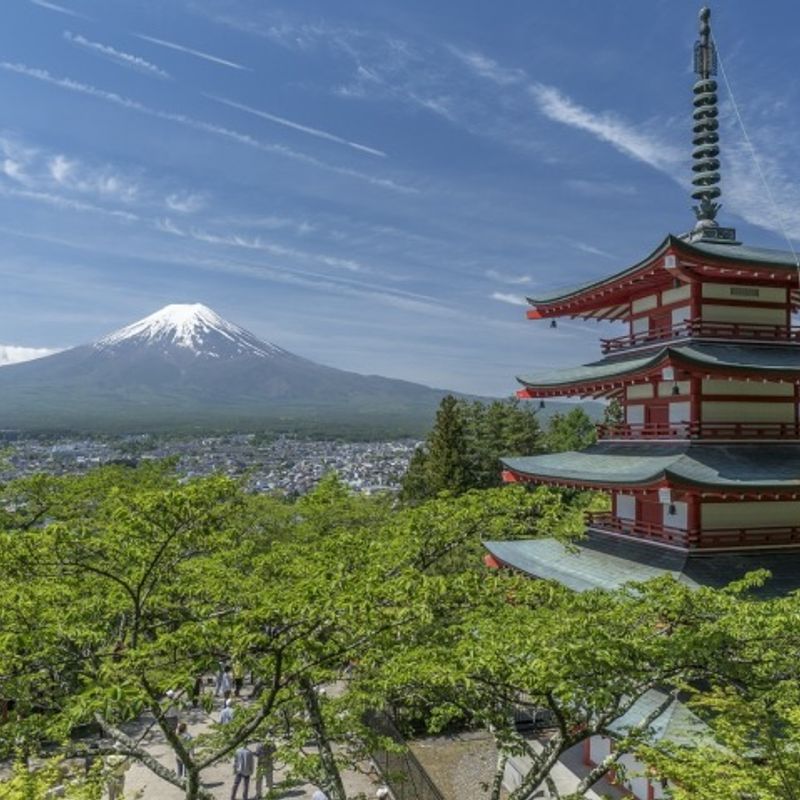 Arakura Sengen Shrine - Chureito Pagoda
When you do see pictures of blooming sakura around a pagoda with Mount Fuji in the background, that picture is most likely taken at the Chureito Pagoda (忠霊塔). In fact such is the overwhelmingly stereotypical Japanese nature of this scene, this expat for some time thought that the library of images of which it has generated had all been photo shopped!

Chureito's five-storied pagoda sits on the mountain side ground of Arakura Sengen Shrine. The shrine was originally built in 1963 as peace memorial and sees many visitors throughout the year. It is also one of the infamous places to view cherry blossom in full bloom as well as the red leaves during fall / autumn.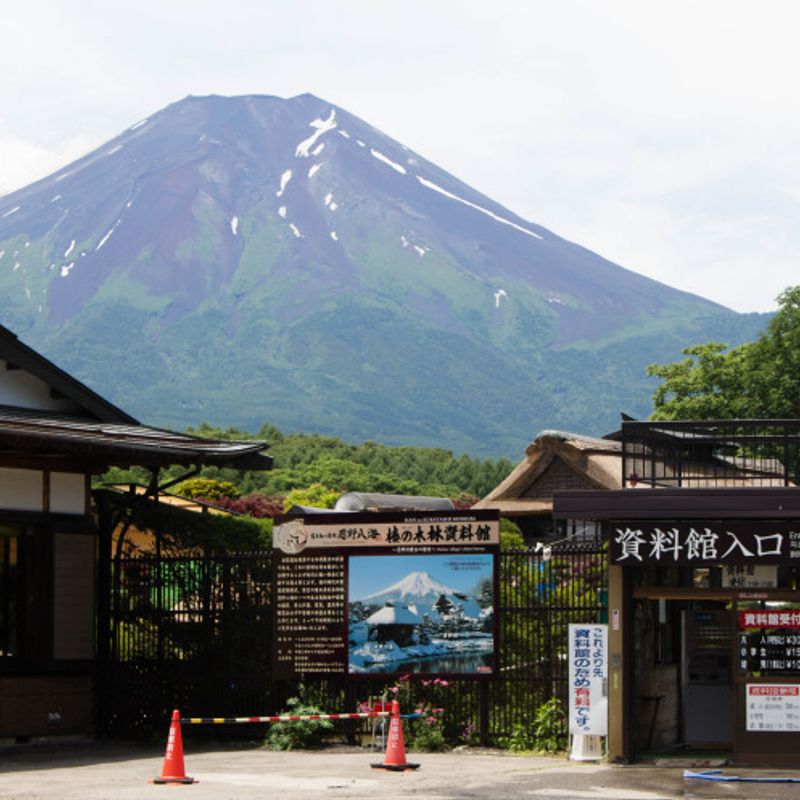 Oshino Hakkai
Another great Mt. Fuji viewing spot. Located in the village Oshino at the foot of Mount Fuji, sit eight pools of crystal clear spring water. The water originated from melted snow at the peak, filtered down the mountain through numerous layers of porous lava stones in a process that takes up to 80 years. The water is so fresh and clear that you can even drink it directly from one of the ponds.

Interestingly the village of Oshino Hakkai sits between Kawaguchiko and Yamanakako, on top of a 6th lake that apparently dried out a couple of centuries ago.
These days, this village can be busy with tourists. It has an abundance of restaurants, souvenir shops, and small businesses selling local fare such as pickles, sweets and vegetables. Surrounding the biggest pond there is even a small open air museum, featuring traditional Japanese farm life, dated household items as well as Samurai armour and ancient weapons.
Mount Fuji 5th Station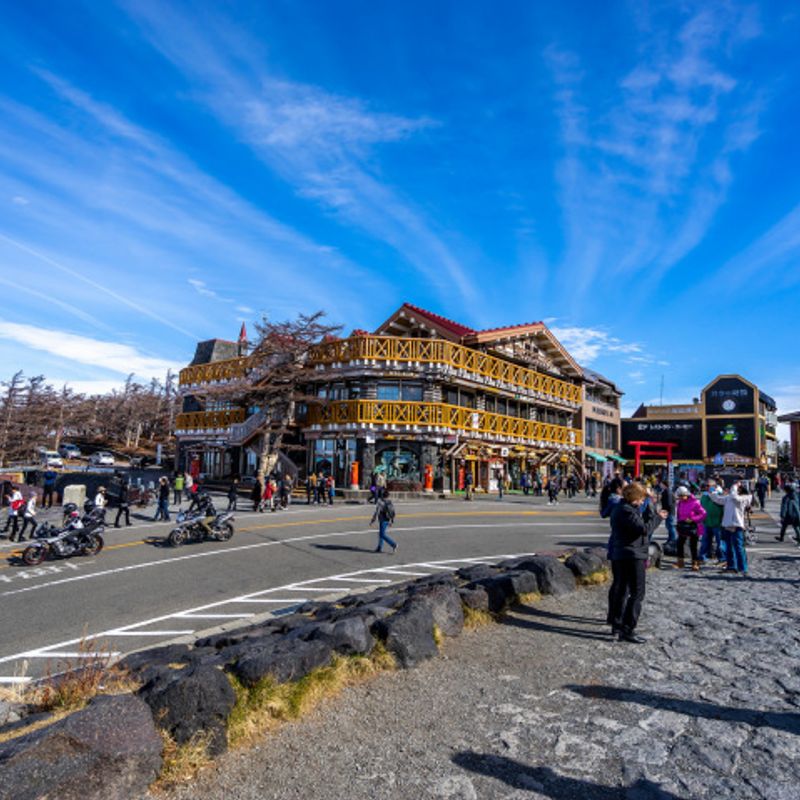 At 2,500 m above sea level Mount Fuji 5th Station is perhaps the last place on the mountain to get a spectacular view of the peak. This is also the last place you can leisurely enjoy being on the slopes of Mt. Fuji before you hit the trails to ascend to the summit. There is a famous shrine at the 5th station called Murayama Sengen Jinja. This 1000 year old shrine has been known to bless worshippers with good things in life and a fantastic hanami site during the cherry blossom season (yes, even at this lofty altitude).
On a cloudy day, you will be able to find yourself in the midst of the clouds at this station. At such an elevation, it can get quite chilly hence the abundance of warm cafes for people to just hang out and enjoy the view (if the clouds play their part).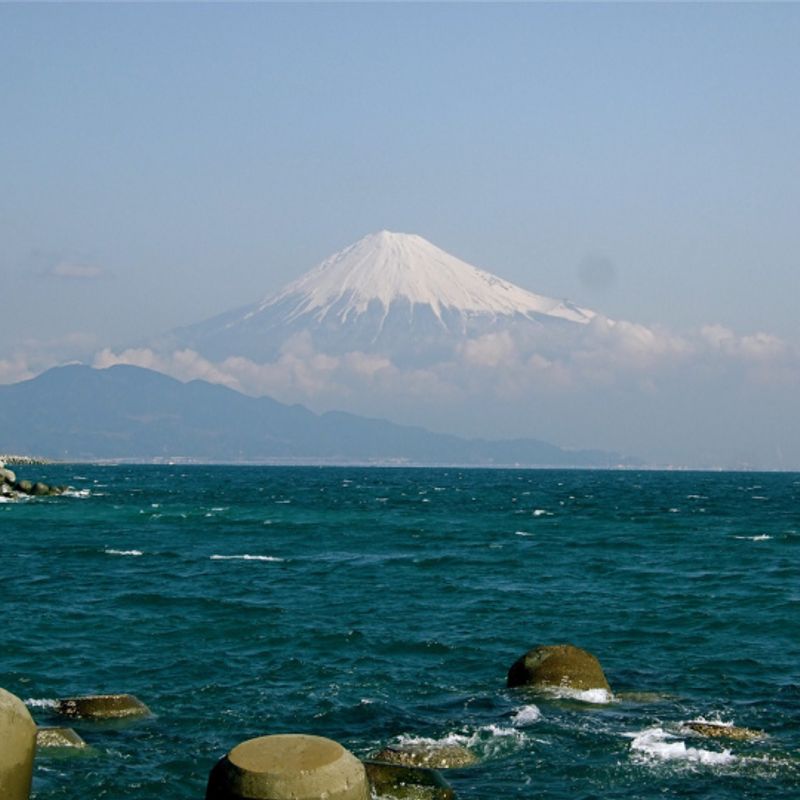 Miho Beach
There are two things Miho Beach and Miho Peninsula are known for; pine trees and an amazing, complete view of Mount Fuji. This location is often in the conversation about the "most beautiful views in Japan".
The pebble filled beach runs for about three kilometers along the eastern coast of the Miho Peninsula, a smallish protrusion of land not far from Shizuoka City. Travellers can walk or cycle along a trail that runs alongside the beach. On good days (i.e. very warm ones), you can also swim off the northern side of the peninsular, all while admiring the beauty of Mount Fuji.
How to get from Tokyo to the Mt. Fuji area. How much does it cost?
Regardless of which destination you ultimately pick for your view to Mt. Fuji, the first leg of the trip will be to get to the foot of the mountain. You can either approach the mountain from Shizuoka Prefecture or Yamanashi Prefecture depending on your choice of final destination.
In Shizuoka Prefecture, you will need to alight at Fuji Station, the interchange station for the JR Tokaido Main Line and the JR Minobu Line.
In Yamanashi Prefecture, you would need to alight at Otsuki Station, the interchange station for the JR Chuo Main Line and the Fujikyuko Line.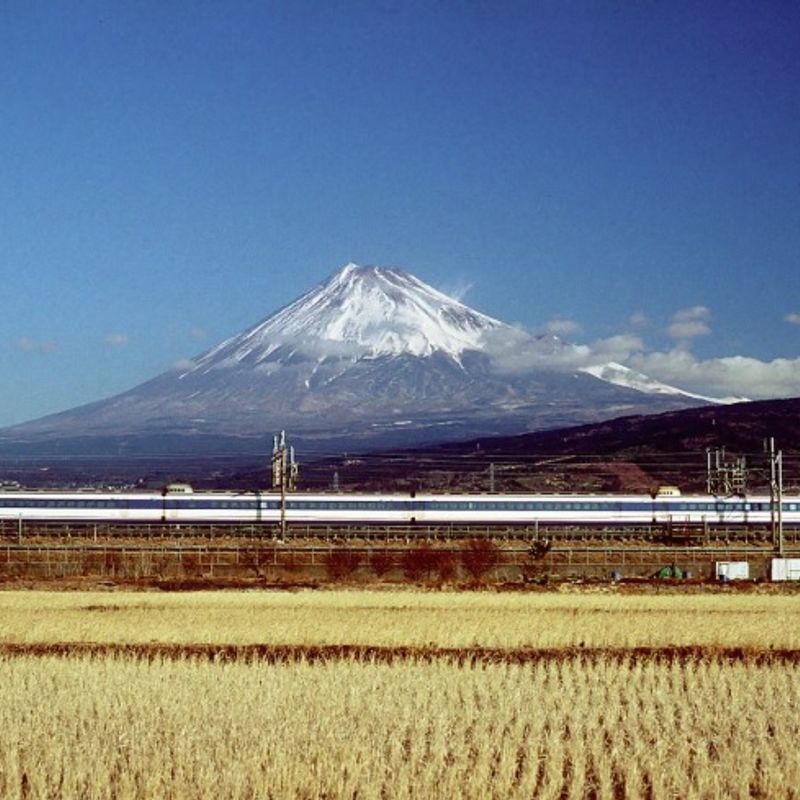 Shinkansen to the Mt. Fuji area
Making use of the Shinkansen is the fastest way of getting between Tokyo and the Mt. Fuji area. Journey times aer approximately 105 minutes on the Kodama Shinkansen and 89 minutes on the Hikari Shinkansen both departing Tokyo Station.
However, the Shinkansen can only really be sensibly employed on journeys to Fuji Station in Shizuoka but even then a transfer is required. Otsuki station in Yamanashi is not a practical destination for those wishing to use this form of transport.
Table detailing how much the Shinkansen with a regular trains costs from Tokyo Station to Fuji Station in Shizuoka.(For both Kodama and Hikara the costs are the same.)
For Fuji Station alight at Mishima station to transfer to the JR Tokaido Main line towards Shizouka.
| | | |
| --- | --- | --- |
| Unreserved seats | Reserved seats | Green car |
| 7,070 yen | 5,040 yen | 4,320 yen |










Local trains from Tokyo to the Mt. Fuji area
The nearest airport to Mt. Fuji is the Mt. Fuji Shizuoka airport. Despite being "regional" airport, it is still over 80 km from the mountain itself and hence not that much closer than the Tokyo airports. As a result, flying to Mount Fuji is not a sensible option if you are departing from Tokyo.
Meanwhile, if you are on a plane, expecting to fly past mount Fuji, Japan Airlines actually has a dedicated web page to help you decide which side of the flight you should be seated to get the best aerial view of the mountain.
Local trains from Tokyo to the Mt. Fuji area
If you prefer to forgo the Shinkansen for a scenic train ride all the way to Fuji, there are a few options you can take in planning your trip, even though some of these options will make more sense than others.
From Tokyo Station To Fuji Station in Shizuoka: "how to" and "how much"
Options
Route
Time
Cost
JR Tokaido Line
JR Tokaido Line from Tokyo Station to Fuji
145 mins

2590 yen

(+980 yen for Green Car)

Limited Express Asagiri

(Romance Car)

Romance Car from Shinjuku station to Gotmeba,

JR Gotemba line to Numazu and finally JR Tokaido lline to Fuji

173 mins
3450 yen
Limited Express Odoriko to Mishima

Limited Express Odoriko to Mishima,

JR Tokaido for Shimada to Fuji

132 mins

2590 yen

(+1730 yen Reserved seats)

(+1410 yen Unreserved seats)

Limited Express Odoriko to Atami

Limited Express odoriko to Atami,

JR Tokaido for Shimada to Fuji

145 mins

2590 yen

(+ 3780 yen Green Car)

(+ 2040 yen Reserved seats)
Those travellers who are going to Kawaguchiko, Oshino Hakkai and the Fuji 5th station, will need to transfer at Fuji Station to Kawaguchiko Station, and then to the Fujikyuko bus.
For Arakura Shrine and the Chureito Pagoda, transfer to the Fujikyu Railway from Kawaguchiko Station and then walk 10 minutes from Shimo-Yoshida Station.
For Miho beach, take the JR Tokaido line to Shimizu Station and then transfer to the Shizutetsu Justline bus.
To Otsuki station in Yamanashi: "how to" and "how much"
Options
Time
Cost

JR Chuo Line for Ome to Mitaka,

Limited Express Kaiji to Otsuki

82 mins

1490 yen

(+1960 yen Green car)

(+1250 yen Reserved seats)

(+930 yen Unreserved seats)

JR Chuo Line for Kofu

(Some may require a transfer at Takao)

95 mins
1490 yen
Those going to Arakura Sengen Shrine and Chureito Pagoda from Otsuki Station, can transfer to the Fujikyu Railway to Shimo-Yoshida Station and take a 10 minute walk to the view point from there.
Buses from Tokyo to the Mt. Fuji area
During certain times of the year or maybe even depending on time of day, it may be worth considering taking a bus from Tokyo to the Mount Fuji area. Buses go direct from Shinjuku Station or Shibuya Station in Tokyo to Kawaguchiko Station and take about 2 to 2.5 hours depending on traffic.
Do note that there are no bus services after 21:00 from Shibuya and after 23:00 from Shinjuku.
For the various destinations around Mount Fuji, you can use the Fujitozan bus service or the Fujikyuko tourist buses from Kawaguchiko station.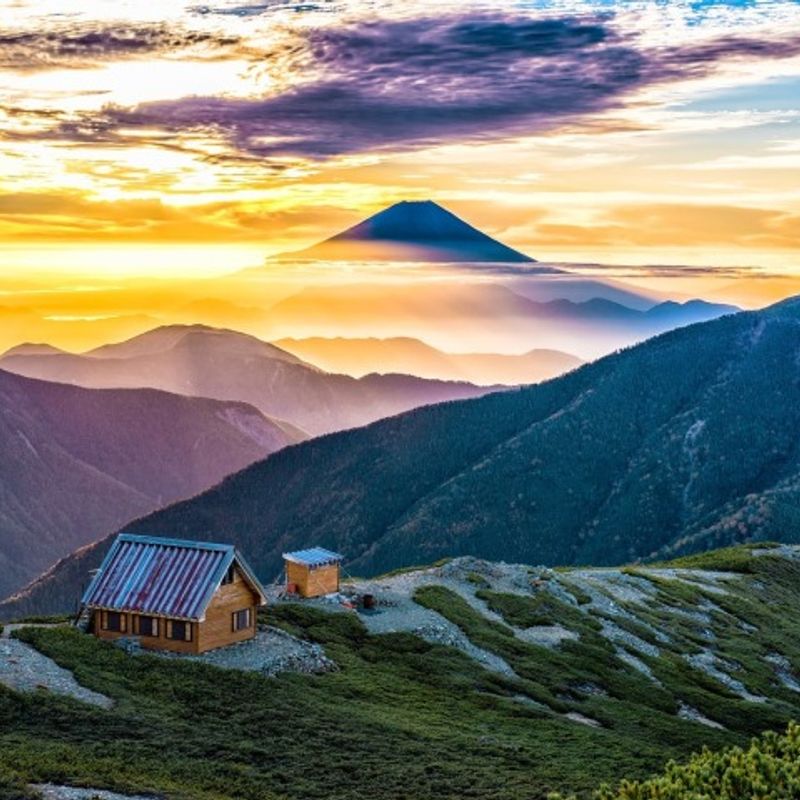 Driving to the Mt. Fuji area








When trying to navigate the rural areas around Mount Fuji, some travellers might find it easier to drive.
If you are driving from Tokyo to the Mt. Fuji area, you can take the Tomei Expressway and exit at either the Kawaguchiko Exit or the Fujiyoshida Exit. However, do note that the Tomei can get rather crowded, especially during a long weekend or Golden
Week and other national holidays. In this case, the Chuo Expressway could work as a better alternative. If taking the Chuo Expressway, exit at Kawaguchi for the easiest access to the view points listed above.
Driving to Mt. Fuji will take about two hours one way depending on traffic and weather conditions. Expressway tolls will cost around 2,500 yen one way. (Source Nexco). For renting a small car from Tokyo, do set aside about 10,000 yen to 15,000 yen for a 2-day rental with a pick up / drop off in Tokyo itself.
If driving such a distance doesn't appeal (or indeed negotiating your way out of Tokyo), you can always take public transport to Kawaguchiko or Fujiyoshida from Tokyo, then rent a car from there.
What to you think are the best places to view Mt. Fuji from the area around the mountain? How do you get there and how much does it cost? Let us know in the comments.
See us on:
Twitter : @City_Cost_Japan
Facebook: @citycostjapan
Images:
Oshino Hakkai: John Carkeet Flickr License
Mt. Fuji 5th Station: Benny Ang Flickr License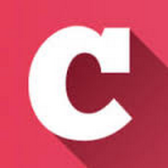 A Q&A and blogging community about life in Japan (plus a load of life-in-Japan stats!). Get your questions answered, share your experience! | Inquiry -> KyodoNewsDigital International Media | Tokyo, Japan | +81 3 6252 6402
---