Feb 2, 2017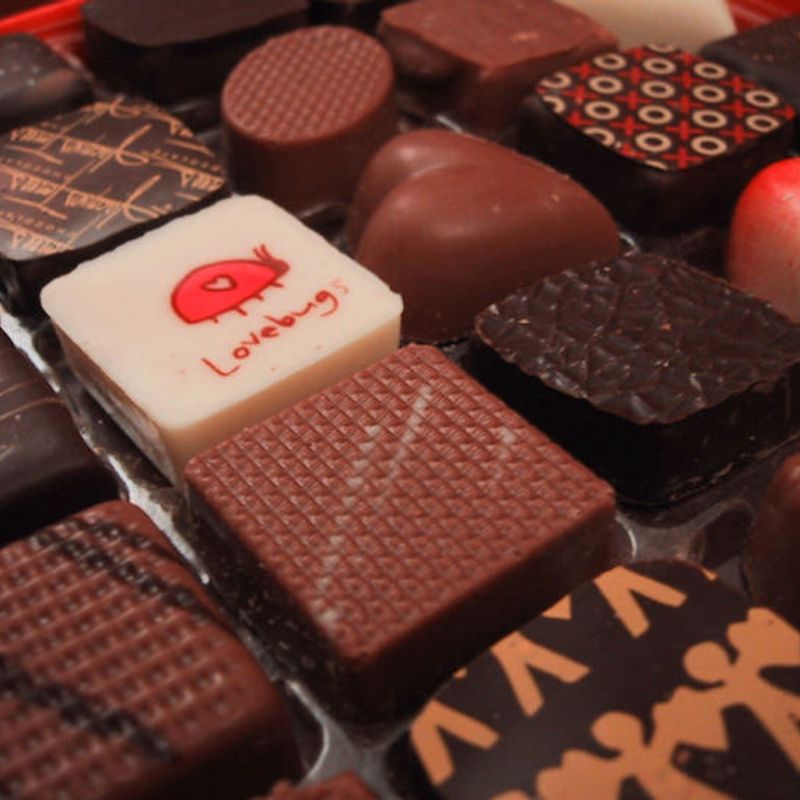 Just like the fashion weeks for fashion buyers, the season for buying chocolate in Japan is well and truly here. Regardless of how many special individuals you need to get chocolates for this year, most people would perhaps want the recipient to be impressed. So here you go, a Chocolate Buying Guide for Japan 2017, making sure you know what's best and where to find it!
Chocolate Trends for 2017
... the factors for a trendy piece of chocolate are: healthy, indulgent, premium and sustainable.
Of course there is such a thing as chocolate trends and I am not referring to the flavor of the chocolates. According research findings from the annual 'Cargill Cocoa & Chocolate Trend Report', the 2017 trend for chocolate mirrors that of gourmet food. With mass production being the norm, the factors for a trendy piece of chocolate are: healthy, indulgent, premium and sustainable.
These are the ways chocolate makers are inclined to differentiate themselves so they can earn that extra margin in a very saturated market.
Healthy - Being delicious and healthy has already been a phenomenon in the food industry. With the influx of issues relating to sugar, obesity and diabetes, chocolate is under massive attack from advocates of a leaner and healthier lifestyle. So in order to escape being categorized as a candy snack, chocolate makers are trying many different ways to make their chocolate healthier.
Indulgent - So it is no longer true that an indulgent chocolate is one that is rich and sweet.

Apparently the indulgent chocolate of today is one that attempts to infuse savory elements. Keep an open mind for bacon chocolate, chili chocolate and other savory flavors that might strike us as odd.
Premium - Of course, being premium is always the key to charge more for the same piece of chocolate. I think apart from having a premium point of sale and luxurious packaging, chocolate makers are trying different ways to up their market value.
At least for this year, "provenance", "origins", "handmade" or "artisanal" are the keywords to look out for when you are selecting your chocolates.
Sustainable - We've seen this word a lot in the food industry of late; sustainable fishing, farming and the myriad of ways those in the food industry try to assure consumers that they are not eating their way to the end of the world. Chocolate too has jumped on board. "Sustainable and clean" they say. 'Clean' has also transformed itself into clear and transparent packaging for fair trade chocolates.
These are the trends, so which brands are churning out these trendy chocolates in Japan?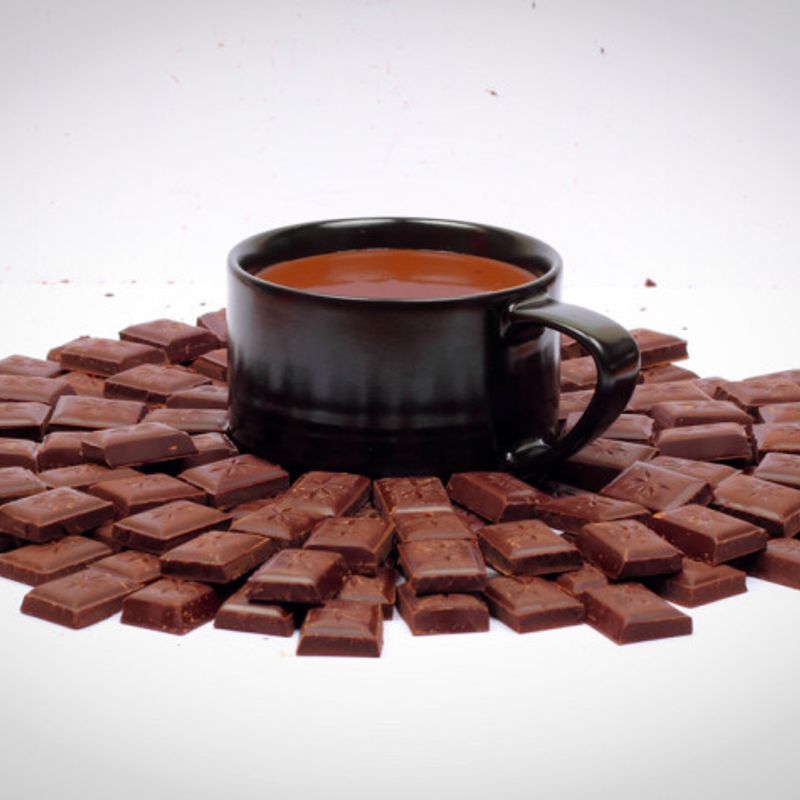 Top chocolatiers in Japan
Remember, not all chocolates are created equal. That is why some chocolates tend to cost a lot more than others. Before the recipient of your affection-in-the-from-of chocolate can get a taste, you may want to impress them with a brand name that spells out your heart and investment for their favor!
According to The Japan Times as well as polls conducted over at 'goo ranking' / goo ランキング, some of the best / most popular chocolate brands in Japan in 2016 were as follows (in no particular order). We also list some of the these chocolate brand's locations in Tokyo, just to get things started.
Chocolates here are handcrafted in an atelier close to their point of sale in this luxurious department store. They aim to ensure the chocolates are always kept in the right humidity and temperature such that they melt properly in your mouth, releasing their signature fragrance.
| | |
| --- | --- |
| Location | Ginza Wako (Annex 1F) |




It's probably safe to say any chocolate lover in Japan would know Godiva. A household name for gourmet chocolates, one can always count on this brand to impress your special one, especially if they are Japanese.
| | |
| --- | --- |
| Locations | Ebisu, Shibuya, Shinjuku, Harajuku, Meguro, Shinagawa, Ginza, Nihonbashi, Asakusa |
Started 3 years after the French Revolution, originally as a confectioner making sugar based confectionery for the Royal Family, Demel has continued to make sweets enjoyed by people all over the world.
| | |
| --- | --- |
| Locations | Matsuya Ginza, Tobu Ikebukuro, Isetan Shinjuku, Mitsukoshi Nihonbashi, Takashimaya Nihonbashi, Takashimaya Shinjuku, Takashimaya Tamagawa |
The brainchild of champion barista Paul Basset and celebrated Japanese chocolatier Hironobu Tsujiguchi. This mash up of two cultures produces top grade chocolate varieties that have won them multiple awards for the past few years.

| | |
| --- | --- |
| Location | Ginza Hosono Bldg 1F, Hikarie Shibuya |















The chocolate from this chocolatier is as rich as the shop's history. Known for their variety of interesting flavors, they are definitely conscious of trends.
| | |
| --- | --- |
| Locations | Kioicho, Isetan Shinjuku, Isetan Tachikawa, Mitsukoshi Ginza, Mitsukoshi Nihonbashi, Tokyu Shibuya, Tokyu Futako Tamagawa, Daimaru Tokyo, Seibu Ikebukuro, Kugahara Factory Shop |










The architect of beautiful and tasty chocolate, this chocolatier is already the symbol of chic. This year, they have invited their chief chocolatier Nicolas Croisette to Tokyo to introduce his new Valentines Collection.
| | |
| --- | --- |
| Locations | Aoyama, Ginza, Marunouchi, Roppongi Hills |
This famous resident of the Jiyugaoka area has taken the chocolate scene by storm. Opened by award winning pastry chef Hironobu Tsujiguchi, himself the child of a sweets artisan. The secluded Mont St Clair shop has seen visitors come from all over the world to just have a taste of his wonderful creations.
Known as the Picasso of the patisserie world, Chef Pierre Hermé has long led the chocolate industry in the consistent creation of new sweets that continue to satisfy the most discerning of chocolate lovers.

| | |
| --- | --- |
| Locations | Aoyama, Isetan Shinjuku, Mitsukoshi Nihonbashi, Seibu Shibuya, Daimaru Tokyo, Seibu Ikebukuro, Tokyu Futako Tamagawa, Shibuya Hikarie, Matsuya Ginza, Hotel New Otani |
Pierre Marcolini started his career in many a famous chocolatier before going independent in 1984. Since then, he has won multiple international awards and is now perhaps the default name in high-end Belgian chocolate. Marcolini is committed to sourcing the best beans and making his chocolate from scratch, a rare practice in today's chocolate world.

| | |
| --- | --- |
| Locations | Hikarie Shibuya, Mitsukoshi Nihonbashi, Higashi-Ginza |
The chocolates here are made from Cocoa beans from the very rare Criollo tree. They promise the highest quality chocolate with a signature taste and aroma that is hard to forget.

| | |
| --- | --- |
| Location | Takashimaya Nihonbashi |
Originally a cake and pudding artisan, Morozoff has since put their knowledge of making fine sweets to making the highest quality chocolates. Their traditional chocolate recipes are derived from the best original ingredients, carefully blended and formulated.
Jean-Paul Hévin has come a long way in his career. After his apprenticeship with Michelin rated chef Joël Robuchon, he went on to focus his chocolate making to satisfy the strict demands of Japan's chocolate lovers. "Chocolate is his life.", Hevin once said, and he promises to use only the best ingredients to make the best chocolates, in revolutionary flavors.

| | |
| --- | --- |
| Locations | Omotesandō Hills, Tokyo Midtown, Isetan Shinjuku |
Spain was the country that introduced Cacao beans to the rest of Europe. Cacao Sampaka has taken advantage of the long lineage of chocolate in the country to educate consumers about fine chocolate making. They have arguably produced some of the most interesting chocolates for the Japanese market.

| | |
| --- | --- |
| Location | Marunouchi Brick Square 1F |
Started in 1836, this brand has come a long way and is now arguably the chocolate most synonymous with Switzerland. Famous for their variety of truffles, it's easy for any chocolate buyers to pick and choose the right gift even for the most fussy chocolate lover.
| | |
| --- | --- |
| Locations | Ginza, Omotesandō, Shibuya, Jiyūgaoka, Kichijōji, Tachikawa, Kitasenju |






One of the most popular brands on the 'goo ranking' was Royce coming out of Hokkaido. Royce has been living up to their promise of making real good chocolate since they started in 1983. This Japanese brand is constantly experimenting and acquiring the best techniques to make world class chocolates that would make Hokkaido proud. Particularly well known for their 'nama' (raw/fresh) chocolates.
| | |
| --- | --- |
| Locations (all Hokkaido, but shopping available online) | Sapporo Marui Imai, Sapporo Daimaru, New Chitose Airport, among others |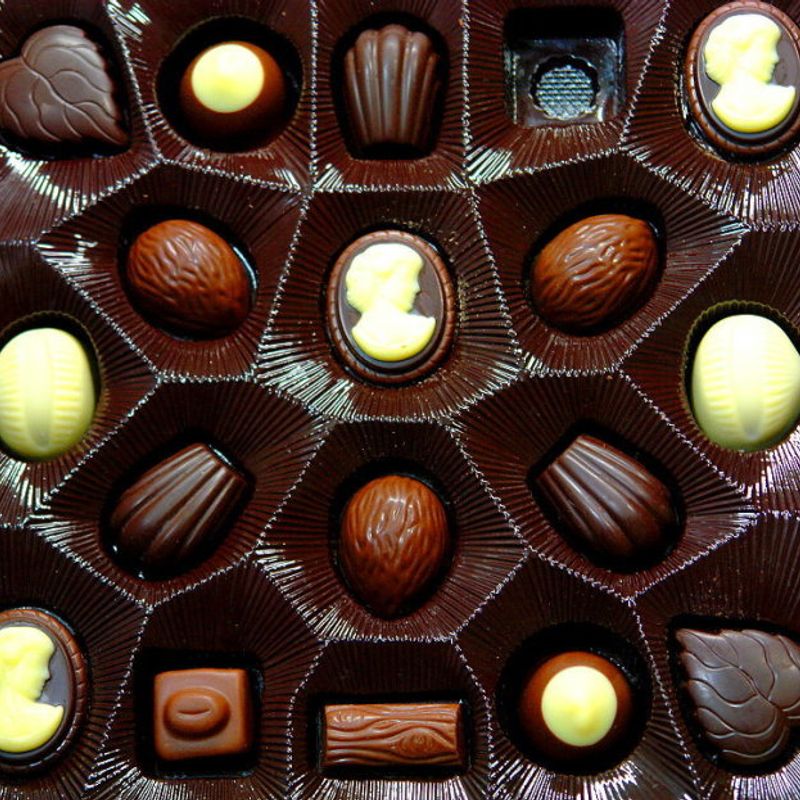 Best places to shop for chocolates this Valentine's Day in Japan?




Fairs, events, and extravaganzas in Tokyo ...
Not just Tokyo, but any department store in Japan worth its salt will be laying on some Valentine's Day chocolate collections to facilitate customers and make mouths and eyes moist in 2017. We list-up some of the Valentine's events and collections among Tokyo's heavy hitters.
Amour du Chocolat! ( アムール・デュ・ショコラ) - Shinjuku Takashimaya
Featuring brands making a first appearance in Japan, together with limited edition specials, Takashimaya's Amour du Chocolat! promises a veritable chocolate fest with some 100 different flavors on offer.
Visitors will also have the chance to dabble in some chocolate tasting at the 1粒ショコラショップ which will have bites from the likes of DelRay and DEBAILLEUL (among 20 chocolate brands in total), giving nibblers the chance to taste from some 60 varieties.
Another moreish limited-edition looks to be the 堂島プリンスロール・オン・ソフトクリーム (Dōjima Prince Roll On Soft Cream); an ice cream concoction based on the classic roll cake from Moncher, with a slice of Dōjima Spring Roll as a topping.
Amour du Chocolat! will also see Japan's first チョコレート小籠包 (chocolate dim-sum) from Taiwan restaurant, Din Tai Fung. Yes, it's a dim-sum filled with chocolate, and steamed!
Salon du Chocolat ( サロン・デュ・ショコラ2017) - Tokyo International Forum
OK, so while not a department store event, Salon du Chocolat looks like a must visit.
Born in Paris, France, chocolate festival Salon du Chocolat arrives on these shores for a kind of Valentine's tour with a stop at Yūrakuchō's Tokyo International Forum.
The theme for this, the 15th Salon du Chocolat is 'LaLaLa ChocoLat!'. Organisers are hoping to create a space in which visitors can bask in a world full of happiness, created by chocolate. This 'world' will bring together around 100 chocolate brands from 17 countries, tended to by some 70 chefs. All of this requires space with Salon du Chocolat 2017 moving from Shinjuku to Tokyo International Forum and thus expanding to a size of 5,000 m/sq.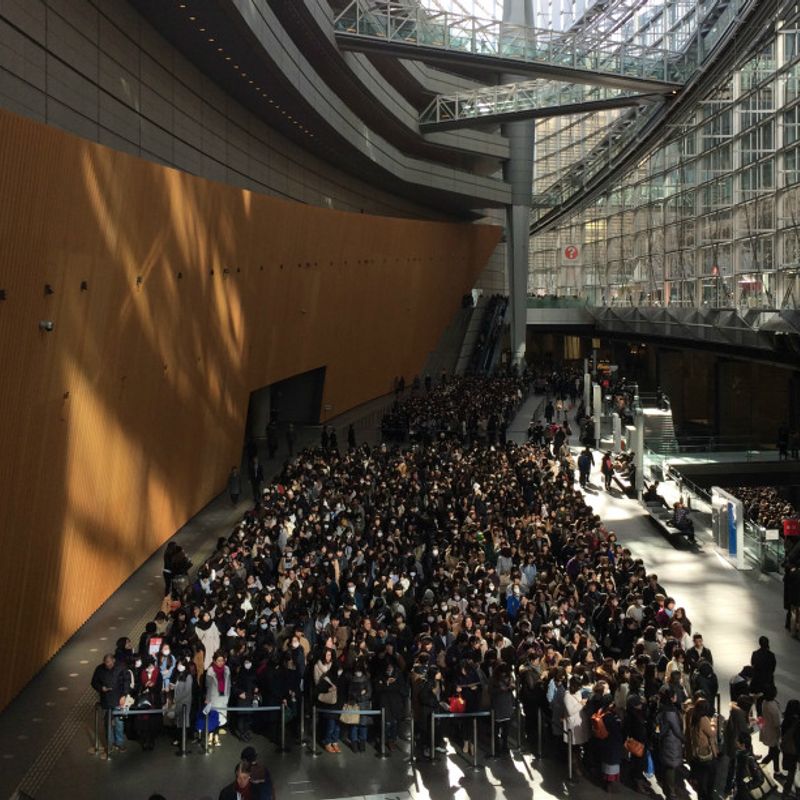 (Opening day of Salon du Chocolat 2017 at the Tokyo International Forum)
Chocolate Paradise (チョコレートパラダイス) - Seibu Ikebukuro
A mixture of domestic and overseas patissier and chocolatier brands will be gathered at Seibu Department store in Ikebukuro. Expect newcomers to the chocolate scene as well as plenty of offerings limited to this location and season. Chocolate indulgence looks to come in a variety of forms here, from what appears to be chocolate make-up kits through to boxes of chocolates that take you on a 'cruise' of world flavors.
Chocolat Marche (ショコラマルシェ) - Tobu Ikebukuro
Staying in Ikebukuro, Tobu is putting a full some lineup of all things chocolate from luxury, through cute, to chocolate-based desserts. In amongst all of this will be a number of new brands. With Queen's Collection Chocolate cafe, Valentine's shoppers will be able to sip themselves a hot chocolate while they peruse. 'Variety looks' to be the key word here.
Chocolate ✕ Chocolate (ショコラ ✕ ショコラ) - Odakyū
There looks to be plenty going on at the this event in Shinjuku's Odakyū Department store. Sweets art, limited edition creations, and a chance to make chocolate like they used to do in Mesoamerica (roughly that bit of land that runs down central Mexico as far as northern Costa Rica). Lovers of soft cream will perhaps find satisfaction at Chocolate ✕ Chocolate.
Sweets Collection (スウィーツコレクション) - Nihonbashi Mitsukoshi
The Nihonbashi branch of department store mainstay Mitsukoshi boasts the largest event/sales spaces of all the branches in Tokyo. It's this very (large) space that will be used for this year's 'Sweets Collection' Valentine's event. New faces through to established brands like Bean to Bar will make up a collection of around 110 names at Sweets Collection. This year's theme is one of travel; カカオ ジャーニー~カカオを旅する・カカオと旅する~ (Cacao Journey ~ Journey through cacao / Journey with cacao). Accordingly, Sweets Collection will give enthusiasts the chance to discover brands and tastes that would otherwise be hard to find in Japan.
Sweets Collection 2017 Ginza - Ginza Mitsukoshi
Ginza must surely rank as one of the date spots of choice for the sophisticated Tokyoite. Only fitting then that the area's landmark department store, Mitsukoshi should be laying on some Valentine's chocolate. The theme for 2017 is written in French 'tressaillir de joie' which according the event web page translates into Japanese as ワクワクする, which in turn translates into English as 'excited' or 'exciting'. It's a phrase that the organisers hope captures that frision of excitement that comes with trying to find gifts to give one's Valentine!. An impressive list of names and brands (if you know your names and brands in the chocolate business) are hawking their chocolate bites at Sweets Collection 2017.
GOGO! VALENTINE'S DAY - Shibuya Mark City
For Valentine's 2017 the people at Shibuya Mark City have teamed up with 超特急 (Chō Tokkyū / Eng. BULLET TRAIN - a Japanese boyband (Yes, we had to look them up)), to send hearts fluttering and cheer on the ladies during their Valentine's shopping. There will be 超特急 visuals and downloads available to spur on shoppers. From Feb 9 - 14 the event space in Mark City's East Mall will feature chocolate booths adorned with images of the 超特急 boys providing shoppers with the requisite photo opportunities.
What brands of chocolate in Japan do you have your eyes on this year? Where do you go to buy em? Let us know in the comments below.
See us on ...
Twitter: @City_Cost_Japan
Facebook: @citycostjapan
Photo credits:
(In order of appearance)
Flickr license
Sources: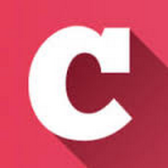 A Q&A and blogging community about life in Japan (plus a load of life-in-Japan stats!). Get your questions answered, share your experience! | Inquiry -> KyodoNewsDigital International Media | Tokyo, Japan | +81 3 6252 6402
---
2 Comments
Woah... what a list, I bet that took a few days to put together. Hooray for chocolate and bravo for this fantastic and detailed piece.

@Saitama Thanks for the kind words. Hope it helps. And yes, a second, 'Hooray!', from us for the chocolate.