Jun 17, 2017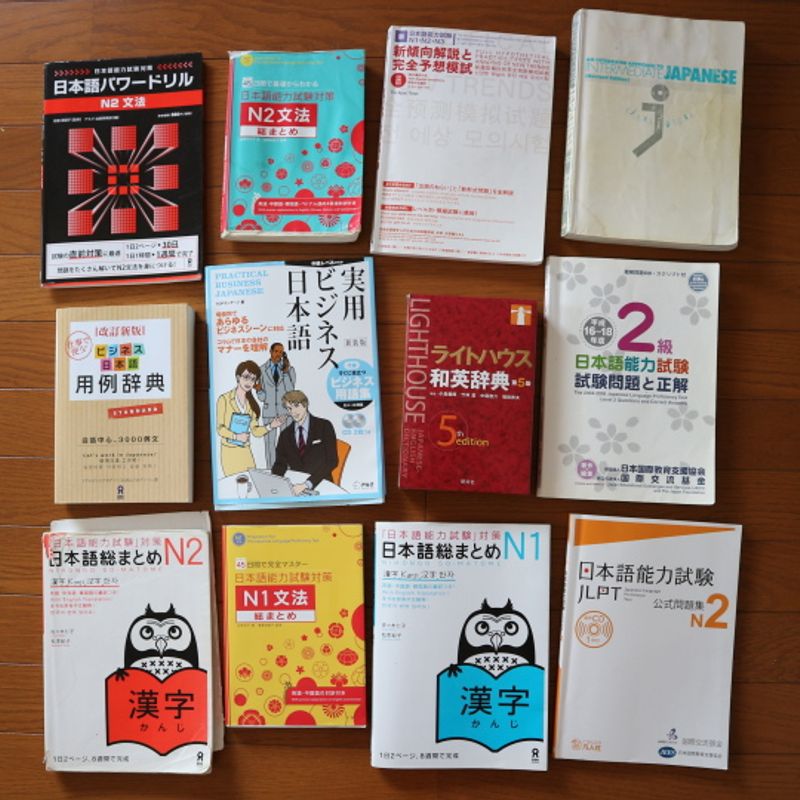 There are a library's worth of textbooks out there to help you study Japanese, and arguably, that's too many. How to choose? Which textbook format will you find the least time consuming? Should I study from a textbook that employs the use of English, or should I go 'cold turkey' and try to labour through explanations of Japanese, in Japanese? Well, honestly, we don't know, and anyone who's telling you they do know, is lying or deluded. So be wary those "best ten textbooks to help you study Japanese" lists, and approach with due caution anything with the title 'Learn Japanese in x amount of time'. What we will do instead, is simply recount, as best we can, every textbook we've used to study Japanese, ever.
Guaranteed results!

At this point a couple of things need to be stipulated about our history of studying Japanese. First of all, this isn't actually "we", it's the singular "me", to which I will refer from now on. I'm currently the holder of a JLPT N2 certificate, tucked away in a box covered in dust somewhere. I found N2 hard. So hard it took me, well let's just say more than one attempt to get it. It was my bust shot, so to speak. If I was to take the test again tomorrow, I'd fail. I never seriously bothered with N1 (although I have a textbook somewhere - more on that later). Prior to N2 I took N3 (the new version) and passed first time. Prior to that, I took the old Level 3 and passed first time. I didn't bother with Level 4 (as it was in those days). My history of studying Japanese dates back to about two months after arriving in Japan 'x' amount of years ago. For a couple of years I attended nihongo kyoushitsu once a week with some work colleagues. I then left Japan for a year, came back and started again at the nihongo kyoushitsu. At around the time a whole bunch of friends left to go back home I decided to start studying Japanese a little more seriously and aim for JLPT N2. This saw me beginning to shell out money on private classes (once a week for 'stints' of about three months) at a Japanese conversation (?) school until I finally passed N2 and slipped quietly into a state of semi-retirement in terms of studying Japanese.
*NB - I making no claims as to whether or not the books that follow are still in print. The final () in each header is the publisher.
I list the textbooks I used during that journey. Unfortunately the first three will have to be with 'borrowed' photos, as I've since thrown the books away, or sold them. I can't remember.
The early days and studying for JLPT Level 3


Minna no Nihongo (1 and 2) (3A Corporation)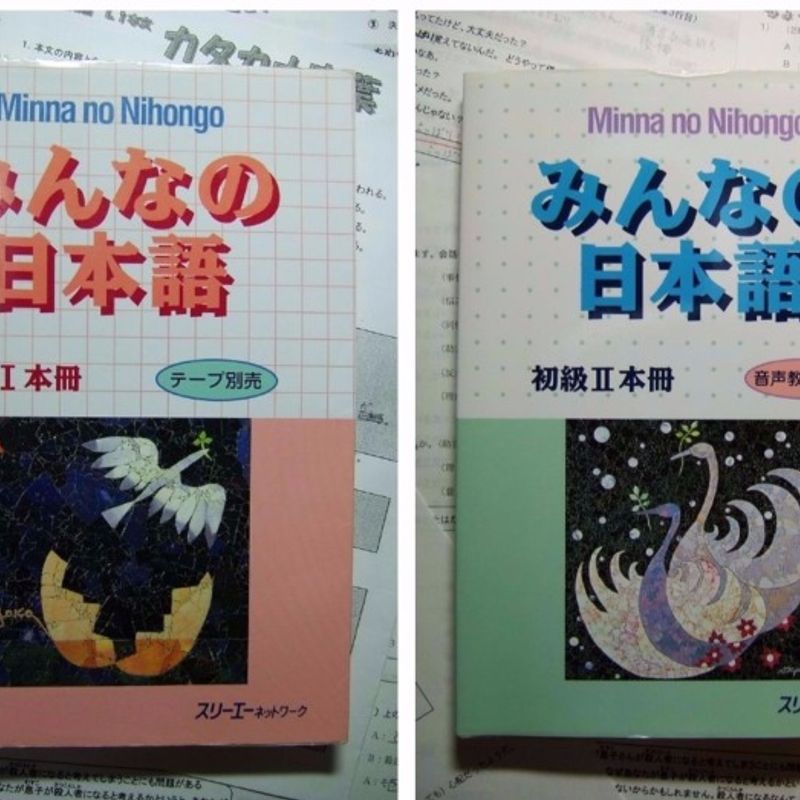 Yawn, here we go again! Yes, like most Japanese language learners I started out with the Minna no Nihongo series. Both of these book were 'completed' over the course of two years going to a Nihongo kyoushitsu about once a week.
Make no mistake, these books are dull like the dull textbooks you might have used in school at times. But damn them, they are good! As I remember, there are no explanations provided in foreign languages, so to get anything out of these books you'll need first to learn the hiragana and katakana alphabets. To get the most out of these books, you'll need a teacher, or at least someone Japanese to talk you through them.
As I remember, there were a lot of exercises to go through (tedious but useful) and there may even have been a CD. If there was, I didn't listen to it. In doing the exercises I tried to do that thing of writing them down in a notebook so as to keep my textbooks in sellable condition. I gave up in the end though.
Money spent: I can't remember how much I spent on these textbooks. Looking at the Kinokuniya (bookstore) website though, they look to be around 2,000 yen each. Total - 4,000 yen
Japanese For Busy People I (Kodansha International)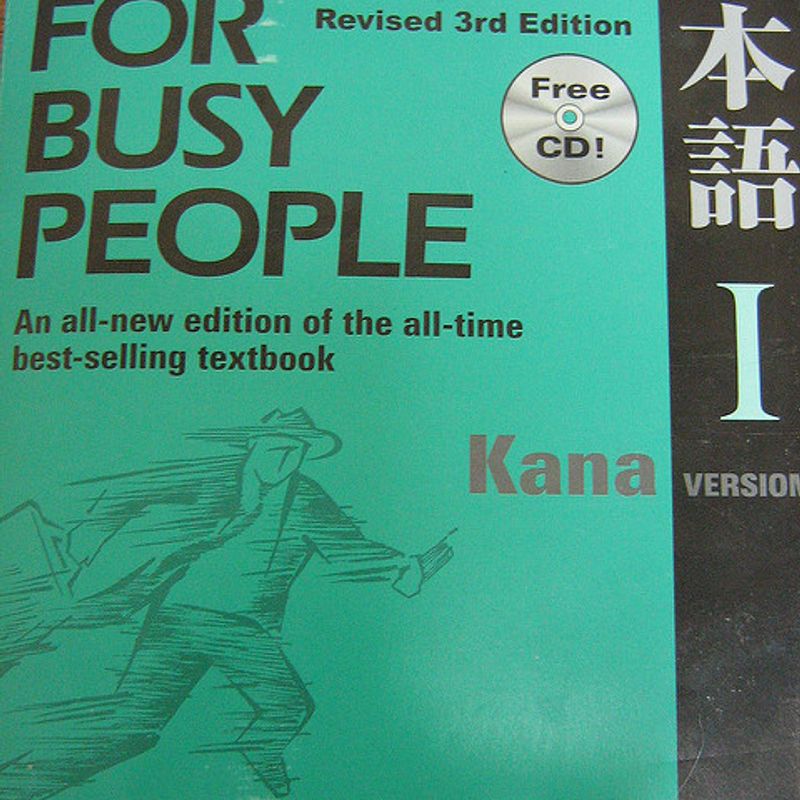 Well, here's how busy I was - I picked up a copy of Japanese For Busy People while I was bumming around the world after leaving Japan (for what turned out to be a year). I was in Australia at the time, and had a lot of 'time' on my hands. At this point I was pretty certain I would be heading back to Japan so just wanted something fairly light to keep things ticking over. In this regard, I think I was quietly pleased with Japanese For Busy People. It's certainly not a comprehensive tome but is decent enough for when most of your attention lies else where, i.e. the beach.
Money spent: Again, no copy in front of me to check but you can see previews of copies on the Kinokuniya website listed at US$ 27 which is around 3,000 yen.
Between old Level 3 and N3
After having passed the old Level 3 it came as somewhat of a disappointed to learn that I wasn't ready for N2 and would be better off trying for N3 again, this time the new and improved (i.e. harder) version.
An Integrated Approach To Intermediate Japanese (The Japan Time, Ltd. 2008)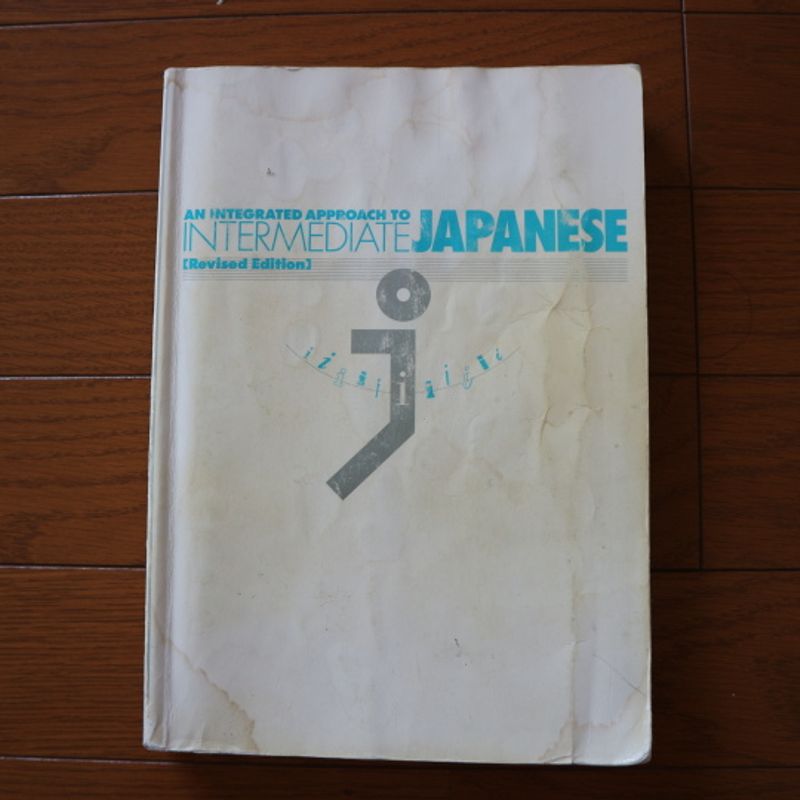 One of the best textbooks I've used for studying Japanese and a great way to start bridging that gap between Level 3 and N2. I love that unit themes are introduced in English, so you don't have to spend hours just trying to figure out what the topic is. Grammar points are explained in English and example sentence also translated. Kanji lists are provided in manageable numbers, and vocabulary where kanji is used also comes with the hiragana reading. Conversation patterns are practicable, and reading sections not too daunting or boring. The kanji reference at the back of An Integrated Approach To Intermediate Japanese was used by this learner for years. All in, I can't recommend this book enough for those who have passed N3 and are beginning their N2 journey.

Money spent: 3,456 yen and worth every, err, penny.
The New Japanese Language Proficiency Test: Levels N1, N2 & N3 - Full Hypothetical Practice Tests With Analysis Of New Trends (The Japan Times, Ltd. 2010)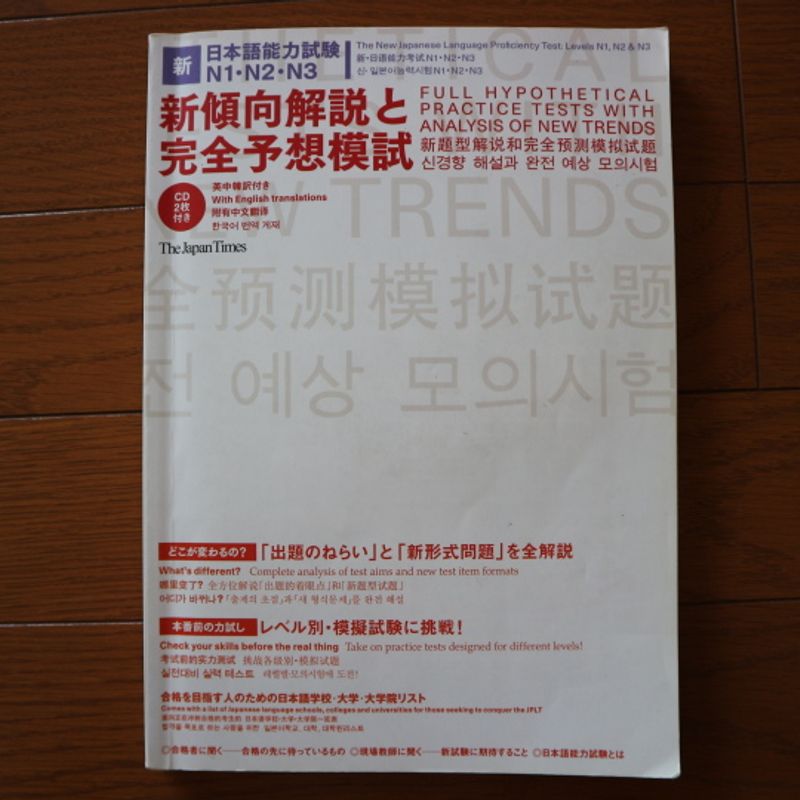 Another sterling effort from the people over at the English news rag, The New Japanese Language Proficiency Test: Levels N1, N2 & N3 is actually a good textbook to practice reading. OK, so reading about test structure and strategy might not make for the most exciting of literature, but passages are concise, you know what they are talking about already, and some of them are translated into English. I also liked (yes, past tense) that you get N3 and N2 in the same book allowing you to jump between levels depending on current mood. While the book has its fair share of ads for language schools taking up vital space, I was quietly pleased that The New Japanese Language Proficiency Test: Levels N1, N2 & N3 didn't come wrapped in one of the annoying, flappy, and environmentally irresponsible book covers that Japan is so obsessed with.
A bit of a luxury maybe, but if you're in for the long haul you've got three practice JLPTs in one edition.
Money spent: 1,600 yen
The Push for N2
It should be mentioned at this point that I was, by this time, well into private language classes with a teacher who, thankfully, wasn't into using textbooks. Instead, sensei would make custom-made question lists and passages of text to prepare me for JLPT N2. The textbooks below I bought of my own volition.
Preparation for The Japanese Language Proficiency Test (SANSHUSHA)
45日間で基礎からわかる 日本語能力試験対策N2文法総まとめ - N2文法総まとめ
Title reads - 45 nichikan de kiso kara wakaru nihongo nōryoku shiken taisaku N2 bunpō sō matome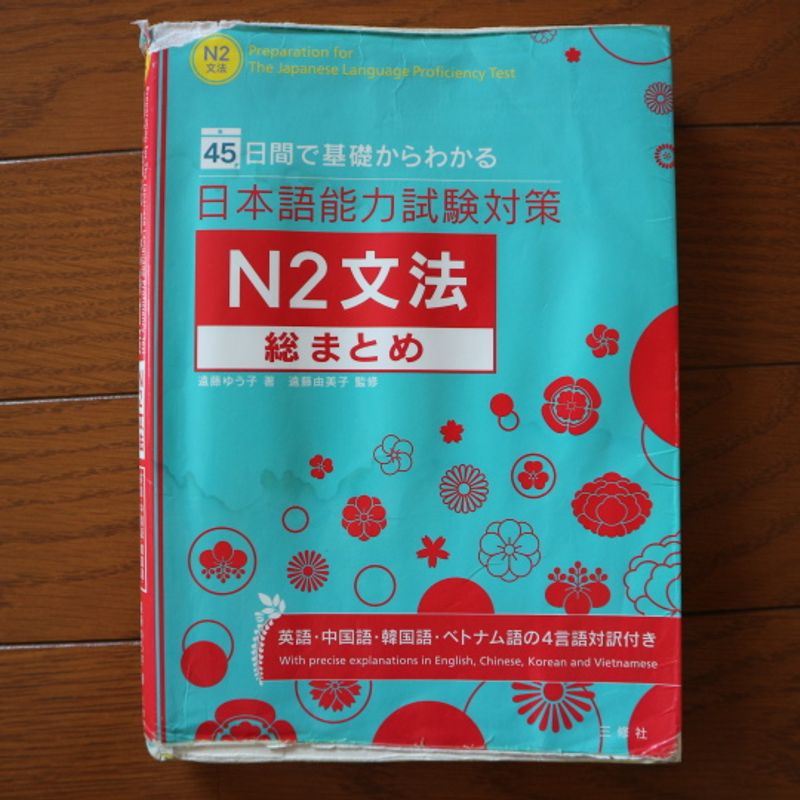 Don't be put off by the long title, this is a great little book that you can easily carry around with you and break out on the trains. It think these books focus on a variety of study aspects but the copy here is all about grammar. In preparing for grammar that would appear in N2 I put my trust in this textbook and my teacher. Neither let me down. Basically, I went through this text and did my best to memorise each and every grammar point.
What I like about 45日間で基礎からわかる 日本語能力試験対策N2文法総まとめ - N2文法総まとめ aside from how compact it is, is the concise way in which it gets to work. There's no messing about here. Grammar points are introduced, explained in English (Chinese, Korean and Vietnamese), examples given, and then there are a few test questions. All the grammar points are listed for reference in the back of the book.
A book for those that don't enjoy studying, but have to.
Money spent: 1,200 yen
日本語能力試験対策N2- 日本語総まとめ (ask Publishing)
(Nihongo nōryoku shiken taisaku N2 - Nihongo sō matome )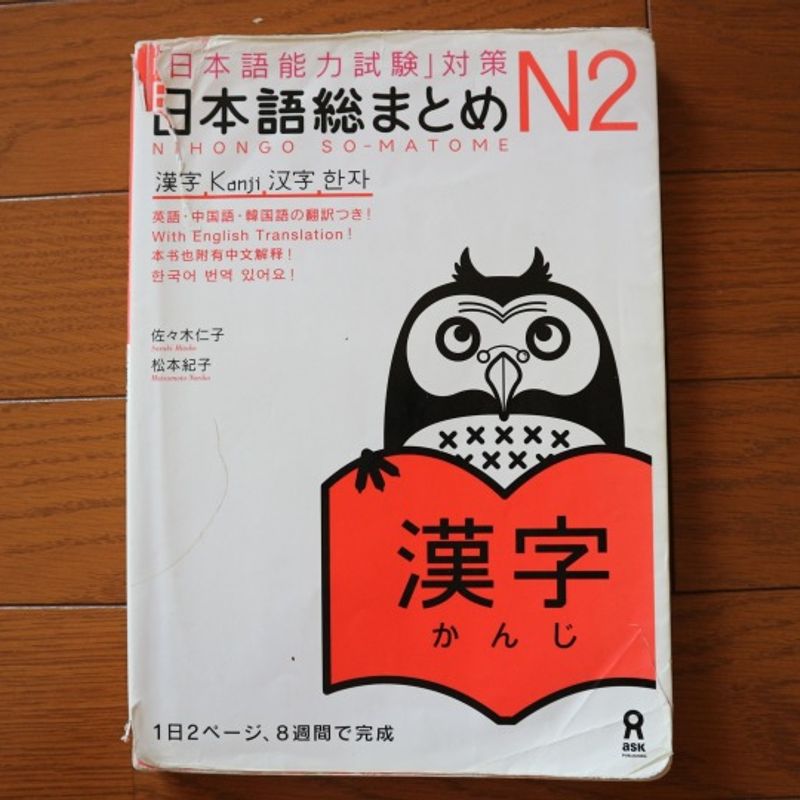 I have a love - hate relationship with this book. Like many Japanese learners I suspect, getting to grips with kanji was the least enjoyable aspect of studying Japanese, and that's what this textbook focuses on. I suppose the book's 'heart' is in the right place, breaking down as it does, sets of kanji into themes and what I imagine the publishers would like to think of as 'manageable' sections with real-life examples of usage, but for me there's no other way around it, committing kanji to memory is a boring slog. Still, maybe 日本語能力試験対策N2- 日本語総まとめ helped me to get there.
The best thing about this textbook is the kanji reference at the back which turned out to be a vital kanji dictionary of sorts.
Money spent: 1,200 yen
Japanese Language Proficiency Test 公式問題集 (Kōshiki mondai shū ) (BONJINSHA)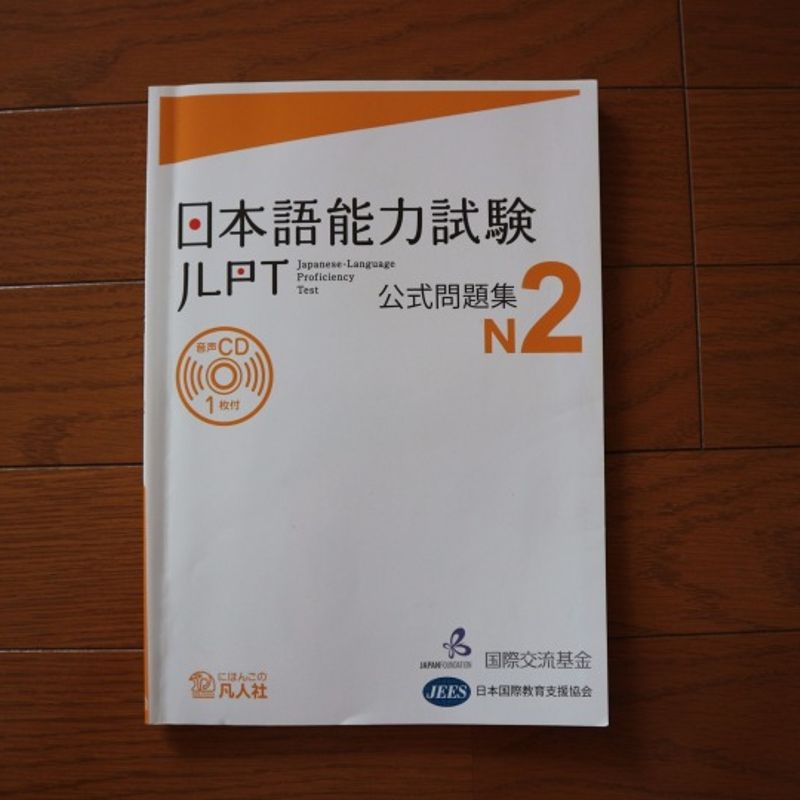 I've always found the best way for prepping for any test is to do practice questions. The organisers of the JLPT produce example tests in this series of books. The problem I found with the JLPT at N2 level, however, is that performance in practice tests rarely reflected performance in the actual tests (yes, that's 'tests' plural).
What you have in this textbook is one example test (it would be nice if they could add a couple more), and at the back the listening test script and a whole bunch of facts, figures and data about the JLPT. Good reading practice I suppose.
Money spent: 700 yen
The 2004-2006 Japanese Language Proficiency Test Level 2 Questions and Correct Answers (BONJINSHA)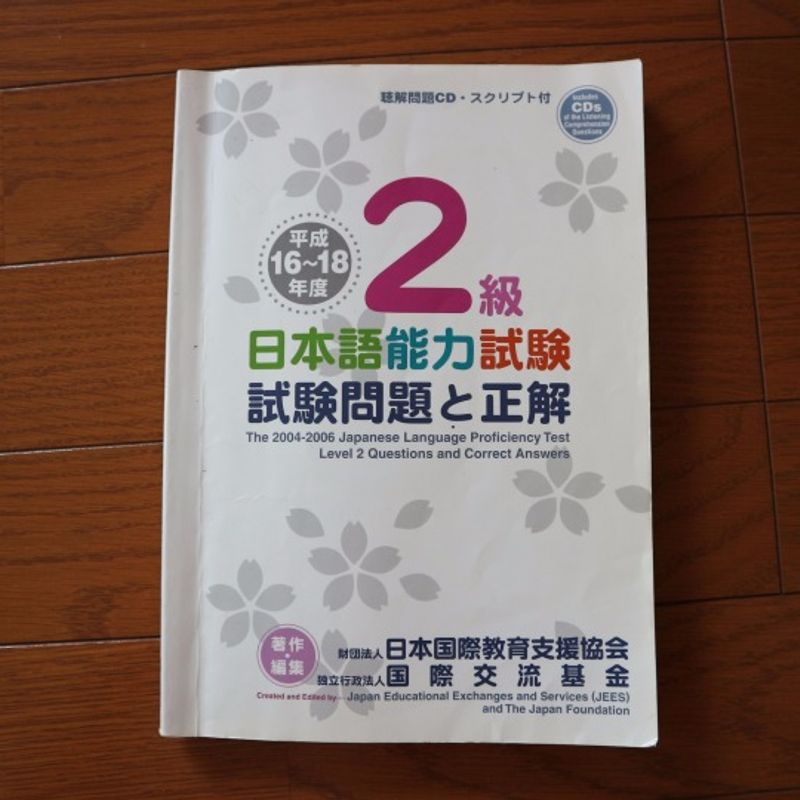 In studying for JLPT N2 I couldn't get enough past papers. Although the format of the levels changed for JLPTs it didn't effect the difficulty of Level 2 / N2. This text was a valuable resource for me, with three past papers all in one book. I could never commit any of the questions to memory, so this useful text got recycled every time I failed N2 until I was able to pass the thing.
The 2004-2006 Japanese Language Proficiency Test Level 2 Questions and Correct Answers has little in the way of introduction or explanation about the tests, it pretty much goes straight into them, and there's no post-amble at the back.
These being past tests, this book was created and edited by Japan Educational Exchanges and Services (JEES) and The Japan Foundation, the organisations responsible for the JLPT.

Money spent: 2,200 yen
日本語パワードル N2 文法 / Nihongo Power Drill N2 Grammar (ask Publishing)
I'm a big fan of this textbook. Essentially, it's question after question after question - great practice for getting into the rhythms and speed required to get through a JLPT.
Nihongo Power Drill is pure grammar. Questions cover the JLPT format with the usual multiple choice and gap fills. Answers are provided in a separate booklet so that you don't have to keep flipping to the back of the actual book.
I was careful not to write my answers into this book in order that I might have been able to reuse it, if required. Which it was.
Slim, light, and to the point. If I ever study Japanese again, this book will be dusted off and brought back into action.
Money spent: 880 yen
Premature Prep for N1
The realisation that N2 might have been my last gasp in terms of tackling more JLPT took a while to hit. For a brief period then, I thought I might begin a siege-like approach to study for N1. In doing so, I returned to some all hands …
Preparation for The Japanese Language Proficiency Test (SANSHUSHA)
45日間で基礎からわかる 日本語能力試験対策N1文法総まとめ - N1文法総まとめ
(45 nichikan de kiso kara wakaru nihongo nōryoku shiken taisaku N1 bunpō sō matome)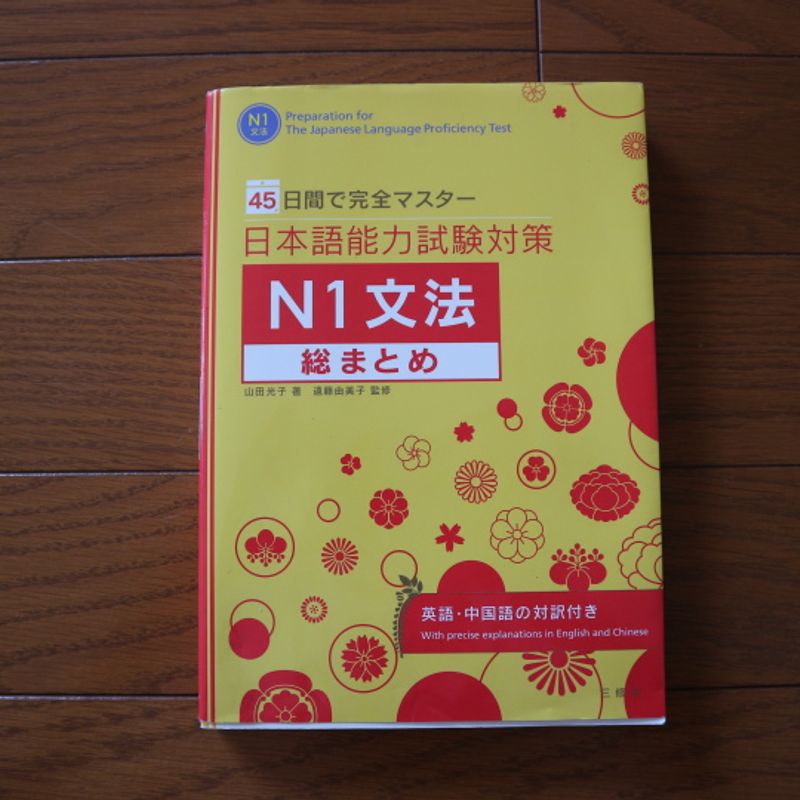 Same format and same kind of size as the text for N2. I still believe in this book as a useful resource but I wonder if study in this way has the kind of depth required to get past N1. I'm also sceptical that it can be done in 45 days as the title of the book proclaims.
Money spent: 1,600 yen
日本語能力試験対策N1- 日本語総まとめ (ask Publishing)
(Nihongo nōryoku shiken taisaku N1 - Nihongo sō matome)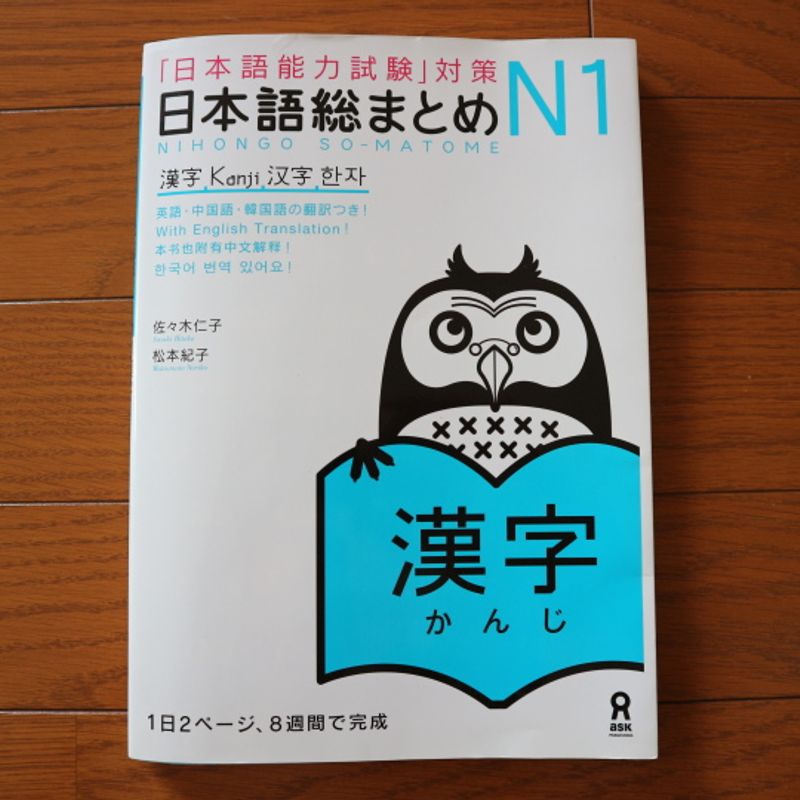 " 2 pages a day for 8 weeks" and you'll cover all the kanji needed for N1? Well, maybe, if you're a computer. Flicking through the text as I write this now sends a shiver down my spine, even if the creators have clearly put effort into making the study of kanji look as unthreatening as possible.
Pretty much the same kind of format and presentation as the textbook for N2, only harder.
Money spent: 1,200 yen
Japanese Side Textbooks and Dictionaries
Some time after passing N2, I got my first job in Japan that didn't involve teaching English. Now, here's something you probably don't want to hear, but you probably should - acquiring just enough Japanese to get past N2 did not equip this language learner with the skills to stay on top of conducting business in Japanese, particularly in meetings. I would be good for about 10 mins and then things started to slip away. To try and resolve this situation, I reluctantly purchased some 'Japanese for business' study books.
Practical Business Japanese (ALC PRESS INC.)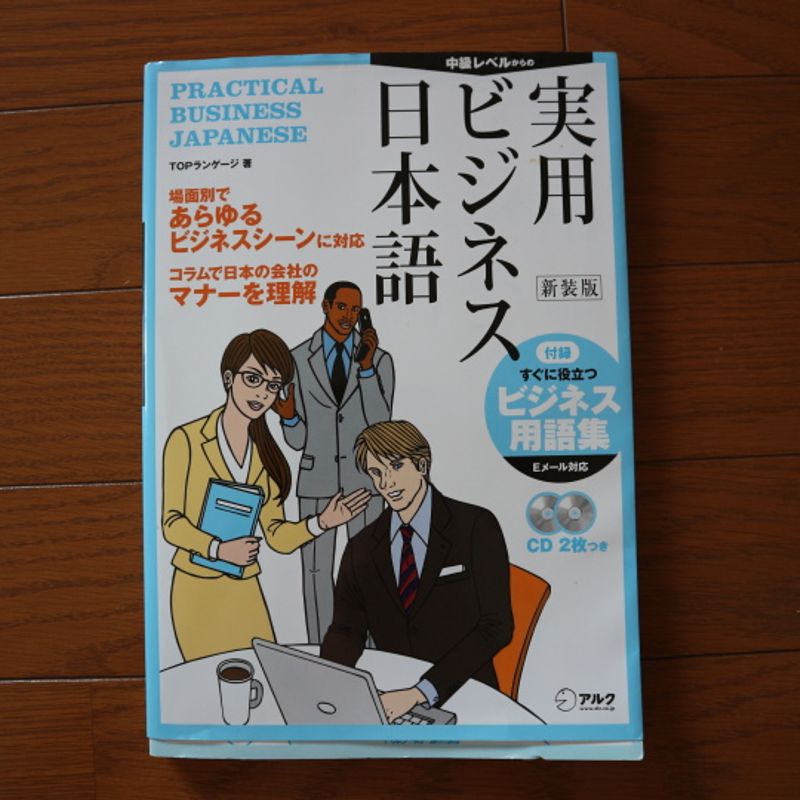 This Japanese for business textbook largely focuses on phrases, sound bites, and brief conversational interactions that you'll encounter in the Japanese workplace - think, answering the phone, accepting invitations, opening a meeting, expressing disagreement … .
As is my preference with language textbooks, Practical Business Japanese is dotted with enough English to keep me in touch with what's going on throughout. However, I felt that what I was learning was bits and pieces rather than getting to the crux of my problem, vocabulary. Grammatical structures, and being equipped with the 'textbook' way of saying things isn't what I needed, and this is largely what Practical Business Japanese gave me.
Money spent: 2,800 yen
ビジネス日本語 用例辞典 Let's work in Japanese! (ask PUBLISHING)
(Business Nihongo Yōrei Jiten)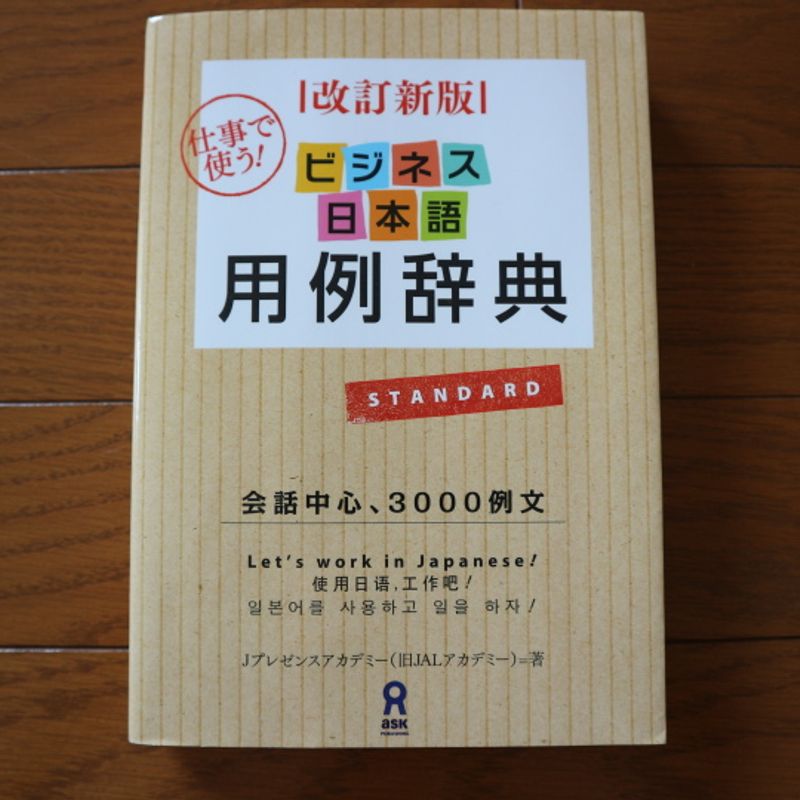 I think I was attracted to the compact size but satisfying weight of this book more than anything else. Let's work in Japanese! feels a bit like a dictionary. It goes in the hiragana order (あいうえお, かきくけこ, e.t.c) listing words / phrases that you might come across in the workplace giving one or two examples for each one, with translations in English. There are 3,000 examples given.
Although I liked the look and feel of this study text, and the size is good for usage while on the trains to / from work, I soon realised that I didn't really know what to do with it. I mean, despite the smallish size, it's almost Biblical in volume of vocab. Am I going to file through 3,000 examples, one after the other? Should I just pick out a page at random and try to memorise the content from there? I still haven't figured out the best approach. Not that I've been trying of late. That said, there's a part of me that believes Let's work in Japanese! will come in handy one day.
Money spent: 2,400 yen
LIGHTHOUSE Japanese - English Dictionary 5th edition (Kenkyusha)
I confess to barely having opened this Japanese - English dictionary, and that's a shame on my part. My parents believed in having a dictionary to hand when I was a kid and would always encourage me to look up words for myself. I guess this purchase was a tribute to them. Still, I think it looks good having a dictionary around.
This is a paperback edition. It's pretty compact, comes with a hard case and does all the things you would expect a Japanese - English dictionary to do.
Money spent: 2,600 yen
Papyrus Electronic Dictionary (SHARP)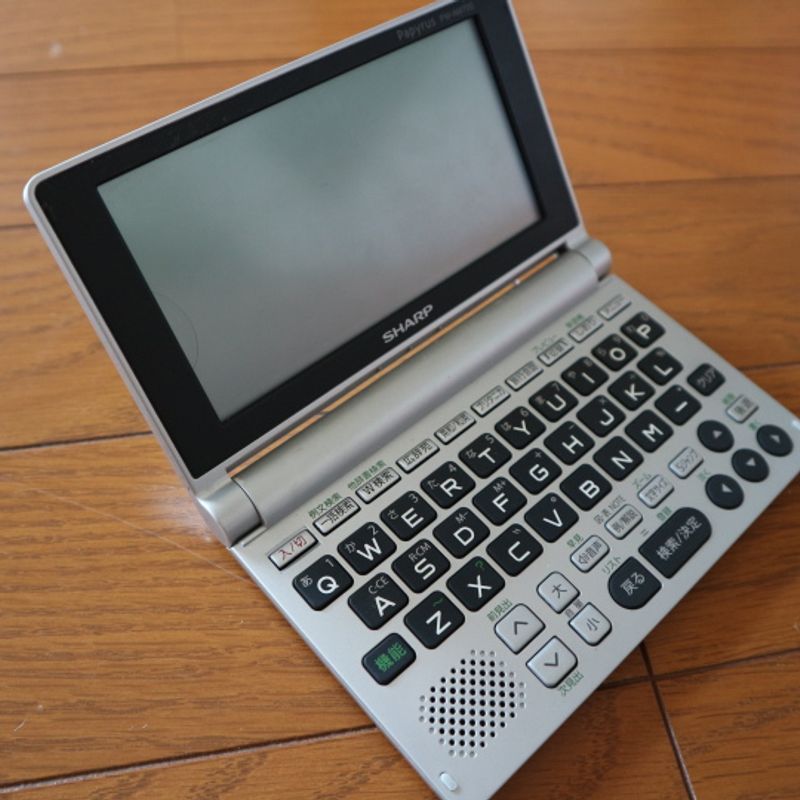 I almost feel sorry for this bit of language support kit. It's become somewhat redundant since we all got smartphones. Still, this electronic dictionary served me well even though I didn't get to grips with all the functions. In the days before smartphones, studying Japanese seriously without one of these things could really be arduous.
Money spent: 5,000 yen
Total spending of Japanese study textbooks: 33,836 yen
In dusting off and going through these Japanese textbooks, practice questions, past papers and dictionaries, I feel like there aren't as many as had I thought. I do think, however, that one or two may have slipped through the net of the post and that the above figure of total spending is probably a little lower than it should be.
Have you used any of these study materials for your Japanese language learning? Got any Japanese textbooks you recommend? How much time and money have you spent on studying Japanese? Let us know in the comments.
See us on ...
Twitter: @City_Cost_Japan
Facebook: @citycostjapan
Images:
Minna no Nihongo (both, I framed them together): Toby Oxborrow (left, right) Flickr License
Japanese For Busy People: -l.i.l.l.i.a.n- Flickr License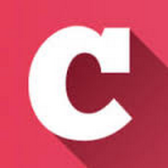 A Q&A and blogging community about life in Japan (plus a load of life-in-Japan stats!). Get your questions answered, share your experience! | Inquiry -> KyodoNewsDigital International Media | Tokyo, Japan | +81 3 6252 6402
---