May 28, 2019
Gallery - Tokyo to the Izu road trip: Kawazu Seven Falls, Shuzenji, Numazu
---
We're up and at em on Day 3 of our Tokyo to the Izu road trip.
Day 1: Road trip from Tokyo to the Izu
Day 2: Shirahama, Cape Irozaki, Shimoda
Day 3 - Thursday May 2
5:30 - Surfing in Shirahama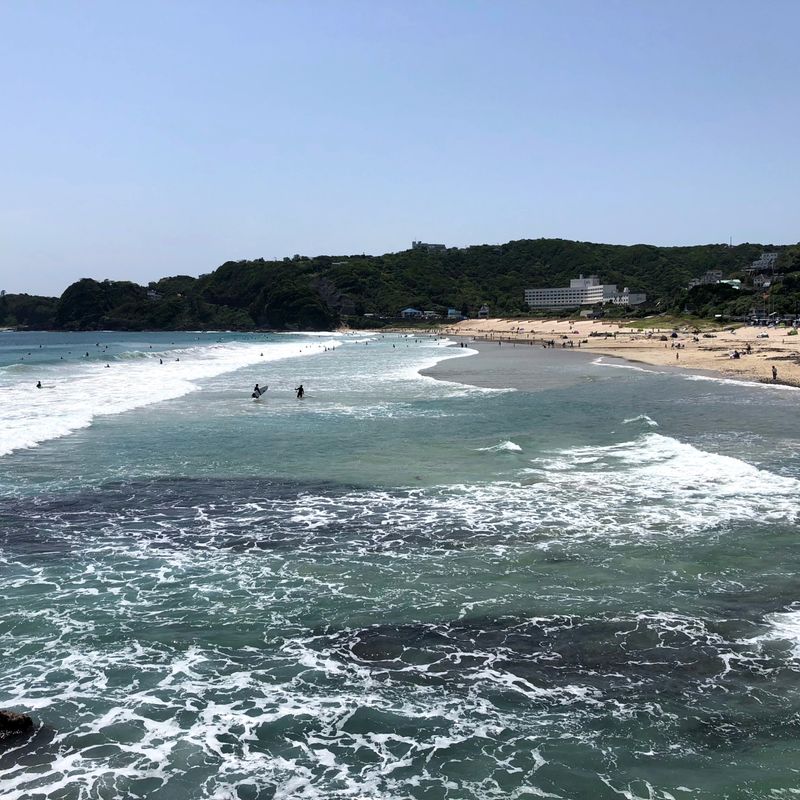 After two days of slate gray skies and plenty of rain the sun is out, the winds have dropped, but the surf at Shirahama, in the Izu Peninsula's southeast, is still delivering slabs of power from the passing storm … and the line up is already pretty crowded even before 6am. So, there's no mucking about. A couple of bites of convenience store bread and it's into the still-damp wetsuit and into the line up.
The Izu Peninsula looks beautiful on a fine day. From the sun-soaked tropical blues of Shirahama's piece of ocean real estate, however, it looks quite breathtaking -- all rich and verdant greens hanging off of rocky outcrops and sharp mountains that make us think of, say, Tahiti rather than a spot just a few hours drive from the sprawling mess of Tokyo.
In the surf line up though, there's little room for such pleasantries. An innocent and normally inconsequential coming together with another surfer after trying to poke through a clean-up set results in a snarling, tongue-rolling, "Omae wa jama darou!" (You (derogatory form) are in the way!). "Yea, well so are you," I didn't say. Still, in no way could this surfer claim to be local, so I sculked off to another section of the line up. Fun waves though!
10:00 - 11:00 - Shirahama Beach
Post-surf, and we're sunning ourselves back on the beach. We're checked out of the B&B and are resting up ahead of the drive back to Numazu. The go-kart K car is going to take us through the heart of the peninsula making a number of stops on the way.
12:00 - 13:30 - Kawazu Seven Waterfalls
Following Route 135 from Shirahama to the town of Kawazu, about 4km to the north, we have to remind ourselves to stay focused on the road as this section of the Izu drive is a stunner. 135 climbs out of town to assume a lofty position, dug into the mountainside, overlooking the rocks and surf below. See if you call pull over at Honne Cape for a gaze back south.
*Note - Around 500m south of Kawazu is "iZoo." As we were driving past, traffic heading to the zoo from the north was backed up for a couple of hundred meters -- a result of Golden Week and fine weather.
We take a left at Kawazu to join Route 14 which follows the Kawazu River through town and beyond into an eye-pleasing valley. There's little in town to distract (the famous Kawazusakura having long since fallen) so we opt for a quick snack stop at a convenience store at the point where Route 14 merges with the larger 414. From here it's a 3 - 4-km climb to reach the Kawazunanadaru Loop Bridge and the Kawazu Seven Waterfalls area.
The Kawazu Seven Waterfalls area largely does what it says on the tin -- an area of seven waterfalls that vary in scale and lasting impression, linked by walking trails and the requisite parking areas, souvenir shops, and eateries.
Whatever your thoughts about waterfalls, the Kawazu Nanadaru area, at the very least, makes for nice strolling, especially in such resplendent weather.
In the middle of Golden Week we have to wait about 15 minutes to get a parking spot at the main lot in the southern part of the falls area. From here we're able to take in four of the falls during a steady stroll, with plenty of stops for photos and wasabi soft ice cream, within a couple of hours.
Waterfall "Shokeidaru" is particularly pleasant and features a statue of the heroine from "The Izu Dancer" (Izu no Odoriko), a celebrated short story from Nobel Prize-winning author Yasunari Kawabata.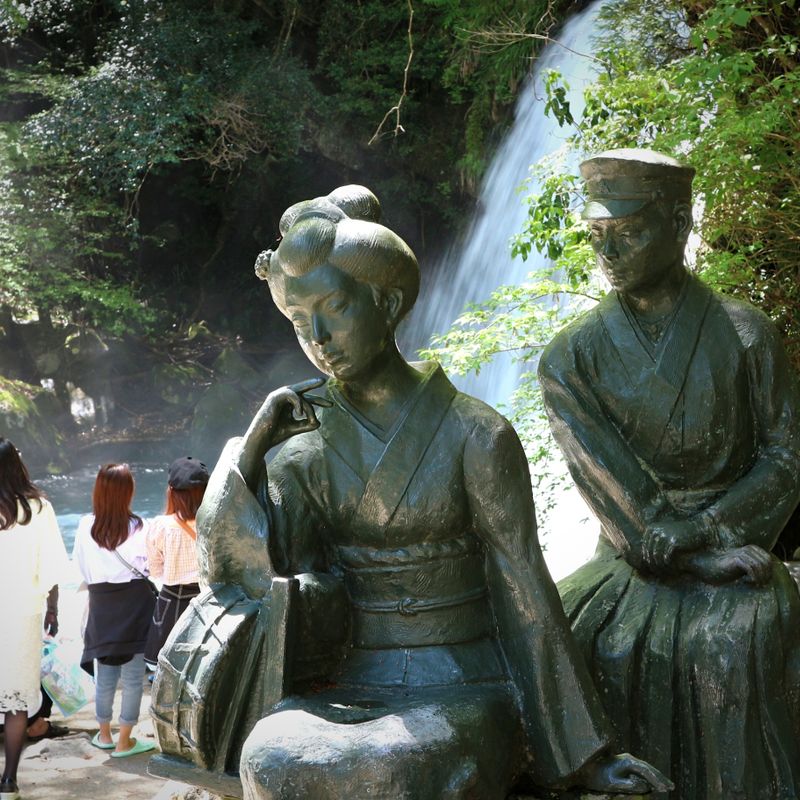 (Izu no Odoriko statue at the waterfall "Shokeidaru," Kawazu Nanadaru, Izu Peninsula)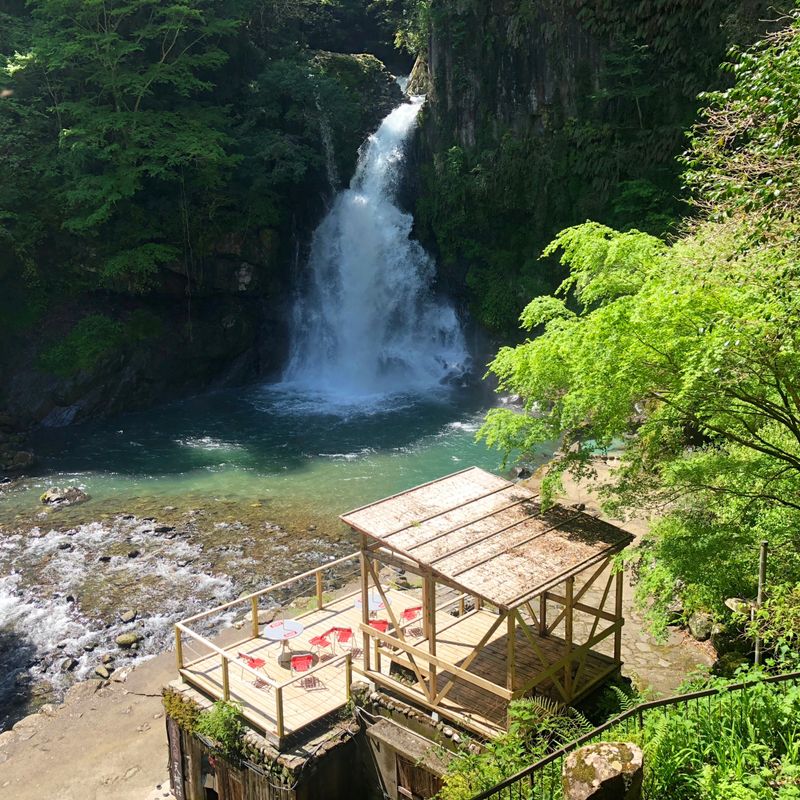 (Oodaru waterfall, Kawazu Nanadaru, Izu Peninsula)
The largest waterfall of the lot, "Oodaru," is a stiff climb down (and back up) from the main road. It's worth it though. (If you're too tired to make the climb back up, consider a soak in one of the baths of Nanadaru Onsen which sit just downstream of the falls.)
The Kawazu Nanadaru Loop Bridge marks the southern entrance to the falls area. If your stomach can handle the loops and the lofty elevation, it's the easiest way to get back onto Route 414. Passengers can enjoy the views!
14:00 - Joren Falls
If you've still the appetite for tumbling waters make a stop at Joren Falls, around 10km north of the Nanadaru area, just off of Route 414.
The falls are a short climb down from a parking lot and visitors center. There's little to see here other than the waterfall itself -- 25m high, 7m wide -- but the experience is smooth enough and the views are worth the stop.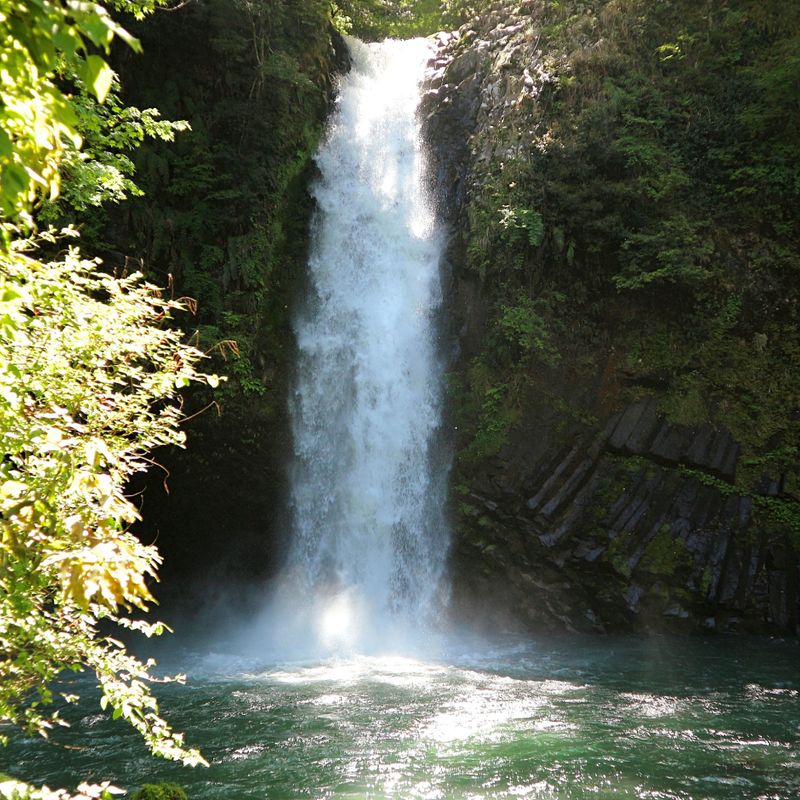 (Joren Falls, Izu Peninsula)
Just across the road from the Joren Falls parking lot a couple for foreign backpackers were trying their hand at hitching a ride south. They were there when we arrived, and still there when we left.
14:30 - Tokyo Rusk Izu Factory
Fans of the mouth-scraping consumable gift staple will likely enjoy a stop at Tokyo Rusk Izu Factory, a couple of kilometers along Route 414 from Joren Falls.
This Izu traveler's motivation for a visit was to source out those Tokyo Rusk that come with an icing-sugar / chocolate coating -- too much of a rarity but really the only way to get the best out of your rusk, and prevent it from shredding the roof of your mouth.
Imagine my disappointment then when even the factory isn't producing any of these. Instead we purchase a packet of the "Premium Almond Rusk," a factory-favorite, from the crowded on-site store from which shoppers can gawp at the production process the other side of the glass. The "Premium Almond" is to take away. For an on-site snack we go with a cone of soft ice cream boasting a classic rusk (in place of the traditional flake chocolate), washed down with the factory's free coffee.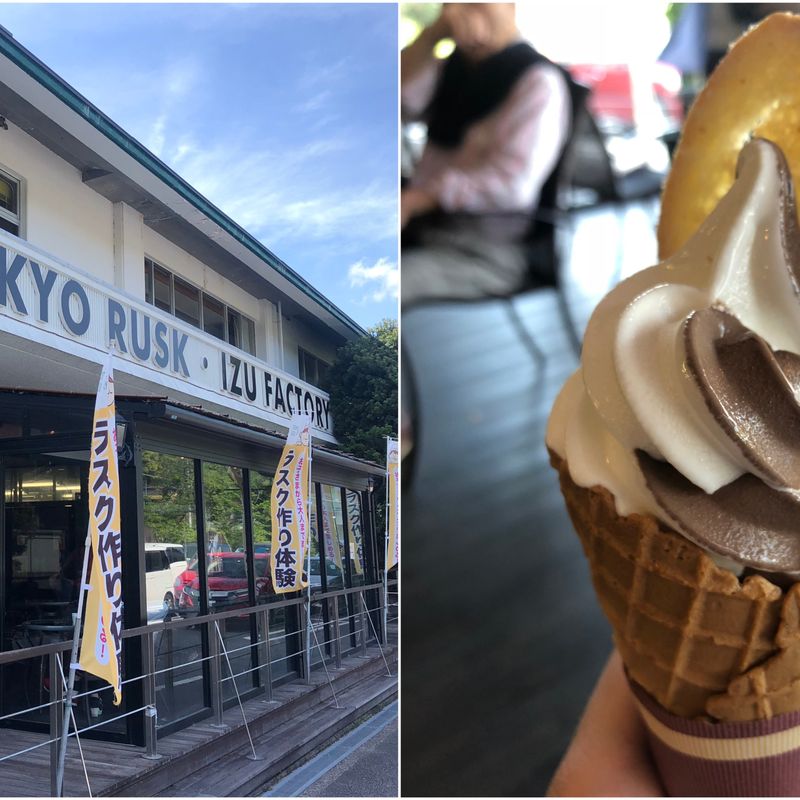 Shuzenji Onsen - 15:00 - 17:00
Tokyo Rusk Izu Factory sits at the southern tip of a stretch of urbanity which runs from Izu City to Numazu in the peninsula's northwest. In the middle of this is the popular hot-spring town Shuzenji Onsen. 414 is perhaps the quickest way through the area, but on the approach to Shuzenji it becomes a toll road so have some coin ready.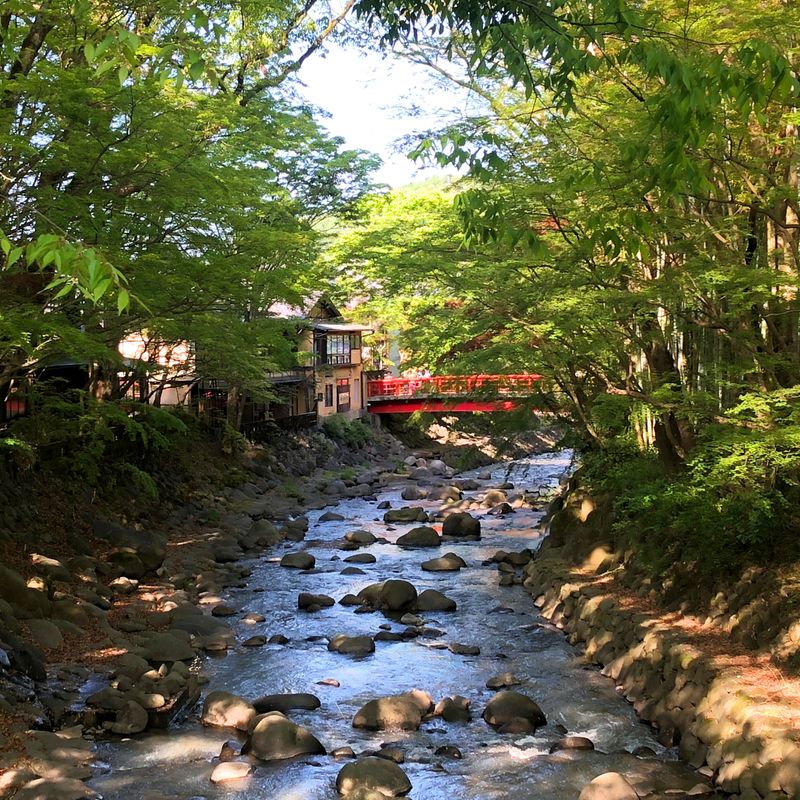 Shuzenji Onsen, the pretty bit that tourists and hot-spring bathers come to see, stretches west of 414. Bright red bridges highlight the town center which sits astride the gentle Katsura River. On the river banks old ryokan and small foot baths overlook the waters.
With a copy of the "Shuzenji Onsen Map" (修善寺温泉マップ) in hand we follow a recommended walking course that takes in Shuzenji Temple, neighboring Hie Shrine, the Bamboo Grove Path on the south bank of the river, back across to the north via the Kaede-bashi Bridge, and up onto the mountain slopes southwest of the town center to the grave of Heian-era general Minamoto no Noriyori.
Shuzenji Temple, founded over 1,000 years ago by Kobo Daishi, a man who seems to have found it hard to stay in one place for any significant length of time, bustles in the middle of Golden Week. Much calmer is Hie Shrine next door where towering cedars, more than the shrine, serve to put life into perspective. Two of the giant trees here are rooted together making for something of a power spot for couples wanting to conceive.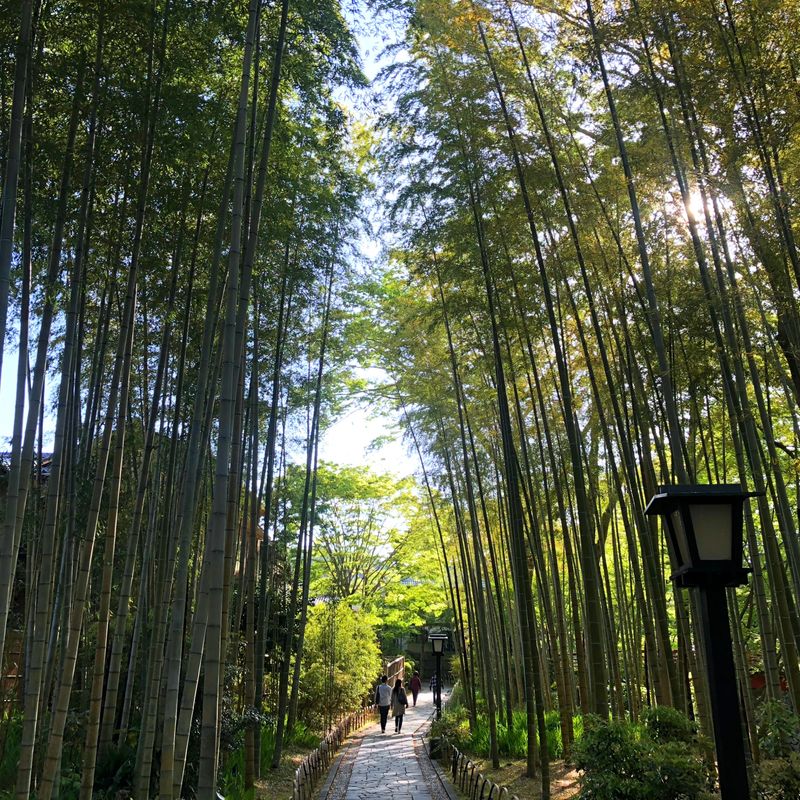 (Bamboo Grove Path, Shuzenji Onsen, Izu Peninsula)
In the center of Bamboo Grove Path we join other visitors in reclining on our backs to get an "instabae" shot of tree tops making a perfect circle. It doesn't turn out great. Much nicer is the area around Minamoto no Noriyori's grave -- away from the crowds (we were the only visitors) it's a fine spot that offers views into the Izu's green and rugged hinterland, while the walk back into town past quiet homes and minshuku (the Japanese B&B) is a pleasant one.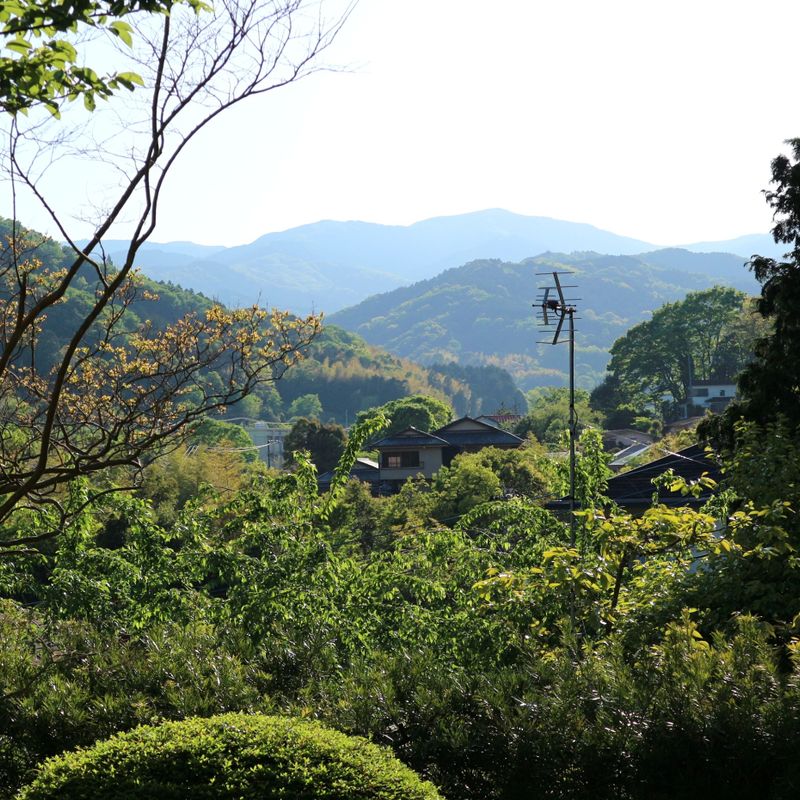 (View from the grave of Minamoto no Noriyori, Shuzenji Onsen, Izu Peninsula)
"You could meander the narrow streets, eating your way through Shuzenji," reads the current edition of Lonely Planet Japan.
After 4pm on a Thursday in Golden Week, this turns out not to be the case. Emphatically. Most eateries we could find were shut. We were hoping for a splendid ryokan-style Japanese spread but instead had to make do with coffee and cake (albeit very nice) at a cafe overlooking the river just east of the town center. More substantial eats will have to wait until Numazu.
Numazu - 18:00
On the drive from Shuzenji to Numazu increasingly urban scenery signals the beginning of the end of our Izu road trip. Pangs of sadness though are soon drowned in irritation at the onset of the first significant Golden Week traffic we've encountered. Fortunately this means we've plenty of time to ogle a near-perfect Mt. Fuji fading into the evening. We crawl into the center of Numazu.
The hotel is all brutal business function, but it does the job. Numazu's nightlife, however, isn't showing much signs of life save for a young busker belting out some anisong outside the southern exit of the train station (a Shinkansen stop no less).
One or two places to eat are open on and around the covered Numazu Arcade Meitengai Street so we opt for an izakaya to get stomachs filled after the early morning surf and the day's go-kart driving.
Having been up since 5:30 our minds need little persuasion to get us into a deep slumber back at the business hotel.
Notes on the drive back to Tokyo
The drive from the Izu Peninsula back to Tokyo saw us hit the most significant Golden Week traffic encountered on the trip.
The late start didn't help with an 8:30am departure proving to be a little too relaxed. We hit traffic on the Shin-Tomei Expressway around Susuno, south of Gotemba.
Traffic problems were exacerbated by a glitchy ETC card / system that saw us stopped at toll gates on two occasions.
As is often the case with holiday traffic on Japan's expressways much of the snarl up was caused by accidents. The Shin-Tomei passes through a lot of tunnels, a testament to Japan's mountainous topography, the entrance to which appeared to be the scene of one or two minor RTAs.
It took around hours to reach central Tokyo (with a stop for lunch at the service area in Ebina). Getting through the capital, however, presented few problems. This was still the middle of Golden Week, so Japan's much-reported holiday "U-turn rush" was a couple of days away, and most of the day's travelers heading back home from points further away than the Izu Peninsula would likely be making their approach to Tokyo later in the afternoon and into the evening.
Costs
All costs below listed on a per-person basis so, for example, the cost for a day's parking at Shunzenji Onsen was 500 yen (split by two). These are rough costs only.
Breakfast

(convenience store bread / coffee)

600 yen
Wasabi soft cream at Kawazu Nanadaru Falls
300 yen
Premium Almond Rusk & Soft cream with rusk
930 yen

Parking at Shuzenji Onsen

(for a whole day)

250 yen
Coffee / cake at Shuzenji Onsen cafe
1,000 yen

Expressway tolls

(on the way to Shuzenji)

320 yen
Izakaya dinner / drinks in Numazu
2,500 yen
Assorted snacks and drinks
1,000 yen

Accommodation &

Overnight parking (near hotel in Numazu)

5,500 yen
Total
12,400 yen
Return to Tokyo
Making the return to Tokyo saw us fill up on gas for the second time during the trip.
Breakfast

(convenience store bread / coffee)

600 yen
Expressway tolls
2,300 yen
Gas
1,500 yen
Lunch at Ebina service area
1,200 yen
Total
5,600 yen
Trip totals - 4 days / 3 nights
| | |
| --- | --- |
| Accommodation | 20,500 yen |
| Transport | 8,170 yen |
| Food, drink, snacks | 12,500 yen |
| Total | 41,170 yen |
*Note - Throughout this road trip from Tokyo to the Izu Peninsula and back there was no point at which entrance fees were required to attractions other than the foot bath and drink bar set at the service area in Ashigara on Day 1. This could be testament to a thrifty nature (although the costs for food might suggest otherwise) or it could be that the Izu Peninsula offers enough passing sights and attractions as part of its very nature without having to pay to go "in" anything.
Looking back, the costs incurred through food are slightly alarming, perhaps as a result of too much snacking, but overall around 40,000 yen per person for a three-night / four-day trip in Japan (all costs included) would seem to be par for the course.
What do you think? Let us know in the comments.
for day 1 and 2 of our tokyo to Izu road trip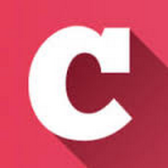 A Q&A and blogging community about life in Japan (plus a load of life-in-Japan stats!). Get your questions answered, share your experience! | Inquiry -> KyodoNewsDigital International Media | Tokyo, Japan | +81 3 6252 6402
---