Feb 2, 2018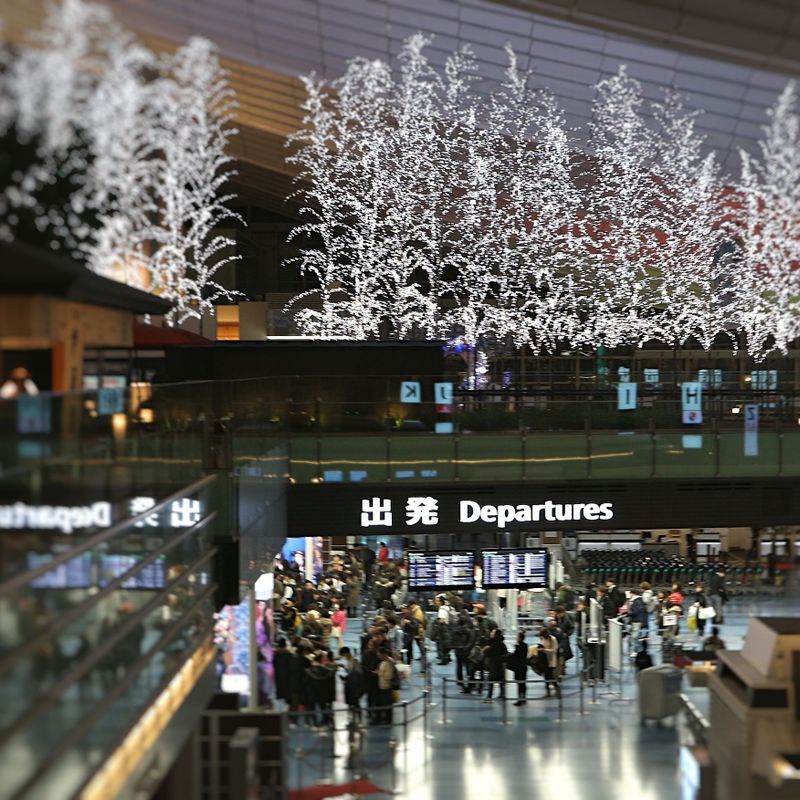 Assessing the experience of taking one of the many late departing, "redeye," flights from the International Passenger Terminal at Tokyo's Haneda Airport.
Since the 2010 opening of the new, dedicated International Passenger Terminal, together with the completion of a fourth runway, at Tokyo's Haneda Airport (officially - Tokyo International Airport) the air travel hub has seen an increase in international, long-haul flights making departures from the facility.
It perhaps reflects an expected demand of an airport with far more convenient access to the largest city in the world than it's larger, newer counterpart stuck way out among the golf courses of suburban Chiba. In fact, the Japanese government is gently pushing for Haneda Airport to be the departure point of choice for popular business routes, leaving Narita to handle those passengers traveling for leisure.
For the first four years after its opening, Haneda's International Passenger Terminal handled only those long-haul flights departing at night -- redeye flights. While daytime routes have since been added, the terminal maintains an active after-dark schedule that sees departures well into the early hours of the morning.
This traveler was set for one such departure. While the flight was largely chosen based on the limitations of budget, the post-midnight departure time allowed for the possibility of not having to take any time off work, but still leaving enough time to go home, shower, eat, check the luggage, and have plenty of time remaining to head to the airport at a leisurely pace.
A glance through the departure schedule for Haneda Airport over the coming month reveals a number or flights that don't leave until after midnight -- destinations largely covering Asia but with one or two in Europe and the Middle East.
| | | | |
| --- | --- | --- | --- |
| Destination | Departure | Destination | Departure |
| Kuala Lumpur | 00:05 | Ho Chi Minh City | 01:30 |
| Jakarta | 00:05 | Seoul (Incheon) | 01:55 / 02:00 |
| Bangkok | 00:30 | Beijing | 01:55 / 02:00 |
| Dubai | 00:30 | Tiangjin | 02:15 / 02:30 |
| Singapore | 00:30 | Manila | 02:10 |
| Frankfurt | 00:55 | London | 02:45 |
Perhaps it's fair to say that as the lateness (or earliness) of the departure time increases so too does the passenger's concerns about what kind of services will be available at the terminal, and what kind of lonely atmosphere awaits. Concerns which we hope to address here.
Late trains to Haneda Airport from Tokyo
Haneda Airport is served by two train lines -- Keikyu Line and Tokyo Monorail
Using the Tokyo Monorail, on any day, the last departure for Haneda Airport from the station at Hamamatsucho is the 00:01 rapid service arriving at the International Terminal Station (Haneda) at 00:17
Web: http://www.tokyo-monorail.co.jp/english/index.html
Keikyu Line services for Haneda Airport International Terminal Station make their final departures from Shinagawa Station at 00:04 (weekdays - arrives 00:25) and 23:42 (weekends / holidays - arrives 00:02).
Web: http://www.haneda-tokyo-access.com/en/
All of these arrival times provide room to breathe when it comes to checking in for the last flight of the day at Haneda -- what looks to be the 02:45 to London, U.K.
In this traveler's case, I used the Toei Asakusa Line from Nihombashi, merging into the Keikyu Airport Express at Sengakuji. Traveling after 23:00 meant it was easy going in the early stages with a seat and plenty of space for the luggage. However, at Sengakuji the train went from almost empty to bursting at the seams, largely with fellow suitcase-hauling travelers. In short, it was chaos.
Check-in for late departures at Haneda International Terminal
Approaching midnight, the impressive international terminal at Haneda Airport is as sleepy as might be expected.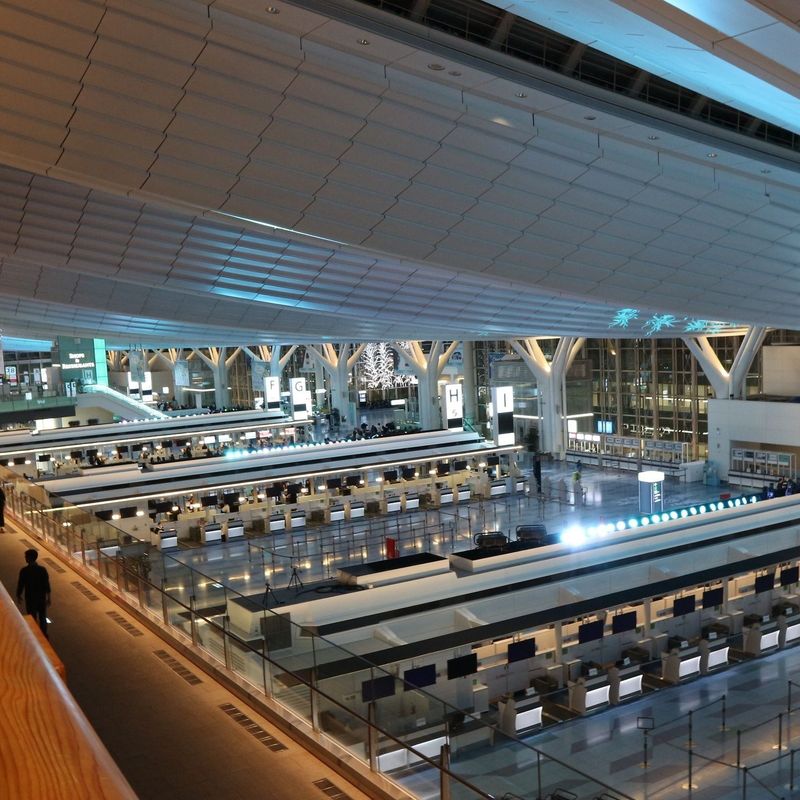 (Quite check-in counters at Haneda Airport International Passenger Terminal)
Given that check-in counters handle the check-in process for multiple flights, sometimes across airlines, these late departures from Haneda mean the passenger is able to breeze through this often angst-ridden process. This includes a pressure-free environment around the self-check-in touch-screen machines.
Killing time, eating, drinking, shopping - Pre-immigration
What's good about the late/early hour is that there are plenty of places to park up for a while. Being an airport, more than a few passengers were sprawled out on the faux-Japanese "benches" that are dotted around the Edo Market Place and Haneda Nihombashi -- much of the shops and services in the latter are closed by this time.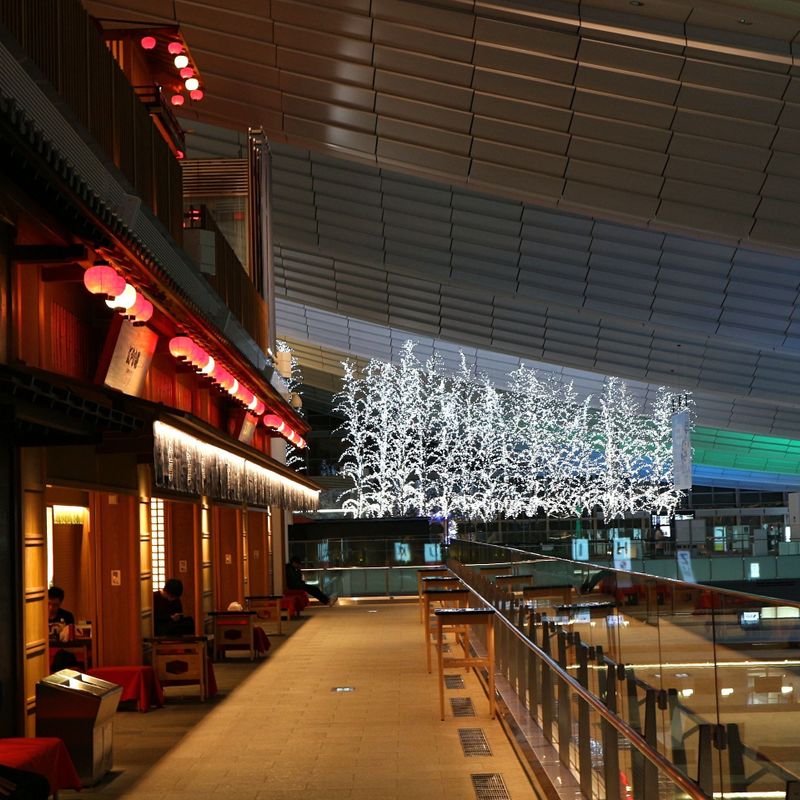 In fact, as one might expect, at this kind of time, there's a lot that's closed at Haneda Airport, even the 7-Eleven convenience store that you pass on your way to the check-in counters from the train station. Other notable closures around the check-in area include the restaurant "Tailwind," and drugstore "Airport Drug," both of which shut at 23:00.
Also not available are the money changers, although there are ATMs that can perform this function.
Much of the dining and shopping at pre-immigration Haneda is hosted on the 4F "Edo-Koji" (where you'll find the Edo Market Place and Haneda Nihombashi)
Of the 38 shops and eateries that operate in this part of the terminal seven are open 24 hours. They are the following …
Name
Menu
Seats
Cafe Cardinal

hot dogs, curry, soup, ice cream,

bakery, coffee, tea, soft drinks, beer, wine

74
Yoshinoya
gyudon
24
Setagaya
ramen
24
Suginoko
izakaya
44
Saryo Itoen
green tea, green tea sweets / ice cream
unknown
Wa-Cafeteria

Japanese set meals, coffees,

teas, soft drinks, beer, wine cocktails

101
Mos Cafe
burgers, fast food
38
Also on 4F, Italian restaurant Esse Due Il Binario is open until 02:00 on Weds, Thurs, Fri, and Sat.
At this time, most of the places above had seats available and an atmosphere that was pleasant and calm. In fact, there are some nice spots up here where the waiting passenger can kick back and take in the action (what little there is) unfolding around the check-in counters below.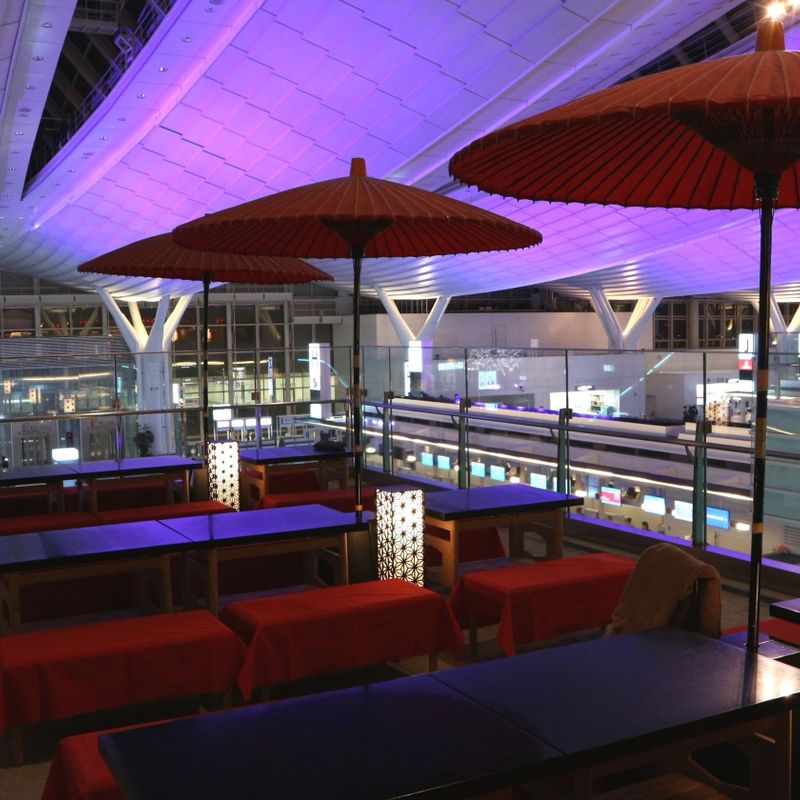 (There should be no problem finding a seat as your wait for redeye flights out of Haneda)
The 5F Tokyo Pop Town is largely novelty for the kids and tacky souvenir shopping. After 23:00 everything is closed but it's from this floor that you can access the outdoor observation decks which, outside of summer, will provide a bracing breeze if you're looking to fend off sleep.
So, there's going to be no problem getting fed, hydrated, or even inebriated before making your way through security and immigration, even if the choice is limited. Where there will be a problem is souvenir shopping which looks to be out of the question at this kind of time.
Even though most shops and eateries are closed, as far as this traveler could tell, none of the terminal's zones were closed off, allowing passengers to wander around at will. As well as drop down and sleep where they pleased. The Edo Hall and some of the other features around Tokyo Pop Town seem to be popular sleeping spots.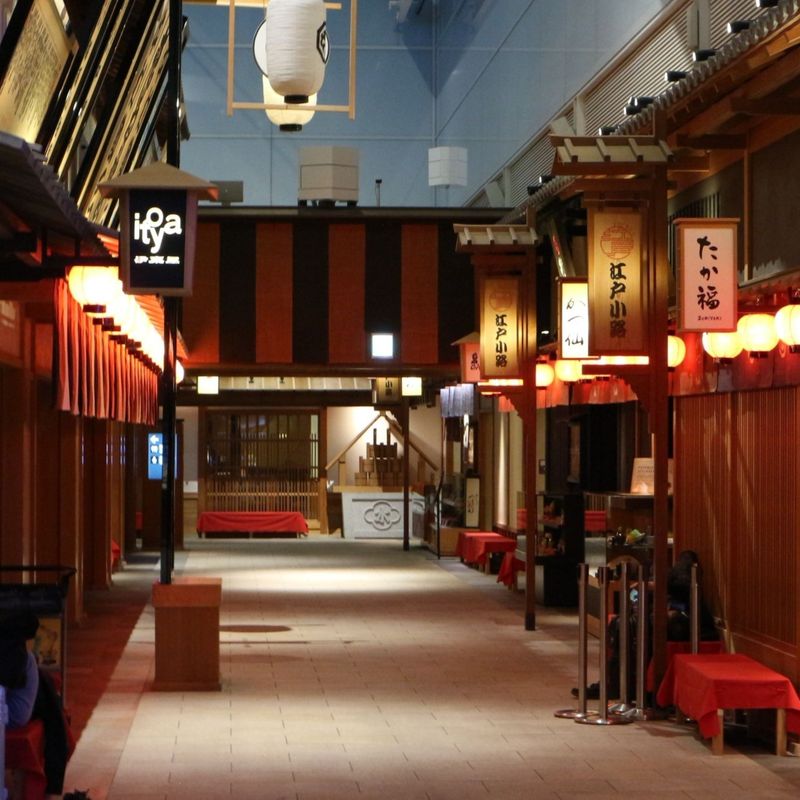 (Quiet moment at the Edo Market Place, Haneda Airport)
Security and Immigration
The international terminal at Haneda has displays keeping passengers up to date with waiting times at security. Even heading through well after midnight there were still some queues, but not on the sometimes Biblical scale that you can find at major airports during the day. Far from it. Getting through was fairly easy going, taking no more than 10 mins.
Problems did occur in preparation for immigration, where queues were quite long (most passengers heading to China by the looks of things on this particular occasion). The largest problem lay in the fact that, for some bonkers reason, there were no "departure/boarding" forms available at the immigration area. The "bonkers" reason -- it seems that some passengers have trouble filling out their name correctly, leaving the counters awash with discarded and unusable forms, tonnes of them.
Should we name and shame? Probably, but then we don't want to start a diplomatic incident, so we'll just leave it for you to have a guess at the nation whose travelers seem to have trouble writing their names.
Post-immigration
After passing through security and immigration the areas around the departure gates felt, to this traveler, quieter than things on the "other side".
Again, with so many seats going empty, there's no excuse for not being able to park up somewhere. This being a relatively new facility, there is also no shortage of sockets / ports at which to charge mobile devices.
It might also come as a relief for some to know that there are serviceable smoking areas this side of security. And yes, you can bring your lighters.
Where things feel lacking on this side of the terminal at Haneda are the places to eat.
Guilty of not checking at the time, according to the airport's website there are eight eateries around the international departure gates of Haneda Airport that are open 24 hours, most located around gates 112 - 114.
| | | |
| --- | --- | --- |
| Name | Menu | Gates |
| Muginbo | Kyoto udon | 112 -114 |
| Bar Rage | fresh-fruit cocktails | 112 -114 |
| Uogashi Nihon-Ichi | Tsukiji / Ota fish market sushi | 112 - 114 |
| Pound-Ya | hamburg / steak | 112 -114 |
| Dom Pierre Jet | curry | 112 - 114 |
| Rokurinsha | ramen | 112 -114 |
| True Soup | soup | 112 - 114 |
| Jinroku Anti | okonomiyaki / teppanyaki | 112 - 114 |
*NB: Curacion Café near gates 112 - 114 stays open until 01:30 serving natural / organic foods and coffees.
Also open 24 hours around the international departure gates at Haneda:
Travel Convenience (gates 131 - 139): hours according to flight schedules
Duty Free Pick Up (gates 112 - 114): pick up duty-free goods purchased in Tokyo
Tiat Duty Free Shop Central (gates 109 - 111)
Most of the high-end brand stores -- Gucci, Jimmy Choo et al -- are closed by 00:30.
Haneda Airport hack for departures in the early hours
Due to the late / early hour of departure this traveler was able to make use of one of the special "lounges" after clearing immigration. Usually the realm of the business / first-class flyer and / or membership holder, anyone with the boarding pass for this particular flight was able to use this particular lounge free of charge. Just show said boarding pass at the lounge reception.
Inside, there is a range of comfy seating from loungers and booths to counter stools, a small "buffet" and free beer from an automated "pouring device" served in cooled glasses.
Clear immigration early or leave it to the last minute?
The first thing to say here is that whatever you choose to do, departing on a late flight from Haneda Airport still leaves the traveler with a number of places to eat, drink and lounge, either side of immigration.
After around 23:00 both sides lack much in the way of shopping, but post-immigration does fair better with its solitary 24-hour duty free shop, and fashion brands that stay open until 00:30.
For places eat and a bit more in the way of atmosphere, maybe it's better to hang around the pre-immigration side of the terminal. This side of things, the international terminal is easier on the eye, and the places open to eat more atmospheric and entertaining. Unless, of course, you have access to the lounges on the other side, in which case, get to them promptly!
Late departures from Haneda might not be for the faint of heart in the sense that if you've been on your feet at work all day, the prospect of having to go through the rigors of the airport process might not sit well. It's also worth keeping an eye on those arrival times at destinations close by, some of which are very early. Heading further afield though, the traveler might just be tired enough that their body lets them sleep through the entire flight, and perhaps reduce a bit of the redeye.
While the lack of hustle and bustle at such an hour might leave some travelers feeling a little bored or lonely, for the most part, these late flights make the airport experience far less stressful and irritating. This alone should make a redeye from Haneda Airport something to consider seriously.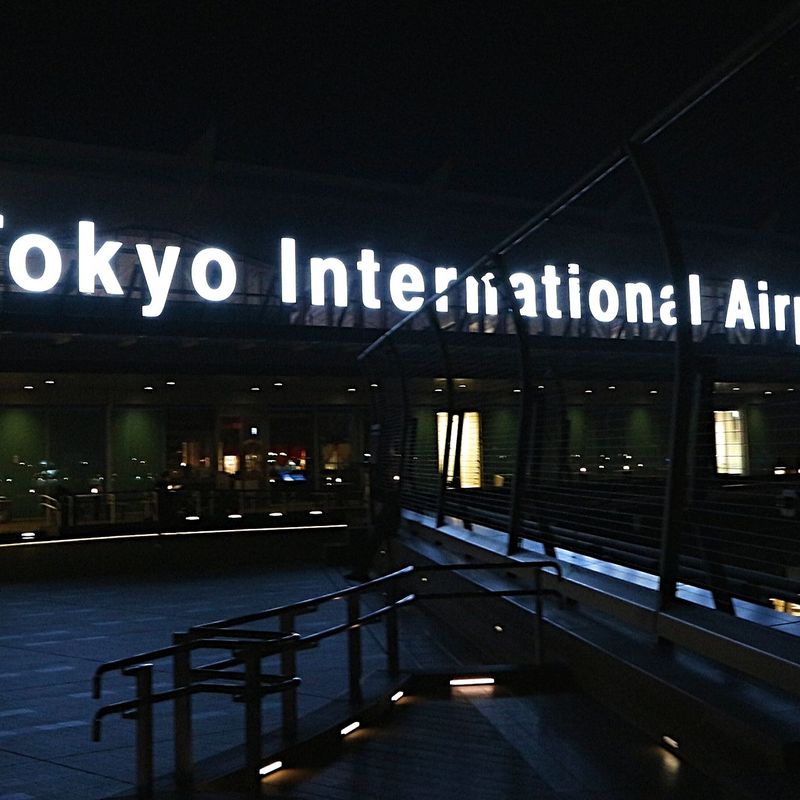 Have you ever flown on one of the night flights from Haneda Airport? What was your experience like? Let us know in the comments.
Further reading ...
Haneda Airport, Tokyo: A first-timer's guide to international travel
Web: Haneda Airport Terminal Portal Site
See us on ...
Twitter and Facebook: @citycostjapan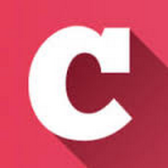 A Q&A and blogging community about life in Japan (plus a load of life-in-Japan stats!). Get your questions answered, share your experience! | Inquiry -> KyodoNewsDigital International Media | Tokyo, Japan | +81 3 6252 6402
---