Apr 24, 2019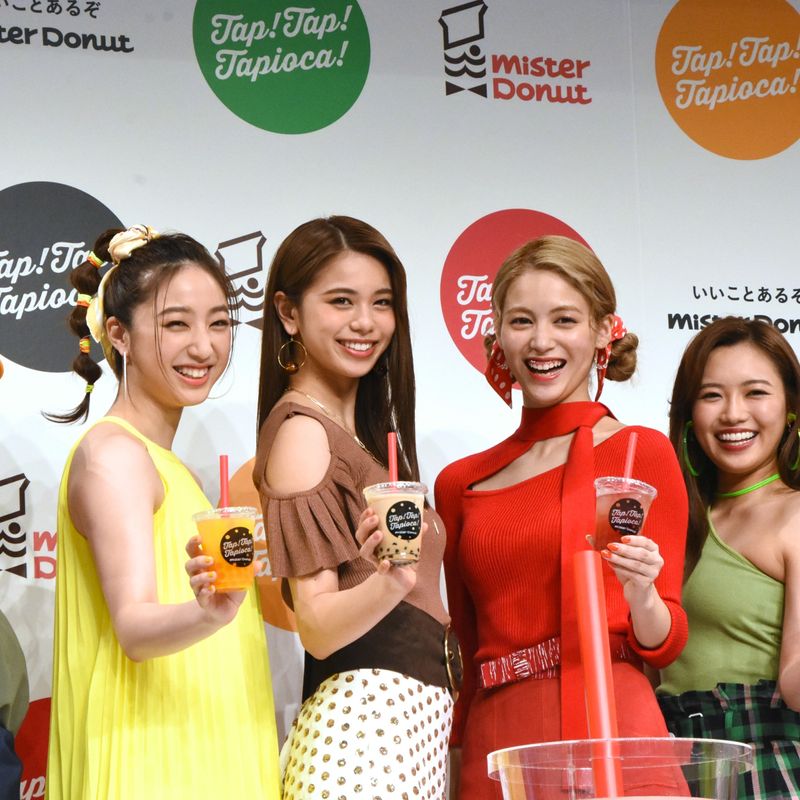 Fast-food chain Mister Donut unveiled to press on Tuesday a new menu of tapioca drinks which is set to go on sale at stores nationwide at the end of the week.
To celebrate the launch of the new tapioca drinks (Tap! Tap! Tapioca!) Mister Donut, from Duskin Co., Ltd., held a toast event at a facility in the trendy Ebisu Garden Place complex in Tokyo's Shibuya Ward where members of Japanese girl group E-girls were on hand to lead the raising of glasses.
The line up of tapioca drinks from Mister Donut consists of four flavors -- Milk Tea, Matcha Milk, Mango Orange, Strawberry Soda -- and will be available at the over 1,000 branches of the chain across Japan from Friday April 26.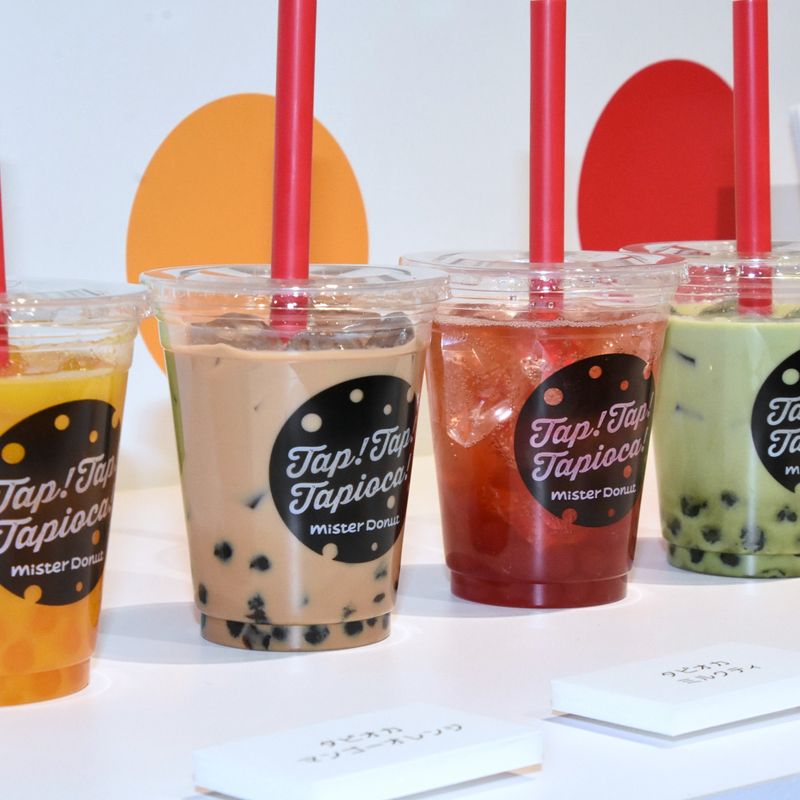 The new menu items represent a new challenge for the popular fast-food chain which had been paying attention to the boom in popularity on these shores of tapioca drinks, which began in 2018, where, among female jr high and high school students in particular, the drinks are seen as 'oshare,' -- fashionable or trendy.
"Of course, we have our teenage customers, but we also want the wide generations of regular customers to Mister Donut to be able to enjoy tapioca," Yuko Fujiwara, from the chain's product development office, told press during the event.
"When we mention tapioca it is, in the main, brown in color. With these Mister Donut tapioca each has a different color and flavor and even when the drink runs out you can still enjoy the different flavors."
The four members of E-girls -- Nozomi Bando, Harumi Sato, Kaede, Nonoka Yamaguchi -- who are spearheading the promotion for the tapioca drinks appeared on stage at the event's Ebisu Garden Room venue dressed in outfits to represent each of the drinks. The outfits were the same as those worn by the girls during the shoot for an upcoming commercial to promote the new drinks.
"There was a Mister Donut near my dance school so when we had free time during practice we used to go there together, get something sweet to energize our bodies, and enjoy talking about dance," said E-girl's member Kaede.
"So for me Mister Donut is a place where I have many memories of my youth."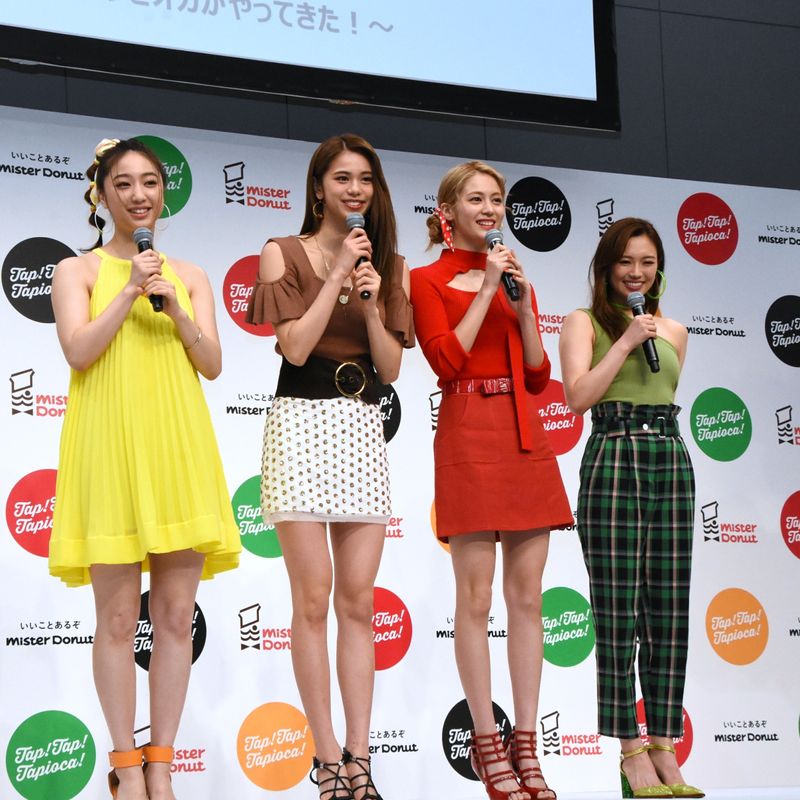 During the event the girls were asked by members of the Mister Donut staff what would be their first order from the chain in the new Japanese era, Reiwa, to go with each of the tapioca drinks they represent.
"Of course, tapioca milk tea! And, well, I love angel cream, so I want to order that," said Sato.
Remaining members Bando, Kaede, and Yamaguchi chose Mango Orange and Choco Fashion (チョコファッション), Strawberry Soda and Pon de Strawberry (ポン・デ・ストロベリー), Matcha Milk and Angel French (エンゼルフレンチ) respectively.
Mister Donut Tap! Tap! Tapioca drinks will retail at 486 yen (tax included).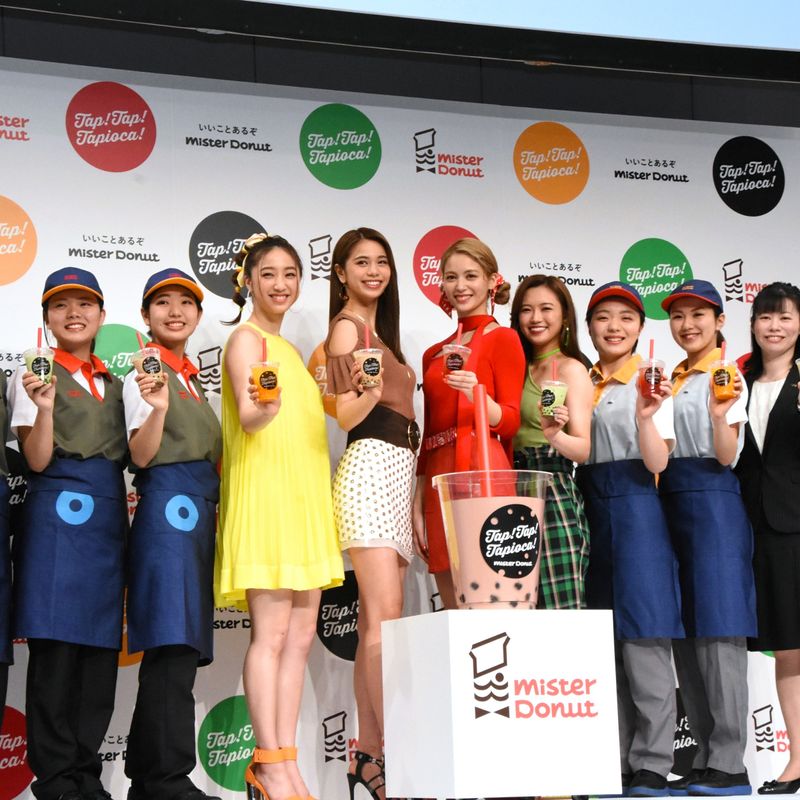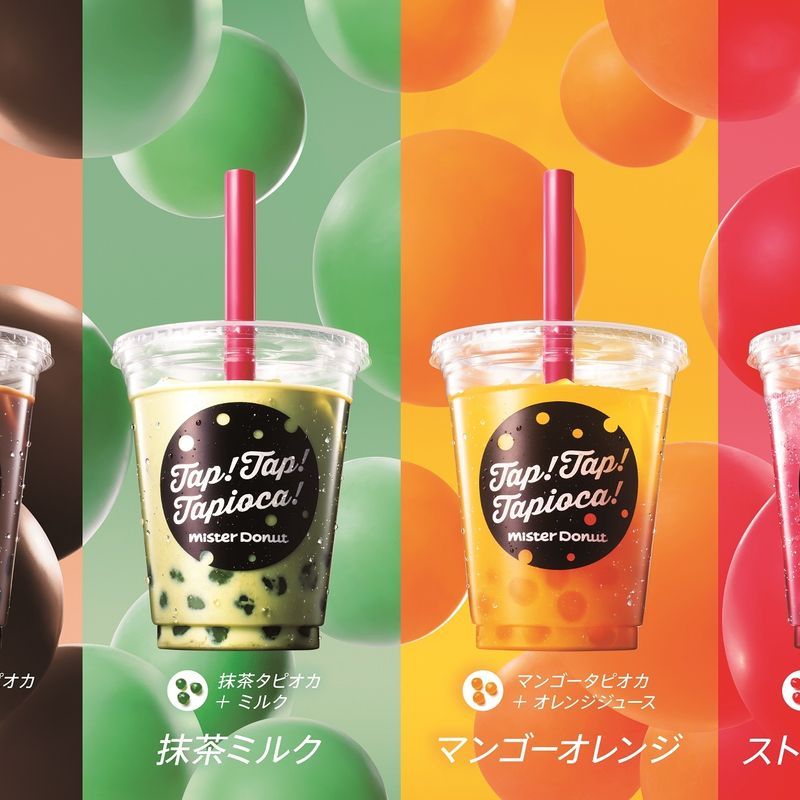 Gallery - Tap! Tap! Tapioca drinks, Mister Donut
---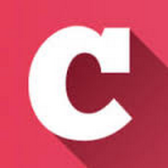 A Q&A and blogging community about life in Japan (plus a load of life-in-Japan stats!). Get your questions answered, share your experience! | Inquiry -> KyodoNewsDigital International Media | Tokyo, Japan | +81 3 6252 6402
---