Jan 22, 2019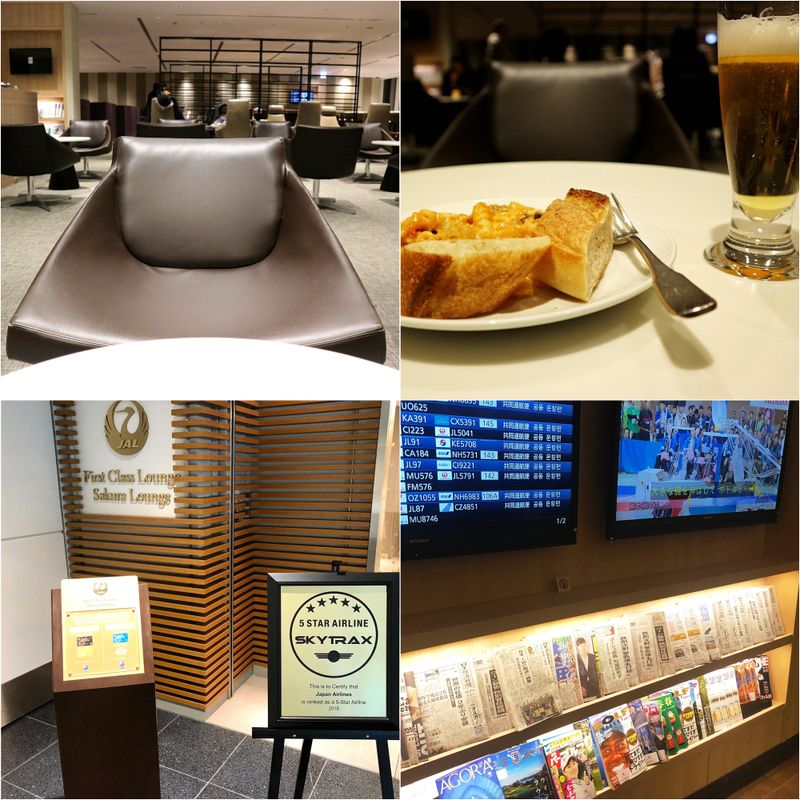 Not only are the departure and arrival times perfect, but economy passengers taking Japan Airlines flight JL041 from Tokyo's Haneda Airport to London Heathrow can make use of JAL's Sakura Lounge prior to departure.

JAL Group announced their second daily nonstop service between Tokyo and London in the summer of 2017 with the first of the flights due to commence in October the same year. The 2:45 (am) departure time from Tokyo International Airport (Haneda Airport International Terminal) has travelers on the ground at Heathrow Airport, west of central London, at 6:25 (am) on the same day. For business travelers in particular, it's an arrival / departure schedule that allows them to get the most out of trip itineraries.
Even for non-business travelers though, JAL's Haneda to Heathrow service has plenty going for it.
Headed back home in time for Christmas last year, there was little hesitation on my part in choosing JL041 for a second time.
Yes, the 2:45 departure time (The last / first of the day from Haneda?) tends to raise eyebrows but if, like me, you're the kind of traveler that has trouble sleeping in anything other than a comfortable bed, it's probably your best chance of getting significant shut-eye on a flight that hits the 11 to 12-hour mark.
And it seems the flight crew of JL041 Tokyo to London are blissfully aware of this. Board the plane. Take off. Enjoy some drinks and light snacks. Then it's lights out allowing passengers to slumber or take in the entertainment, cocooned in the comfortable dark.
Around seven hours into the flight to London, a full meal is served and the coffee is poured giving travelers plenty of time to freshen up and take in a bit of TV before landing. (Don't worry, if you can't sleep, there's a constant flow of juices, water and snacks throughout.) And then you land. In the morning, just like you've gotten out of bed, as near as possible to having a body clock set to Greenwich Mean Time.
Another great benefit of departure time 2:45 am is that workers won't have to waste a precious vacation day on the journey itself -- In my case I did a full day at the office (in Tokyo) and had plenty of time to get back home (in Chiba) for a shower, shave, dinner and last-minute packing before heading back into Tokyo before the last train of the day heading to Haneda. A full day of work gives this jittery body every possible chance of leaving the mind in peace during the flight. And, for the most part, an uncrowded train journey to the airport.
Of course, such an early/late departure time is going to raise concerns about what kind of services are available at the airport terminal and what kind of atmosphere a traveler is going to have to kill time in. And there is a little time to kill given that even a last train into Haneda will leave travelers at least a couple of hours before departure. And it's probably not the best idea to take the very last train.
At this kind of time though, for the most part, Haneda Airport International Terminal is delightfully relaxed and although some shops and restaurants are closed, it's fun to walk around a quiet Edo Market Place and take a leisurely traverse of the Haneda Nihombashi bridge. You also have access to the outdoor observation decks and there are a handful of eateries open 24 hours.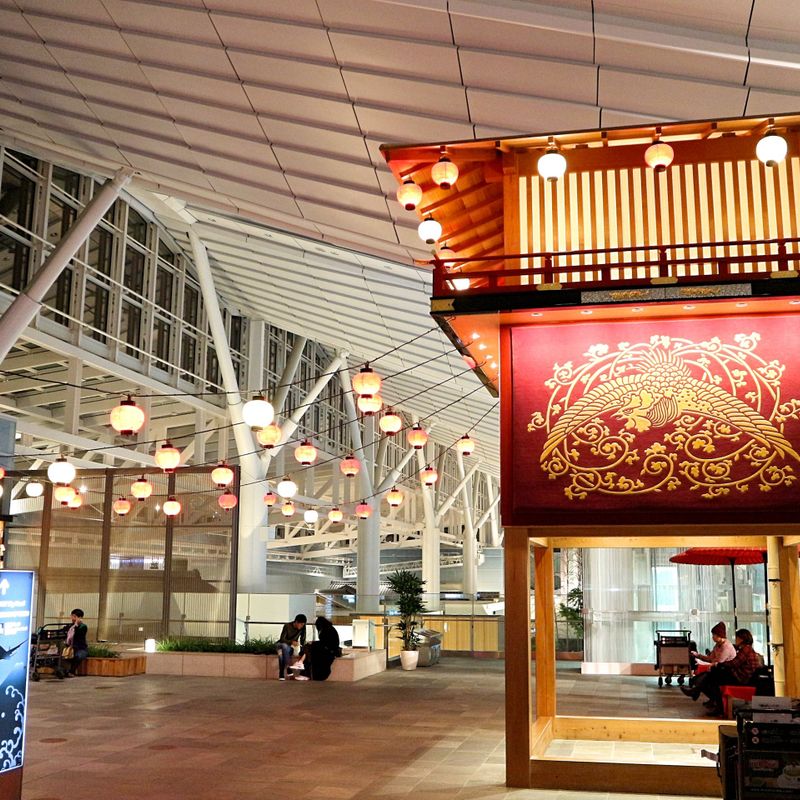 Don't dawdle though. A great feature of flight JL041 is that even economy passengers can enjoy complimentary access to a section of the JAL Sakura Lounge, located right above the flight departure gate (112 - in between the terminal's two immigration points).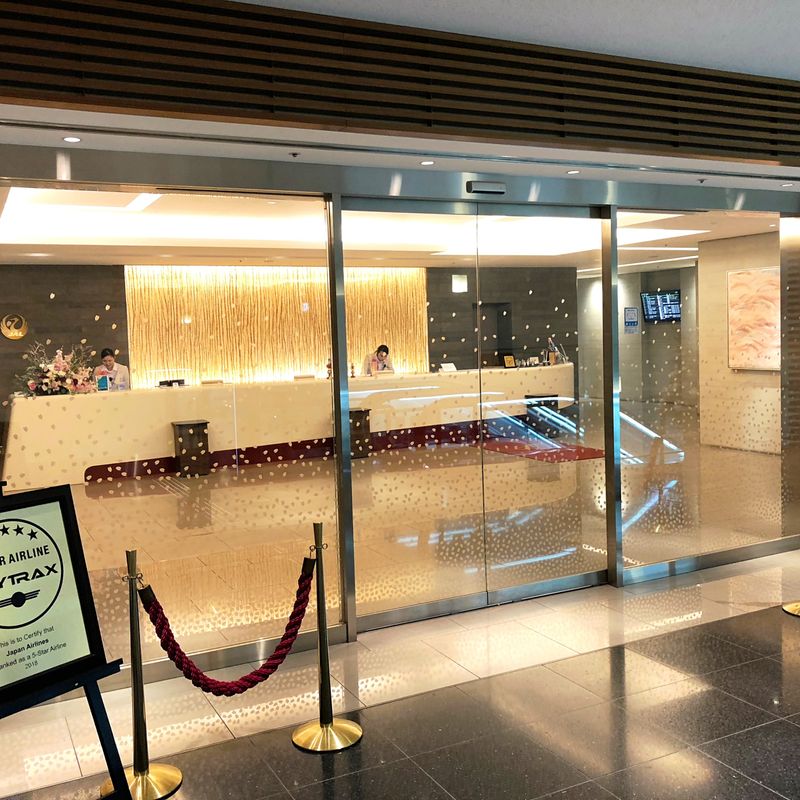 Head up the escalators to lounge reception and show your boarding pass to staff. Then, make your way up to the 4th floor where a softly lit, modern Japanese space awaits.
And, in this travelers experience, there is plenty of space, and comfy chairs within that space, to choose from. Even better after a long day is the buffet set-up serving light (hot) meals (I went with the pasta and some tasty bread) and drinks. Yes, drinks that include ice-cold beer served in refrigerated glasses from an automated beer-pouring machine, wines, soft drinks, teas / coffees and water.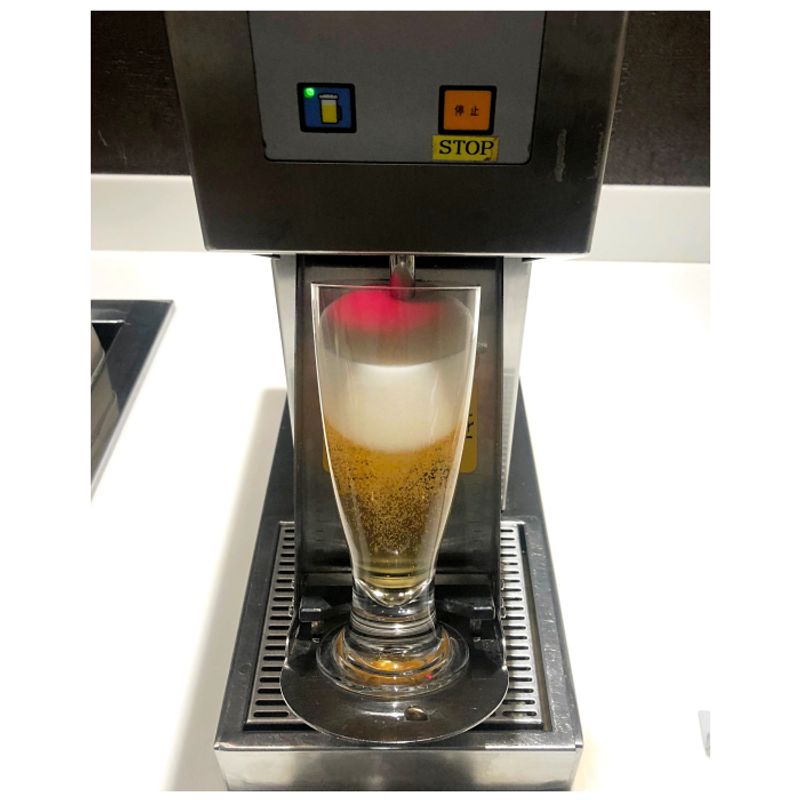 Sit back, eat, drink, plug-in and charge up, get on the wifi and do some work, review the London itinerary, try to guess what the in-flight movies will be, read the complimentary newspapers / magazines, brush teeth and freshen up in the restroom, … all comfortable in the knowledge that you can be at your departure gate in a matter of seconds.
Relax. The day is done. You're as good as in London.
Notes
Despite the early / late departure time, Haneda airport still handles a number of departing flights prior to the departure of JL041. At this kind of time the immigration counters may not be fully staffed meaning you could face long(ish) lines here and at security. You don't want to miss out on the JAL Sakura Lounge experience so don't leave it too late to head to security. Maybe the festive season was also a factor, but it took me a good 40 mins to clear all the checks.
JAL Sakura Lounge is available to passengers of JL041 from 23:30. Passengers are also given complimentary access to bathing facilities at Natural Hot Spring Heiwajima, an onsen facility located near to Haneda Airport.
Do make use of the food at the lounge as your next full meal won't be for at least another eight hours. And the lounge food is good!
The JL041 service from Tokyo to London is coupled with a return leg -- JL042 -- departing London Heathrow at 9:30 am, arriving at Haneda at 5:15 am (the next day).
Depending on the time of year, arriving at 6:25 am in London could mean arriving in the dark. And it still being dark when you're ready to leave Heathrow.
The quickest and easiest way from the Heathrow terminals into central London is via Heathrow Express trains which take around 15 mins to reach London Paddington station. Trains are already up and running by the time JL041 touches town. Buy tickets from machines or Heathrow Express staff prior to boarding.
The arrivals terminals at London Heathrow and the Heathrow Express itself have a free wifi service.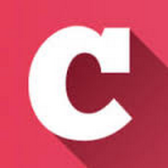 A Q&A and blogging community about life in Japan (plus a load of life-in-Japan stats!). Get your questions answered, share your experience! | Inquiry -> KyodoNewsDigital International Media | Tokyo, Japan | +81 3 6252 6402
---
2 Comments
That's the most relaxed vibe I think I've seen at Haneda! Looks so pleasant!

@genkidesu - I think feeling somewhat sleepy / tired at that kind of time helps as well. Overall, it's a nice vibe but going through immigration and security with the limited counters being open did lead to a bit of waiting in line. They had the foreigners and locals going through the same immigration counters (which I don't think is what normally happens). Still, there's a timing element to it as well, as these things often happen in waves.