Apr 26, 2018
The Ramen Girls Festival (ラーメン女子博) celebrates Japan's love of the slurpy noodles with, as the name might suggest, a focus (though not exclusivity) on spreading said love among the female half of the population. Ramen Girls Festival 2018 sees the event move to Tokyo and the Japan capital's Nakano Central Park for noodle slurpage over the Golden Week period.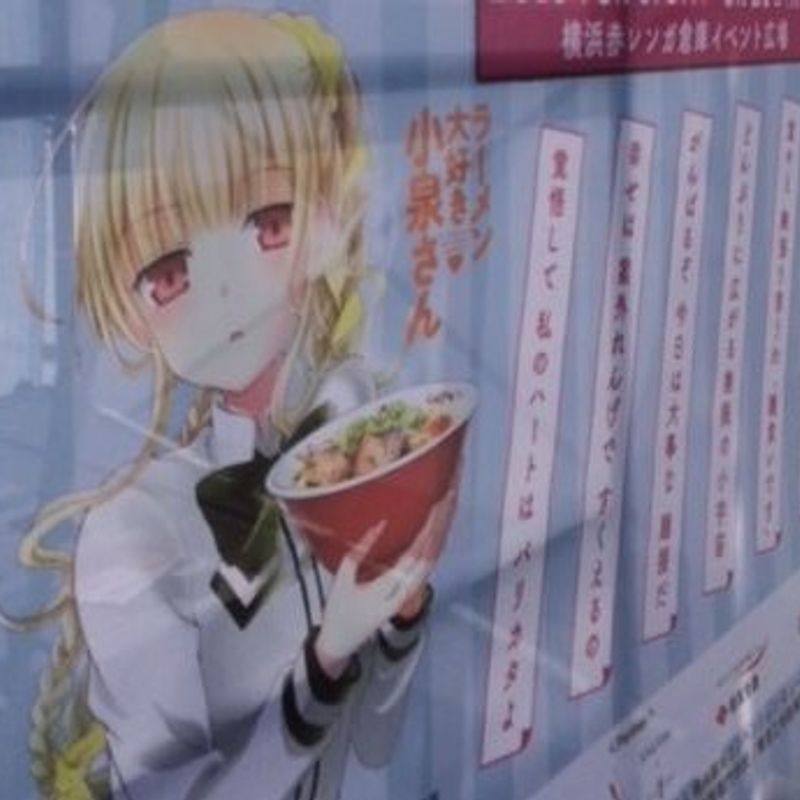 "Why does ramen need its appeals to be colored with a more feminine shade?", one might ask. Well, because ramen purveyors and establishments in Japan have typically been greasy, grimy, no-frills joints staffed by middle-aged men with half of a beer belly poking out from under a grubby white vest, and populated by punters typically male and typically knackered from work. Basically, they haven't been so appealing to women, or to a whole load of men, either, to be fair.
Today, however, the description above can fairly be charged with being a sweeping generalization. Plenty of ramen joints across Japan scrub up pretty nicely.
It remains a truism though, that the noisy, messy way of eating Japan's favorite noodle dish does leave it in some need of an extra helping hand when it comes to adding a bit of class and sophistication to proceedings.
Enter the stage, Morimoto Satoko (森本聡子) founder of the Ramen Girls Festival which held its first collective slurp in 2016 in the delightful surrounds of the Yokohama Red Brick Warehouse in Kanawagawa Prefecture south of Tokyo.
"I want to spread a culture where women have the confidence to eat ramen even when alone." says Morimoto on the festival's homepage.
While the Ramen Girls Festival is far from a solo eating experience (we were there in 2016 along with an army of others), it does do, in our experience, a stirling job at presenting ramen in a new light -- where flavors, surrounds, and company can be savored and enjoyed, rather than the latter being completely ignored, and the former consumed with all the sophistication of someone on the verge of starvation.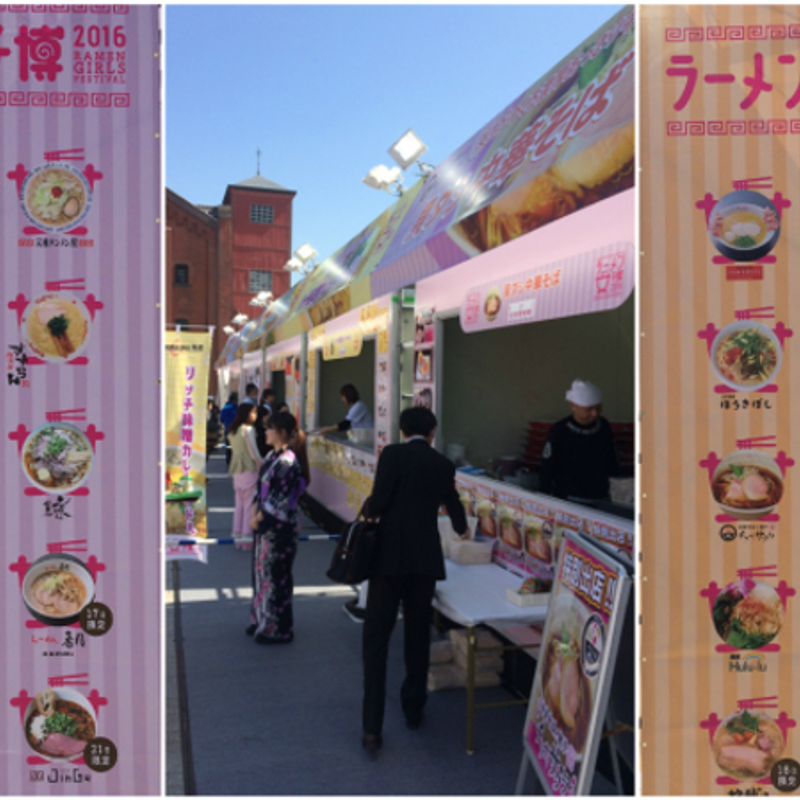 (Scenes from Ramen Girls Festival 2016)
Morimoto, who also mixes in Japan's "talent" (celebrity, people who appear on TV) circles, would appear to know her stuff when it comes to ramen -- sampling dishes from across Japan's 47 prefectures it's said that the "ramen freak" consumes over 600 bowls of the noodles each year. Take some time to reflect on that. Anyone who's felt like they've stocked up for the day after just a solitary bowl of the stuff will appreciate just how staggering this figure is.
When it comes to the Ramen Girls Festival, Morimoto picks up ramen purveyors to set up shop at the event with chefs designing dishes and menus that are exclusive to the festival.
In its simplicity then, what we have at this food fest is a set of stalls selling ramen and a space filled with tables and chairs where the consumption takes place. Dishes served in paper form, are purchased with tickets, which in turn are purchased from a ticket tent. Entrance to the festival is free.
But there then there are the finer touches -- the "girls only area," the selection of drinks and dessert stalls, and the care and attention with which it is all put together.
And while the focus is certainly female, Ramen Girls Festival is open, and welcoming, to all.
In 2017 Ramen Girls Festival was again held at Yokohama's Red Brick Warehouse as well as having stints in Osaka and Nagoya in the autumn.
Ramen Girls Festival 2018 (ラーメン女子博2018)
For the 2018 edition of this feminine noodle fest, the location moves to Tokyo and the Nakano Central Park, just a couple of hundred meters north of Nakano station a few stops from Shinjuku.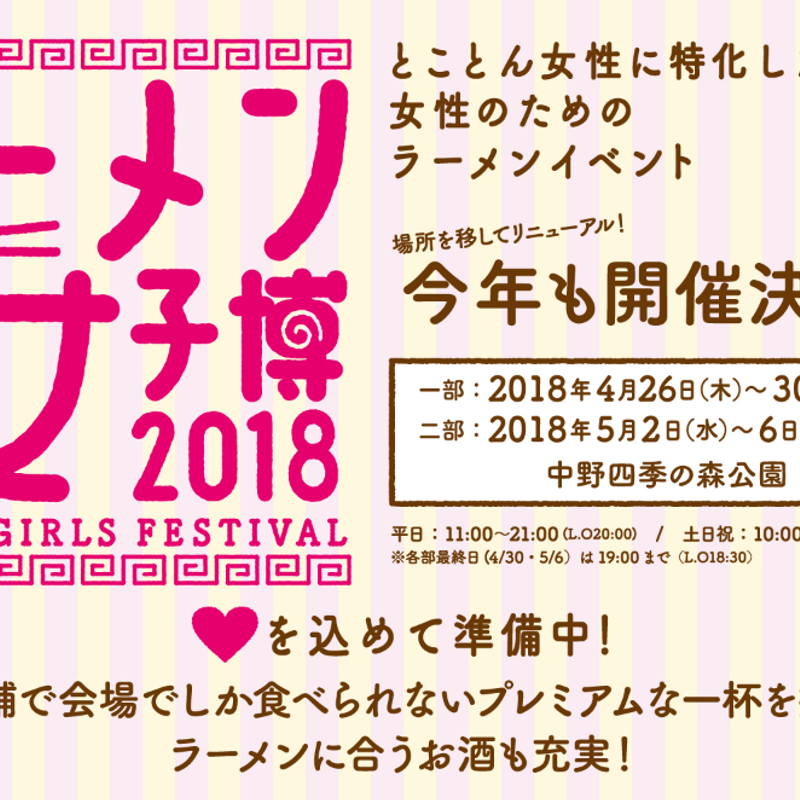 (Screen shot from Ramen Girls Festival event homepage)
Ramen Girls Festival 2018 will be held over two phases, each featuring a differing set of nine ramen stalls, set up by shops selected by Morimoto from across Japan.
As well has the ramen, this year's event will be serving up dessert in the form of kakigori from the now legendary ice-shavers "Ice Monster" out of Taiwan. There will also be a "Sake Love Corner" (酒LOVEコーナー) serving up drinks that cover beer, wine, and the more curiously named "vegetable," "herb," and "spice." Exactly how these drinks present themselves, we can't be sure but the homepage promises to deliver some "instabae" photo ops.
The same corner will also be selling leisure sheets so that festival goers can spread out on the parks grassy areas and enjoy a post-ramen chill in the, fingers crossed, Golden Week sunshine.
Testament to the popularity of the Ramen Girls Festival, a fast-pass ticket system will be available in 2018 to help those who are extra hungry skip some of the queues. We're not quite sure how this is going to be managed, but on top of purchasing a regular ticket for your ramen (900 yen) an extra 500 yen will get you a fast pass. (Note: As sophisticated as this festival might try to be, this is still about the ramen for which the Japanese have a Spartan-like ability to endure queues in order to get their fill of the stuff.)
Perhaps this is taking the appeals to the feminine too far, but this year's event will feature a bunch of handsome (if slightly sappy) "ikemen" -- the Japanese term for cool / skinny dudes who might make girls that like cool / skinny dudes go all weak at the knees. We counted eight of them on the festival's homepage. It seems like they are just going to float around the venue being nice to people, and presumably pose for a myriad of selfies. Anyway, we quite like the tenuous language link -- "men" (麺), as in "noodles," "ikeMEN" as in the dudes described above -- "IKE麺."
What
Ramen Girls Festival 2018
Where
Nakano Central Park, Nakano-ku, Tokyo
When
April 26 - 30 & May 2 - 6
Hours

Weekdays 11:00 - 21:00

Sat. Sun. Hols. 10:00 - 21:00 (LO 20:00 any day)

Web
http://www.ramengirls-fes.com/
*Note: 4/30 & 5/6 wrap up at 19:00 (LO 18:30)
Entrance to the festival is free. Tickets for ramen are 900 yen per bowl, + 500 yen for a fast pass.
Map:
Further reading ...
Ramen Girls Festival 2016: Opens in Yokohama
Will you be heading over to the Ramen Girls Festival this year? Have any food-festival favorites in Japan? Let us know in the comments.
See us on ...
Twitter and Facebook: @citycostjapan
Instagram: @city_cost_japan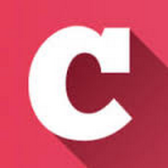 A Q&A and blogging community about life in Japan (plus a load of life-in-Japan stats!). Get your questions answered, share your experience! | Inquiry -> KyodoNewsDigital International Media | Tokyo, Japan | +81 3 6252 6402
---