Feb 13, 2019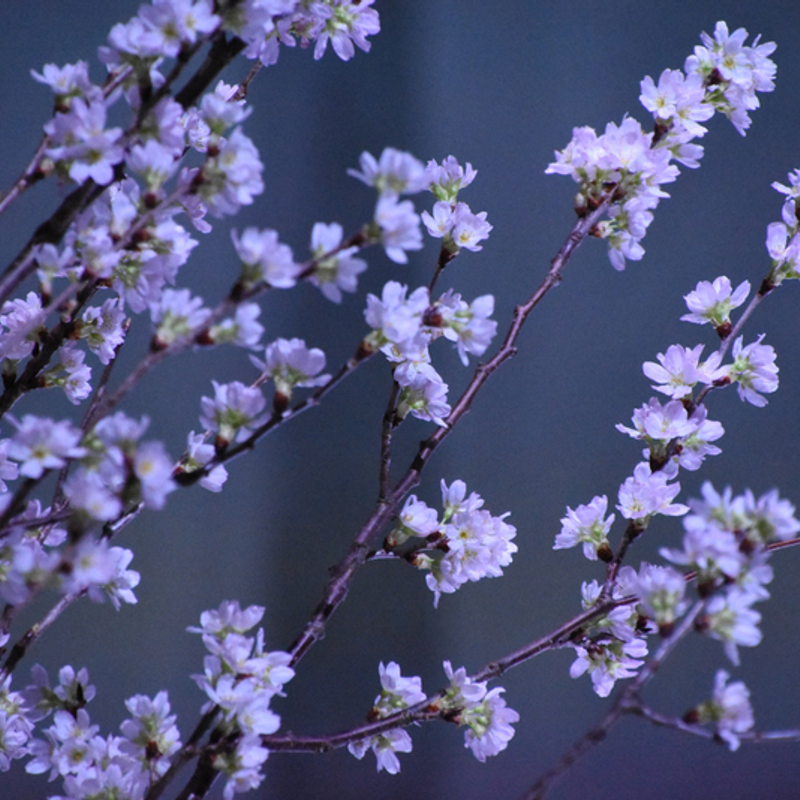 Looking for an alternative cherry blossom viewing experience in Tokyo? For the sakura season in 2019 the Japan capital is host to a number of hanami events and immersive experiences that combine art (both digital and classic) with a sense of creative abandon to reimagine Japan's much-celebrated pink petals, doing away with the need to endure chilly spring evenings or a dawn patrol search for an empty patch under the cherry trees.
Flowers by Naked 2019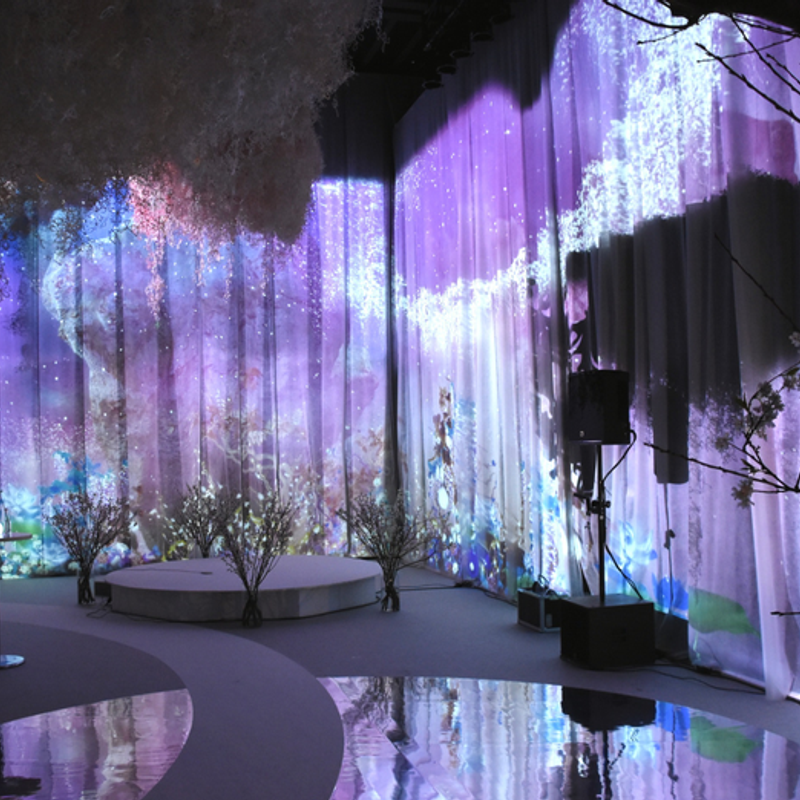 (Image taken at Flowers by Naked event in 2018)
Digital creatives NAKED Inc. get the cherry-blossom-meets-art immersive experience underway with their digital fantasy Flowers by Naked.
Sometimes billed as "the earliest hanami event of the year," "Flowers" has returned to Tokyo's Nihonbashi district in 2019 for a run that will come to a close on March 3 at the Nihonbashi Mitsui Hall in the Coredo Muromachi complex.
Actually, cherry blossom viewing is among a number of experiences that form the Flowers by Naked extravaganza, but it's a significant one, centering largely on the Ooakura space of the exhibit in what is a collaboration with Estee Lauder.
At the exhibition's "The Secret of Secret Garden" bar visitors can further indulge in a sakura experience courtesy of a drink menu that sees NAKED Inc. collaborate with Lipton Tea Stand to bring bevvies like the Sakura Tapioca Royal Milk Tea (1,500 yen) and Sakura Sparkling Cocktail (1,200 yen).
Flowers by Naked 2019
When
Jan 29 - March 3, 2019
Where
Nihonbashi Mitsui Hall, 5F Coredo Muromachi 1, Chuo-ku, Tokyo
Hours
10:00 - 20:00 (Feb 5, 12, 28 until 18:00)
Entrance

Adult (high school and older) 1,600 yen, Child 1,000 yen /

Sat, Sun, Hols - Adult 2,000 yen, Child 1,000 yen

**advance tickets no longer available**

Web
https://flowers.naked.works/2019nihonbashi/
Midtown Blossom 2019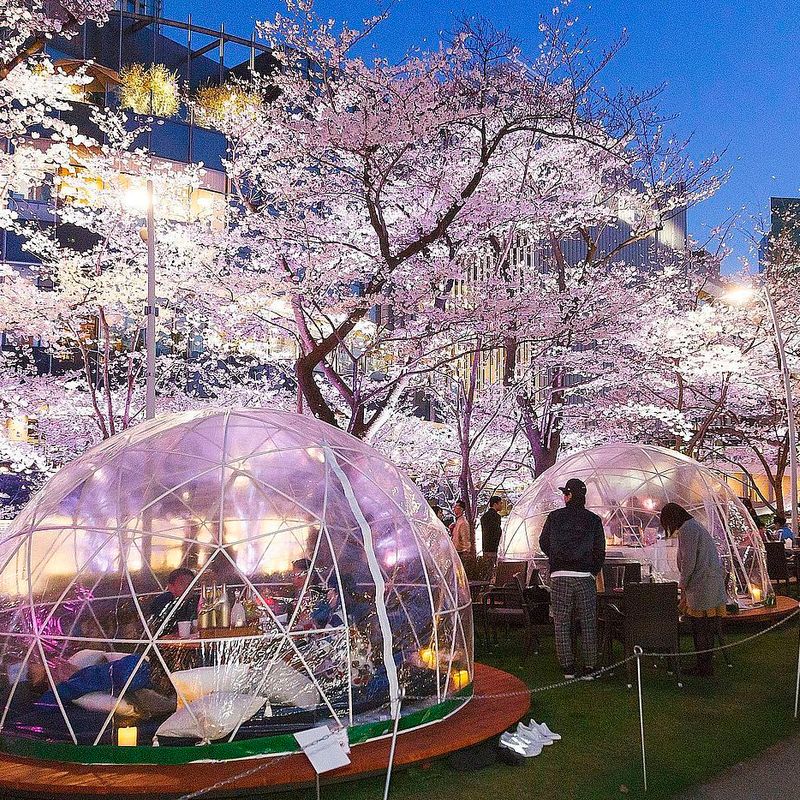 From mid-March Tokyo Midtown -- the bastion of sophistication in the capital's otherwise meat market district of Roppongi -- bursts into flower with the Midtown Blossom 2019 event.
On this the event's 12th outing organizers are packing in the indoor and outdoor attractions under the slogan "Celebrate Spring" which looks to center on the 200-meter-long Sakura Dori that loops around the central skyscraper, flanked on the other side by garden and park land.
There are some 150 cherry tree here thanks to a foresighted "Sakura Inheritance Project" that began in 2013. Prior to the cherry blossoms' full bloom the trees are lit up with the color of the light then changing to reflect the stages of bloom. It's a great place for a stroll but things can get crowded on the bridge between skyscraper and garden as cherry blossom gawpers hustle for the best photo.
Cherry blossom aside, the pièce de résistance of the Midtown Blossom event looks to be, once again, the Chandon Blossom Lounge. Staffed by hands from the nearby Ritz-Carlton hotel the popular outdoor bar-lounge experience offers a limited-edition menu and sakura-tinged sparkling wine. Grab a space under the cherry trees or go all-out luxury in a domed tent "Chandon Suite."
Art is provided courtesy of the Spring Flower Display, an exhibition featuring works from last year's winner of the Tokyo Midtown Flower Art Award. The exhibition will be held in Galleria 1F of Tokyo Midtown and will run throughout the duration of the Midtown Blossom 2019 event.
Midtown Blossom 2019
Where
Tokyo Midtown, Minato-ku, Tokyo
When
March 15 - April 14, 2019
Hours

Lounge: 12:00 - 20:00

(Fri, Sat and when blossoms in full bloom until 21:00)

Light-up: 17:00 - 23:00

Spring Flower Display: 9:30 - 24:00

Entrance
Free
Web
http://www.tokyo-midtown.com/jp/event/4419/
Nihonbashi Hanami Festival 2019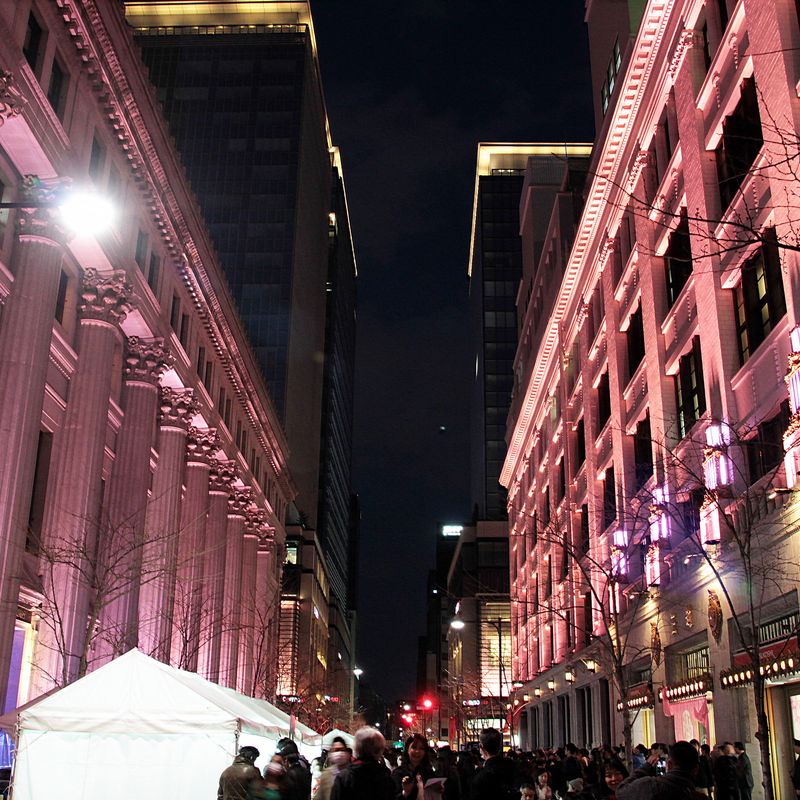 Nihombashi really goes all-out when it comes to celebrating cherry blossom and 2019 will see a 6th outing for the Nihonbashi Hanami Festival -- a digital art fest focused largely around the public spaces and walkways of the Coredo Muromachi complex, across the road from Tokyo Metro Mitsukoshi-Mae Station.
For 2019 festival organizers have teamed up with the creative minds behind the art installation Tree of Ténéré which proved a hit at bonkers U.S. art party Burning Man. This time around it will be The Tree of Light that brings festival goers the digital foliage with a tree bedecked in some 100,000 LEDs that react to sound, wind and human interaction.
The always charming Naka-dori walkway that stems from Fukutoku Shrine to take amblers between the Muromachi buildings will be turned into a Sakura Carpet and lined with around 100 sakura lanterns for the duration of the festival. The "carpet" responds to human movement, bursting into playful displays of digital blossom.
Nihonbashi Hanami Festival 2019 spreads its cherry blossom-themed canopy to the Yaesu and Kyobashi areas in which some 190 stores will be offering limited-edition, sakura-inspired menus. Select buildings in the area will be lit in sakura hues with shops windows and frontage forming a canvass for themed art as part of the festival's Sakura Gallery.
Nihonbashi Hanami Festival 2019
When
March 15 - April 7, 2019 (Food stalls March 30 - 31)
Where

Coredo Muromachi (Fukutoku Shrine, Naka-dori, various),

Nihombashi, Chuo-ku, Tokyo

(as well as Yaesu, Kyobashi districts)

Hours
Tree of Light: 17:00 - 20:00, Sakura Carpet: 17:00 - 20:00
Entrance
Free

Web

(Official site to open late Feb.)

http://www.nihonbashi-sakurafes.art/en/
Sumida Aquarium - Sakura and Jellyfish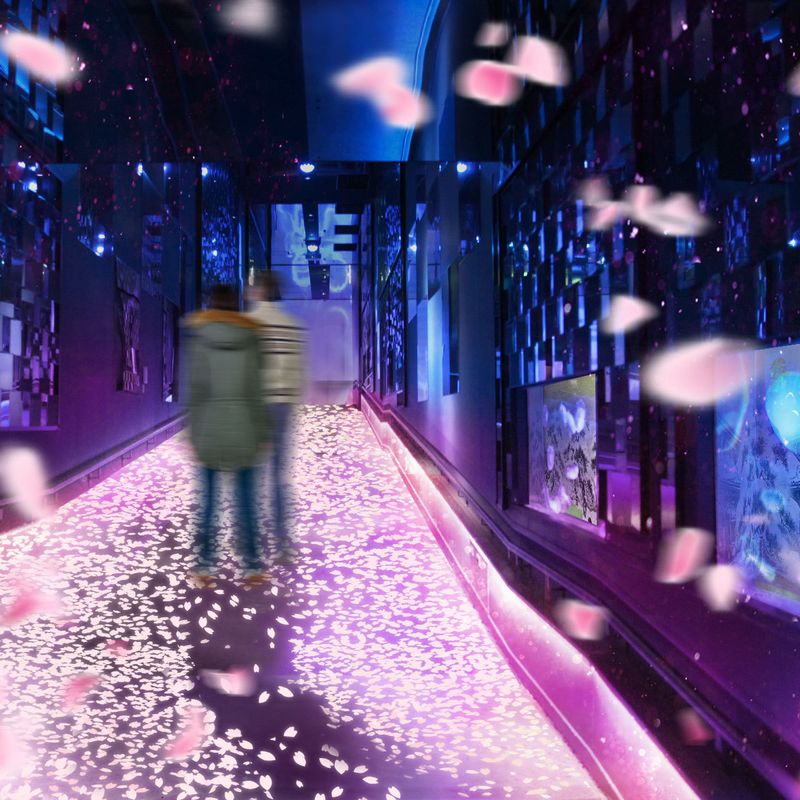 You can always rely on the resident former denizens of the deep in Japan's aquariums to be (unknowingly) center of some seasonal attention.
For cherry blossom season in 2019 step forward Sumida Aquarium in Tokyo Skytree Town, management of which presents sakura seeking visitors with this "Sakura and Jellyfish" event.
The high-concept naming says it all really -- floating jellyfish harmonized with drifting cherry blossom petals (digitally rendered) are the core of what looks to be going on here.
The feature centers on what organizers have called the Kaleidoscope Tunnel -- 50m long and plated in some 5,000 mirrors, this immersive experience projects images of urban sakura, flickering and dancing flower petals, together with the floating jellyfish.
On the tunnel floor a reactive walkway carpeted in digital sakura changes according to visitors' movements, sometimes taking on the form of rippling water.
Other features include a man-made spring breeze drifting throughout the event space carrying with it a seasonal aroma.
Sumida Aquarium - Sakura and Jellyfish
When
March 16 - April 25, 2019
Where

Sumida Aquarium, Solamachi 5/6F,

Tokyo Skytree Town, Sumida-ku, Tokyo

Hours
9:00 - 21:00 (Last entrance 1 hr before closing)
Entrance

Adult 2,050 yen, High school 1,500 yen, Jr high /

Elementary 1,000 yen / Child 600 yen

Web
https://www.sumida-aquarium.com/en/
MORI Building DIGITAL ART MUSEUM: EPSON teamLab Borderless - Spring-only exhibits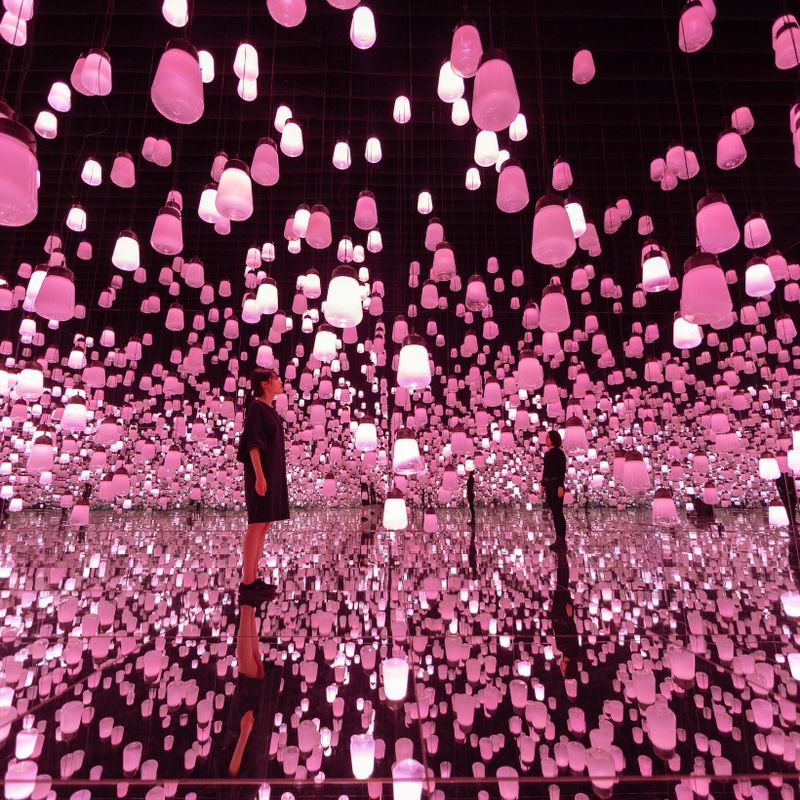 A set of spring-only changes is set to bring a bit of seasonal flavor to the immersive digital wonderland that is the Mori Building Digital Art Museum EPSON teamLab Borderless in Odaiba -- that's the one with all the hanging lamps and digitally rendered waterfalls.
During the spring season from March to May the installation "Spirits of the Flowers" will in March be based around the flower, daphne, and in April, Chinese milk vetch. The installation "Flowers - Layered Ultrasubjective Space" will take the form of plum blossom from February to March and peony from April to May. The installation depicting a rural mountain landscape, "Memory of Topography," is set to take on a spring form from March to May.
March and April will see the much-photographed Forest of Resonating Lamps lit in a one-tone sakura color in the "Forest of Resonating Lamps - One Stroke, Cherry Blossoms" installation. Five colors of Japanese kerria flowers (yamabuki) will be used in the Forest and Spiral of Resonating Lamps - One Stroke, Spring Mountain Fields."
MORI Building DIGITAL ART MUSEUM: EPSON teamLab Borderless - Spring-only exhibits
When

March through May, 2019

Where

MORI Building DIGITAL ART MUSEUM:

EPSON teamLab Borderless,

Palette Town, Odaiba, Koto-ku, Tokyo

Hours

Mon - Fri 10:00 - 19:00 / Sat, Sun, Hols 10:00 - 21:00

(Closed: 2nd and 4th Tues of month

(Different in Feb -- 18th, 19th closed, 12th, 26th open))

Entrance
Adult 3,200 yen, Child 1,000 yen
Web
https://www.teamlab.art/
Spring Festival in MOMAT, 2019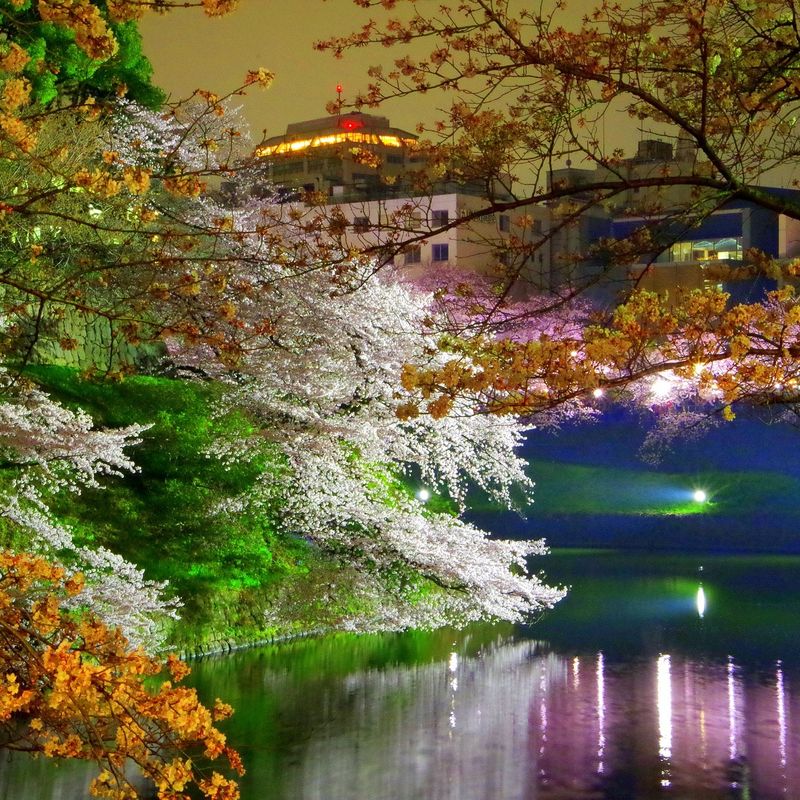 (Cherry blossoms of Chidorigafuchi in the vicinity of the National Museum of Modern Art, Tokyo)
The National Museum of Modern Art, Tokyo celebrates the sakura in 2019 with its Spring Festival kicking off in mid-March. During the festival art fans can combine the gawping at masterpieces of Japanese art with the gawping at beautiful cherry blossom, of which there is an abundance in the area -- Chidorigafuchi, Kitanomaru Park and the general vicinity of the Imperial Palace grounds.
Works featured during the festival at MOMAT include "Parting Spring" by nihonga school stalwart Kawai Gyokudo and Atomi Gyokushi's "Scroll of Cherry Blossoms" created in 1934. Both pieces are from the MOMAT Collection and will be among a number of paintings depicting flowers given the special treatment during the festival's running time.
While it might seem a bit rich crowbarring itself into swathes of sakura over which it has no control, MOMAT really does occupy a great spot in the midst of a prime bit of cherry blossom real estate. And the offering up of a fine-art experience based around flowers could be the perfect compliment to the surrounding sakura for some.
The Spring Festival in MOMAT is part of the MOMAT Collection, itself running from Jan 29 - May 26. Spring Festival works can be seen Room 10-2 on the museum's 3F.
Spring Festival in MOMAT, 2019
When
March 19 - May 26, 2019
Where

The National Museum of Modern Art,

Tokyo, Kitanomaru Park, Chiyoda-ku, Tokyo

Hours

Tues - Thurs, Sun 10:00 - 17:00, Fri, Sat 10:00 - 20:00

(Closed Mondays except March 11, April 25, 29, May 6)

Entrance
Adult 500 yen, Student 250 yen
Web
http://www.momat.go.jp/am/exhibition/springfest2019/
Sakura Chill Bar by Saga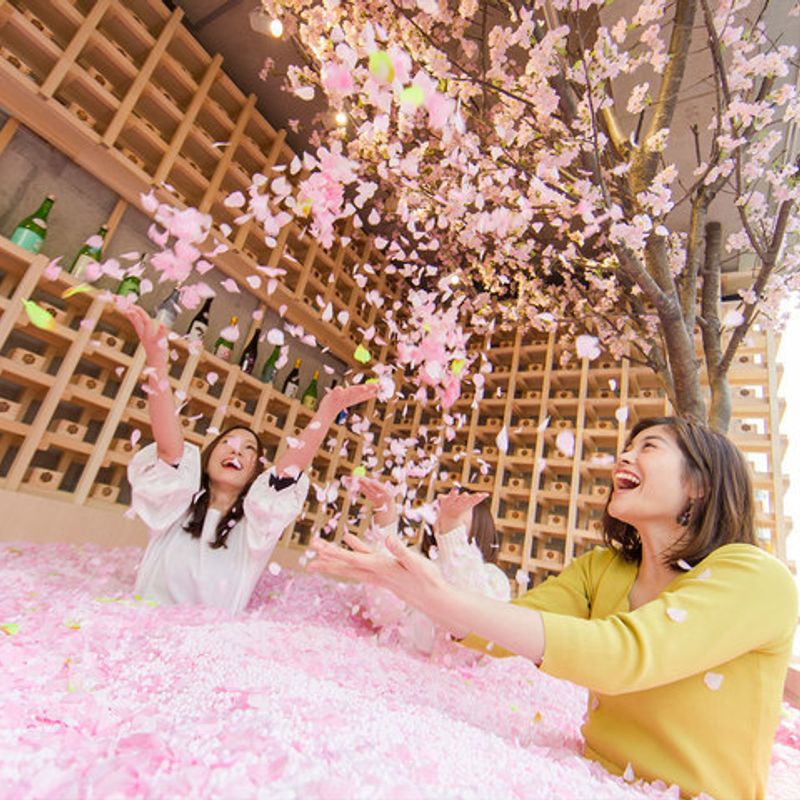 Indoor cherry blossom experience and nihonshu bar "Sakura Chill Bar by Saga" returns to Tokyo after what appears to have been a successful inaugural stint in 2018, which saw punters queue for over an hour each day to get in.
Brought to us by party creators Afro&Co., who've delighted pleasure seekers with such high-end entertainment as Bathtub Cinema, Slide the City, and the unlikely combo of live tuna slicing and nightclub house music in Maguro House, Sakura Chill Bar by Saga will set up shop in late March at venue IKI-BA in commune2nd in the capital's trendy Aoyama district.
Those who crossed paths with the bar last year will be pleased to know that key feature, the knee-high Sakura Pool is back, replete with over one million cherry blossom petals. So basically, you enter the bar, place your order, pay for it, get it, and then take it to the "pool" to enjoy.
On the menu are taster sets (Sakuratail set / サクラチルSET - 1,000 yen) featuring three kinds of nihonshu from Saga Prefecture -- Saga-shu -- and the "Ichigosan set" (1,530 yen) based on the new brand of strawberry that came out of the same prefecture this season.
So, while not necessarily an "art experience" per say, Sakura Chill Bar is at least immersive in a quite literal sense and employs the creative touch to lay on a quirky sakura experience that can be enjoyed indoors.
Sakura Chill Bar by Saga
Tokyo Skytree - The World's Highest Sakura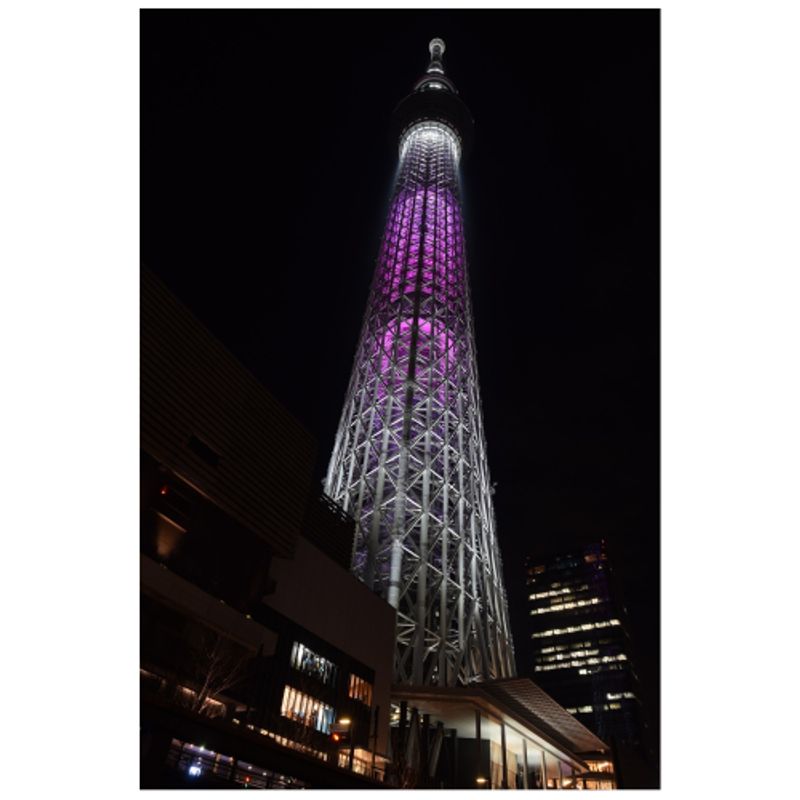 A special light-up of the world's tallest tower, Tokyo Skytree in the capital's Sumida ward, is set to display what organizers are called "the world's highest sakura."
The light-up, entitled "Mai / 舞" will be held from March 1 to April 7 and will see the big tree ablaze in pink (cherry blossom) hues with glittery white lighting at some of the tower's intersections.
The overall effect is hoped to reflect an image of fluttering, dancing cherry blossom petals, hence the name Mai / 舞 - to dance.
Tokyo Skytree - Special light-up "Mai"
When
March 1 - April 7, 2019
Where
Tokyo Skytree, 1-1-2 Oshiage, Sumida, Tokyo
Hours
Light-up from 18:30 - 22:00
Entrance

N/A

(Fee required to go up the tower)

Web
http://www.tokyo-skytree.jp/
Maxell Aqua Park Shinagawa - Sakura Aquarium Directed by NAKED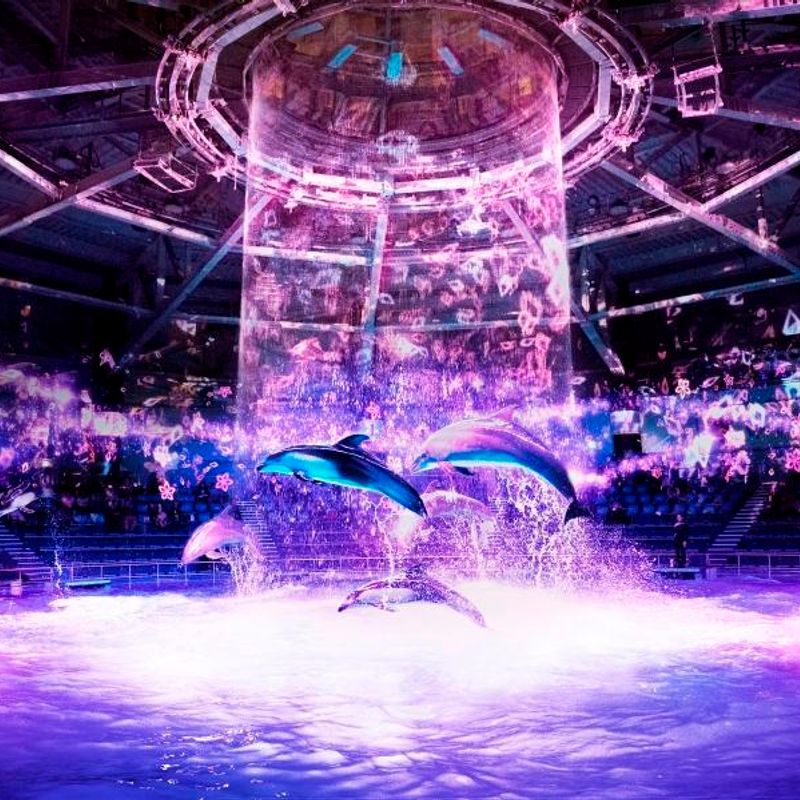 Following on from the Snow Aquarium Bright Crystal the people at Tokyo aquarium Maxell Aqua Park Shinagawa are keeping visitors on their toes in 2019 taking but a few days break before teaming up, once again with digital creatives NAKED Inc. to bring us the spring event Sakura Aquarium.
The people at Aqua Park Shinagawa have been working with NAKED Inc. since the winter of 2015 as they strengthen the aquarium's core theme of "fusing sound, light, motion picture and living creatures." The latest seasonal event looks set to build on this dazzling visitors with cutting-edge cherry blossom viewing together with aquarium residents such as dolphins and penguins in what the organizers have referred to as a "new style of cherry blossom viewing."
At the facility entrance will be a new feature Hanami Penguin -- projection mapping and penguins, while evening dolphin performances will take place at the aquarium's stadium bedecked with a myriad of cherry blossom petals to give visitors a unique 360-degree hanami experience. In the exhibition areas aquarium visitors can see denizens of the deep swimming in a sea of cherry blossom.
In addition to the exhibitions and shows Aqua Park Shinagawa will be offering sakura-themed menu items at the spectacular Cafe Bar Hanahi (Flower Lamp).
For visitors who are after some post-aquarium entertainment, Aqua Park Shinagawa is collaborating with 360-degree panoramic restaurant Table 9 Tokyo located in the main tower of the Shinagawa Prince Hotel, a stone's throw from the aquarium, by offering the "Sakura Set" -- combined aquarium entrance and a free drink at the restaurant bar.
Maxell Aqua Park Shinagawa - Sakura Aquarium Directed by NAKED
When
March 3 - April 21, 2019
Where
4-10-30 Takanawa, Minato-ku, Tokyo
Hours
10:00 - 22:00
Entrance

Adult 2,200 yen, Elementary / Jr High 1,200 yen,

Child 700 yen (Sakura Set 4,500 yen)


Web
http://www.aqua-park.jp/aqua/en/
Got any cherry blossom events in Japan on your radar for 2019? Let us know in the comments
Images:

Nihonbashi Hanami Festival: OiMax Flickr license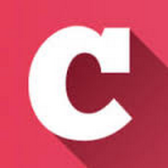 A Q&A and blogging community about life in Japan (plus a load of life-in-Japan stats!). Get your questions answered, share your experience! | Inquiry -> KyodoNewsDigital International Media | Tokyo, Japan | +81 3 6252 6402
---