May 7, 2018
What's to do in the city of Takasaki (高崎), southern Gunma Prefecture, about 60 km northwest of Tokyo? Exploring downtown Takasaki with a few hours to spare, and taking a full day to get out to Mt. Haruna and take in Haruna Shrine and Haruna Lake.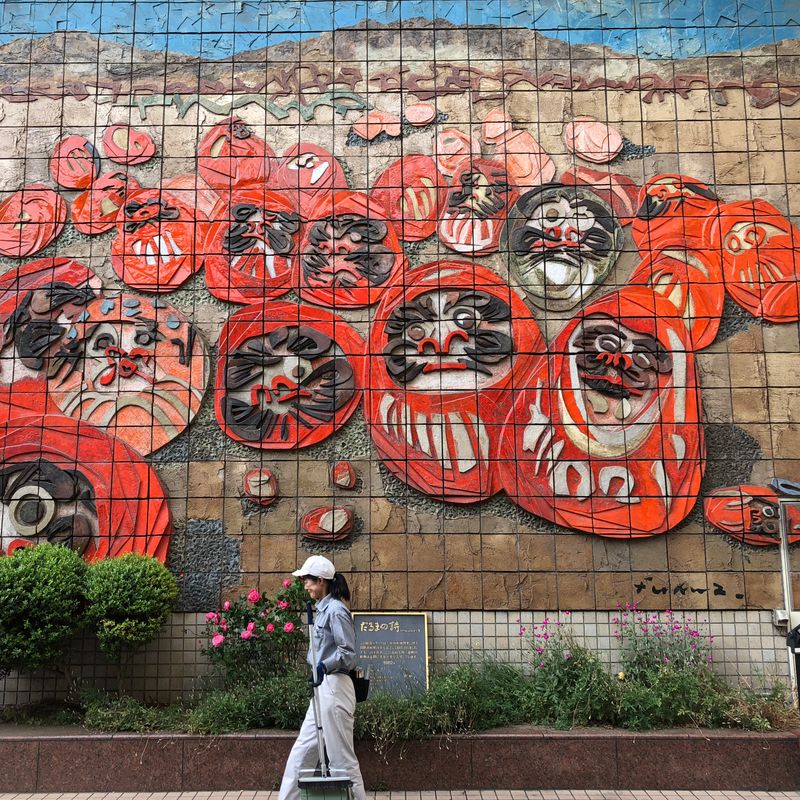 Of course, we'd heard of Takasaki, the city in southern Gunma, just out of touching distance of Tokyo. We'd even seen it with our own eyes on more than a few occasions, but all of these have been fleeting, as we zipped through Takasaki station on board Shinkansen bound for the outdoors of Nagano and Niigata, or the cultural riches of Kanazawa.
Almost within touching distance of Tokyo, but really not Tokyo at all, we know people who live in, or around Takasaki, making the daily commute to the Japan capital for work, with Joetsu / Hokuriku Shinkansen keeping journeys down to a manageable hour or so (manageable if the ~ 5,000 yen one-way fares can be put on the company's coffers).
While seemingly unworthy of a cursory line or two in the latest Lonely Planet guide to Japan, and perhaps not an obvious choice of destination for a Golden Week vacation splurge, we're here and happy to be so (even if it is social commitments that have brought us to the region).
It's the final weekend of Golden Week, the weather really is glorious and the prospect of a BBQ out in the sticks somewhere awaits in the evening. In the meantime, we've a hotel booked downtown, have a couple of hours spare in the city and a full day at our leisure tomorrow. So, what's to do Takasaki? Sock it to us!
Well, rather disconcerting, the young lady at Takasaki station's tourist information desk, when asked what's to do with a few hours in the city, basically tells us to get out, suggesting instead a visit to the giant Byakue Dai-Kannon, a statue of the Goddess of Mercy, about 25 mins by bus from the station.
We've no time for that though, and Takasaki has always appeared big enough from the window of the Shinkansen to house something of interest.
So it is then, that we're pointed in the direction of "the city," in both senses -- Takasaki City Hall.
This monolithic lump of metal and glass swallows the skyline west of Takasaki station, from which it's a short walk up the broad Symphony Road. And the first thing we notice after exiting the station, is just how few people there are in this city. The buildings, shopping malls, hotels, walkways, and giant street crossings are all here, but the people are gaping in their absence.
Still, for the last weekend of Golden Week, this is emphatically nothing but a good thing, even if it does make one question the need for Takasaki City Hall to be so large.
The upper floors of Takasaki City Hall boast a broad observation area of sorts. It's free and from the lofty 21st floor perch you can get some fine views over the city -- east, west and north. There's a restaurant up here (Art Marche -- mains ~1,000 yen) as well as toilets and plenty of places to park bums as you gawp out at the city.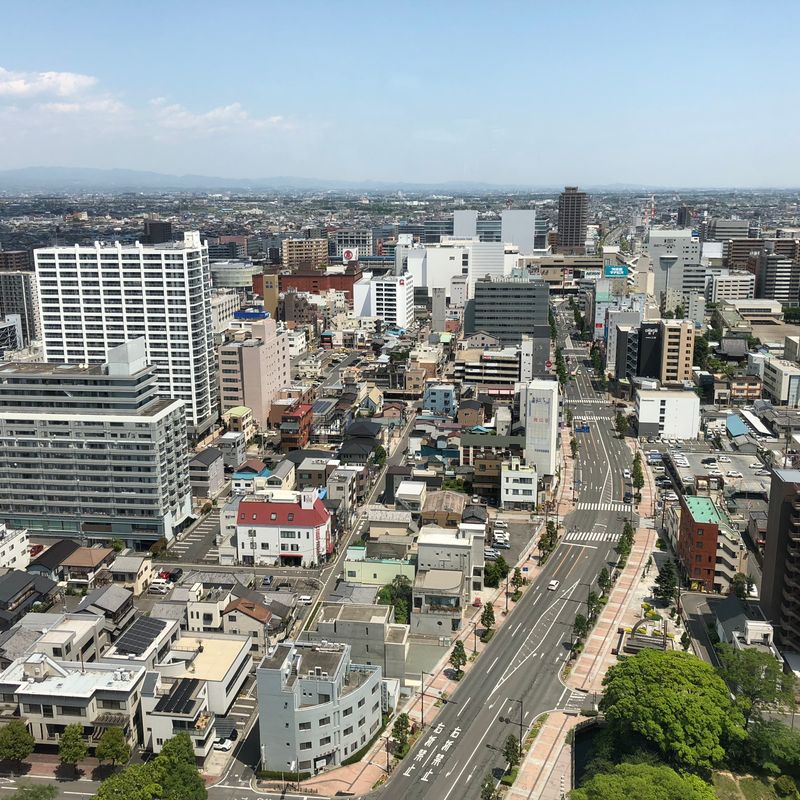 (View over Takasaki from the 21st floor of the city hall)
Down at ground level, north of the city hall across the Symphony Road we have a bit of a giggle at a public telephone box in the shape of a cello, or some generic string instrument -- all part of the music theme that seems to be dotted about the west side of the station.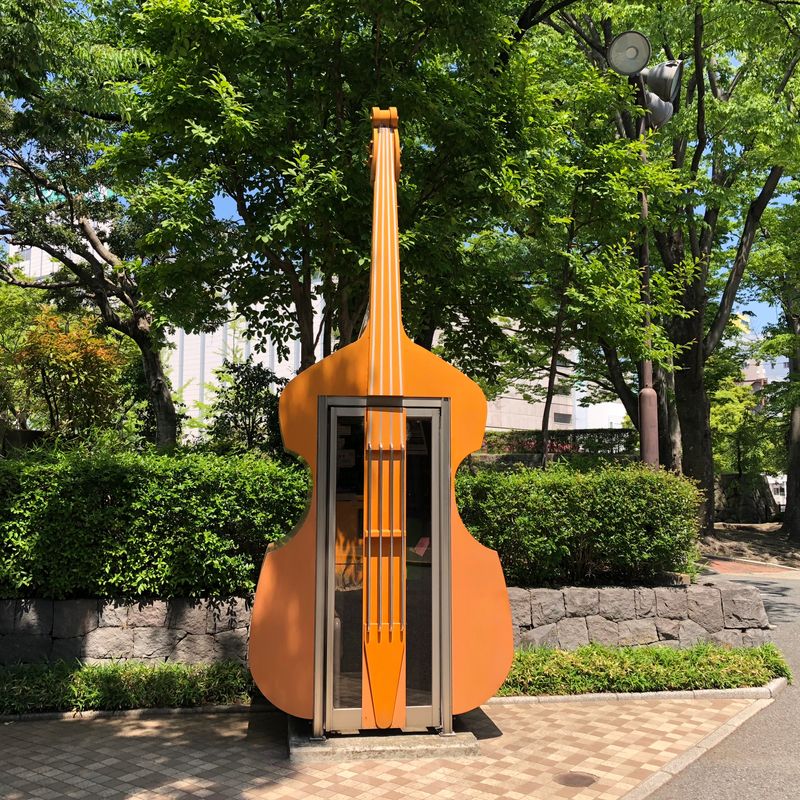 Gunma Symphony Hall and Gunma Music Center sit in the grounds of what used to be the vast Takasaki Castle, dating back to 1598. Today, the only prominent feature remaining is one of the castle's "yagura," a small tower sitting alongside the castle moat next to Motenashi Plaza. It's pretty though, and walks alongside the moat waters may be the very definition of the term "pleasant."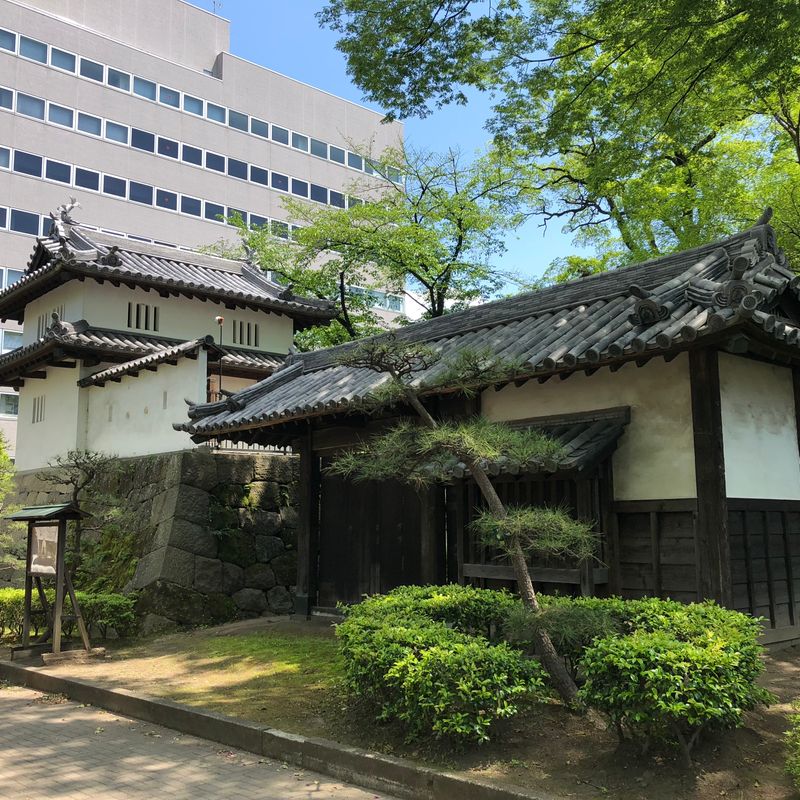 (Remaining structure of Takasaki Castle)
Few things beat a bit of al fresco dining on a fine day, so we take in a quick bite at the street side tables and chairs of cafe / dining bar "El Julio." While there isn't much in the way of foot traffic to ogle, the Otemae (大手前) location (a block north of Symphony Road) is a pleasant one with plenty of sidewalk space to stretch the legs on.
Higashinijo Dori is the main north-south thoroughfare just west of Takasaki station. The stretch nearest the station is home to some funky-looking eateries, boutiques and other independent stores that have been grouped under the collective of "hanahana street" since this area was host to the events of a "green fare" in 2008.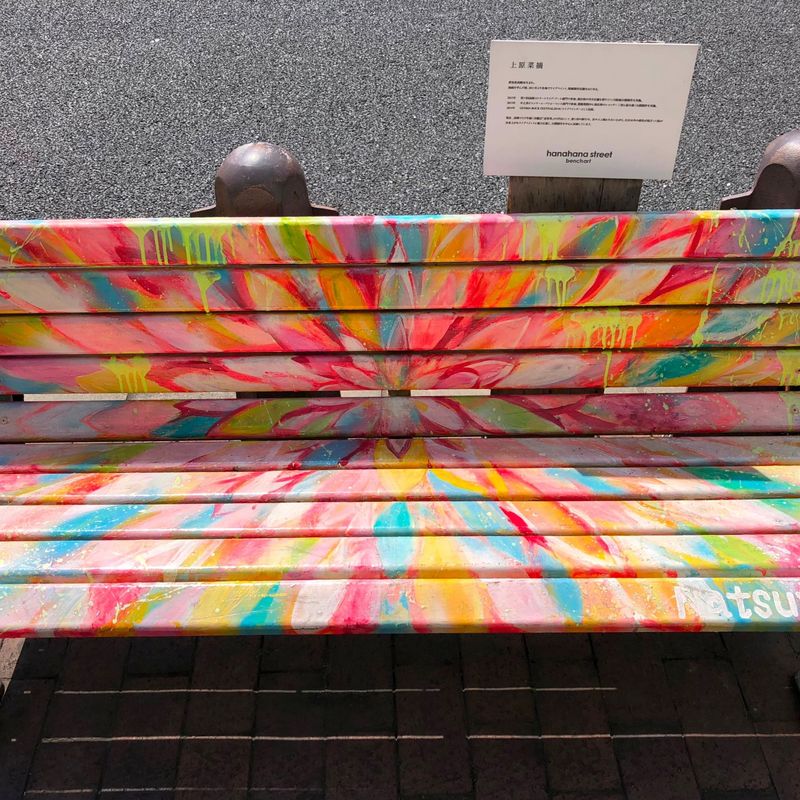 "hanahana street" makes for a nice stroll and is a good spot for window shopping. Look out for the brightly painted benches that line the street, the results of the "hanahana street bench art" live painting that took place in 2014.
You'll never be able to get away from Takasaki without being made to realize that this is the birthplace of the concept of the Daruma doll, those angry-looking red balls, as being a bearer good fortune. Takasaki is littered with the things, in every possible presentation.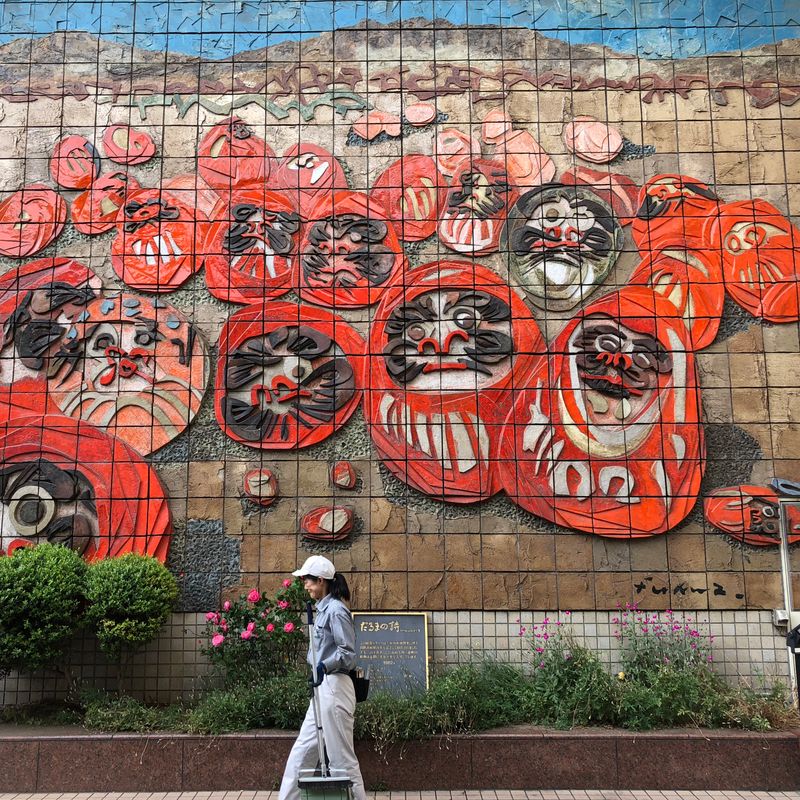 (Cleaning staff walk past the "Poem of Daruma" relief outside Takasaki station)
One of the best, for us, is the relief to be found on the west side of Takasaki station, street level, near where the buses pick up and drop off. Entitled "Poem of Daruma," the relief was installed in 1982, when Takasaki station became a stop for the Shinkansen.
All of the above things to do in Takasaki then, done in around two hours. (In the interests of attention to detail, we arrived in Takasaki (from Tokyo) at 11:46 and left Takasaki on a Joshin Dentetsu Line train at 14:30.)
The Free Day - Takasaki to Haruna Shrine and Haruna Lake
In all honesty, we'd been told that this area's current sightseeing boast, the Tomioka Silk Mill a few kilometers southwest of Takasaki station, was perhaps more of a special interest kind of thing. (We're being polite. In real terms, we were told there was nothing to see there despite its World-Heritage listing.) Anyway, we had our eyes on the mountains.
The impressive bulk of Mt. Haruna begins to rise about 15 km northwest of downtown Takasaki and boasts two of Takasaki's other premier attractions -- Haruna Shrine and Lake Haruna -- which can be taken in over the course of a busy day, it turns out.
The drive to the Haruna Shrine (榛名神社 / Haruna-jinja) takes us less than an hour from Takasaki station, a car making light work of the mountain's gentle forested slopes. The same can't be said for cycling up with the same gentle slope looking to be a good half-day, soul-testing slog. But plenty are up for the test, and in preparation for an upcoming cycle race there's enough Lycra and road-bike engineering on the slopes of Mt. Haruna today to furnish the bulk of a Tour de France peloton.
Now, you see a thousand of Japan's temples and shrines plastered across the Internet these days and this expat has seen a fair few of them in the flesh, so to speak. It must mean something then, when we say that Haruna Shrine fair blew us away.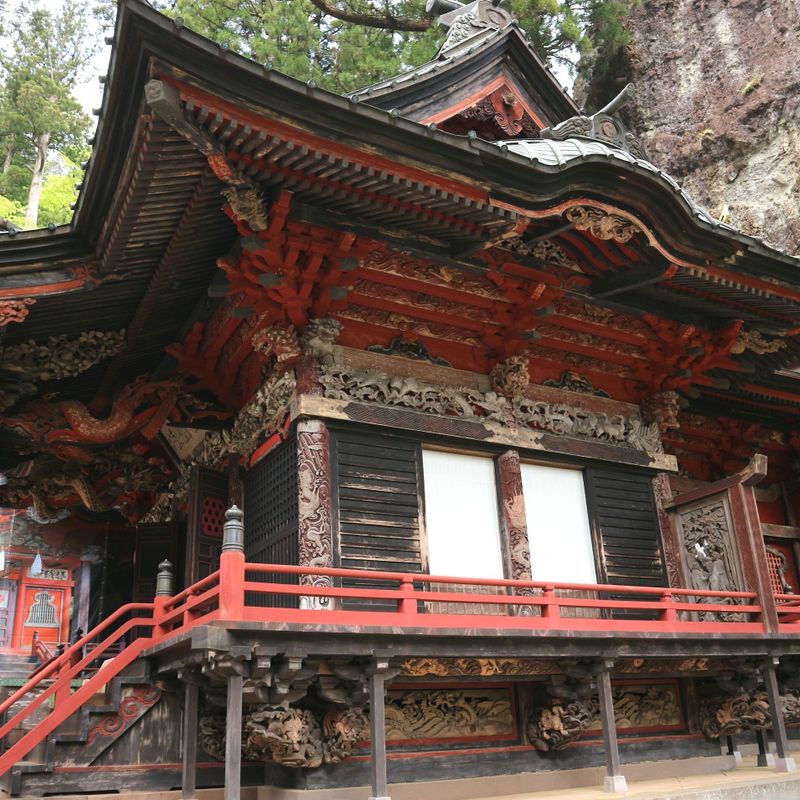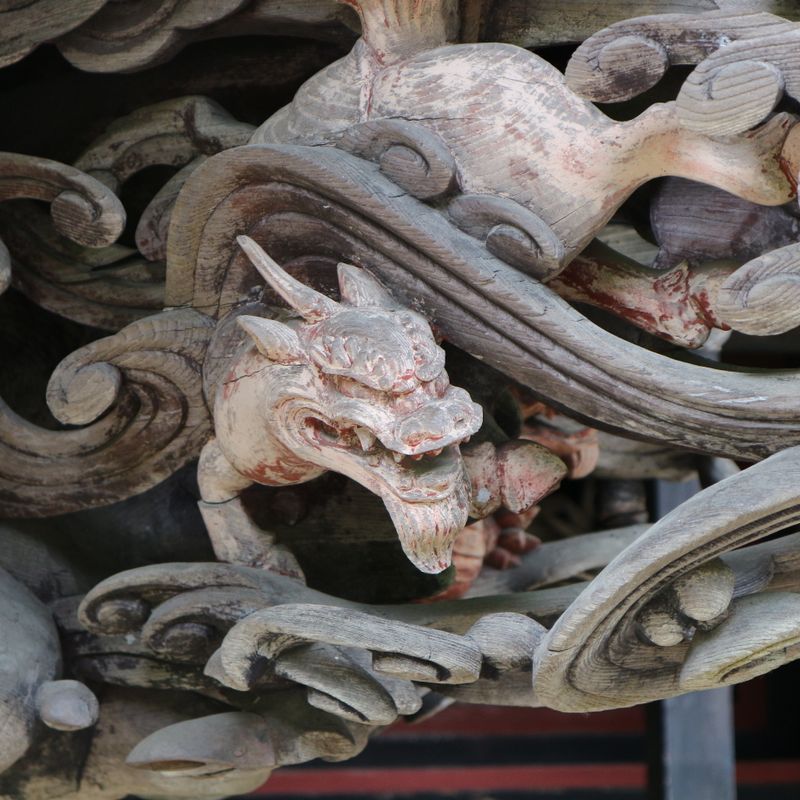 (The flourishes of Haruna Shrine outside of Takasaki City)
Of course, all the stats (some 1,400 years of history, cedar trees so old they make you feel worthless), the resident deity (a god of water, rice and agriculture) and all the culturally certified, stamped and listed structures you can take a selfie in front of, are here.
But Haruna Shrine and its surrounds are so beautiful that it all this seems somehow pointless. It's a shame then, that someone, somewhere has felt the need to market this place as boasting of a "power spot," -- someplace where you stick your hand on a tree or stare at a pond and somehow everything is made better. It's lazy nonsense and, certainly in the case of Haruna Shrine, entirely unnecessary.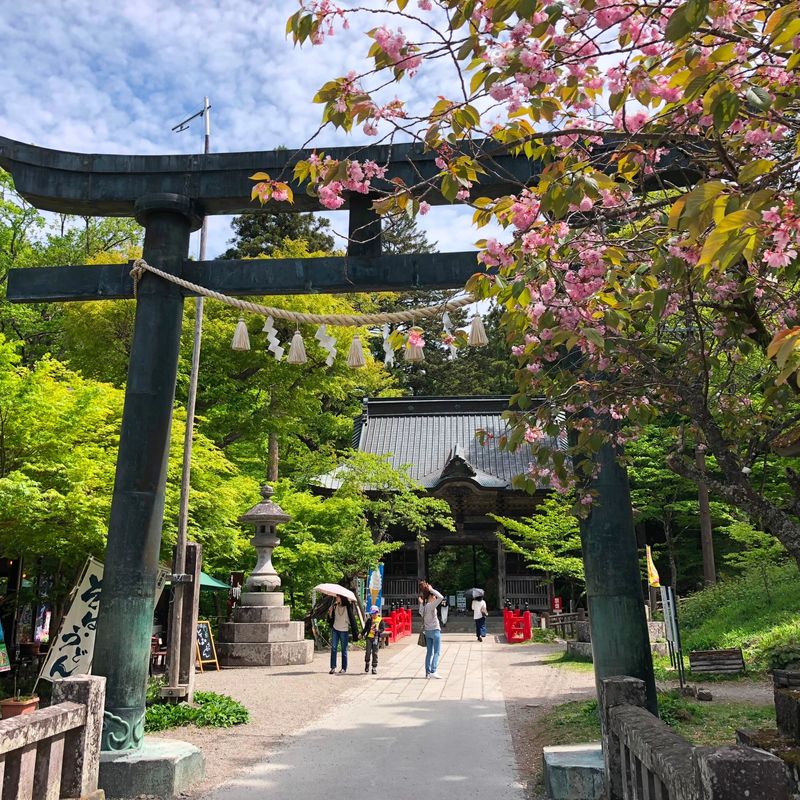 Just walking the approach to the shrine, cut into the mountainside, as it flirts with the river below, through towering cedars, under dramatic rocky outcrops (watch out for falling rocks), past pagodas and statues and walls coated in ancient moss, and we're filled with enough the-world-isn't-so-bad-after-all sentiment to perhaps get us through the impending prospect of a first Monday at work after Golden Week, or at least forget about it for a bit.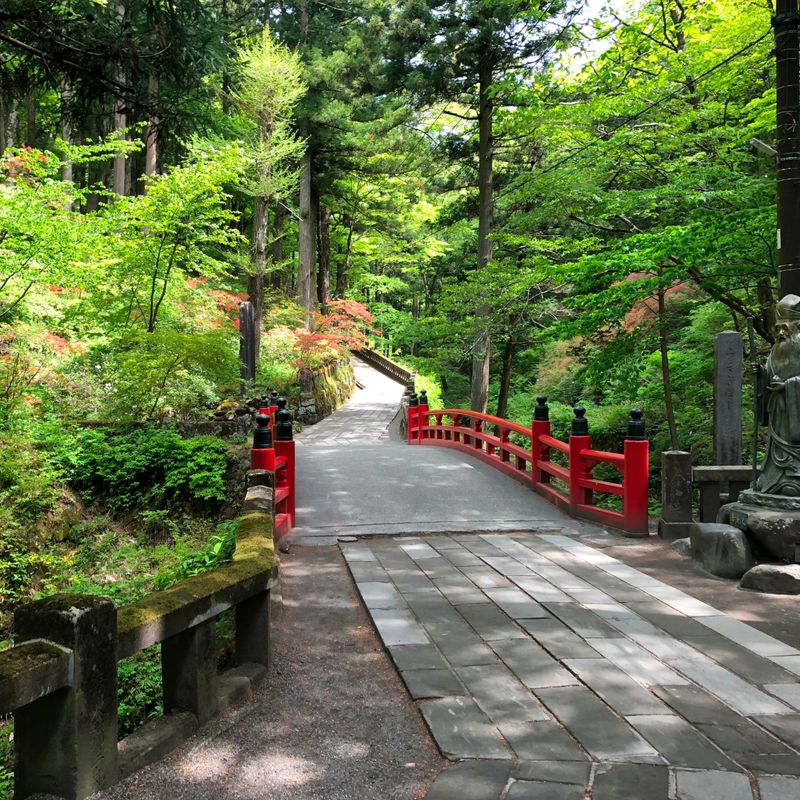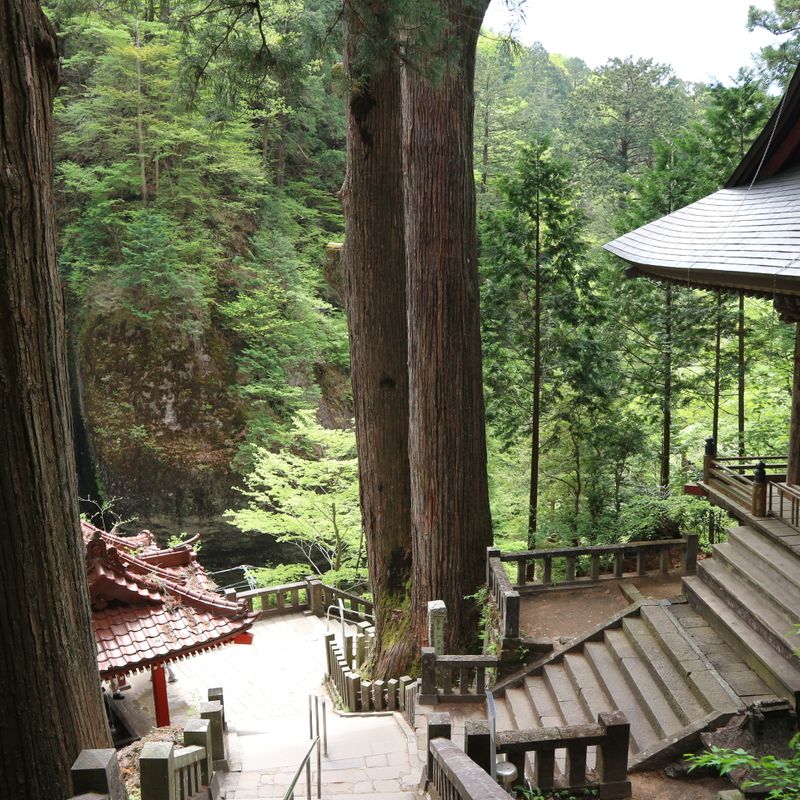 Haruna Shrine to Lake Haruna
Gunma Bus (群馬バス) makes runs between the approach to Haruna Shrine and southern shores of Lake Haruna hourly between 8:00 and 17:00. The journey takes 10 mins with fares at 290 yen.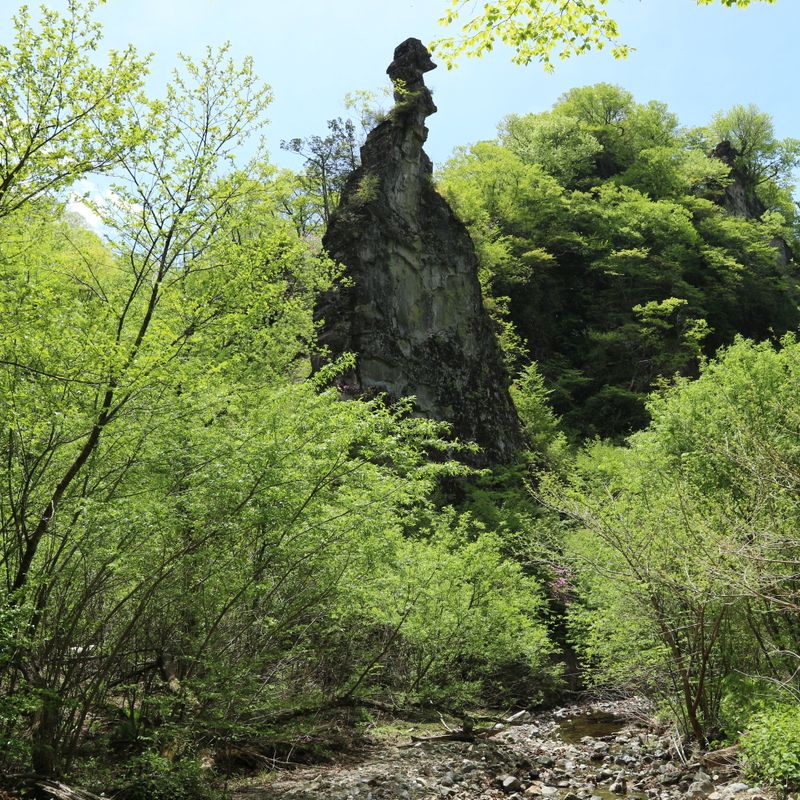 Alternatively, you can make the stiff, 3-km hike between the two which follows a largely forested trail through a pretty valley boasting of waterfalls (man made) and dramatic, towering rock formations. Don't be fooled by the ease with which the trail starts (along the river below the approach to Haruna Shrine) as the going becomes very much off-road, rocky, potentially muddy, and steep in some sections. Give yourself 1 to 1.5 hours to complete the hike.
All in, we spent about 1.5 hours at the shrine, and completed the hike to Lake Haruna in just over an hour (with breaks for photos).
Lake Haruna
Lake Haruna is dominated by two things -- the near-perfect, volcano-shaped Mt. Haruna-Fuji (named after Mt. Fuji due to the shared shape), and an armada of painted-up, ever-so-bonkers pedalos.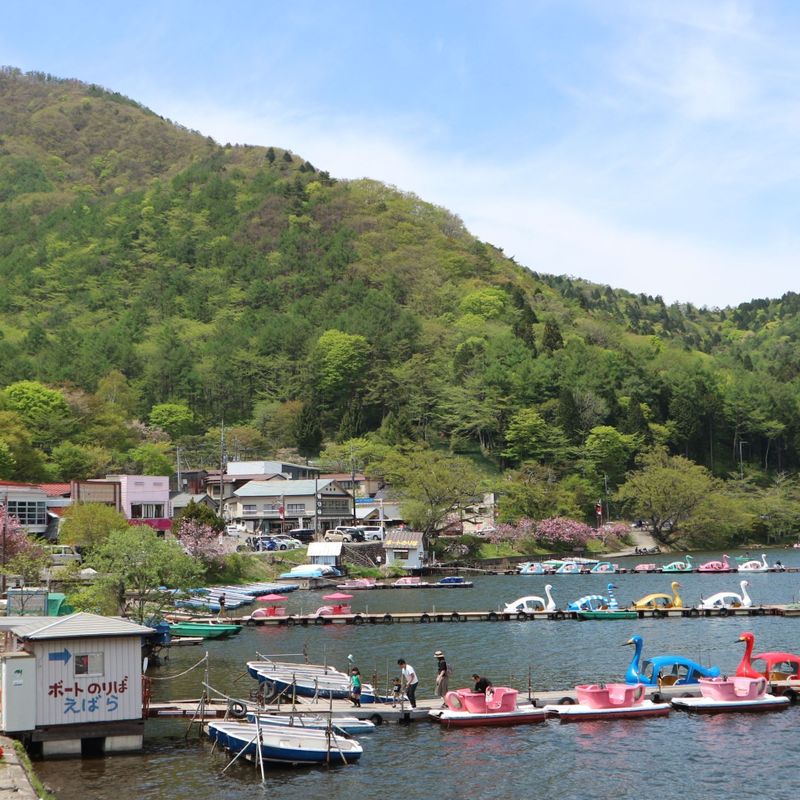 In the bright sunshine it all makes for quite the spectacle -- the springs greens of the surrounding mountains, the lake's blue waters, and the mad, polkadot stylings of a bright pink pedalo in the shape of giant swan.
Only Japan is so capable of spoiling nature with senseless modern architecture and such bits of garish tack, but still, on the shores of Lake Haruna it seems to give off a sense of faded, fairground charm. And the scenery is impressive.
There's not much in the way of services here (save for the pedalos) but there are a few restaurants staffed by apron-clad grandmas doing their best impressions of a Cairo market hawker as they try to get you in, sat down, fed, and free of a bit of your money. (We opted for place selling chicken-katsu curry (900 yen), something of a specialty on these particular shores.)
There also appears to be good fishing in Lake Haruna's waters, as well as other bits and bobs of entertainment (go-karts, tennis, camping) dotted around the lake. Whatever the trappings and activities though, this is a large enough body of water to bring out that sense of contemplation and a stroll along the shores is a fine one, particularly after the buggy hike from Haruna Shrine.
Among the souvenir tack in the shops that front Lake Haruna's shores, you'll find snacks inspired by the street racing manga series Initial D (頭文字D) in which the roads around these parts once featured. (Stores even have the edition of the manga on display as proof.)
Getting to / from Takasaki station and Mt. Haruna




Buses (Gunma Bus / 群馬バス) for Haruna Shrine (1,100 yen) and Lake Haruna (1,310 yen) depart from stop 2 on the west side of Takasaki station. Departures are hourly and take around 1 hr 10 mins to Haruna Shrine and 1 hr 25 mins to Lake Haruna.
The first departure from Takasaki station is 7:25 (8:30 Sat, Sun, hols). Last departures from Haruna Shrine is 16:40, Lake Haruna 16:55.
We were on a 5:30 Shinkansen out of Takasaki so opted to take a 14:30 bus from the lake giving us just over two hours in the area.
Buses bound for Takasaki station depart from the lake shore a couple of hundred meters east from where Route 33 (from Haruna Shrine) meets the road circling the lake. Across from the bus stop is an unstaffed "hut" where you can pick up English-language leaflets about the area.
Pay your fares on the bus when you get off. (If you're departing from points of origin, -- Lake Haruna / Takasaki station -- just get on and sit down. If getting on at mid-journey points, -- Haruna Shrine -- take a numbered ticket and throw that into the machine along with your exact fare when alighting).
Be warned -- the bus from Takasaki station to Haruna Shrine / Lake Haruna, is just a regular bus, even if it does take well over an hour to reach its destination. Be sure to be at the stop early to guarantee a seat.
Takasaki, Mt, Haruna region in Golden Week
It's one of the great laments that any place of interest in Japan will be crowded and stressful during Golden Week. Well, whatever one might want to say about Takasaki and the Mt. Haruna region, they can't be accused of being crowded. In fact, they were delightfully the opposite and we didn't have any trouble getting seats on Shinkansen between Tokyo and Takasaki even though reserved-seat tickets weren't purchased until two days prior to our outbound departure.
Have you ever been to Takasaki? Do you live there? Let us know about life in the region.
See us on ...
Twitter and Facebook: @citycostjapan
Instagram: @city_cost_japan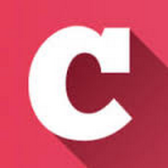 A Q&A and blogging community about life in Japan (plus a load of life-in-Japan stats!). Get your questions answered, share your experience! | Inquiry -> KyodoNewsDigital International Media | Tokyo, Japan | +81 3 6252 6402
---
1 Comment
It looks absolutely beautiful! It's always one of the spots I've wondered about, since it's on the shinkansen we take into Tokyo. I found it interesting though that the information desk lady encouraged you to get out. This seems to be a common thing that I've found in more "regional" areas outside Tokyo - they always seem to think their areas have nothing to offer, which I've always found to be completely untrue! Thanks for the helpful rundown - we will put it on our list of places to check out.