Sep 29, 2017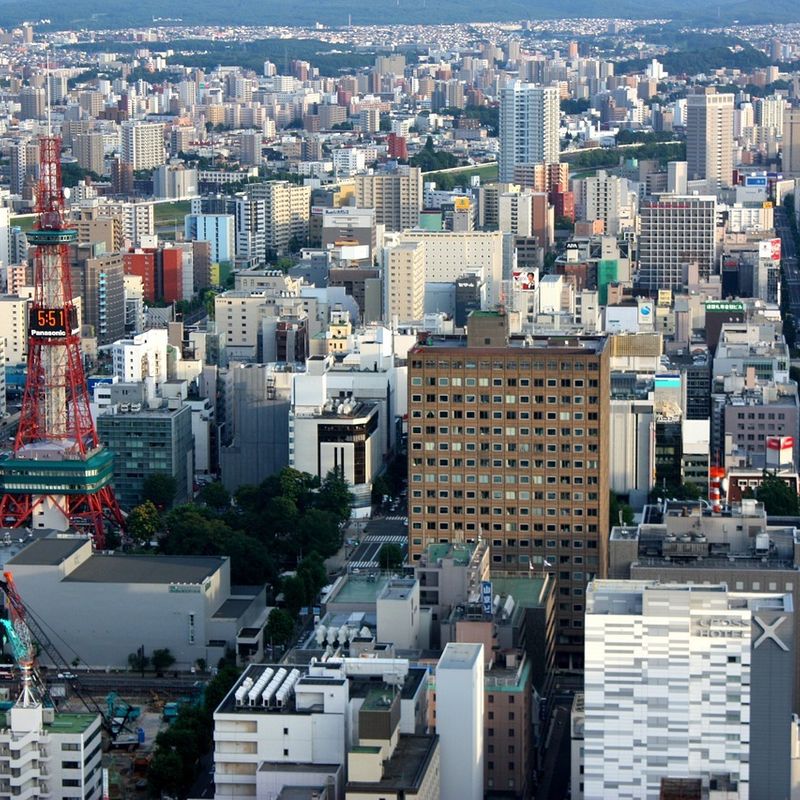 Sapporo is often described as one of the most progressive, forward thinking, and just plain "common sense" cities in all of the Japan. It's also the gateway to Japan's great outdoors, Hokkaido. Hang on though! Before you starting racing to the hills, getting giddy in all that fresh air, take pause to enjoy the best of Sapporo, the city (although much of that which follows embraces the outdoors). Here, there's much to keep the visitor occupied. We've scoured the polls and charts (Japanese and foreign language) to compile what appears to be, by common consensus, the best things to do in Sapporo. In presenting this "top 10" Sapporo list we take a look at how much these things to do / attractions in Sapporo cost to enter, together with how much they cost to access from the Sapporo Subway Station which, rather than JR Sapporo Station, is the main travel hub from which to begin exploration of the city.

Obviously, any list of the best things to do in Sapporo (or anywhere in the world for that matter) is going to be vulnerable to debate. That's absolutely fine. Feel free to disagree with the Sapporo attractions that you see in this top 10 (we actively encourage it). What we are primarily concerned with here is conveying a sense of how much it might cost to "do" Sapporo (if you'll excuse the term).
So, to business. In no particular order …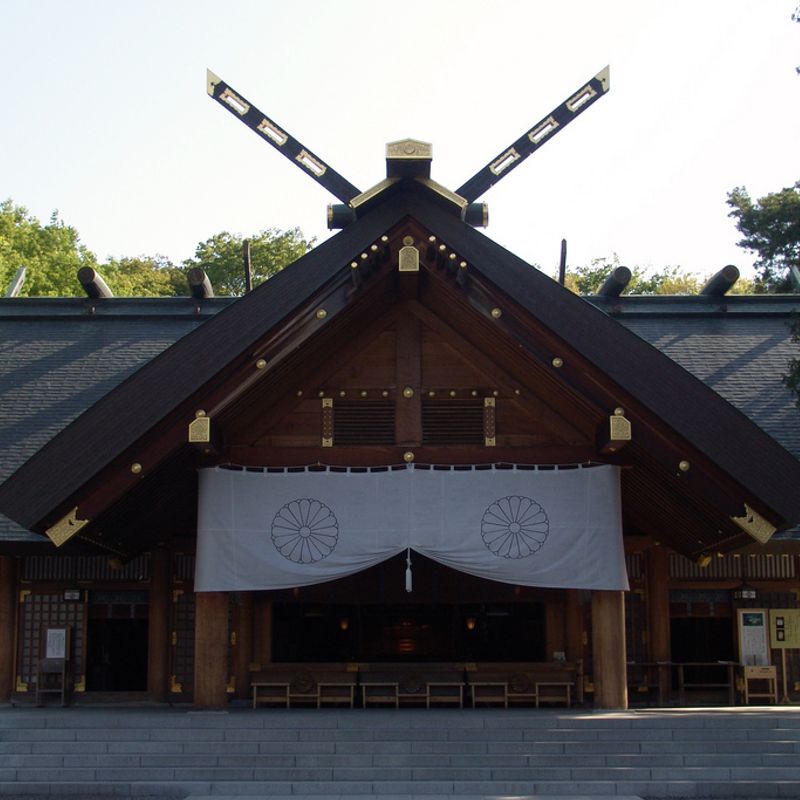 Hokkaido Shrine
Visitors will find Hokkaido Shrine (Hokkaido Jingu / 北海道神宮) located in the grounds of Maruyama Park in the Chuo District of Sapporo. Perhaps the shrine's most famous residing spirit is that of the Emperor Meiji, enshrined here in 1964. It was at this time that the shrine ditched its name of Sapporo-jinja to reclaim its original name, Hokkaido Jingu. The spirit of Emperor Meiji was the latest big addition to a shrine which houses the spirits of three pioneering deities thus reflecting the exploratory spirit (nay, prerequisite) of early Hokkaido settlers. Today this is a popular spot for cherry blossom bashes in spring and, of course, New Year's rites of passage.
Hokkaido Jingu entrance cost: Free
Cost from Sapporo (Subway): 250 yen (Nearest station, Maruyama Koen, 5 - 10 min walk from the station)
Web (Japanese): http://www.hokkaidojingu.or.jp/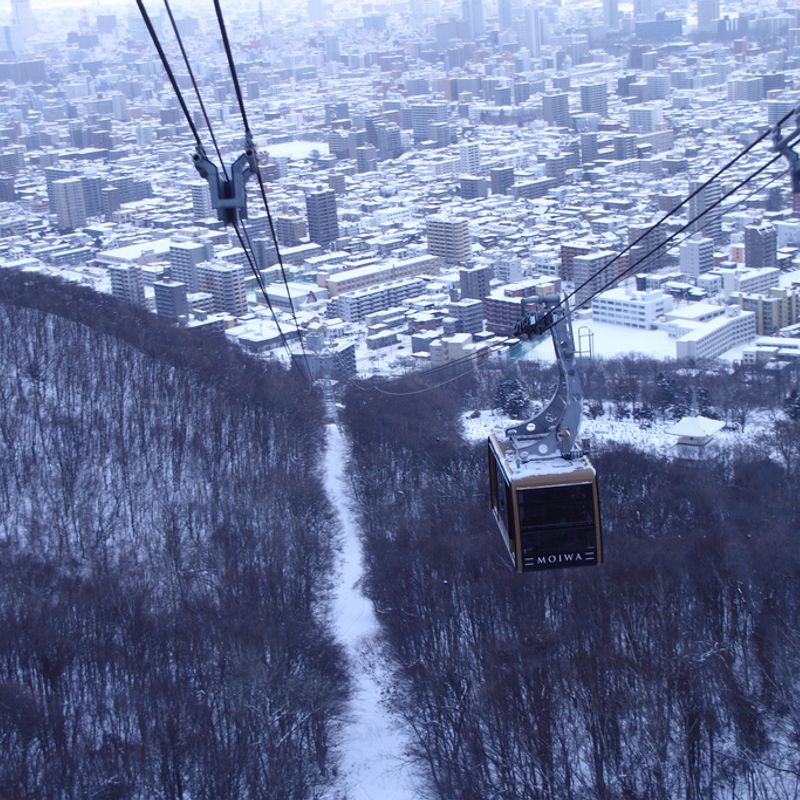 Mt. Moiwa
Mount Moiwa (藻岩山) makes frequent appearances across lists of the best things to do in Sapporo. The peak is one of a collection just southwest of the downtown area. Without doubt Mt. Moiwa's reputation as a Sapporo "must do" stems from the views afforded from its summit. From these, well, not so lofty heights (the mountain reaches 531 m) the city lies humming below. Popular opinion is that the view is best once the evening starts to creep in.
This is far from the wilds of other parts of Hokkaido. Mt. Moiwa can be scaled by means of the Mount Moiwa Ropeway (scaling about ¾ of the mountain) and then a kind of petit cable car completes the ascent. At the top, an observation deck, restaurant, planetarium and theater await. (See, far from being in the wilds.)
Mt Moiwa entrance costs: OK so you're not actually entering the mountain (and it can be scaled on foot via one of five trails to the summit), rather it's the ropeway and cable car that incur the costs.
Return trip (ropeway & cable car): 1,700 yen
Return (ropeway only): 1,100 yen
Return (cable car): 600 yen
Cost from Sapporo (Subway): Subway to Susukino (200 yen), streetcar from Susukino to Ropeway Iriguchi (170 yen) - 370 yen. It's around a 5-min walk to the ropeway station from the streetcar stop.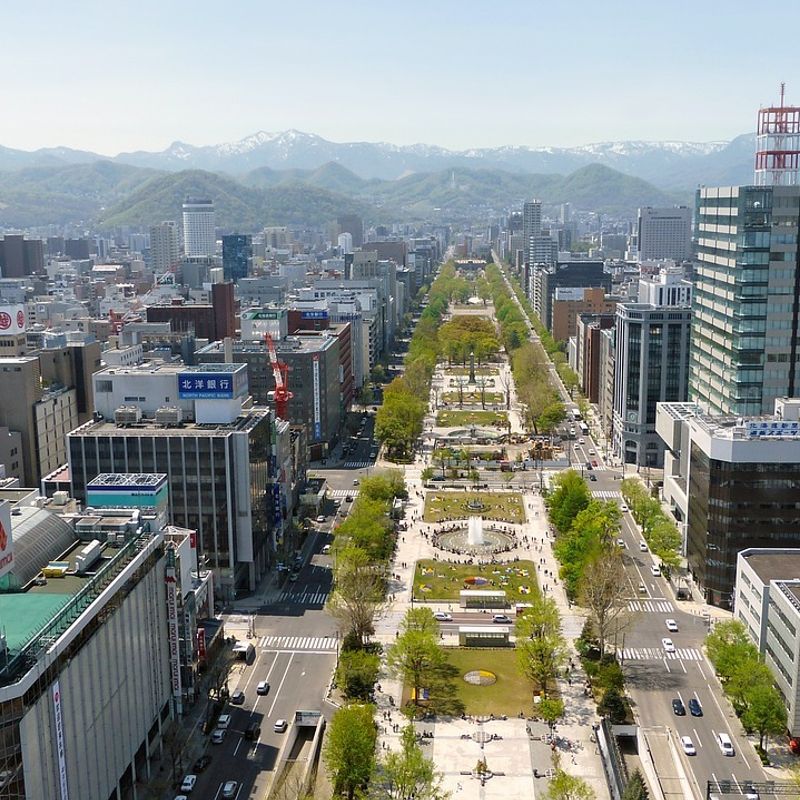 Odori Park
Another staple on the Sapporo sightseeing scene, Odori Park (Odori Koen / 大通公園) is probably the subject of the most frequently taken pictures of the city. It's the one where … well, it's the one in the image above … . If you've ever googled "Sapporo", you will have seen the image many times already.
Odori Park divides Sapporo between north and south, lying slap-bang in the middle of the city, and sandwiched between two lanes of the street by the same name, the delightfully simple Odori (Big Street). When it's not snowing (which it doesn't do a lot in Sapporo, "not snow" that is), Odori Park is all resplendent greens and a place to splay out and take a break from the city. When winter comes, the park is readied to host those massive snow sculptures that come with the world famous Sapporo Snow Festival (Odori Park is the festival's main site, the others being Susukino and Tsu Dome). The festival is staged annually in February.
That image of the park that we've seen so many times, is snapped from the observation deck of the Sapporo TV Tower, located at the eastern extremity of the roughly 1.5 km long park.
Odori Park entrance cost: Free
Cost from Sapporo (Subway): 200 yen (Nearest station, Odori right on the southern edge of the park, in the eastern half). 200 yen (and a transfer) will also take you to Nishijo Itchome Station (Tozai Line) again on the southern edge of the park but this time in the western half. The eastern half of Odori Park is little more than 500 m as the crow flies from JR Sapporo Station, so really one might as well walk here.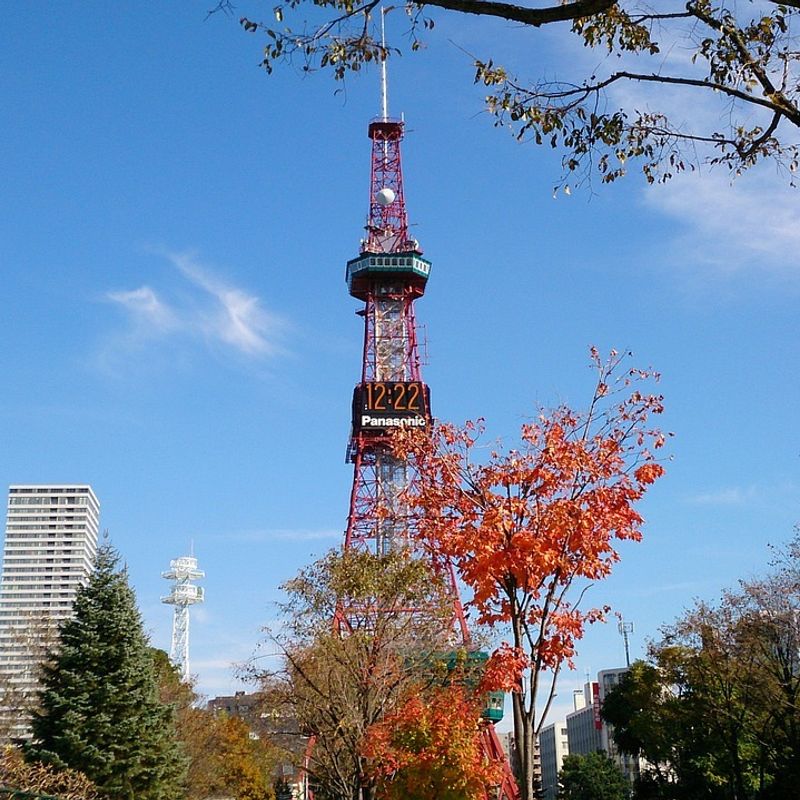 Sapporo TV Tower
Built in 1957 and looking suitably old skool to reflect this (aside from the Panasonic digital display mid-way up), Sapporo TV Tower looms over the above mentioned Odori Park and is the staging point for an encyclopedia of images taken of the city. Yes, Japan has taller and flashier towers, but if you've made it this far, it would seem churlish not to make the quick run up to Sapporo TV Tower's observation deck which sits at a height just over 90 m.
This being a tower, visitors can find the usual collection of stores and souvenirs at the bottom and on the lower floors, including the curious "TV Dad" fortunes (200 yen a pop). As with other marquee towers in Japan, Sapporo TV Tower is often host to illuminations. Expect the tower to be especially busy when the Snow Festival is in town.
In efforts to curb global warming, the tower's clock is turned off from 24:10 - 5:00.
Sapporo TV Tower entrance cost: 720 yen (includes observation deck and access to third floor)
The evening / night view from Sapporo TV Tower is a "Japan nightscape heritage". The daytime view isn't half bad either. Those who want to take in both can purchase the "Daytime / Evening Ticket" for 1,100 yen.
Cost from Sapporo (Subway): 200 yen (Nearest station, Odori right on the southern edge of the park, in the eastern half).
It's also perfectly easy to walk from both JR Sapporo Station and Sapporo Subway Station.
Web: http://www.tv-tower.co.jp/en/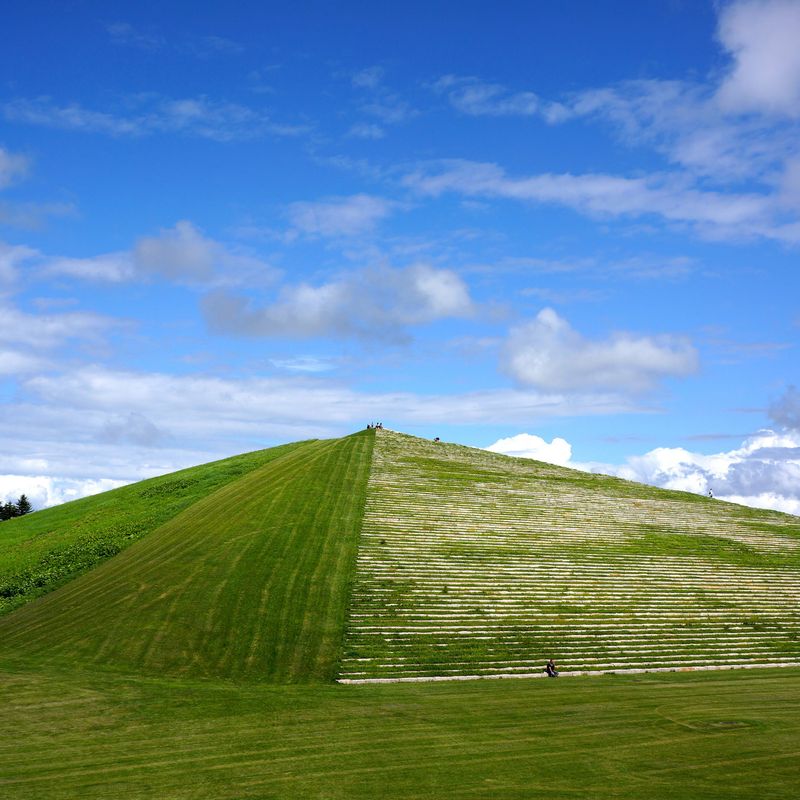 Moerenuma Park
On the official website for this Sapporo attraction, Moerenuma Park (Moerenuma Kōen / モエレ沼公園) is described as a "comprehensive park". It's an uninspiring bit of wording that belays one of the roles that this park plays in keeping Sapporo "green" (and for something among the best things to do in Sapporo). Moerenuma Park is the linchpin of city planners' "Sapporo Circular Greenbelt Concept", an initiative aimed at keeping this urban area surrounded (as much as possible) by green spaces. In a testament to what appears as progressive thought, the site of the park was once a landfill site.
Some describe Moerenuma as an "art park", whatever that means. This is likely due to the park's basic design as being that created by Japanese-American artist Isamu Noguchi. Early construction of the park began in 1982, with Noguchi's involvement coming in 1988. Sadly, this was the same year of his death and it would be some 17 years before the park was finally opened in 2005.
"Comprehensive" also has a nuance of normality but there's little that's normal about Moerenuma Park. Perfectly geometric hills, a glass / steel pyramid, and space-age steel columns are not the features of your typical green space, but you can find them here at Moerenuma. The park also boasts a manmade mountain, Mt. Moere. It's only 62 m tall but the "summit" affords impressive views of the park and its surrounds. Emphatically a best of Sapporo.
Moerenuma Park entrance cost: Free
The park is nearly 10km northeast of downtown Sapporo.
Cost from Sapporo (Subway): Total 460 yen - 250 yen to Kanjo Dori Higashi Station. From here buses to the park's east entrance (Moerenuma Koen Higashi-guchi, モエレ沼公園東口) are 210 yen and take around 20 - 30 mins.
Web: http://moerenumapark.jp/english/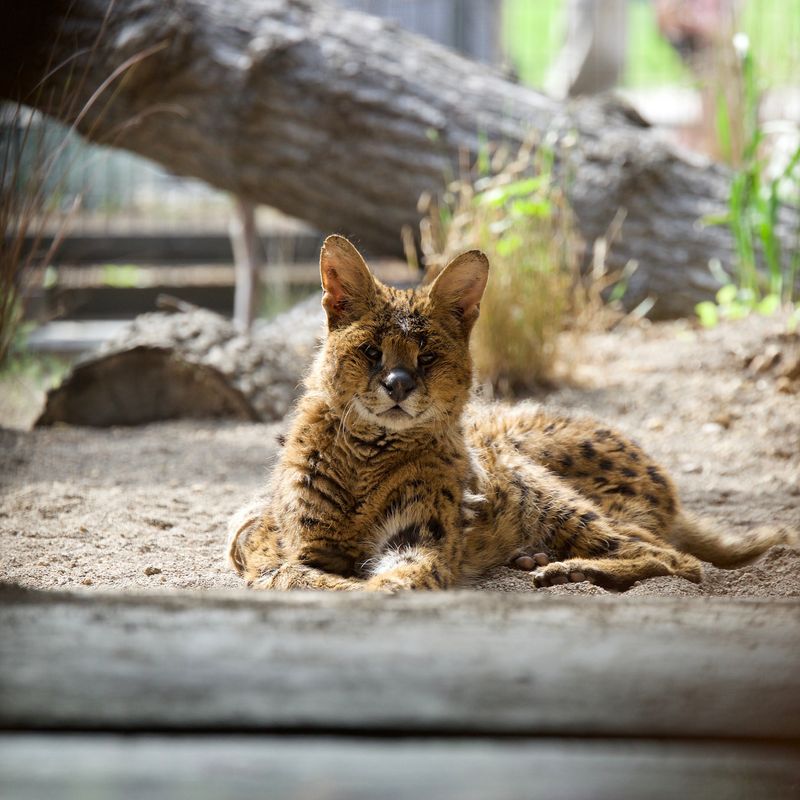 Sapporo Maruyama Zoo
About 3 km southwest of downtown Sapporo lies the city's municipal zoo - Maruyama Zoo (Sapporo Maruyama Dobutsuen / 札幌市円山動物園). There are some 20 + enclosures and exhibits here spread across three zones; Africa, Asia, and Animal House. The curiously named Wak Wak Holiday Asia Zone is where visitors to Maruyama Zoo will find the big cats - tigers and snow leopards. In the Animal House, the star residents look to be the polar bears.
While Maruyama Zoo isn't the largest of such facilities, its Maruyama Park location makes it a popular choice for sightseeing in Sapporo affording easy access to swathes of green and attractions such as the above mentioned Hokkaido Shrine, and Maruyama Kids' Land.
Sapporo Maruyama Zoo entrance cost: 600 yen
Cost from Sapporo (Subway): 250 yen (Nearest station, Maruyama Koen - the zoo is around 15 mins on foot from here)
Web: http://www.city.sapporo.jp/zoo/info/english1.html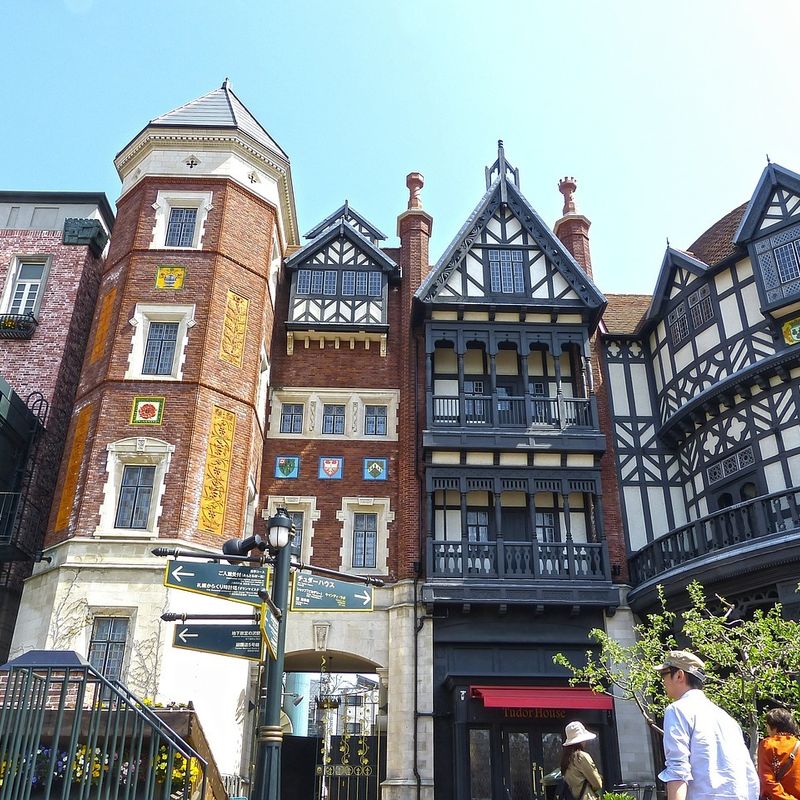 Shiroi Koibito Park
Shiroi Koibito (white lover) cookies are the default Sapporo omiyage which visitors will find sold throughout the city. Baked by Japanese confectioner Ishiya Co., Ltd., the cookies have their manufacturing base here in Sapporo and could well claim to be one of the most popular souvenirs in all of Japan. Shiroi Koibito Park (白い恋人パーク) then, is an attraction based around the cookie production center. European in style (think one of those cute villages in Germany), parts of Shiroi Koibito Park can be accessed free of charge where there are shops (presumably selling THE cookies), cafes and restaurants, a rose garden, and a curious photo spot where snappers can emerge from a heart-shaped hole, surrounded by flowers with a ye olde clock tower in the background. Tours of Ishiya's production facility are available (for a fee) where visitors can try their hand at making their own Shiroi Koibito.
Shiroi Koibito Park entrance cost:
The bulk of Shiroi Koibito Park is free to enter.
Factory tours: 600 yen
Cookie making: 972 yen
Cost from Sapporo (Subway): 290 yen (Nearest station, Miyanosawa, the park is a 5 - 10 min walk from here)
Web: http://www.shiroikoibitopark.jp/english/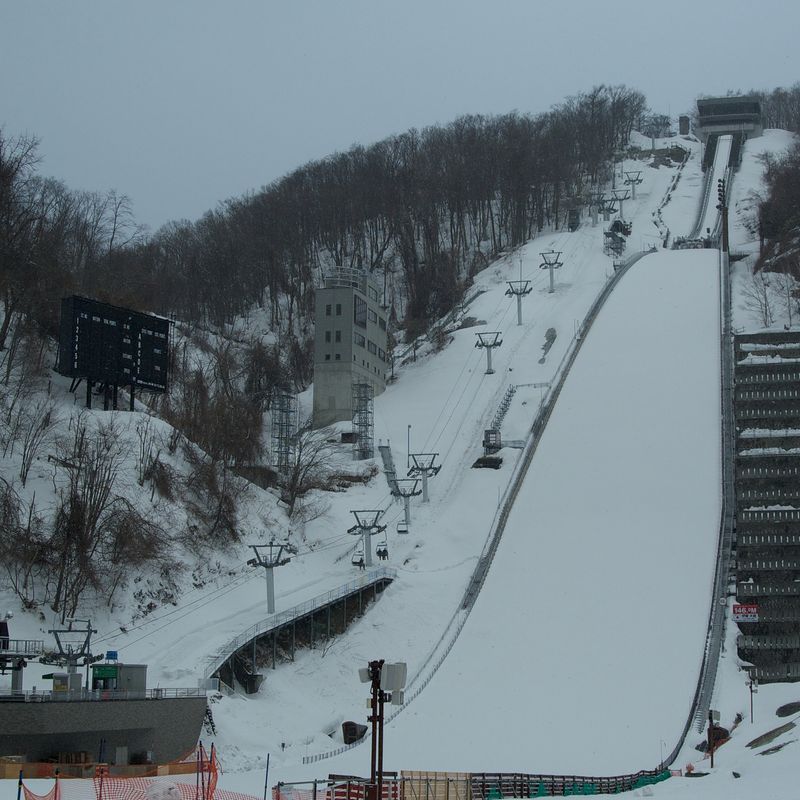 Okurayama Ski Jump Stadium (Okurayama Viewing Point)
When Sapporo hosted the Winter Olympics in 1972 the 90 m jump at the Okurayama Ski Jump Stadium (Okurayama Janpu Kyogijo / 大倉山ジャンプ競技場) was used for jumping contests. The facility is still in use today, hosting world cup events among others. When not in use, visitors can head to an observation deck (Okurayama Viewing Point) at the top (307m) where they can ogle some pretty resplendent views over Sapporo, the Ishikari Plain and Ishikari Bay.
At the the foot of the hill out of which the ski jump is carved there is a museum, the Sapporo Olympic Museum with exhibits covering the 1972 games as well as some fun interactive, and simulation kit. Of course, there are shops and restaurants here, too. One of the more curious features of this Sapporo attraction is the escalator from the car park to the ski jump - inclined at 30 degrees and some 34m long.
Okurayama Ski Jump Stadium entrance cost:
Lift (return): 500 yen
Museum: 600 yen
Cost from Sapporo (Subway): 460 yen (Subway to Maruyama Koen Station (250 yen), bus from the station to Okurayama Kyogijo Iriguchi (210 yen)).
Web (Japanese with machine translation): http://okura.sapporo-dc.co.jp/index.html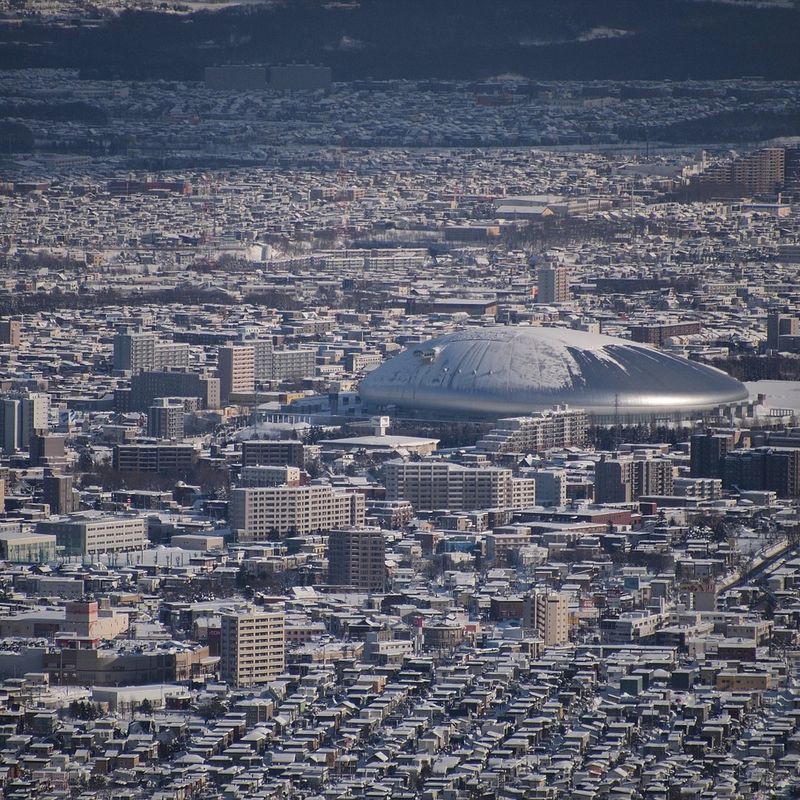 Sapporo Dome
4km south of JR Sapporo Station lies the city's iconic sports venue, the Sapporo Dome. The dome is home to two major sports teams in Japan - Hokkaido Consadole Sapporo, the soccer team that plays in Japan's top tier J1 League, and baseball's Nippon Ham Fighters who play their games in Japan's Pacific Division. The stadium was also used to host games during the 2002 World Cup (soccer) and is penned in for use during the 2019 Rugby World Cup and the 2020 Tokyo Olympics (yes, despite not being in Tokyo). All of these make for a pretty impressive list of credentials for a stadium that only opened in 2001. It's a nice bit of kit, too. Surfaces / pitches are slid in and out of the dome depending on the nature of the game / match taking place.
Sapporo Dome has an observatory which can be accessed regardless of whether or not the stadium is being used for games / matches. The observatory boasts the rather leftfield claim of being the first observatory in Japan built at the top of a, well, dome. Accessed by a 60 m long aerial escalator, from the height of 53 m views are of the arena and the city. A Sapporo "must do" if ever there was one then!
Dome Tours are also available and there are restaurants and merchandise shops on the site.
Sapporo Dome entrance cost:
Dome Tours: 1,050 yen (1,250 yen with observatory)
Observatory: 520 yen
Cost from Sapporo (Subway): 250 yen (Nearest station, Fukuzumi, the dome is a 10-min walk from Exit 3 of the station)
Web (English by machine translation): https://www.sapporo-dome.co.jp/foreign/index-en.html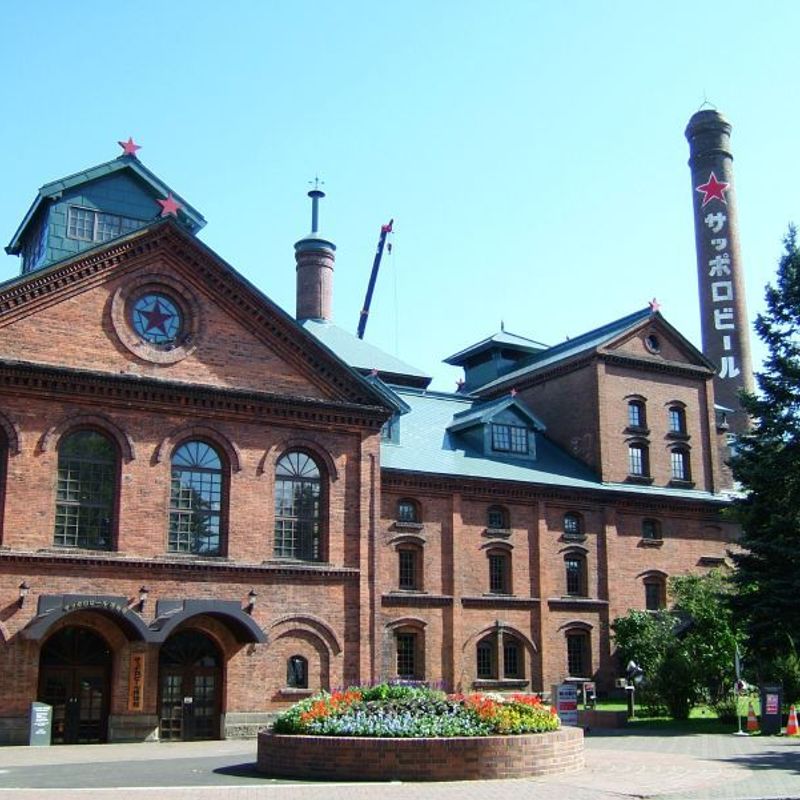 Sapporo Beer Museum
Rumour has it that the Sapporo Beer Museum is the only beer museum in Japan. While hard to believe (there is surely some finely tuned defining going on here) it's statement enough to get this attraction onto many lists of the best things to do in Sapporo. Sapporo Beer is also among the most famous bevvies in the country. So there!
Housed in a fine old red-brick facility about 1km east of JR Sapporo Station, the Meiji Era Sapporo Beer Museum is registered as a Hokkaido Heritage Site (as of 2004). The facility dates back to 1890, opening as a museum in 1987. It was once the site of a brewery belonging to Sapporo Breweries Ltd. Beer-making operations have since been moved on to pastures new.
Spread over three floors the museum introduces the history of Sapporo Breweries, their beer making processes, and something of the culture of beer in Japan as a whole (Hokkaido is where it all started after all). After taking in the exhibits, beer tasting is available. At the Sapporo Beer Garden, next to the main facility, beer enthusiasts can line the stomach with food from a choice of restaurants, or just get straight to business at a beer hall.
Sapporo Beer Museum entrance cost: Free
Tours: 500 yen
Cost from Sapporo (Subway): Free, if you want to make the 25-min walk from JR Sapporo Station. Alternatively you can take the subway to Higashi Kuyakusho Mae Station (200 yen) and walk (15 min) from there.
The "Sapporo beer en" / "Sapporo beer en-mae" bus stops provide the closest access point to the museum. Both can be access by buses departing JR Sapporo Station. Fares are 210 yen.
How much does it cost to visit the 10 best attractions in Sapporo?
Totalling up the maximum entrance costs for the best things to do in Sapporo as listed above comes out as 7,822 yen. Seems pretty reasonable then. In fact, over half the attractions we've listed here can be enjoyed, to some degree (and if you're prepared to do a bit of hiking), free of charge. Even going with the no-expense-spared approach, visitors to Sapporo are getting 10 things to do for just about the same price as a ticket to Universal Studios Japan. This would seem to make Sapporo a budget friendly city then. Either that or it's one without any stellar attractions, something which is up to the individual traveller to decide. What does seem clear is that sightseeing in Sapporo involves a lot of green spaces and expansive views, which would seem fitting for its Hokkaido location.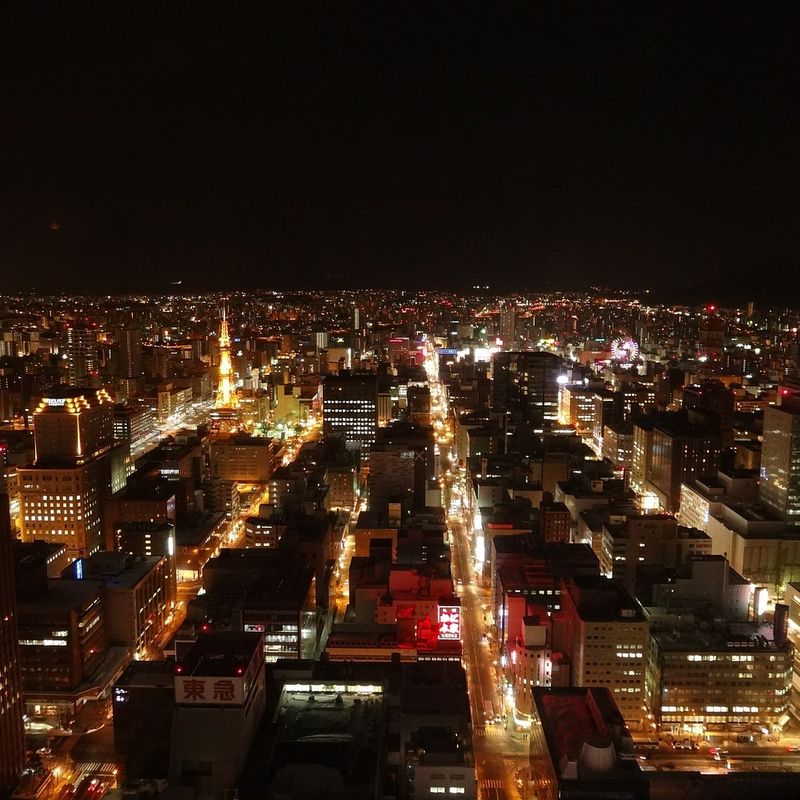 The best of the rest of Sapporo
We've tried to keep our best things to do strictly "Sapporo". Let's not confuse this will other stellar attractions in the south of Hokkaido which might include Hakodate and Niseko. When thinking about urban Sapporo, one of the first names that might come to the fore (along with Odori Park and the Sapporo TV Tower) is Susukino, Sapporo's den of inequity. Well, that's putting it a bit strongly, but the city's center for nightlife can get a bit raucous (and a shade seedy) but is a barrel of laughs nonetheless. Still, we felt that it doesn't constitute a singular attraction in the sense that we are aiming at in this piece (although travelling to Sapporo and giving Susukino a miss would be … remiss). Other Sapporo attractions that pop up on lists of things to do include Sapporo Stellar Place the shopping mall that is the first port of call for many visitors to the city (it's right there at JR Sapporo Station). We felt like a shopping center wasn't really in keeping with the spirit of sightseeing, although Stellar Place could be said to encompass the Sapporo JR Tower (or the other way round) which is home to the 38F T38 observation deck. Also missing is the Historical Village of Hokkaido (Kaitaku-n-Mura) out in the western suburbs of the city. The open air museum shows off old buildings from around the region and could be said to include the nearby Hokkaido Museum, a good resource for brushing up on one's history of the area.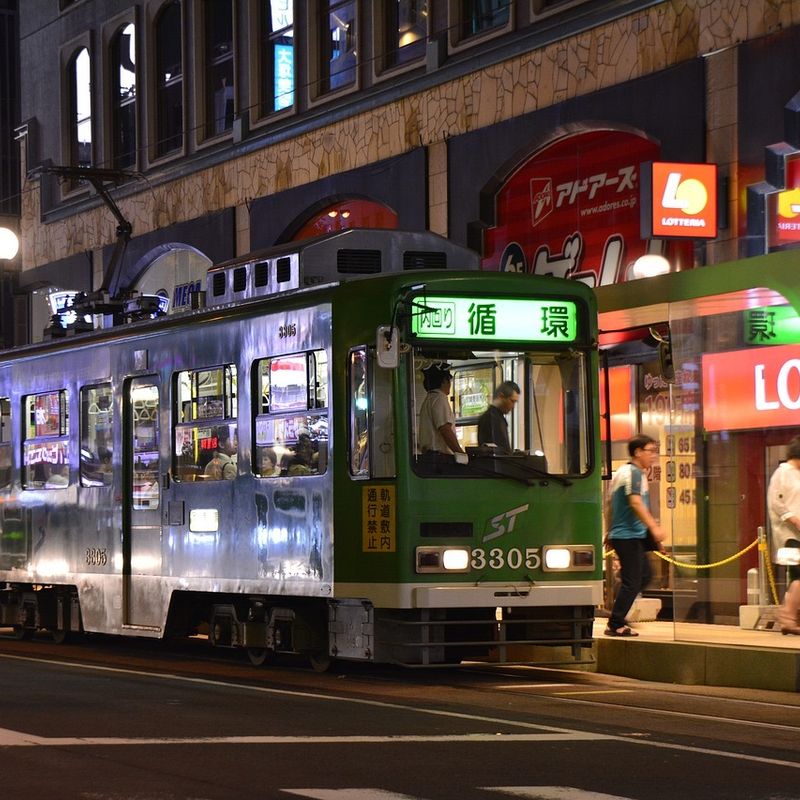 (Streetcars in Sapporo from part of the city's no-nonsense transport network)
Sapporo travel passes
The total one way costs for getting to these Sapporo attractions comes in at 2,930 yen. This would constitute quite a lot of inner city travel spending, even in a place like, say, Tokyo.
We mentioned at the start of this post that Sapporo is one of the more progressive and "common sense" cities in Japan. Maybe the traveller will see this in how easy the city is to navigate. A streetcar line, three subway lines, and bus services laid on by three companies take visitors around the urban area.
Travel passes for Sapporo are available …
One-Day Ticket (subway) - this pass allows for unlimited rides for one day on all of Sapporo's subway lines. Cost: 830 yen. Two return trips to some of the top attractions in this list then, and the traveller would being to break even. Seems like this could be a good deal for those who want to take plenty in.
The Donchika Ticket is a one-day subway pass (like that above) only it's just for use on weekends and holidays. Cost: 520 yen.
The Dosanko Pass is a one-day pass for use on the Sapporo streetcar on weekends and holidays. Cost: 360 yen.
Those who are going to be spending an extended period of time in Sapporo would be recommended to get themselves and IC card to make transport matter smoother. SAPICA is the name to look out for in these parts. There are two kinds of SAPICA, the "Open IC Card" which can be switched between users and the "Registered IC Card" (which will require more form filling to get). Both require 2,000 yen up-front (1,500 yen can be used on transport, the remaining 500 yen is a deposit). Those who are resident in other parts of Japan and thus might be carrying their own IC cards will likely be able to use those in Sapporo (all the main ones are covered). IC cards can be used on the streetcar, subways, JR lines, and the inner-city bus services.
It looks then, that casual exploration of Sapporo might not be requiring of any pass. If you intend to be a little more thorough, the those one-day passes for the subway look to make good sense.
The City of Sapporo page covers the basics of inner-city travel: https://www.city.sapporo.jp/st/english/fareandticket.html
What do you think are the 10 best things to do in Sapporo? How much do they cost to enter? Let us know in the comments.
See us on …
Twitter: @City_Cost_Japan
Facebook: @citycostjapan
Images:
Hokkaido Shrine: MIKI Yoshihito Flickr License
Mount Moiwa: MIKI Yoshihito Flickr License
Moerenuma Park: Kentaro Ohno Flickr License
Sapporo Maruyama Zoo: S.Brickman Flickr License
Okurayama Ski Jump Stadium: MIKI Yoshihito Flickr License
Sapporo Beer Museum: Toby Oxborrow Flickr License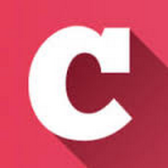 A Q&A and blogging community about life in Japan (plus a load of life-in-Japan stats!). Get your questions answered, share your experience! | Inquiry -> KyodoNewsDigital International Media | Tokyo, Japan | +81 3 6252 6402
---