Oct 12, 2017
The viewing of koyo (紅葉), or "autumn leaves", in the Kansai region of Japan typically kicks off around mid-November for most spots with some leaves clinging on through to mid-December. In picking off a selection of the best spots for viewing autumn leaves around Kansai one could easily produce a list that includes but one location, Kyoto. As if Japan's loudest tourist boast wasn't rich enough in sights, come the autumn, those marquee attractions bring out their "koyo" collections to have snappers crawling up the walls at the pure "Japanese" of it all. While a visit to Japan's ancient capital during the fall might well be enough to satisfy however, there are other stellar koyo spots in the Kansai region.
For full clarity, in compiling this list of the best spots for viewing autumn leaves in Kansai we sifted through the myriad of other koyo spot lists that are out there in the ether - both Japanese and English-language. The 10 koyo spots that we've selected here are those that appeared with the greatest frequency … on other lists. Still, there's no smoke without fire as the saying goes, so one can be fairly sure that the locations listed below aren't without merit.
In terms of access, for the most part we've used Kyoto station as our main transport hub, calculating how much it costs to get to the koyo spots listed below, from there. Of course, there are plenty of travel hubs in Kansai; Osaka, Kobe and Nara being the obvious ones, but with Kyoto featuring so heavily on lists of the best koyo spots, that city's station seemed to be the best choice from which to gauge an idea of costs.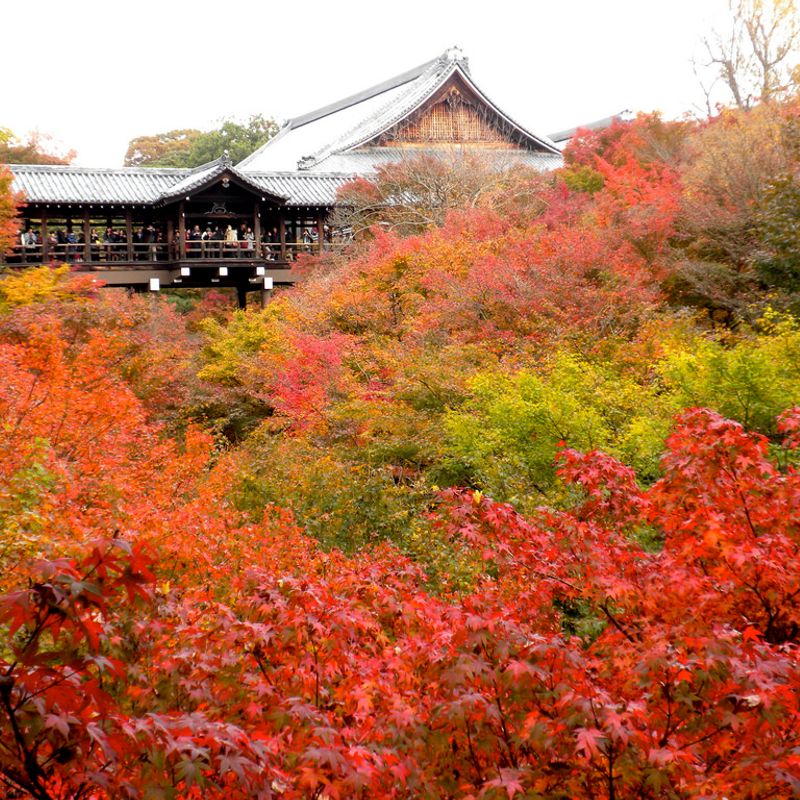 Tōfuku-ji (Kyoto)
When: late November - early December
Rarely at the top of any koyo lists, but just as rarely to be omitted, Kyoto's Tōfuku-ji Temple (東福寺) was perhaps the most frequent entry on autumn leaf viewing spots for the Kansai region. The temple's website boasts of it being "the oldest and largest in Kyoto". Given the setting, that's an impressive boast indeed. Anyway, Tōfuku-ji dates back to the early 13th century which sounds suitably old.
This is a large site with much to take in. The focus of the koyo viewing action however is the Tsutenkyo Bridge (通天橋) which connects the temple's main hall to other parts of the complex. The bridge takes on the form of a walkway, 100 m long and covered, spanning a valley of sorts. The maple trees here are quite the site in fall and the bridge is accordingly popular, or crowded, depending on how full / empty your glass is.
If the Tsutenkyo Bridge becomes too crowded, there's much to explore here including the four "wings" of the Honbo Garden (a designated National Site of Historic Beauty) and National Treasure, The Sammon Gate, all of course set to the backdrop of riotous fall leaves.
Honestly, in Tōfuku-ji during the fall, you'd have a hard time finding anything that could be more "Japanese" … until you get to the next entry on this list.
Web: http://www.tofukuji.jp/english/index.html
Entrance costs: Much of Tōfuku-ji can be enjoyed for free, although Tsutenkyo Bridge and Honbo Garden are 400 yen to enter.
How much does it cost to here from Kyoto Station?: 140 yen (Nearest station, Tofukuji on the JR Nara Line. Tōfuku-ji is a 10-min walk from the station.)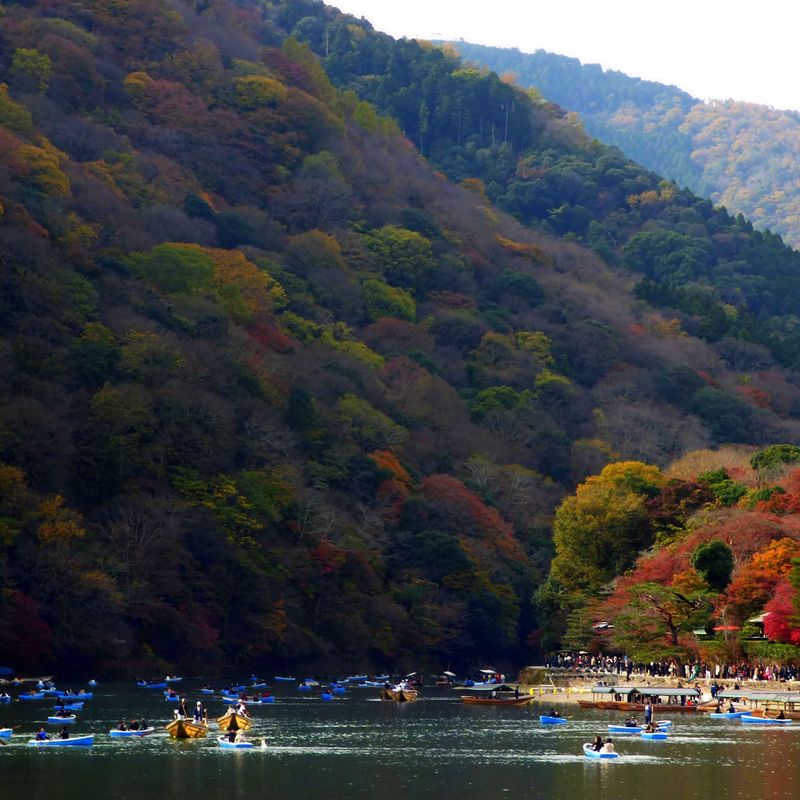 Arashiyama (Kyoto)
When: late November - early December
Rather than a singular spot, Arashiyama on the western outskirts of Kyoto might be considered something of a Disneyland of autumn leaf attractions. Well, perhaps that's a bit crass for stately Kyoto, but there's a truth here - there are plenty of ways to enjoy the koyo in this part of town.
Of course, the center of operations (or camera lenses) for many is the Togetsu Bridge (渡月橋) that crosses the Katsura River. From here the koyo viewer can get an impressive eye full of the blazing autumn colors that coat Arashiyama (the mountain).
Then there's Tenryū-ji, the most important temple in Arashiyama and a location that many may argue is worthy of its own place on any Kansai koyo list. Head to Tenryū-ji's garden for a mixture of the refined set against a backdrop of Japan's out-of-control autumn foliage.
Adding a sense of order and community to the autumnal celebrations in Arashiyama is the Arashiyama Momiji Festival held on the second Sunday in November. Expect dances, music, art and cultural performance. Most of the festival action centers on Togetsu Bridge with the pièce de résistance being boats bedecked in Heian period clobber cruising down the river.
Entrance costs: 500 yen for Tenryū-ji
How much does it cost to here from Kyoto Station?: 460 yen (Nearest station to Togetsu Bridge, Arashiyama on the tramway Randen Arashiyama Line.)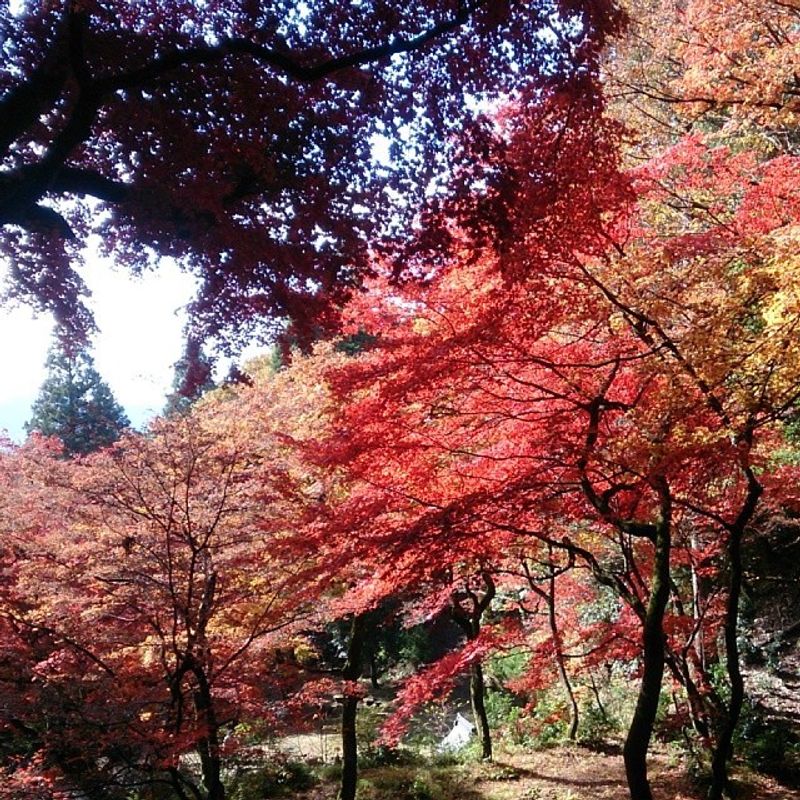 Keisoku-ji Temple (Shiga)
When: mid - late November
There are some 200 maple trees in residence at this temple site in Shiga. Around mid - late November the leaves turn the kind of rich hue of red that is an autumn foliage viewers dream. As if this wasn't enough, the leaves then fall to carpet an ancient set of steps leading up to the temple complex. Call it a "red carpet" experience, if you will.
The temple dates back to the early 8th century and is located on the slopes of Mitakayama overlooking the city of Nagahama.
On a cautionary note, despite a location that might have us balking at the tricky access, in the second half of November local authorities set up temporary parking and toilet facilities to accommodate the spike in visitor numbers during the koyo season.
Entrance costs: During the peak koyo season there is an entrance fee of 200 yen.
How much does it cost to here from Kyoto Station?:
Keisoku-ji is located just north of Lake Biwa. The nearest station is Nagahama.
Using the Shinkansen (with a change at Maibara) travellers can be at Nagahama in 40 mins / ~ 3,500 yen
Without the Shinkansen taking a JR Special Rapid Service (with a change at Maibara) will take just over one hour / ~ 1,300 yen
Keisoku-ji is 2 - 3 km east of Nagahama station. Perfectly hikeable if you're up for it. Otherwise a taxi will make things simpler.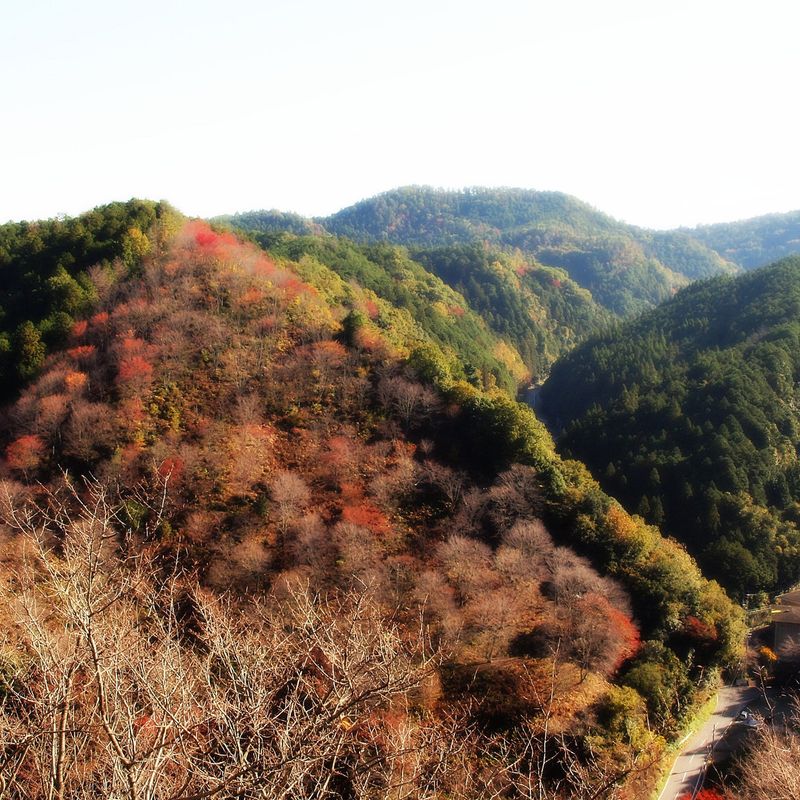 Mount Yoshino (Nara)
When: late October - early November
One of Japan's most celebrated cherry blossom spots also makes for a fine place to take in the autumn foliage. Added to this, the slopes around here have been designated a UNESCO World Heritage Site as a sacred pilgrimage route.
The 8 km ridge that extends south of the Ōmine mountain range is host to some 30,000 cherry blossom trees (Who counts these things?). Given the different species of tree on these slopes and the way that some change color earlier than others (together with time lags as the altitude changes) the foliage on show in these parts can be quite the spectacle.
The ridge is dotted with temples, towns and other attractions linked by ropeways and a service of mini buses. There are plenty of views to take in as you work your way up / down the ridge (divided into four sections). At higher altitudes the Hanayagura Viewpoint and Takagiyama Observation Deck provide some of the most panoramic experiences.
Entrance costs: There is no entrance fee for the area as a whole but individual temples and other attractions sometimes command small fees.
How much does it cost to here from Kyoto Station?: 1,230 - 2,550 yen (Nearest station, Yoshino, Kintetsu Line.)
From Yoshino station the Yoshino Ropeway takes visitors up the early steep slopes of the ridge and into town (although this leg can be undertaken on foot). The ropeway costs 360 yen one-way. Hourly buses are available from the upper end of the ropeway (Yoshinoyama Station) heading to the upper reaches of the ridge. Prices depend on distance but will reach 500 yen at most.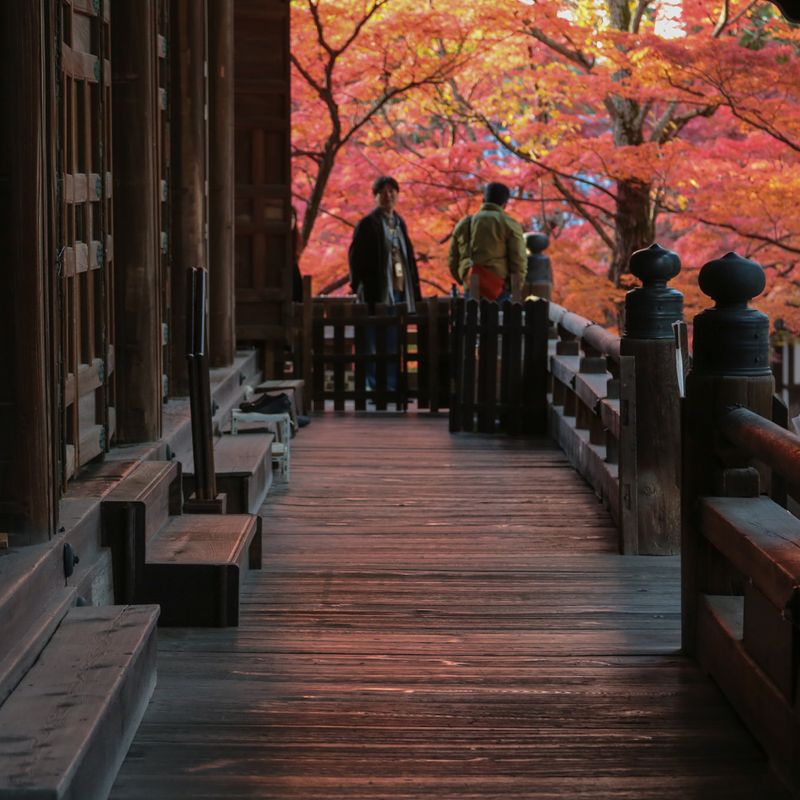 Enkō-ji (Kyoto)
When: mid November - early December
"Sprawling temple known for its foliage" reads the description of Enkō-ji (圓光寺). Located a good few clicks northeast of Kyoto station (Sakyo district), Zen Buddhist temple Enkō-ji is a relative newcomer to the Kyoto temple "scene". It's a scholarly sort of place having been a center for Japan's intellectuals in the 17th century. These days visitors can come to the temple to practice "Zen" meditation. Quite how achievable this state of calm is during the autumn foliage season is not clear to this expat, although one suspects it might be "experts only" given the site's renown as a place of blazing fall leaves.
The imagery on offer at Enkō-ji during autumn could well be considered as iconic; ancient temple accoutrements poking out of the richly hued foliage. The temple's garden, with its pond and maple trees, is a prime viewing spot here, but be sure to take the time to make the short walk up the hill at the back of the temple, from which one can get a bird's eye view of the foliage and the temple scene as a whole.
The best time to view autumn leaves at Enkō-ji is from mid-November to early December.
Web (mostly Japanese): http://www.enkouji.jp/index.html
Entrance costs: 500 yen
How much does it cost to here from Kyoto Station?: 620 yen (Nearest station, Ichijoji on the Eizan Electric Railway Line. The temple is a 15-min walk from here.)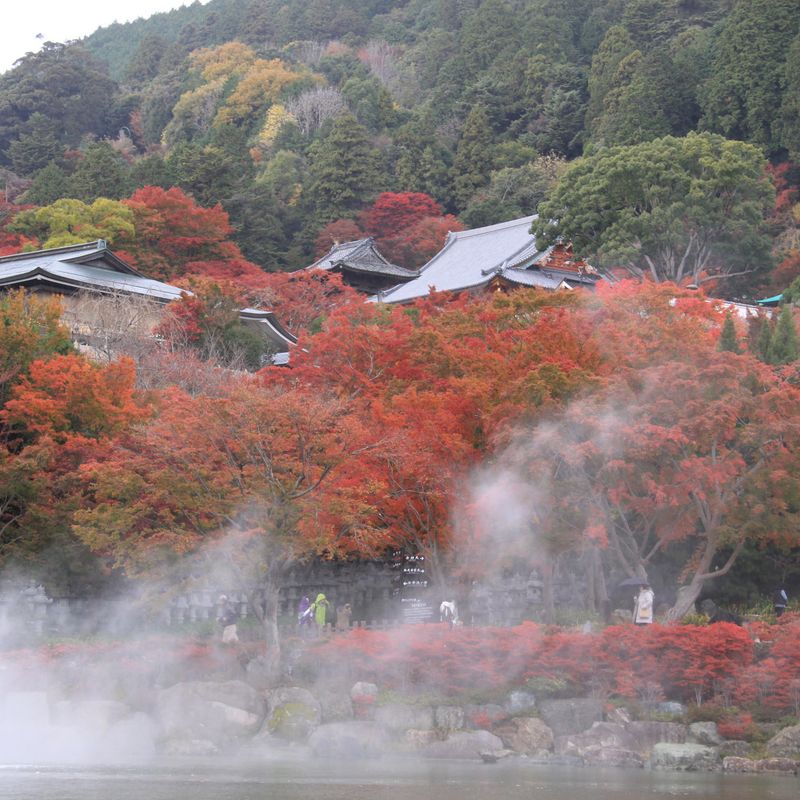 Katsuō-ji (North of Osaka)
When: mid-November - early December
Actor Charlie Sheen would have appreciated Buddhist temple Katsuō-ji during his "tiger blood" televised breakdown; the Mino City temple has a strong association with "winning" ("katsu" refers to "win" or "winning"). Visitors to Katsuō-ji can buy those daruma dolls, thought by some to bring good fortune. Should the fortune eventually show up, the dolls are often returned to the temple grounds.
Katsuō-ji has also been blessed with the good fortune to be swathed in autumn colors when the season comes round. The grounds of Katsuō-ji cover some 260,000 square meters so there's a lot of foliage to ogle in these parts. The mountains in the background make the autumn picture complete. During the peak koyo season at Katsuō-ji, illuminations are switched on on Saturdays and Sundays enhancing the romantic experience of a visit here in fall.
Web (sketchy English): http://www.katsuo-ji-temple.or.jp/katuouji_e/index.html
Entrance costs: 400 yen
How much does it cost to here from Osaka?: 270 yen + (Nearest station, Kitasenri on the Hankyu Senri Line, start from Umeda Station in Osaka. Buses are available from Kitasenri with departures hourly on weekends and every two hours during the week. The bus takes around 30 mins. Look for bus No. 29 from stop 5. The English-language version of the Katsuō-ji webpage recommends at taxi, ~ 15 mins.)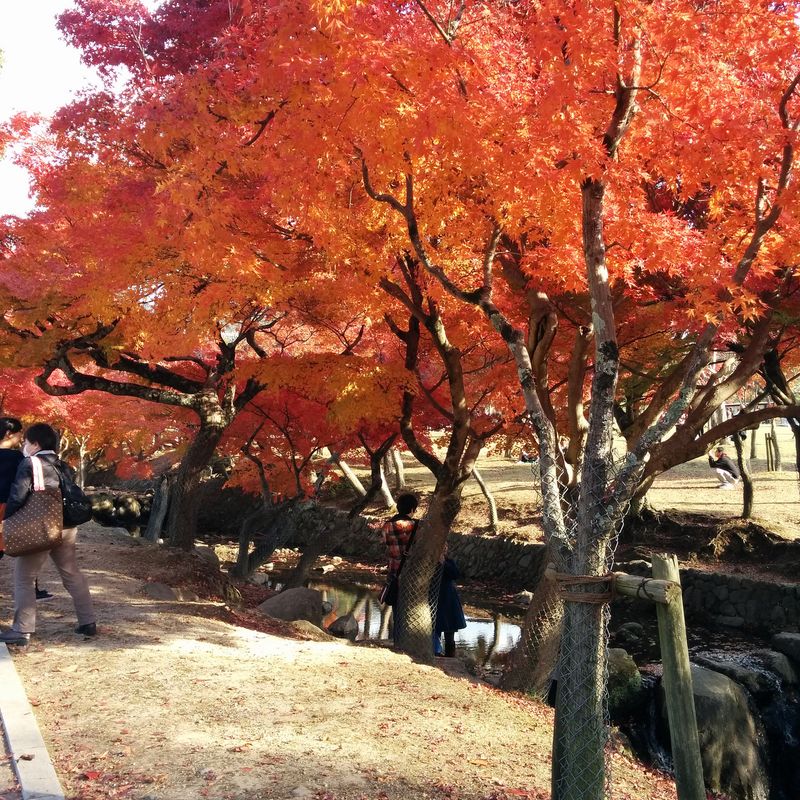 Nara Park (Nara)
When: mid November - early December
This large park in central Nara is home to many of the city's stellar sightseeing spots - Todaiji, Kasuga Taisha, the Nara National Museum et al. Oh, and all of those free-roaming deer, too.
Nara Park (奈良公園) is also home to plenty of trees and the contrast between their resplendent autumn leaves and the evergreens of others in the park is one to be enjoyed. The two types of tree to look out for change their colors at differing times; nankinhase (Chinese tallow) which change from late October while the momiji (maple) will be at its peak from mid-November to early December.
Entrance costs: Nara Park, as a whole, is free to enter
How much does it cost to here from Kyoto Station?: 1,130 yen (Nearest station, Kintetsu Nara on the Kintetsu Line. Nara Park is about a 5-min walk from here.)

Metasequoia Namiki (Shiga)
When: late November - early December
The 2.4 km stretch of road between Makino Pic-land and the Makino Plateau / Makino Highland camping area is flanked on either side by some 500 dawn redwood (metasequoia) trees. From the end of November through to early December these trees, or rather their leaves, turn a deep red. With the branches on either side of the road reaching out to touch each other in the middle, the effect is one of a startling red tunnel. The symmetry of it all exacerbates the effect. The road and the trees are collectively known as Metasequoia Namiki (メタセコイア並木).
Makino Pic-land (マキノピックランド) is as the name might suggest, a place where one can pick fruit. The park is located in Takashima City, Shiga. From the park it's possible to walk along the road where the metasequoia trees are. In Japanese the walking path by the side of the road is called the "sanpodo".
Web (overview of the area): http://en.biwako-visitors.jp/
Entrance costs: The "sanpodo" commands no entrance fee
How much does it cost to here from Kyoto Station?: 1,360 yen (Nearest station, Makino on the JR Kosei Line. From Makino station take a city bus on the Makino Kogen Line to Pic-Land (10 - 20mins.)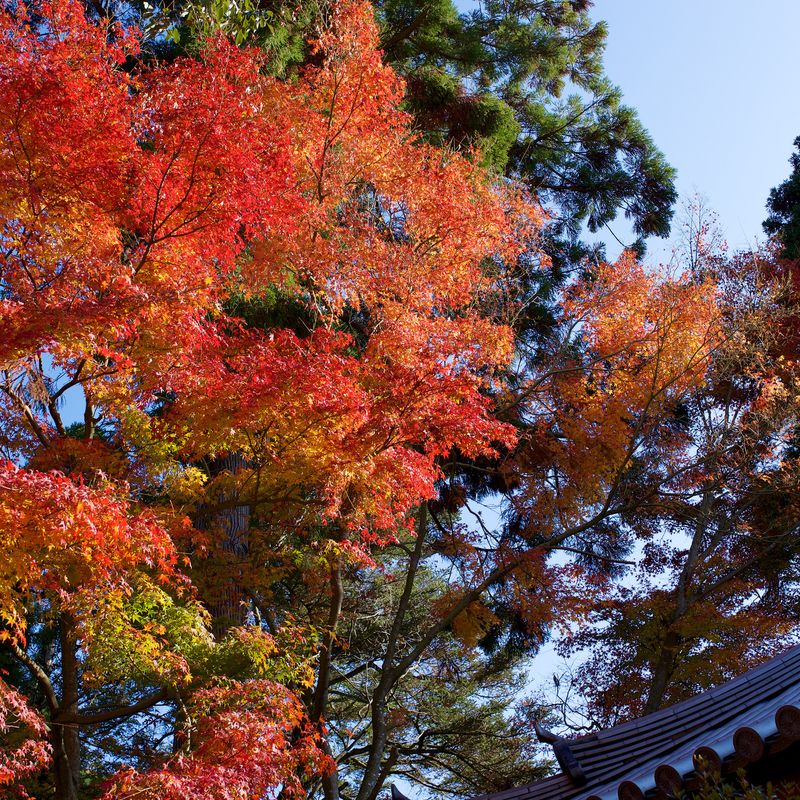 Bishamon-do Temple (Kyoto)
When: mid-November
Another regular on lists of the best places to see koyo in Kansai, although we found Bishamon-do- Temple to feature more on English-language lists rather than those in Japanese. Read into that what you will.
Bishamon-do (毘沙門堂) derives its name from the resident deity here, Bishamonten. Bishamonten is thought to oversee family safety and good business. Well, business is certainly good at Bishamon-do in mid-November when the autumn leaves are at their most resplendent.
The best of the autumn leaf viewing is to be found around the temple's garden Bansuien (晩翠園) where two ponds are surrounded by maple trees and other species that bring out the fiery colors during the fall.
Web (Japanese): http://www.bishamon.or.jp/
Entrance costs: 500 yen
How much does it cost to here from Kyoto Station?: 190 yen (Nearest station, Yamashina on the JR Kosei Line. Bishamon-do is about 1 km north of the station.)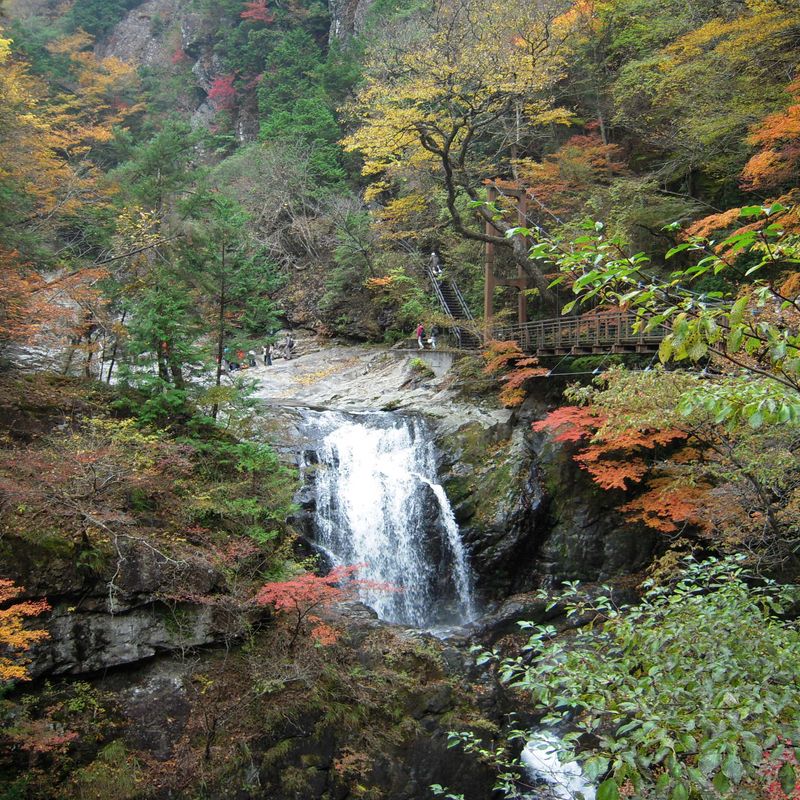 Mitarai Valley (Nara)
When: early - mid November
A spot to see the autumn leaves in Kansai for those that like a bit of a hike. The Mitarai Valley (みたらい渓谷) is a good 40 km southeast of Osaka tucked into a once inaccessible landscape that could probably tell a tale or two of survival and intrigue. The valley is on the way to famous hot spring spot, Dorogawa Onsen.
Despite its comparatively tricky access, Mitarai Valley is celebrated for its autumn colors, although with plenty of hiking trails, waterfalls and villages nearby (not to forget the aforementioned onsen) this region of Kansai is one that can be enjoyed during any season.
Still, we're here for the autumn foliage which comes into its own in early - mid November, and offers a brilliant contrast with the emerald greens of the river (if the weather is playing its part). The valley is crossed by a number of bridges from which the autumn foliage gawper can get some elevated views.
The hiking part comes in when accessing the valley - head first to the Tenkawa Kawai bus stop where an information center has walking maps. Following the river, the valley is about a 40-min yomp from here.
In early November look out for the Tennokawa Autumn Leaves Festival held in and around the Tenkawa Village (near the bus stop). Helicopter rides to view the foliage from way up high may be available!
Entrance costs: Free (for the valley)
How much does it cost to here from Kyoto Station?: ~ 2,000 yen (Nearest station, Shimoichiguchi on the Kintetsu Line. Journey times on express trains are around 80 mins. Take buses bound for Dorogawa Onsen from here and get off at Tenkawa Kawai. Buses are run by Nara Kotsu Bus and take around one hour.)
Of course, the best places to view autumn leaves in Kansai don't begin and end with this list, or any list that is similar (of which there are many). Hopefully, though, it will serve to point the fall foliage viewer in the right direction which may lead to more personal, unexpected discoveries.
Just like there are many lists, there are many koyo spots to choose from, not just in Kansai, but throughout Japan, where it can seem like the whole country is fully bedecked in its "fall collection" from late October through to mid-December.
Expect those marquee koyo spots in Kansai that are located in and nearby the big urban areas to be busy with people and plenty of impressive photography kit. If crowds aren't your thing, it will be better to avoid these headline spots. In fact, such places could well be doing you a favor by drawing all the traffic towards them, and away from those personal, unexpected discoveries.
What do think are the best places to see the koyo / autumn leaves in Kansai, or anywhere in Japan for that matter? Let us know in the comments.
Further reading …
Best places to view autumn leaves around Tokyo, how much it costs to get to them

See us on …
Twitter: @City_Cost_Japan
Facebook: @citycostjapan
Images
Tōfuku-ji: np&djjewell Flickr License
Arashiyama: coniferconifer Flickr License
Keisoku-ji Temple: seiji__ Flickr License
Mount Yoshino: coniferconifer Flickr License
Enkō-ji: Norio NAKAYAMA Flickr License
Katsuō-ji: Peachykeen103 Flickr License
Nara Park: x768 Flickr License
Bishamon-do: Tetsuji Sakakibara Flickr License
Mitarai Valley: Tamago Moffle Flickr License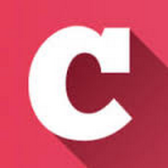 A Q&A and blogging community about life in Japan (plus a load of life-in-Japan stats!). Get your questions answered, share your experience! | Inquiry -> KyodoNewsDigital International Media | Tokyo, Japan | +81 3 6252 6402
---