Jun 15, 2018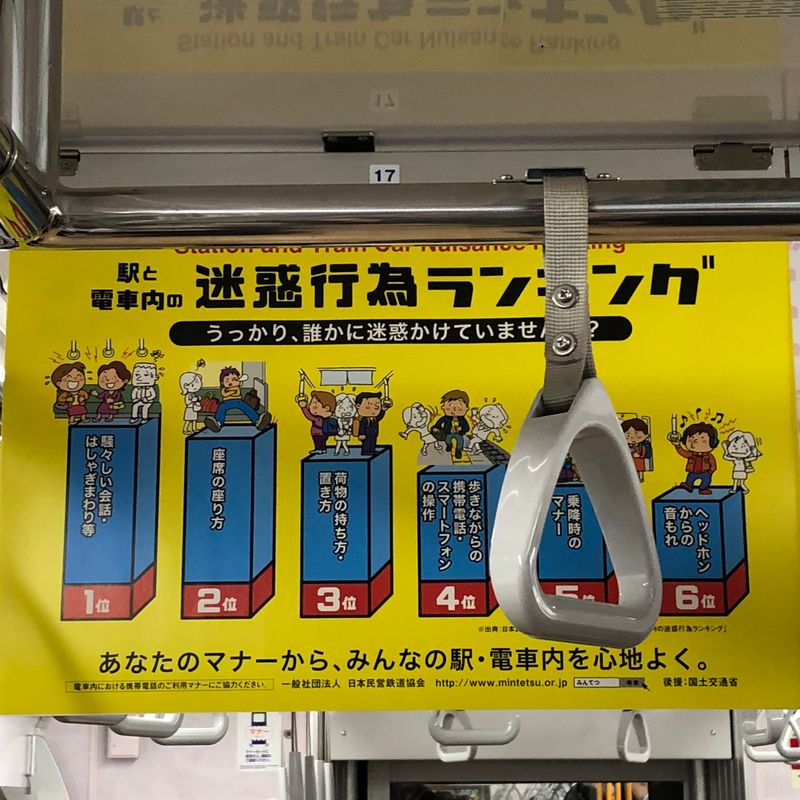 "Noisy conversation" and "taking up too much seat room" ranked highest in a poll of the most annoying acts passengers in Japan endure while riding trains and passing through station areas, according to the results of a survey conducted in late 2017.
The survey into train station and train car manners in Japan was conducted by the Japan Private Railway Association (日本民営鉄道協会 / Mintetsu)) the results of which have been turned into a campaign launched this month aimed at increasing the comfort of passengers on association member trains and at related stations.
The "Station and Train Car Nuisance Ranking" (駅と電車内の迷惑行為ランキング) campaign launched June 1st for the first time sees Mintetsu convey in illustrated form the top six ranked annoying acts via campaign posters currently on display in train carriages and around train stations in a move that the association hopes will encourage guilty parties to reflect on their "annoying" behaviour. Over 20,000 of the campaign posters have been put up in association member train carriages and over 2,000 posters in train stations.
"Noisy conversation" along with "horsing around" topped the ranking for the ninth consecutive year with the latest survey gathering the grievances of 2,419 online respondents between October and November last year.
Moving up from 3rd to 2nd were those annoyances caused by the way people sit on trains with respondents expressing their gripes about fellow passengers taking up too much room.
While "walking while using a smartphone" dropped two places from 2nd to 4th, possibly as a result of relentless appeals to get faces away from screens, the high ranking suggests there's still some way to go to lessen the nuisance caused by this comparatively recent phenomenon.
On a happier note, the same survey also gathered the opinions of respondents regarding acts that warmed the hearts of fellow travelers with those passengers helping out with pushchairs, and those giving polite warning before reclining their seats, appearing in the good books.
"I thought it was nice to see a student using a smartphone to help a foreigner understand where to change trains." commented a female respondent (Japanese) in her 40s on another act of kindness.
It's acts that cause annoyance though, that are likely to garner the most attention, some of which may appear in stark contrast to the image of the Japanese, individually and as a collective, being painfully polite.
The full "Station and Train Car Nuisance Ranking" is as follows:
Rank
Act
Percentage
1

Noisy conversation /

horsing around


33.2
2
Way of sitting
31.1
3
Way of carrying / storing luggage
29.8
4
Walking while using smartphones
29.6
5
Way of getting on, off trains

28.1
6
Noise emitting from headphones
20.1
7

Cell phone / smartphone ringtones,

making / receiving calls

18.5
8
Leaving behind garbage / empty cans
16.0
9
Smoking
15.3
Rank

cont.

Act

cont.

Percentage

cont.

9
Drunk passengers
15.3
11
Applying makeup on trains
13.7
12
Sitting on train floor
11.8
13
Eating / drinking on crowded trains
10.3
14

Reading newspapers / magazines / books

on crowded trains

7.9
15
Other
6.4
16

Operating sounds from electronic devices

(laptops, handheld consoles)


4.8
17
Nothing in particular

0.4
It's perhaps worth speculating that any cases of "Smoking" probably took place in train stations and on platforms rather than on train carriages (although we haven't confirmed this).
Given the scope of the annoyances covered by "Way of sitting," "Way of carrying / storing luggage," and "Way of getting on, off trains" the association saw fit to offer to collate a breakdown of each:
Way of sitting
Taking up too much room

(with luggage, spread legs etc)

64.4%
Stretching out legs while sitting
19.4%
Not giving up seats to those in need
4.5%
Letting children stand on seats with their shoes on
2.9%
Falling asleep on other passengers

2.7%
Perhaps some notes for the layman ...
"Spread legs" aka "man spreading" maintains an unfortunate presence here in Japan, too. "Falling asleep on other passengers" is a regular occurrence but one that is perhaps met with sympathy from some fellow passengers. "Not giving up seats to those in need" is prevalent behaviour on Japan's trains and while it's possible to defend it by not wanting to cause offence by effectively labelling someone as "elderly," we all know deep down that the reason is people care more about their own comfort than they do that of others.
Way of carrying / storing luggage
Carrying backpacks / rucksacks

on backs / shoulders


55.2%
Luggage placed on the floor / by feet

12.2%
Luggage placed on seats

11.2%
Carry bag

9.0%

Umbrellas

(wet / tips pointed at fellow passengers)


5.0%
Luggage placed near doors

3.2%
The clear annoyance here is caused by those passengers who carry their backpacks on their backs on crowded trains. Sometimes it's an unsuspecting (or maybe ill-mannered) foreigner but there are plenty of occasions when its a local, despite plenty of appeals from authorities for them not to do so. Maybe the guilty parties consider themselves anti-authoritarian. Maybe they're ignorant. Or maybe they just don't care. Either way, from personal experience the rucksack on the back on a crowded train is psychotically annoying.
In Japan "carry bag" (キャリーバッグ ) refers to small suitcases on wheels that went through a phase a few years ago of being dragged around by trendy young things out shopping for the day, much to the bewilderment of people around them. They seem to be less popular these days and are more commonly used by elderly ladies.
Way of getting on / off trains
Not moving away from train doors /

moving into center of train cars

43.2%

Not waiting for passengers

to get off before trying to board


23.5%

Jumping ahead of lines waiting to board


17.4%
Rushing to get on trains
5.7%

Getting on / off

while using cell phones / smartphones etc


3.7%

Pushing other passengers when getting on / off

3.1%
The Japanese propensity to form a line is impressive, especially when it comes to waiting for tables in restaurants. For the most part, lines for trains are very orderly. Alas though, Japan isn't free from rogue commuters who aren't afraid to jump queues. Such behaviour isn't considered the most annoying though, after all, there's a certain logic to it.
Greater frustration is caused by those passengers who, in their feverish desperation to get a seat, lose track of the logic (and science) dictating that passengers simply cannot alight / board trains effectively if everyone tries to do so at the same time. Guilty parties care little for logic though, unless it clearly favors them.
"Rushing to get on trains" could mean those passengers who run and leap onto trains as doors are closing -- annoying when the train is already full to the brim, but otherwise it would seem hard to begrudge someone trying to make it to work on time.
It could also be referring to those passengers who run in order to get a seat. Very annoying.
Others
Perhaps the most noteworthy of "other" annoyances detailed by the JPRA survey is in regards to those passengers who, on crowded trains, see fit to thrust smartphones in the faces of fellow passengers so they can eek out the space to use them. Or those passengers whose magazines and books rest on / brush against the shoulders of others.
What might expat commuters in Japan add?
The one where locals seem reluctant to sit next to us? The one where operators appear content to pack trains to some point that suggests they aren't too concerned about the state of humanity? The one where too few of the locals seem prepared to confront any of the issues raised in the survey or in this article?
Unfortunately, the brutal reality of all this seems to be plain, if we want to face it, and that is that there are people out there who simply don't care about others, at least not to an extent that covers being well-mannered on crowded trains.
The appeals towards the consideration of others, after all, have long been present (save for the walking while using a smartphone thing), long enough at least for pleas of ignorance to surely fall on deaf ears. Similarly though, these appeals appear to be falling short of the mark.
The "Station and Train Car Nuisance Ranking" was in its 11th year as of 2017 and one wonders how things might have changed over the years. Are the rankings getting longer or shorter? Are commuters now in need of policing, or at least some preventative penalties, a bit like in a movie theater? Actually, results of the first survey turned up "use of cell phones" as the highest ranked annoyance, with "way of sitting" still at No. 2. So not much has changed then?
There is, of course, a positive spin to all of this and that is that if the best (or worst) that a nation of commuters can muster up frustration about is people chatting too loudly, then perhaps this is actually something to be pleased about. But it doesn't mean that things can't be better.
What is the most annoying behaviour that you've experienced on the trains in Japan?
Further reading:
Train etiquette in Japan: More of the 'don'ts' than the 'dos'
Source:
Japan Private Railway Association
See us on ...
Twitter and Facebook: @citycostjapan
Instagram: @city_cost_japan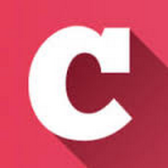 A Q&A and blogging community about life in Japan (plus a load of life-in-Japan stats!). Get your questions answered, share your experience! | Inquiry -> KyodoNewsDigital International Media | Tokyo, Japan | +81 3 6252 6402
---
1 Comment
The worst I've really experienced was when I was close to being 9 months pregnant and no one would even make eye contact with me on the train to offer a seat. It seems to be a case of "if I didn't see the person who needs a seat, do they really exist?" Thankfully I was still able to stand without worry, but it was more the fact that no one offered that bugged me. I do think on the whole, the trains function better here than they do for me back home. Nowhere in the world is immune from inconsiderate people, but for the most part I've had good experiences.