Aug 15, 2016
When post is delivered to your place in Japan and you happen to be out at the time, a notice card ('Undeliverable Item Notice') will put through your letter box. The postal service (JP POST in this case) will keep hold of your parcel for around two weeks (look out for the bit on the card written thus, 保管期限/hokan kigen).
You have two options to get this parcel in your hands. One is, of course, to go and pick it up. Where this expat comes from, this is the only option. In Japan, this will probably mean going to your local 'big' post office. In my experience, the small ones don't keep hold of parcels. Chances are, this 'big' post office will be some distance from where you live (as in, you'll need a mamachari to get there). Usually the big post offices have a collection booth that is open, even when the main counters are shut (Sundays, for example).
The other option is to have the postal service redeliver it. Sounds great, and it's gotten much better. There used to be a time when this would have had to have been done in Japanese over an automated phone service. Nowadays though, it seems you can do it in English. It's easy not to notice this though, as the 'English' service number is hiding in small print on the back of the notification card. Anyway, we're in Japan, so let's do it Japanese style. It's easy enough once you know how to input the info. Just to be clear, we are talking about re-delivery of items by JP POST.
Below is a picture of said 'Undeliverable Item Notice'. Perhaps it's best to check the name on the card (although don't get too picky about the spelling). Also, don't be concerned when for 'Sender' they just write 外国 / foreign country. Yes, your parents have names, but this is nothing personal. So, following the numbers in yellow on the image below …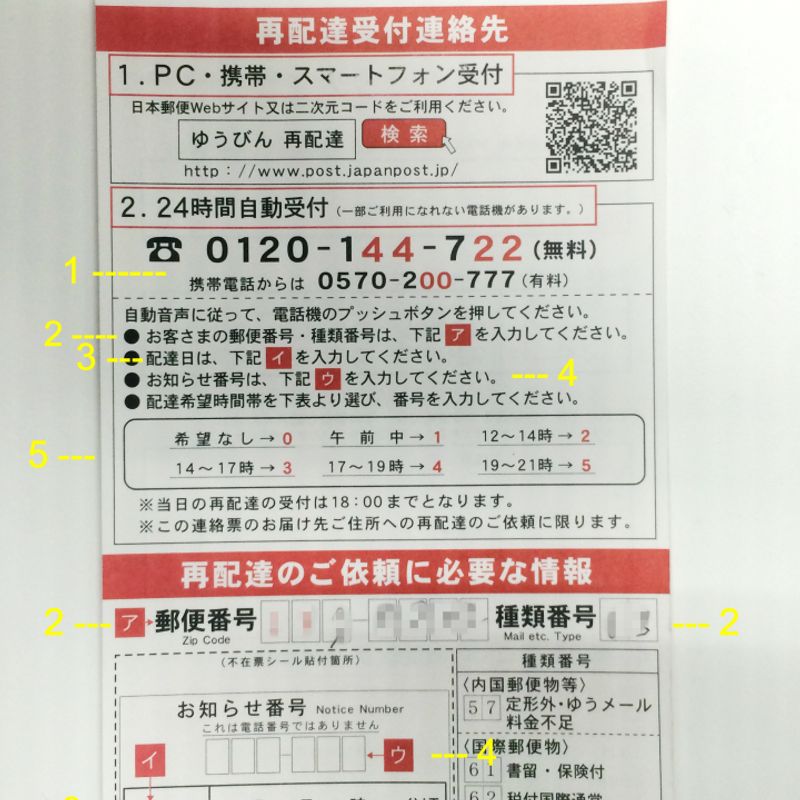 1. Call this number. The 0120 number is free dial (sometimes it doesn't work, although we don't know why). The 0570 number will cost you.
You'll get through to an automated service voiced by a perky toned Japanese lady. The initial message is mostly waffle but does explain that you can input information while she is talking (you don't have to wait for each message to finish). At the end of this initial message she says something along the lines of, 米印ボタンを押してください / yajirushi button wo oshite kudasai / Please press the asterisk button. This one - ✳
After each of the following actions/inputs you'll need to push the # button (Japanese - shaapu)
2. You'll be asked something along the lines of, お客さまの郵便番号と書類番号を入力してください / okyakusama no yuubin bango to shorui bango wo nyuryoku kudasai / Please enter your zip (postal) code and document number. Enter them consecutively.
3. Next you have to enter the 配達日 / haitatsubi / the date the parcel was originally delivered. This is done month then day. For example, March 5th would be entered 03 05. You won't be asked for the time, even though it should be written on your notice card.
4. お知らせ番号 / oshirasei bango / notification number. Two sets of 3 digits. Sometimes this is written on a separate piece of paper stuck to the notification card.
5. The final thing is to request when you want your parcel to be redelivered. 配達希望時間 / requested delivery time. They start by asking for the date (input as step 3), and then you can choose the time period as listed on No.5 (yellow) on the card. Fairly self explanatory, although 0 means that you have no particular time request. Underneath the options, they explain that if you want delivery on the day you are are calling, you must do so before 18:00.
Once this is done, the lady will summarise your delivery request. She'll ask you if this is correct and if so, to push another number (can't remember which) - よろしくれば (number) を押してください / yoroshikureba (number) wo oshite kudasai.
Remember, # button after each step. The final message will be to ask you if you have any other parcels that need to be delivered. You can disregard this if you don't, and simply hang up.
Redelivery is free of charge in Japan.
What are your experiences of using JP POST? Please share them in the comments below. Or how about writing a review of them in the City-Cost 'Review' section.
Twitter: City_Cost_Japan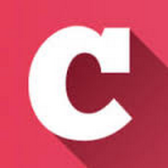 A Q&A and blogging community about life in Japan (plus a load of life-in-Japan stats!). Get your questions answered, share your experience! | Inquiry -> KyodoNewsDigital International Media | Tokyo, Japan | +81 3 6252 6402
---