Aug 9, 2016
Artist Murasaki mixes his cultural palate of reggae, pop, anime, movies, and urban influences in a solo exhibit of pieces from his, until now, private collection.
The 40 works on show at Ladies First had remained even more reclusive than Murasaki himself, who is quick to admit that he avoids the limelight, preferring instead to remain at home where he can concentrate on his art. While guiding us around the exhibit at Ebisu's NOS, Murasaki himself told us that many of his followers are surprised to hear he is now resident in Tokyo. Many still think that he is based in Osaka, where he first established himself as an artist.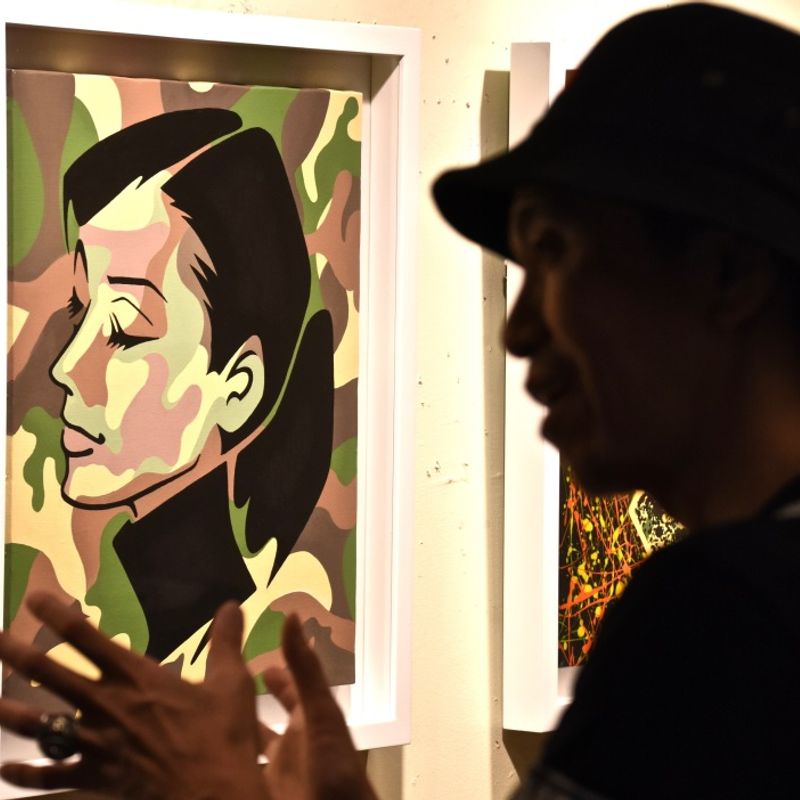 As the title of the exhibit may suggest, amidst the mix of influences that have brought Murasaki to this point in his life, each piece on display in Ladies First has a shared subject - ladies. Don't come here expecting some lurid gawp at the female form, however. Quite the opposite. Murasaki has used his canvases and his talents to cast new lights on some household names, presenting them in ways that maybe we had yet to imagine (although the artist does admit to remarking, in the privacy of his own home, how beautiful they look, or should that be just how damn good at drawing this guy is?).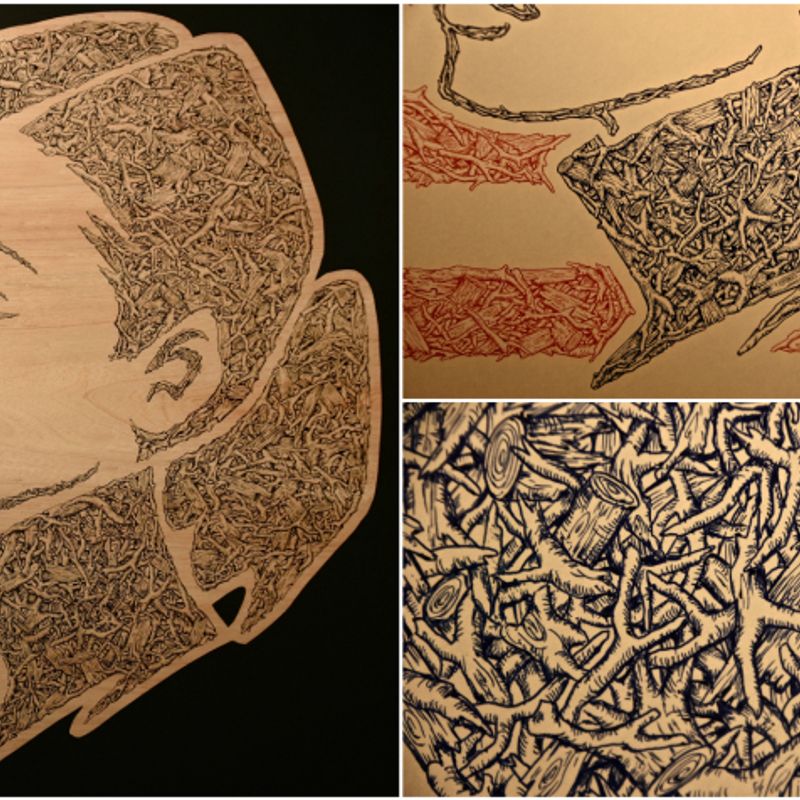 Audrey Hepburn seems an unlikely subject for an artist who cut his teeth creating record sleeves and posters for Osaka's reggae scene. But here she is, in her Roman Holiday form, anchoring a section of the exhibit which juxtaposes her character of Princess Ann, with Murasaki's own street influences. Look out for one of the 'twigg' pieces, which will rejig your thinking about what you thought was possible with some 100 yen ballpoint pens.
For us, one of the most striking sections of Murasaki's exhibit is a motif of four pieces that bring together Lady Gaga, Madonna, Beyoncé, and Rhianna; superstars that would normally need no introduction, and are certainly no strangers to sexual imagery. Following familiar form though, would be too easy for an artist like Murasaki. Instead, in his hands, these monochrome poster-like renditions bring to us superstars almost unrecognizable, decked out as they are in whirling flourishes of the grotesque, and the harsh. And they look all the more exotic for it.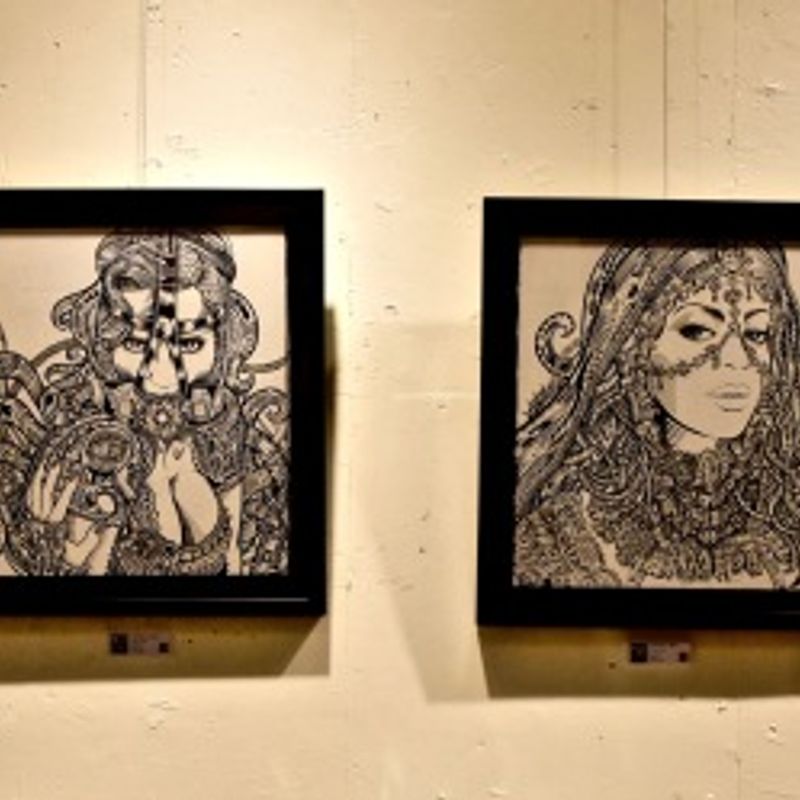 With his Ladies First exhibit, Murasaki is not only challenging those who know him as a 'reggae guy' to realize other sides to his art, he has also challenged himself. Perhaps this is at its clearest in two pieces portraying characters from Alice in Wonderland and Frozen, where Murasaki told us of his aim to master tools traditionally used by manga artists. It looks like he's done it, but you can be the judge of that yourselves.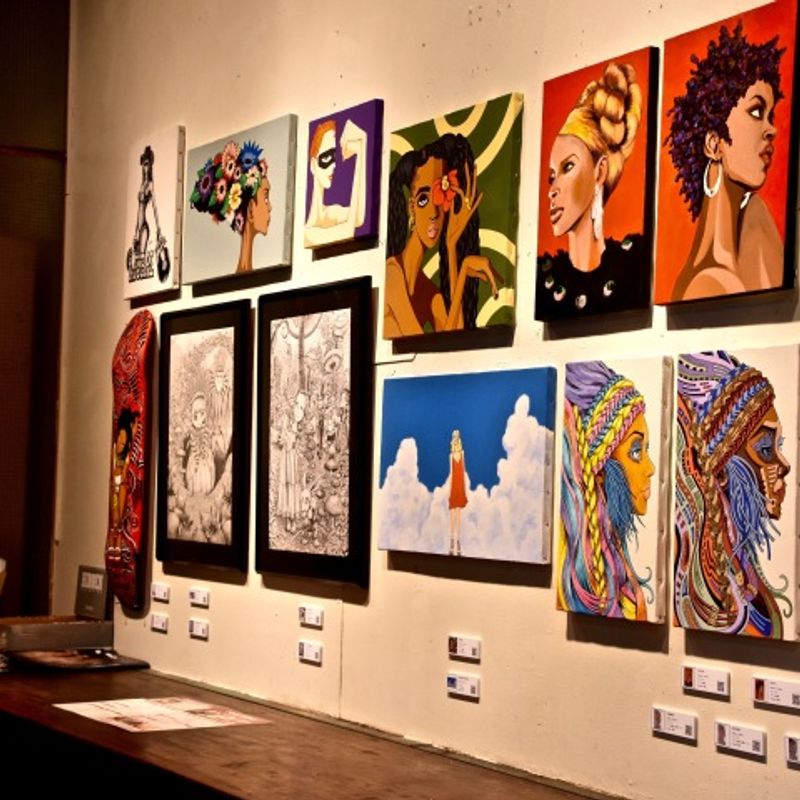 The challenges, and melting pot of influences continue. In fact, we challenge you to point us to another exhibit where you can see the soulful poise of an Erykah Badu sharing space with an innocent anime figure sporting the trademark mask of hip-hop supervillain MF Doom.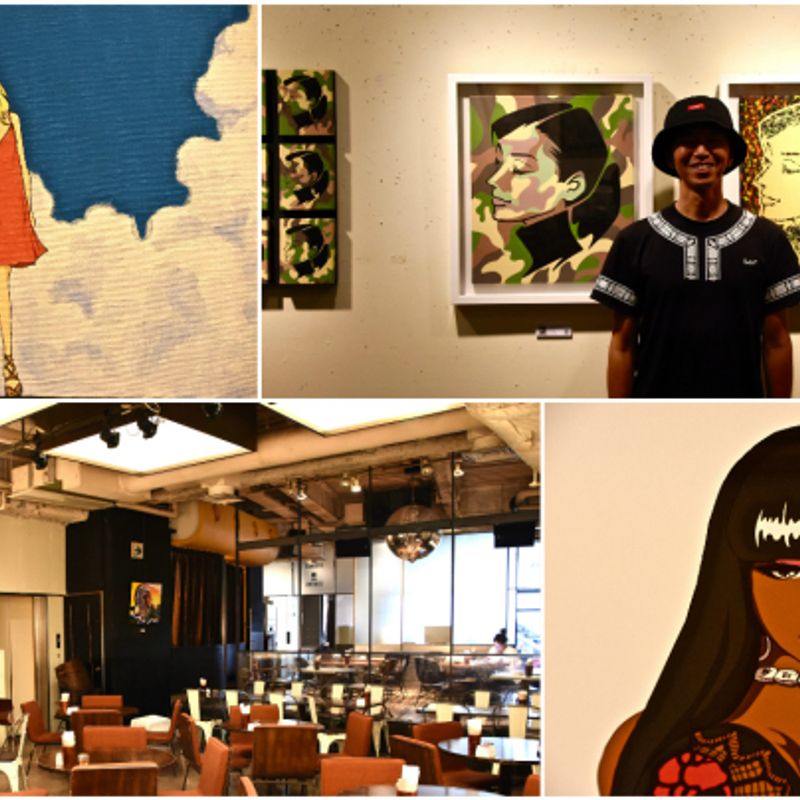 After showing us around his exhibit, Murasaki told us he'd moved on from his Public Enemy style societal angst, to concentrate on overcoming his own artistic barriers. If Ladies First is anything to go by, it looks like the barriers are falling. Not that Public Enemy and angst have been completely left behind. Just look out for the anime rendition of a fist pumping Beyoncé.
In Ebisu's NOS, Murasaki has picked the fitting venue for people to get to grips with his many influences and discover unknown sides to his art. This is a dining bar that prides itself on a diverse clientele, using their warm space to come together over food and strong sake. And art, in this case.
Ladies First runs until August 31, 2016
Location: NOS EBISU
Address: CONZE EBISU B1F, Ebisu Minami 2-3-14, Shibuya-ku, Tokyo
Tel: 03 5773 1727
Hours: Mon-Thurs 18:00 - 02:00 / Fri & Sat 18:00 - 05:00 / Sun & Hols 17:00 - 23:00
Web: http://www.nos-ebisu.com/
For more on Murasaki …

Web - http://www.studio-murasaki.com/
Map to NOS EBSU
City-Cost on ..
Twitter: city_cost_japan
Facebook: citycostjapan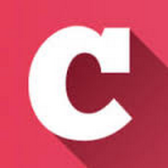 A Q&A and blogging community about life in Japan (plus a load of life-in-Japan stats!). Get your questions answered, share your experience! | Inquiry -> KyodoNewsDigital International Media | Tokyo, Japan | +81 3 6252 6402
---