Sep 11, 2016
We love Osaka very much. There's more than enough going on in this booming, boisterous city to keep your weekends occupied for, well, as long as you're there really. Still, it's always nice to have a weekend away every now and then.
In looking at the costs of a potential weekend trip from Osaka, what we want to consider here is something a little more relaxing; getting away not just from the booming chaos of Osaka, but also from that of the Japanese city in general. This means that while Tokyo, Hiroshima, Fukuoka et al might well be legitimate weekend-away destinations, they're not what what we're after here. For us, we want fresh air, space, water, … and hopefully a bit of green, as in nature!
We'll look at the budgets required to sneak out of the city, stay overnight at the destination, travel and play within the destination, and then sneak (or should that be skulk) back to Osaka of a Sunday evening, in time for work on Monday! Boo!
Lake
Hikone (彦根)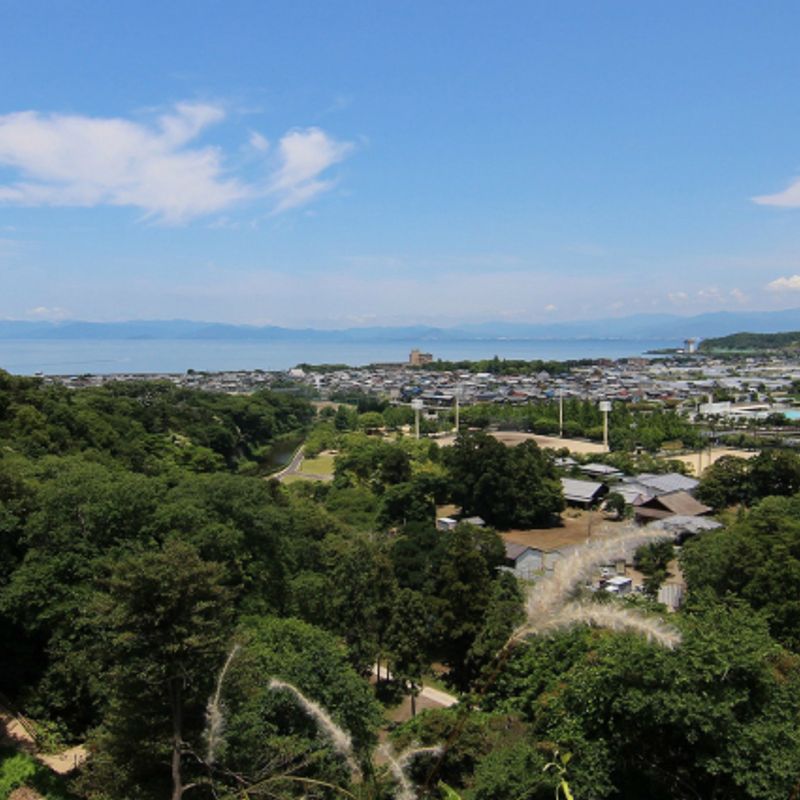 One of the prime gateways to enjoy Lake Biwa, Japan's largest puddle of fresh water. Actually, Otsu, to the South, is larger in scale but borders on the kind of city we're trying to get away from for this weekend trip. Perhaps Hikone would be a better bet.

Hikone's strongest claim to fame is its castle, which tourist boards (and us) are in a hurry to inform is one of only 4 castles in Japan to have the lofty title of National Treasure.
Get there (and back)
Train from Osaka Station (transferring at Yasu (Shiga)) - ~ 2,000 yen (4,000 yen return) - ~ 1 hrs 30 mins
Stay
Hotel Sunroute Hikone is a stone's throw from Hikone Station. Singles from around 7,000 yen. Twin rooms from 22,000 yen. Add on around 2,000 yen per person for breakfast plans.
For something more romantic, save your pennies and splash them on Hikone Castle Resort & Spa . Doubles from 15,000 yen per person. For rooms with a view bath plan for between 25,000 and 38,000 yen per person based on two people sharing. These rates include dinner. As the name would suggest, there are views to the castle!
Expect to pay around 4,000 per person for a cheap business hotel in 'downtown' Hikone.
Get around
Walk! It's only around 500 m from Hikone Station to the castle, and then about another 500 m from there to the shores of Lake Biwa. Most of Hikone's sightseeing spots center around the castle.
Megurinko (めぐりんこ) rents out bicycles from comfortable shoppers through to bum numbing road bikes. 600 yen per day. There's a store right next to Hikone Station (west side).
Play
Hikone Castle is a must see (although you couldn't really miss it anyway). Entrance for the castle and garden - 600 yen. Castle, garden, museum - 1,000 yen.
Cruises from Hikone Port are available to Chikubu Island, home to a couple of shrines. The cruises run between mid March and November. 3,400 yen for the round trip. It takes 40 mins to reach the island.
Budgets
The High Roller: ~ 50,000 yen (including castle, cruise, bike rental)
The Spendthrift: ~ 9,000 yen (getting by on foot, cheap business hotel, basic castle/garden entrance)
Mountain
Mount Koya (Koyasan) (高野山)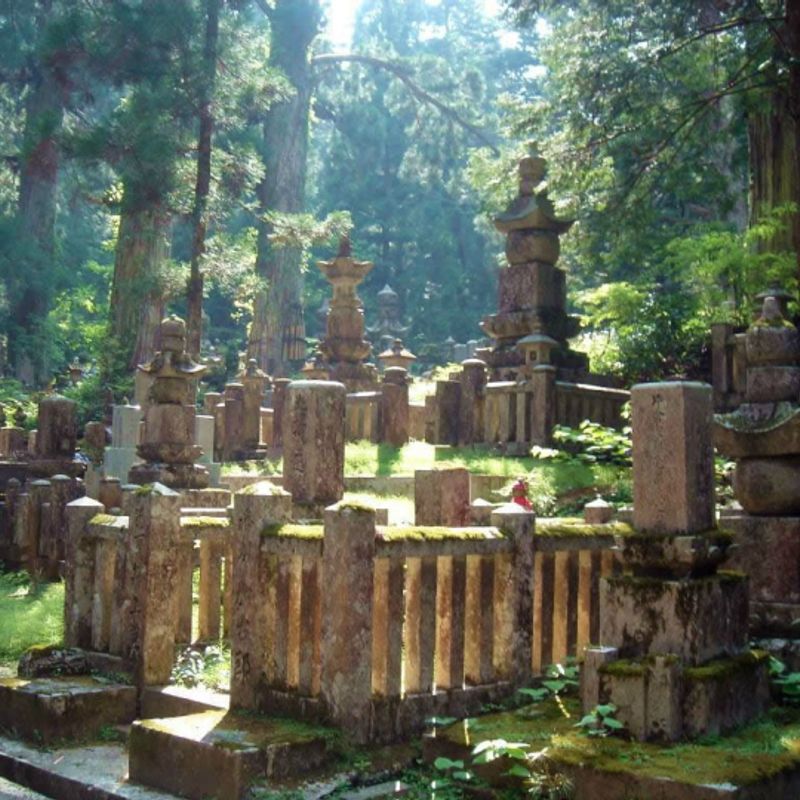 The Internet is full to the brim with images of this mountain area and its dramatic temple complex. This is the kind of stuff they make movies about, or they set movies in, and it couldn't be further removed from the atmosphere of downtown Osaka if it tried.
A dirty weekend getaway Mount Koya is not. This about nature, history, walking, brisk mountain air, and, dare we say it, at chance to get a little bit spiritual, man! Find you own hidden corners of a temple. Gawp up at massive cedar trees. Appear scholarly as you brush up on your history. Or, cast away a life filled with stuff, and embrace the Buddhist way that these mountain slopes are so famous for.
Get there (and back)
From Osaka the closest train station to Mt Koya and the Koyasan is at Gokurakubashi. A direct express to Gokurakubashi from Namba - 2,040 yen (4,080 yen return) - 1 hrs 35 mins
Other trains from Namba (transferring at Hashimoto) 1,260 yen (2,520 yen return) - nearly 2 hrs (one way). 1,770 yen (3,540 yen return) - around 1 hrs 40 mins (one way).
From Gokurakubashi Station it's a cable car ride to Koyasan Station - 390 yen (5 mins). From here it's a 10-min bus ride into 'Koya Town'.
Serious hikers (or very serious spend thrifts) can make the journey from Gokurakubashi on foot, in about 7 hours.
Stay
Temple lodgings are de rigueur for this part of the world. There are plenty to choose from. You're looking at around 8,000 yen per person per night through to around 35,000 yen at the higher end (these Buddhist temples eh? Thought they didn't care for stuff like money).
At the cheaper end, Koyasan Guest House Kokuu has capsule style rooms from 3,500 yen and doubles from 9,000 yen per room per night.
Get around
One-day bus pass (available from Koyasan Cable Car station) - 830 yen
Koyasan World Heritage Ticket - All things considered, a good deal. Return fare from Namba to Koyasan Station, Two-day free bus ticket in Koyasan Nankai Rinkan Bus, plus discounts for a number of attractions - 2,860 yen
Play
There's plenty of exploring to do on the mountain, and hiking and much of the views are free.
A 'Combination Ticket' is a good way to go if you're wanting to enter a lot of temples and museums. For 2,000 yen, you can pretty much cover the Koyasan essentials.
Okunoin, the largest cemetery in Japan. Yay! A cemetry, fun! This one though is the host to the mausoleum of Kobo Daishi, the founder of the area's sect of Buddhism, and one of the A listers of Japanese religious/spiritual history. Entry is free.
Budgets
The High Roller - ~ 45,000 yen (taking things as you go, paying for transport options individually, staying in top-end accommodation)
The Spendthrift - ~ 7,000 yen (making use of the Koyasan World Heritage Ticket to cover all transport, walking around the town, only entering free attractions)
Island
Naoshima (直島)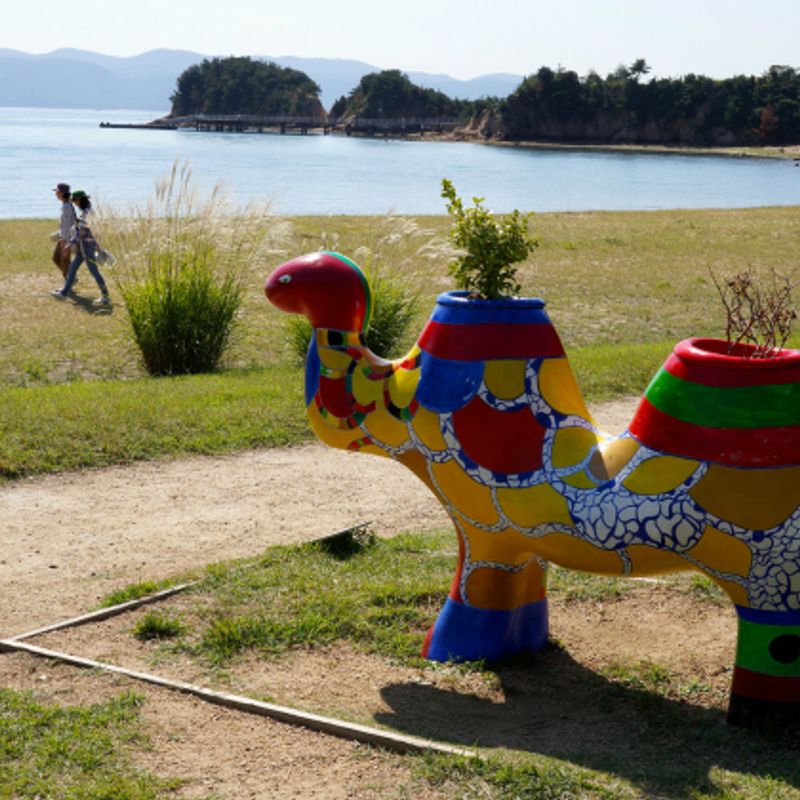 Located in the Seto Inland Sea, and getting in the way of shipping lanes to Takamatsu on Shikoku, Naoshima is the island with all the art instillations. Such is the island's fame, if you haven't seen images of bonkers looking pumpkin sat at the end of a small pier poking out into the sea, then you've probably shown no interest in coming to Japan.
Get there (and back)
This is going to be the longest journey of our weekend trips from Osaka.
First you need to get to Uno Station from Osaka. Using Shinkansen between Shin-Osaka and Okayama: ~ 7,000 yen (14,000 yen return) - ~ 2 hrs 20 mins
Get this down to 3,670 yen (7,340 yen return) using regular trains - 3 hrs 30 mins
Passenger ferry Uno Port - Miyanoura: 290 yen (return 560 yen) - 15 to 20 mins
Stay
Benesse House is perhaps the accommodation option of choice for the high roller (at the artist). Rooms here are also part of a museum complex housing contemporary art exhibits.
Rooms from around 16,000 yen per person, going up to around 35,000 yen for a beach suite.
Dormitory accommodation for around 3,000 yen per person per night.
Getting around
Cheap bicycle rental for a day - ~ 500 yen
There are a couple of bus services on Naoshima. One of them is free, the other, a flat rate of 100 yen
Play
The Benesse House Museum is really what kicked off Naoshima's status as an island of art. If you're coming this far from Osaka, it would be a shame to miss this. Entrance 1,030 yen.
MECON is an interesting one, being an art instillation in the courtyard of a no longer in use elementary school. Adults 510 yen.
Naoshima Bath is an art facility, and a bath, as in one that you can take a soak in … while looking at art. Entrance 510 yen.
A weekend here could also include a visit to the nearby island of Teshima, to check out the art instillations there. Boats to Teshima 620 yen
Budgets
The High Roller - ~ 60,000 yen (transport via Shinkansen, visiting both Naoshima and Teshima, luxury accommodation, taking in plenty of attractions)
The Spendthrift - ~ 12,000 yen (regular trains, dormitory accommodation, free attractions only, no visit to Teshima)
A glaring miss in these budgets for trips from Osaka is food. Temple accommodation in Koyasan will include dinner and breakfast. In towns like Hikone the spendthrift could perhaps scrape by on 1,500 - 2,000 yen per day, eating cheap noodles/bowls of rice and meat, and breads for breakfast. On Naoshima, high rollers wanting a slap up meal had better check out the options at their accommodation.
There are one or two national holidays coming up in this month (September) that come under the moniker 'Silver Week', although this year there is no week holiday to speak of. Chances are the above trips from Osaka have already had much of the choice accommodation booked out for Silver Week, but a bit of research may still turn up some availability.
If you have any great ideas for trips from Osaka and their budget's, we want to hear from you! Leave your comments below, or even better, put together a post share it on the top page for all to see.
For classic weekends away from Tokyo and the budgets required, see this earlier blog on City-Cost …
How Much Does It Cost? A Classic Weekend Away From Tokyo
See us on …
Twitter: @City_Cost_Japan

Facebook: @citycostjapan

Images (cropped)

Hikone: sodai gomi Flickr License

Mount Koya: Cyril Bèle Flickr License

Naoshima: Kentaro Ohno Flickr License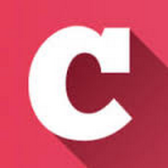 A Q&A and blogging community about life in Japan (plus a load of life-in-Japan stats!). Get your questions answered, share your experience! | Inquiry -> KyodoNewsDigital International Media | Tokyo, Japan | +81 3 6252 6402
---