Apr 18, 2017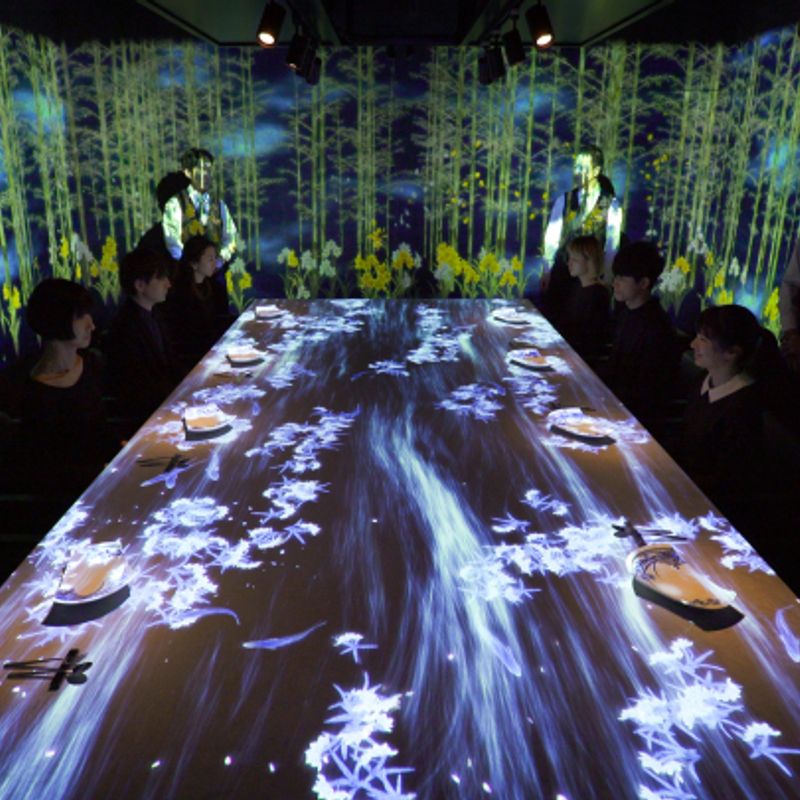 Digital creative 'teamLab' and Saga-gyu restaurant SAGAYA in Ginza team up to raise the bar of 'themed dining' in Tokyo with a mind blowing dining space where guests, dishes, and food combine to create a growing, interactive digital art experience reflecting of the seasons.
The new concept dining experience and art installation entitled 'Worlds Unleashed and then Connecting' (世界は解き放たれ、そして連なっていく­ - SAGAYA) is set to be a permanent feature at SAGAYA, limited to only eight diners per day.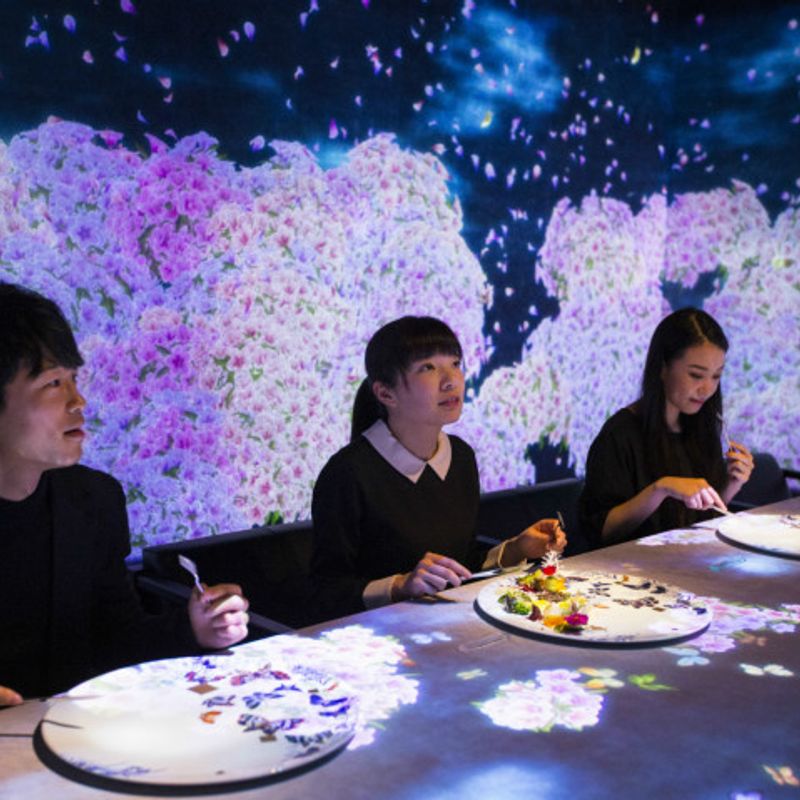 When dishes are placed on the table in the new dining space, the 'world' within those dishes then spreads across the table surface, connecting with the creations of other dishes to spread throughout the entire space.
For example, a set plate with a bird motif might unleash the same creature which upon finding trees that have grown out of other plates set on the table will settle to rest on a branch. However, the art instillation does not produce the same tree every time. The shape and form of creations change according to the way the table has been set, growing out of the plates and connecting with other forms to spread over the table and onto the walls. Diners will also have an influence on the way the digital art grows and behaves. In the case of the bird, if a diner remains still, the digital creature might take up a perch on the diner's hand. Move around, and the same bird may choose to take off for pastures new. Table settings, food, and diners all combine to shape and influence a piece of digital art the form of which will never be repeated. Diners are free to move plates and dishes around the table as they see fit.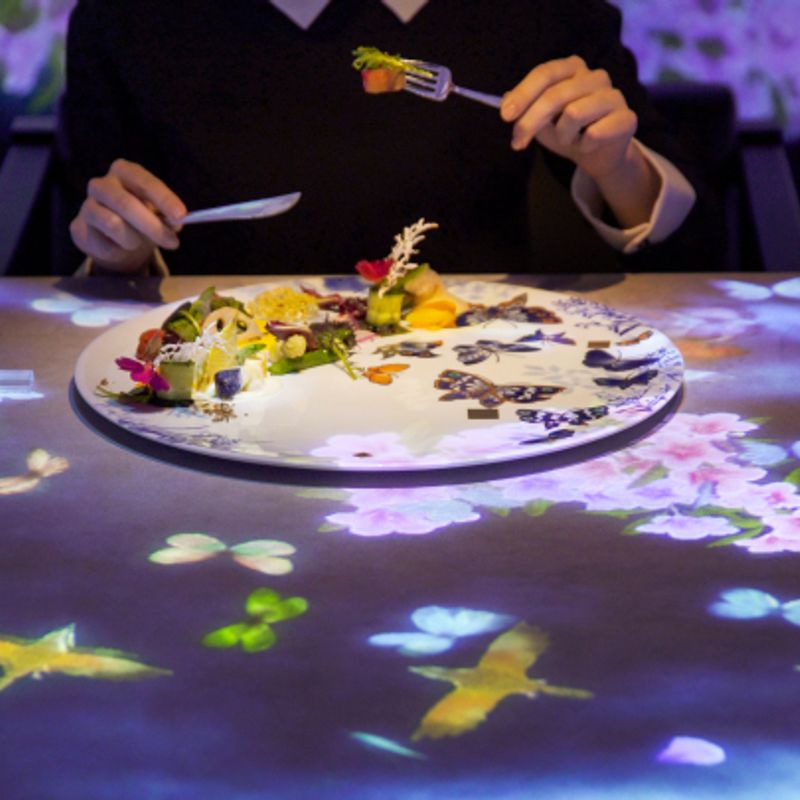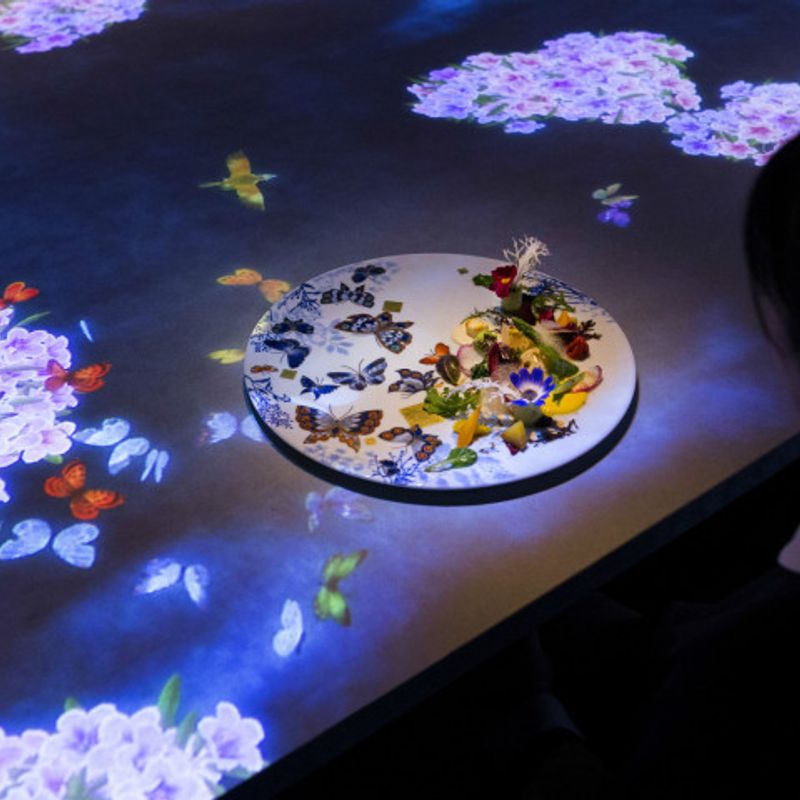 Ginza's Restaurant SAGAYA specialises in beef dishes that come from Japanese Black cattle, bred in Kyushu, combined with seasonal cuisine. Courses for the concept room consist of 12 dishes, with the menu and interactive nature of the dining space changing each month to match the season. For example, in April, diners can sample an atmosphere created by sakura (cherry blossom).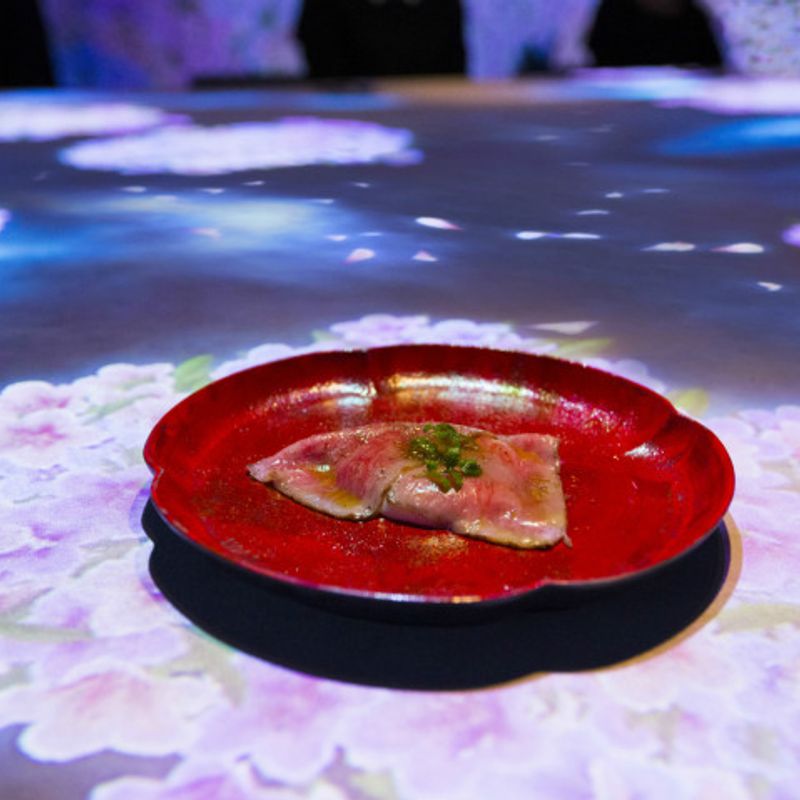 This is not just about eating and drinking, this is a space in which diners can discover the relationships between the food and the setting, and experience the seasons of Japan as a whole.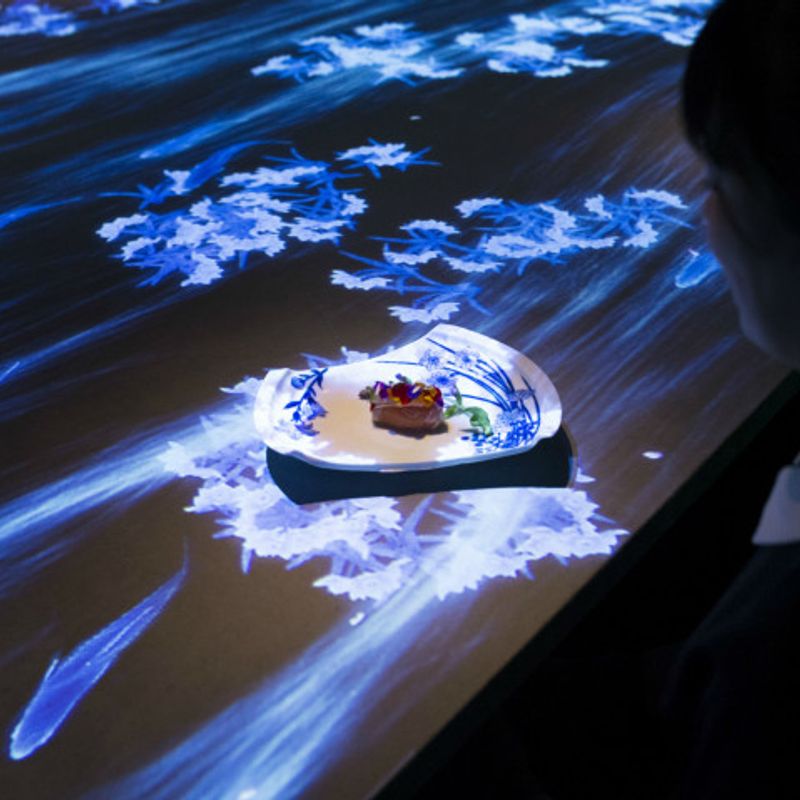 Restaurant SAGAYA's Daisuke Ikeda certainly knows a thing or two about the seasonal Japan experience and how it can influence, having been born in the onsen town of Takeo, near to the birthplace of Arita-yaki.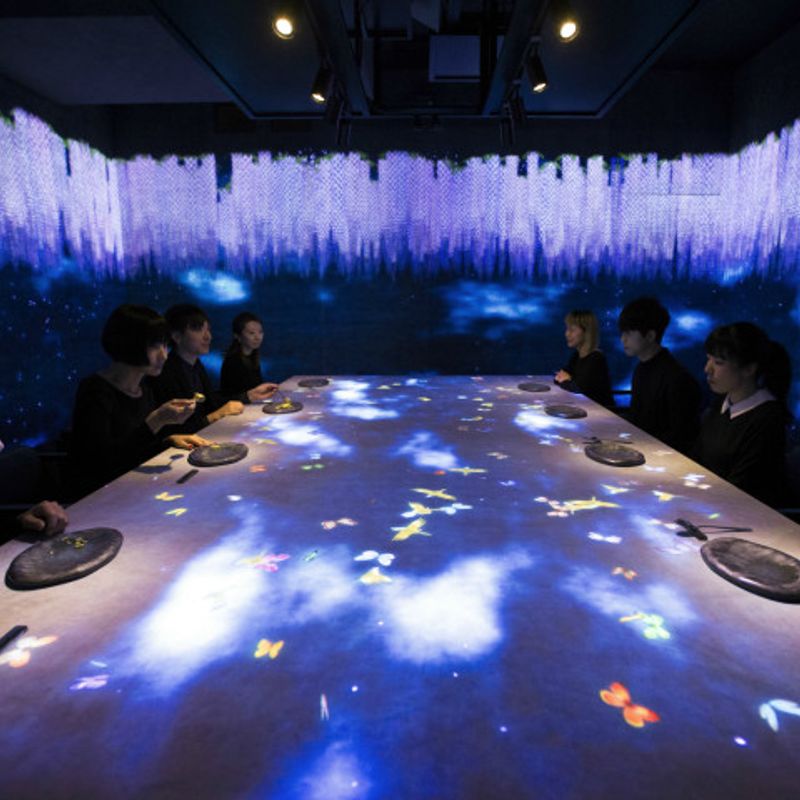 Arita-yaki is a white-base ceramic pottery dating back over 400 years, known for its elaborate flourishes and vivid colors, perhaps born out of the influence of a part of Japan which experiences the full bloom of cherry trees in spring, beach life and plentiful greens in summer, and the wild reds of autumn leaves. It's this combination of traditional craft and nature that sparked Ikeda's idea to work with team Lab.
Ikeda first hooked up with the digital design experts at an exhibit celebrating 400 years of Arita-yaki. After that, Ikeda came to experience team Lab's ability to create digital art that grows according to surrounding influences at an exhibit in London's Saatchi Gallery.
It was then that he thought about bringing teamLab in to do something with a room at SAGAYA; a dining space which would host a growing and interactive scape reflecting of the seasons in a similar way to his beloved Arita-yaki.
The dining room at SAGAYA is called Tsuki Hana (月花), the concept of which is all about enjoying seasonal flowers and traditional crafts while getting a taste for Saga beef and seasonal dishes. As well as the changing seasons, digital art, and menu, crockery used in the room will also change.
About 'team Labo'
'team Labo' work in a number of digital fields employing the skills of specialists in programming, engineering, CG animation, web and graffiti design, and others, to break down the collective boundaries of arts, science, and technology.
The team's 'teamLab Dance! Art Exhibition and Learn and Play! teamLab Future Park' at Tokyo's Miraikan attracted some 47,000 visitors from Japan and overseas. Other exhibits by teamLab have appeared around the world including at EXPO 2015 MILANO, London's Saatchi Gallery, and at the Maison & Objet fair in Paris. Their project DMM.PLANETS drew queues of up to 5 hours in Silicon Valley, Taiwan, and London. teamLab have upcoming exhibits in Beijing and Shenzhen in China, and will also have a permanent installation in the soon-to-be-opened Ginza Six shopping complex.
Reservations for 'Worlds Unleashed and then Connecting' at Restaurant SAGAYA start from April 23.
Details
Map:
See us on ...
Twitter: @City_Cost_Japan
Facebook: @citycostjapan
Source and images:
teamLab (Press Release)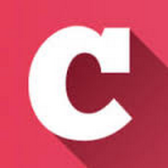 A Q&A and blogging community about life in Japan (plus a load of life-in-Japan stats!). Get your questions answered, share your experience! | Inquiry -> KyodoNewsDigital International Media | Tokyo, Japan | +81 3 6252 6402
---
1 Comment
I wonder if this place will be booked up for ages?