Dec 21, 2016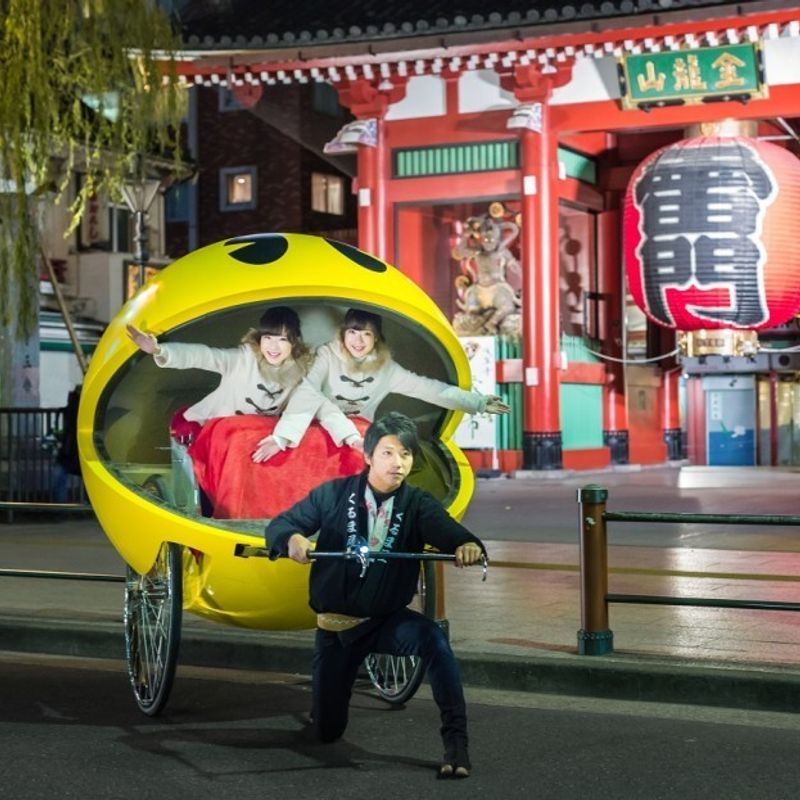 "On Christmas night in Asakusa, Tokyo something unprecedented event will happen", reads a line on the promotional video for the latest 'event' laid on by 'アソビモット project' (asobi motto project). Well, we'd be tempted to say that one of Asakusa's storied rickshaw fully customised into looking like classic BANDAI NAMCO Entertainment icon PAC-MAN is something that one wouldn't expect to see on a Christmas night. However, this is Japan, and often the rules of normal taste and 'this goes well with this' sensibility appear anathema. Traditional temples and old Edo streets + a PAC-MAN rickshaw + Christmas? Yeah, why not?!
So it is on the evenings from December 23 to 25, Asakusa sightseers will have the chance to take in some of the area's classic spots from the comfort of one of those hand-pulled rickshaw for which Asakusa is partly famous, except this one looks like PAC-MAN.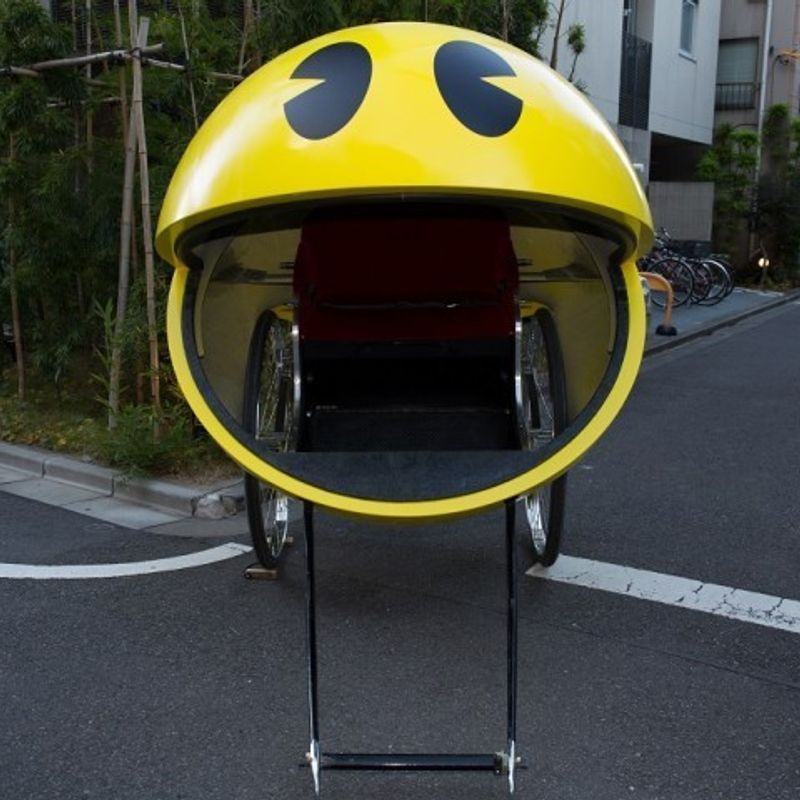 A 'PAC-MAC Rickshaw Night Cruise' (パックマン人力車浅草ナイトクルーズ) lasts around 15 - 20 mins. Starting from the area's most prominent symbol, Kaminarimon (雷門), PAC-MAN (and the person powering it) will head towards the river for a run down the esplanade of Sumida Park for some views to Tokyo Skytree, before cutting back in and returning to Kaminarimon.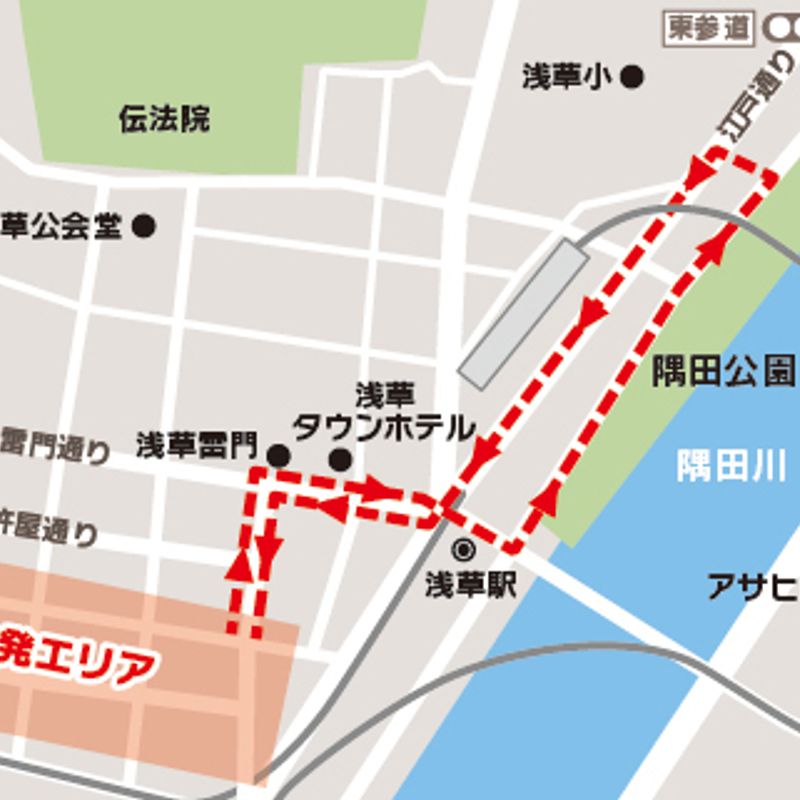 While it's highly likely that this particular PAC-MAN incarnation will be getting chased down by curious tourists and passers by, game enthusiasts might be wondering what role traditional PAC-MAN foes Blinky, Pinky, Inky and Clyde have to play in all of this. To this effect, the customized rickshaw will be loaded with a 'pixelstick' which will project an image of the ghosts trailing the rickshaw as if in hot pursuit. You can't see them with the naked eye, but long-exposure shooting may pick the images up, and the people behind this project invite you to take up the challenge.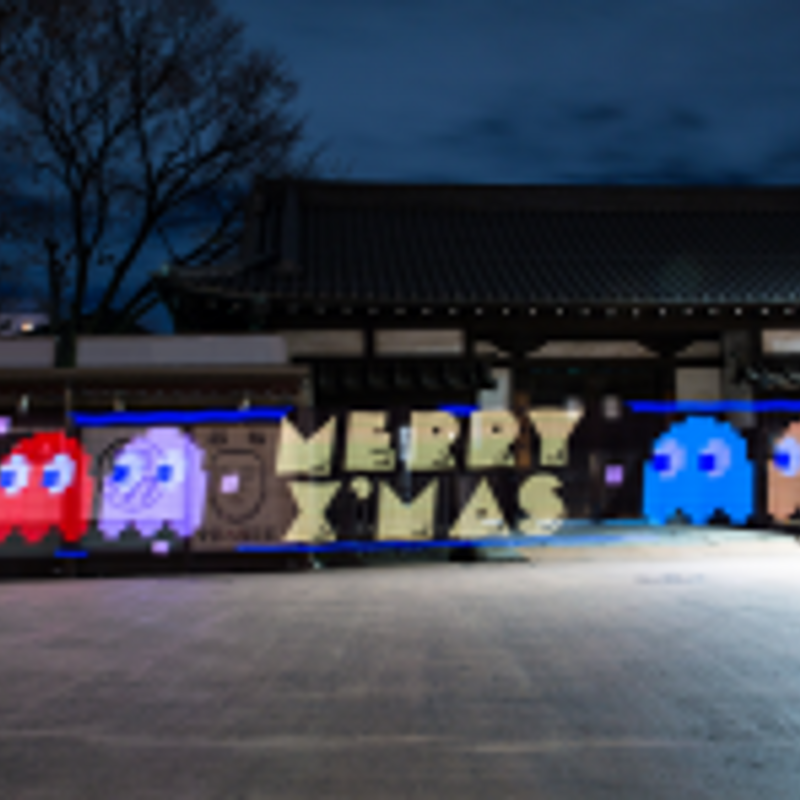 'アソビモット project' began 'recruitment' of PAC-MAN Rickshaw passengers on December 15 so it may be tough to get a spot. See their homepage for more details on this (in Japanese only). However, given that from the inside of the 'vehicle' one can't actually clock the bonkers visual contrast of a PAC-MAN on wheels speeding past some of Japan's most important historical sites, we'd speculate that a 'PAC-MAC Rickshaw Night Cruise' be just as much fun for those looking in from the outside, so to speak. 'Cruises' are scheduled run hourly from 16:00 - 21:00 on the 23rd, 24th, and 25th.
The customized PAC-MAN rickshaw has been put together by rickshaw specialists, くるま屋 (Kurumaya). You can visit their website at the bottom of this post.
PAC-MAC Rickshaw is the third concept born from 'アソビモット project' (part of BANDAI NAMCO Entertainment), who operate under the mission 'アソビきれない毎日を' (asobi kirenai mainichi wo / every day can't be enough fun). Their first project involved a fan that could make noises; the うちわ.
And so to your thoughts. Does riding on the a PAC-MAN rickshaw around Asakusa sound like fun? Or, are you the type to be mortified with embarrassment at the prospect of even riding in one of the regular ones? Either way, with the long weekend looming, spotting PAC-MAN on the streets of Asakusa at Christmas surely qualifies as an 'only in Japan' to add to the scrapbook.
See us on ...
Twitter: @City_Cost_Japan
Facebook: @citycostjapan
Source and images:
Websites:
アソビモット project: http://asobi.bandainamcoent.co.jp/making_3rd.html
くるま屋: http://kuruma8.jp/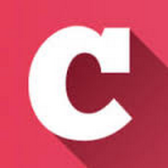 A Q&A and blogging community about life in Japan (plus a load of life-in-Japan stats!). Get your questions answered, share your experience! | Inquiry -> KyodoNewsDigital International Media | Tokyo, Japan | +81 3 6252 6402
---