Mar 16, 2017
Fertility festivals across Japan: Phalluses, flesh, and fun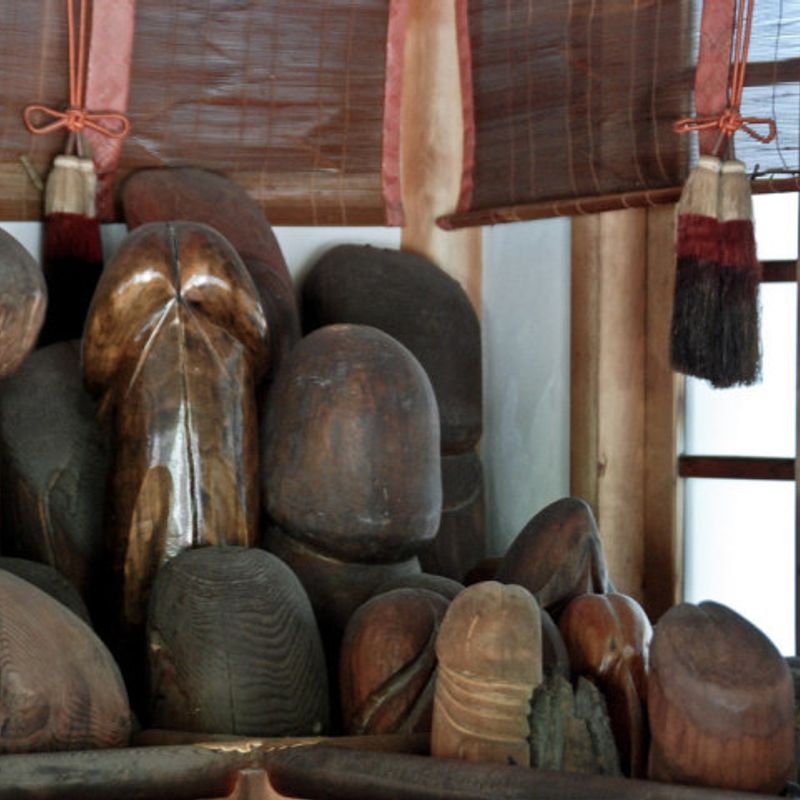 The coordinated dance steps, the delicate flourishes woven into kimono, fluttering fans, precision, discipline, a spiritual cleansing, all images the layman might have of Japanese festival, celebration and ceremony. And all true to a certain degree. During spring fertility festivals however, Japan embraces tradition in a more saucy way, with gargantuan phalluses, and snacks sculpted into the form of reproductive organs, the subject of a thousand, 'Look at what I'm doing!', selfies. We're being unnecessarily prudish with our terminology; we mean penis and vagina. Still too prudish?
Yes, while the West is fawning over cute bunnies and stuffing its face with chocolate, Japan is busy getting on the with the serious business of making sure spring does what it's supposed to do; give birth to life. And where better to turn to make sure you've all bases covered? Superstition and incantations to higher powers of course.
There are a number of festivals based around 'fertility' in Japan. Already the subject of a thousand innuendo laden headlines, we'll try and keep this down to the what, where, and when.
Kanagawa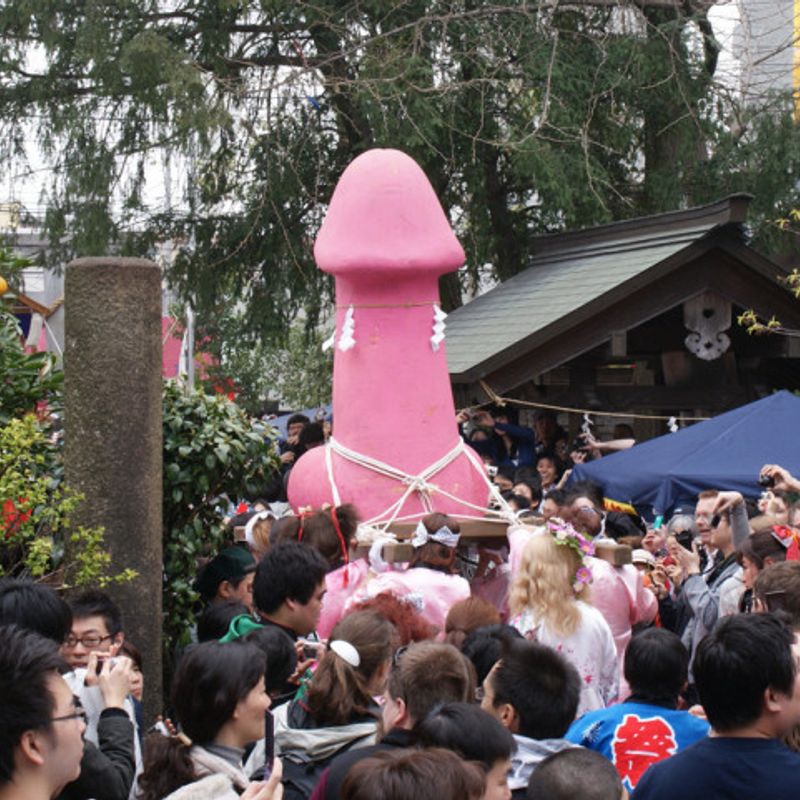 Kanamara Matsuri
This is all timed ahead of perhaps Japan's most celebrated celebration of the phallus, the Kanamara Matsuri, held annually at Kanayama Shrine (金山神社 / Kanayama-jinja) in Kawasaki. This is the one that gets splashed across the novelty, 'Look how mad Japan is.', sections of publications the world over. Put simply, it's probably seen as Japan's No.1 fertility festival.
The origin story about a demon with sharp gnashers hiding inside the vagina of its love interest in order to bite off the bits of two fellas on their wedding night (Two fellas? Are we talking about the same woman? I don't know, I think there was an appropriate span of time in between) is as bonkers as it is wince inducing. It carries on; the woman sought consultation with a blacksmith, as you do, who set about making her an iron phallus that she might use to break the demon's teeth.
Now that same phallus is paraded about the streets as a kind of mikoshi, along with two others; one of which is called Elizabeth (after the drag queen club that donated it).
The deities holed up in Kanayama Shrine itself are said to promote a healthy sex life (including an STD free one) and fertility. The 'health' aspect is especially pertinent. Kawasaki was once an important stop on the Tōkaidō trade road linking Tokyo and Kyoto, and popular with prostitutes and their punters. This is still true to a certain extent and form today, as parts of Kawasaki remain home to a number of soaplands (Google it - or not!) and other forms of 'massage' parlor.
On a more serious note, money is raised at the Kanamara Matsuri in support of HIV awareness.
| | |
| --- | --- |
| What | Kanamara Matsuri |
| Where | Kanayama Shrine, Kawasaki, Kanagawa |
| When | 1st Sunday in April |
Aichi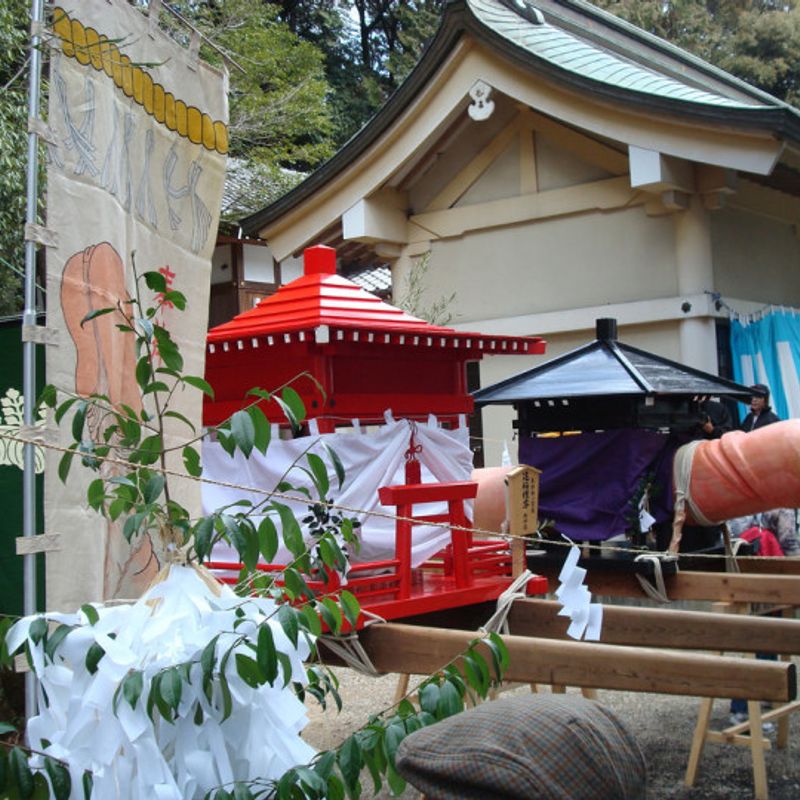 Hōnen Matsuri
Hōnen, in Japanese, means 'a prosperous year', and the jeeing on of that prosperity is at the root of this festival in Komaki, just to the north of Nagoya, Aichi. Actually, Hōnen Matsuri is general terminology for these kinds of 'harvest festivals', but it's this one one in Komaki that grabs the attention with its centerpiece 2.5 m wooden phallus. There's dancing, greasy food, booze, and priests on hand to perform any required blessings, but let's not kid ourselves, most foreigners are here for that phallus.
Tagata Shrine anchors the festivities, but the phallus begins its journey from elsewhere. On even years it starts from a shrine known as Shinmei-sha. On odd years it starts from the shrine, Kumano-sha.
Festivities are brought to a conclusion at Tagata Shrine where Hōnen Matsuri officials toss rice cakes into the crowd. A free snack then if you're one of lucky ones. No word on if these rice cakes are white, and if they are symbolic of something. If you can see what we're getting at.
| | |
| --- | --- |
| What | Hōnen Matsuri |
| Where | Tagata Shrine, Komaki City, Aichi |
| When | March 15 (~ 10:00 am) |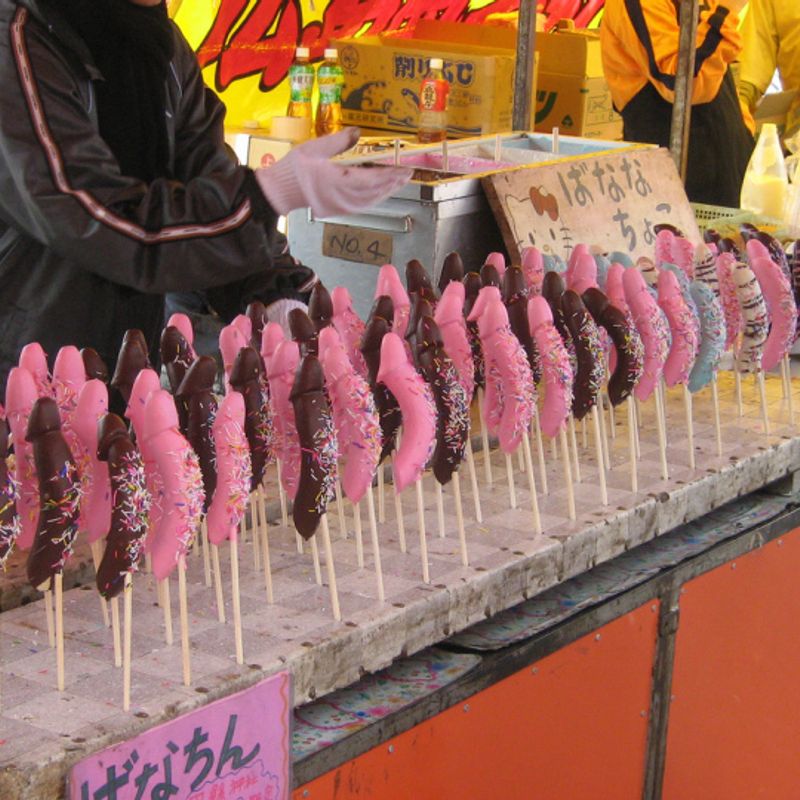 Ogata Shrine Honen-sai
Next door to Komaki in the town of Inuyama, they do a little role reversal. At this 'harvest' festival it is the vagina that takes centre stage. The shrine is known for its symbols of female fertility and is accordingly popular with ladies hoping to marry or give birth. So, no phallus then, but you might see a parade here which includes female participants dressed in costumes that are supposed to represent their sex (pink sheets by the looks of things). And there will also be vagina-shaped snacks on sale.
It's interesting to note that back in the day Japan was fond of celebrating the vagina as a source of life. Sadly though, some miserable sods in the Meiji era found it all a bit embarrassing and so clamped down on such celebrations and objects of reverence and worship.
| | |
| --- | --- |
| What | Fertility Festival Oagata Shrine (Oagata Jinja Honen-sai) |
| Where | Oagata Shrine, Inuyama City, Aichi |
| When | The Sunday prior to March 15 |
Konomiya Hadaka Matsuri (Naked Festival)
Anyone who's been to a traditional festival in Japan will know that the gents involved are not afraid of flashing a bit of bum cheek, at any time of year.
The Konomiya Hadaka Matsuri takes this to a new level. Hadaka means 'naked'. Every February in the town of Inazawa in Aichi Prefecture, droves of men in Spartan loin cloths (fundoshi) (OK, so not totally naked), are drenched with cold water as they hulk those heavy portable shrines up to the 'mother shrine', Konomiya Jinja, officially known as Owari Okunitama Jinja.
Truth be told, the Konomiya Hadaka Matsuri has nothing to do with fertility, although the central concept of good fortune can be stretched to cover all aspects of life (the cold water part is all about purification). Anyway, use of the term 'naked', and all that flesh on show are criteria enough to include it on this list. There are other 'naked' festivals held throughout Japan, but this is one of the biggest and best. The real 'naked' part comes in the form of the shin-otoko, a local man, the 'chosen one' if you will, who is completely naked (including shaven head and eyebrows - no word on his other 'bits') as he is chased about by other festival participants (men only). Perhaps 'chosen one' is the wrong term here. 'Scapegoat' might be better, as the object of the chase is to touch this guy and thus pass off one's bad luck onto him.
| | |
| --- | --- |
| What | Konomiya Hadaka Matsuri (Naked Festival) |
| Where | Owari Okunitama Jinja, Inazawa City, Aichi |
| When | 13th day of the first month of the lunar calendar, i.e early February |
Okayama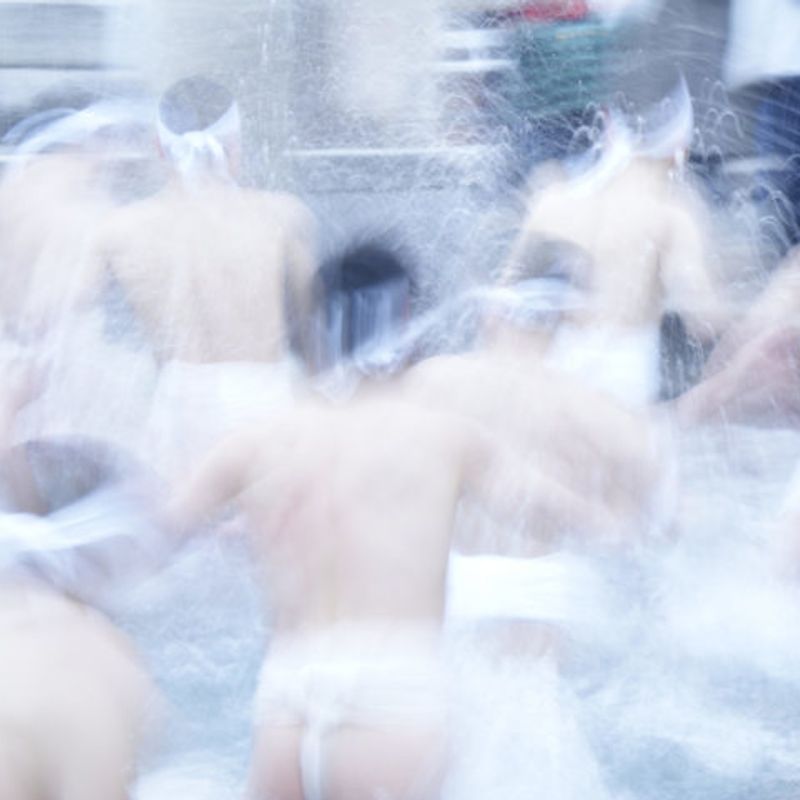 Saidai-ji Eyo Hadaka Matsuri
Staying on the 'naked' theme, next up, this mad festival in Okayama. If the thought of wrestling and writhing almost naked men holds little appeal, better to avoid the Saidai-ji Eyo Hadaka Matsuri then. There's some 9,000 of them, all after a pair of lucky sticks which they can then thrust into some kind of box and thus become that year's lucky fella. There are other lucky items thrown into the crowd for them to grapple over, but the dude who get's the sticks is really where it's at.
You might have seen images of the Saidai-ji Eyo Hadaka Matsuri on TV (often the subject of documentaries, news items, and comedy bits involving some form of celebrity), which will only serve to make this festival look as mad and chaotic as it sounds.
Again, not a fertility festival as such, but there is a lot of almost naked and wet souls grappling with one another in order to get lucky. So, maybe it qualifies.
| | |
| --- | --- |
| What | Saidai-ji Eyo Hadaka Matsuri |
| Where | Saidai-ji Temple, Higashi Ward, Okayama |
| When | 3rd Saturday in February |
Nara
Onda Matsuri Nara
Asuka Niimasu Jinja plays host to incantations for a good rice harvest, the Rice Field Festival. Things kick off with prayer offerings aimed at the upcoming rice planting. All sounding very civil and reverential so far then.
Then what happens is two 'actors' (male), one dressed as a woman the other as a demon, get up on stage and perform as a married couple … having sex. True to form of a couple looking for some help in the bedroom they bring in a third person, a priest no less, who helps to bring things to completion. There's plenty of other anarchic looking shenanigans; guys dressed as tengu (demon) spanking visitors with bamboo brushes, another tengu seeming to urinate on the ceremonial rice. Oh, and at the end of the love making scene, tissues are thrown into the onlooking crowd. Bonkers!
Asuka was once a political / cultural heavyweight and remains today a place of historical significance where construction projects are strictly controlled.
| | |
| --- | --- |
| What | Onda Matsuri / Rice Field Festival |
| Where | Asuka Niimasu Jinja, Asuka City, Takaichi-gun, Nara |
| When | ~ February 3 |
Niigata
Hodare Fertility Festival
The centerpiece of this festival in the central Niigata city of Nagaoka, is a 600 kg, 2.2 m wooden phallus carried / bounced on a set of beams through the streets. While it might sound terrifying, the oversized monster is said to bestow fertility, good fortune, and a happy marriage to all who straddle it.
The festival attracts large numbers, but it's women who have married within the last year that are most keen to get intimate with the phallus, many of whom attend the festival dressed in their bridal gowns.
Hodare is a versatile word, meaning both male genitals and the ripening of rice plants.
If straddling or sitting on a 2.2 m phallus intimidates, you can settle for touching it or praying to it, both of which are said to bring their blessings.
| | |
| --- | --- |
| What | Hodare Fertility Festival |
| Where | Nagaoka City, Niigata |
| When | 2nd Sunday of March |
Miyagi
Ometsuki
Held in Ishinomaki, Miyagi, the festival of Ometsuki was first held after a fire caused devastation in the area during the 18th century. The festival would take place annually on January 24 in the town of Ogatsu. The 2011 tsunami which impacted the Ishinomaki area so much brought a pause to the festival. It resumed in 2013 where the mikoshi resumed its parade through the area.
The parade makes a number of stops during which time out come the props, among them wooden phalluses in varying sizes.
| | |
| --- | --- |
| What | Ometsuki |
| Where | Ogatsu, Ishinomaki, Miyagi |
| When | January 24 |
Iwate
Osawa Hot Spring Konsei Matsuri
As the name of this particular fertility fest might suggest, this one involves water. Where other such festivals like to parade their phallic objects of worship on portable shrines, this festival in Iwate encourages females to take a ride on a massive phallus as it's being washed.
It's all part of a ritual that prepares the phallus for its journey to the resting place of Konsei Shrine, up in them there hills. The gents do the heavy lifting to get the thing (all 150 kg of it, and accompanying testicles) into the waters of Osawa Onsen where the women wash it and a lucky few give it a ride. Space in the water is limited so applications are required in order to participate at the business end of things.
| | |
| --- | --- |
| What | Osawa Hot Spring Konsei Matsuri |
| Where | Osawa Onsen, Hanamaki, Iwate |
| When | Late April |
Akita
Bonden-sai

This festival is open to interpretation. A bonden is a pole that is said to be sacred, a marker for Gods to find their way into this realm. The bonden are decorated in order to give them a bit of 'bling' and color and are entrusted with keeping safe the prayers of festival goers for a good harvest, health, and business.
What happens next is that the poles are raced up to mountaintop shrines in a bid to be the first to enter, and thus get the lion's share of whatever blessings pour forth.
Some have interpreted this to be phallic and sexual in nature; the poles being mans' 'old man', and the thrusting through the shrine entrance is also seen as something symbolic ... by some.
Bonden-sai are carried out throughout the Akita region. You can find one such festival taking place at Taiheizanmiyoshi Shrine outside of Akita City.
| | |
| --- | --- |
| What | Bonden-sai |
| Where | Throughout Akita Prefecture |
| When | January / February |
There are other fertility festivals held throughout Japan. If you know of any that aren't on this list, please let us know about them in the comments below.
See us on ...

Twitter: @City_Cost_Japan
Facebook: @citycostjapan
Images:
Top - Ben Kubota Flickr License
Kanamara Matsuri - Takanori Flickr License
Aichi - Ryan Latta Flickr License
Hōnen Matsuri - SteFou! Flickr License
Okayama - Jere Samuli Perttula Flickr License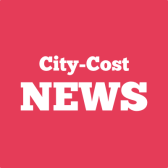 City-Cost News brings readers the latest and most timely news coming out of Japan, with a particular focus on those stories that touch the lives of Japan's foreign residents. | Inquiry -> KyodoNewsDigital International Media | Tokyo, Japan | +81 3 6252 6402
---