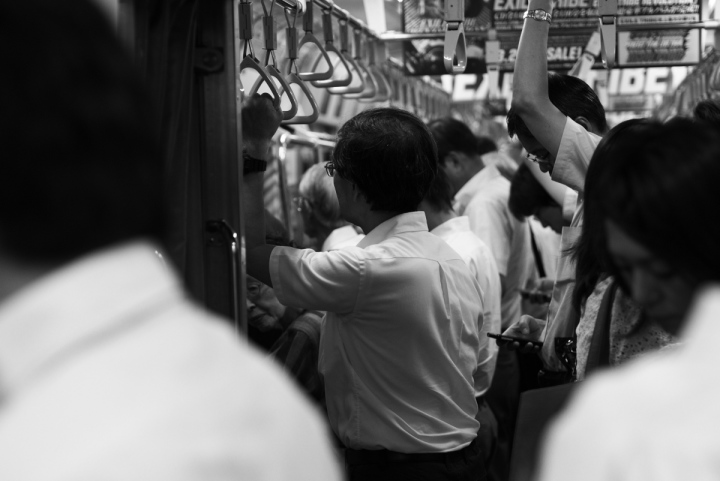 *Key phrase: 通勤ラッシュ / tsuukin rush / aka 'the rush hour commute'.

Tokyo and its surrounds conspire to make up the world's largest urban area. Depending on where you are and how you're viewing it, it appears to be endless. Viewed from up on high, urban planning for the Tokyo Metropolitan area looks to be anathema. Some how though, it works, and the people resident in or on the periphery of it work, too. As in, they get to work some how. Usually by train. Perhaps a large part of the relative smoothness of this Sisyphean operation is the Tokyoite's ability to endure rush hour commutes. You see, for all that's shiny, new, smooth, convenient, intuitively common sense, and efficient about Tokyo's train network, there are some lines that can be subject to the kind of crowding that in other nations might well border on a human rights violation.
This writer knows the feeling well, being restricted to a journey that must surely be at the upper echelons of any list that might try to rank the worst of Tokyo's commutes. I can't remember the last time I saw a lack of crowds forced against the doors, let alone a vacant slice of seat. In such cramped circumstances there's always the inconsiderate sod who simply must carve out a bit of space to read their novel or play like a mentally underdeveloped puppy on whatever is the latest spawn of those games where you have to fit 'tab A into slot B'. It's all part of the morning commute, and I never say anything, but the whole experience is such that I feel like I've done a day's work just getting to the point from which a day's work begins. And then there's the journey home.
So then, it's interesting to find on the web a piece that has brought to light what might be considered the 10 worst commutes the Tokyo area can throw at us in so far as these sections of line have the highest percentage rate of train 'capacity' vs actually numbers of commuters.
輸送力 / yusouryoku; throw this term into a dictionary and it'll likely come out as something fairly nonsensical. The best this writer can do is to say that it seems to mean 'load capacity' or 'transportation capacity' (capacity in terms of the number of passengers). This is the terminology used by 国土交通省, Japan's Ministry of Land, Infrastructure and Transport in data they compiled in 2015 on peak commuting times across the country. They compare 輸送力 with 輸送人員 / yusou jinin, the latter meaning something along the lines of number of personnel being transported. They identified the peak hour for a given commuting line, looked at how many trains run in that time, and compared the train's design capacity (~ 輸送力) with actually commuter numbers (輸送人員). This data was picked up by Japanese news and info site ZUNNY who put together a 'Top 10' list which one might consider to be the worst commuting trains in the Tokyo area, if we judge this by how cramped a train is.
| | | | | | |
| --- | --- | --- | --- | --- | --- |
| | Line | Between | 輸送力 (transport 'capacity') | 輸送人員 (actually numbers) | Rate (%) |
| 1 | Tozai | Kiba - Monzen-Nakachō | 38,448 | 76,665 | 199 |
| 1 | JR Sōbu | Ryogoku - Kinshicho | 38,480 | 76,760 | 199 |
| 3 | JR Yokosuka | Nishi-Ōi - Musashi-Kosugi | 18,640 | 36,010 | 193 |
| 4 | Odakyu | Setagaya-Daita - Shimokitazawa | 38,428 | 73,573 | 191 |
| 5 | JR Nambu | Musashi-Nakahara - Musashi -Kosugi | 22,008 | 41,750 | 190 |
| | | | | | |
| --- | --- | --- | --- | --- | --- |
| 6 | JR Chūō (Rapid) | Nakano - Shinjuku | 44,400 | 83,260 | 188 |
| 7 | Tokyu Den-en-toshi | Ikejiri-Ōhashi - Shibuya | 42,746 | 78,687 | 184 |
| 8 | JR Saikyō | Ikebukuro - Itebashi | 27,960 | 51,120 | 183 |
| 8 | Nippori / Toneri Liner | Nishi-Nippori - Akado-shōgakkōmae | 4,165 | 7,640 | 183 |
| 10 | JR Tōkaidō | Kawasaki - Shinagawa | 35,036 | 63,670 | 182 |
| 10 | JR Keihin-Tōhoku | Ōimachi - Shinagawa | 38,480 | 70,030 | 182 |
There are links to the original date below so here we'll just say that peak hour for all of these lines is some time between around 7:00 and 8:30 (morning).
The numbers might alarm some, and they do look initially concerning. Just what is this 輸送力, and what is the right or wrong of going nearly 200 % over it?!!! Without knowing exactly what 輸送力 means and how bound this is by law and safety standards it would be unfair of us to cry foul.
We should also check ourselves and consider whether or not cramped conditions alone qualify a section of line as being the worst commute. The line that this writer mentioned is on this list (no surprise at all), but it's not the cramped conditions alone that make me want to weep on my way to work. Constant delays, gobby platform announcers, and wobbly track switches all conspire to make me wish with every fibre of my being that I was somewhere else.
Over to you. What lines to you think make for the worst commutes in Tokyo? Are you surprised to see (or not see) and of the lines in the Top 10 above? Drop us your thoughts in the comments and let us know what it is that makes for a tough commute for you.
See us on ...
Twitter: @City_Cost_Japan
Facebook: @citycostjapan
Source(s):
Image:
Mikael Leppä Flickr License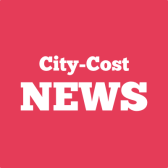 Welcome to City-Cost News! Here we take a look at the latest news in Japan affecting expats, written from an expat's perspective. We scour the web/news rags, picking up the most relevant (or not) stories of the week. Don't be afraid to offer your opinions, too!