Oct 7, 2017
It's that time of the year where you can dress up as anyone or anything you want, without being judged, HALLOWEEN!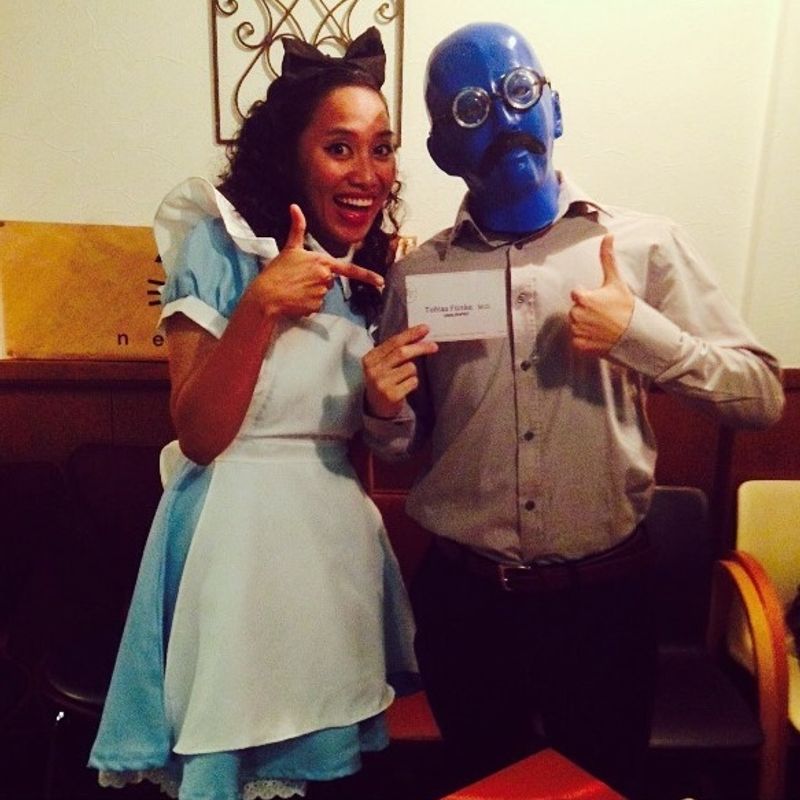 Alice meets Tobias Funke of Arrested Development

Despite all the excitement, finding the right and less pricey costume can be a bit annoying. Every yen these day matters. Because let's face it, living in Japan is not cheap. However, if you know how to save money, you'll survive!
So here are some TIPS on how to get affordable COSTUMES:
1. Amazon
I love Amazon. It's very convenient, especially if you are a busy bee. It gives you a lot of choices and prices. With patience, you can buy the attire that will be perfect for your budget.
The only DOWNSIDE, you can't try it out. Thus, know your measurements and check out the review first before checking out your basket.
You also need to take note that sizes in Japan are a bit smaller. Some stores will provide a very specific chart in their description; some only has S, M, L, and XL. Back home, I'm a medium, but here I'm SMALL. Unaware of that, I end up buying a dress that was too big for me. RESEARCH IS A MUST!
2. Don Quixote
This is the MOTHER of all VARIETY STORES in Japan!
They don't only offer cheap KITKAT, beauty products, house/kitchen gadgets, and liquors; Don Quixote has a lot of "STUFF" to offer. If you are looking for a seductive clothing, this is the place to be. From Japanese school girls, nurses, to sexy police uniforms, they have it. They even have it for men! (0_0)
3. Hyaku Yen Shops
100 yen is the magic bill!
Haiku yen shops, mostly sell accessories though; like horns, witch's hat, cat ears, fake Halloween tattoos, cape, make-up, etc.
Nonetheless, they sometimes sell costumes, costing more than 100 yen. Though the selection is very limited and common, it is very inexpensive. You just need to put your creative touch and mix-and-match it with other hyaku-yen items, to make it more unique and personalize.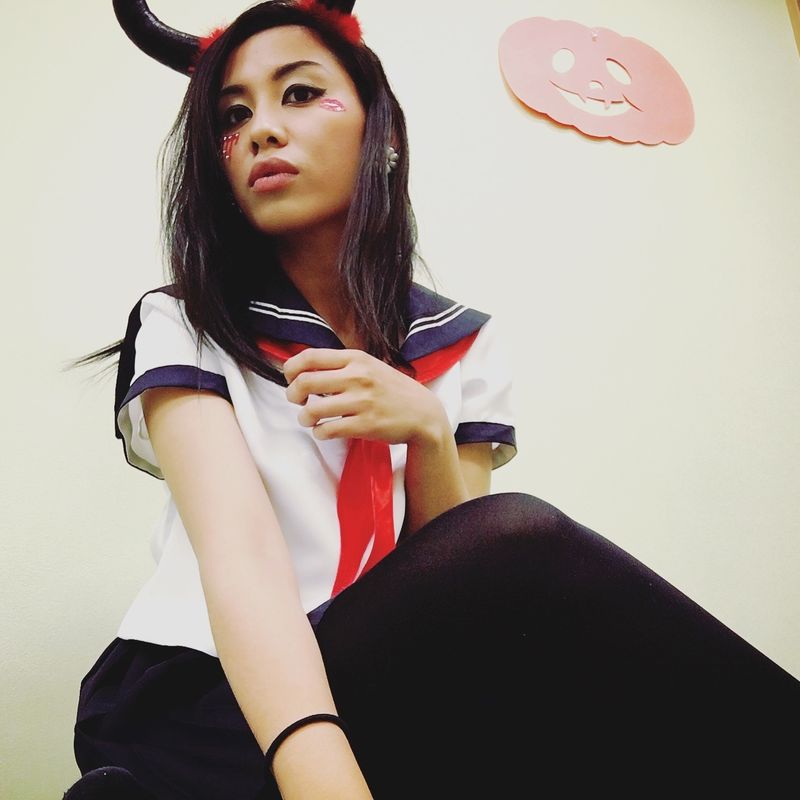 Bought this uniform from Daiso for 300 yen
4. Claire's
Just like in hyaku-yen shops, they sell a lot of accessories, but they have more outfits for this "scary" holiday. On the other hand, most of them are for kids and women.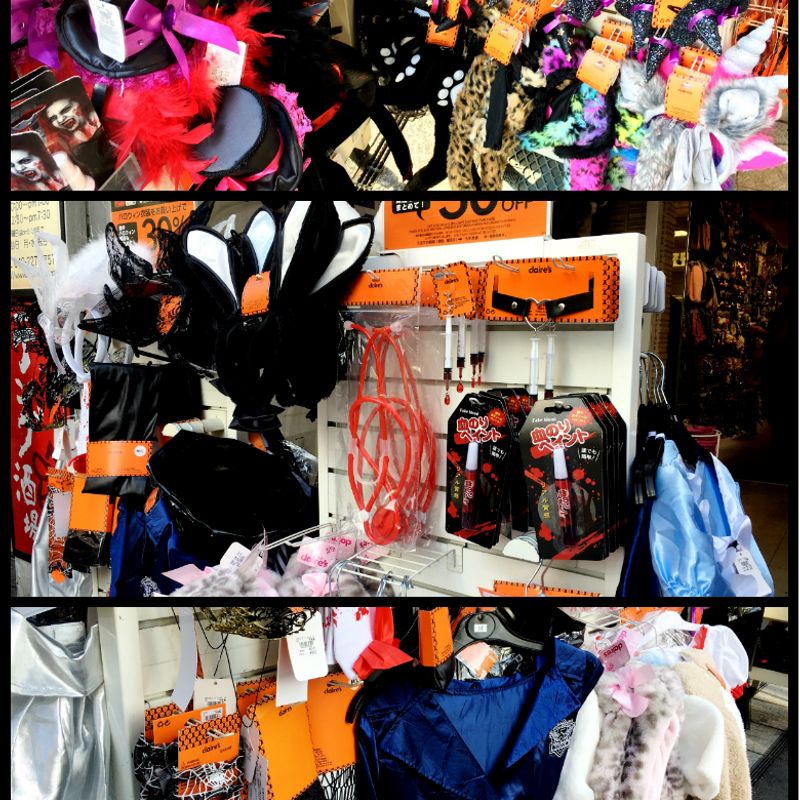 5. Thrifts Shops
Halloween only happens once a year and you don't really want to wear what you already did before. Hence, you just tuck it away in your closet, throw it away, or sell it to a second-hand shop.
Another man's trash is another man's treasure.
During this season, Don Don Down Wednesday, Hard-off, and other thrift shops sell used costumes that you might want to check out. However, it can be a bit difficult because it's only limited.
6. DIY (Do it Yourself)
Can't buy it? Make one!
If you happened to be an expert with a needle and a thread, why not just make your own? Japan has a lot of stores for arts and crafts, which is really handy for people gifted with such skills.
If you are not into sewing or just don't have time with it, you can just recycle some old clothes and be resourceful.
Just using MAKE-UP is also a very artistic way to transform yourself into a zombie or whatever it is you want to be! There are a lot of tutorials on the internet, so browse and have fun!
How about you? Where do you usually get your costumes? Feel free to comment below and share your tips!
---