Apr 18, 2017
From Tohoku to Kanto, a new adventure awaits for me. But, before I start planning my itinerary, I told myself, "How will I get my stuff to my new apartment?"
First, I asked my friends what's the safest and budget-friendly move out service in Japan. Most of them suggested YAMATO KURONEKO. So, I did my research and I was very pleased that they have an English website. The downside, the customer service via phone is in Japanese only.
"Well, that's a bummer."
My Japanese speaking level is compared to a pre-schooler. Hence, I wasn't confident to have a phone call with them. If I could talk to them face to face, facial expressions and gestures could assist me in making my transaction easier and successful.
I then asked my sensei for help.
I listed down my inquiries, hoping my sensei will get some answers and a deal with the move out guys. However, since I'm having a Japanese class with her, the idea she had in mind was for me to speak to them (in Japanese) while just assisting me. Nothing wrong with that, but I felt bad for the woman on the line.
It was the most confusing and challenging phone call of my life.
My inquiries were answered, though. Here is the list.
1. Since I didn't have any appliances or furniture, I got the SINGLE PERSON MOVING: MINI TYPE. This deal consists of a futon bag, 15 cardboard boxes, and 3 clothes cases.
2. They could provide the boxes or you can have your own. Any size is okay according to them.
3. Yamato has a futon bag that you can rent for 500 yen, but you can just buy one in 100 yen shop.
4. Confirming the carry-out day, 14 days or more ahead will grant you their EARLY BIRD PROMO, which gives you a 1,000 yen discount. However, it is only available for customers paying in cash or credit card.
5. They couldn't ship my guitar because I didn't have a hard case and it's too fragile.
6. The customer is responsible for packing his/her belongings.
7. Yamato also offers insurance, but I didn't purchase it.
8. The move out guys will call before arrival.
9. From Yamagata to Saitama, they calculated that it'll cost 24,000 yen.
I was hoping it would be cheaper, but it can't be helped. Moving out is quite pricey.
But since the phone call was a bit messy, I asked one of my Japanese co-workers to help me finalized the deal. I'm so glad I asked for her assistance and articulate my transaction to the Yamato lady. From 24,000 yen, she made it to 22,000 yen!
Apparently, if my move out will not fall on the busy season (3/20- 4/2) and if it would be on weekdays, I could get another discount. Lucky me!
So finally, it was done. I packed my stuff in cardboard boxes from Max Value (12 boxes for freeeeee), others I put in my 2 luggage, suitcases that I covered with wrapping plastic, and a futon and pillow bag that I bought from Daiso.
My junk xD
I just need to carry my guitar and a luggage bag with me. I was supposed to take the WILLER EXPRESS night bus (cost about 4,000 yen), but they told me they haven't had a room for my guitar. And like Yamato, they told me, "It's a very fragile possession." So, to avoid breakage, they suggested a different means of transportation.
I decided to take the Shinkansen instead.
Everything was set, the move out day arrived. It went smoothly and I only paid 19,000 yen. I was very pleased I didn't have to pay 22,000 yen!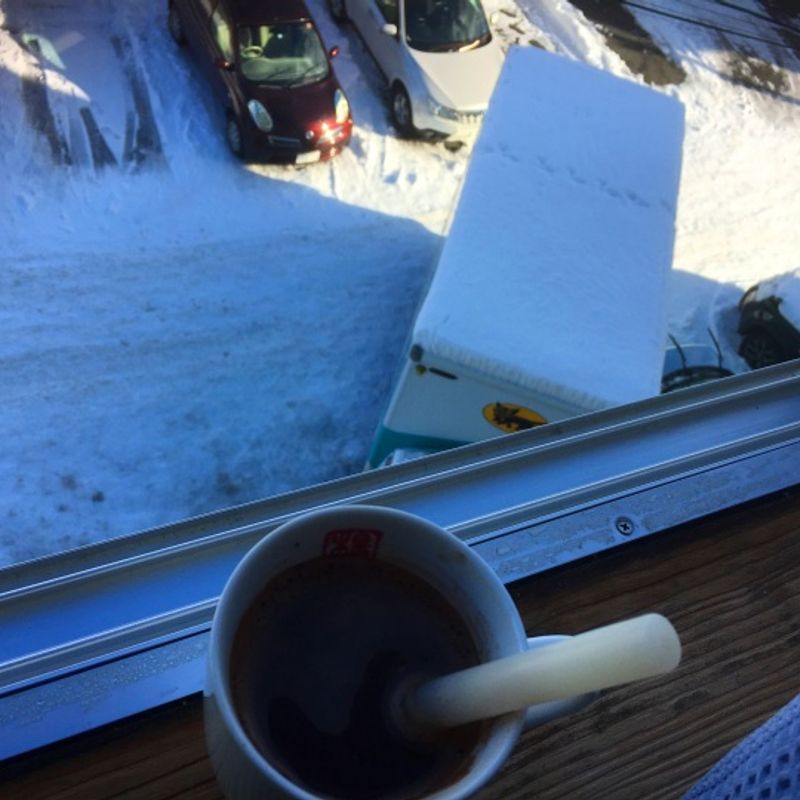 Taking a peek while having coffee
On the day of my move in, the Yamato guys arrived on time. All of my stuff was okay. Nothing was missing or broken. I'm quite pleased with their service. Even when I order things from Amazon, I'm actually happy when the Kuroneko guys are the one delivering it.
First of all, they have an automatic redelivery service in English, an English website, and lastly they deliver with care.
How about you guys? What is your move-out experience/ package delivery experience in Japan? Do you think there is a cheaper deal than Yamato? Don't hesitate to comment!
Added Notes:
Yamato Transport
http://www.kuronekoyamato.co.jp/en/
---
4 Comments
Hey, well done on getting this sorted. I moved about a year ago, but whole thing was conducted in Japanese (and not by me)! We used hikkoshi-sakai for our move. I don't know what I was expecting but I felt like they did a really good job; fast, on time, didn't break anything, and even helped us to reassemble the sofa at the other end. I'd recommend them, but I'm not sure if they can handle languages other than Japanese. Link: http://www.hikkoshi-sakai.co.jp/

Thank u for sharing your move out experience. I've never heard of them but it's good to hear that they did a good job. So far, all of my frienda in here (foreigners and Japanese) prefer using Yamato. Even the company i work for xD @Tomuu

I've never moved particularly far so my experiences in Japan are limited to making use of friends with cars / vans and getting plenty of hands to help out, not that I've ever had much stuff to move. 19,000 yen sounds like a pretty good deal though.

Thanks for commenting! One of my friwnds that move out feom yamagata to sendai did the same thing. He has his own car though. He will drive back and forth from those prefectures. It's a pretty good deal indeed. I also have a friwnd that moved from Sendai to Saitama and she paid only 17,000 yen. @DaveJpn