Jul 29, 2017
The wonders of 100 yen in DAISO── Snacks, kitchen utensils, gardening tools, stationeries, and "stuff" that you need to endure summer time in Japan are all (probably) in this shop!
If you have no clue what they are, here is the list of the items in Daiso that could help you withstand this season.
1. FANS
From paper fans to battery powered ones, pick one that suits your mood. There's even a USB mini fan and a BIG WATER MISTING fan! However, they cost about 250-300 yen though, but if you don't mind spending more bucks, get one!
The paper fans are actually good omiyage/ souvenirs because of its very Japanese designs. Hence, if you are on a budget and going back to your country, it's a nice gift for your love ones.
2. HATS and SHADES
Not minding fashion or well-known brands, just avoiding the blinding sunlight from your eyes is what you care about; Daiso's hats and shades are then perfect for you.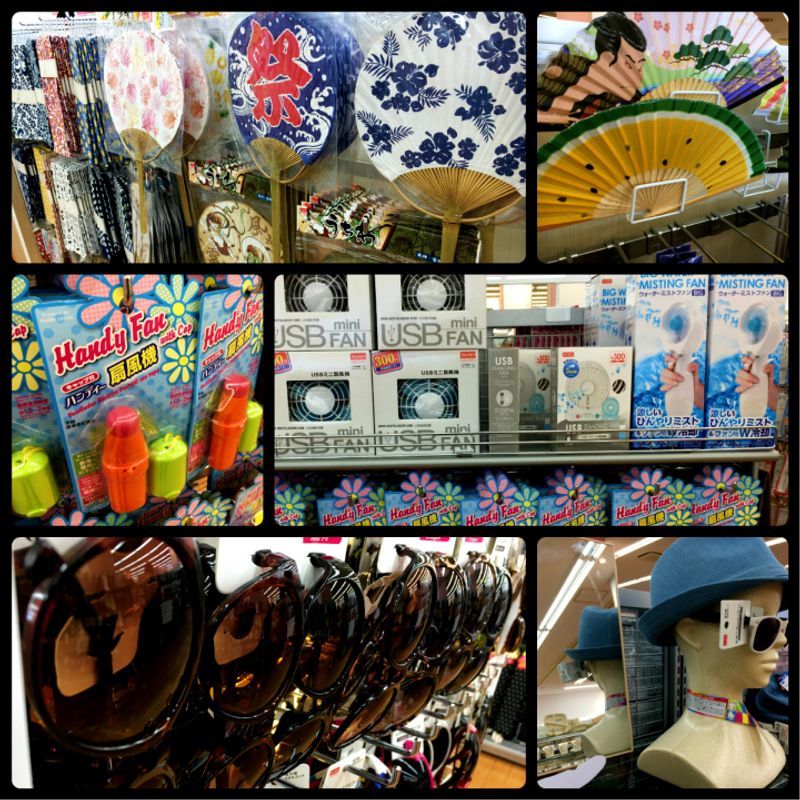 3. UMBRELLAS and RAINCOATS
Instead of using hats, I use my umbrella for shade.
However, the scorching sun is not your only enemy in this season── RAIN, especially the sudden one. Most of the time I have a folding umbrella in my bag, but if you think carrying it isn't a necessity, be prepared to get drenched or pray that there is a nearby "Hyaku-yen" shop to spare you from spending more than a hundred.
Folding umbrellas are now available in Daiso which cost about 200 yen.
4. PERSPIRATION ABSORBING PADS
Sweat is one of the major downsides of summer. It is a bit embarrassing when it finally shows on your clothes, particularly in the underarm area. But no worries, stick these absorbing pads on and you won't get shy raising your arm.
5. REFRESHING SHEETS
Feeling sticky and smelly because of sweat? Wipe it away with these sheets that will make you feel refreshed and fragrant.
6. OIL BLOTTING PAPER
Having an oily face is already a pain, even more during the summer. It is extra shiny, making you feel that you can fry an egg on your face!
Use a blotting paper to keep your pretty faces less oily.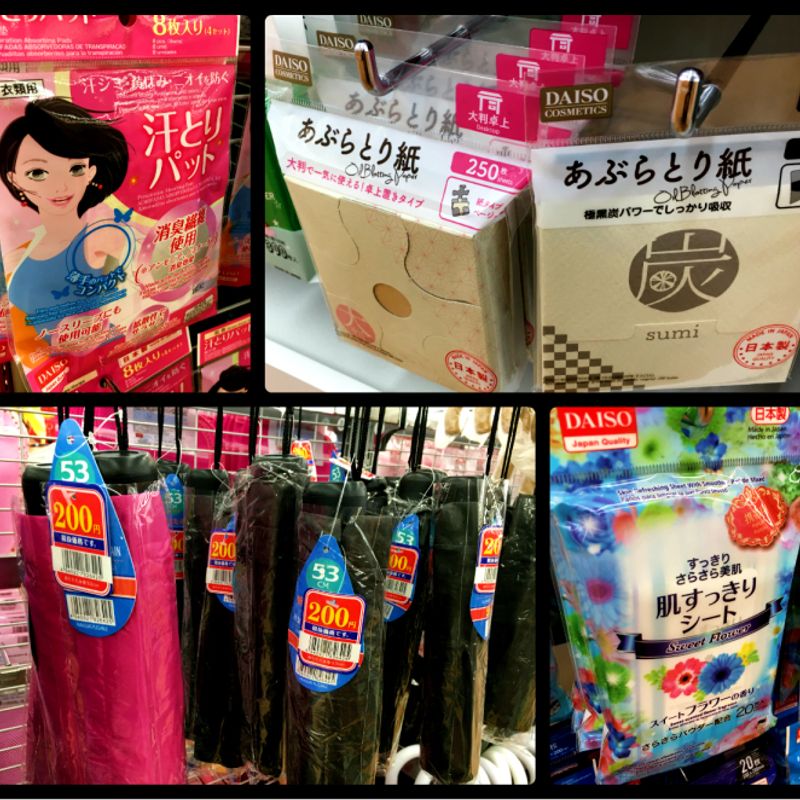 7. THERMOMETER
You might not need it, but knowing if it's just too hot isn't that bad right?
8. ICE-POP MAKER/ ICE CUBE MAKER
Homemade popsicles and beverages, using your own recipes or ones you want to copy from various cooking websites, is a fun way to get creative with summer refreshments!
9. ICE PACKS
It is very useful for keeping food cold when going camping or just heading to the beach. OR, if you just want to feel something icy to cool you down.
10. WATER BOTTLES/ BAGS
Keeping it simple by being hydrated.
As easy as that ladies and gentlemen, just drink lots of water to replenish all the liquids you've been losing from this hot weather. A lot of people do experience HEAT STROKE, so make sure to take that 8 glasses of water!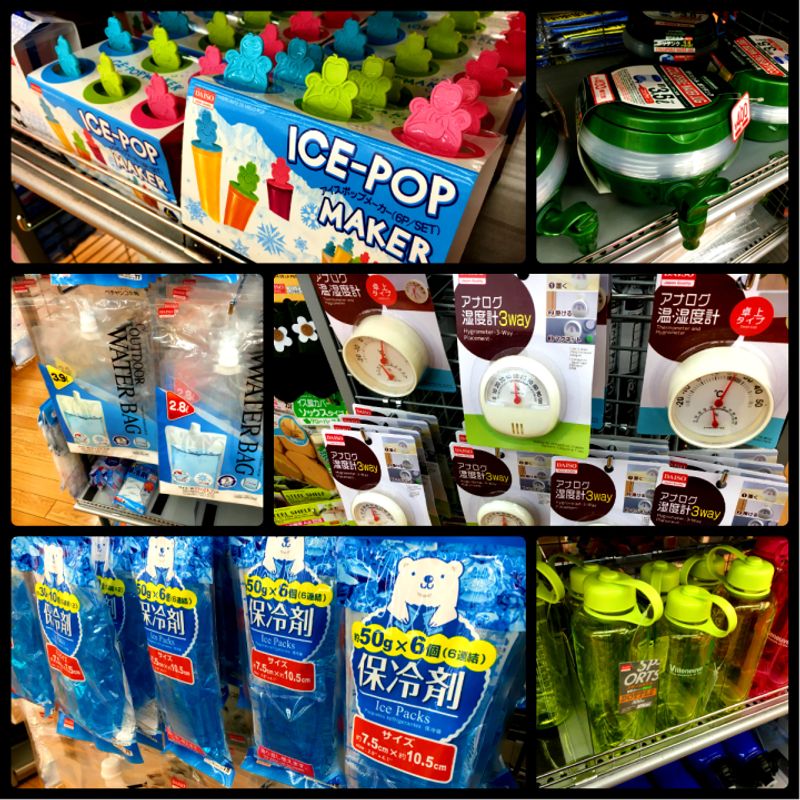 Get a water bottle or bag with you so you don't need to buy a bottle of water in the combini every single day.
So how about you guys? Have you tried out some of these things on this list? Or do you have any additional items you want to add? Feel free to comment!
---
2 Comments
The refreshing sheets are great, but I've found that once I start using them, I can't stop!

@DaveJpn LOL xD Really? Well, at least you are always feeling refreshed!