USER BLOG
Join the best expat community of Japan. Now!
Share your Japan experience

Create blogs/Join the Q&A

Earn points and get rewards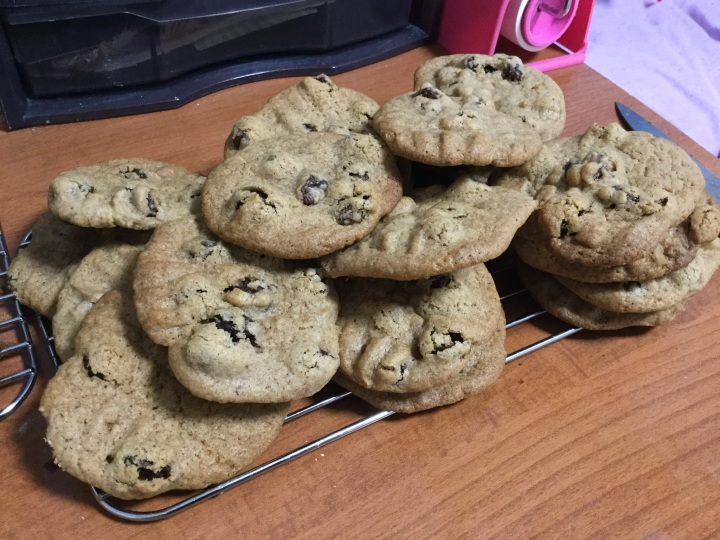 Christmas Brandy and Raisin Cookies
It can be hard to make your Christmas festive in Japan. The KFC doesn't really hit it, and the low level acceptance (which is understandable) does nothing to really hit the spirit. So let spruce it up a bit with some Christmas cookies. This recipe makes 15 - 20 cookies.100g margarine (or vegan margarine)100g sugar150g flourraisins (as many as you want)1 tablespoon allspice (optional) 1 - 2 tablespoons brandy2 teaspoons of baking powderMethod1) Grease a baking tray and preheat oven to gas mark 4/ 180 C.2) Beat together sugar, butter, and brandy.3) Add flour, raisins, and baking powder. 4) Bring it together to a large dough ball. Add more flour if the dough is wet. 5) Take a piece about the size of a ping pong ball and roll in your hands to make a ball. Place on the baking tray and press down with a fork. Repeat the process. 6) Bake for 12 - 15 minutes in the oven, and then cool on the cooling rack.Enjoy.
smallbigjapan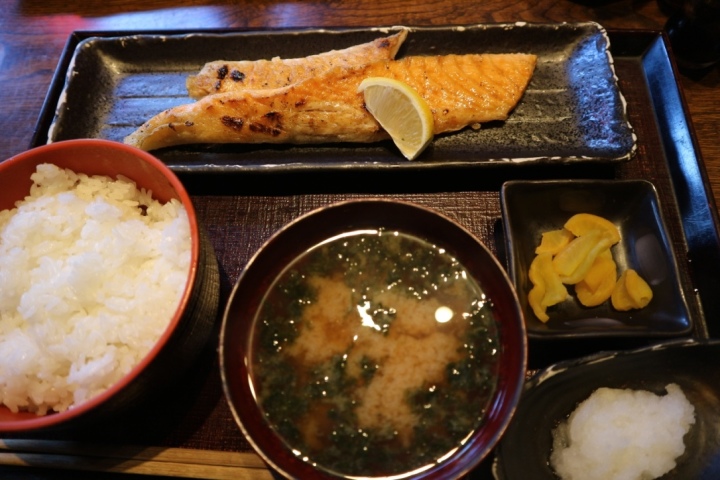 Old skool grilled salmon set and an old skool Japanese dining experience
The first time I went to this place for lunch the main 'grill man', a proper old skool lookin' Japanese dude, was giving hell to one of the waitstaff, or rather, the only wait staff. I don't know why, but it was happening for all to see in this small restaurant. Nobody batted an eyelid (save for this blogger). This restaurant is very popular during lunch with workers from the surrounding office towers. It specializes in grilling things; mostly fish but they can also do some chicken. Just about. I went with the chicken lunch set once. The chicken, purposefully, was uncooked in the middle, or rather, it was only cooked on the outside. I was given a pair of industrial scissors to cut it up. I've been back since, and usually go with one of the fish options (they grill it all they way through). This time I went with the salmon set. For 800 yen you get the fish, rice, miso soup, pickles and some very finely grated daikon. It's a really nice combo. The salmon in this case is served with a slice of lemon. It's incredibly soft and really easy to handle with chop sticks. It's quite greasy through, which may be off putting for some. The pickles are not so strong, rather they have a soft kind of taste that's a nice compliment to the sharpness of the lemon. The only thing I'm unsure about is the grated radish. I mean, it's fine an all, I'm just not sure a which stage and accompanied with which bit of food I'm supposed to be eating it. The door is always open at this restaurant, literally, I mean. Even in winter like now, so it's not really a place you can get settled in. Added to this, tables are shared with with other diners, so there's a lot of coming and going and little privacy to talk about those deals you've been trying to make at work (everyone in here is an office worker). There's no menu to speak off, just an illegible list of dishes (it's written in kanji) by the cash register at the door. You somehow indicated what you want and given a old wooden 'token' with a number on it. You find your own seat.I think the vibe of the 'grill man' seeps into every corner of this place. This is no-frills Japanese dining. There are few pleasantries, few choices, and little time for messing about. Get in, sit down, eat, and get out. Perfect for the busy Japanese office worker, I guess.
Tomuu
Christmas in Tokyo
I have been here in middle of the tokyo for more than 2 years. People here are very friendly with foreigners and loves talking,working spending times with them. These people just loves and respects foreigners and creates friendly environment. And talking about Christmas here in Tokyo, young people just love to hangout in bars , pubs or restaurants as it changes its theme into red green or white christmas ! Even staffs in these places dressup and be ready to welcome the costumers for Christmas celebration in their venue! Excites specially young people for example students and workers to hang out and have fun !
Bibek_Jung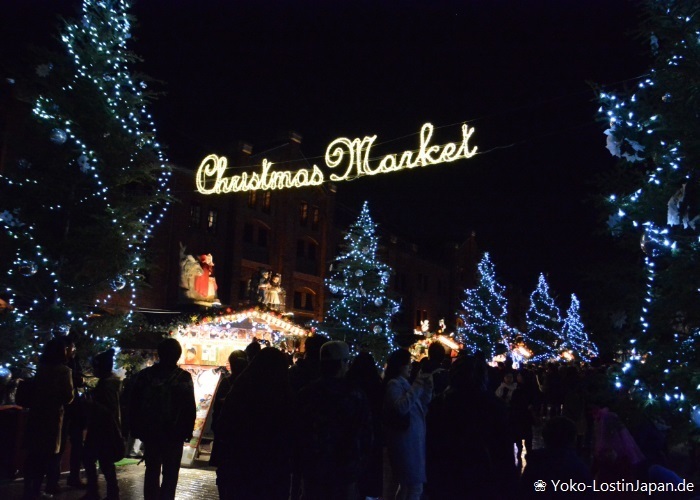 Strolling around the Yokohama Christmas Market
Last weekend my husband and I went to Yokohama – first for getting some Shinkansen tickets, second for doing some Christmas shopping and third: to visit the Christmas market in Yokohama. As you may know there are some Christmas markets held around Japan right now. One is situated at Yokohama's Red Brick Warehouse, the so called Akarenga (赤レンガ倉庫). This year is already the 6th year in a row the event taking place there. It's held from 26th November to 25th December 2016. For me as German native I'm used to visit Christmas markets in my home country more than once every year. So also the tradition of Christmas markets original comes from Europe. In Yokohama you can find German-styled Christmas market with pretty nice looking huts having Christmas figures like Santa Claus and snow men on their roof. Even some snow was brought there this year and someone built a quickly melting snowman close to the entrance. For sure you also could find a big Christmas tree there which was shining in bright lights. People were lining up for taking a memorial picture in front of it. At the stalls they were selling food and drinks – some typical and not so typical stuff for a German-styled Christmas market. You even could buy some (super expensive) Christmas ornaments if you want. They had sausages, schnitzel, Christmas cake (Stollen) and more. For sure you could drink hot wine (Glühwein) in different tastes like the traditional red hot wine, but also white wine version or apple one. I decided for the apple version within a super small papercup. Indeed, be prepared you might need to wait in long lines if you want to buy something. That's why we ended up without eating something there…There is no entrance fee, however, the prices of food and drinks alone are expensive enough in my opinion. If you want to go there: the Christmas market is opened from 11 am to 11 pm every day until 25th December, light up starts from 4 pm. Find more information (in Japanese) on the official website. If you finished looking around the stalls you can go ice skating at Art Rink. It's directly next to the Christmas market and will stay there until 19th February 2017. As adult you need to pay 500 yen for entering the ice rink and additional 500 yen for rental skates.
YokoLostinJapan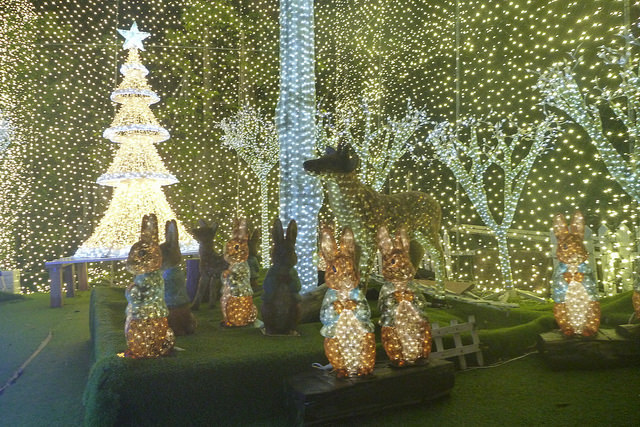 Celebrate Christmas like the Japanese do
What do Japanese people do for Christmas? It used to be, "Nothing special."More and more, I can hear Christmas music in stores and see Christmas lights on bushes outside of homes, and even Daiso sells little Christmas trees and ornaments. I think things are changing, but the way Christmas is celebrated in Japan is less of an old tradition and more of a cool ethnic holiday. We can sing Christmas songs and have Christmas parties and even exchange gifts. Is it just another way to sell something? Just another shape (stocking shaped of course) to sell lucky bags of snacks in. One more expectation to spend money on gifts right before the new year gift giving time?In Japan, I can consistently expect a few traditions on Christmas Eve and Day, not including maybe working when it falls on a weekday. This is what Christmas in Japan is to me, not that I celebrate in any of these ways, but it's fun sometimes. 1. Illumination, or Christmas light displaysLarge scale commercial light displays in Japan usually start around the end of November and go until the end of January. Maybe they help compensate for the lack of light during that time of the year. Illuminations are usually some sort of promotion by a corporation to get visitors, be it a shopping mall, theme park, or hotel. In the season when a lot of people are already traveling for the new year and have a little time off, visiting a place with illumination during the Christmas and new year season is a popular tradition. Best of all, most of the time we can view illumination for free.These illuminations are the ideal setting for a romantic date, which is another Japanese Christmas Eve tradition. What could be more romantic than a fancy dinner, then standing out in the cold, holding hands (with gloves on), and looking at Christmas lights?2. Christmas cake everywhere In Japan, Christmas cake means strawberry shortcake, pretty much. Far from the traditional English Christmas cake (a dense and nutty cake, probably without frosting), Christmas cake in Japan comes with magical fresh strawberries during winter. We can find booklets advertising Christmas cakes (to be ordered in advance) everywhere from the community center to the post office. Of course, we could probably go to any supermarket and buy a couple slices of affordable strawberry shortcake more easily. Christmas cakes also come in other random flavors, which makes them nothing more than an overpriced normal cake with special decorations, in my opinion. Score! My husband just brought home a couple slices of half off strawberry shortcake, with holiday decorations, for under 200 yen. Sure beats paying over 1500 for a tiny cake.In the US, cake is not even a thing on Christmas. We stick with too many kinds of cookies and probably some pie.3. Fried Chicken. Really. Is it a tradition to eat turkey on Christmas? I always thought that was Thanksgiving. It seems a little too soon to have turkey again a month or two later, so I don't think Americans eat turkey on Christmas, but correct me if I'm wrong. I heard it's normal to eat roast chicken on Christmas in the UK, so where does this turkey story come from?Back in the 70s, a foreigner supposedly wanted some turkey on Christmas and couldn't find it in Japan, so opted for some fried chicken from KFC. This info got to the managers who had the bright idea to commercialize Christmas by promoting fried chicken as the thing we should eat. I had never eaten chicken on Christmas until living in Japan, but this fried chicken thing somehow caught on in Japan. Now if we want to eat KFC's fried chicken on December 23rd, Christmas Eve, or Christmas Day, we need to place an order ahead of time. Not that everyone does this, but lots of families enjoy this tradition from what I hear. We can order a holiday meal set (even including a Christmas cake and champagne!) for 3000 yen or more and see Colonel Sanders in a Santa suit. That is if you don't mind waiting in line. No thanks, I'd rather make sushi for Christmas. (Do they really think Colonel Sanders looks like Santa Claus? I guess he's a chubby foreign guy with some white facial hair?)(We can also order a roast chicken and lots of other holiday foods from the post office for about 3000 yen, if you aren't fond of queuing up.)Sounds like the perfect Christmas Eve in Japan is enjoying a fancy dinner date followed by an illumination viewing after work, then going home to eat some fried chicken and Christmas cake with the family. Do you celebrate Christmas in a Japanese sort of way, make your own traditions, or find a way to celebrate the way you did back home? Notes: My family back home prefers eating lamb and/or honey-baked ham on Christmas (along with lots of pilaf rice of course, if they eat anything fancy at all). I started my own Christmas tradition as an adult in the US – my friends and I would make sushi and watch The Godfather (first one, maybe the second one sometimes). That's something I have no trouble continuing in Japan.
helloalissa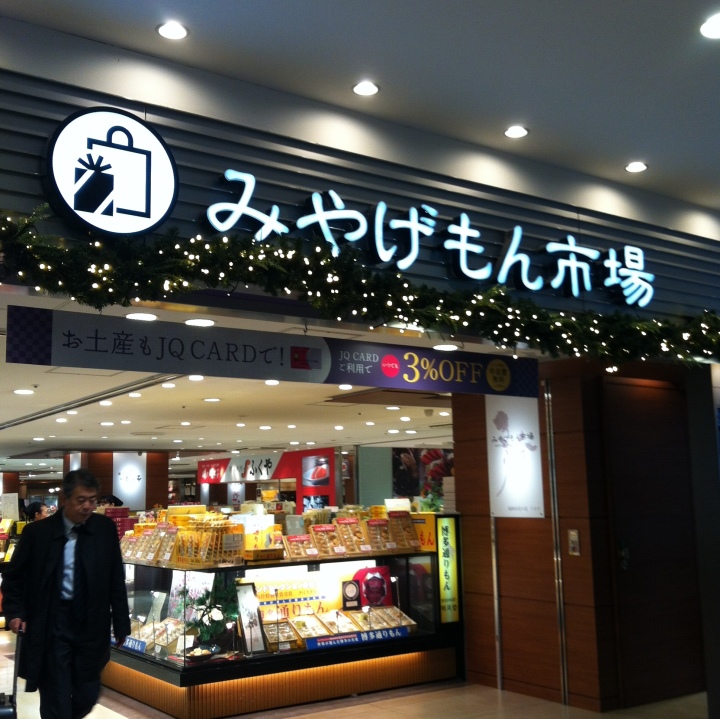 Hakata Station Omiyage Madness
If you don't feel like spending money but want something sweet (or otherwise) in Hakata Station, I've got a recommendation. Actually this is ideal if you're shopping for omiyage, but even if not, if you have some time to spare, this is sort of fun. On the North side of the first floor of Hakata Station, there are restaurants and tons of stands selling omiyage. You'll notice there are several locations with the same products, and often the same free samples. Not every area gives out samples, but most of the samples are large and sweet. Several savory samples and even samples of local alcohol exist as well, especially towards the back where you can try out dashi and of course the local specialty, mentaiko. These are mostly the same exact stores that are everywhere in the region, selling just about the same products, but most of the bigger stores don't give samples. Another local specialty is "menbei," or mentaiko flavored senbei.It might be tough to avoid spending money or getting yourself into a sugar coma. I recommend trying only the things you know or think you like, and when you feel yourself hitting saturation, head for the nearby Kaldi Coffee Farm for a sample of coffee. Better yet, to start off get a nice hot black coffee to go and carry it with you to cut the sweetness of the samples. Don't take samples of the same product more than once, even if you see it five times. There is plenty to get your blood sugar high enough without it. This was my favorite sample - huge Hakata amaou strawberry flavored treats. Most of the omiyage in Japan are beautiful and come in beautiful packaging. It's also fun to just look at all the pretty cakes and manjyu. Depending on the season, there will probably be decorations. I saw a Santa recently and close to Valentine's day they had a pop up romance shrine where couples could leave messages written on heart shaped papers.Have fun & if you're not in the area, I'm sure this type of omiyage parade exists in most larger cities.
helloalissa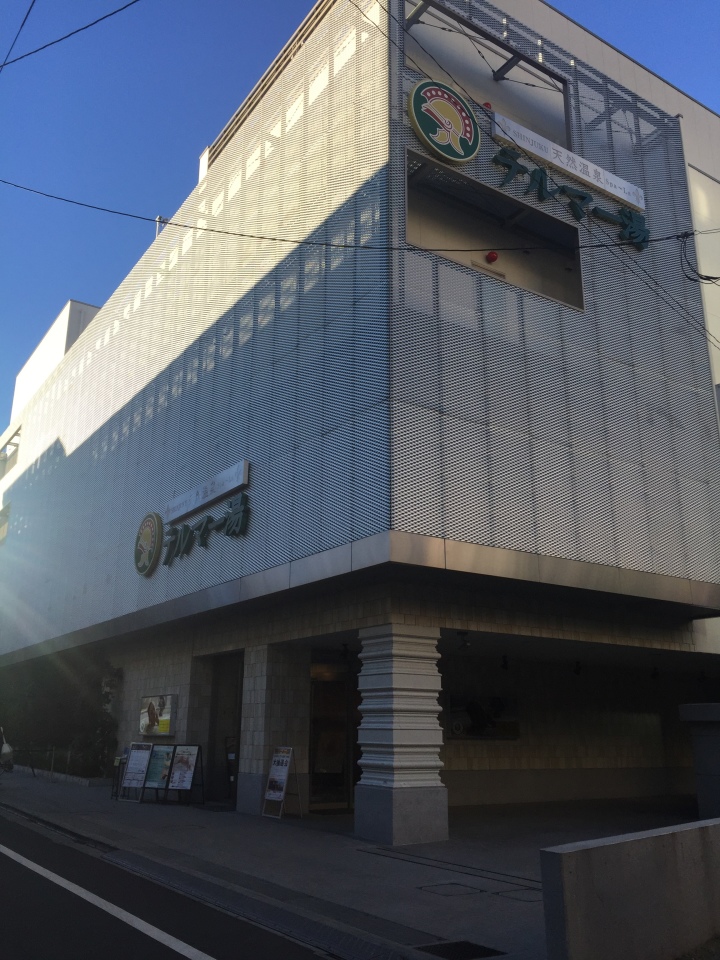 A Christmas Gift of Wellness in Shinjuku's Red-Light District
It's Christmas season once again! It's that time of the year when winter winds cut through our skin and our bodies get so stiff from contracting because of the cold. It's also crunch time for most at work as the year is about to come to a close. Tokyo's generally a busy city and people are stressed and exhausted enough from commuting and long hours at work, but because of such conditions that come with winter season, everyone becomes more vulnerable to sickness. Heck, even I have been getting the case of the sniffles, to think winter has just begun. A friend of mine has also been, on and off, feeling under the weather the past week and so she suggested we go to an onsen, which was an awesome idea.As I live in Central Tokyo, I couldn't really think of public baths nearby except for Hakone and Yokohama. I then googled "Onsen in Tokyo" and the top two results included Oedo Onsen Monogatari in Odaiba and Spa LaQua in Tokyo Dome City. Both looked really nice and had really good reviews but the prices were quite expensive. I would love to try them out someday, but I just want something simple and easy on the pocket (considering it's Christmas season and I have to save up for other things). The touristy things can happen later on. Since I'm a resident, I might as well go local, right?My friend then suggested that I we go to Shinjuku. I thought, REALLY? SHINJUKU? With all the bars and booze? She said someone once told her that they do have public baths there. I was quite doubtful but I was ready to explore anyway.We went to the Kabuki-cho (red-light district) area and found different kinds of hotels and decided to go in some of them to ask if they had their own onsen. Unsurprisingly, all of them said yes. One, however, told us that we can find one nearby! She gave us a map and told us to look for "Teruma-ya".I didn't expect much but when we finally found it, I was impressed.It was a big building! In fact, this place has SIX floors.There are lounges, saunas, locker rooms, massage rooms and a restaurant. Once you enter the building, you have to pack away your shoes in a locker first and then proceed to the reception. We were attended by a pleasant woman who could speak English. She explained everything that we needed to know, and we were quite pleased with the reasonable prices. The general entrance fee is 2,364 JPY. Since it was a weekend when we went, we had to pay an additional fee of 324 JPY. Also, we wanted to stay overnight so we had to pay an overnight fee of 1,836 JPY. In total it costs 4,524 JPY, taxes included. This wasn't bad because 1) we didn't have to travel far; and 2) as compared to the touristy places this was cheaper-- if we had gone to Odaiba or Tokyo Dome, it would cost us more than 5,000 JPY.The lady said we pay when we exit. She also gave us a wrist band that has an IC reader, which we can use to open our designated locker and purchase from vending machines. This meant that we did not have to bring cash around therefore, all expenses would be paid upon check-out. Robes and towels are provided, and toiletries (shampoo, conditioner, body soap, make up remover, toothbrush with toothpaste) are available for free consumption. You can also buy things such as facial masks and eye masks if you want. I bathed for heaven knows how long! The water is natural spring water from Nakaizu, and there are different kinds of baths, including a jet bath which had bubbles to massage your back and legs. There's also an outdoor bath, which I tried out, too, but only for a while as the air was too cold. I also tried the aroma sauna, which was very relaxing as well. Usually, when I'm in a sauna, I find it a little bit difficult to breathe after a few minutes, but this particular one was fine for me. There is another sauna area for healing but you have to pay separately for it, and it's open only from noon to midnight. After bathing, I got a little hungry so I got some food from the restaurant and also some milk from one of the vending machines. I went up to Venus Lounge, which is exclusively for women, past midnight to get a good night's rest. Each reclining chair had it's own TV set and an outlet for charging your devices. I didn't watch any TV anymore though as I was ready to go to bed. I had such a wonderful time and my body felt so much better! I was very happy to have given this to myself as an early Christmas treat.I highly recommend this place, especially this Christmas season! It's easy to find, prices are reasonable and amenities are very clean and spacious. How to get there: Address: 1-chome 1-2 Kabuki-cho Shinjuku-ku, Tokyo 160-0021It's around 9 minutes on foot from the JR Shinjuku Station (East Exit); 9 minutes on foot from Higashi Shinjuku (Fukutoshin Line, Exit A1); only 2 minutes on foot from Shinjuku San Chome (Shinjuku Line, Exit E1).Website: THERMAE-YUJust some disclaimers though! It may be a good idea to go to this spa after a night out of drinking around Shinjuku but they will not allow drunk customers to enter the premises. Also, unfortunately, tattoos are prohibited. If anyone knows of other good onsens around Central Tokyo, please comment below!
AnnaAbola