USER BLOG
Join the best expat community of Japan. Now!
Share your Japan experience

Create blogs/Join the Q&A

Earn points and get rewards
The New rules at Immigration
The immigration Office announces its new rules starting March 2017. All immigrants applying for permanent residency who just stayed here for just one year could make it possible to receive permanent residency. If you earned 80 points of scorecard immigration point system. And for those who earned less than 80 points , 3 years is allowed for them to stay in japan.The Japans Ministry of justice change its ruling hoping to attract and keep more highly skilled workers overseas. Before all immigrant become eligible for permanent residency after living in japan for ten years. However in 2012 the ministry introduced a point based system to shorten the wait of the highly skilled applicants in three categories: Advanced academic research activities , advanced specialized activities and business management activities. Applicants in these categories who scored sufficient points by the system rubric were eligible for permanent resident visa after five years.Under the new law the point system is loosely broken into categories such as academic background, career achievements, salary , age and special achievements. For the doctorate will get you 30 points and 20 points for masters degree holder. And for the business man who earned 30 million a year will get 50 points.This is really a big help for all of us gaijin who wants to settle down here in japan. I L O V E J A P A N !!
Babei1096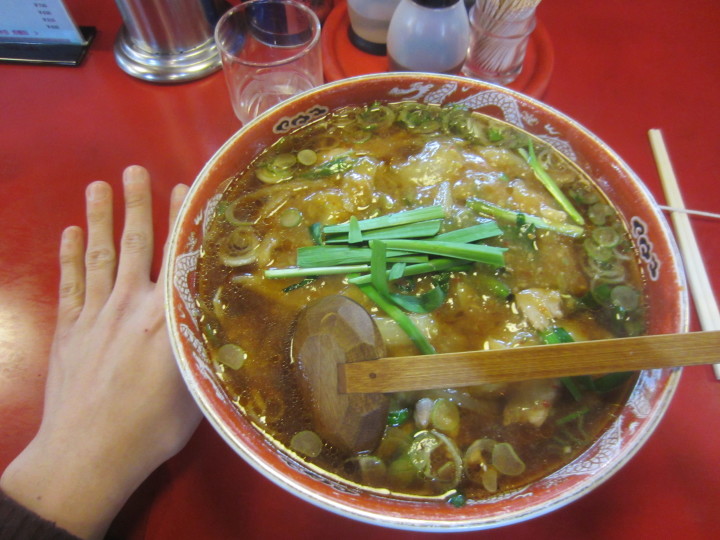 Stamina Noodles! Kiryuu Ramen
One of the most impacting ramen experiences I've had in Japan happened in Ashikaga of the Tochigi prefecture. When I told a colleague who I consider a master in the art of ramenry that I was moving to Ashikaga, knowing my preferences, he told me that I should visit the shop called Kiryuu ramen and that it would surprise and satisfy me.The little shop with neon signs outside had a very Chinese feel to it, and their signature dish "stamina ramen" was the one I was recommended to order. When the bowl was presented in front of me, I understood.This massive bowl of steaming deliciousness was big enough to wash my face in! (not that anyone should ever do that with a hot bowl of noodles). Chewy noodles were topped with a thick sauce that was fried in a wok with various ingredients, bringing a mixture of two textures perfectly together as you slurp up the noodles.The extremely flavourful noodles were cooked with a great amount of green onion, Chinese chives, and even whole cloves of garlic. It packs quite a punch is the taste is definitely not lacking. Just make sure you eat a whole case of mints afterwards.What about the two karaage (fried chicken) that came with the noodles? Oh yea, massive as well. No wonder my colleague guaranteed that I'd be satisfied, and I definitely walked out with a belly full of stamina!Does that look like something you would like to try?-----------------------------------------Follow for more everyday magic I encounter in Japan!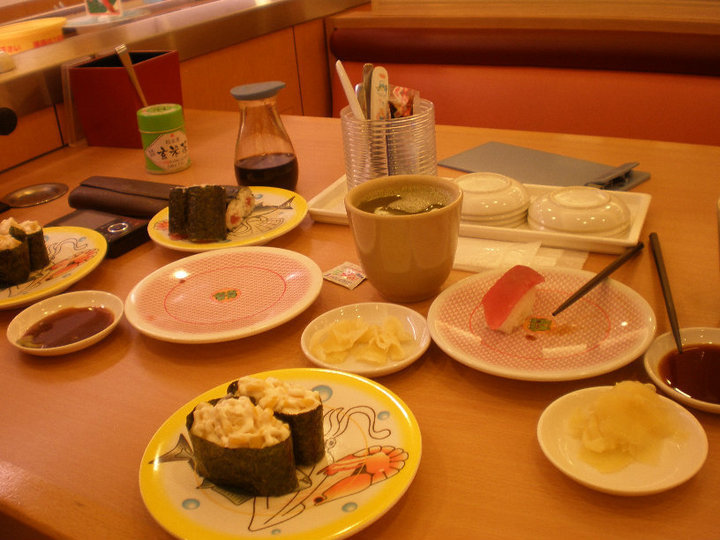 My favorite three eat out chain restaurants !!
Once again sharing the yummy experience !! I am such a foodie that when it comes to sharing food posts, I can think of so many topics. My bucket list of my favorites does not stop anywhere. Japan is a great place to eat out. I do not find eating out very expensive in Japan but obviously it depends on where you are eating. Let me share my top three eat out restaurants in a budget. All of these are probably available in your localities as well. 1.Kappa Sushi : When I first came to Japan, my first Sushi lunch was at Kappa. I am talking about the year 2011 and I don't think the price of sushi in this place has gone up since then. A plate of sushi costs you 108 Yen. What I mostly like about this place is the way sushi comes along in the moving belt and you get to see the stuff before you order. Sometimes, when you order a food by its name and when it arrives you don't wanna try that. So, this layout allows you to make a thoughtful choice. It is user friendly fast food where the entry monitors have menu in English so someone with bad Nihongo can also make an order. I love the way the order arrives in the little bullet train and beeps in front of your seating to notify that the order is in. The other thing I like in this restaurant is the green tea is served for free. You only need to fetch hot water from the running tap in your table and mix the instant green tea powder to it. Finally, I love the ginger side dish ( Chukemono) that goes with Sushi. You don't need to order this, this is also already waiting for you in the table. My favorite Sushi in this place is the Salmon Avocado one but I also like other varieties like the one with corn and Mayo. Japanese people have so many different varieties of sushi. Eating Sushi out of Japan is never the same. I have also been to other Sushi restaurants in Japan , more sophisticated and costlier one. But, for some reason I find Kappa a good place for a quick lunch in a reasonable price. 2.Saizeriya: Out of Italian restaurants, I prefer going to Saizeriya if I am craving pizza or pasta. The advantage of this restaurant chain is that they are located in any province in abundance. So, if you are planning to eat in Saizeriya, your drive will usually not be that long. What I adore the most about this place is they have a very good balance of salt and spice in their food. I find their food fresh and healthy and may be so because being a busy chain restaurant they are able to sell off promptly.I sometimes also order their rice and chicken combo which is of perfect size for a lunch. The chicken is topped with garlic, onion paste that gives a strong aroma to the food. I love it that way. Also the fried potato that comes with this order is awesome and goes very well with the soy dip they bring in with this order. I have found that Saizeriya is more of a family restaurant so you will be able to find drinks bar for kids. In overall , the restaurant is pretty child friendly which you can tell from the service in the restaurant. 3.Big Boy: Finally, when I am committed to eat something really healthy and green or I am motivated to lose weight, I end up eating at Big Boy.The most appealing part of Big Boy is its Soup and Salad Bar. Usually buying green vegetables in Japan is very costly and specially in winters, the prices can give you a shock. So when there is day, I feel like eating all the greens available, I hop into Big Boy. Soup bar usually has the wide collection including options like chicken egg drop soup, corn soup or sometimes Japanese curry. If this is the choice I have, I get myself the creamy corn soup with that smooth texture which melts in your mouth. Salad bar is fully stuffed with green collections but also adding fruits to them. Pineapple slices,jack fruit and melons are usually there. They also have pasta salad, Russian salad and Japanese style salads in the court. Apart from the soup and salad bar that attracts many people to this restaurant, their burgers and steaks in the regular order are also very delicious. Big Boy is a little more expensive than, for example Saizeriya, but totally worth the price. Let me know if you have been to these places and what do you think about them? Are they not totally worth for the price they charge?
Babina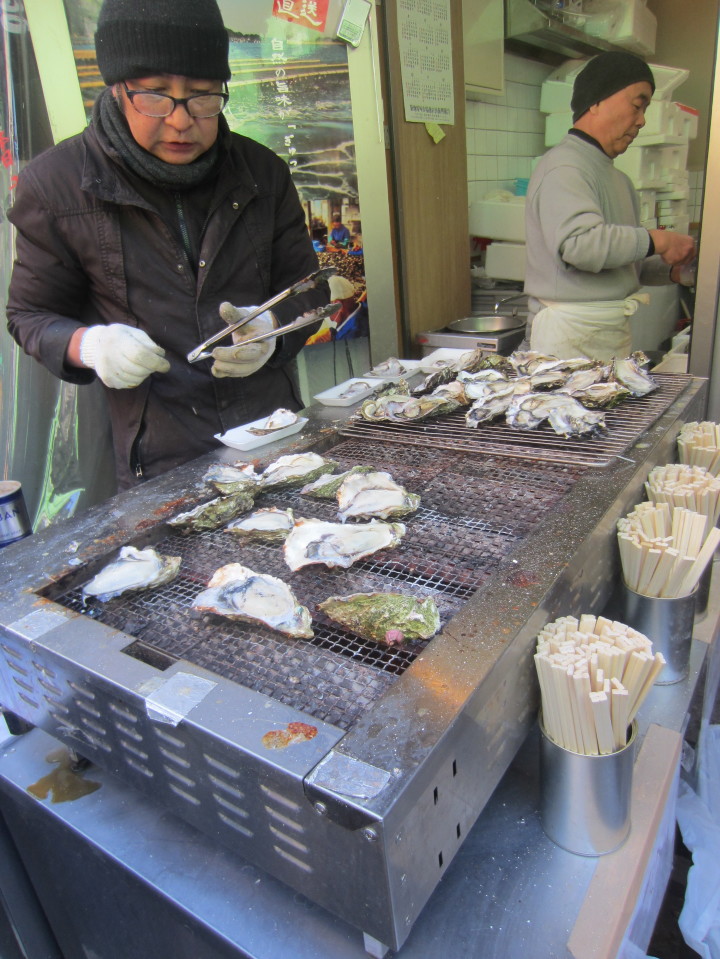 Grilled Oysters at Tsukiji Fish Market
To be frank, I can't really afford the 3000yen plus sushi offered at Tsukiji, but it doesn't stop me from walking around the area, enjoying the atmosphere that is the world-known fish market.One of my favourite seafood is oysters, and as much as I love them raw, they have their health risks and are difficult to come by in Japan. The next best thing, however, can easily be found right in the market.For about 450yen, you can snatch yourself a hearty grilled oyster that is cracked open and cooked right in front of you. Pick up the chopsticks and you got an awesome snack to go (even though you might want to eat there so it's easier to throw the garbage away afterward).The jumbo oyster is very satisfying, and you can taste the flavour as it is, without other added ingredients or seasonings. And the best part? No line up!-----------------------------------------Follow for more everyday magic I encounter in Japan!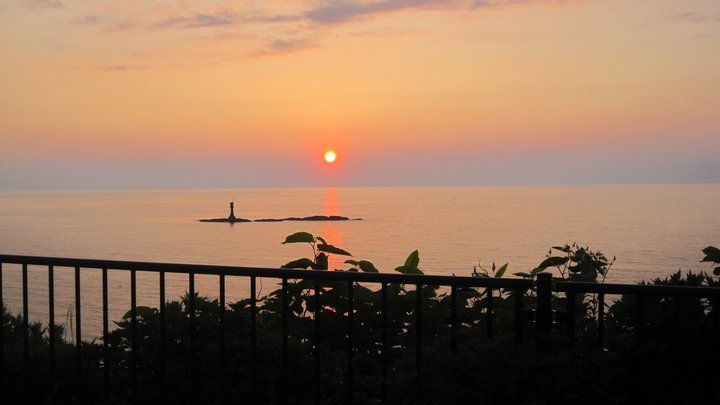 As in the Novels, Niigata's Romantic Sunrise and Sunset !!
With the Valentine's day just around the corner, let me share what I think can help you recollect romantic memoirs. Well, being with your loved one makes any moment romantic but being with your loved ones in a special place adds more flavor to your love. That is why in romantic stories and novels, locations are as beautifully delineated as are the characters. Quite evident that love is an utmost beautiful expression of a human being; but role of nature is immense in intensifying the beauty of love. Again in a novel or a movie, Sunrise or Sunset is portrayed as the romantic backgrounds. Why so? Because they are terrific when captured well. Without any exaggeration, Sunrise and Sunset from good location does the best job in flourishing your love with your loved one. The memories captured together while seeing a sun rise or set becomes profound throughout our life. That is why people travel longest of distance to reach a popular sunrise and sunset points. They are passionate on cherishing those memories. 1.Watching Sunrise from Fukushimagata Tower In the land of Rising Sun, there are many spots that are popular as the sunrise view point. One very popular and fortunately very close to my place is Fukushimagata wetland in Niigata. Fukushimagata has a tower made in a circular shape, interesting in its architecture. This tower serves the purpose of the sunrise view point. Fukushimagata which is one of the renowned wetlands in Japan is a popular tourist destination as well. Depending on the season, it exhibits beautiful mustard field, lotus blooms and is a bird watching site as well. Any time you go there, you will be able to catch up with the crowd of professional photographers ready for that perfect shot with their huge cameras.In summers, I usually go this place with my husband to view the brilliant sunrise and try to capture some pictures. The place is serene specially in early mornings when you hear the chirping birds and smell the freshness of air during the sunrise. Watching the sun peep through the sky in the east and then gradually making its way higher up in the sky with the lapse of time is something so impressive to watch.I hold my husband's hand as I watch this and the peace that prevails in the entire area is just hard to describe in words. It is the beauty of the place and the presence of your special one that freezes the time for a moment. Isn't this romantic? Pic. Sun Rise in the Fukushimagata Park observed from the TowerWell, winter is not the best time to go and watch sunrise yet you will not regret. At only this time of the year, you will be fully welcomed by the big migratory swans that resides in the wetlands. If you love birds, this is one of the best time to go. It will definitely be chilled outside but if are dressed up warm in a fine morning, you will get to rejoice the every bit of bliss. 2.Watching Sunset by the Japan Sea Niigata, being the port city, drive along the sea line is an important thing to experience. Niigata has lots of beautiful beaches that have their own distinguishing features. Somewhere it is more of the sea beach facilities that make them appealing for visitors i.e.cafe, restaurants etc. To me wilderness is better when it comes to nature. More the nature is explored, it becomes less attractive. That is why I love to go to beaches relatively peaceful and relatively less explored. One of my favorite is Murakami beach in Niigata for the best of the waters it has. In a fine day in summer, you will be able to behold the blue sea with the crystal clear water. However, to me sea is the best during the evening. The tides in the evening with waves hitting the sand on the beach and the sound of the roaring sea makes the atmosphere absolutely romantic. During the summers, I love to spend evenings watching sunset by the sea with my husband. Pic. Sunset view in Japan Sea, NiigataA long walk in the beach barefoot and the touch of the sand on my feet makes an ordinary evening very special. The reddening of the horizon and the golden clouds during the sunset looks like a magnificent piece of painting. The red fire like sun just before it waves good bye for until next morning gives a strong hope of the new beginning to happen soon. If I have my camera with me I will not fail to take at least hundred picture because every moment is unique as the sun begins to set. Sometimes you still get the sight of those surfers who aren't yet done. As the evening scene sets in, you usually find yourself in the distant company of other couples coming to the beach to see the sunset. No matter the number of people, the sunset in the beach is truly tranquil that words cannot dare to express. I originally coming from a landlocked country, firmly believe that to be born in this port city of Niigata is such a novelty.
Babina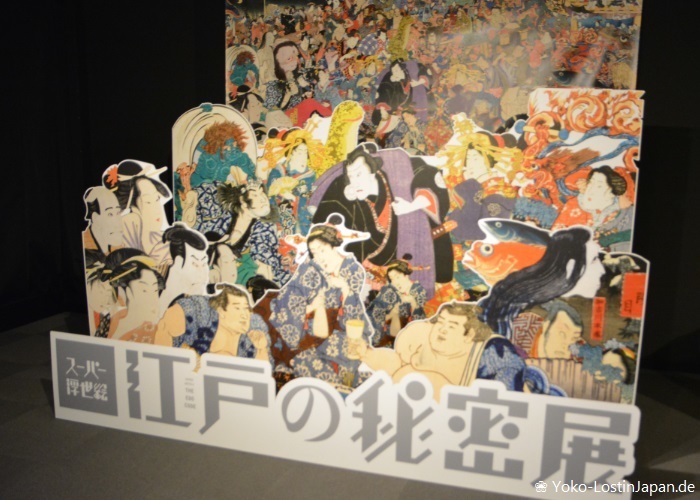 Super Ukiyo-e Exhibition in Tokyo
Have you ever heard about Ukiyo-e (浮世絵)? It is a famous art genre of Japan between the 17th through 19th centuries and you probably already have seen some of the wooden print pictures. Last Friday, on 28th January, a new exhibition opened in Tokyo which is called スーパー浮世絵 江戸の秘密 Super Ukiyo-e: The Edo Code. Here you don't find an ordinary exhibition with framed picture on the wall. For this exhibition around 20,000 Ukiyo-e prints have been digitized and animated. They are presented in videos on big screens in single rooms and give you an impression of the old Edo area. You can see busy people at Nihonbashi, the different fashion of Edo residents through the year and how it looks like at a Kabuki theater. Even ghosts and monsters will appear. Fuji will be covered behind big waves and Geisha and Oiran will walk through the streets next to you. The exhibition is stretched over 3 floors and you can spend some time watching the animated art while sitting on small stools. Even photography is permitted so you can take memories of the exhibition with you back home. The location is just a few minutes from Kayabacho station. Day tickets costs 1600 yen, but you can save a few yen if you buy tickets at Lawson. A restaurant is opened together with the exhibition, too, but it is a bit pricy. How about English? At the website you find some English translations and also at the beginning of the exhibition the opening words and introduction are written down in both languages. Later this changes: audio and picture descriptions are only available in Japanese. You have the chance to visit this exciting exhibition until 21st May 2017.Take a look to the official website for more information. Here are some more impressions of the exhibition.
YokoLostinJapan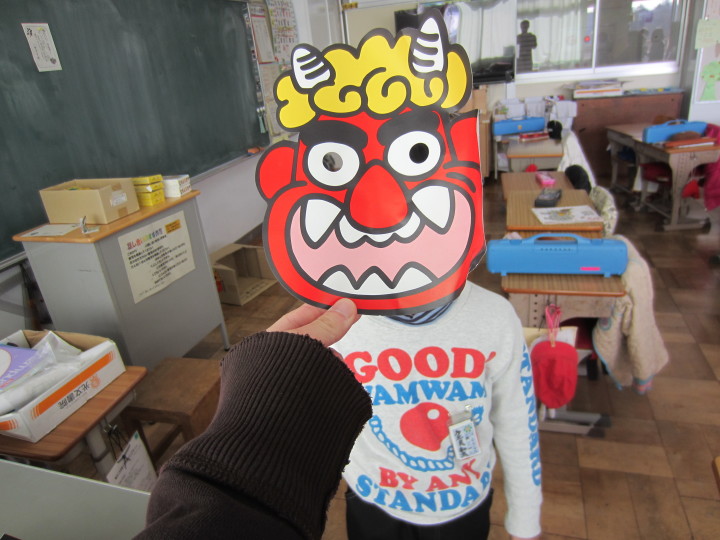 Easy Steps to Celebrating Setsubun at Home
It's almost Feb 3rd, the Beans-throwing Festival, or as it's actually called, Setsubun. This festival of tossing beans at demons to call for good luck is a Japanese tradition, but if you're living in Japan, you can easily take part in this culture with the one essential item: beans.Head to the supermarket right now and you'd find yourself bags and bags of dried beans on sale. Pick up a cheap bag and head home. On Feb 3rd, just open your door and toss some beans outside to cast the bad luck away. Remember to save some though, as you should also eat some of the beans too. How many? It should be the same amount as your age, and this is to wish you good health for the rest of the year.For extra fun? Grab yourself one of those demon masks too and have a friend (or yourself) be the demon. Others will enjoy tossing (or in most cases, full-power throwing) the beans at the demon to chase it out the door.It's just a little tradition that anyone living here can easily take part in. If you're living in Japan and never tried it, pick up some beans and let this Feb 3rd be your first Setsubun!-----------------------------------------Follow for more everyday magic I encounter in Japan!