USER BLOG
Join the best expat community of Japan. Now!
Share your Japan experience

Create blogs/Join the Q&A

Earn points and get rewards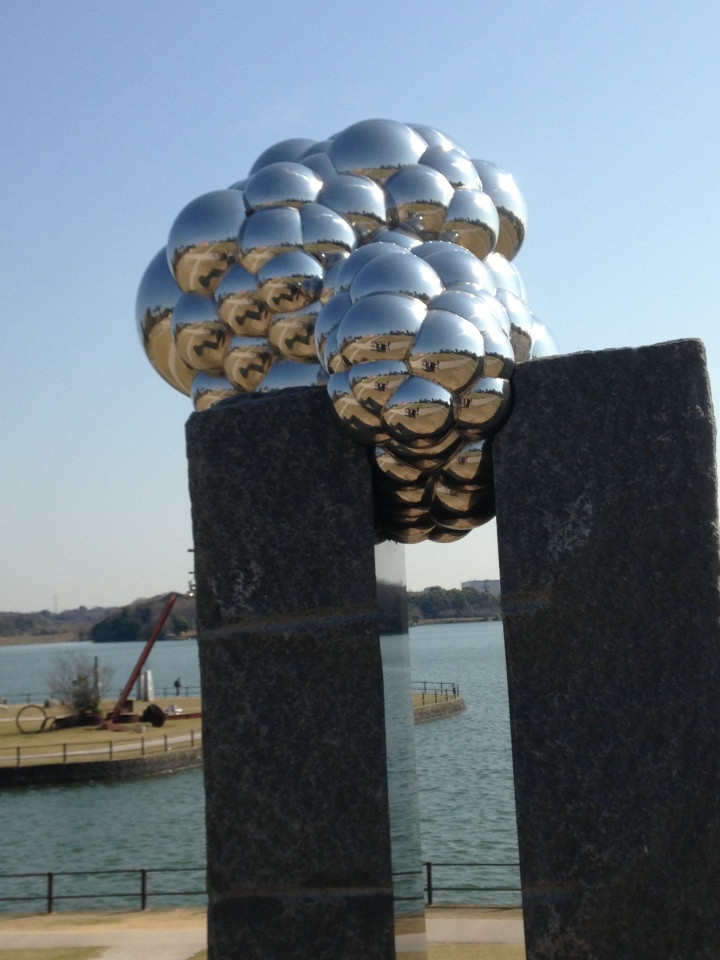 How to take care of Bug biting in Japan?
During the summer, a lot of "mushi' disturbs the people of Japan. But here are some tips how to deal with the bugs of summer:1. Avoid the place where un attended trees grows.2. Wear full sleeve dress to avoid the insect bite3. Clean the surroundings. Cut the unwanted weeds.4. Carry antihistamine cream with you. Buy one for your kids. Do not apply it on face!5. If bite then Squeeze the stinger and venom out as quickly as you can if you're stung. Do not try to suck it out! 6. Apply cream afterward and do not rub too much.7. Go to the hifuka (Skin Hospital) as soon as you can!
azi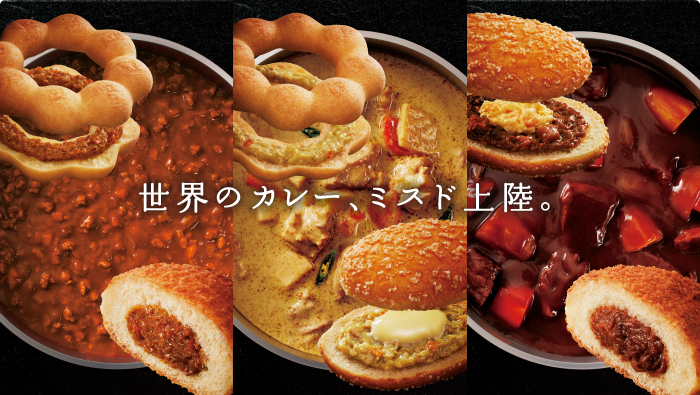 My thoughts on the Mister Donuts Curry Donuts Line
Sprinkles. Chocolate or Strawberry icing. That's what I think of when I hear the word donut. You can bet that I was a little shocked (and intrigued, too) when I saw the new Mister Donuts line of curry donuts. I naturally had to head to my local store - for research purposes - and try one out.There are several different types featured on their menu right now, including Keema Curry, Green Curry and one they have called Euro Curry. Not going to lie - my expectations were pretty low here. I guess in my head all I could think was that a sweet donut with curry inside sounded terrible. I was actually rather pleasantly surprised, though! The taste was more in line with a curry pan than it was with what you'd expect from a sweet donut, so it wasn't nearly as weird as I would have thought. At less than 200 yen I would get one again if I was in the mood for something savory to eat and there was a Mister Donuts nearby.Have you tried any of the Mister Donuts curry donuts range? What did you think of their offerings?
genkidesu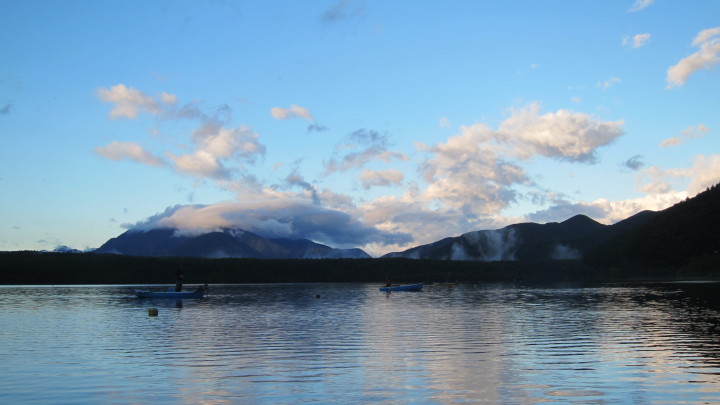 Nice water places in Japan
Besides the beautiful beaches Japan has to offer, there are also other nice places inside the country to enjoy the water. Here are some of my recommendations. • Lake Yamanaka, Kawaguchi, SaikoIf you are visiting Mt. Fuji, you should also make a stop of one of the surrounding lakes like Yamanaka, Kawaguchi or Saiko. These are very beautiful lakes where you can walk around and enjoy the nature or do a boat ride. The lakes are also very popular for water sports and fishing. Especially at lakes Yamanaka and Kawaguchi professional or amateur fishing tournaments are often held at the weekend.• Izu WaterfallsIf you prefer more to enjoy hiking in the mountains, you can see many waterfalls in the mountains of Izu. There are seven small and big waterfalls in the mountain area of Kawazu. Especially if you are standing in front of the bigger waterfalls, you can enjoy a nice cool breeze. • Yume no Shima PortIf you are in Tokyo and want to visit a nice port, you can go to Shin-Kiba station at the eastside of Tokyo. That place is popular for the big concert hall, but on the other side of the station is a beautiful small park with a small port of luxurious yachts. It is really nice to walk around the yachts and sailing boats. Also there is a very cute beach restaurant in front of the port where you can sit inside or outside on nice beach chairs or in a hammock. It is also possible to rent a BBQ spot in front of the port. Unfortunately it is very popular to do BBQs there, so you should reserve a spot early. • Kasai Rinkai ParkAlso at the east side of Tokyo is the huge Kasai Rinkai Park. The park fronts Tokyo Bay and has a big beach area where you can have a BBQ or just a nice picnic. You can also see Tokyo Disneyland from the bay side. A third of the park is designed as a Sea Bird Sanctuary. If you are a bird lover it is a good chance to take some nice photos.• Party Boat Sumida RiverIf you like to drink and eat and also like to enjoy the view over Tokyo from the water, you can book one of the nice party boats on the Sumida River (for example in Asakusa or Ryogoku) and cruise along the river. They have special party plans for big groups which include drinks/food and often also a karaoke machine. To rent a boat is kind of pricy but if you are in a big group it will be a very nice experience. • Tomioka MatsuriYou might wonder what a festival has to do with water, but the Tomioka Matsuri is very special. It is held every three years in the Monzen Nakacho area. In the morning of Saturday and Sunday of the festival many people will carry small transportable shrines (Mikoshi) around the area. You can see those at mostly all summer festivals, but the one in Monzen Nakacho is kind of special because there are huge buckets full of water on the side of the streets. If a group with a small transportable shrine is coming, people will throw tons of water on them. It is like a big shower. Especially during the hot summer heat it is very refreshing. If you are watching the Mikoshi parade you should watch out not to get too wet!
Crazydeath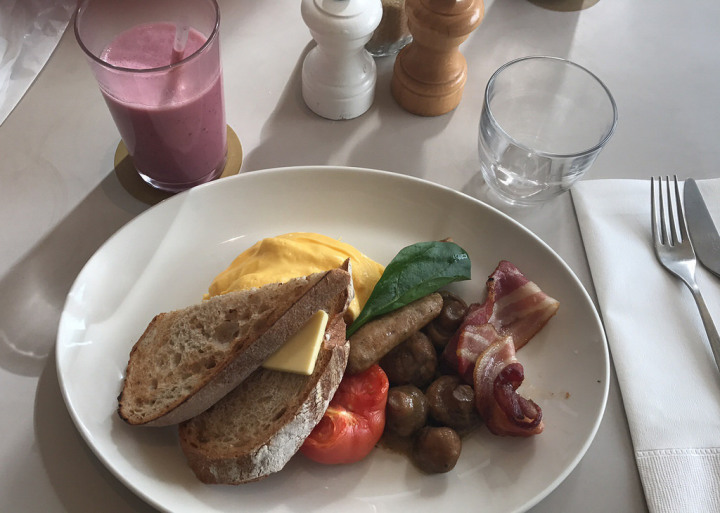 3 Foreign Breakfast Imports that will start your morning off right!
Breakfast is my favorite meal of the day - and as they say, the most important, too. Living in Japan has opened my eyes to what breakfast constitutes (rice, miso soup, salmon?!) and I'm definitely okay with that - but sometimes I just want my western style breakfast too!Tokyo has a plethora of delicious spots to grab a bite for breakfast - but here are three of my favorites that originated elsewhere in the world!BillsBills was started by an Australian chef in the land down under, and has now spread to a number of countries around the world. I'm personally a fan of their ricotta pancakes (so light! so fluffy!) but my husband is all about their savory options. Their coffees and juices are delicious and the atmosphere at their Omotesando store is airy and chic!Clinton Street BakeryClinton Street Bakery started in Manhattan in New York by a husband and wife duo - and their goal was to make the best baked goods in all of the city. Lofty goals, but they have often been acclaimed as the best pancakes in New York. Now, I haven't been to the New York version, but the Tokyo location has killer pancakes. Again, my husband is all about the savory choices - an option for regular or smoked salmon eggs benedict? He's there in a heartbeat!Eggs 'n' ThingsStarting out in Waikiki back in 1974, Eggs 'n' Things has also made their mark on the Japan breakfast scene - there are now a number of locations here. The Harajuku store in particular still draws in the crowds and you may have to line up. If you love a good pancake with all the toppings (hellloooooo whipped cream!) then this is the place for you. There are also loads of savory options and healthier lighter choices like acai bowls, in true Hawaiian fashion!
genkidesu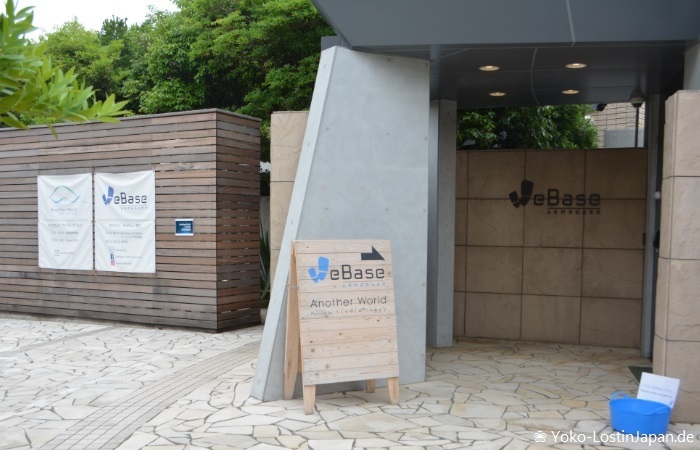 A pleasant time in Kamakura and the WeBase Hostel
Thanks to City Cost I had the opportunity to stay one night at the WeBase hostel in Kamakura and for sure, I also used this time to do some sightseeing around the Kamakura area. I spend a great time there and want to thank everyone involved. And now, let us take a detailed look on the hostel itself! Community Hostel WeBase Kamakura The WeBase Kamakura is a pretty modern looking hostel in the Kamakura area. It is located close to Yuigahama Beach, which makes it a perfect stop over for everyone who wants to enjoy some time at the beach in Japan's summer. But not only this, it is also a nice starting point for your sightseeing trip around Kamaura (I will come to this later). You can reach it within a two minutes walk from the Enoden station Yuigahama, but also a 15-20 minutes' walk from Kamakura station is possible. When you enter the hostel, you come inside a bright corridor with big windows and a view to the courtyard where hydrangeas were blooming. There are unique drawings on the wall which makes the modern styling perfect. Also the reception looked welcoming and a really liked the wooden pattern there. The Rooms WeBase Kamakura is a hostel with different dorms. You can decide between mixed and female only dorms, which have 4 or 6 beds in one room. All rooms include comfortable bunk beds which you can close with a curtain. You have your own socket, usb outlet, reading light, personal slippers and for sure, also a locker. However, if you are travelling with big luggage, only your valuables might fit inside. Toilet and sink are shared with others. It is also possible to book a whole bunk bed room as private for your group of 4 to 10 people. But not only this. They even have family rooms with sofa beds for family and groups which include an en suite bath, TV, refrigerator and other things. Or you can stay a Japanese styled futon room and sleep on tatami flooring. Also couples have the opportunity to book a private room with a double bed. If you want something special, plans including a rental Kimono or a yoga class at the Another World studio are available, too. As you can see, there are many ways to stay at WeBase Kamakura. Check out all room types and night rates on their website. The Facilities The WeBase area is pretty big and has to offer many facilities for their guests. First starting with the big lounge, which is located in the basement of the building. With a view on the courtyard you can relax, watch TV and enjoy your time with other guests. At the reception you can rent games for free. Furthermore, at the lounge you find some PCs, a small kitchen area with refrigerator, water cookers and microwaves and even a vending machine with instant food and alcoholic drinks. At the lounge I especially liked the wall decorations. One big corner is filled with a map and pictures of Kamakura, so you can get ideas for your sightseeing tours and other places you would like to visit. The other corner is free for the guests to write messages. Also at the basement you find the shower rooms, which are clean and include soap, shampoo and conditioner free for use. A lot of mirrors, sinks and hairdryers are there, too. The shower rooms are open for 24 hours. Just at the other corner the Japanese bathtubs are located. These you can use from 7:00 am to 10:00 am and from 4:00 pm to midnight. Belonging to the building, WeBase Kamakura is connected to Brasserie Gent. This is a French inspired restaurant where you can find interesting dishes for your lunch or dinner. They even serve good wines and beer. For WeBase guests every morning a light breakfast is served for free at the restaurant ground. This includes toast, cornflakes and potato salad. The Activities Inside the WeBase building the Another World Studio is located, which offers daily classes on yoga, meditation and more. To find out about the schedule, you can check their website. As a WeBase guest you get a discount and only need to pay 1,000 yen for a class. Other cultural experiences are also possible, as for example wagashi workshops and Japanese tea ceremonies are taking place regularly. Check out the event list on WeBase's facebook page to be up to date with this. If you want to explore Kamakura, the staff members will give you all the information you need. They even have rental bicycles which you can get for 1,000 yen a day. If you pay a little bit more you even can use an ebike. My Impression I stayed at the female dorm in a room with four bunk beds. It looked nice and was very clean. What I especially liked about the dorm room is that it is separated from the main corridor by an extra small hall way. So if you open the first door, you come in a smaller corridor which leads to two dorms. Inside this small area you find a sink and two toilets which only the people of these two dorm rooms are sharing. This is a great idea! In the evening I relaxed for some time in the lounge. There are several books, magazines and manga you can take a look at, however a lot is in Japanese. The hostel has free Wifi everywhere, so I also could surf in the internet while sitting on the comfortable chairs and looking outside. The bed was good as well, not too soft and not too hard, so I could sleep well. In the night it was really quite, because the hostel is situated in a calm area. The staff members all could speak English and were very friendly. When I rented my bicycle I even got some sightseeing information and they could quickly tell me how long it would take me to cycle to certain places.If I ever spend a night in Kamakura again or some of my friends will ask me for a place to stay in this area, I really can recommend WeBase. I would go there again! Places to visit around WeBase If you are staying at WeBase, the first place you should visit is the Yuigahama Beach. You can easily reach it with just walking down the street for a few minutes. The beach is really nice and you might find many surfers catching waves in the sea. I was told by a staff member about special huts opening at this area in summer, serving special food and drinks. So the beach might also be a good place to visit in the evening. The famous Great Buddha, Daibutsu (鎌倉大仏), is just around 15 minutes away by foot and if you haven't visited there before, you should definitely go and see the around 13 meter high bronze Buddha statue. It is already situated there since 1252 and one of Kamakura's highlights! Just close by is the Hasedera temple (長谷寺). Next to a beautiful temple garden an eleven-headed Kannon statue is there. When climbing up the hill, you also have a great view over Kamakura to the ocean. Especially when the hydrangea is blooming in June and the beginning of July, it is really beautiful there. But that is not all you can see in Kamakura. There are great hiking trails around the mountains or you can walk around – or if you want it easier take the bus and trains – to see all the historical shrines and temples. Also strolling around the shopping street at Kamakura station is nice. Through renting a bicycle at WeBase I also can say, that Kamakura is a great city to explore by bicycle, because you can go quickly to all the destinations. For example, cycling from WeBase to Hokokuji temple (報国寺) in the further Eastern part of Kamakura took me less than 30 minutes. The hostel opened on 15th September 2016, so the first anniversary is coming soon! So if you are planning a trip to Kamakura, why not stay over for a night or more at WeBase Kamakura? :D - - - - - - - - - - - - - - - - - - - - - - - - - - - - - - - - - - - - - - - - - - This post is a special report for which City-Cost gives bloggers in Japan the chance to engage in new experiences in Japan to create posts about.
YokoLostinJapan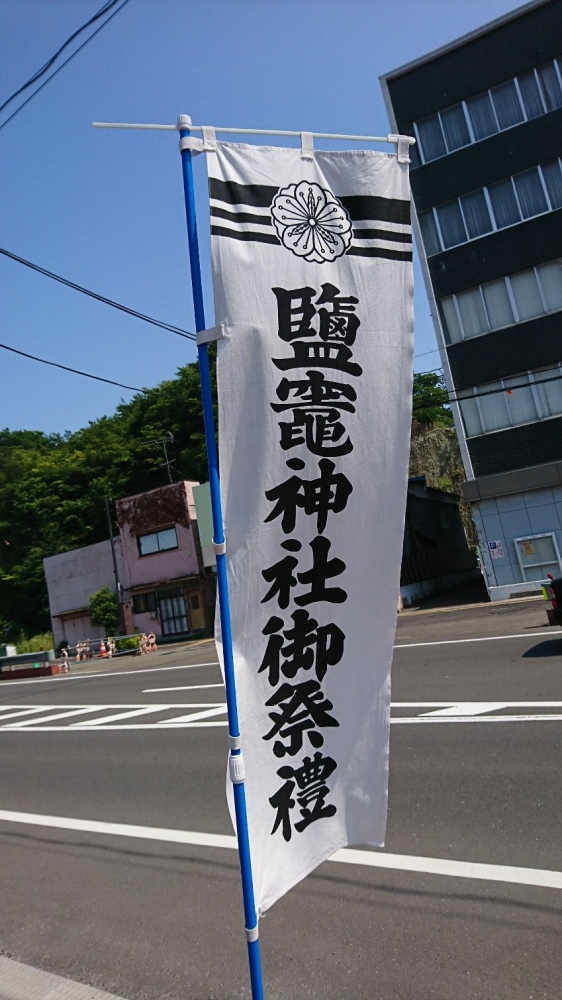 Celebrate Marine Day in Shiogama!
These banners outside of HonShiogama Station on the Senseki line boast of the approaching festivities.Next Monday is the Japanese national holiday known as Marine Day or Ocean Day and if you have the time and interest in Japanese festivals, a trip to Shiogama in Miyagi prefecture may be in order. Posters like this have been up all over town for months. The event begins Sunday with a massive fireworks display generally starting at dusk over Matsushima Bay. The best place to watch the display is from the roof of the Aeon TownMall known as The Big or across the street at Marine Gate, which does double duty as both a fun venue for this event as well as the launching point for a number of ferries and small boats carrying their hires to the middle of the bay to watch the display. If you're interested in watching from an aquatic position, grab tickets from a number of retailers and bring your own beverages and snacks to enjoy while you watch. This is of course not recommended for those with motion sickness. There is also a park near the water across from the opposite side of the Aeon. It's pretty small and will likely be filled with food and drink stalls. This part of the festival usually fills the oceanside with spectators and the display itself usually lasts upwards of 30 minutes if memory serves. If standing in a group of strangers watching airborne explosions is not your thing, consider coming out on Monday instead, when a parade of different groups (some from elementary, middle and high schools in the area, some from other social groups and clubs) takes center stage, or rather street, as they dance their way from Ichibankan (the building housing the library across from 7-11 near HonShiogama Station) to the main entrance of Shiogama Shrine. In years previous, I participated in this alongside friends and my daughter, who was usually asleep by the time the dancing began. Due to a recent foot injury (and my reluctance to carry a three-year-old that far in the heat), I will be attending today's event as a civilian instead of as a participant. Handy tsunami evacuation maps around The Big assist in case of emergency. This one has been edited to indicate fireworks watching areas in pink and the parade route in yellow. Even without the dancing, there's plenty to see. The omikoshi (portable shrine) will be making its way down the 202 stairs of the main entrance to Shiogama Shrine, then circling the town and heading to the colorful shrine boats which will take it out to bless the bay and outlying islands before its return. This is the only day the public gets to see the boats in action, so its pretty special for those of us who spend the year staring at the gorgeous dragon and phoenix, their rainbow lacquer shimmering in the daylight. It's fun and free and only open once a year. Why not come on down? HonShiogama Station is 30 minutes and 320 yen from Sendai Station on the Senseki line.
JTsuzuki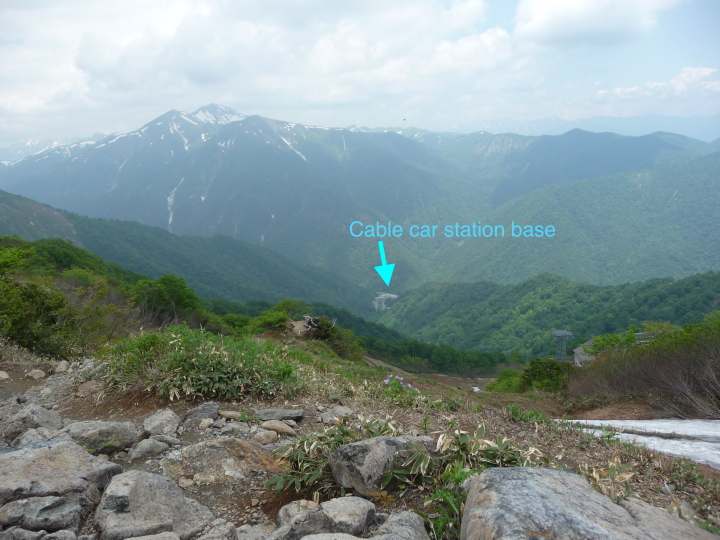 1963m
We live close to Doai station where there is a very famous hiking trail in Gunma, Japan. Mt. Tanigawa is the best. We climbed up there with a 6 year old. We did it. Riding on the ropeway is like boarding on an airplane. We followed some people who looked like hikers and who knew where they were going. The photo above is from the view if you choose to ride on a lift. Hiking shoes are necessary for this rocky, magnetic mountain. It was fun for a small family to hike with a lot of kind people. I asked if I could drink water, but it was from a snow. I can not drink it. We very close to Mt. Tanigawa 1963m. I thought of finish the climb, but we wanted to go up. Here we go!
Ooray2775