USER BLOG
Join the best expat community of Japan. Now!
Share your Japan experience

Create blogs/Join the Q&A

Earn points and get rewards
Seijin no Hi or Coming of age Day
Seijin no Hi is Japanese Holiday it is usually held every second monday of January. The celebration of adulthood who reached the age 20 years of age last year or before march 31 this year. Every cities hold ceremonies for these people. The girls and boys wear the traditional kimono.They are being declared as officially adult the right to vote, drink alcohol , smoke and marry without the consent of their parents.
Babei1096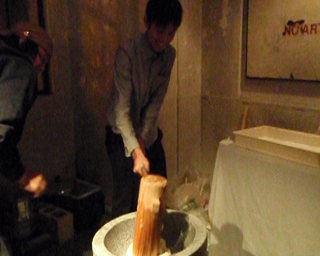 New year`s eve in review
The end of the year is apparently the biggest holiday of the year in Japan. People compare it to the western Christmas, as people go and visit their families and friends, drink, have fun and sing "ashita ga aru". I have had some varied experiences when it comes to New Years in Japan. My first time in Japan, I was in university, I was in a strange country and ready for anything. So naturally I decided to go clubbing. I am not now, nor have I ever been the clubbing type of person, and I have no idea why I decided to go. The alcohol was expensive, the music was loud and I was an hour away from anywhere called home. Despite everything seemingly working against me, I actually had a pretty good time. I got mildly drunk, danced until I got self-conscious and had some deep, meaningless conversations with friends I don`t talk to when I am sober. All in all quite a successful night. I guess one of my biggest culture shocks happened that night too. After the countdown (big screen in the dance-hall and everybody dancing), we went outside to get a bit of fresh air. Right next door, there was another bar or club, but they had this big, wooden bowl and a cartoon-sized hammer just whacking a blob of mochi in the middle of the corridor. I was gaping in awe of this sight. I had never seen anything like this before in my life. So these mochi-people, seeing this foreigner wide-eyed stare, offered the hammer to me and for the first time in my life, I whacked mochi with all my might. And let me tell you, it was wonderful. I have GOT to get me one of these bowls! 2015-2016 was pretty interesting too. There I was with my partner in Osaka. We decided to go to Osaka Castle to witness the countdown light show. We went walking to the park and I thanked multiple deities that someone invented "Kairo", the self-heating bags that you can keep in your pocket or glue to your clothes to keep warm. It was freezing cold, and it did not help that we had to stand outside, waiting for the countdown to begin. So we wait and wait and wait. Finally people start to count down. 5, 4, 3, 2, 1, Yay! Nothing… The normal lights of the castle turn on and life continues as if nothing had happened. No light show, no nothing. It. Was. Cancelled. Oh well, we went to the shrine next to the castle and did the whole "first visit to a shrine of the year" thing. There were people playing drums there and another group of people were giving out free hot soup. You know the feeling when you are really thirsty and finally get to drink a glass of water and it tastes like honey from the heavens? That is exactly what the soup tasted like. We were freezing by that time, so a hot cup of tonkatsu soup was just the right thing to kick start the body back from hibernation and get our good feeling back. We thought about waiting to see the first sunrise of the year. We thought about it for exactly one second before running inside to warm up. This New Year`s eve was a little different. One major difference is that, due to some … family matters … we cannot really celebrate. In Japanese tradition, when a family member passes, you are encouraged not to celebrate anything for a few months afterwards (even up to a year). That means, no shrines, temples, weddings, and no major celebrations. In light of these new circumstances, and looking back at our failures in the last seconds of 2015 what with Osaka Castle not lighting up and all, we did not make the same mistakes again. We refused to be fooled by cancellations and promises of lights when there are none. This time, we acted like the middle-aged couple we aren`t and stayed home. No going out in the freezing cold. No standing in line for 45 minutes to pray for luck and wealth to Toyotomi Hideyoshi, and a definite no to all crowded areas. It was bliss! We stayed home all night watching endless comedy shows on TV and ate cakes. (That doesn`t count as celebrations, right?) Doing that, we managed to relax, save money (since we didn`t take any expensive trips) AND hopefully we gained some holiday weight. Who knows what next year will bring. There are plenty of events and shows in between Christmas and New Year`s eve. Light shows, concerts, dinners with distant family members whose name you conveniently fail to mention because you have no idea what it is. The possibilities are endless. Whatever will happen, one thing will be guaranteed. It will be interesting. It wouldn`t be Japan without a little bit of surprise.
Kasajizo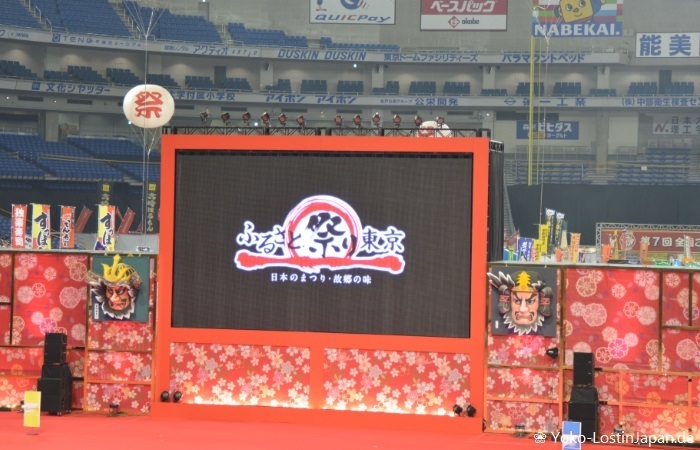 FURUSATO MATSURI - Experience Traditions of all over Japan
Every year in the beginning middle of January a special festival is held in Tokyo. The FURUSATO MATSURI (ふるさと祭り) is a festival about traditional perfomances and food from all over Japan. I visited it last year and want to give you some information. Because the festival is located at Tokyo Dome where is a lot of space for presentation. Inside you will find several stalls selling you a variety of food and drinks from the different Japanese prefectures. You have the chance to try Yakimanju from Takasaki and Oyakodon from Akita at one place – isn't this great? Japanese people love to travel around and eat regional food, that's why food is very important within this event. Another big point are the festivals (matsuri) held in the different areas of Japan. Some of these are present every year and the schedule is changing nearly every day while the event (the reason I visited the festival for two days). You can see a part of famous festivals like the Nebuta Matsuri (ねぶた祭り) in which a colorful lighted float is carried through the stage area including music and dancers. However, also other festivals are presented often connected to dance performances. If you don't have the chance to watch a certain festival at the origin area, maybe you at least can get a feeling of it in Tokyo. My personal highlights are the prefecture mascots meeting up at the festival. Often you need to travel to all these areas to have a chance to meet the mascots - but now you have them all at one place. Be sure they appear only on a few days while the festival. With some of them you even have the chance to take a memorial photo. So, if you come to be in Tokyo around the festival time, I totally recommend going there. The ticket prices around ¥ 1,600 on weekend and ¥ 1,300 on weekdays. There is also an evening ticket for ¥ 1,100 which allows you to enter after 4 p.m., but be sure you gonna miss a part of the program with this. Better visit the Furusato Matsuri on a weekday, because it is a little bit less crowded. The festival is held from 7th to 15th January this year. I made a video about my visit to Furusato Matsuri. You can watch it with English subtitles on YouTube. The video of the second day I visited the festival will follow soon on my YouTube account. For more information you can visit the Official Website (Japanese) or the English Website of the festival. Have you ever been to such events?
YokoLostinJapan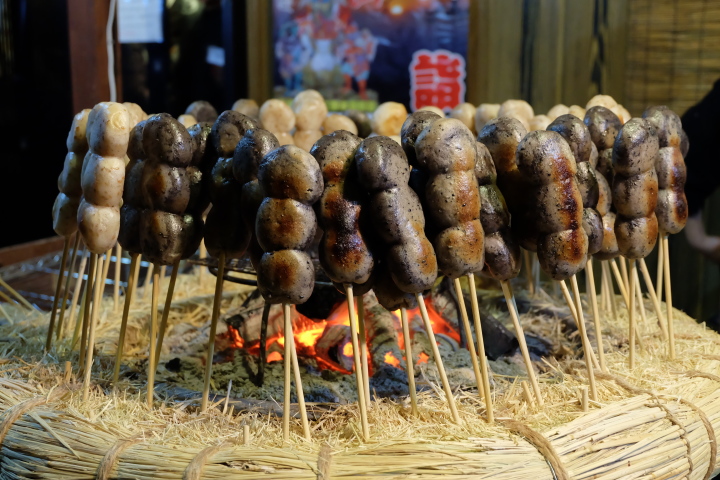 The First Sunrise in the Land of the Rising Sun
New Year's celebrations typically consist of late-night parties, drinking, countdowns and fireworks. In Japan, however, it's a more spiritual holiday. If I am not mistaken, the locals give importance to this event the most. It's the time of the year when families gather and visit temples.The first time I celebrated New Year's in Japan was just last year and I welcomed 2015 in a very cultural way. This experience goes way back but I think it's still worth sharing. For New Year's Eve I joined a couch surfing event. I had some drinks, met a lot of cool people and had a countdown in Shibuya (I was quite disappointed that there weren't any fireworks but it's all good). My real New Year's celebration, however, did not start until 2 AM when I set off for Mount Takao to catch the first sunrise of the year, which is very important to the Japanese. I fell in love with this perspective the very first time my friend told me about it. Initially, I did not know who I was going to go with on this adventure. I was mostly told that I was crazy to want to hike a mountain when I should just be celebrating under the influence of alcohol. Luckily enough, I found outliers who wanted to try this cultural experience. On regular days, the last trains are around 12 midnight but since New Year is very special in Japan, trains are open for 24 hours from December 31st to January 1st. Isn't that cool? At least you wouldn't have to worry about partying all night and getting stuck somewhere since you can grab a train home any time. As expected, the train bound for Takao was packed.We arrived at Takaosanguchi station at around 3:30am and, of course, there was a huge crowd. It was also very, very, VERY cold. To save time and energy, we opted to take the cable car. For adults, a one-way ticket cost 490 JPY while a roundtrip ticket costs only 930 JPY. Note that there are separate queues for ticket-purchasing and for the entrance of the cable car ride. Also note that the cable car doesn't take you directly to the summit so expect about a 40 minute walk upon getting off. You won't go hungry on the mountain as there are various food stalls open around the clock for the holiday. Prices aren't that bad but, of course, you can also opt to bring your own snacks and drinks with you. From the cable car exit, you'll find a beautiful view of the city. Wee saw a crowd of people already seated on their own chairs and picnic mats around 4am. We assumed that the sun would rise from that direction but we were ambitious and really wanted to see it from the summit. We had time anyway as sunrise is expected at around 6:45am. Maybe less than a kilometer away from the summit, guards were stopping everyone from moving forward. They said that it's already too crowded at the summit so they can resume entrance only AFTER sunrise. I was a little heartbroken. It was then that I realized why there were already a lot of people gathered by the cable car exit. They knew better. At this point, it was 5am and -2 degrees Celcius. I badly needed to go to the toilet but then the nearest bathroom was also blocked-- another set of guards were stopping other people from moving towards my area. Lesson learned: If you really want to see the sunrise at the summit, go earlier than 2am. Perhaps the early birds camped out by midnight. We found a spot by the stairs. People already started sitting in rows so we joined in. It was cold; as I've mentioned, the temperature was already at -2. We waited for more than an hour. Although the sun hasn't risen yet, the sky was already turning into different hues and colors. And then, finally, a majestic sunrise!A picture is worth a thousand words but being there was-- hands down-- a priceless experience. In spite of the cold, lack of sleep and the dire need to pee, being there was worth it. It was definitely a wonderful way to start the year! I was thankful for clear skies.The crowd started moving and lines were formed once again. A lot of people gathered by the shrines and temples to pray. The entrance to the summit finally resumed and it did not take very long until we reached the top, where another one of nature's wonders was waiting.Mount Fuji! What luck! This was a big deal for me as it was my very first time to see it after so many failed attempts. We had some soba before descending the mountain as I heard that it's the traditional New Year's day dish in Japan and that it also brings good fortune. PS: I love photography even if I'm no pro. If you like my photos, you could follow me on Instagram @perched_elsewhere. :)
AnnaAbola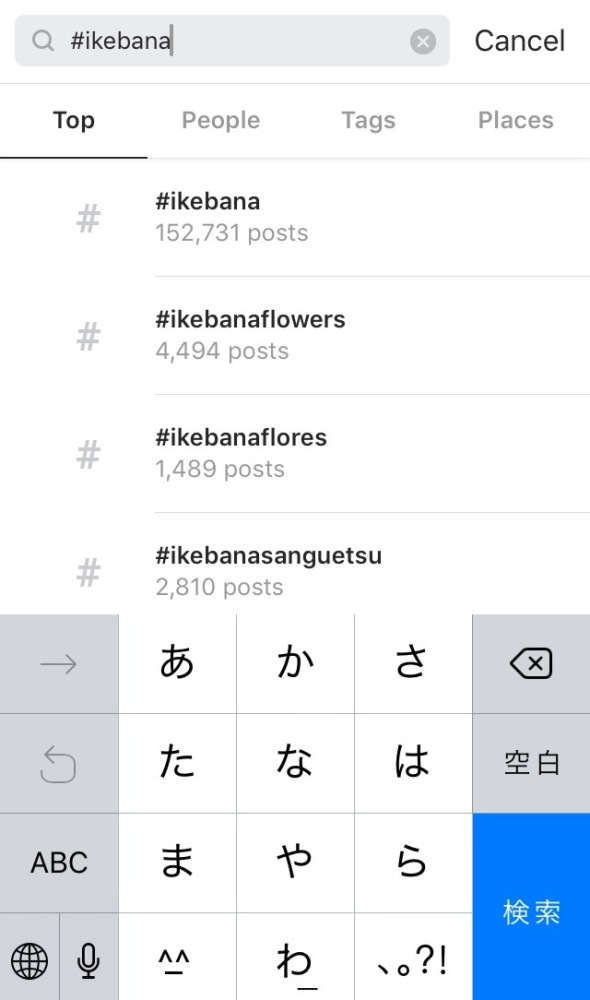 It's best time to start something...How about Ikebana?
When a new year begins, we feel like starting new things, don't we? In fact, we see many ads of schools including online or correspondence course. Do you have any special plan for something new? How about trying Ikebana this year? In this article, I will introduce how to start Ikebana lesson.The most important and difficult is to find a school. Below are the ways to find schools.1) Web searchJust as usual search, put in google "Ikebana lesson English Tokyo" or like that. In the result, there will be major school's headquarters information on top. And you'll find some small private schools as well. If you find English page on those sites, you can be sure that the teacher can speak English. Then compare pictures of lesson room, teacher, and works they show on webpage.2) Instagram or blog searchIt's really modern method, but actually many flower artists have IG account, including me. If the artist is a teacher and has own school or lesson, they mention so in profile page or each post. Through IG, you can easily find your favorite works and contact each artist.You can search with hashtag #ikebana #いけばな #生け花This is my IG page. Search @yoonaflowers 3) Cultural Experience program for touristsIf you are visiting, this is the easiest. You can learn the brief history of Ikebana and try it in traditional Japanese room. Also, the students are all foreign beginners. But fees will be expensive and difficult to have next lesson even if you like because it is for "tourists' experience".4) Hobby clubsI heard ten or more years ago, many companies had hobby clubs after work, and Ikebana was one of the major activities. Some of my older Ikebana classmates say they started it from hobby clubs. But recently, many companies abolished such circles as the recession goes or other reasons.5) Paper ads in newsletterYou'll find some ads in your city's newsletter. Fees are little cheaper than other schools, but most of those schools are not bilingual (and in my opinion, the students might be elder than you).Most of the classes have one-time trial lesson, and fees will be around 3,000 yen to 5,000 yen. Normally you can borrow the goods needed, so all you need is a towel to wipe hands, apron if you wear delicate clothes. After the lesson, you can have flowers used in the lesson (material fee are normally included in lesson fee) to re-arrange them at home for review. Lesson timetable and number of students are different on teachers. Some open only private class on requests, others regularly have 10+ students at one time. If you are more interested in Ikebana and want to continue, you can visit several schools for trial and find your favorite. Next time, I will write about the materials/tools which I use for Ikebana.Oh I forgot to say... Of course, I can teach you if you are looking for a teacher in Tokyo!!!
yoona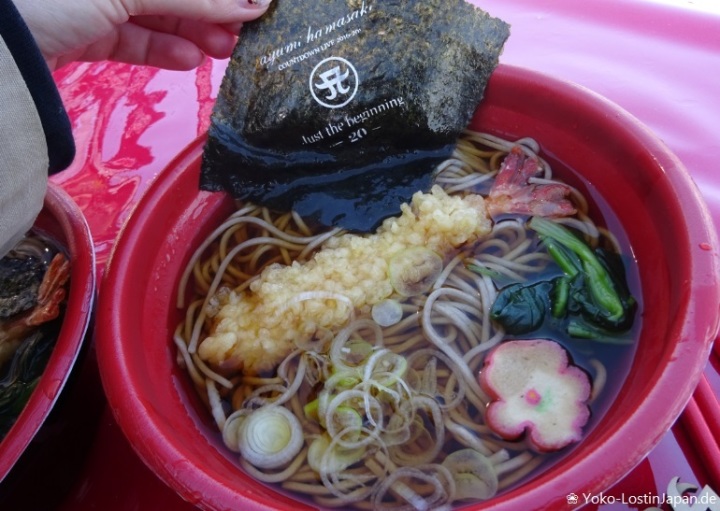 Japanese New Year – between traditions, events and shopping
The beginning of the New Year is celebrated everywhere in the world. And every country has its own traditions. For sure Japan has its special ways to celebrate the beginning of a New Year, too. It's one of the most important times in the year, where a lot of Japanese workers have days off and can spend their time with family. Get to know some of Japan's traditions in my article today. Traditional food around New Year in Japan Do you have special food you always eat around New Year? In my home country Germany lately people come up with making food on raclette grill for New Year's Eve and eating carp on New Year's Day. In Japan you also have some food which belongs to the New Year's time. Starting with Toshikoshi Soba (年越しそば) or also called year-crossing noodle. These buckwheat noodles are likely to be eaten on New Year's Eve and should bring long life as well as health and energy for the upcoming year. The costume and name with this is a bit different from area to area.Also very important food in Japanese New Year is Osechi Ryōri (御節料理) which normally is served in bento-like wooden boxes. The dishes inside the Osechi each have a special meaning. For example: Kuromame (黒豆), simmered black soybeans, are standing for health and sake steamed shrimps go for a long life. Earlier house wives made Osechi Ryori by themselves, however, now it's also common to buy a prepared box at special shops or departments. Countdown Events at New Year's Eve What would be New Year's Eve without an amazing firework? But wait – stop! In Japan – the country famous for their colorful and beautiful fireworks in summer – is exactly like this. When all other countries around the world start the New Year with wonderful artworks in the sky, Japan traditionally starts it in silence. If you want to see a firework on 31st December, it might get hard to find one, but probably you are lucky around Odaiba, the American base in Yokosuka or Tokyo Disneyland. However, for people who don't want to sit at home with their families and watch the famous music program Kōhaku Uta Gassen ( 紅白歌合戦) on TV, there are also some countdown events around the big towns. In Shibuya the famous scramble crossing was closed for cars this time, so people could celebrate around there. Some musicians hold New Year's Eve concerts, just noticing Ayumi Hamasaki who's Countdown Live concerts are sold out every time since more than 10 years. For sure, you also can celebrate into the New Year in theme parks like Tokyo Disneyland or Universal Studios Japan which are opening their doors over night for this special date. Just prepare to get your tickets for this as soon as possible. Another alternative is the Chinatown in Yokohama. You can hear firecrackers blow up the silence, around Kanteibyo Temple lion dancers make their performances and locals sell food and drinks on the street. The first shrine visit of the New Year At Buddhist temples the New Yyear starts with 108 bell rings which are symbol for the 108 human sins in Buddhist belief. With the bell ringing it is believed to get rid of the 108 worldly desires regarding sense and feeling. This process is called Joyanokane (除夜の鐘). The reason you can find big crowds of people at shrines and temples around midnight. Many connect this event with the first shrine visit of the year, which is called Hatsumode (初詣). Normally, you should make your prayers for the New Year within the first two days of January, but still after this time at least famous shrines like the Meiji Jingu are still crowded. It is a good time to get new Omikuji (御神籤), fortune telling papers, which will tell you how the New Year will be going for you. And don't forget to get new Omamori (御守), Japanese amulets which will protect you. Let's go shopping! Hatsuuri and Fukubukuro So, enough traditional things now. Certainly also department stores want to make money around this time. Some shops are still closed on 1st January (for sure, not all), but latest on 2nd January the famous Hatsuuri (初売り) starts. At the so called "first sale" of the year many shops give pretty big discounts. Some other sell Fukubukuro (福袋) which are lucky bags, filled with unknown items but mostly worth twice or three times the money you have spent for them. Many people line up at department stores early in the morning to get started into the New Year with the best bargain. And even more… For sure there are even more Japanese traditions about New Year, but it will get too much to write everything down here. Just saying words like Otoshidama (お年玉), Nengajo (年賀状), mochi making and Kadomatsu (門松). Probably topics for next year. With this, I wish you all a happy New Year! あけましておめでとうございます!Have you ever spend New Year's time in Japan? What are you experiences?
YokoLostinJapan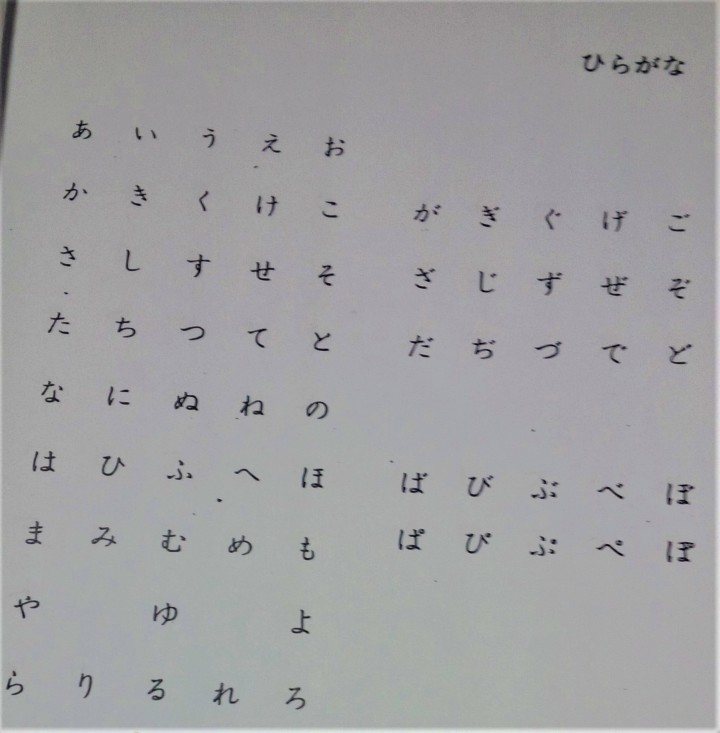 Nihongo- Challenging, Ne?
When in Rome - Do as Roman's Do !! So when in Japan why not do as Japanese do ?? To do as Japanese do , first thing would be to speak Japanese. And this is where is a challenge !! I'm not sure if the challenge I come across with language in Japan would qualify as a challenge for my readers. Definitely not for those expats who have acquired a level of confidence in the Japanese language. However, me being a beginner (for ever) have faced enough challenges with language in Japan. Let me share some of my observations and funny moments with an inappropriate use and understanding of the vocabulary. Sometimes it is just my tongue that does the wrong job and at other times it is just me making the moment either awkward or funny !! 1. Kawaii - Kowai : Even after living in Japan for couple of years now. I use Kawaii ( Cute) and Kowai ( Scary) interchangeably for some reason. In the beginning when someone told me- Anatawa Kawaii Desyou. ( You are cute) ; I would sometimes understand that as Anatawa Kowai Desyou ( You are Scary). I would question myself- Am I really? These words sound quite similar to me even now; May be I am the only one. Sometimes, in a morning walk with my husband- I'd say " Kowai" to compliment a neighbor's dog and my husband would stop me right there. Neighbor's face looked confused but he hesitantly smiled probably faking that he understood what I meant. After all who would want to hear that one's pet is a monster? 2. Okashi- Okashii : No specific example to share here but I totally use these terms " Okashi and Okashii" interchangeably even after knowing there meanings . The first one means snacks and the latter means weird. I face this challenge because my tongue does not allow me to pronounce them differently. I am not overly concerned here because people won't be much confused as these terms are used in different context or at least I haven't come across any such embarrassing moments using these terms. 3. Chotto : Though the word " Chotto" literally means " Little" in Japanese but I had to pay a price to figure out not always- but depends on when it is used. I worked for a University as a researcher in Niigata last winter. For my first meeting before I was appointed I took a train to the place. After I got off the train I wasn't sure how far was the university so asked a Japanese gentleman about the route. He explained me how to get there without indicating that it would be quite a walk. It was snowing outside but I started to walk thinking I'd get there soon. In the midst of my walk, I met another pedestrian and asked him how far is the place; He said with an unpleasant expression in his face- "Chotto Ne". I was like- Why would he make that face if it is just a little further? I only figured out that his " Chotto meant - A LOT -after walking half an hour in the snowy bone chilling day. 4. Naruhodo: I couldn't help share my personal experience of misunderstanding a term " Naruhodo"; and as I said it is personal in the sense that it was just me. It's not that the term is confusing or anything.I used to tutor English to a Japanese lady at my house. During our Japanese conversation she used a word - Naruhodo. I heard this word for the first time and the context of conversation was that we were talking about people in Japan. With her use of " Narohodo" somewhere in the middle of sentence; I related it to a person's name and I asked her back. Narohodo san wa dare desuka? ( Who is Mr. Naro Hodo ? ) Believe me her laughter filled the room!! Afterwards she explained me what it meant and I shared that with my husband in the evening. Such a fool I became !!!!!! Even now sometimes, my husband shares this joke with his Japanese friend and they laugh out loud !!! Well, even though challenges are always there when it comes to learning a new language; my journey with Japanese language has been bitter-sweet. I sometimes invent my own ways to remember the words. For example- Not to confuse between Kuruma ( Car) and Kurumi( Walnut) - I borrow the learning style of my native language where " a" at the end mostly represents a male gender and "i" at the end is for female. Thus, for me a car is a " boy" and walnut is a "girl". It may be difficult for some one to make sense out of this example but I believe there are indigenous methods in every language that will help you learn any language. Sometimes I find my methods very handy.
Babina