USER BLOG
Join the best expat community of Japan. Now!
Share your Japan experience

Create blogs/Join the Q&A

Earn points and get rewards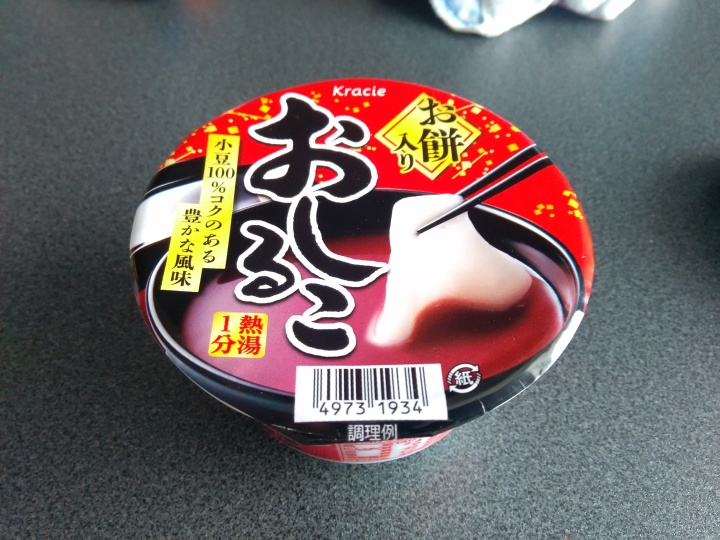 INSTANT oshiruko (rice cake in red beans soup)
Oshiruko is the traditional new year food where you have a nice slice of a grilled mochi inside a bowl of hot steamy sweet red bean soup. If you don't want the hassle, there is in fact an instant version of this traditional food available at supermarkets. All you need is hot water and patience of about 1 minute.These were sold as a pack of 3, costing around 200yen total.Open it, and the inside looks like fish feed and stylophone.You pour the hot water into the little bowl, and this is how it looks like after a full minute of waiting.Give it a good stir, and you will find the melted mochi inside the red bean soup.The taste is decent but the soup was rather watery. The rice cake was very (and too) soft. Overall, it was disappointed considereing how much I like oshiruko. For a quick sweet red-bean snack that required little to no prep, this choice isn't the worst, but yea, it just doesn't come close to the real thing.
Jackson
The Punk/Lolita/VK Shops of Sendai
One of the first weird but cool and so very Japanese things my friends fell in love with in college was Gothic Lolita fashion. This trend/lifestyle choice started a while back and you can learn more about the history here. There's even a wikihow on how to be a lolita here. There are a few variations of the Lolita theme, but the vast majority come with extremely detailed and expensive clothing and accessories. There are plenty of shops, first hand and second, for any style of lolita in Tokyo or Osaka. Sendai is not so big and offers significantly fewer options, but they do still exist here, mostly clustered together on the seventh floor of the Forus building, walking distance from Sendai station. Just walk down the arcade until it dead-ends at Sun Mall Ichibancho and turn right. Forus is on the right before you get to the Disney Store. Take the escalator up and get off when you see "Gothic Lolita * Sports" sign on the seventh floor. As amusing as it sounds, this isn't the floor for displays of Gothic Lolita Sportsmanship (Pretentious petty-coat fluffing? 50 yard Scowl? Delicate field hockey in painful footwear?) but the sign is an accurate description of the floor's contents as a sporting goods shop takes up half of the floor. On the other half you can find Angelic Pretty, Alice and the Pirates, and KERA Style shop in addition to a small Doc Martens store front. There are also wigs and alterations available for the discerning customer. The first thing you see is the media shop, which usually has the most recent copies of the Gothic Lolita Bible, a bi-yearly seasonal style guide for the lolita, complete with sewing patterns for a few select pieces every month. Also, this place sometimes holds in-store events for current Visual Kei artists and other similar genres sold in the store. If you're looking for the lolita outfit of your dreams or just wanting to window shop, this is one of the more peculiar but fun areas of Sendai in which to do it. Serious budget-conscious lolitas in the area also know of several small lolita-specific resale shops, though they still tend to be a bit pricey for some budgets, including my own. The frilly and fun things I find these days are far closer to the station, on the sixth floor of the building once known as Sakurano. The company went under earlier this year and took with it access to one of my very favorite shops in Japan-- Ozzonste. This was the store on the second floor, before Sakurano died. Ozzonste isn't strictly lolita but does work some nice details into some fun and well-made garments, usually with fabric stretchy enough to accommodate a larger American woman like myself. I can't wear everything they make but the stuff I can makes me feel so very cool and frequently can be paired with more plain clothes to make a cool outfit that doesn't scream VK/PUNK/GOTH/WEIRDO (not that there is anything wrong with any of those things-- I love those things, but I don't have the bravery, budget, or wardrobe to wear them every day). So for the more tame among us, this isn't a bad brand. Unfortunately, I haven't been financially capable of shopping at this location in years, though I always found the window shopping to be inspiring. Instead, I go up to the floor dedicated to second hand clothing and hunt. Scouring for badass clothing is actually one of my favorite past-times in Japan. If my daughter is stroller-bound and asleep, I can kill more than an hour looking through all the women's sections for anything with a brand-name I like. On this specific trip, I bought one beautiful Ozzonste top (regular retail: way over $100. BookOff Price: less than 2000 yen) and a really cool h.Naoto shirt for a friend back home...no really. That is way too badass for my housewife-life. There are several brands that specialize in classic Lolita including Angelic Pretty, Baby The Stars Shine Bright, and Alice and the Pirates. I've known some to wear the latter few in combination, but generally all to the full-lolita ensemble. These are not things you can just pair with your jeans, generally. You will find them at the name brand stops, the lolita resale shops, and very rarely at BookOff. My favorite designer, H.Naoto, might use some of the frill and flare from lolita for some of his brands but generally tends more toward the goth-androgenous VK side of things. Hell Cat Punks offers similar clubbing options edging toward the punk side, if you're planning on attending many hardcore live performances. Both of these sometimes find their way into the KERA shop in Forus or BookOff. In the meantime, here is my purchase in action, completing an outfit I didn't know I needed or had. For anyone not believing that little green top can fit anyone above a US size 12, here's proof! So now you've seen that stretchy Ozzonste tops can fit people outside Japan's concept of normal sizes, but you may still be thinking, "Didn't you say something about jeans? Could you really wear that with jeans?" And I would tell you no, that this top really is more of a theatrical piece in my opinion. That said, I do have a few pieces from this brand that can be added together, even with red high-wasted mom-jeans.Still theatrical, still dramatic, but not as much as a full ensemble of similarly designed clothing, which might feel like overkill.How do you adapt interesting Japanese trends to your lifestyle?
JTsuzuki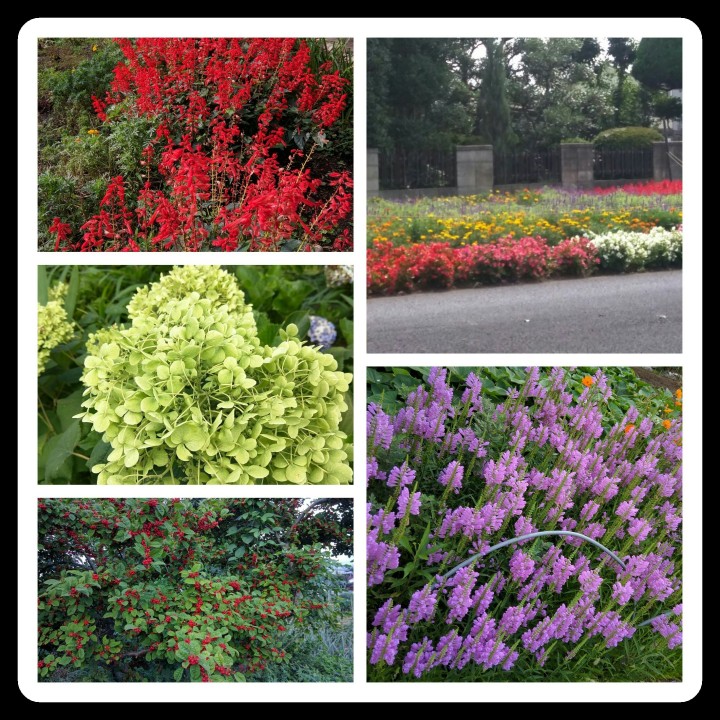 Is it Sakura or Ume?
What makes Japan more beautiful aside from its people is the essence of flowers that scattered everywhere. These colorful creatures caught my attention on my way home from the airport. You can see different kinds and varieties of flower depending on its season. As of now Winter is about to end and Spring is on the way, everybody is excited to see the famous Cherry Blossoms especially the tourist. As I got here I keep looking and asking my husband which one is Sakura (Japanese name for Cherry Blossom). He patiently answers my question every time I asked because I had a hard time on identifying whether it is Sakura (Cherry Blossom) or Ume (Japanese Plum). Ume ( Japanese plum) is everywhere around February to March and I can see it everyday just next to our house or everytime I passed on streets and neighbors backyard. Ume has a strong sweet fragrance, with 5 round shape petals, the flower usually blooms with single bud directly to the branch. I have seen that Ume has a variety of color like light pink to dark,white and green. I was able to see the early bloom of Sakura (Cherry Blossom) just close to our house a few days ago. I was amazed by the look of it to think that its only one tree how much more if I was surrounded by that well known flower. As I take a closer look, Sakura also had a 5 oval shape petals, unlike Ume it has a split at the end of its petals, and with a very light fragrance. Sakura usually blooms with multiple flower on the same bud. Other way to identify Sakura is the horizontal line on its bark which Ume don't have.
Dimple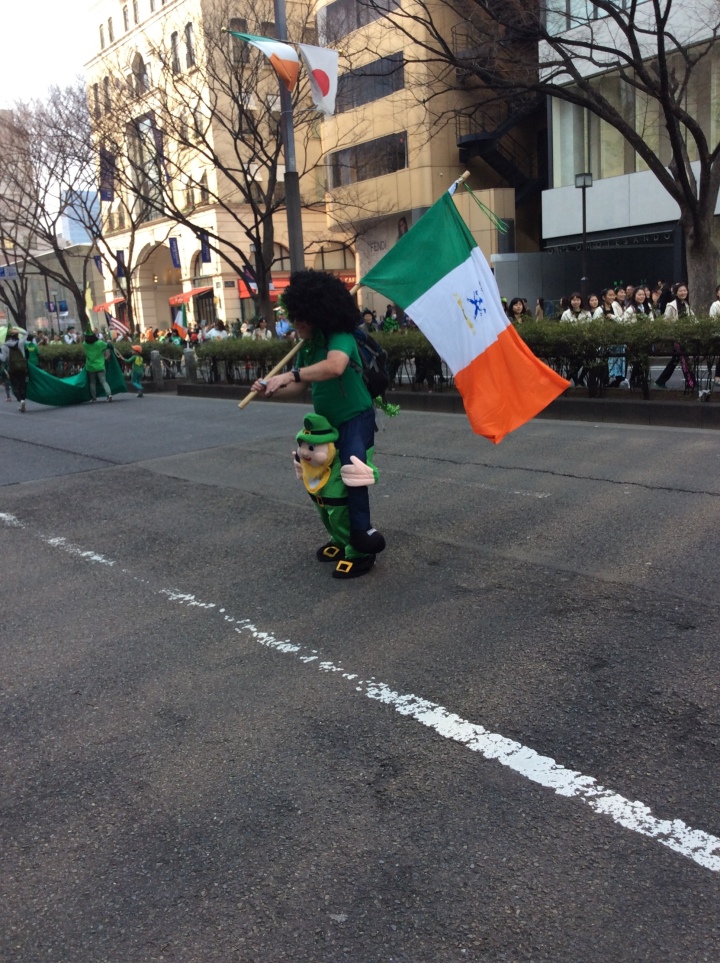 St Patrick's Day Parade and I love Ireland festival
The highlight of the Irish calendar in Japan is the St Patrick's Day parade and I love Ireland festival in the Omotesando / Yoyogi area of Tokyo every March. For the past 25 years the Irish have been painting the town green on the Sunday closest to St Patrick's day, which is March 17th annually. The after festival was only added in recent years, but it is proving to be as popular as the parade. I have been to most of the parades in the Kanto area over the years, but the one in Omote Sando is by far the biggest and best. And this was the first year my family attended the I Love Ireland festival.St Patrick's Day ParadeThis year St Patrick's day was on a Friday and the closest Sunday was the 19th of March, this past Sunday. We made our way to Tokyo to meet up with some of our Irish-Japanese community to enjoy the biggest St Patrick's day parade ever to be held in Tokyo. Apparently this year they reached their maximum cap of participants of 1,500 people. The number of spectators has yet to be confirmed, but judging by the crowd on the day, there were twice the number or spectators as participants, if not more. In keeping with the traditional festival back home, most of the spectators were wearing the colours of Ireland: green, white or orange or a combination of them all. There were lots of people donning leprechaun hats or wearing shamrock badges on their clothes, I saw quite a few people with shamrocks or flags painted on their face and there were even people in Irish kilts. The parade loops the main Omote Sando thoroughfare. The road is 2 lanes wide each side, with a divider between the sides. The parade heads east from the entry / exit point and then loops to come West on the far side of the road and loops again at the bottom of the road and East to the entry / exit point. They close the whole road for about 45 minutes and for the rest of the time they work with sections. The full loop takes about an hour and a half, but each viewing point will only see the parade for about 30 minutes. You can walk with the parade from the sidewalk, you are not allowed enter the road where the participants are performing.I have been to the Tokyo parade a number of times over the years, as has my eldest child, but it was the first time for all three of my girls to enjoy the festivities. They were absolutely mesmerized by the marching bands, dance performers and the variety of performers participating in the Sunday parade. This year there was even a Niall Horan fan club participating in the event. Niall Horan is an Irish singer-songwriter and guitarist, best known as a member of the boy band One Direction. The kids enjoyed the comedians dressed up as if they were leprechauns riding on another leprechaun. They also enjoyed all the Irish music, Irish dancing and Majorettes. But my personal favourite was actually the Samba music and Samba dance performers. Unlike the parade in Dublin, which is an event worth enjoying at least once in your life, there are no floats. The Tokyo St Patrick's day Parade is mainly live performances. The parade started at 1 pm and the last act were exiting at the entry / exit point at around 2.30 pm. We had walked down toward Harajuku to catch the Samba act again before it exited the parade, but we got caught in a people wave and couldn't stop to spectate. It was by no means dangerous or intimidating, but such are the crowds that attend the Tokyo parade. We decided to walk with the crowd as we were going on to Yoyogi park for the I love Ireland festival anyway.I love Ireland FestivalThe I love Ireland festival is held in Yoyogi park, down beside the NHK studios in the Yoyogi Park outdoor stage area. There are dozens of booths selling Irish food and drink and general festival stalls and booths. The stalls and booths are open from early morning and there are a variety of live performances, such as music and dance, on the outdoor stage at different times during the day. There is a kids booth in the festival and this is where you can get the kids faces painted with shamrocks or Irish flags. If you would like to enjoy the live performances, there is seating for about 150 to 200 spectators in front of the stage, plus lots of standing room. You can hear the music from the stall / plaza area too. The stage area was completely packed on Sunday and there were plenty of people watching from the plaza area as well. The stage viewing area was a sea of green. The main stage performances on the Sunday afternoon were musical, one had some Irish dancers perform too. The Irish Ambassador to Japan, Anne Barrington, spoke on stage on Sunday afternoon and stayed around to enjoy the festivities for a time after. I could hear so many true Irish accents at the festival in Yoyogi park and most of the people I spoke with originated from Ireland. There were of course lots of Japanese in attendance, some of whom have a connection with Ireland in someway, some who are fans of Ireland and some who had just come to see what all the "Rí rá agus ruaile buaile"(Irish for the noise and atmosphere created by folks having a good time) was about. There was also a large percentage of foreigners a lot of whom were Americans, some who are stationed in Japan and some passing through. I even met one Irish-American family who had timed their visit to Japan, just to witness the Tokyo St Patrick's day parade and I love Ireland festival. Event DetailsSt Patrick's Day ParadeDate:Annually on the closest Sunday to St Patrick's Day March 17thTime : 1:00pm - 3:00pm Venue: Omotesando - Harajuku, Tokyo Access: 5 minute-walk from JR Harajuku Station or Tokyo Metro Omotesando Station, minutes walk from Meiji-Jingu Mae metro station.I love Ireland FestivalDate: The day before (Saturday) and day of (Sunday) the St Patrick's day paradeTime: 10 am to 6 pm / 5 pmVenue: Yoyogi Park Outdoor StageAccess: Minutes walk from JR Harajuku Station and about 7 minute walk from Metro Meiji-Jingu Mae station.More information on St Patrick's day events on City-cost.com: https://www.city-cost.com/blogs/City-Cost/G6QDz
Saitama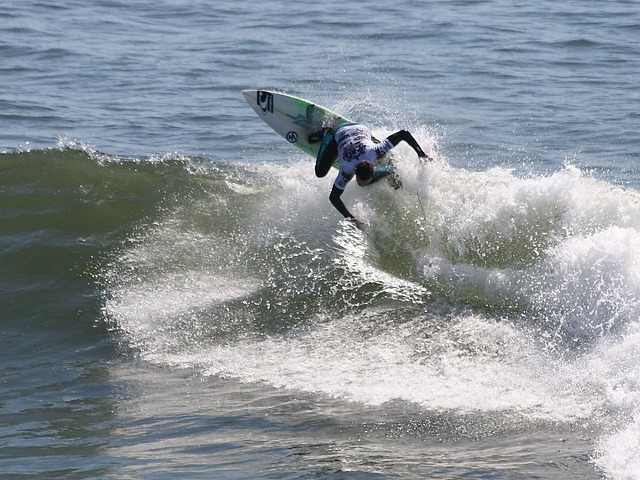 Why are there no Japanese surfers on the Championship Tour?
In the summer of 2015 Hiroto Ohhara (大原 洋人) became the first Japanese surfer to win the U.S. Open of Surfing held at Huntington Beach, California. To put this into some kind of perspective, it's a sporting achievement akin to, and as unlikely as, Leicester City winning the Premier League (only with far less money involved). In front of Huntington Beach's arena sized crowds (some of the largest in surfing) Ohhara saw off a field in 2015 that, as always, was full to the brim with the usual mob of Australian, American, and Brazilian surfers, all seasoned competitors, tour veterans, and heavy wave chargers. In that victory Ohhara jumped from No. 81 to No.13 on the World Qualification Series tour and thus was in spitting distance of qualifying for surfing's elite tour for 2016. He would have been the first Japanese surfer to do so. His amazing win and his name barely made a ripple here in Japan. Ultimately he didn't make the elite tour in 2016 and now in 2017, Japan is still waiting for representation on surfing's top tour, the recently name-changed World Surf League Championship Tour.(Surfer, unknown, Huntington Beach, California)I'm writing this now because the above-mentioned tour recently wrapped up the first of event of the year at Australia's storied Snapper Rocks on the Gold Coast. It's a sports event that likely had plenty of Japanese among the spectators given their penchant for study breaks and surf in that part of the world. But there were no Japanese competitors (men or women) for them to cheer on and I want to contemplate why this might be so?Why even ask?There are plenty of nations that aren't dining at surfing's top competitive table (nearly all of them, in fact). A cursory glance at the 'Top 34' reveals a blur of Australia, America, Hawaii, and Brazil. The one's that stand out do so exactly because they are not part of that triumvirate; France, South Africa, Portugal, Tahiti (French Polynesia), and Italy (yes, Italy). So why should Japan appear on this list?Well, it may come as a surprise, but in industry terms, outside of those countries that dominate competitive surfing and the surf industry as a whole, surfing in Japan is likely at the upper echelons of any list of 'the best of the rest'. I'm just looking at my The World Stormrider Guide for some numbers. It lists Japan as having some 200,000 'waveriders' (compare that to Australia - 1 million, America - 800,000, Brazil - 500,000). This was in 2004 (when the book was published) but if you've ever been to Shonan on a warm weekend, you'll come away thinking 200,000 is a conservative estimate at best! Surfing is popular in Japan, and it's understandable; Japan loves a hobby, especially all the kit that comes with it, and plenty of people here have the expendable income to get involved. On top of this, much of the population of Japan has relatively easy access to the surf. And the industry is acutely aware of this."... it might further raise the eyebrows to know that the country has a pretty rich history of hosting elite tour events."If it came as a surprise to hear that surfing is popular in Japan then it might further raise the eyebrows to know that the country has a pretty rich history of hosting elite tour events. History being the key word here. In fact, on what was formerly known as the ASP World Tour, the beaches of Chiba were a regular fixture. I was lucky enough to have been 'in country' to catch the tail end of these fixtures at the 2005 Quicksilver Pro in Hebara. That year saw surfing legends Andy Irons and Kelly Slater in a final that would spark what surfing often refers to as one of the greatest rivalries in sport. It was an amazing final held in great waves, but even an epic showdown between the two in front of a large local crowd wasn't enough to keep Japan its place in the future of the sports elite competition calendar. "What chance or right of a Japanese surfer getting on a tour that doesn't even come to these shores?"It wasn't long after 2005 that the ASP changed the elite tour format to what it called the 'dream tour'; a concept that would forgo the crowds and a pandering to sales / numbers in favor of putting the best surfers on the planet on said planet's best waves, regardless how remote they may be. That fewer spectators would make it to the events was of little concern given that these things were now streamed live on the Internet to armchair surfers around the world (something that TV was unable to do for the industry). A combination of the best surfers on the best waves sounds good, but for surfing in Japan, it was a blow to the credibility, and it also meant that Japanese surfers would miss out on the wildcard spots given to locals at each event (in this respect there have Japanese surfers at least making cameos on the elite tour). There's an undermining mentality here, too; What chance or right of a Japanese surfer getting on a tour that doesn't even come to these shores?(Image: tonko43 Flickr)Japan has crap wavesThis would seem to be a safe argument to make. Japanese surfers don't make it to the top because they haven't grown up in the right waves. It's true to a certain degree. Few would argue that Japan is a world class surfing destination although there are plenty of waves here. Good ones, too. But with warmer waters, cheaper prices, and easier communication available on this side of the globe (I'm thinking Australia and Indonesia), why would the holidaying surfer bother with Japan? The quality of wave argument is further undermined when we look at Kelly Slater, the Michael Jordan of surfing, and one of the most successful athletes of all time. 11 times World Champion Slater was schooled in the breaks of Florida which, temperature and abundance of sharks aside, are probably comparable to Japan in terms of power and quality. In fact, Florida has produced a whole bunch of word class surfers, and it's often cited that growing up in such waves makes a surfer hungrier and better able to get the most out of conditions that aren't always ideal. So why can't the same be said of Japanese surfers?Is it the money?Maybe it's an issue of funding? Perhaps surfers in Japan aren't afforded the support from organisations or sponsors that surfers in say, Australia, are getting? Make no mistake, getting to the top of this industry requires a lot of travel and simply doing well in contests won't come close to picking up the airfare tab. No, a surfing talent needs financial backing, and few people are willing to invest in something that has no record of bringing a financial return. Ohhara may have won one of the biggest contests in surfing but people with stuff to sell remain unlikely to be able to do it through his name power. On top of which, what the surf industry is selling is a lifestyle. An unobtainable one for most, but one that panders to dreams of the simple and slow life; of beaches and waves, padding about in sand wearing board shorts and bikinis. Of casting aside the rat race race in favor of a simple home, a garden, and epic waves. All images that are hard to find over here, especially when you consider the backdrop to many surf spots in Japan as being heavy industry and unwanted land.(Huntington Beach crowds, 2010. Image: YoTuT Flickr)MentalityI'm clutching at straws here but I'm wondering if there's a mental aspect to this. Have you ever felt that people over here are quick to assume an overly humble position on their supposed lack of expertise or ability to do something? I'm being vague because I can't pinpoint a specific example, and there are plenty of things in which the Japanese have an almost jingoistic sense of pride; food, for example. But with something like surfing it falls into that category of, Well, they do that much better somewhere else, and we'll never get to be as good, so that's the end of that. Maybe it's an overbearing sense of futility that is holding the nation's surfers back.Awareness"... in the 2020 Tokyo Olympics the industry's money-makers probably soiled themselves with joy."Awareness is a double-edged sword for surfing. Those that make money from it, of course, can't get enough. Those that do it for fun, take to awareness with all the enthusiasm of a Monday morning. Make no mistake though, Japan is about to become far more aware of surfing. And the same for the world of surf's potential in Japan. When the decision was made to include the sport in the 2020 Tokyo Olympics the industry's money-makers probably soiled themselves with joy. 'Imagine the sales!!'. Whether not the waves turn up for the 2020 Olympics is for others to have sleepless nights about (and they will), but you can bet your favorite board the event will spark a new generation of surf enthusiast here in Japan, as well as give some of the local pros a chance to rub shoulders with the best. A successful event and a decent showing from 'Team Japan' could well result in better funding Japanese surfers in their bid to reach the top. How close are they?The World Qualification Series is a bit like surfing's J2. It's a dog fight around the globe to scrape and scrape for enough points to qualify for the elite Championship Tour. The World Surf League's homepage ranks the surfers on the 2016 'qualification' tour. I'm looking at it now, and can see some 1239 athletes listed on the mens side. If I haven't missed anyone out, I can see Ohhara as the highest ranked Japanese surfer for 2016 at No. 78. He's followed by Shun Murakami at No. 92 and Hiroto Arai at No. 98. On the women's side, we can find Reika Noro at No. 48, Nao Omura at No. 51, and Ren Hashimoto at No. 64, all out of 391 athletes ranked for 2016. So the women seem to be faring much better than the men. Actually, these are pretty impressive numbers in the global context, but given that the men's' elite tour has room for only 34 and the women's' only 18, there is still some way to go for the Japanese surfers.(In my happy place! Although this isn't actually me.)Again, why?"... participation from Japan's elite amongst the world's elite would add credibility to my own status as 'surfer in Japan'"I suppose that Japan has become my 'second team' in many sporting disciplines, and although surfing doesn't really lend itself to sporting patriotism (it is, ultimately, a very solo and personal pursuit), it's nice to see the people around you do well. Far more than this though, participation from Japan's elite amongst the world's elite would add credibility to my own status as 'surfer in Japan'. It's pathetically shallow, I know, but I can't help myself. For years now I've been saddled with an image of someone who's spent their entire life behind a desk, rather than a well travelled surfer. And yes, this bothers me! The eyebrows raised in surprise that I've spent anytime in the ocean wilds, the blanks looks at the idea of Japan have a surf scene (and that I might be a part of it), were once a source of self-deprecating jokes, but have now become a mild irritation. Perhaps having Japanese surfers dine at the sport's top tables will add a bit of credence, however limp, to my own fragile belief that I am a surfer in country that, to some degree, is known for having surf.If you're interested in surfing in Japan (beyond questions about why Japanese surfers don't compete in the Championship Tour) maybe this would be a good place to start with my posts about surfing:An Introduction To Surfing In Japan
Tomuu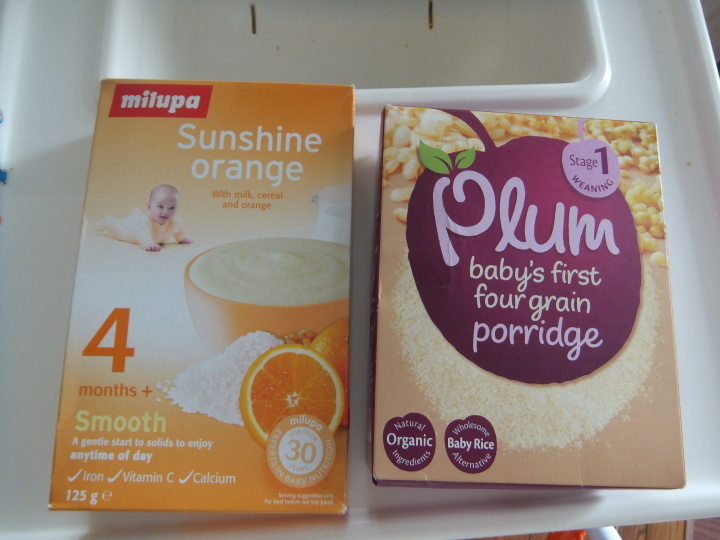 Baby's First Food: Japan Versus the West!
Baby food in Japan is quite different to what I am familiar with in Ireland. I was at home when my eldest (DS) had his first food and for the first few weeks of the spoon. I had just come back from Ireland with supplies to use in Japan for when my 2nd eldest (DD1) started on food. My third and fourth children were the only ones to have Japanese baby food for their first few weeks. I introduced my three daughters to the spoon at 5 and a half months in line with Japanese guidelines to wait until at least 5 months old. DS had the spoon at 17 weeks in line with Irish guidelines to wait until they are at least 4 months old. The World Health Organisation recommends waiting until they are 6 months old. Irish Baby Rice and Baby Food Japanese baby rice At home, baby rice is one of the first foods introduced. Rice is not readily available in Ireland and very few people have rice cookers, so rice for babies is usually bought. In Japan, you can get rice for babies in the store too. Or you can make your own. We tried and tested both. The baby rice you buy here though does not have as much fortification as the baby rice back home. I use Milupa rice cereal when in Europe and it has 33% of the recommended daily allowance (RDA) of Iron, 29% RDA of Calcium and 64% RDA of Vitamin C. It also has Vitamins A, D3, E, K1, B1, B2, B6 and B12, as well as zinc, niacin, folic acid, biotin and pantothenic acid. I use Wakodo baby rice in Japan. It does not provide information on the percentages of RDA present and only lists ingredients rather than nutritional content other than the presence of protein, sodium and vitamin E. Does it just not list the nutritional information or does it just not have any extra nutrition? Your guess is as good as mine, as I cannot find any information online to support either theory! 5 mg sachets of rice and soup like powder sachets What I like about the baby rice in Japan is that it comes in sachets of 5 mg, which is convenient and helps keep the rice fresh. In Ireland the rice comes in a cereal box and aluminium packet of 125 grams and you spoon out the necessary quantity and try to seal the pack after each use to keep it fresh. Convenient pot for making baby rice in the microwave A lot of people in Japan make their own baby rice from regular rice. We did this often. There are various ways you can do it. One of the easiest ways is to stand a bowl of raw rice with the recommended amount of water in the regular rice bowl of the rice cooker. You can also boil cooked rice until it's mushy. Or you can microwave cooked rice, which is what we did. For small babies just starting out the recommendation is to use 200 ml of water to 50 grams of cooked rice and cook it on strong for 4 minutes, then on weak for 12 minutes, then let is stand with the lid still on for a further 5 minutes. We have two handy bowls specifically for microwaving baby rice which we use, pictured above. The first one has the instructions on the front which is useful, but I preferred the smaller bowl as it had the water marker so I could easily add 200 ml of water without having to use a measuring jug. Bowl and bamboo stick masher aka mortar and pestle Other foods introduced in the early weeks seems to vary by country. In Ireland, banana is a popular first food for babies. The one and only baby food book I have in English, Super Baby Food by Ruth Yaron, an American author and nutritionist, recommends avocado. Meanwhile here in Japan carrot is the 2nd most popular first food after rice. In Japan, people also use a lot of soup like powder sachets for extra nutrition (Third picture from the top with coloured sachets). You just add water and stir and you can add to rice for flavour. In Japan, it seems new foods are introduced more quickly than at home. Quite quickly a baby goes from just rice to a variation of fruits and vegetables ground and liquefied to make them easier to digest. I use a mortar and pestle to mash food, pictured above. I think in the initial few weeks of the spoon, the store-bought fortified baby foods at home are a lot more nutritious to here. However, fairly quickly babies in Japan get more variation and nutrition from regular fresh food added to baby rice by about the 4th week of solids. There are lots of foods readily available that can easily be added to baby rice to improve its nutritional content, such as hijiki (please see note below), tofu, sesame seed, dried whitefish or katukuchi anchovy as well as a wide selection of green and coloured vegetables and seasonal fruit. I'd just like to add on a personal note, given the situation of what happened in Fukushima six years ago, we have reduced the amount of Hijiki we use in our diet. Hijiki like all seaweed, but at a greater rate, absorbs not only the nutrition from the seabed, but the toxins as well. This is very well explained on the "World's Healthiest Foods" site; Radiation Protection and Diet. We are also being very careful with all seafood we purchase.
Saitama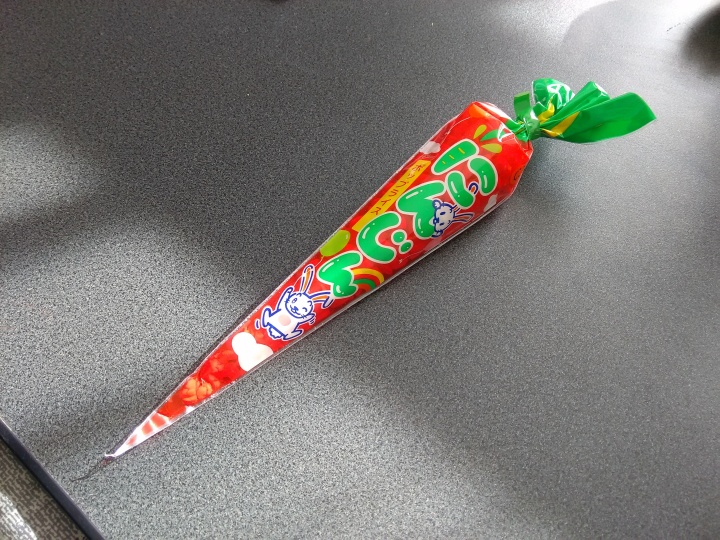 Forget popcorn, have some Pop-rice!
As you guys may know, I'm always look for snacks to munch on. (In fact, it's an addiction! Read about my snacks addiction)At the snack shop, one of my fav crunchy snacks to pick up is the ninjin-pop-rice.These little adorable carrot packages contain some incredible crispy (and extremely addictive) sweetened rice. For only 30yen a pack and the cute packaging, kids love them, and so do adults. The ingredients are also very simple too: rice, sugar, mizu-ame, and salt.My only "problem" with them is that each bags has only 13g of them, so they will be gone way before you realize it and you will be looking for more snacks. Regardless, this is a good snack to have at home, and one that kids can eat and still have dinner afterwards.As to why is it "carrot"? Sorry, that's a question I don't have the answer to.
Jackson