USER BLOG
Join the best expat community of Japan. Now!
Share your Japan experience

Create blogs/Join the Q&A

Earn points and get rewards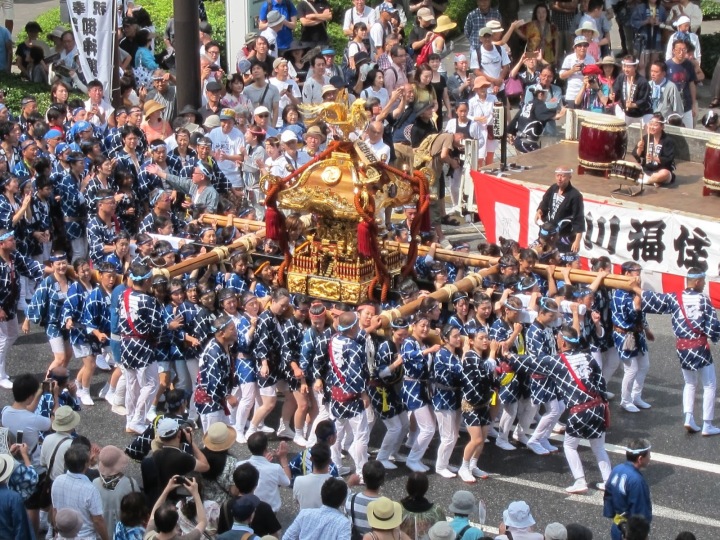 Japan For Free - The great Fukagawa Summer Festival
Every 3 years the Fukagawa Summer Festival takes place directly in my neighborhood. It belongs to one of the three great Shinto festivals in Tokyo. The other two are the Kanda and Sanno Festival. The festival took place for the first time in 1642 around the Tomioka Hachiman Shrine. The festival is held every year, but there is only every 3 years the big variation over 5 days.The festival takes place every year in the middle of August around the Obon period, which is very convenient, as many Japanese at this time have days off. I had time off too, that's why I used the chance to visit the festival every day.Of course you ask yourself, "Why every day?" Quite simply there is every day a different program and if you live only 5 minutes away from the venue, why not use that chance.The weather on these days was very bad and it rained often. However, whenever we wanted to go to the festival, it stopped raining! On Friday we went to the great taiko event at the shrine. The program featured 10 taiko groups that had been drumming for 5 hours. I really love taiko, so it was perfect for me. Around the station of Monzen Nakacho and the shrine Tomioka Hachimangu small food stalls or small booths were everywhere. On Saturday, there were some traditional Japanese performances like noh-theatre, shamisen and koto performances. Also the children are pulling mikoshi (small shrine, a god is living inside) through the streets. It was so sweet to see when 15 small children carried a mini mikoshi through the area, which could easily be carried by an adult alone. The main event was on Sunday. For that, the large main road Eitai was blocked and you could walk on the big street.Already at 7:30 on Sunday morning loud cannon shots sounded from outside. Whoever had not been up until then was awake after that noise. The cannon shots symbolized the beginning of the great mikoshi parade, which crossed through our city district as well as to Odaiba and Nihonbashi.The big finale always takes place directly in front of my house, which is great, as I can watch the whole bustle relaxed from the balcony without standing between all the visitors.However we wanted to get a little bit closer so we went down to the street and waited for the parade. We were in the front row when the big mikoshi were sprayed with water. It was unbelievable how many people joined the parade. One group was very huge, destined to the 100 people who had run and jumped wildly in front of us. It was like a fire wall that came to us. It was incredibly hot because of all the people who have carried the shrine. You can really feel the energy that is running through this event. Every team that carries a shrine is so enthusiastic that it is really great.As Saturday and Sunday, of course, the most visitors, it was very crowded everywhere. On Friday as well as Monday (Tuesday is mostly for the locals) it is less crowded and you can enjoy it more to walk around. On Monday we went back to the shrine to see a noh theatre performance. Unfortunately, it was very difficult to understand even if you could understand Japanese . It was a little bit boring, too, because nothing happened really.However, I wanted to see the traditional dance "odori" which was afterwards. Several groups from all over Japan have performed a traditional dance wearing yukata. I loved to see many different kind of yukata.Of course, there was also some craftsmanship to see. A few ladies exhibited their ikebana artworks:On Tuesday, the last day of the festival, there was a full program again, which was shown mainly inside of the big shrine, because of the heavy rain. We were interested in the final performance, which was an Indonesian music and dance group. Unfortunately, it was very difficult to see something. The performance was inside the shrine and seats were limited, so most of the people tried to catch a glimpse from outside.Nevertheless, it was once again a nice festival. I am already looking forward to 2020, when the next big Fukagawa summer festival will be held right after the Olympics!
Crazydeath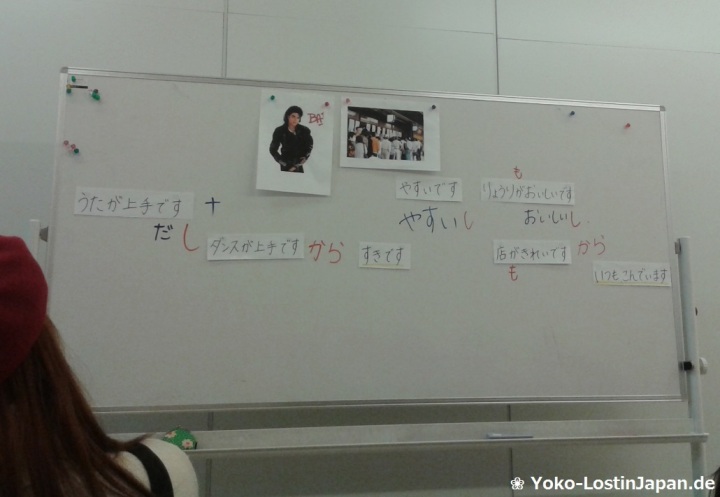 One Month at a Japanese Language School
In 2008 I started learning Japanese at an evening school back in my home country. We had a Japanese teacher and a 90 minute lesson once a week. Learning was fun, however the results were coming up very slowly. So if you wanted to learn Japanese at a higher speed you needed to do a lot by yourself. In October 2013 I came to Japan with a Working Holiday Visa for one year. My Japanese level was around JLPT N5, I think, and before starting to find a job, I decided to study Japanese more, at least a little bit. I wanted to join a Japanese Language School for one month and so smoothly get into my new life in Japan. First I researched about some schools in Tokyo and realized how expensive it is. A short term course for one month would easily cost me over 50,000 yen at nearly every school I looked up. And that's only the course! No apartment, no food, no traveling cost. Because of this, my first month in Japan became super expensive; however, I don't betray anything. The time at a Japanese Language School was a really interesting experience. I decided to apply for a short term course at the Human Academy Japanese Language School (HAJL) which is located in Takadanobaba. The communication and application was by email and I soon got the ok for learning there for one month, in October 2013. What Japanese level are you? After arriving in Japan, I had an appointment at the HAJL in Takadanobaba to find out about my Japanese language level. I had never taken a test before, so I didn't have any clue how good or bad I was. I ended up alone inside a room with some pages I tried to fill out. Starting with questions about Hiragana and Katakana, going over to Kanji, some grammar and so on. After this I had a personal talk with one of the teachers who asked me some easy questions and tried to figure out about my listening and speaking skills. After this we also talked about why I chose the school and what my aims for the time on the course are. On my first two days as a student we had a small class together with all students who started new at the school. We repeated some basic knowledge, just like introducing yourself, numbers, easy conversations and so on. After this we started our regular course. The HAJL in Tokyo has a morning class and an afternoon class. I was in the afternoon one from 13:15 to 17:00 every day from Monday to Friday. As much as I got to know the afternoon classes are for the lower levels and the higher levels get the morning classes. But I am not completely sure about this. I was the only European in my class. Later a guy from Argentina joined it, too. But the rest were from Asian countries like Korea, China and Nepal. Daily Routine At our class we had a fixed schedule for each day. In the first lesson we started with Kanji, pronunciation, dictation and listening tasks. We always had a small test every day which was collected and checked by the teacher. After a break we went on with conversation. Different at each day we then had to write an essay about a certain topic, did group work, had another test or another listening and reading practice. The last two lessons we used our text books which are called にほんご90日 – Japanese in 90 Days. So we did one section every day, also including a lot of homework which sometimes got pretty annoying. On Friday every week we wrote a big test about the things we learned this week. At the first time I felt a bit lost, but after I understood the structure of the tests it became easier. However, you had to study for it every time and this kind of pressure is something I need – also when I went to high school. The lessons were completely in Japanese. First I couldn't imagine how it works, because we are learning a language and I thought we would need English translation for it. However, it worked really well and it made you use Japanese intensively. How much did one month cost me? I had to pay the fee for one month which was 52,500 yen back then. As a working holiday visa holder I was luckily free from the admission fee which was over another 30,000 yen. Furthermore I had to buy three books and some other materials such as notebooks for kanji practice and so on. This probably makes up around another 10,000 yen. Even so it is a lot of money, I got to learn a lot in only this month. All the homework was really annoying, but through this I had a lot of practice. I enjoyed my time at the school and really wish I could do a course like this for a longer time again. But unfortunately it is too expensive for me and so I go on studying slowly by myself at home.
YokoLostinJapan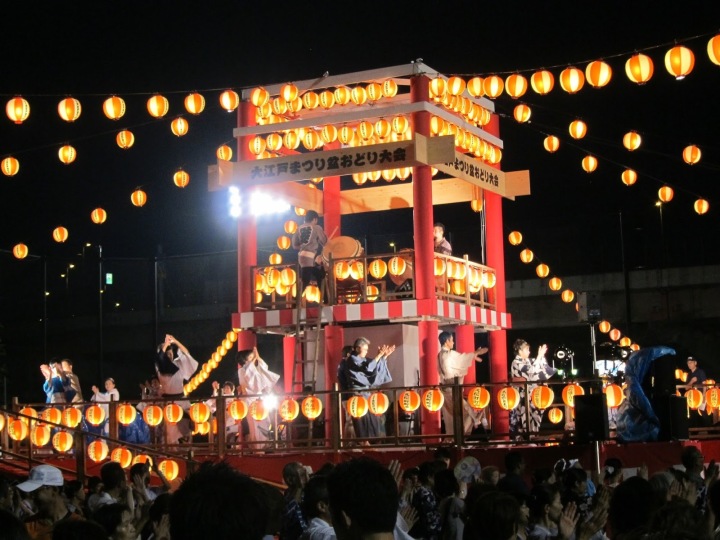 Fun in the Sun - Japanese Summer festivals
Summer is the hottest and sunniest season in Japan. It is also the season of many nice festivals around the whole country. Summer festivals are always a lot of fun, especially if you are wearing a yukata. Here are some of my summer festival recommendations, which you shouldn't miss:• Bon OdoriObon is a Japanese Buddhist custom to honor the ancestors. Depending on the area Obon is celebrated in the middle of July or August. The Kanto region (Tokyo, Kanagawa..) is celebrating Obon around the 15 th August. There are many traditions for that day. One is to put a small fire in front of the house entrance to show the ancestors the way. However, the most popular tradition is the Bon Odori Dance. There are big Bon Odori festivals like the Hibiya festival in Tokyo but also many small ones in every neighborhood. Each region has its own dance style and different music. At a typical Bon Odori people are lining up in a circle around a high wooden scaffold. Musicians and singers are performing on that scaffold. When the music starts people will dance around the scaffold. Many people are wearing yukata, which gives that event a great traditional feeling. Even if you don´t know the dances you are always welcome to join and do what the others do.• Lantern festivalThe lantern festival is a very romantic, small event celebrated at the end of July or in August. A famous one is held in the Chiyoda ward in Tokyo close to the Imperial Palace. For that event it is possible to rent a small rowboat at the nearby boathouse. Unfortunately this is very popular and only a few boats are allowed on the canal, that's why you have to make a reservation very early. If you have the chance to get a boat, you will also get a floating lantern, where you can write a wish on it. When the event starts everybody will put the small lantern on the water. It is a very beautiful scene to see so many floating lanterns on the canal. Also there is often some live music in the background. If you want to go on a romantic date, this event is the perfect chance. • TanabataTanabata is celebrated on the 7th of July or 7th of August depending on the region. Tanabata is the beautiful story of the two stars Wega and Altair which are meeting in the sky. According to a Chinese tradition these stars represent a pair of lovers, separated all year round by the Milky Way. Only on Tanabata are they able to meet each other.On the evening before the 7th of July/August, bamboo trees are put up, on which notes are hung with desires in the hope that these will be fulfilled. One of the biggest Tanabata festivals is celebrated in Hiratsuka south of Kanagawa.•The three great Shinto festivals of TokyoThe Sanno, Kanda and Fukagawa festivals are the three biggest festivals in Tokyo. The festival season starts with the Kanda festival which is the weekend close to the 15th of May. But watch out! It is held only on odd numbered years. The festival takes places around the Kanda Shrine and the main attraction is the parade with 200 mikoshi incl. musicians and dancers.The Sanno Festival is held in June in every even numbered year only. The festival is held for one week in the Chiyoda area with many activities and also a parade.The Fukagawa Festival is held every three years in mid August at the Tomioka Hachiman Shrine around Monzen Nakacho Station. The festival has a great parade on the Sunday where many mikoshi will be carried around. The parade is very popular for the spattering with water on the mikoshi.
Crazydeath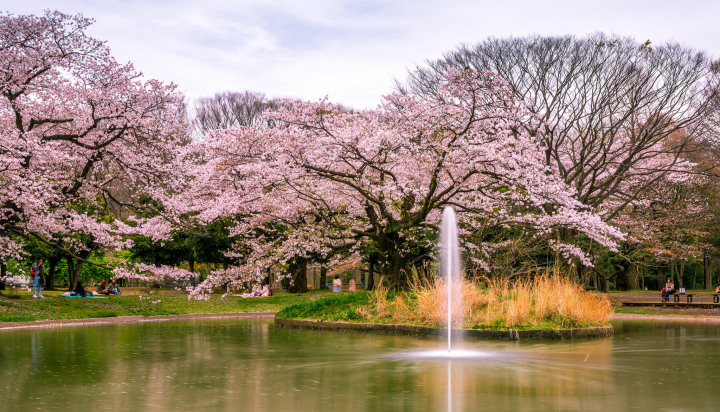 Three of my favorite Tokyo area parks for some sunshine!
Despite being a giant bustling metropolis, there's one thing that I really loved about my four years in Tokyo - and that was the fact that there is an abundance of green space if you know where to find it. From kids playgrounds that are tucked away behind office buildings, to peaceful shrine and temple grounds, there was always something to momentarily make you forget that you lived in one of the largest cities in the world.One of my most favorite ways to get some sunshine and some green space at the same time was to visit one of the many local parks in Tokyo. Here are my three favorites - and possibly three of the biggest.Yoyogi ParkWhen I first moved to Tokyo, this was the largest park near to where I lived, so it was a regular weekend stop for strolling around, for bike riding, or for picnics. One of my favorite things about Yoyogi Park is that there always seems to be something fun happening within the park grounds. They're often having interesting craft markets or antique sales, food festivals and more - basically if you're there on a weekend you're almost guaranteed to bump into something fun to browse. It doesn't hurt that Meiji Shrine and Takeshita Dori (and the fun backstreets of Harajuku) are right there - so you really can make a complete day out of it.Shinjuku GyoenShinjuku Gyoen is a paid park, but it's only a 200 yen admission fee, and I truly think it's worth every yen of that. You could really spend the whole day here too - pack a lunch or a picnic (or just grab something at a nearby convenience store on your way) and it's a lovely day out. I love the different types of gardens here - from the traditional Japanese styled ones to the English and French inspired ones. Another cool stop within the gardens themselves is the teahouse - it's worth stopping in to get some green tea and wagashi if the mood strikes you.Showa Kinen ParkIn my later years in Tokyo we lived out in the suburbs, and Showa Kinen was our closest large park. I love Showa Kinen because there's always something beautiful in bloom - but my favorite time of year is during autumn when the beautiful gingko trees are their trademark yellow. It's also the best time weather wise to visit, I think - although it's great to enjoy some sunshine and the assortment of flowers and trees at any time of the year. Showa Kinen is also a park that has paid admission, but again I think it's a nice way to spend the day and worth the cost. They also have ample parking but there is a fee for that too.I hope these three parks give you a few recommendations of where to visit if you're in the Tokyo area. You can't really go wrong with any of them - they all offer a chance to recharge and relax amongst some beautiful green space, and embrace that feeling of fun in the sun.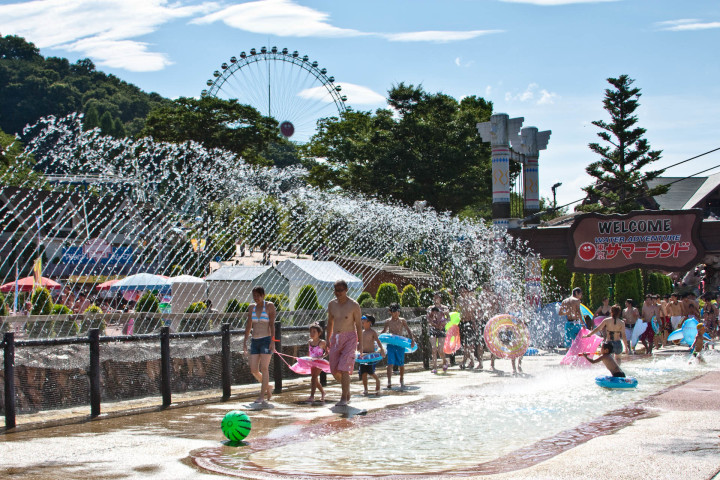 Tokyo Summerland - fun in the sun (and out of it, too!)
When it comes to enjoying summer, a lot of people immediately think of spending time by the water. Heading to the beach, a lake, or a river tends to be many people's go-to for an enjoyable way to while away those long hot days. In saying that - a lot of the time if you live in the city you don't necessarily have the time for a getaway to the coast (trying to get leave from work is not always the easiest!) or there might just not be vacancies for accommodation. So what's a person to do if they want some fun in the sun but can't get to the beach to do it?Water parks, of course! They're the perfect way to still enjoy the water but they're often scattered around cities and suburbia. If you live in or around Tokyo, there are a number of fun spots to head to - but my favorite of all the water parks in the area is Tokyo Summerland.Tokyo Summerland has a bit of everything when it comes to fun in the sun. From a faux river that you can float down, to pools and waterslides, it's got all the makings for a great day out. It's also interestingly enough a fun spot out of the peak summer rush too, as there is a giant section that's enclosed. As you can imagine, summertime is pretty pumping there - but you can have days outside the peak periods that you can almost feel as if you have the place to yourself.Granted, it's not the most inexpensive of family days out - your regular adult admission ticket will set you back 3500 yen, and a child's ticket is 2500 yen (that's for children from 7 to 12 years - if you've got teenagers they're charged the adult price). Even infants and senior citizens are charged 1800 yen (they class infants as 2-6 year olds according to their website). If you want the higher level admission ticket that includes access to their biggest attraction, the DEKASLA waterslide, then you're looking at a little bit more added onto that cost as well. In saying that though, it's a heck of a lot cheaper than paying for gas and accommodation to get you down to the coast for a weekend in Japan - at least that was definitely the case when we lived in the Tokyo area.Tokyo Summerland is located in the suburb of Akiruno - if you're headed there by train the closest station is Akigawa. From there it's about a 10 minute taxi or bus trip there (or you can always drive if that's easier and more convenient). I will say that like a lot of places in Japan, weekends can be a little hectic, and if you can swing it with your schedule that it's a lot nicer to go during the week - not to mention less stressful. There are a number of ways that you can attempt to keep cool in the Japanese summer - and this was one of my family's favorites when we lived nearby! It's worth a visit if you're in the area too. When was the last time that you visited a water park? Do you have any nearby to you, wherever you're living in Japan right now?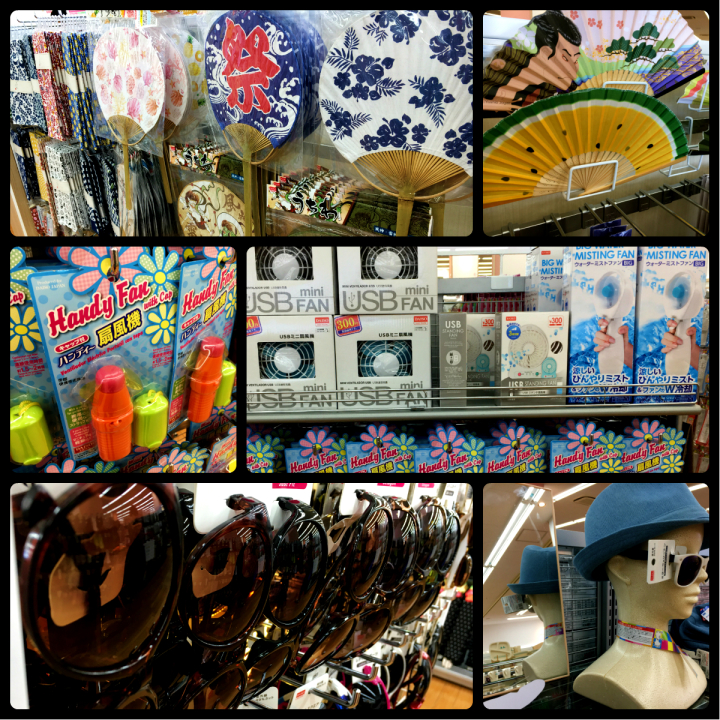 10 Summer Survival Items in Daiso
The wonders of 100 yen in DAISO── Snacks, kitchen utensils, gardening tools, stationeries, and "stuff" that you need to endure summer time in Japan are all (probably) in this shop! If you have no clue what they are, here is the list of the items in Daiso that could help you withstand this season. 1. FANS From paper fans to battery powered ones, pick one that suits your mood. There's even a USB mini fan and a BIG WATER MISTING fan! However, they cost about 250-300 yen though, but if you don't mind spending more bucks, get one! The paper fans are actually good omiyage/ souvenirs because of its very Japanese designs. Hence, if you are on a budget and going back to your country, it's a nice gift for your love ones. 2. HATS and SHADES Not minding fashion or well-known brands, just avoiding the blinding sunlight from your eyes is what you care about; Daiso's hats and shades are then perfect for you. 3. UMBRELLAS and RAINCOATS Instead of using hats, I use my umbrella for shade. However, the scorching sun is not your only enemy in this season── RAIN, especially the sudden one. Most of the time I have a folding umbrella in my bag, but if you think carrying it isn't a necessity, be prepared to get drenched or pray that there is a nearby "Hyaku-yen" shop to spare you from spending more than a hundred. Folding umbrellas are now available in Daiso which cost about 200 yen. 4. PERSPIRATION ABSORBING PADS Sweat is one of the major downsides of summer. It is a bit embarrassing when it finally shows on your clothes, particularly in the underarm area. But no worries, stick these absorbing pads on and you won't get shy raising your arm. 5. REFRESHING SHEETS Feeling sticky and smelly because of sweat? Wipe it away with these sheets that will make you feel refreshed and fragrant. 6. OIL BLOTTING PAPER Having an oily face is already a pain, even more during the summer. It is extra shiny, making you feel that you can fry an egg on your face! Use a blotting paper to keep your pretty faces less oily. 7. THERMOMETER You might not need it, but knowing if it's just too hot isn't that bad right? 8. ICE-POP MAKER/ ICE CUBE MAKER Homemade popsicles and beverages, using your own recipes or ones you want to copy from various cooking websites, is a fun way to get creative with summer refreshments! 9. ICE PACKS It is very useful for keeping food cold when going camping or just heading to the beach. OR, if you just want to feel something icy to cool you down. 10. WATER BOTTLES/ BAGS Keeping it simple by being hydrated. As easy as that ladies and gentlemen, just drink lots of water to replenish all the liquids you've been losing from this hot weather. A lot of people do experience HEAT STROKE, so make sure to take that 8 glasses of water! Get a water bottle or bag with you so you don't need to buy a bottle of water in the combini every single day. So how about you guys? Have you tried out some of these things on this list? Or do you have any additional items you want to add? Feel free to comment!
Bella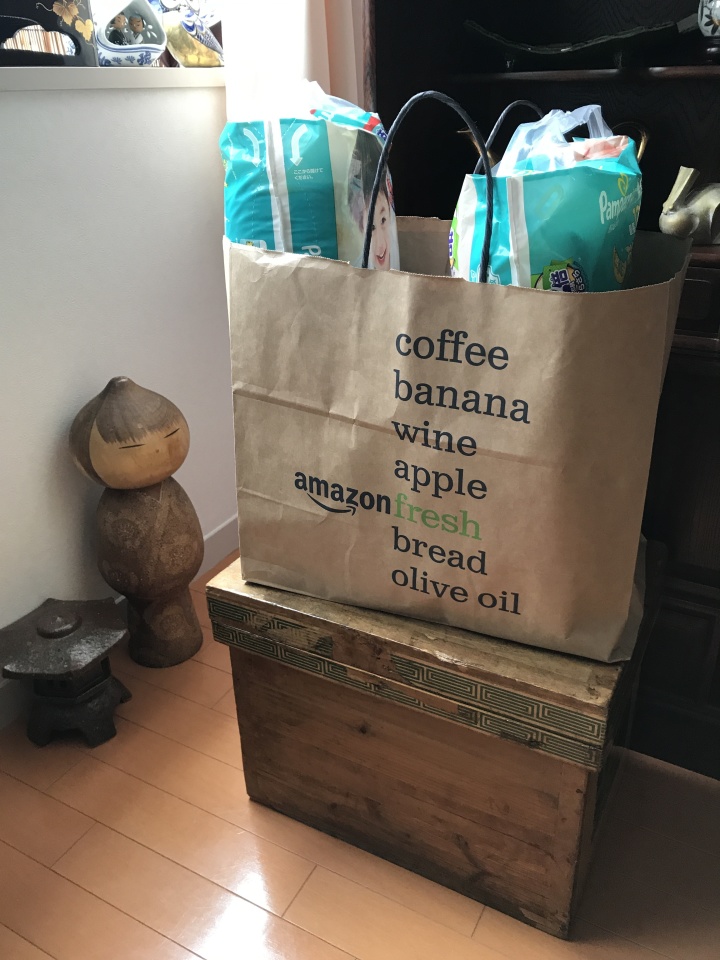 Testing out Amazon Fresh in Tokyo
We have officially moved out of our old place and right now we are staying with my in laws in Tokyo until we head to Niigata in a couple of weeks. It was the perfect chance for us to test out Amazon Japan's relatively new offering, Amazon Fresh. Right now it is only available in certain wards of Tokyo - but they are looking at expanding that further. We ordered diapers and wipes for our little ones, fruit and veggies, some salmon, yakisoba noodles, as well as shampoo and conditioner.Here's a picture of one of the bags (the fruit and veggies already were packed away in their rightful places!)The presentation was really nice. It felt like an upscale supermarket that we were purchasing from, with everything in large Amazon Fresh bags with modern branding. The quality of all the fruit and veggies was excellent too, which was something I was initially a bit skeptical about.To use Amazon Fresh you will need to be an Amazon Prime member (3900 yen annually) and there is a 500 yen charge per month for having the Fresh service active on your Amazon account. They do have a free 30 day trial for both of those things if you want to give it a whirl. They also had a coupon code for 2000 yen off your first Fresh delivery - not a bad deal!Another thing to bear in mind is that any deliveries under 6000 yen will incur a delivery fee - we specifically ensured to go over that to avoid paying a fee!Would you use Amazon Fresh if it was available in your area?