USER BLOG
Join the best expat community of Japan. Now!
Share your Japan experience

Create blogs/Join the Q&A

Earn points and get rewards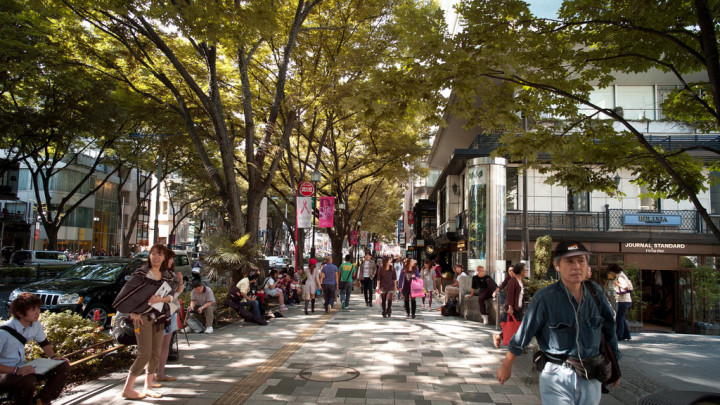 City to Country - the struggles!
My family and I are currently in the process of moving from the city to the country in Japan. We've been in Tokyo the last four years (the first year in the very inner city, the next three in the outer suburbs of Tokyo Prefecture), and now we're moving to Niigata Prefecture for the next three.So what's the big deal, you might be asking?There are definitely some nerves on my part, going from this...To this.Now don't get me wrong. I've lived in more rural parts of the world before - in my home country I was in a small-ish town before I moved overseas. But in a country that isn't mine (although I love it like it is!) where I have the language capability of a three year old (at best) I'm a little intimidated about how life will be.How will I make friends?How easy will it be getting to a doctor? A dentist? The supermarket?(That all sounds crazy, maybe - but we will be living in the middle of snow country - and driving in the snow scares me!)In Tokyo I think it's easy enough to get by pretty simply as an expat, even if you don't speak Japanese. You've got a ton of people all in the same boat living overseas, so making friends is relatively easy - get a couple of shared interests, and bam - instant besties. I've got multiple different international supermarkets a short drive from my home, and even international clothes retailers like H&M, Zara and Gap. What am I going to do in the boonies?I'm excited for a change, but there's still a level of unknown about it all - we still have to finalize a place to live (house hunting out here also seems way more difficult than anywhere else I've lived!) but I'm trying to take it one step at a time and not get too overwhelmed.Life as an expat. So many great things, so many frustrating things, so many stressful things - but what an experience, am I right?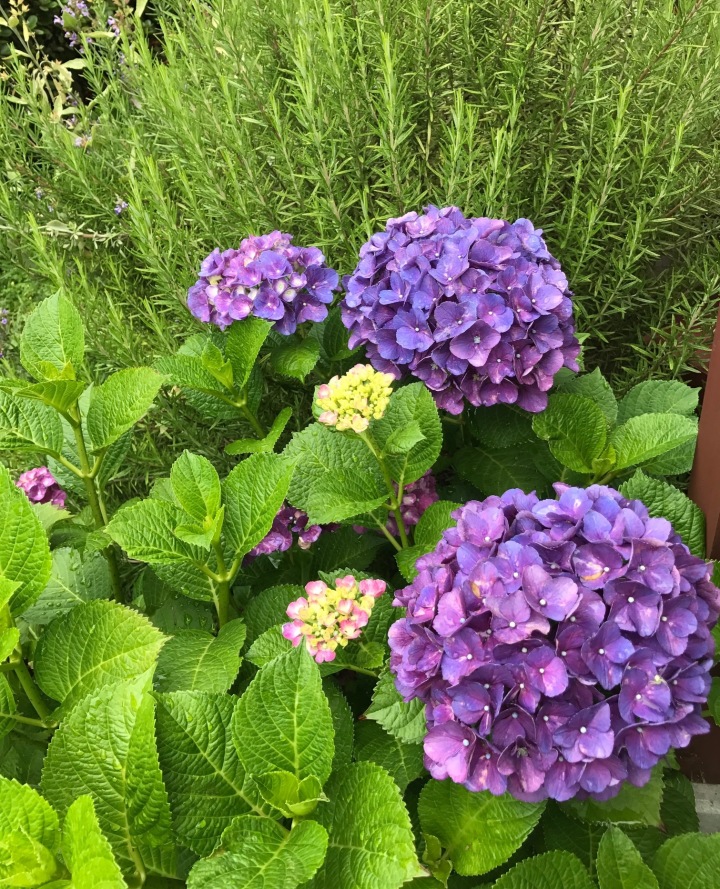 Battling the rainy season funk!
It's a rainy kind of day today - which is to be expected, I guess, given the time of year. I find that rainy season is one of those times when it's hard to get motivated - a bit like the depths of winter, when you say "the weather is too dreary to go out". So I'm really trying to look at the positives that are here right now.I took the picture below this morning, in my garden. The hydrangeas that are prevalent in rainy season definitely bring me some happiness and some color to the day. When I walk around my neighborhood right now there are bushes all around - some pink, some purple, some blue - I just love the flowers.My herbs are also growing like crazy! You can see my rosemary bush behind the hydrangeas in the picture, and it's growing so big that I'm going to have to trim it back (and I will have loads of clippings). I also have a sage plant that sits behind the rosemary which is getting out of control too. Maybe my neighbors will enjoy some of them...it's a good way to make new friends, by offering them some goodies!Last year, we were also able to grow tomatoes, basil and cucumbers in our small yard area. That's one thing I am grateful to the rainy season for - nourishing the soil and my plants. There's beauty in every season, even if there are elements of the rainy season that are a little bit hard to love.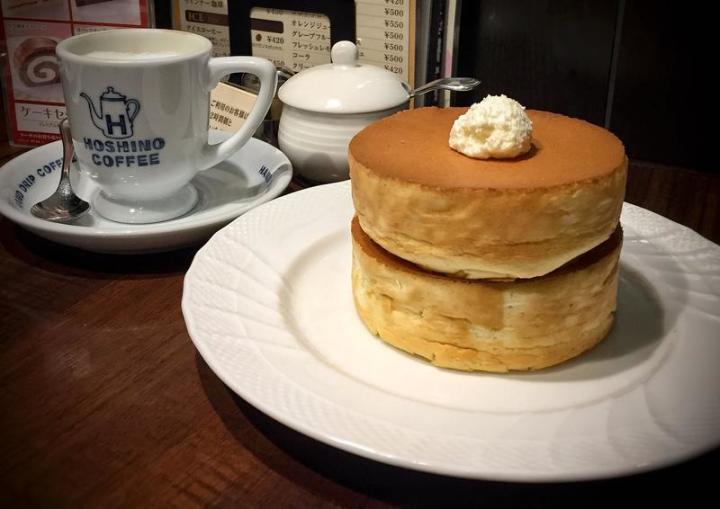 Saturday morning coffee and pancakes
Going out for breakfast on weekends is something I love doing - but a lot of places here in Japan aren't open all that early, making it hard to get out and start your day off right! One place locally that I love to visit is Hoshino Coffee. My local store opens at 8am on a Saturday, so it's the perfect spot to grab a bite to eat before getting started with weekend errands and chores. And what better way to fuel up than with some delicious pancakes?! Their souffle style pancakes are my favorite, and often they have seasonal variations of them too (for instance, when it was strawberry season they had an amazing strawberry variety!)Since Hoshino is a chain, you can find them in a lot of places, whether you're here in Japan as a tourist or you're living here. Either way, their food is great, their prices are reasonable, and if you have kids they are also very child friendly. If you like delicious pancakes and need your caffeine fix to get your day started, I'd recommend stopping into one of their locations!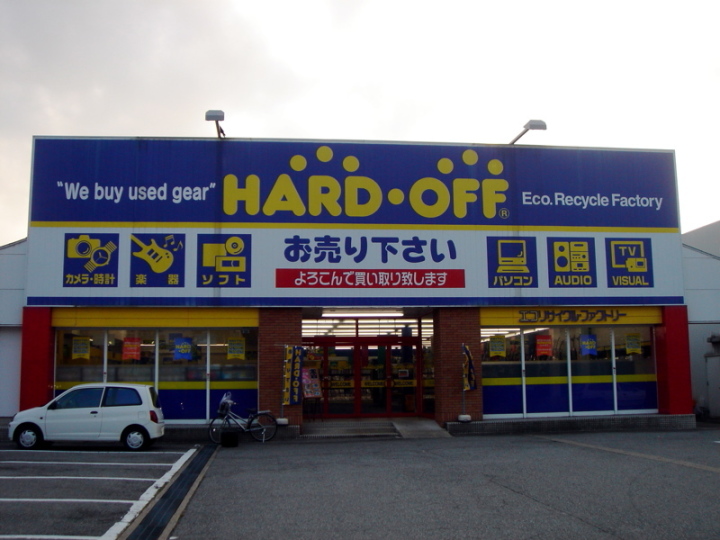 Japan's "off" stores - and how they are super helpful!
Before I moved to Japan I was always interested in thrift stores. I love finding a bargain (don't we all?) and I also love being able to get use out of something that maybe someone else no longer needed. Enter Japan's "off" range of stores - Hard Off, Book Off, Hobby Off, Mode Off...the list goes on.You can find all manner of fun things at these stores. Whether it's electronics that you're after, an interesting new book to read (my local has an English language section too - so it's okay even if you don't read Japanese!), maybe even some new threads...you can check out these stores. One of my most loved possessions was a beautiful kokeshi doll that I found at one of these stores - and in perfect condition, no less!I'm convinced that second hand goods in Japan are actually much better than anywhere else I've lived - because there just tends to be a greater level of care, I guess. Either that, or no one brings junk-type things there. If you're wanting to sell stuff to the stores too, you're able to - just bring your residence card and they should be able to sort it all out. We've sold books to Book Off, because we're moving house in a month here and needed to offload some stuff. Less stuff to pack, and earning a few bucks in the process? Winner!The link to the Hard Off website is here and you can check for store locations - they're all across Japan. There are also links on the Hard Off page to all the other "Off" branded second hand stores!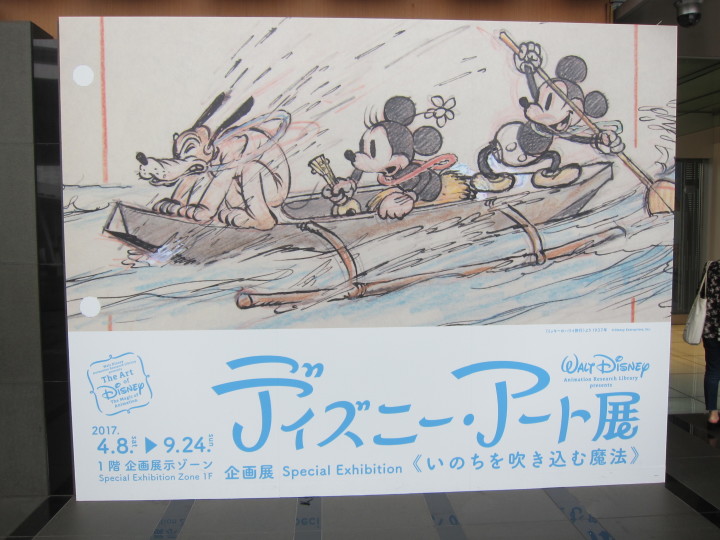 The Art of Disney - The Magic of Animation Exhibition
What to do on a rainy Sunday if you dont want to sit all the time at home? Just go out and visit one of the many museums or exhibitions around Tokyo. We decided to visit the Disney exhibition "The Art of Disney - The Magic of Animation Exhibition" at the science museum in Odaiba. The exhibition runs from 8 April to 24 September. I hoped that already many visiters saw the exhibition since it has already been running for a few months, but unfortunately because of the rain, many people had the same idea like me. The exhibition starts with 6 large screens on which projections of Disney figures can be seen. These are line drawings that are moving. For me it is the best part of the exhibition because it was very impressive. In the next rooms all the old works of Disney were presented and some informations about the history of the studio. Afterwards you could go on a little time trip through the film world. A large part of the Disney animation films were presented with pictures and drawings. Especially Disneys newest film Moana had an own big area.Unfortunately not all Disney films were at the exhibition. For example, there was nothing about Aladin or Merinda. The entrance fee of 1800 yen is kind of high but if you really love Disney you should visit that exhibition. They also have a small shop with many disney goods especially from the very old movies.Those goods you can buy only during the time of the exhibition.
Crazydeath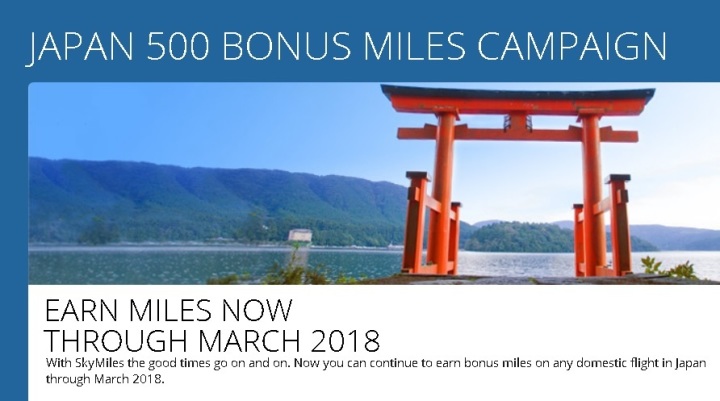 Get More Bonus Miles with Flight in JAPAN
JAPAN 500 BONUS MILES CAMPAIGNWhichever airline company including LCC (Low Cost Carrier), no matter how small the distance, cheap tickets, a campaign where SkyMiles of Delta Air Lines gets 500 Miles each time you take a domestic flight (March 31, 2018 )there is. You can store both Miles and Delta Miles if you ride on ANA, JAL etc. of Full Service.The procedure is very easy, just paste the boarding pass ticket on the application form and fax or mail it.(Of course, in order to receive Miles, it is necessary to register Delta Air Lines' account registration in SkyMiles in advance)The limit is up to 5,000 miles (10 flights), but if you are an advanced member SkyMiles Medallion member, the limit will increase to 20,000 miles (40 flights).When traveling Japan by plane, do not forget to apply!More info : JAPAN 500 BONUS MILES CAMPAIGNAnd more 500 MILES at New Chitose Airport due to Renovation Work Furthermore, at Chitose Airport, due to renewal construction of ANA's LOUNGE, it is closed to the beginning of September 2017.If you are an advanced member of ANA or a Gold Member of the Star Alliance, you can GET 500 Miles as a sign of apology (there are some conditions), so be sure to ask ANA's STAFF.Hokkaido may be profitable if you are planning for a summer vacation plan with an Star Alliance's Gold Member or ANA advanced member! Is it?More info : Closure of ANA Lounge at New Chitose Airport due to Renovation Work
Koichi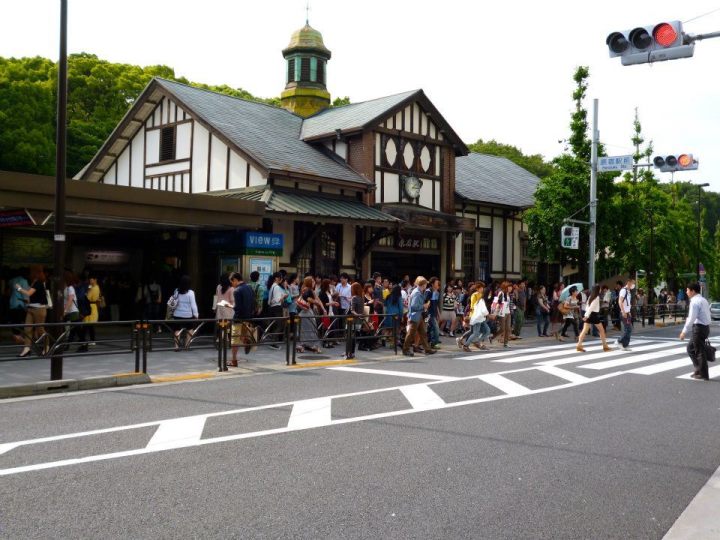 Takeshita Dori: The most iconic shopping street in Japan?
Japan is a bit of a shoppers paradise. From high end shopping in Ginza and Omotesando, to the fun of treasure hunting at shrine sales and everything in between, there's something to be found for everyone. When it comes to the most iconic shopping areas in Japan though, one immediately springs to mind for me - and it was one of the first shopping areas I just HAD to check out when we moved to Japan a few years ago. It's still a favorite to this day for the sheer fun, excitement and energy that this street offers. Where am I referring to? None other than Takeshita Dori, in Harajuku.Getting there is easy - if you head to Harajuku Station (which is a very charming building and worth a picture in itself!) you basically just have to cross the street!You'll know that you're in the right place when you see the big archway that has Takeshita Dori written on it!Why do I love Takeshita Dori so much? There are a number of reasons!The CrowdsThis might sound ridiculous, since normally I'm not someone that enjoys squishy spaces, or having people right up in my face. But there's something so electric about Takeshita Dori that you really just end up going with it (and dare I say - actually loving it a bit - it's sensory overload in the best sense of the phrase!) You can see in my picture above that one of the days I went there was basically wall to wall people - I have been on plenty of occasions when it's nowhere near that level of crazy. If you do prefer a bit less of a hectic vibe, I'd recommend going on a weekday. Weekends tend to be the times when you'll see the crowds at their peak. If you do want that more intense experience though, I say go for it - go gung-ho, and hit it up on a weekend!The foodNamely, the crepes. I feel like it wouldn't be a trip to Harajuku and Takeshita Dori without getting a crepe. The old saying "when in Rome" really turns into "when in Harajuku"...and it would be almost sacrilegious not to get one. There are all manners of flavors to suit just about anyone's tastebuds, from offerings with Nutella, ice cream, strawberries and even cheesecake pieces wrapped up in a crepe - to more savory offerings like tuna. You can bet that I'm all about the sweet options rather than the savory fillings (but really, who can pass up Nutella?) The FashionNow, I don't really say that any of these "hammer pants" are my style - but boy, is it a bunch of fun checking out some of the fashions when you visit Takeshita Dori. And honestly - I'm not just talking about the fashions being sold on the racks at stores, but also the fashions of the people heading down Takeshita Dori! If you like people watching and appreciating all the cool fashions that come with being in Harajuku, you'll love this side of the street too.Takeshita Dori to me is the MUST see shopping street in Tokyo - it's not only a fun place to spend some yen but also a bit of a cultural icon!