USER BLOG
Join the best expat community of Japan. Now!
Share your Japan experience

Create blogs/Join the Q&A

Earn points and get rewards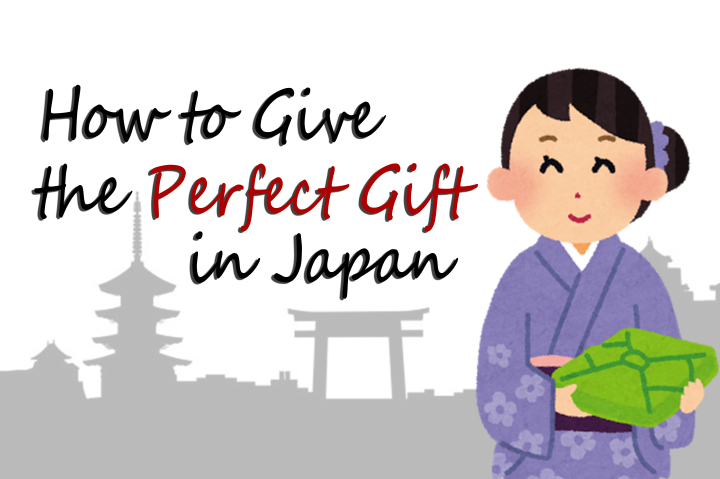 Gift Giving Guidelines in Japan
Giving gifts are an incredibly important part of Japanese culture and presents are given for so many different occasions. In fact, gift giving in Japan is taken so seriously that it's not only seen as common courtesy, but a social obligation as well. Of course, like any gift giving culture, there are a certain number of rules that one needs to follow. So let's take a look at some of the etiquette involved in presenting presents to all types of people for all types of occasions.If you're a visitor to Japan who plans on giving gifts to someone, a small present or souvenir from your hometown is greatly appreciated. And because Japanese people receive gifts all-year-round, it's best not to overload the gift-receiver with too many trinkets. Therefore, something edible from your home country is probably the best gift you can give. The price of the present is also not as important as the meaning behind it. However, expensive gifts will still be appreciated (and are not viewed as a forms of bribery). It's a good idea to avoid gifts that include the numbers four and nine, as well as potted plants, lilies, lotus blossoms, and camellias - as there are a number of superstitions involving these gifts.The presentation of the gift is also often as important as the gift itself, so make sure that any present is nicely wrapped. Although the color of the wrapping has become less and less important in modern Japanese culture, you can still use this handy guide to really impress your Japanese friends. In many countries, we often give gifts at the beginning of our interactions. But in Japan, it's far more polite to wait until later in your meeting to present the gift to your host. This not only shows politeness before jumping in, but it also highlights how much you value your relationship over the gift. In terms of actually handing over the gift, it's best to use two hands and insisting on the present if the recipient refuses. This is because it's often polite in Japanese culture to decline a gift at least once or twice before accepting. You should also say the words "tsumaranai mono desu ga..." (つまらないものですが・・・) This literally translates as "It's something boring, but please accept it" - a phrase that once again highlights the importance of your relationship over the importance of the gift itself.If you are on the receiving end, then remember not to immediately rip the gift open as soon as you receive it. You see, in Japanese culture (unlike Western cultures) it's more polite to wait until you are in private before opening a gift. If the gift in not wrapped, then it's good to thoroughly thank the giver for the gift. Once again, it's polite in Japan to refuse the gift once or twice before officially accepting it. However, not many Japanese people expect you to know this, so don't worry about it too much. It's also common to reciprocate gifts that were given for special occasions - even if the return present is given months later, it's still considered better to be late than never.
BoothInJapan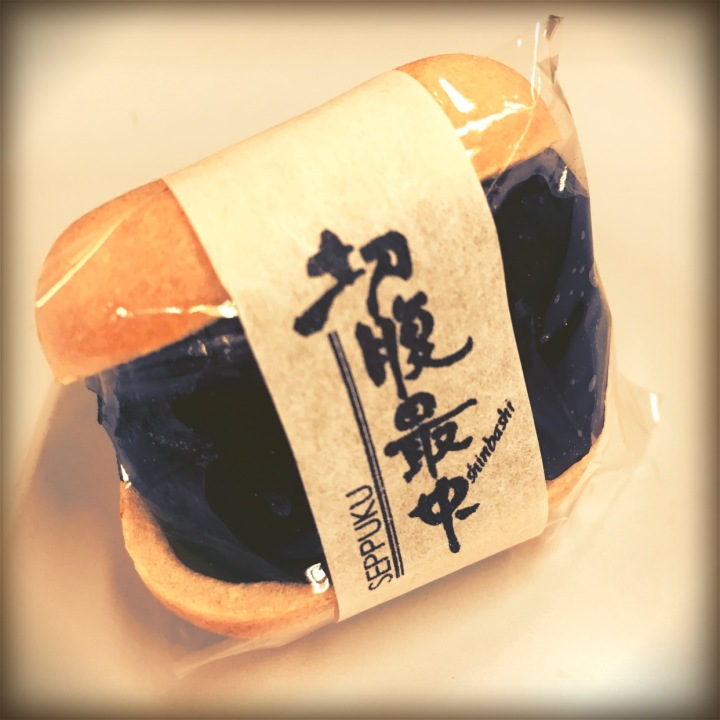 A Unique Way to Apologise - no bloodspill required
Committing suppuku (ritual suicide) seems a bit of an extreme way to show remorse for a mistake or wrongdoing to me. Thankfully a creative Tokyo confectioner, 3rd generation owner Yoshihisa WATANABE, came up with a slightly less life altering way to offer one's apologies. Enter, the seppuku manju, a Japanese-style sweet produced by confectionary company Shinshodo. Sinshodo is located in Shimbashi, Tokyo, near a stone monument marking the place of death of Lord ASANO Takuminokami. Asano-san was ordered to commit ritual suicide after attempting to his instructor with a sword. He killed himself in a garden what was not too far from the the stone monument erected in 1940 in 4-chome Shimbashi, on Hibiya-dori. The popular "seppuku manju" is made with a red bean paste oozing out from a crisp outer shell. Biting into the sweet, you discover a soft, chewy white mochi (sticky rice cake) in the centre. Visually, the sweet is a representation of the bloody deed. These days, business people who need to apologies to a client for example, will produce a box of these sweets to show their remorse. Traditionally, the most common form of ritual suicide is harakiri, also known as seppuku. Harakiri (腹切り) and seppuku (切腹) are both written with the same characters. 腹means "belly" (stomach) and 切 means "to cut". Harakiri is a slightly less formal way to refer to seppuku. ShinshodoHours: 9:00 AM to 8:00 PM (open until 5:00 PM on Saturdays).Closed:Sundays and holidaysAddress: 4-27-2 Shimbashi; Minato-ku, Tokyowww.shinshodoh.co.jp/
JapanExpert
How to enjoy Ikebana exhibitions
As I'm an ikebana teacher, I have a lot of opportunities to visit ikebana exhibition. And sometimes I invite my friends to go with. Most of my friends have never seen ikebana exhibition even though they are Japanese, so they are willing to follow me. To make their first experience more impressive and interesting, I carefully introduce ikebana speaking about history, techniques, materials...etc. In this post, I will write how to enjoy ikebana exhibitions.Where can we find exhibitions?As far as I know, unfortunately, there's no website that gathers information of all ikebana events. But you'll have chance to find exhibitions in some places. Regardless of area, in Tokyo, Osaka, Fukuoka or other prefectures, many of exhibitions are held at event space in department stores, mostly located on the highest floor. So when you visit department store, do not forget to check posters on walls of elevators or placed at information desk to know which event is held on the event space! Also, you can find some small shows at public halls, hotel lobbies.Last month, I went to an exhibition of Ikebana Association which many ikebana schools around Japan participate. It was held in Takashimaya Department store in Shinjuku, Tokyo.Ticket are sold at the information desk in the department store, or ticketing booth near the exhibition entrance. Price differs depending on the event, but normally between 600 yen and 1500 yen per person. Children and students under age 15 will be free (depends on events, but normally free). If you already have schedule, I recommend to buy ticket in advance because sometimes they sell it a bit cheaper (about 100-200 yen lower) than you purchase at ticketing booth. For events in public halls or hotels, no ticket needed. How to enjoy it --- Check these 1) to 3) !!!1) Enjoy various materialsWe have four seasons here in Japan, and ikebana is the best way to feel the season because we use different materials that are available at the time. We can find many colorful flowers from spring through early summer. When it's hot in mid-summer, only a few materials like tropical ones or green leaves are available. During autumn, we can enjoy autumn flowers as well as lots of branches whose leaves are changing colors into red. In freezing winter, we have fewer choices of flowers, but many stuff for Christmas and New Year arrangements are seen in markets. You'll be able to find many kinds of materials which are original in Japan and seem new to you!You'll also find interesting materials in works. For example...The black fluffy stuff in the middle is dried seaweed ( Codium fragile; we call it Umi-matsu うみまつ or Miru みる). Creators of this work say they purchased it from flower wholesaler and they didn't dive into the sea,hahaThe round light-green is Cauliflower! ( official name is Broccolo Romanesco) Isn't it interesting that the vegetable has a key role to compose this arrangement?Of course, we find arrangements made of only "flowers".2) Look at vasesWe, ikebana artists, are greedy to find something unique to create the ONLY ONE works. We frequently check shops, ateliers to see what's new, sometimes order artists to make ones, and furthermore, some of us make vases or frame by ourselves. So, please pay attention to the containers into which the flowers are put. There are many uncommon vases that you'll be able to enjoy. This is not normal vase, isn't it? So weird! But matches cattleya.In water, there is a crab of metal... I guess this is some tool to hold materials.This looks the creator didn't use any vase, but actually the styrene sheet colored in blue covers the container.Maybe this rocky one is handmade.3)Guess what technique is adopted for arrangementsThe technique and basic styles of arrangement are developed in each school, so for me, it's interesting to observe other schools' students works thinking about the techniques. Tens of branches are carefully curved to make flowing lines. They are fixed inside the base inserted between short-cut stems. Seems really difficult to keep the balance.... This spiky green arrangement is made of tied thin leaves! How many hours did it take to finish...?Now you're more ready to visit ikebana exhibitions, aren't you? Hope you'll enjoy it!
yoona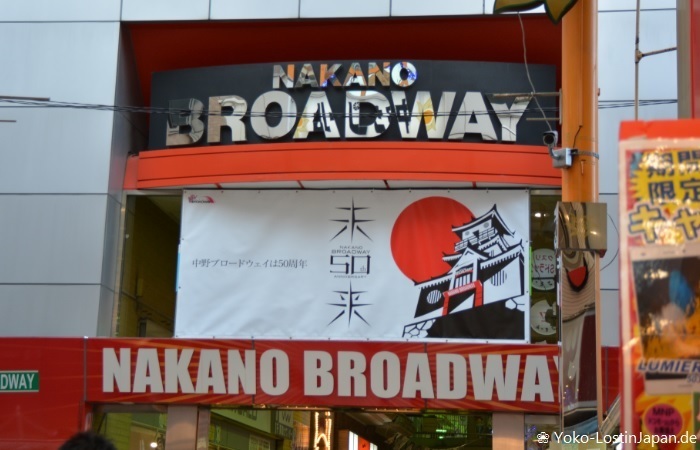 Nakano Broadway – the New Paradise for Otaku
When you think about Tokyo and Otaku you mainly end up with Akihabara. This area is famous as a shopping district for electronics and Japanese pop culture items including anime, manga, games and Japanese music. It became especially popular with otaku people and foreign tourists, also because the otaku industry even started with opening entertainment shops such as maid cafés and other anime-themed restaurants at this area. However, if you are just interested in shopping, there is another place in Tokyo, which is not as crowded as Akihabara. But first, let's think about what an otaku actually is? The Japanese term otaku comes from the word otaku (お宅) for another person's house or family, however, in modern times it became a slang word for people with obsessive interests in anime and manga fandom. To distinguish both words, the second one is commonly written in hiragana or katakana (おたく/オタク). In English you can translate it as nerd or geek. Otaku was used in a negative way, but now it has become less negative because more and more people are identifying themselves as an otaku, especially in Western countries. Furthermore, otaku is not used for anime and manga only, it also includes fandom for Japanese games, idol groups and bands and even more. Have you ever heard of Nakano Broadway? Nakano Broadway (中野ブロードウェイ) is a shopping complex which already dates back to the 1960s. It is just a few minutes away from Nakano station, which you can easily access from Shinjuku with the JR Chuo line via a few minutes train ride. Inside Nakano Broadway you'll find five floors full of shops, cafés and more. The main reason for otaku to visit Nakano Broadway is Mandarake which is one of Tokyo's largest resellers of used anime and manga-related products. Mandarake has had its home in Nakano since it started there in 1987 selling second hand manga. By now over 25 Mandarake stores are opened inside Nakano Broadway, including the chain's headquarters. Each shop has its own specific pop culture interest. So you can find shops of the following themes there: - anime and manga section, some including old and expensive comics - figure section, where you can get figures of all kind of anime, manga and games; some are rare and have high prices, but you also can find cheap figures for your own collection - card section, where you can find used and rare cards of all sorts of card games - cosplay section with second hand costumes, wigs and accessories - doll section for the doll-lovers out where - toy section, from the very old to the new; get amazed by all the key chains from Gacha machines which you can buy without having luck at the gaming machine - and more and more and more :D Some shops are even so specialized you can't imagine what to find. Take your time and take a look through all the jobs of your interest. The employees often are otaku themselves and are specialists in their field, so they can help you and give you a lot of information in the section you are interested in. Some staff are also bilingual (you often can see it on their name tag), including English and Chinese speakers. You can find some Manadarake stores in different parts of Japan, including Tokyo shops (Akihabara, Shibuya, Ikebukuro) and shops in Osaka, Nagoya, Fukuoka, Utsunomiya and even Sapporo. Mandarake is also running an online store, available mainly in Japanese and English, but also some other languages are used. What to find next to Mandarake For sure, Nakano Broadway does not only consist of Mandarake. However, this chain is a reason a lot of other stores opened shops in the area. If you are a Japanese music lover you can find a lot of idol goods but also visual kei and j-rock merchandise. They also sell watches, cameras, jewelry, audio and more. Even a maid café called Kuroneco can be found at Nakano Broadway, which is more an all-you-can-drink bar than the common cafés known from Akihabara. Don't miss the underground B1 floor with supermarkets, groceries and some restaurants. Here you can also find a soft cream shop which sells a cone filled with 8 flavors for only 480 yen. Also Nakano Sunmall, connecting Nakano Broadway and Nakano station, is worth a closer look with all its shops. All in all, you can easily spend some hours at Nakano just looking through shops and discovering new, old and crazy things. In some places it is even cheaper than shopping in Akihabara. And, because it is one big complex, it is a perfect place for a rainy day in Tokyo.
YokoLostinJapan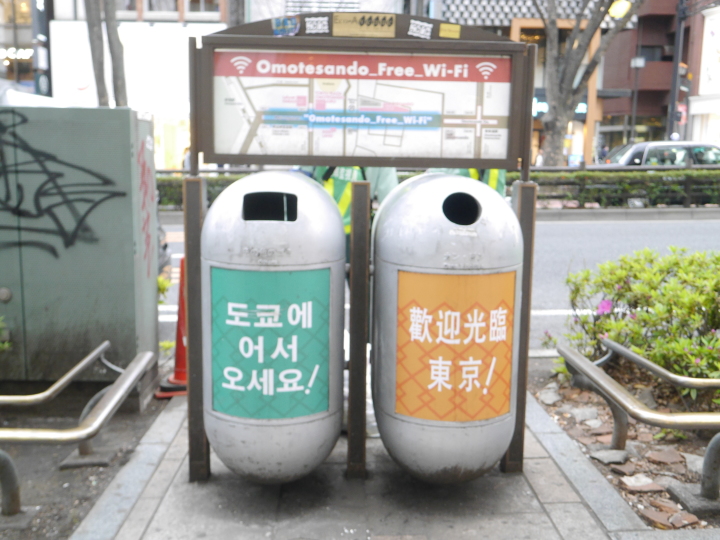 A rare sight... Garbage cans on the streets of Tokyo!
Japan is famous for being clean, and it boggles the minds of many in how the country can do that when there are essentially no public garbage cans on the streets in almost anywhere you go, even in a huge city like Tokyo.So imagine my surprise when I found these along Omotesando. Public garbage cans!!! Judging from the Chinese and Korean written on it that say "welcome to Tokyo", perhaps it is for the Asian shoppers who aren't used to the bin-less streets, and it would make sense to have it at a high-brand area like Omotesando.Also, Free Wi-fi!!!! OMGLOLBBQ! Omote-sando, you are awesome.
Jackson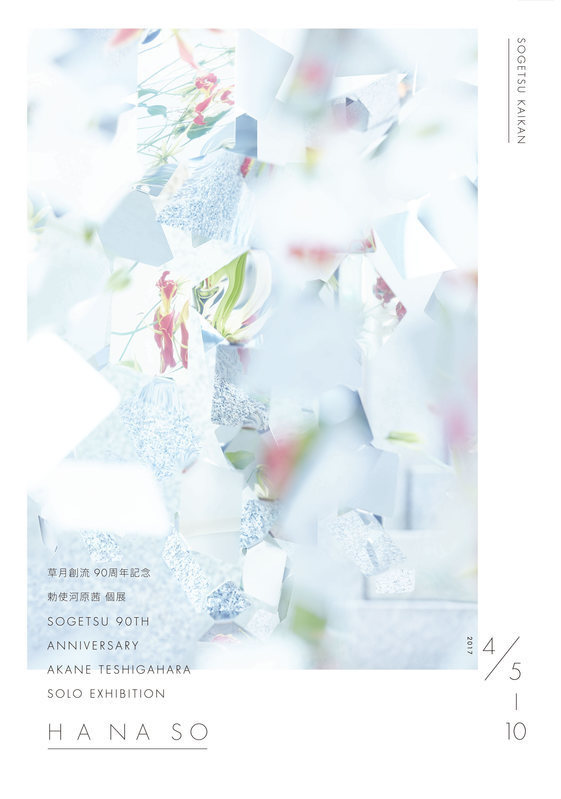 Our Ikebana headmaster's solo exhibition
Our school, The Sogetsu flower school, celebrates 90th anniversary this year. And our headmaster, or Iemoto (いえもと 家元), Akane Teshigahara held solo exhibition in commemoration of the anniversary at school HQ in Akasaka, Tokyo.It was not typical "flower exhibition" that many people expect, because our Iemoto created the venue with very unique "Artwork" , collaborating with some modern artists.The main work was displayed at the first floor of the building. Without decorations, this lobby floor is very unique rock garden titled "Heaven" designed by world's famous artist Isamu Noguchi. (PIC from Sogetsu School HP)Whenever I visit the school, only one or two works are displayed here. But see, our Iemoto made the space totally different and unusual!! (Picture from the top)The designers who worked with Iemoto used thin stainless sheets, cutting it diamond-shaped to make the mirroring ivy, and covered the whole floor and wall with them. The steel ivies reflect the colors and shapes of flowers as well as the light that come into the space from the skylights, making the space more special. Iemoto's works were displayed in this brilliant, shiny hall.Before entering the hall, at the entrance, many bamboo welcomed us. Bamboo is frequently used in our school as it can show a lot of expressions by cutting, bending, drying coloring and so on.The black ones are dried bamboo roots painted in black and displayed upside down.The materials were put in containers which Iemoto made by herself. Not only our headmaster, many of our students who want to organize the MOST unique arrangement visit atelier/art studio to produce original pottery.Works are not always big. There were tiny ikebana like these. Tiny vases measured about 4-5 cm tall are used for this work. We call this style "mini-ature" and use some parts of the plants such as buds, a leaf, to emphasize the uniqueness of the material. On the contrary, at the center of the hall, a large work was shown featuring Sakura trees. Full bloomed Sakura and other branches were breathtaking. Also, stainless on the wall and floor reflects the colors of the flowers. I've never seen such a splendid cherry blossoms... On the second floor, there were exhibitions of flowers and modern arts.Ikebana can be collaborated not only with dimensional arts, but with planar artworks such as paintings. There were arrangements inspired by paintings of the young artists. The works looked like as it was just ONE production created from ONE artist. Last but not least, display on the fifth floor was also attractive. Originally, there was a traditional Japanese room with tatami, like this.But during the exhibition, the room were decorated with modern sculpture and flowers! The works dramatically changed the atmosphere of the old room!Did you enjoy the exhibition tour with my pictures? I'm happy if you understand that ikebana can be collaborated with many kinds of arts.
yoona
Bacon Festival in Kofu, Japan?
Thinking about bringing the Blue Ribbon Bacon Festival to Kofu, Japan sometime in the next 18 months. The Blue Ribbon Bacon Festival, www.blueribbonbaconfestival.com , is the largest bacon festival based in Des Moines, Iowa. Des Moines and Kofu are sister cities that was started via the Iowa Hog Lift in 1960. The Blue Ribbon Bacon Festival would be a fun filled day of bacon, bacon inspired dishes, entertainment and other events. We already do events in Reykjavik, Iceland, Keystone, Colorado and throughout Iowa. Any help would be much appreciated. Thanks and OHHHH, BACON!Brooks Reynolds
OhBacon