Feb 26, 2017
Maternity clothes shopping
What are your recommended places (actual shops or websites) for maternity clothes while living in Japan? I live in the countryside and the only maternity clothes available here are from Nishimatsuya or AEON. The sizes for those clothes are S M L and S/M and M/L. I'm a UK size 10/12 and have to buy the L size from both of these shops. They are basically just really baggy t shirts and baggy baggy saggy jeans :( ! The big city of Kagoshima about an hour away has a bigger AEON mall with a H&M where they have THE smallest maternity section. About 8 racks total :/ I bought 2 pairs of jeans and 2 t-shirts. The jeans were 5000¥ and the t shirts around 2000¥. The range was boring and most of the stuff aimed at older ladies. Stuff my mum would love. I want to be a cute pregnant lady ! Please give me recommendations ╰(*´︶`*)╯♡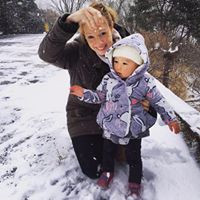 Wifey to my action man living in Japan from little Britain. Mummy to my princess and a prince on the way.
8 Answers
---
---
Best Answer
H&M's website can be useful. I find sometimes they carry better selection and sizes than in-store and offer COD (if you don't have a credit card) and even have a plus-sized section (real shocker to me as their Sendai location offers 0 plus-sized options). Check it out here: http://www2.hm.com/ja_jp/index.html As a plus-sized lady, I feel your pain. I made a lot of my own maternity clothes (pants that fit in the legs+ matching knit and elastic = maternity pants! if you have a sewing machine...) but then I got stuck on bed-rest for half the pregnancy, so having really cute clothes was less of a priority. Amazon requires a bit of work to find what you want but it would be a way to use your vouchers from CityCost. Good luck!
I hate the way most of the maternity stuff in the shops you mention are black or grey. On my 2nd pregnancy I finally found a store that sells colourful clothes: its called Apita. They are a large chain of supermarkets that also have household and clothes shops. Babiesrus had some good stuff too, but it was a little pricey. I got my dressier clothes there.

Because in plus size even before baby weight,I found it impossible to find maternity clothing. I shopped the larger sections of shimamura and avail and found some very nice flowy items which were in season. Avail I feel is cuter but had less stuff. I also shopped at beisie. I found my winter pants there. Not cute, but warm. All these places are cheap too. 1500-3000 depending on the item. Sometimes the best"maternity"clothes are just plus size clothes that are baggy at the waist line, but tighter in the arms and legs.

I got a lot from H&M here when I was pregnant but I had a store nearby that seemed to have a decent selection. I also ordered a lot from Old Navy and Pink Blush Maternity (American Based). At the time I was living on a military base here in Japan so had access to a US shipping address, but they do ship internationally. Not sure that it's worth the shipping cost though for things that are worn for a relatively short period of time, but going internationally sometimes is worth it to feel good!